Here at Formula Botanica, we are extremely proud of our graduates. The people who have followed our courses all over the world are trail-blazing with their exquisite hand-crafted products. One of those women is Geeta Sood, Founder and Owner of So Pure Skincare.
Geeta originally started formulating to help cure her two children's infantile eczema. After seeing the impressive and fast results, friends and relatives wanted to try it for themselves and Geeta decided to set up her own skincare brand which uses unusual yet highly effective ingredients such as edelweiss, prickly pear and date seed oils.
I recently had the pleasure of testing out some of So Pure Skincare's products and wanted to share my experiences here on the Formula Botanica blog. I ordered various different products from Geeta and have spent the last month or so testing them out.
---
Honey & Propolis Healing Facial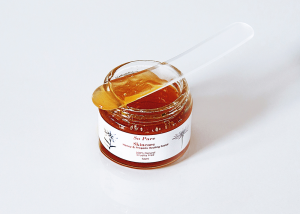 Full Ingredients: 55% organic. Mel (honey), Sucrose Laurate, Prunus Amygdalus Dulcis (sweet almond oil), Glycerine, Citrus Aurantium Flower (orange flower water), Daucus Carota (organic carrot), Calendula Officinalis (Calendula), Stellaria Media (chickweed), Nigella Sativa ( organic black cumin seed oil), Helianthus Annuus Oil (organic sunflower oil), Olea Europaea (olive oil), Cera Propolis (propolis), Organic Vanilla Absolute, Sandalwood oil, Organic Tea tree oil, Lavandula Augustifolia, Citrus Reticulata (tangerine essential oil) (lavender),*Eugenol,*Farnesol,*Limonene,*Linalool (*naturally occuring in essential oils)
I'm a huge fan of facial masques and this Honey & Propolis Healing Facial is an absolute winner. This facial masque is a gel based, botanical infused healing facial treatment for all skin types. Designed to heal, calm and nourish the skin whilst gently purifying. It contains the latest 'gel to milk' technology which enables the product to be removed easily once warm water is added. It's excellent for breakouts and any irritated skin conditions.
The masque smells divine with subtle notes of vanilla. I also love the way this masque instantly turns to 'milk' when you wash it off. When it comes to washing off honey it can be a sticky mess, but not with this gorgeous facial masque. It glides onto the face when used with the useful applicator sent with the jar and I found that it left my skin feeling nourished and moisturised afterwards.
---
Radiance Flower Nectar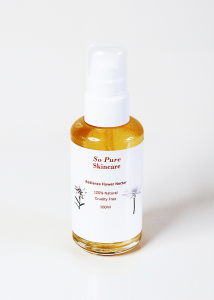 Ingredients: Vegan. 60% organic Rosa Damascena Flower Water (organic rose), Citrus Aurantium Flower Water (organic neroli), Helichrysum Italicum Water (organic everlasting), Sodium Hyaluronate (hyaluronic acid), Benzyl Alcohol, Salicylic Acid, Glycerine, Sorbic Acid, Leontopodium Alpinium Flower (Organic Edelweiss), Laminaria Digitata, Jojoba oil, Santalum Album(Sandalwood), Citrus aurantium essential oil (Neroli), Jasmimum grandiflorum (Jasmine essential oil), (Rosa Damascena essential oils) Rose otto *Eugenol,*Farnesol,*Limonene,*Linalool (*naturally occuring in essential oils)
For the last month I have been spritzing So Pure Skincare's Radiance Flower Nectar onto my face whenever I needed refreshing or just wanted a small pick-me-up. The scent is wonderful and it reminds me of Tata Harper's Hydrating Floral Essence with its exquisite flower waters and anti-ageing properties. I can see that this beautiful facial spritz would be ideal for a long plane journey or just a lovely botanical wake-up every morning. I am a big fan of (Australian) sandalwood so I'm always delighted to find it in my beauty products.
---
Anti-Ageing Nutrient Elixir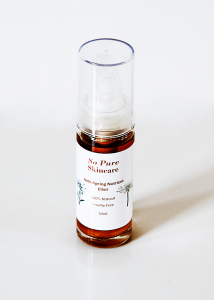 Full Ingredients: Vegan. 60% organic. Oils of: Opuntia Ficus Indica (organic prickly pear seed), Solanum Lycopersicum (organic tomato seed), Balanites Aegyptiaca (organic date seed), Punica Granatum (pomegranate seed), Rubus Ideaus (raspberry seed), Vaccinium Macrocarpon (cranberry seed), Ribes Nigrum Seed (blackcurrant seed), Cucurbita Pepo (organic pumpkin seed), Jasminum grandiflorum (Jasmine flower oil), Santum album (sandalwood essential oil), Organic Vanilla Absolute, Lavandula Augustifolia Flower oil (lavender), Rosa Damascena Flower Oil (rose otto), Citrus Aurantium Flower Oil (neroli) *Benzyl cinnamate, *BenzylBenzoate, *Citral, *limonene, *Linalool, *Farnesol, *Citronellol, *Geraniol, *Coumarin, *Eugenol (*naturally occuring in essential oils)
I received a small sample of this beautiful Anti-Ageing Nutrient Elixir and Geeta had cleverly packaged it with a rollerball. Every evening I glide the elixir over my face and then gently massage it in with the tips of my fingers.
Nothing beats this product. This is hands-down my favourite out of all the So Pure Skincare products that I tried. If there's one thing I love, it's exotic cold pressed plant oils and I think I share this passion with Geeta because her signature ingredients include prickly pear seed oil and date seed oil. The scent of So Pure Skincare's Anti-Ageing Nutrient Elixir is lovely and subtle – just a beautiful hint in the background.
---
I'm deeply impressed with So Pure Skincare's skincare products and I'm not just saying that because Geeta is a Formula Botanica graduate.
Geeta is a bit of a maestro when it comes to blending fragrances and that's a running theme for all of her products because they all smell amazing. She chooses the best possible ingredients (preferably organic) and then blends them together to create gorgeous skincare products with great anti-ageing properties.
If you are looking to try out new organic skincare products in your beauty regime, I cannot recommend So Pure Skincare highly enough. Not only would you be supporting a small artisan business, but you would also be doing your skin a favour.
---
Leave us a comment
comments