Certificate in Organic Anti-Ageing Skincare
Our online organic anti-ageing skincare formulation course teaches you to create your own exquisite capsule range of unique high performance botanical blends.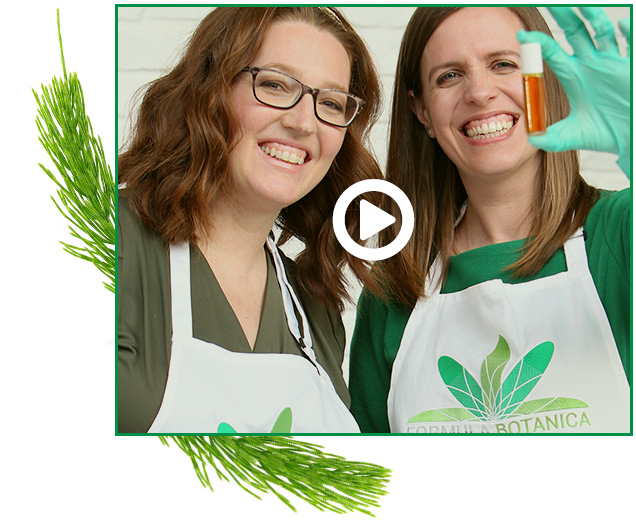 Suitable for: Formulators with experience

Pre-requisites: Checklist

Time: 50 study hours

Course Modules: 4

Coursework: Self-study + tutor graded

Duration: One year deadline

Cost: £395 (British Pounds).

Next enrolment period: Enrolment opens 11 - 16 January 2024

Our Certificate in Organic Anti-Ageing Skincare teaches you the science of dermal ageing and then delves into the world of cosmeceuticals and nutriceuticals for the skin. Learn how to create your own exquisite capsule range of unique anti-ageing skincare blends.

This course is suitable for people with existing skincare brands or students who have limited formulation experience. This Certificate has helped skincare entrepreneurs all around the world cater for the hottest trend in natural cosmetics: organic anti-ageing skincare.
Research the Science of Skin Ageing
Learn how the skin ages intrinsically and extrinsically. Develop a solid understanding of the science behind dermal ageing and use this knowledge to underpin your high performance anti-ageing formulations. Cover natural solutions to dermal ageing.
Understand Anti-Ageing Ingredients
Become an expert formulator by researching your ingredients in detail. Discover the different high performance anti-ageing ingredients derived from plants and learn how to apply them in your skincare designs. Research the different cosmeceuticals and nutriceuticals available for organic skincare formulations.
Learn the foundations of Anti-Ageing Skincare R&D
Study the 8 steps of formulation Research & Development and then create your own anti-ageing skincare Research & Development plan to make sure you're not just randomly blending ingredients together, but are instead designing a formulation that actually works on the skin.
Formulate Beautiful Organic Anti-Ageing Skincare
Learn the 5 steps to creating a perfect skincare formulation. Create your own anti-ageing serums, oils, moisturisers, creams, lotions, elixirs, hydrating mists, facial masques and facial polishes. Set yourself apart from other formulators by formulating high performance anti-ageing skincare that actually works.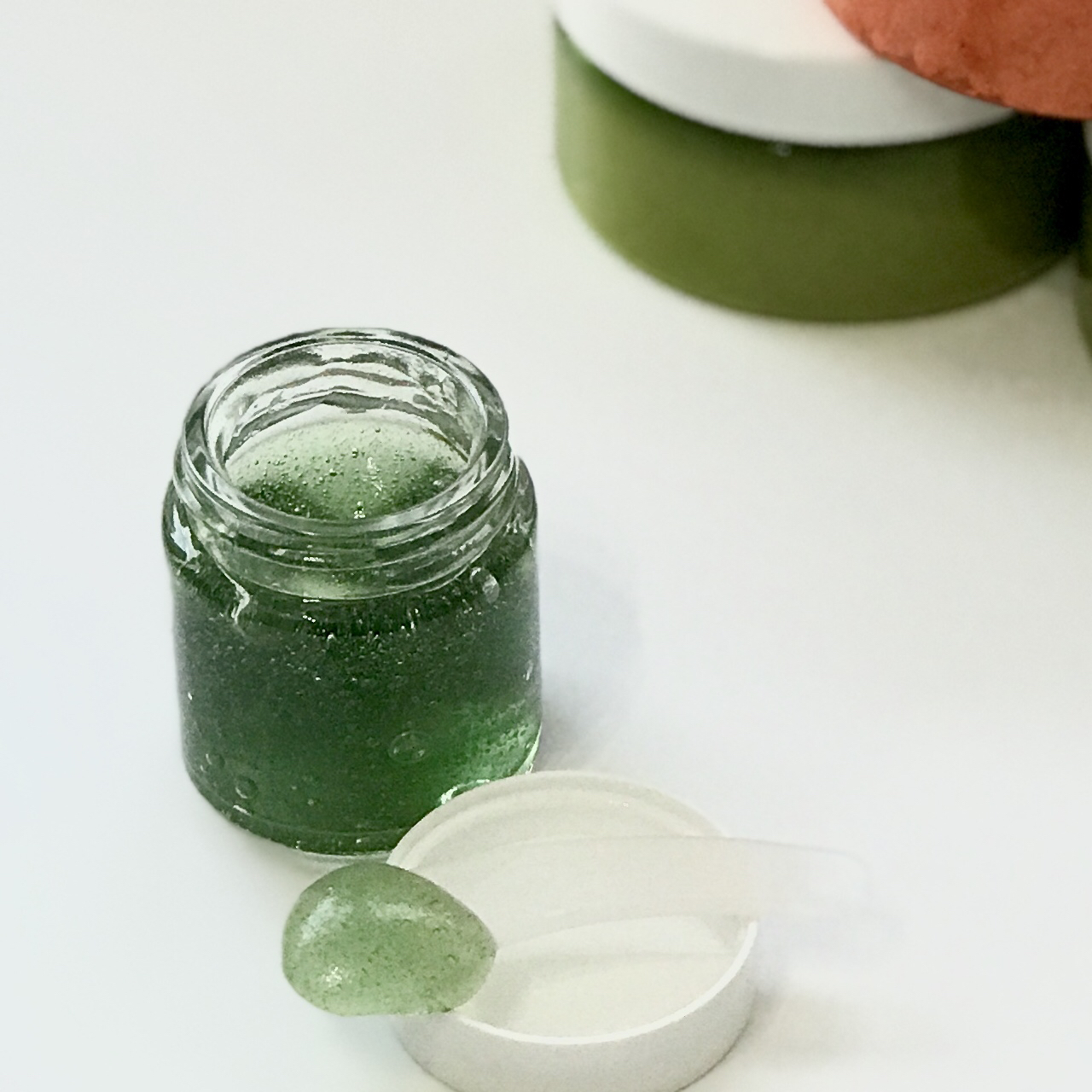 Why enrol with Formula Botanica?
This course is for you if:
You know how to formulate the basics and now want to enhance your skills
You want your turn your basic organic formulations into high performance skincare
You want to learn about high performance cosmetic ingredients and how they work
You want to learn how to create a capsule organic anti-ageing skincare range
You want to study the 9 main anti-ageing cosmeceutical groups of ingredients
You want to enrol with an accredited and gold award-winning education provider
"The course was very thorough. Since turning 50 and having concerns about my skin and skincare. This course has taught me about my skin, how the skin ageing process works and how to formulate skincare products that are organic and much healthier for my skin."
Course videos
Learn directly from the Formula Botanica team with our professional videos and course lectures.
Fun Online Games
Play games to help you learn how to reinforce the learning outcomes for your course.
Study books
Download your beautifully designed course notes to refer back to and keep forever.
Tutor Support
Speak directly to a tutor in our private "Ask the Tutor" forum for students.
Sequential Learning
Unlock new modules as you work through the course sequentially to enforce learning points.
Graded Coursework
Receive expert graded feedback to help you make your formulations safe, stable and sellable.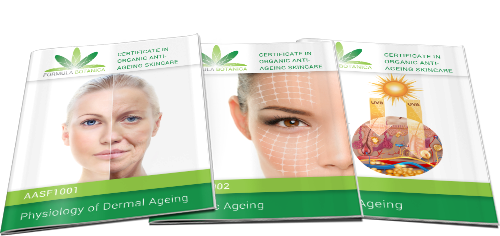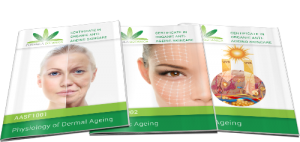 Module 1
How The Skin Ages
Your skin is the largest organ of the body. It serves many important physiological functions and is our main 'interface' between us and the rest of society. This is why the ageing of the skin is so important, why ageing is at the forefront of dermatological research and why the anti-ageing cosmetic industry is booming worldwide.
In this Module we look at the factors that cause the ageing of our skin – both inside and out. It is important to understand the mechanisms of ageing when designing high performance products as you want to be able to target the areas of the skin that matter the most.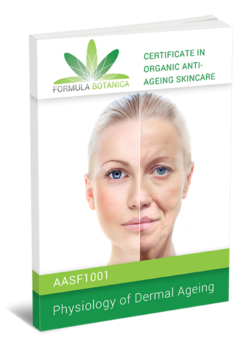 AASF 1001
Physiology of Dermal Ageing
Know the signs of dermal ageing
Learn the changes in connective tissue relating to collagen, elastin and hyaluronic acid
Understand the concepts of 'free radicals' and 'oxidative stress'
Learn the difference between intrinsic and extrinsic ageing
Run through our three-step prevention strategy for excessive dermal ageing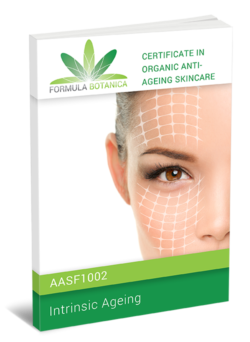 AASF 1002
Intrinsic Ageing
Understand the signs of intrinsic ageing
Learn four of the main factors that influence intrinsic ageing:

Ethnicity
Anatomical variations
Hormones
Time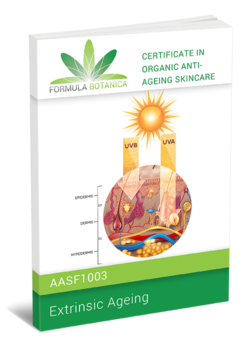 AASF 1003
Extrinsic Ageing
Learn the main extrinsic ageing factors which affect the skin.
Understand the effects of photo-ageing on the skin
Review the effects of smoking on the skin
Learn about the way diet affects the skin, including Advanced Glycation End-Products (AGEs)
Study the effects of pollution on the skin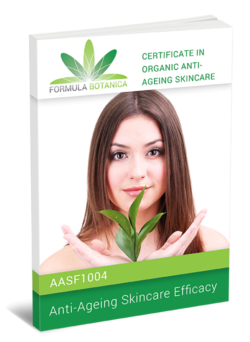 AASF 1004
Anti-Ageing Skincare Efficacy
Understand the main dermal ageing concerns that most customers have
Learn the 5 main anti-ageing functions required by skincare products

Review the Cleanse-Moisturise-Protect cycle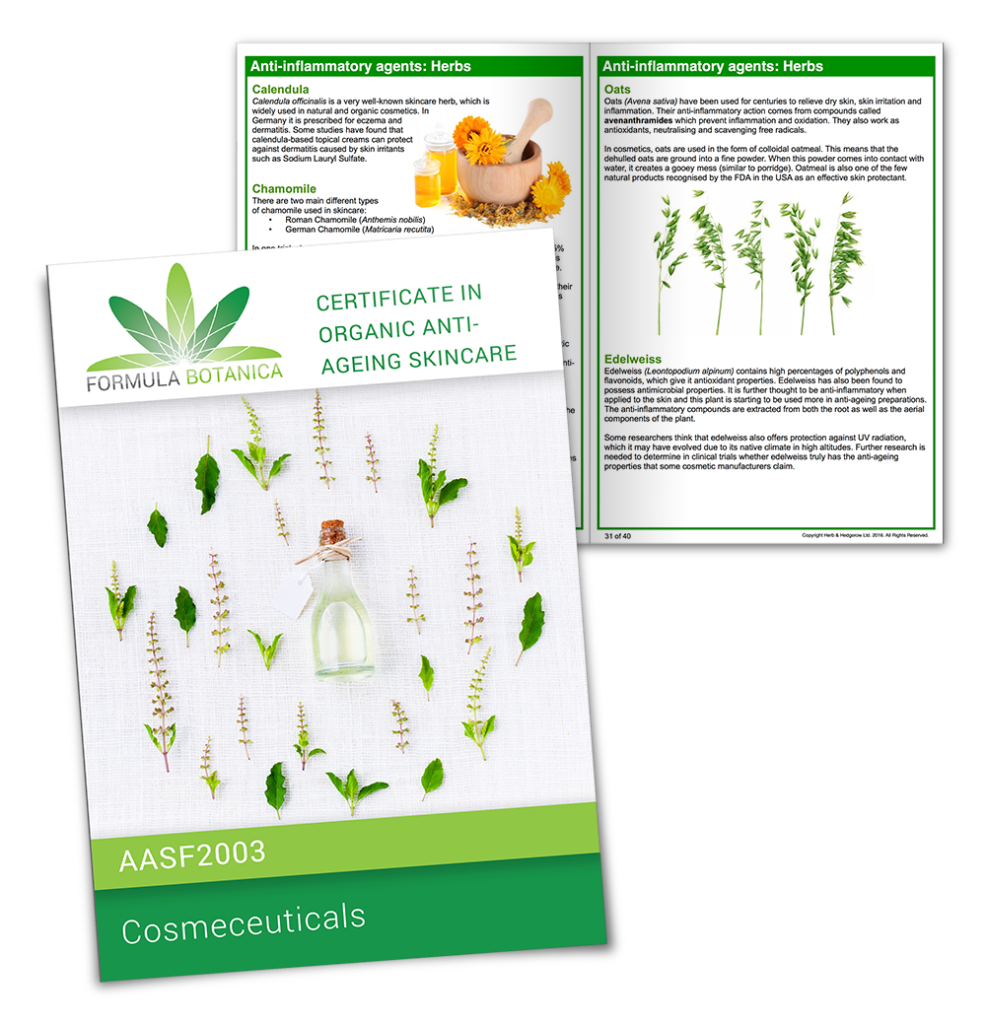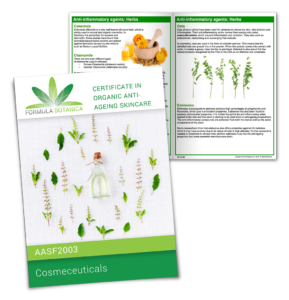 Module 2
Anti-Ageing Skincare Ingredients
Anti-ageing skincare consists of a combination of active high performance ingredients and foundation ingredients, which create a base that acts as a carrier for the nutritious and therapeutic actives.
In this module we cover all the anti-ageing skincare ingredients available to you as an organic skincare formulator. We'll research the main high performance plant-derived cosmeceuticals and nutriceuticals for organic cosmetics.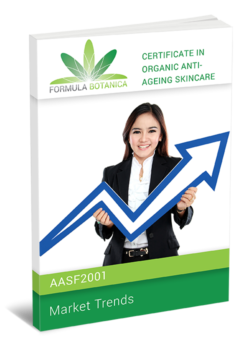 Understand the shift in demographics thanks to a global ageing population.
Review the ageing concerns of mature and younger consumers.
Study consumer needs of anti-ageing skincare.
Learn about the trend towards positive ageing.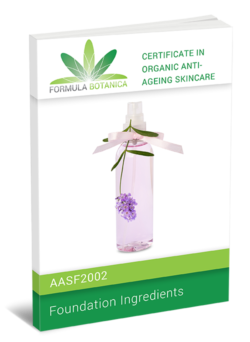 AASF 2002
Anti-Ageing Foundation Ingredients
Understand why foundation ingredients need consideration in anti-ageing formulations
Learn why plant oils and hydrosols/hydrolats are important for the skin
Study the 5 rules for choosing botanical ingredients for your skincare products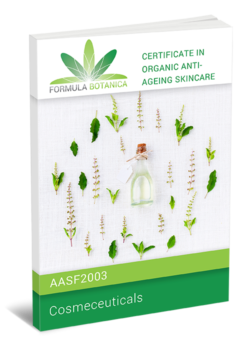 AASF 2003
Cosmeceutical Ingredients
Learn how to work with natural cosmeceuticals: high performance ingredients
Study the 9 main anti-ageing cosmeceutical groups

Review examples of ingredients in each of these groups

Understand how these cosmeceuticals link to anti-ageing skincare functions
Course bonus: Carrier Oils Handbook
Course bonus: Essential Oil Dermal Limits Guide
"I thought I knew enough of what there was to know about cosmetic formulation necessary to run a successful business until I did the course to get my Anti-ageing Certificate. It seemed the more I found out, the more there was to know. It is an endlessly fascinating subject which Formula Botanica turn into a useful and exciting experience. I feel so much more equipped to deliver not just a good product but a great product that delivers all the elements necessary to slow down ageing of the skin and make my customers see real benefits with their skin care. I can't fault the backup from the staff whenever I have asked for help. Thank you for making this all possible and making us all feel as though we are part of a special family."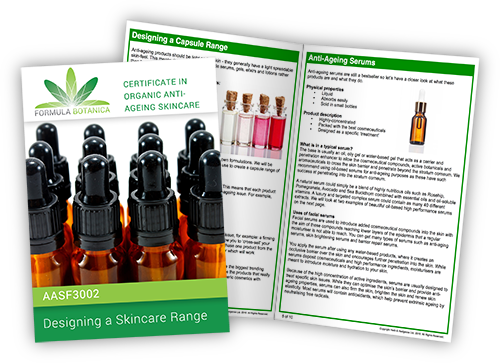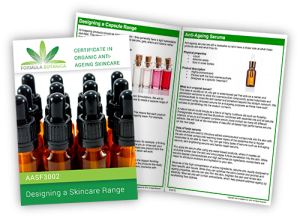 Module 3
Anti-Ageing Product Development
Now you've gained lots of knowledge of how the skin ages and what kinds of ingredients to use in your anti-ageing skincare products, it's time to look at how to actual structure and develop a formula. This is the groundwork you need before moving on to actually heading into your 'lab' and putting a product together for the first time.
Formulation is both a science and an art so it helps to use your logical brain and your creativity to inform the process. In this module, we'll teach you the logical steps to create your own unique formula from scratch.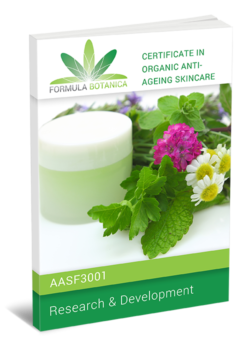 AASF 3001
Research & Development
Understand what Research & Development is and why you need it
Learn the 8 steps of formulation Research & Development
Design your own anti-ageing skincare Research & Development plan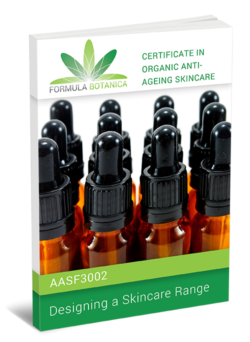 AASF 3002
Designing a Skincare Range
Understand what is required to form a capsule anti-ageing range
Review two well-known anti-ageing products: serums and masques
Follow our quick 7-step plan to getting started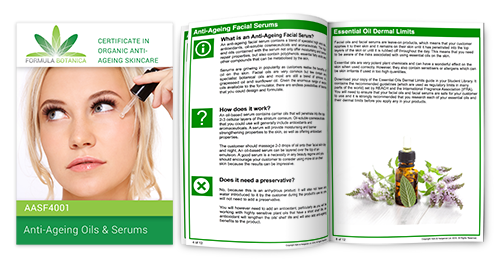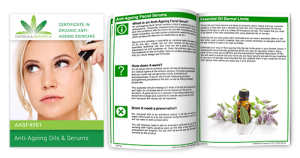 Module 4
Anti-Ageing Skincare Formulation
Now that you've studied the science of ageing, high performance skincare ingredients and formulation skills, it's time to put the theory into practice and start formulating your own unique anti-ageing products.
In this video-led lesson, you will learn how to create organic anti-ageing facial oils, serums, elixirs, hydrating mists, creams, lotions, facial masques and facial polishes. Make the most exquisite high performance products for your own anti-ageing skincare range.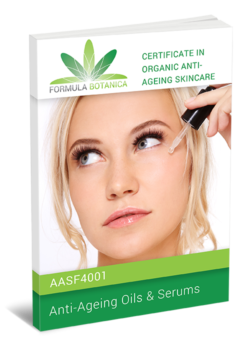 AASF 4001
Anti-Ageing Serums & Oils
Learn how to formulate anti-ageing facial oils and serums
Create your own unique anti-ageing facial oil and serum formulations
Receive a list of 20 specialised facial oils
Follow our expert video tuition to learn how to make your own anti-ageing serum
Course Bonus: Natural Preservation 101 Fact Sheet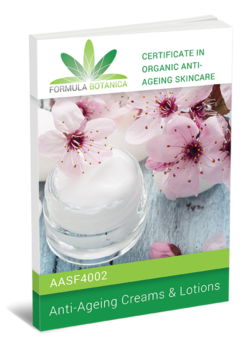 AASF 4002
Anti-Ageing Creams & Lotions
Learn how to formulate anti-ageing creams and lotions
Create your own unique anti-ageing cream and lotion formulations
Study anti-ageing water-in-oil and oil-in-water emulsions
Follow our expert video tuition to learn how to make your own anti-ageing lotion and cream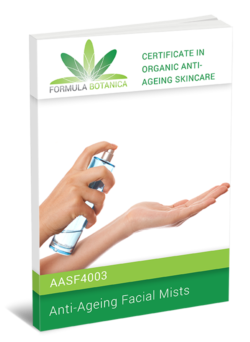 AASF 4003
Anti-Ageing Elixirs & Mists
Learn how to formulate anti-ageing facial mists and elixirs
Create your own unique anti-ageing facial mist and elixir formulations
Study the 4 layers of a water-based anti-ageing formulation
Follow our expert video tuition to learn how to make your own anti-ageing elixir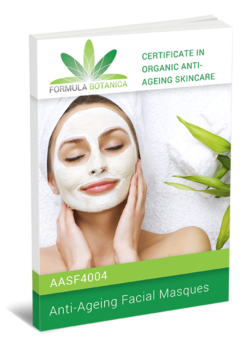 AASF 4004
Anti-Ageing Masques
Learn how to formulate anti-ageing facial masques
Create your own unique anti-ageing facial masque formulations
Focus on two specific anti-ageing facial masques: gel masques and clay cream masques
Follow our expert video tuition to learn how to make your own anti-ageing gel masque and clay cream masque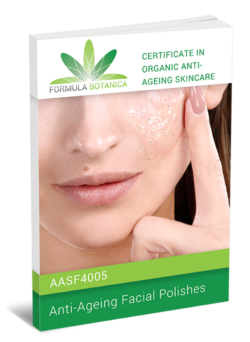 AASF 4005
Anti-Ageing Facial Polishes
Learn how to formulate anti-ageing facial polishes

Create your own unique anti-ageing facial polish formulation

Learn the 4 types of foundation for a facial polish and the 8 types of natural exfoliants
Follow our expert video tuition to learn how to make your own anti-ageing facial polish
"This course is highly recommended for formulators who are starting out with organic anti-ageing skin care. The resource materials are informative and useful. The platform is also very easy to use."
Course Bonuses
When you study with Formula Botanica, you become part of a close-knit international community of students and graduates all around the world. We support you all throughout your studies and beyond, and we give you access to our expert botanical skincare science and business files while you are enrolled on your courses.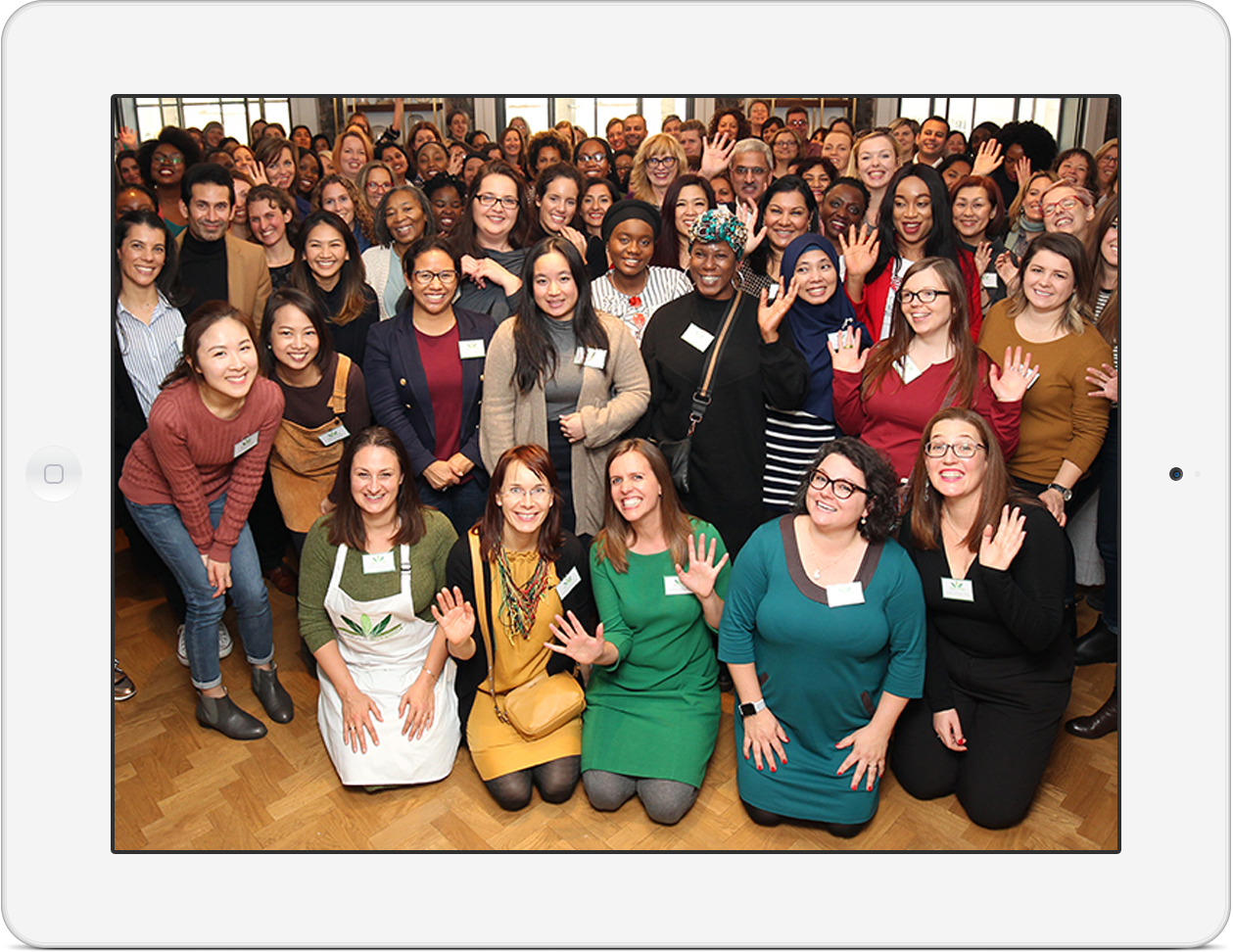 Bonus 1
Become Part of the Loveliest Formulation Community on the Internet
Once you enrol with us, you are welcomed into our international student community groups which contain many thousands of our students and graduates from all over the world. Everyone knows each other and many of our students meet up in their respective countries to share information and formulate together.
In our groups you will receive expert tutor support and peer support. Ask questions, share photos, troubleshoot formulations. Celebrate your victories and get encouragement when you need it. You are never alone.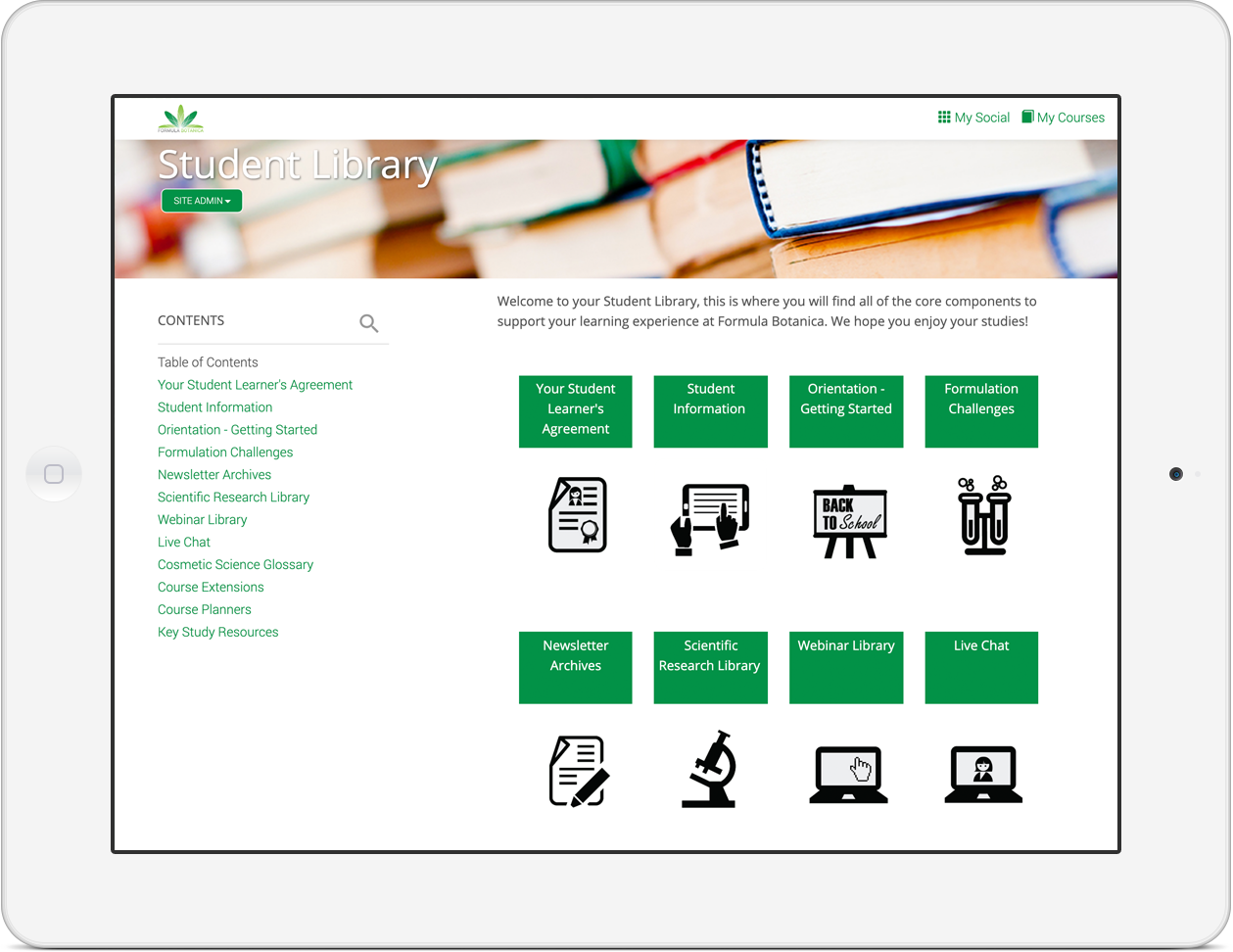 Bonus 2
Access our Student Library
When you become a student with Formula Botanica, you also gain exclusive access to our Student Resources Library for the duration of your course. Access our:
Preferred supplier guide which contains hundreds of global companies
Extensive ingredients directory with listings of over 100 natural ingredients
Formulation percentage-to-weight calculator
Scientific research collection
Useful links section to additional resources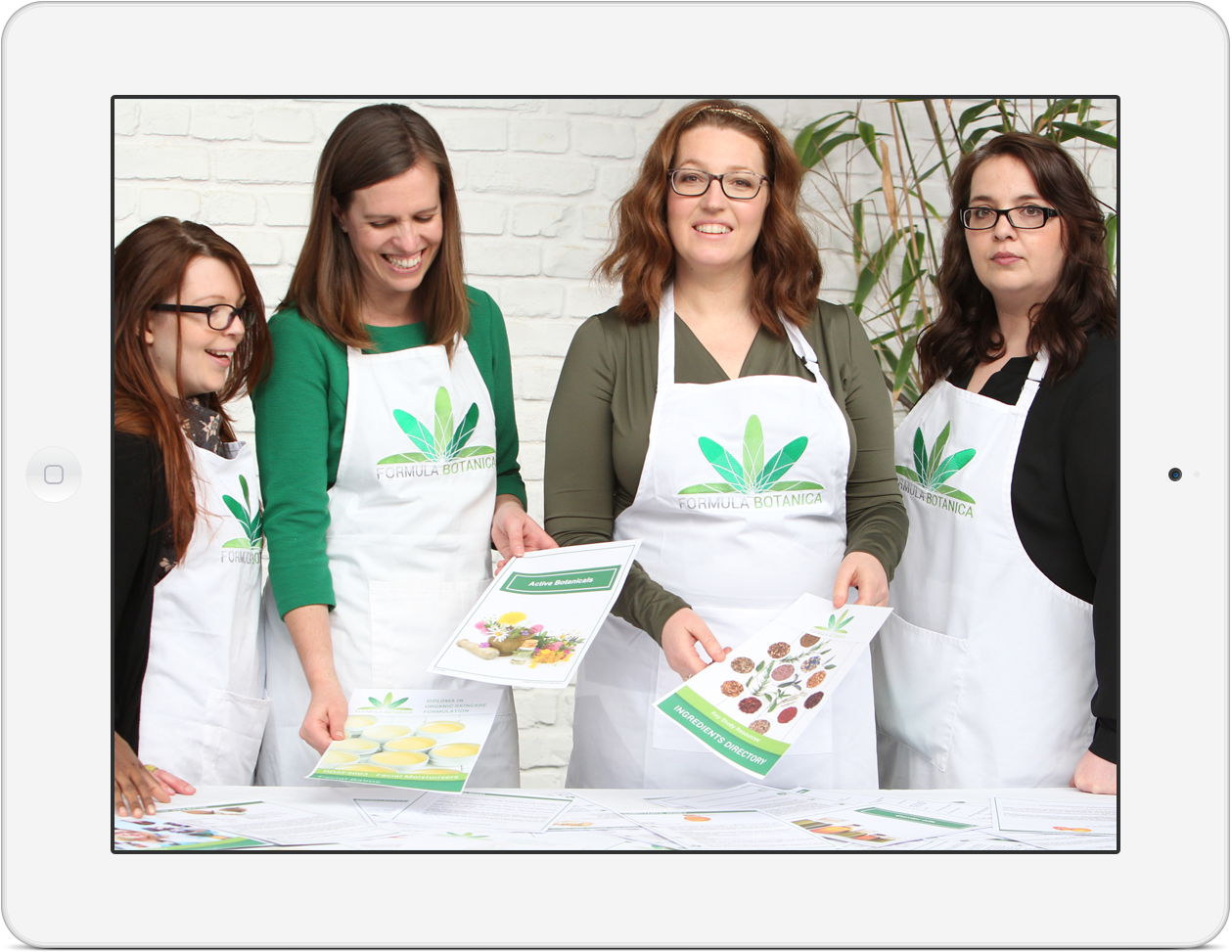 Bonus 3
Ongoing Support After Graduation
The support doesn't finish when you graduate. We want to keep in touch with you once you've finished your course and support your career in organic skincare. We offer lots of free promotion for our graduates because we want to help give your business the support it needs when you launch it or as you grow it.
Be featured widely on our website, on social media and on our mailing list. Formula Botanica has many thousands of followers and subscribers all around the world so this will help you create a splash when you launch.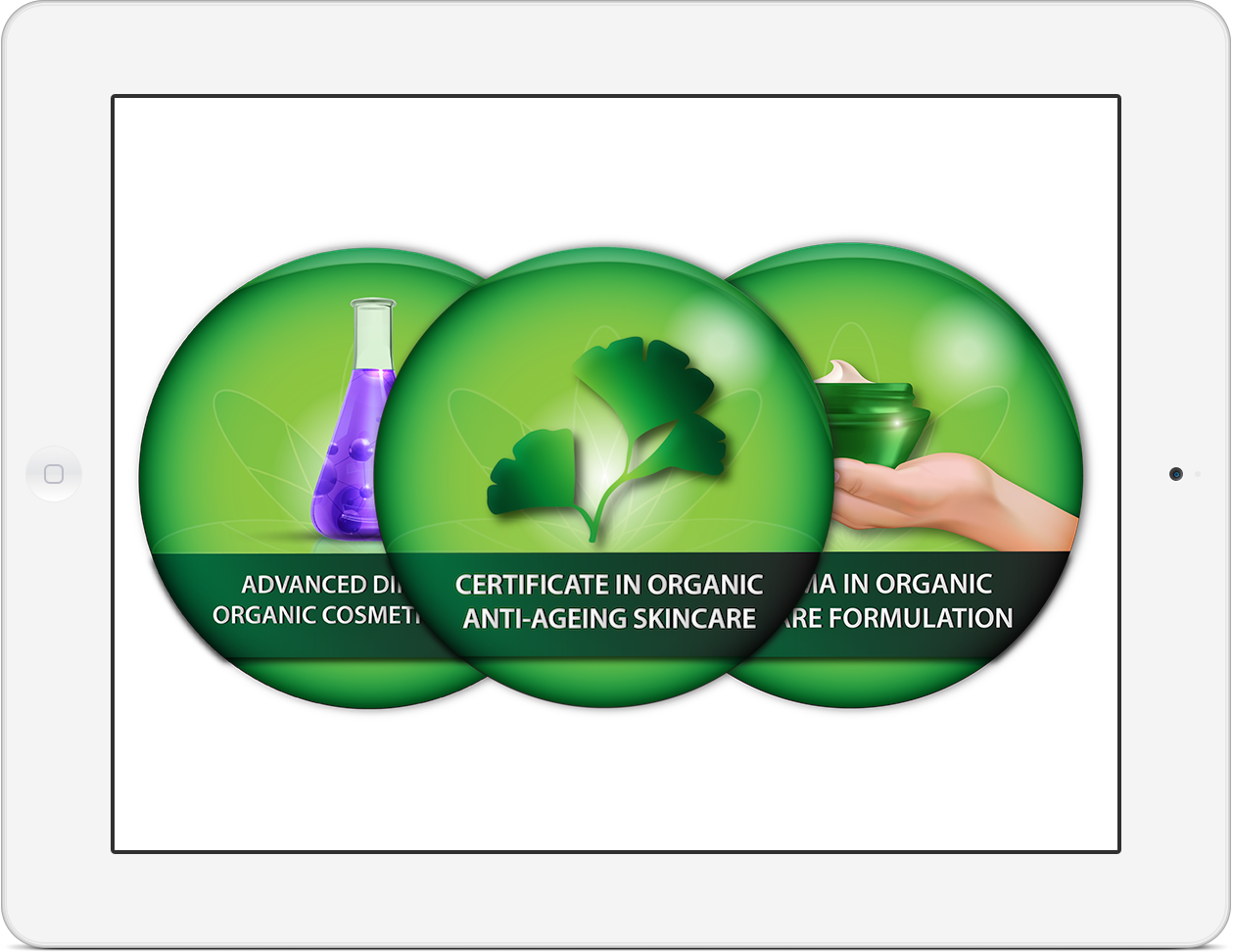 Bonus 4
Earn Formula Botanica Bonus Badges
Formula Botanica issues special Moodle Badges to students who pass their courses successfully (Moodle is the name of our award-winning and accredited eLearning Platform). These badges can be used on your resume, social media pages and LinkedIn profile to demonstrate that you are a skilled organic formulator. We have also hidden a few surprise badges in the course materials for students who pass certain Modules with a distinction grade!
Enrol for our Certificate in Organic Anti-Ageing Skincare to create exquisite high performance products for the hottest trend in cosmetics: anti-ageing cosmeceuticals.
Pre-enrol for our next term
Prerequisites
Suitable for students with formulation experience, ideally graduates of our foundation Diploma.
Start Date
Term Times. Self-paced training where you have up to 12 months to complete your course.
Assessment
Projects, activities and reflexive learning. Each module ends with a short test.
Online Classroom
Peer support & tutor support via a private Facebook group.
Accreditation
Formula Botanica is accredited by the Open & Distance Learning Quality Council.
Expert Support
Our Tutor Team has an educational background in cosmetic chemistry, biology, education and business management. Let us support you.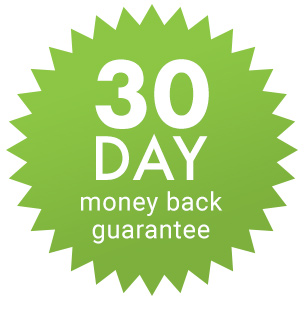 Formula Botanica operates a term time system, so we can get all of our students started at the same time and run online study groups.
Term times run in the following months:
Winter Term: January
Summer Term: July
Enrolment for all of our courses will be open during this period. If you want to be the first to hear when we open enrolment, make sure you pre-register for this course.
Pre-enrol for our next term