Diploma in Organic Skincare Formulation
Our award-winning foundation natural skincare course teaches you how to formulate organic skincare products and launch the beauty brand of your dreams.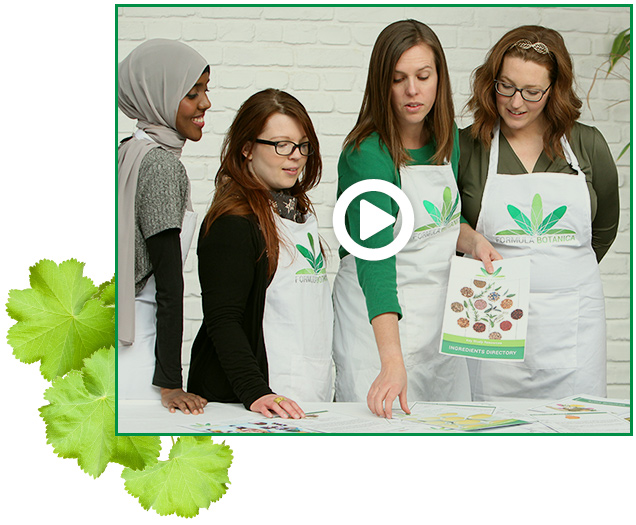 Suitable for: Beginners

Pre-requisites: None

Time: 100 study hours

Course Modules: 8

Coursework: Self-study + tutor graded

Duration: Two year deadline

Cost: £750 (British Pounds).

Next enrolment period: Enrolment opens 11 - 16 January 2024

Our Diploma in Organic Skincare Formulation teaches you everything you need to know to create your own natural skincare, start your own natural and organic skincare business, or how to add your all-natural skincare range to your salon or spa.

This online natural skincare course has been followed by over 10,000 people all over the world and has launched many careers and businesses in the organic skincare sector. Our foundation Diploma is our most popular course and is suitable for anyone who is completely new to skincare formulating.
Become an Innovator
(Not a Recipe Follower)
We teach you the formula to creating any organic skincare product from scratch, which will set you apart from other skincare formulators who just follow recipes. Instead you will be taught to confidently create your own unique designs that reflect your vision and contain your favourite ingredients.
Study the Science
of Natural Skincare
Become fluent in the language of skincare science. Learn all about the anatomy and physiology of the skin. Study how to formulate (it's easy and fun!) and learn how to research your ingredients. Understand how to turn your skincare business into a success and make your skincare range compliant with the law.
Create Beautiful Skincare
Facial, Body and Spa
Learn how to formulate luxury natural skincare products that contain the finest botanical cold-pressed oils, rich exotic organic butters, subtly fragrant flower waters, sun-dried clays, all-natural waxes, and the most exquisite essential oils. Create aroma-therapeutic blends with essential oils, flower, seed and plant extracts.
Build your own
Indie Beauty Brand
Take your newly-found formulation skills and become an indie beauty formulator, confidently creating your own unique creams, lotions, cleansers, toners, moisturisers, gels, foaming products, masks, balms, butters, and more, using gorgeous natural ingredients. Then learn how to sell those formulations anywhere in the world!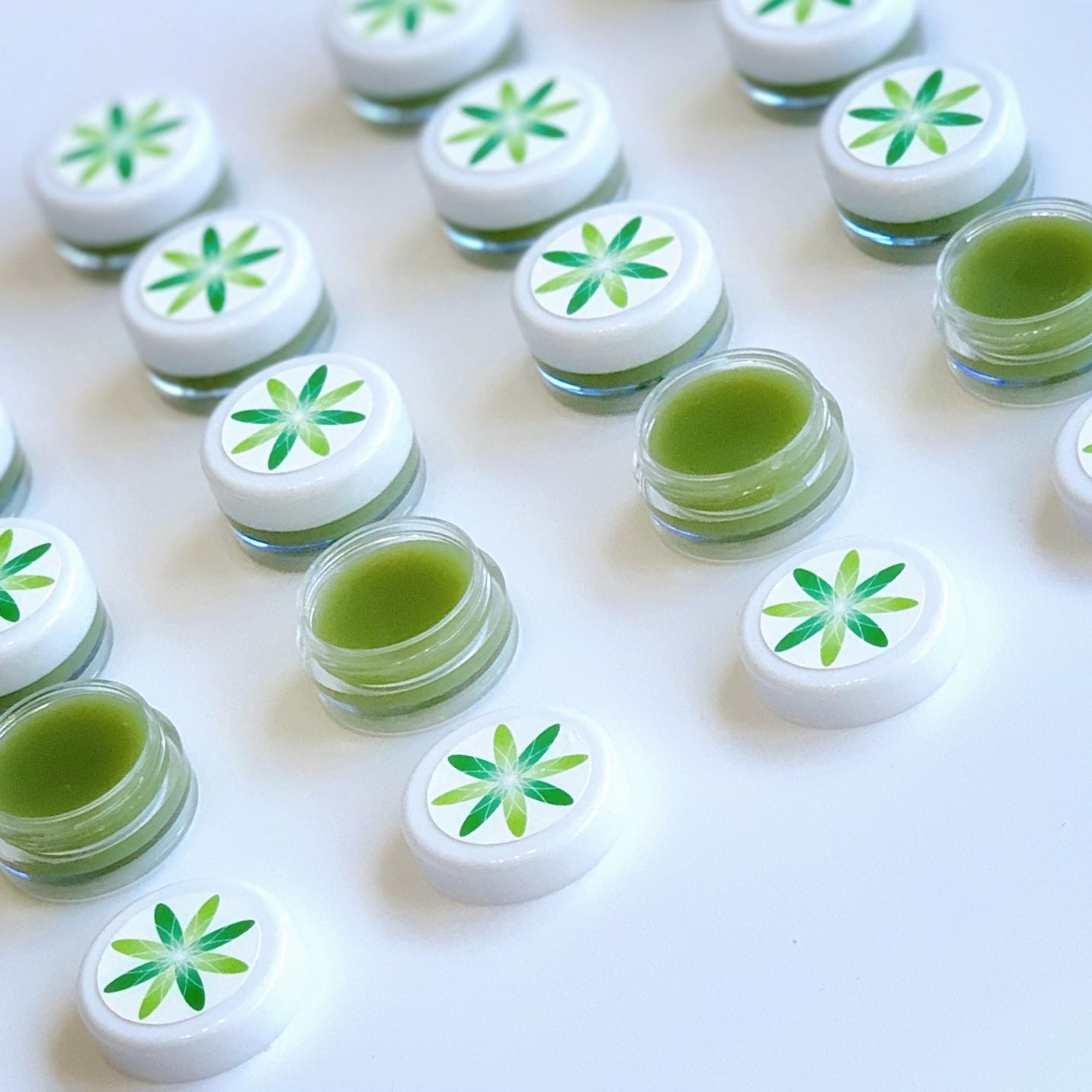 Why enrol with Formula Botanica?
This course is for you if:
You want to start your own organic or natural skincare brand—anywhere in the world
You have been making DIY skincare and you want to turn your hobby into a business
You want to learn how to formulate professional quality organic skincare
You want to make sure that your business complies with the law in your country
You want to enrol for the most popular natural skincare course on the internet
You want to enrol with an accredited and gold award-winning education provider
"Over the past 2 years I have spent a chunk of money studying with others but never felt satisfied with my understanding of ingredients, formulation methods or skin and cosmetic science at the end of these courses. As soon as I started my first module with Formula Botanica, I knew I had come to the right place. The teachers are experts you can trust; they aren't hobbyists who have learnt all their knowledge from google or rumors that circulate blogs. Don't waste time studying with anyone else. Formula Botanica is the real deal."
45+ videos
Learn directly from the Formula Botanica team with our professional videos and course lectures.
Fun Online Games
Play games to help you learn how to reinforce the learning outcomes for your course.
50+ study books
Download your beautifully designed course notes to refer back to and keep forever.
Tutor Support
Speak directly to a tutor in our private "Ask the Tutor" forum for students.
Sequential Learning
Unlock new modules as you work through the course sequentially to enforce learning points.
Graded Coursework
Receive expert graded feedback to help you make your formulations safe, stable and sellable.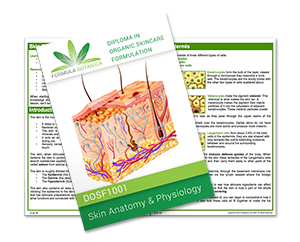 Module 1
Skin Science
When starting out making natural skincare products it is important to have a good knowledge about the skin itself and what it needs to remain healthy.
In this first module of our award-winning natural skincare course, you will learn about the structure and physiology of the skin. We'll bust some of the best-known cosmetic myths on the internet, which will teach you how to understand a skincare ingredient's technical data and we will learn about holistic skin health, focusing on the enemies of the skin.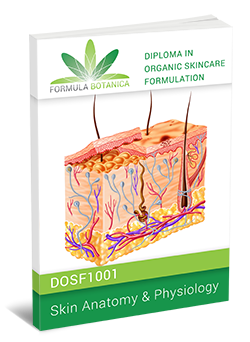 Study the anatomy of the skin with our video lectures
Learn how to identify the three main layers of the skin
Use fun games and interactive worksheets to memorise the skin's anatomy and physiology
Course bonus: High resolution Skin Poster to annotate
Course bonus: Cosmetic Science Glossary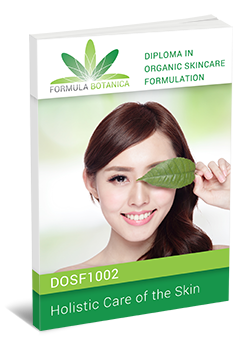 DOSF 1002
Holistic Skin Care
Research the 9 main 'enemies' of the skin and understand what role organic skincare plays in holistic skin health
Study the two most important holistic formulation principles
Understand how to care for the skin from a holistic perspective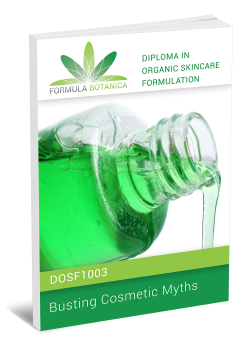 DOSF 1003
Busting Cosmetic Myths
Learn how to research cosmetic ingredients
Debunk the 9 worst myths in the natural skincare world
Learn how to read and understand a cosmetic ingredient's data specification sheet
Course bonus: Bundle of data specifications for 30 different natural and synthetic ingredients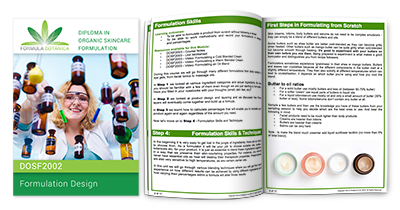 Module 2
Formulation Skills
It would be impossible to be able to create unique formulations for natural skincare if you hadn't first studied the different ingredients. You are learning how to become a formulator so you will need to get to know your ingredients very well in order to start creating with them.
In this second module of our natural skincare course we get you started with your very first organic cosmetic formulations. You'll learn how to choose the right ingredients, how to layer a formulation and how to calculate the percentages in your formulations.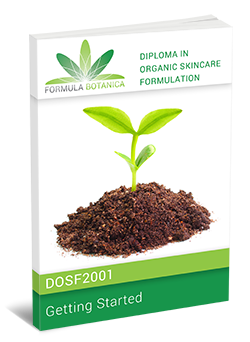 DOSF 2001
Getting Started
Introduction to organic cosmetic ingredients
Learn how to research ingredients like a formulator
The 4 most important points every formulator should know
Download your Ingredients & Equipment Directory to get started
Course bonus: Carrier Oils Handbook profiling 30 oils together with a helpful oil penetration chart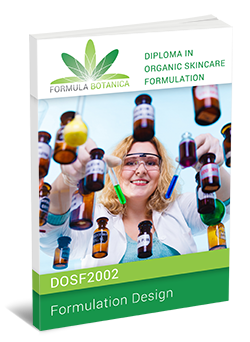 DOSF 2002
Formulation Design
Understand how a formulation is created and structured
Learn how to formulate a product from scratch without following a recipe
Study how to record your formulations in weight and percentages
The 5 critical steps to using essential oils safely
Learn how to implement Good Manufacturing Practice and safely preserve your product
Course bonus: Essential Oils Dermal Limits Guide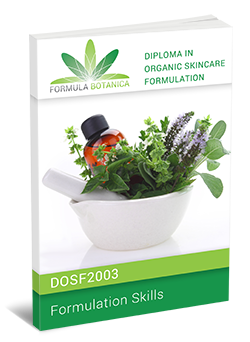 DOSF 2003
Formulation Skills
Put your theory into practice and formulate your first products!
Formulate from scratch without using a recipe
Follow our expert video tuition to learn how to create your first formulations
Learn how to create a warm-blended cream, a cold-blended cream and an oil blend by following our video demonstrations
"The best decision I've ever made in my entire life was to enroll and finish my Diploma in Organic Skin Care Formulation at Formula Botanica. Excellent! no second thought I highly recommend this online school in Organic Skin Care formulation to anyone."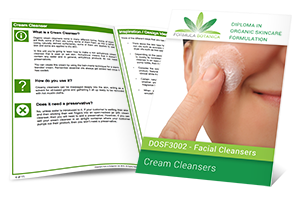 Module 3
Facial Product Formulation
Now that you've mastered basic formulation skills, it's time to start formulating your first organic facial skincare products.
In this third module of our natural skincare course we cover toners, gels, cleansers and moisturisers and introduce you to a wide range of cosmetic formulation techniques – making tonics, gels, bi-phase products, foaming products, creams, balms and oils. You will learn how to use more complex ingredients such as oil-in-water emulsifiers, natural solubilisers and green surfactants.
You will practice making 12 different products for an organic facial skincare range, following our expert video tuition and downloadable study books.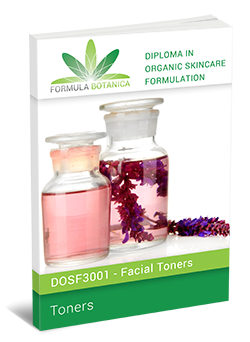 Learn how to formulate organic facial toners, ranging from simple to complex blends
Formulate organic toners
Formulate organic toners using a natural solubiliser
Formulate organic facial gels
Follow our expert video tuition to learn from our sample formulations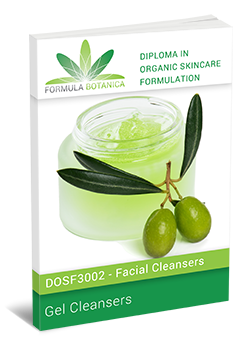 DOSF 3002
Facial Cleansers
Learn how to formulate organic facial cleansers, appropriate for a range of different skin types
Formulate organic cream cleansers
Formulate organic bi-phase cleansers
Formulate organic gel cleansers
Formulate organic foaming cleansers
Formulate organic micellar waters
Follow our expert video tuition to learn from our sample formulations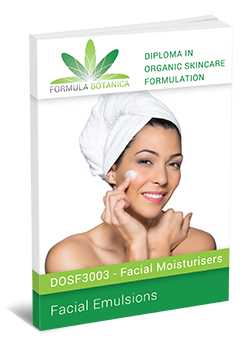 DOSF 3003
Facial Moisturisers
Learn how to formulate organic facial moisturisers, creating all sorts of different natural skincare products
Formulate organic cream blends
Formulate organic facial oils
Formulate organic facial balms
Formulate organic lip balms
Formulate organic facial emulsions
Follow our expert video tuition to learn from our sample formulations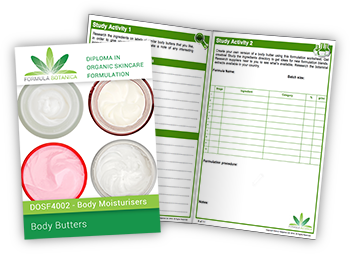 Module 4
Body Product Formulation
In this next module of our natural skincare course you spend your time perfecting the skills you mastered in Module 3.
You have already learned oil-in-water emulsification, now you'll add water-in-oil emulsification to your line-up of formulating skills. You'll experiment further with green surfactants and create a small range of 8 different natural bodycare products following our expert video tuition and downloadable study books.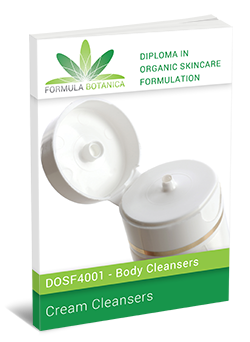 Learn how to formulate organic body cleansers, focusing on green surfactants
Formulate organic body cream cleansers
Formulate organic body gel cleansers
Formulate organic zero-waste shower bars
Follow our expert video tuition to learn from our sample formulations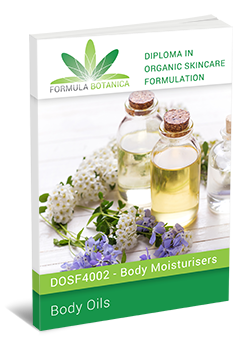 DOSF 4002
Body Moisturisers
Learn how to formulate organic body moisturisers, creating all sorts of different natural skincare products
Formulate organic body butters
Formulate organic body oils
Formulate organic body lotions
Formulate organic body balm or lotion bars
Formulate organic hand and foot creams
Formulate organic oil-free body spray
Follow our expert video tuition to learn from our sample formulations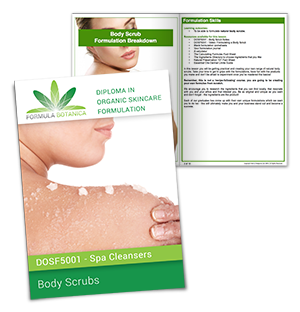 Module 5
Spa Product Formulation
You can now confidently create and formulate your own facial and body skincare products. You have already created a small range of organic and natural skincare products for the face and body.
In this fifth module of our natural skincare course you will learn how to formulate spa products, such as scrubs and spa treatments. We will cover a further 5 spa formulations which you can add to your professional skincare range.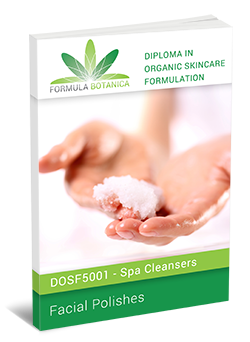 Learn how to formulate organic spa cleansers, which help exfoliate the skin and remove dead skin cells
Formulate organic facial polishes
Formulate organic body scrubs
Follow our expert video tuition to learn from our sample formulations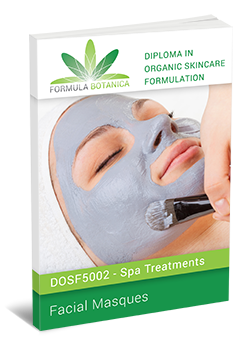 Learn how to formulate organic spa treatments, which your customer can use to pamper themselves at home
Formulate organic facial masques
Formulate organic body masques
Formulate organic massage oils
Follow our expert video tuition to learn from our sample formulations
"I just want to say thank you to all the team at Formula Botanica, you are amazing. It is a joy working with you, you are always very helpful and great to give practical advice. The Diploma in Organic Skincare Formulation has helped me a lot and I am now where I wanted to be, starting my own organic skincare brand."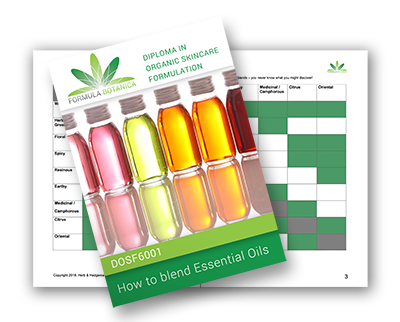 Module 6
Aroma-Cosmetology
You now know how to work with cosmetic ingredients and how to confidently formulate your own organic skincare products. In this next module, you will learn how to blend aromaceutical compounds to add to your products.
Essential oils are volatile aromatic compounds extracted via distillation or expression from certain medicinal or fragrant plants. They have been used throughout history for their aromatic and therapeutic properties.
In this sixth module of our natural skincare course we will examine the 30 best known (and a few rarer) skincare essential oils, learn about their science and explore how to best blend them together for their aromaceutical properties.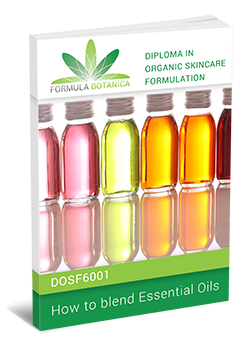 Study the 30 main skincare essential oils and their properties
Learn the basics of perfumery blending and fragrance notes
Understand the 6 rules of blending essential oils
Learn how to layer your fragrances
Course bonus: 'Mixology' Chart to learn the 9 fragrance families, fragrance notes for your skincare oils and fragrance family blending recommendations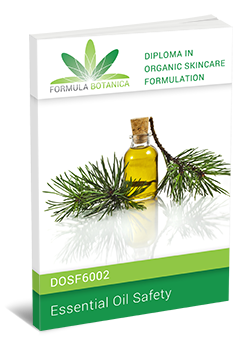 DOSF 6002
Essential Oil Safety
Study how to store your essential oils safely
Study how to handle your essential oils safely
Learn how to use your essential oils safely
Research the dermal limits of skincare essential oils in detail so that you make sure your products are safe for your customer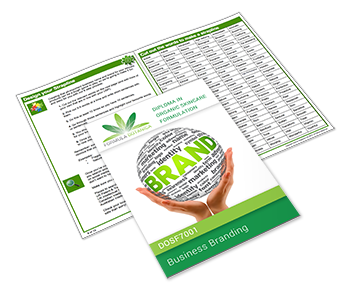 Module 7
Beauty Business Skills
It's no good making the best natural skincare in the world if no one knows who you are, where you are or how to buy from you. In this lesson of our award-winning natural skincare course you will learn how to brand your product, find your target audience and then how to promote your skincare brand to them.
We run you through the importance of branding and marketing and provide you with lots of material to get you started, regardless of whether you intend to sell your products online or offline. Examine some of the loveliest natural brands on the market and learn from their brands.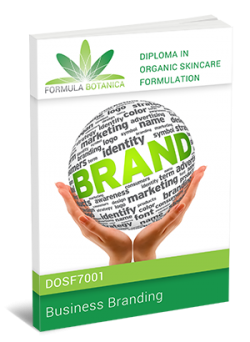 Study the 5 main components of every brand
Learn how to create a brand for your skincare range – including a brand name, strapline and Unique Selling Point
Study the physical brand associations you must create
Case studies: examine successful natural beauty brands
Course bonus: Branding Worksheet to help create your own brand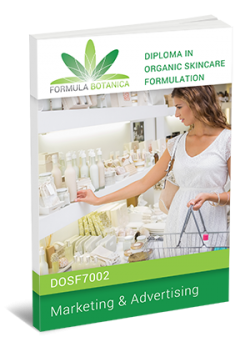 Learn what marketing is and how you should use it
Understand the 5 biggest beauty business marketing mistakes
Study Formula Botanica's own online marketing formula
Learn how to determine who your target customer is
Study how to run a focus group for your products
Course bonus: Product Testing Questionnaire template
Course bonus: Advertising 101 Fact Sheet
Course bonus: Website Design Fact Sheet
Course bonus: Press Release Fact Sheet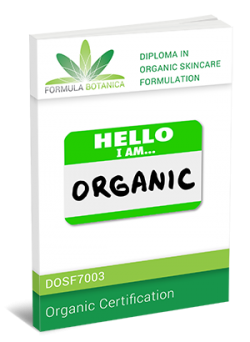 DOSF 7003
Organic Certification
Familiarise yourself with the 5 main organic certification schemes
Learn about the global organic beauty market
Study the challenges in purchasing organic ingredients
Choose the best certification scheme for your business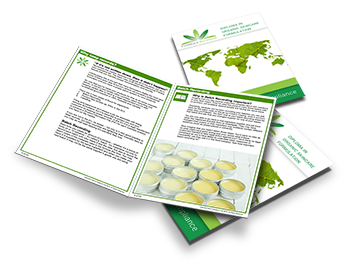 Module 8
Global Cosmetic Compliance
It doesn't matter how small your business is, you still must comply with the law. In this final Module of our natural skincare course we will introduce you to the cosmetic regulations in 48 countries. We encourage you to comply with the strictest regulations in the world – those in the EU – but we also cover the requirements in the USA, Canada, ASEAN countries, Australia, New Zealand, and others.
You will learn how to correctly label, manufacture and sell your products so that they comply with the law. We break down global cosmetic regulations for you in 8 easy steps. It may sound daunting, but if you cover the legislation bit by bit, then your artisan cosmetics business can become compliant.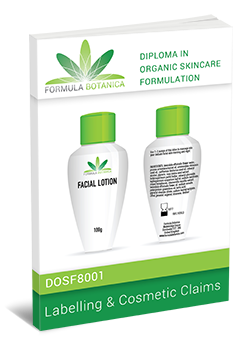 DOSF 8001
Labelling + Claims
Learn how to correct label your skincare product step by step
Set up a batch recording system for your lab
Calculate allergens for your cosmetic label declarations
Learn which claims you can and cannot make around the world
Study the different labelling requirements around the world (Europe, USA, Canada, Australia and more)
Work through our handy checklist to ensure your labels are compliant
Play 'Name that Claim'
Course bonus: Cosmetic Allergen Declaration Calculator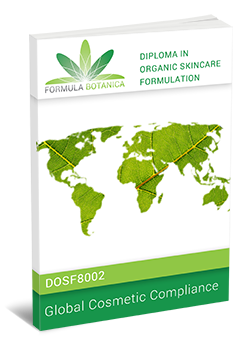 DOSF 8002
Global Compliance
Study the difference between cosmetic regulations in 48 countries
Learn how to implement Good Manufacturing Practice (GMP)
Find out if you can manufacture cosmetics at home in your country
Learn the different tests you'll need to undertake to sell your cosmetics
Create your own Product Information File with our 11-step checklist
Research which type of business insurance you'll need
Course bonus: Product Information File template
"Absolutely loved studying the 'Diploma in Organic Skincare Formulation' with Formula Botanica. I thought I knew a fair bit about organic skincare but the depth of this course proved me otherwise. The course takes you from a hobbyist to a professional with a ton of support along the way. One of the best parts for me was learning to comply to the rigorous E.U. cosmetic laws and understanding how to keep up to date with any updates to these laws. That just in itself makes me feel much more confident."
Course Bonuses
When you study with Formula Botanica, you become part of a close-knit international community of students and graduates all around the world. We support you all throughout your studies and beyond, and we give you access to our expert botanical skincare science and business files while you are enrolled on your courses.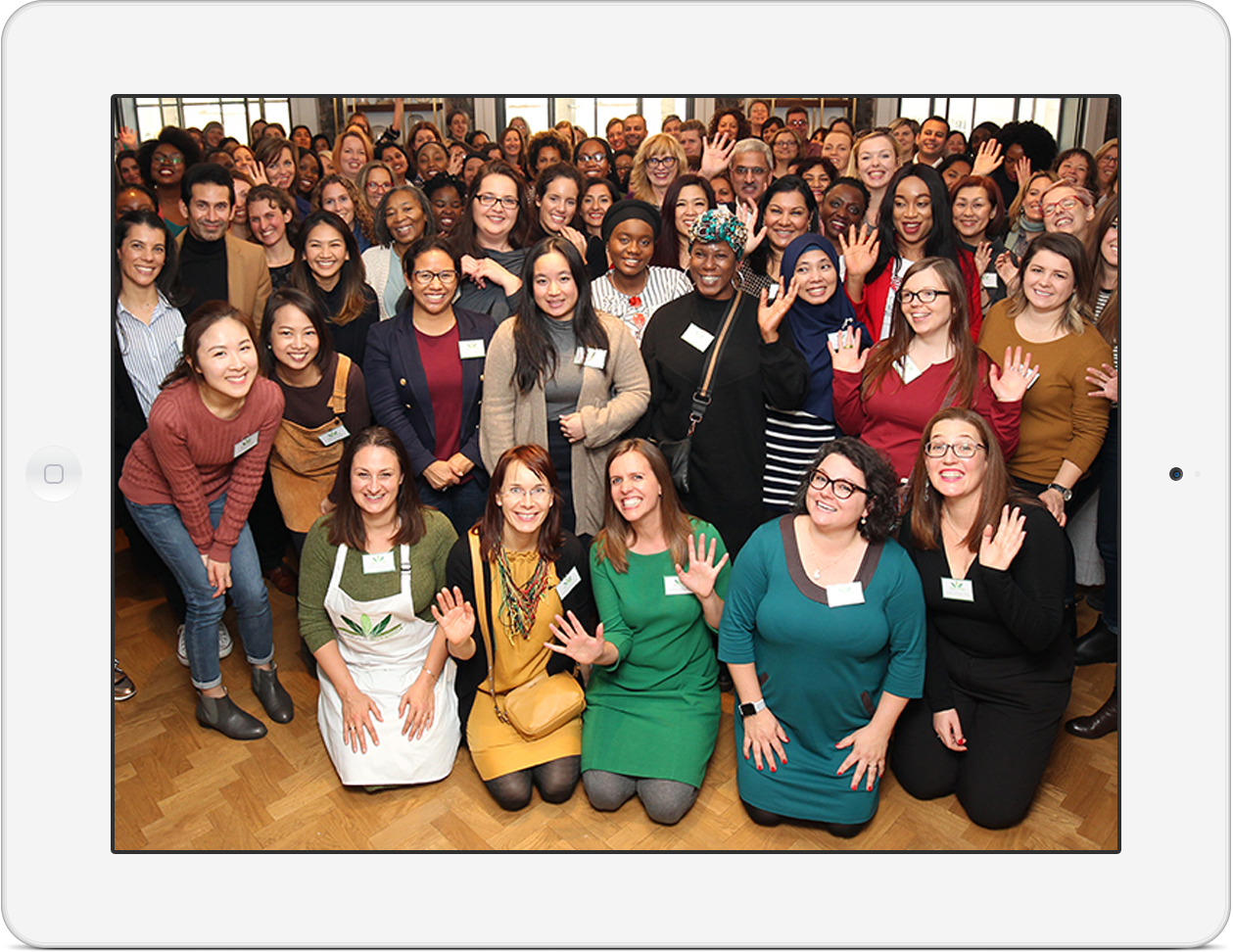 Bonus 1
Become Part of the Loveliest Formulation Community on the Internet
Once you enrol with us, you are welcomed into our international student community groups which contain many thousands of our students and graduates from all over the world. Everyone knows each other and many of our students meet up in their respective countries to share information and formulate together.
In our groups, you will receive expert tutor support and peer support. Ask questions, share photos, troubleshoot formulations. Celebrate your victories and get encouragement when you need it. You are never alone.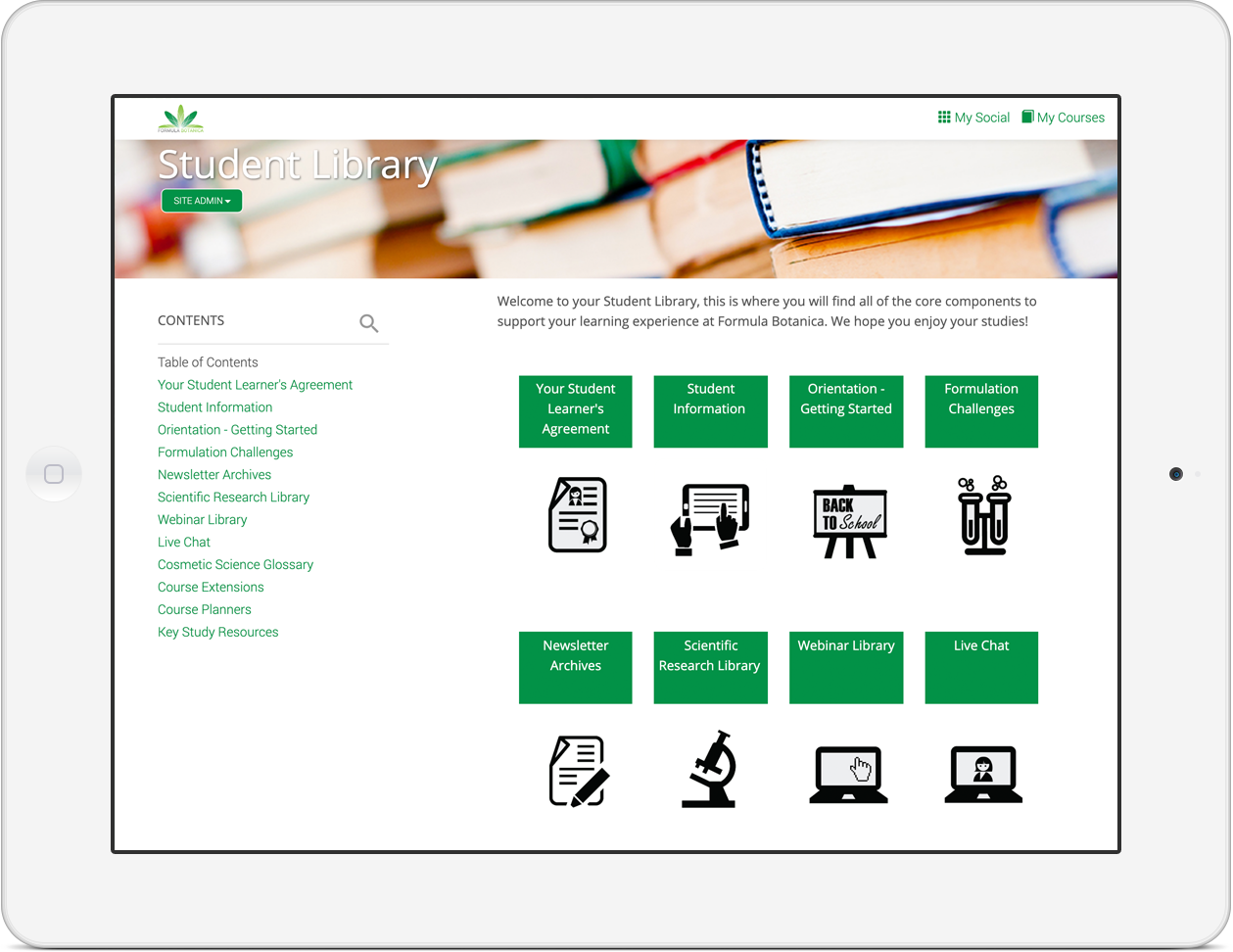 Bonus 2
Access our Student Library
When you become a student with Formula Botanica, you also gain exclusive access to our Student Resources Library for the duration of your course. Access our:
Preferred supplier guide which contains hundreds of global companies
Extensive ingredients directory with listings of over 100 natural ingredients
Formulation percentage-to-weight calculator
Scientific research collection
Useful links section to additional resources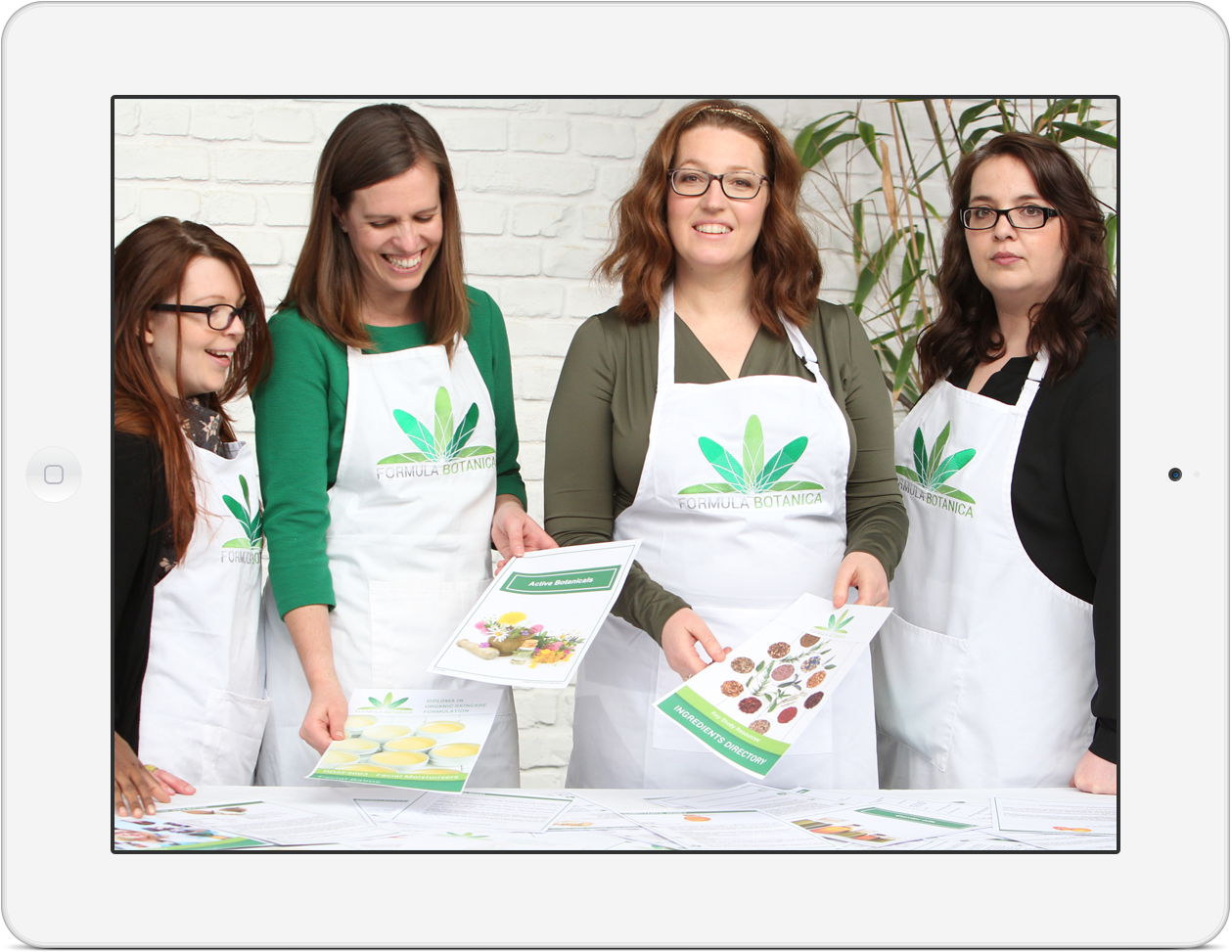 Bonus 3
Ongoing Support After Graduation
The support doesn't finish when you graduate. We want to keep in touch with you once you've finished your course and support your career in organic skincare. We offer lots of free promotion for our graduates because we want to help give your business the support it needs when you launch it or as you grow it.
You remain a member of our Online Classroom for life, because we want to keep in touch and support you and your beauty brand. We reach over 1,000,000 people per month through our digital networks and will help you get your brand in front of the world.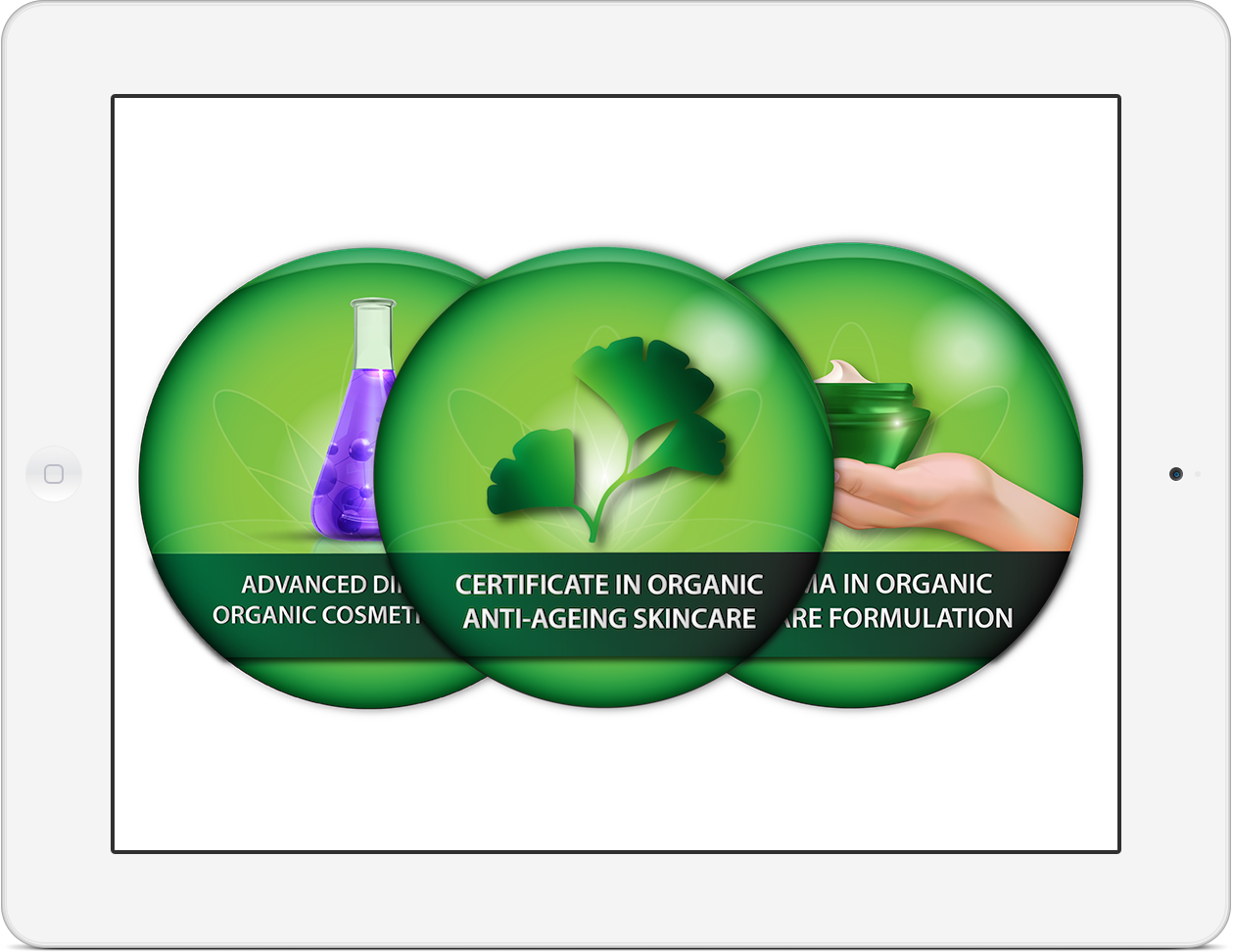 Bonus 4
Earn Formula Botanica Bonus Badges
Formula Botanica issues special Moodle Badges to students who pass their courses successfully (Moodle is the name of our award-winning and accredited eLearning Platform). These badges can be used on your resume, social media pages and LinkedIn profile to demonstrate that you are a skilled organic formulator. We have also hidden a few surprise badges in the course materials for students who pass certain Modules with a distinction grade!
Enrol for our foundation Diploma in Organic Skincare Formulation today to become a proficient natural formulator, making beautiful 100% natural and organic facial, body and spa skincare products.
Pre-enrol for our next term
Prerequisites
None. This natural skincare course is suitable for complete beginners.
Start Date
Term Times. Self-paced training where you have up to 2 years to complete your course.
Assessment
Projects, activities and reflexive learning. Each module ends with a short test.
Online Classroom
Peer support & tutor support via a private Facebook group.
Accreditation
Formula Botanica is accredited by the Open & Distance Learning Quality Council.
Expert Support
Our Tutor Team has an educational background in cosmetic chemistry, biology, education and business management. Let us support you.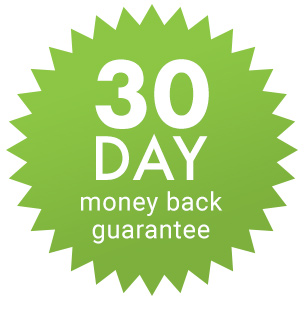 Formula Botanica operates a term time system, so we can get all of our students started at the same time and run online study groups.
Term times run in the following months:
Winter Term: January
Summer Term: July
Enrolment for all of our courses will be open during this period. If you want to be the first to hear when we open enrolment, make sure you pre-register for this course.
Pre-enrol for our next term