Diploma in Beauty Brand Business Management
Suitable for: Beginners
Pre-requisites: None


Time: 150 study hours


Program: Online Course + Web Summit


Course Modules: 6


Coursework: Self-study + peer support


Duration: Two year deadline


Cost: £897 (British Pounds)
Next enrolment period: 7-14 Jul 2020
Our online Diploma in Beauty Brand Business Management is the ultimate online training program to help you start your indie beauty business. Formula Botanica will teach you how to start a cosmetic business at home and build a beauty brand from scratch. Pair this course with our Diploma in Organic Skincare Formulation and you'll learn how to make your own natural skincare products – and then sell them successfully!
Part online course, part web summit with 30+ influential speakers from all over the world, this course will take you by the hand, introduce you to a large team of global beauty experts who will teach you the ropes, help you create your beauty business plan and teach you to start your beauty business.
Learn from the Best in the Business
We hand picked all of our amazing beauty business web summit speakers, because they can teach you how to start the indie beauty brand of your dreams. Their advice is based on real life experience, so you'll learn all of the insider secrets that you won't find in Google.
Create a Life-Changing Beauty Brand
A successful beauty brand is one that changes customers' lives, even in a small way. Learn what it means to be life-changing and infuse that passion into your beauty business.
Become an Indie Beauty Entrepreneur
Do you feel like you have a mission to create a beauty brand that's bigger than yourself? A skincare brand, haircare line or makeup range that changes people lives? We will help you learn how to start your beauty products business, the professional way.
Gain an Award-Winning Education
Formula Botanica has won international awards and accolades for its online teaching materials, because we care about making your learning experience the very best it can be.
This course is for you if:
You want to learn how to start a beauty business

You want to start your own beauty brand anywhere in the world

You are ready to change people's lives with your amazing beauty products line

You want to become a beauty entrepreneur

You want to learn how to write your own beauty business plan

You want to enrol with an accredited and gold award-winning education provider
Start or Grow Your Own Life-Changing Indie Beauty Brand with Formula Botanica's Award-Winning Online Education
Learn how to start or grow your beauty business, by watching our pre-recorded web summit

Get beauty business ideas, by learning directly from experts in the beauty and business community

Our biggest online course to date! Gain all the knowledge you need to start an indie beauty brand.

Complete our detailed workbooks and complete self-study activities, as you work through the Diploma
Your Beauty Business Plan
Work through the Formula Botanica Diploma and create your own cosmetic business plan from scratch

Join your peers to learn from each other in our exclusive Facebook Beauty Business Mastermind

Learn by having fun and taking part in the self-study interactive games in the Diploma

Receive distinction badges for gaining high grades in certain Modules and get your main course badge

You're in safe hands with our gold award-winning and internationally recognised teaching institution
Meet the Beauty Business Summit Speakers
Module 1: Your Entrepreneurial Mindset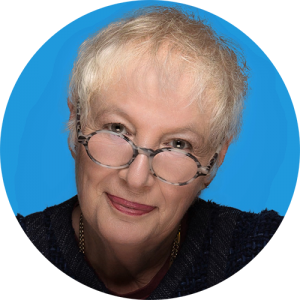 How to Develop the Right Mindset for your Beauty Business
Melinda Coss
Skincare Business Mentor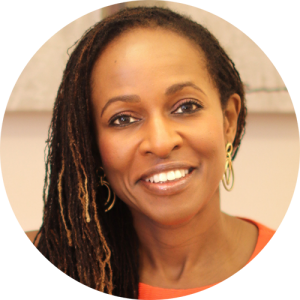 How to be Visible in Your Beauty Brand
Shola Kaye
Speak Up Like A Diva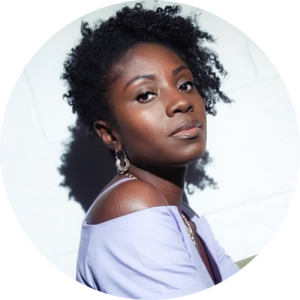 How to Create Your Beauty Brand Vision & Goals
Tamu Thomas
Live Three Sixty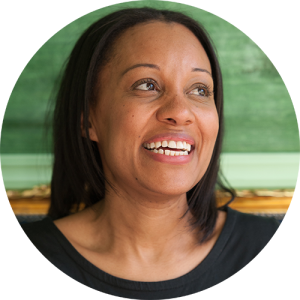 How to Manage Your Money & Time Mindset
Nicola Rae-Wickham
A Life More Inspired
Module 2: Beauty Branding & Market Research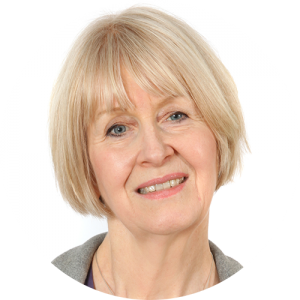 How to Monitor Beauty Industry Trends
Imogen Matthews
Imogen Matthews Associates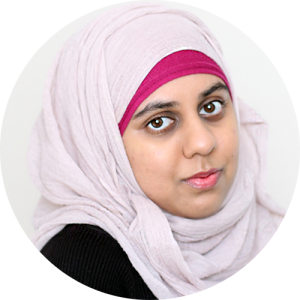 How to Analyse Beauty Trends
Sarirah Hamid
Pretty Analytics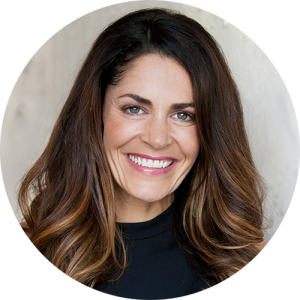 How to Create Your Beauty Brand
Rachel Roberts
Oyl + Water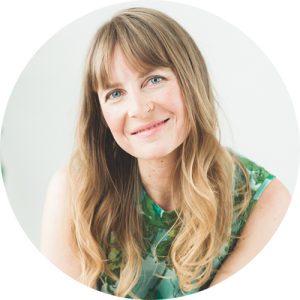 How to Create a Visual Beauty Brand
Briena Sash
Wellness Stock Shop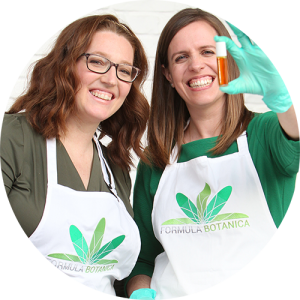 How to Create a Sensory Beauty Brand
Lorraine Dallmeier & Gemma Ortega Perez
Formula Botanica
Module 3: Beauty Business Skills & Manufacturing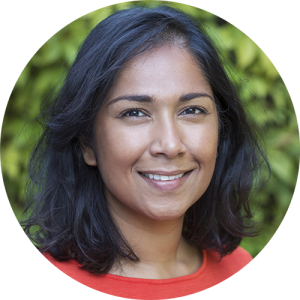 How to Start a Beauty Brand Side Hustle
Zaffrin O'Sullivan
Five Dot Botanics
How to Grow a Global Beauty Brand
Elsie Rutterford & Dominika Minarovic
BYBI Beauty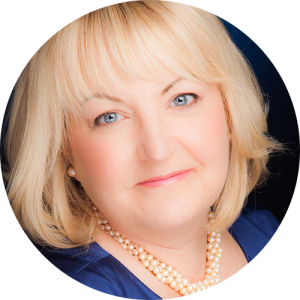 How to Manufacture Cosmetics In-House
Zane Piese
Atlantis Skincare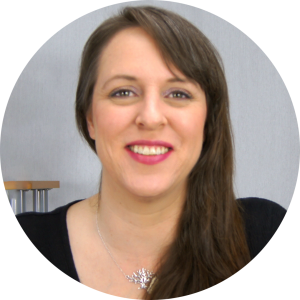 How to Work with Contract Manufacturers
Laura Badcock
Essential Wholesale & Labs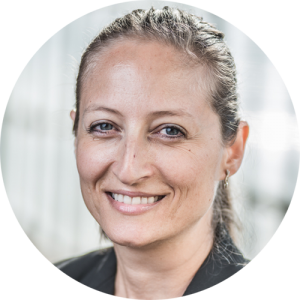 How to Prepare for Trademarking
Diana Palchik
BeautyMark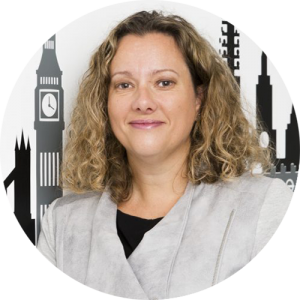 How to Set Up Your Business Legal Systems
Karen Holden
A City Law Firm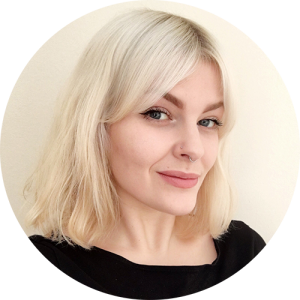 How to Get Vegan Certification
Abigail Stevens
The Vegan Society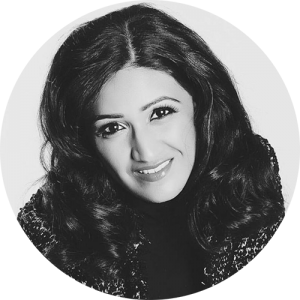 How to Manage Your Business Finances
Arfy Majeed
Know Your Numbers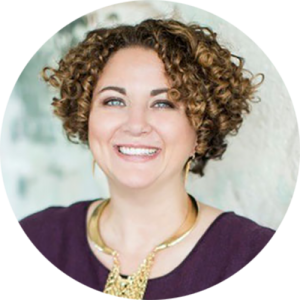 How to Price Your Beauty Products
Lela Barker
Lucky Break Consulting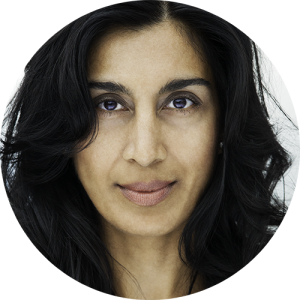 How to Work with Beauty Brand Accelerators
Anju Rupal
Abhati Suisse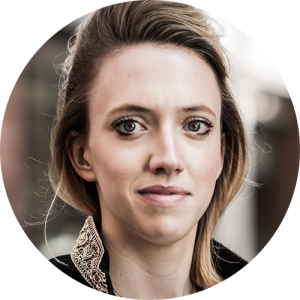 How to Work with Venture Capitalists
Claire Cherry
True Capital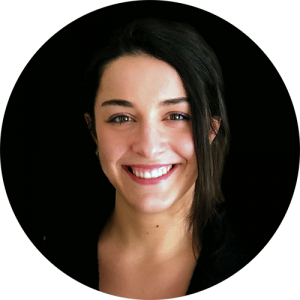 How to Use Crowdfunding to Raise Investment
Meg Karidis
Crowdcube
Module 5: Beauty Retail & Distribution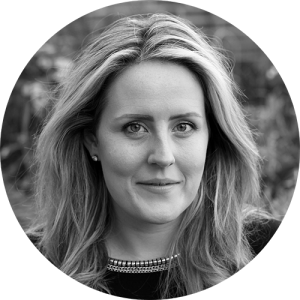 How to Work with Beauty Distributors
Catherine Collins
Upfront Consultancy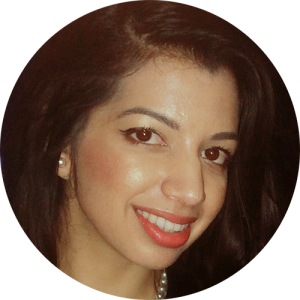 How to Work with Beauty Retailers
Sonia Kapoor
SoCurated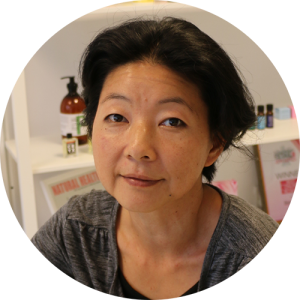 How to Work with Online Beauty Retailers
Sonia White
Love Lula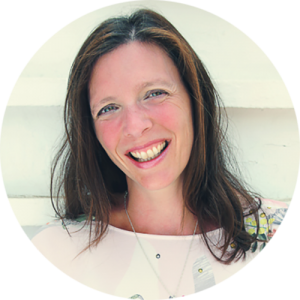 How to Manage Your Beauty Logistics
Rachel Whittaker
Indie Beauty Delivers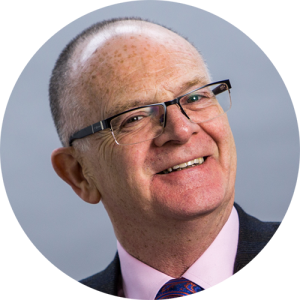 How to Work with Warehouses
John Heenan
TDS Fulfillment & Distribution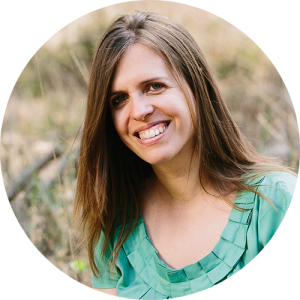 How to Run an eCommerce Business
Lorraine Dallmeier
Formula Botanica
Module 6: Beauty Marketing, PR & Sales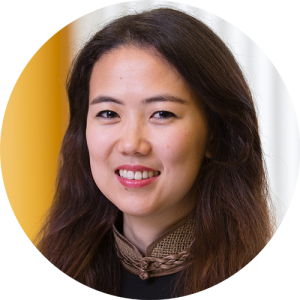 How to Prepare for Retail Marketing
Khulan Davaadorj
Lhamour Skincare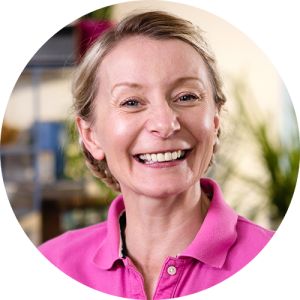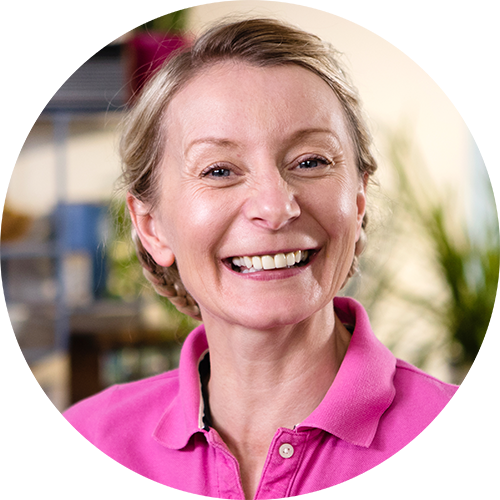 How to Scale Your Beauty Brand through Retail
Jo Chidley
Beauty Kitchen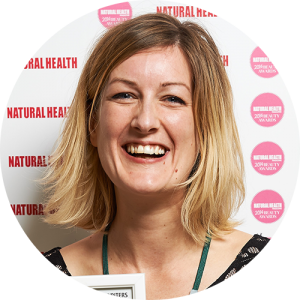 How to Work with PR Agents
Wren Holmes
Product Development Specialist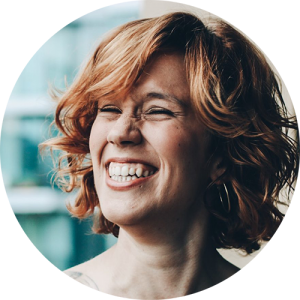 How to Work with Digital Influencers
Fab Giovanetti
Health Bloggers Community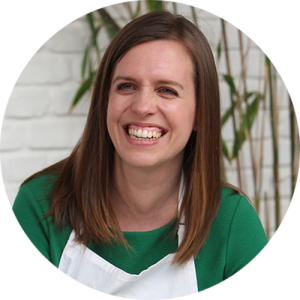 How to Market & Sell Direct to Consumer
Lorraine Dallmeier
Formula Botanica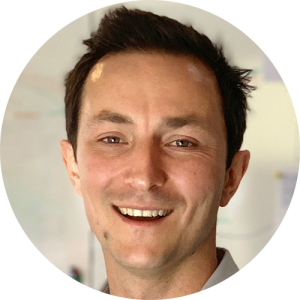 How to Prepare for Digital Advertising
Wayne Moussalli
D2 Integrated Digital
Diploma Part 2: Beauty Business Course
Follow Formula Botanica's award-winning online tuition and gain the skills to start your own indie beauty business.

The first step to becoming a successful beauty entrepreneur involves working on yourself. Starting your own makeup, haircare or skincare business will be one of the hardest and yet most rewarding steps you ever take, which means that you need to be prepared. Getting your mindset sorted is critical to starting your journey of launching a beauty product business.

In this Module, the Formula Botanica team and our web summit speakers Melinda Coss, Shola Kaye, Tamu Thomas and Nicola Rae-Wickham tackle topics such as struggling with visibility, managing your money and time mindset and learning how to set goals. Although these topics may not be where you want to begin when starting your beauty brand, we promise you that all of the hard work you put in at the beginning will pay off in the long run. We refer back to this Module in every other part of the Diploma and need you to be prepared for what's coming. Welcome to Module 1 on Mindset.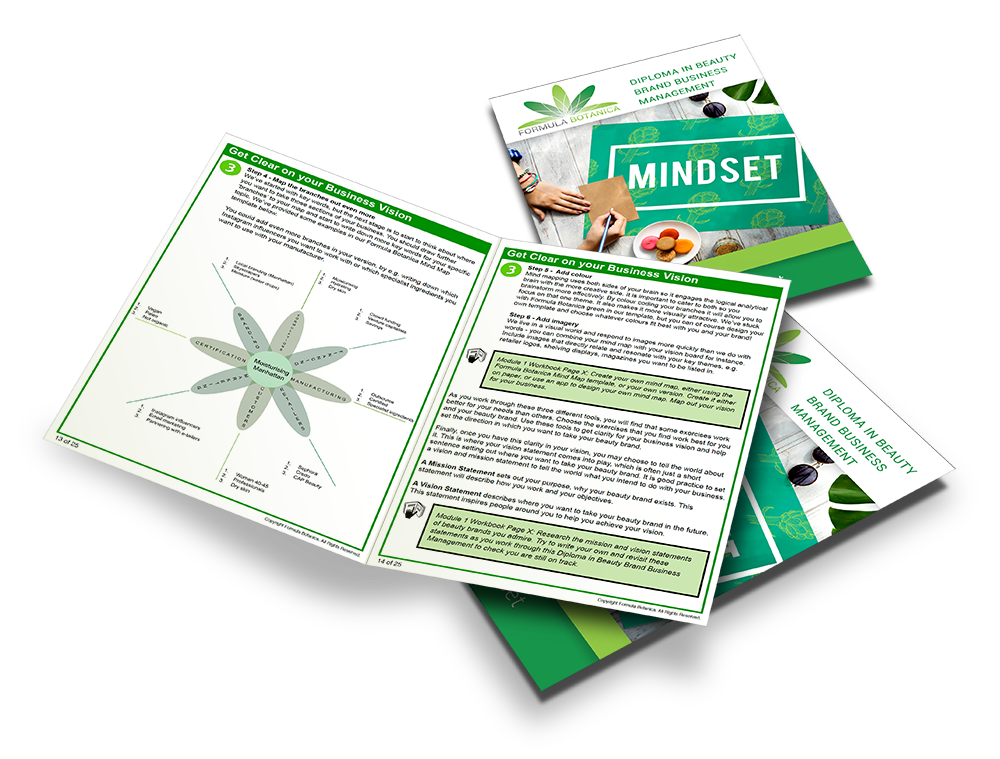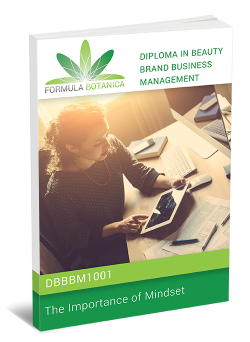 The Importance of Mindset
Study the difference between a fixed & growth mindset
Learn how to develop a growth mindset, using our 11-point plan
Put actionable steps in place to develop a growth mindset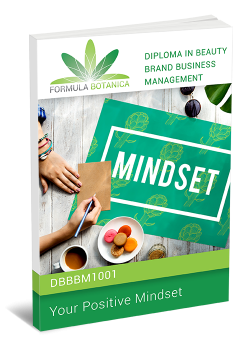 Understand the importance of a positive mindset for your beauty business
Discover what motivates you in your beauty business
Undertake your own business SWOT analysis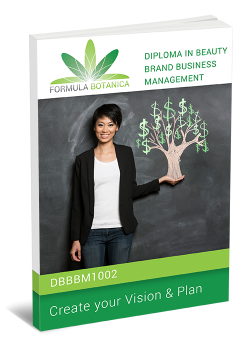 Create Your Beauty Brand Vision
Learn what it means to change someone's life with your beauty business
Get clarity on your business vision
Plan out your year ahead
Bonus: Formula Botanica Mind Map Template
Bonus: Digital Vision Board Tools
Bonus: Annual Plan Template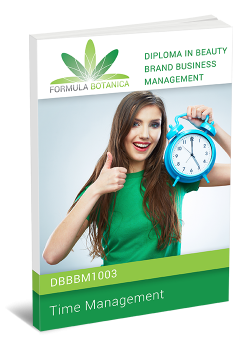 Learn the three steps to managing your time successfully for your beauty business
Understand how to motivate yourself to get stuff done
Learn how to prioritise your tasks
Study how to schedule your time
Bonus: Time management tools
Module 2 – Beauty Branding & Market Research
It's easy to think that you can formulate a beauty line, create a logo in-house and then start selling. However, a successful beauty business has a clear vision and purpose. Module 2 requires you to establish why you are creating this beauty brand. We'll start by taking you through all of the market research you need to conduct, including establishing your niche, your target customer, your competitors and the beauty trends you want to cater for.

You will need to ask yourself some very challenging questions in this Module and come up with a life-changing vision for your beauty business. Once you know who you are and what you stand for, it's then time to create your sensory brand. Visual beauty branding alone is not sufficient in this competitive market, so we'll also teach you how to bring tactile, olfactory, audio, gustatory and emotional branding into your business. In this Module, the Formula Botanica team welcomes Sarirah Hamid, Imogen Matthews, Rachel Roberts, Briena Sash, Lorraine Dallmeier and Gemma Ortega Perez to teach you the intricacies of beauty branding.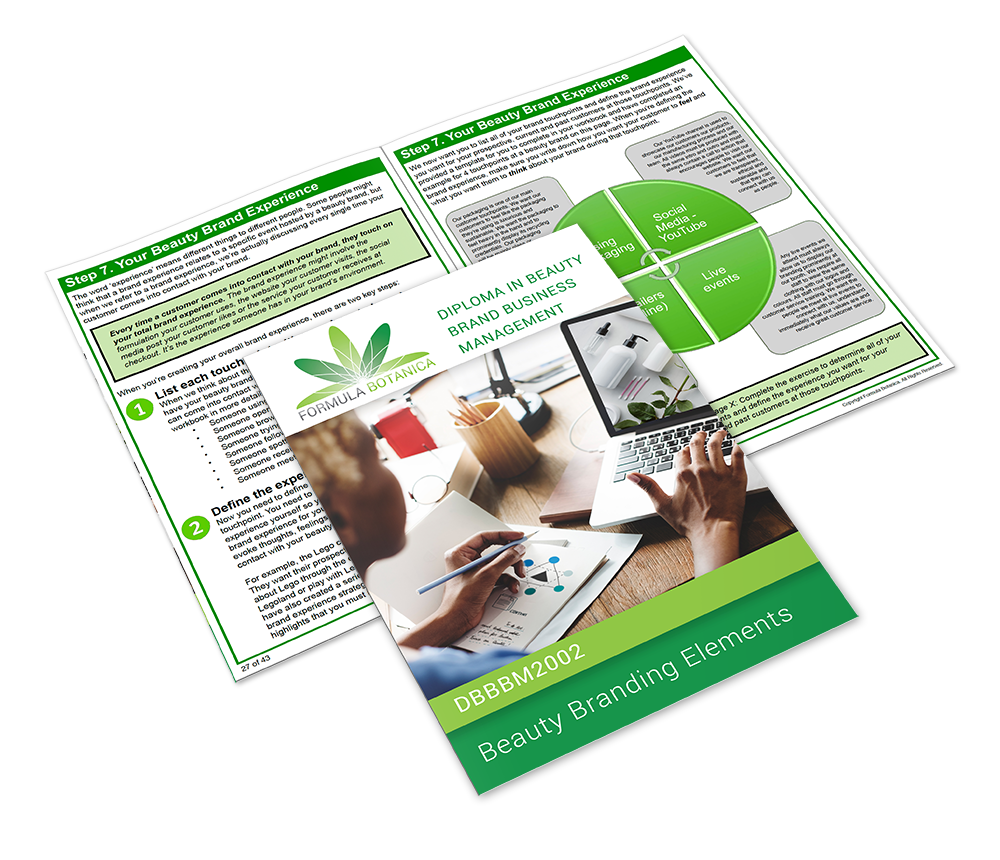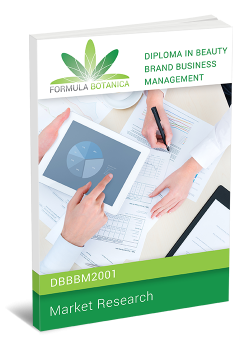 Learn how to find your beauty business niche
Know how to determine your ideal customer
Study how to analyse your competitors
Determine the main trends for your beauty brand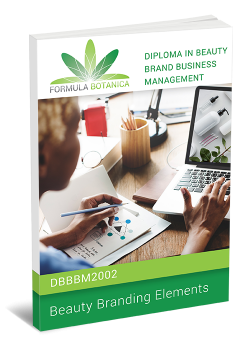 Create & shape your beauty brand identity, personality, story, values, promise, voice, experience and perception.
Find your Unique Selling Point
Choose your beauty business name, strapline and product names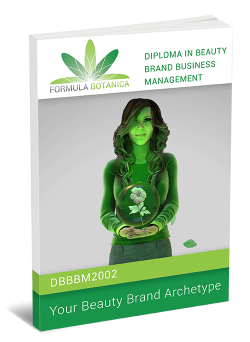 Find Your Beauty Brand Archetype
Find your beauty brand archetype, which will influence your entire business
Meet the 12 Formula Botanica plant goddesses and our 12 beauty brand archetypes (based on Carl Jung's philosophy)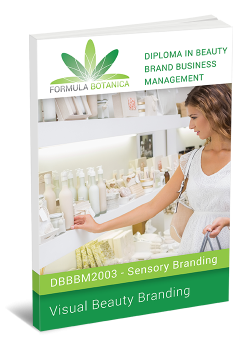 Learn how to create a visual beauty brand
Create your beauty business logo, colour palette and typography
Study the best way to represent your beauty product packaging and labels
Understand how augmented reality could play a role for your beauty brand
Bonus: Your Visual Beauty Branding Checklist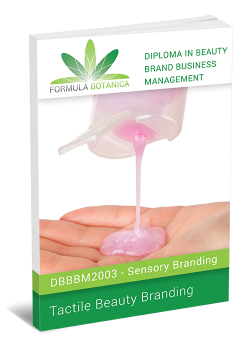 Learn how to create a tactile beauty brand
Study tactile branding for your formulations and packaging
Develop your tactile brand personality
Bonus: Your Tactile Beauty Branding Checklist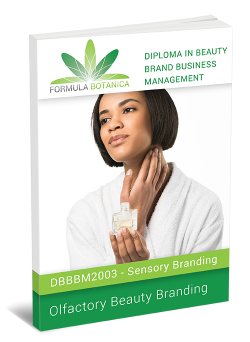 Olfactory Beauty Branding
Learn how to create an olfactory beauty brand
Study scents and the emotions they evoke
Develop your olfactory brand personality
Bonus: Your Olfactory / Scent Beauty Branding Checklist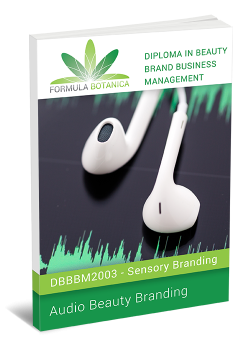 Learn how to create an audio beauty brand
Map your audio vocabulary
Develop your audio brand personality
Bonus: Your Audio Beauty Branding Checklist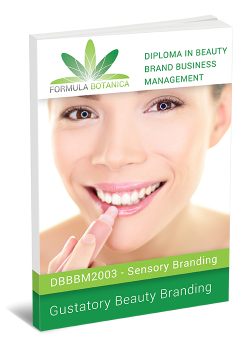 Gustatory Beauty Branding
Learn how to create a gustatory beauty brand: beauty formulations can have a taste, but your gustatory brand extends way beyond your products alone.
Study the 5 tastes and how to apply them to your beauty brand
Bonus: Your Gustatory Beauty Branding Checklist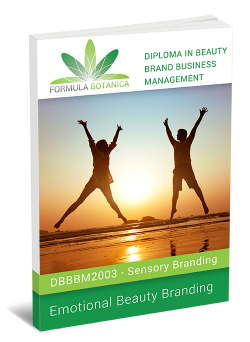 Emotional Beauty Branding
Learn how to create an emotional beauty brand
Study how to connect with your customers
Learn the 10 commandments of emotional branding
Bonus: Your Emotional Beauty Branding Checklist
Module 3 – Beauty Business Skills & Manufacturing
It's almost time to start designing your beauty product range! However, you'll first need to choose the right business model for your brand. Will you go global or will you keep your beauty business as a side hustle? In Module 3, we'll explore the huge range of business models on the market and help you choose what success means to you. Once you know your business model, it's time to determine the personal care products you intend to sell and your manufacturing method. We'll give you detailed blueprints for manufacturing in-house, with contractors or even private label.

We'll next look at the professional business framework you need to create for your beauty brand, including your legal requirements. Finally, you'll finish this Module by reviewing over 50 different types of certification you can choose for your business. In this Module, the Formula Botanica team welcomes Zaffrin O'Sullivan, Elsie Rutterford, Dominika Minarovic, Zane Piese, Laura Badcock, Diana Palchik, Karen Holden and Abigail Stevens to help you with your beauty business and manufacturing skills.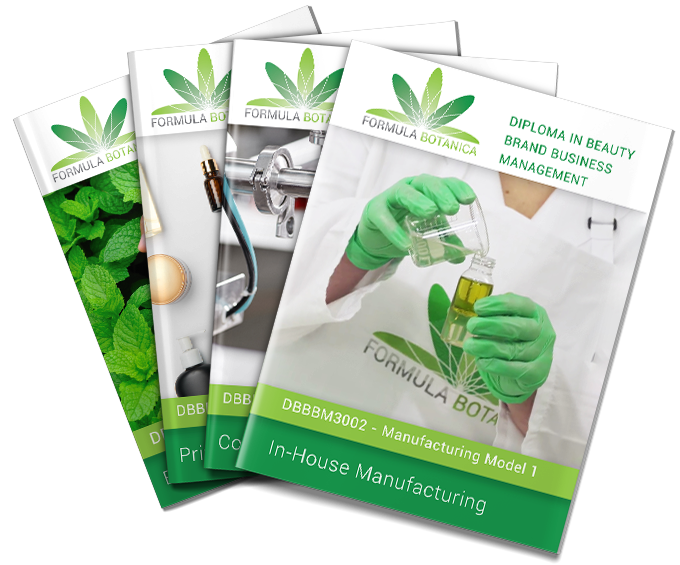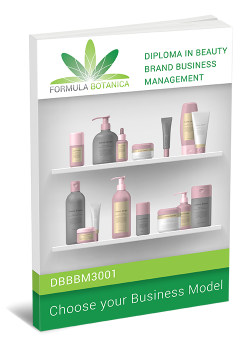 Study the different types of beauty business model
Receive 3 business model blueprints
Learn how to choose the right business for your beauty brand
Bonus: Your Beauty Business Model Quiz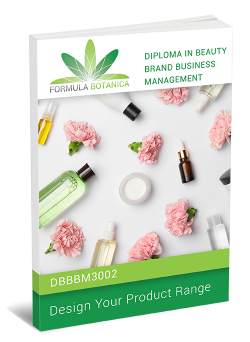 Design your own beauty product range
Study the 6 elements you must consider when designing a beauty line
Understand how selling strategies affect your beauty range design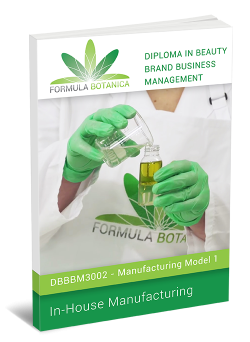 Learn how to set up your own artisan cosmetics lab
Design the layout for your formulation lab
Study detailed GMP requirements, according to ISO22716:2007
Bonus: In-House Manufacturing Checklist & Blueprint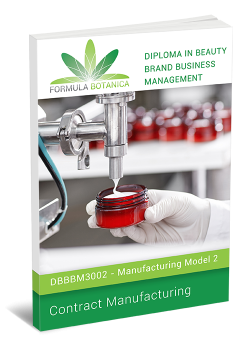 Understand how to find a contract manufacturer
Study the 10 criteria for choosing a contract manufacturer
Learn how to work with a contract manufacturer
Bonus: Contract Manufacturing Checklist & Blueprint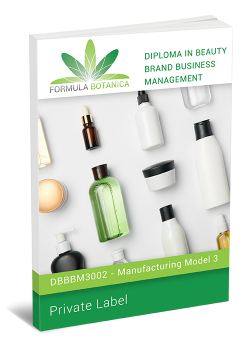 Understand how to find and work with the right private label manufacturer
Study the 14 criteria for choosing a private label manufacturer
Learn the different types of private label manufacturers
Bonus: Your Beauty Manufacturing Model Quiz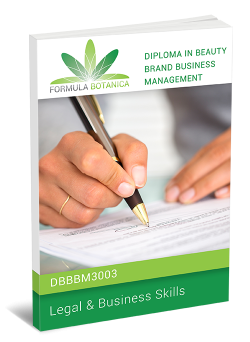 Create your beauty business legal framework
Study the contracts you'll need to put in place for NDAs, Intellectual Property Protection, Trademarking, Patenting, Copyright, Employment, Contracting, Manufacturing, Co-Founders, Sales
Learn the 8 most important points you must include in your website's Terms & Conditions
Bonus: Your Beauty Business Legal Framework Checklist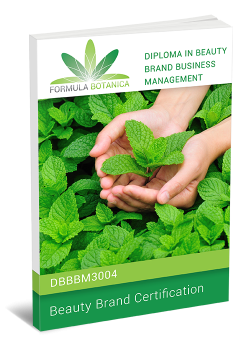 Certifying Your Beauty Brand
Study more than 50 types of certification that might be suitable for your beauty business, including cruelty-free, organic, natural, vegan, Halal, Kosher, gluten-free, paleo and more.
Learn how certification works and how much it typically costs
Understand what happens once your beauty business becomes certified
Running a successful makeup, haircare or skincare business requires you to know your numbers – which is also what our summit speakers will continuously tell you in Module 4. Many beauty entrepreneurs have never run a business before, so we'll take you back to basics and teach you how to manage the finances for your business. You will then learn how to cost and price your beauty products, and to help you out, we've thrown in many helpful calculators along the way.

Finally, a beauty brand can't scale without investment and it's common for beauty entrepreneurs to seek funding in this competitive industry. We'll show you the 11 different types of investment source you can seek and teach you how to pitch for them. In this Module, the Formula Botanica welcomes Arfy Majeed, Lela Barker, Anju Rupal, Meg Karidis and Claire Cherry to teach you how to manage the money in your beauty business.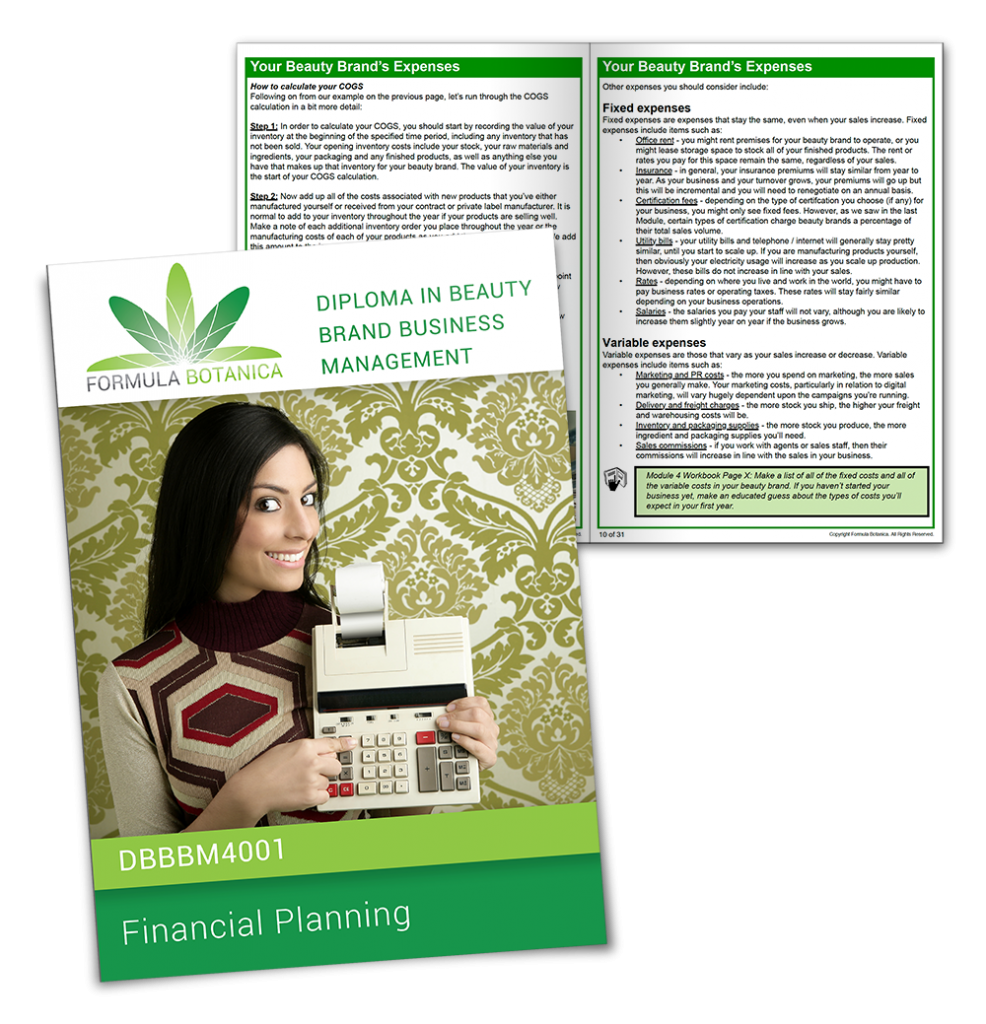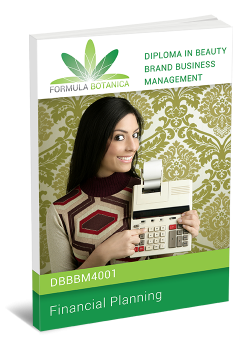 Learn how to calculate your beauty brand's revenue and expenditure
Understand how to manage your cash flow
Study cash flow forecasting, profit & loss statements and balance sheets
Bonus: Beauty Business Budget Spreadsheet Template
Bonus: Cash Forecasting Spreadsheet Template
Bonus: Profit & Loss Spreadsheet Template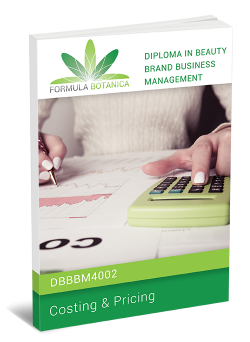 Learn how to calculate your beauty product's cost price
Understand how to calculate your margin and mark up
Learn how to calculate your beauty product's retail and wholesale price
Study how to price for distributors
Bonus: Beauty Product Cost Price Calculator
Bonus: Beauty Product Mark Up + Margin Calculator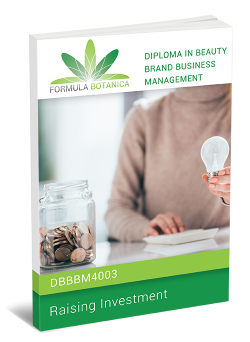 Understand the 11 types of investment funding you could seek for your beauty business, including Angel investors, Venture Capitalists, bank loans, accelerators and more.
Study our 8 tips for making yourself investable
Create an investment pitch for your beauty business
Know what to look for in an investor
Module 5 – Retail & Distribution
Most successful beauty brands consider a model of retail and digital selling, so you'll need to know how to work with distributors, agents, retailers and warehouses. You'll also need to know how to set up and run your own eCommerce website. We'll start by teaching you all about distributors and agents – what they do, how to find them and how to work with them. Next we'll look at the best way to work with retailers, both online and bricks and mortar.

Finally, we'll look at beauty logistics, warehousing and the complexities of selling from your business' website. In this Module, the Formula Botanica team welcomes Catherine Collins, Sonia Kapoor, Sonia White, Rachel Whittaker, John Heenan and Lorraine Dallmeier to help you create your beauty brand's retail and distribution strategy.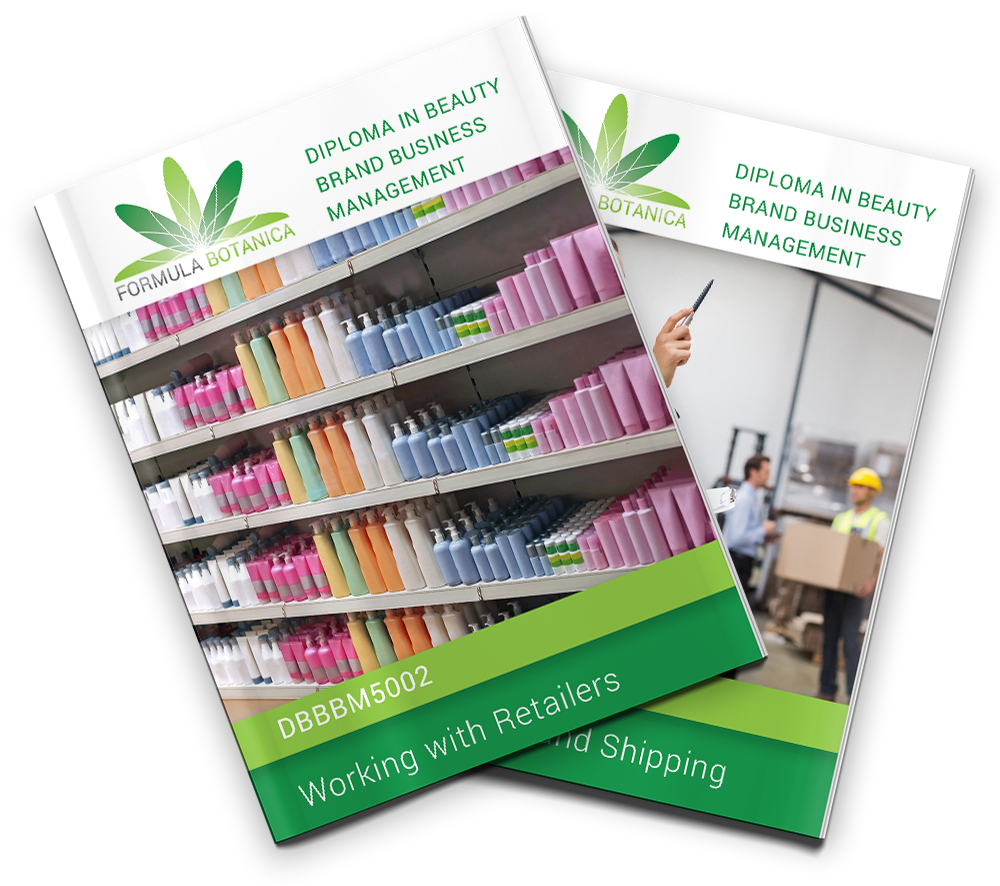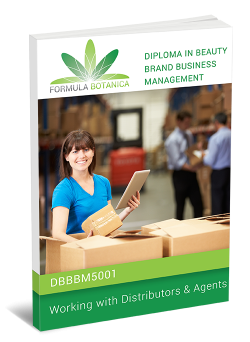 Understand what distributors and agents do and how to work with them
Study the pros and cons of working with distributors and agents
Look at the 17 contractual points you must consider when working with a distributor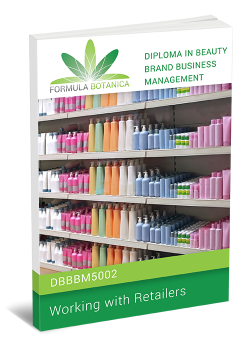 Understand the main retail categories and 12 main types of retail channel for beauty brands
Learn how to create your own brand toolkit
Study our detailed guide for approaching beauty retailers
Bonus: Professional Beauty Brand Presentation
Bonus: Your Retail Pitch Email Template
Bonus: Retail / Distribution Terminology Cheat Sheet
Bonus: Listing Agreement Template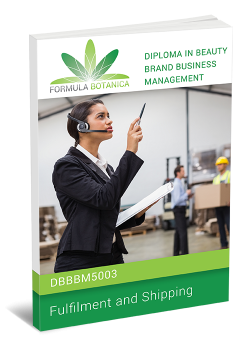 Understand the 13 tools required to sell beauty products directly to your customers
Study inventory management systems and inventory essentials
Learn when to consider a fulfilment centre and how to find the right one
Review 10 important contractual points to negotiate with fulfilment centres
Bonus: Shipping & Logistics Terminology Cheat Sheet
Module 6 – Marketing, PR & Sales
We left the best till last. By the time you've reached Module 6, you have created your brand, sorted out your manufacturing strategy and business framework, costed and priced up your products and chosen your retail strategy. You're now ready to start marketing and selling. We start this Module with an in-depth look at beauty retail marketing and sales, which requires you to be a hands-on business partner to your retail accounts. Next, we'll cover your PR strategy – how to work with the media, influencers and agencies. We'll also create your beauty retail marketing calendar.

Finally, we'll cover the topic every beauty entrepreneur must know inside-out: digital marketing & sales and selling beauty products direct to consumer. This lesson is also the biggest part of the whole Diploma and walks you step-by-step through your customer journey and marketing/sales funnel, including your paid advertising strategy. In this Module, the Formula Botanica team welcomes Khulan Davaadorj, Fab Giovanetti, Wayne Moussalli and Lorraine Dallmeier to teach you about marketing, PR and sales.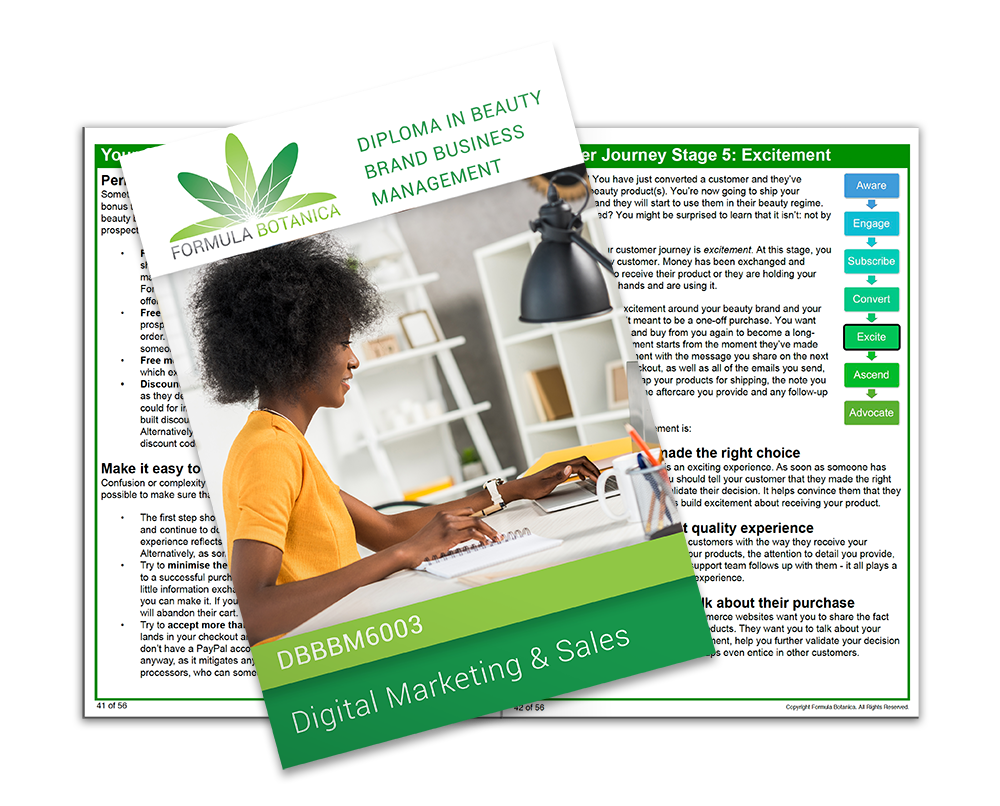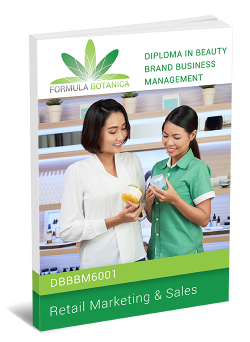 Learn the requirements for supporting a retail account
Study the different types of Point of Sale (PoS) materials that might be required
Understand staffing and training requirements for selling through retailers
Prepare yourself for hosting in-store events and pop ups
Bonus: Trade Shows 101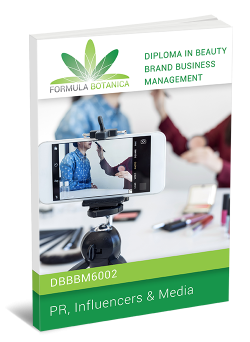 Learn the 4 main steps to a successful PR strategy
Practise being visible for your beauty business
Study how to find, connect with, pitch to and work with beauty influencers
Learn how to prepare a press kit, write a press release and pitch to journalists
Bonus: Influencer Pitch Email Template
Bonus: Visibility Work Sheet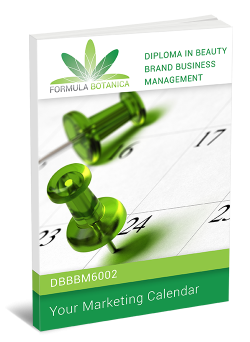 Understand what a marketing calendar is and why you need one
Study the 8 steps to creating a successful marketing calendar
Learn how to tie your marketing calendar together with your social media planner
Bonus: Marketing Calendar Template & Worked Example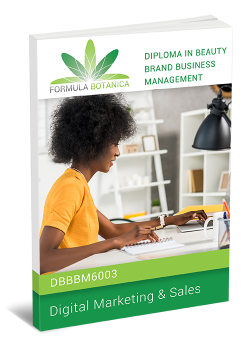 Digital Marketing & Sales
Learn how to sell Direct to Consumer (D2C) and create your beauty brand's digital marketing and sales funnels
Study your digital customer journey in detail, from becoming aware of your beauty business, to becoming your biggest and most loyal fan
Understand why paid digital marketing comes last and why you need to spend time building your systems and data analysis tools first
Our Beauty Business Web Summit
+
Our Online Course for Beauty Entrepreneurs, by Beauty Entrepreneurs
=
The Ultimate Program to Start a Beauty Brand, Anywhere in the World
Bonus 1 – Exclusive Beauty Business Mastermind
We provide Business Tutor support through our Facebook-based Beauty Business Mastermind group, where you'll work together with your peers to learn how to start or grow your indie beauty brand.
We'll livestream into the group on a regular basis to answer your questions and help you work through your self-study course materials. Make friends, grow relationships and meet potential business partners in Formula Botanica's exclusive Beauty Business Mastermind.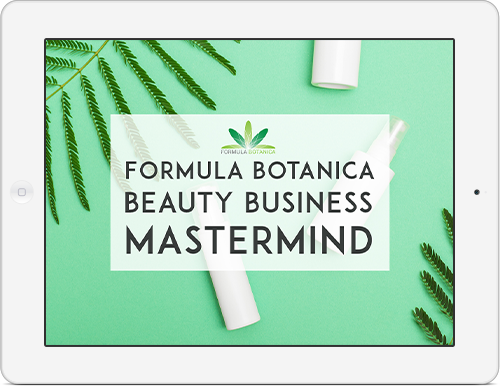 Bonus 2 – Access our Student Library
When you become a student with Formula Botanica, you also gain exclusive access to our Student Library for the duration of your course. Access our:
Preferred supplier guide which contains hundreds of global companies

Extensive ingredients directory to help you design your product range

Collection of many hours of expert webinars, covering a range of formulation and business topics

Recommended reading list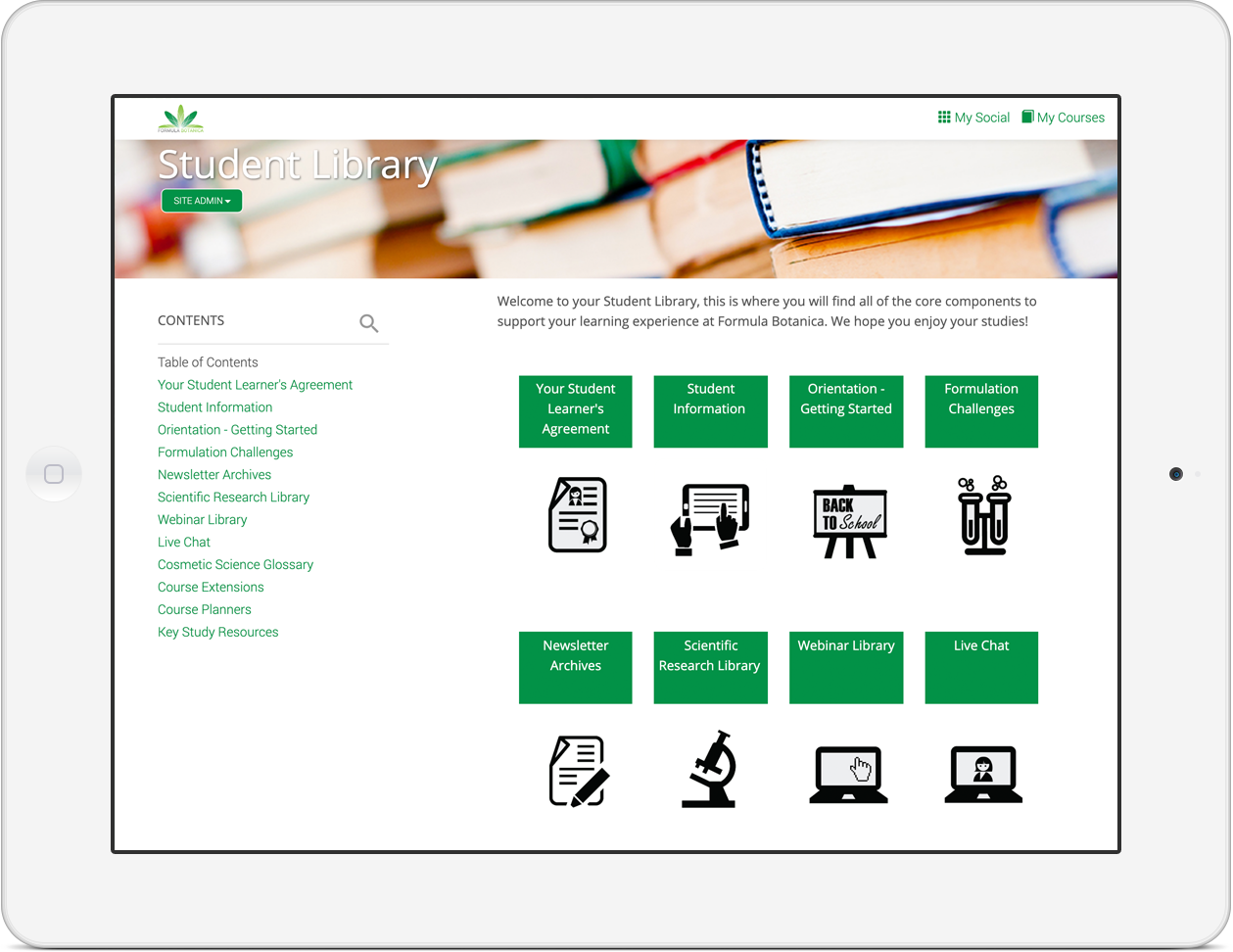 Bonus 3 – Ongoing Support After Graduation
The support doesn't finish when you graduate. You remain a member of our Beauty Business Mastermind for life, because we want to keep in touch and support you and your beauty brand. We reach over 1,000,000 people per month through our digital networks and will help you get your brand in front of the world.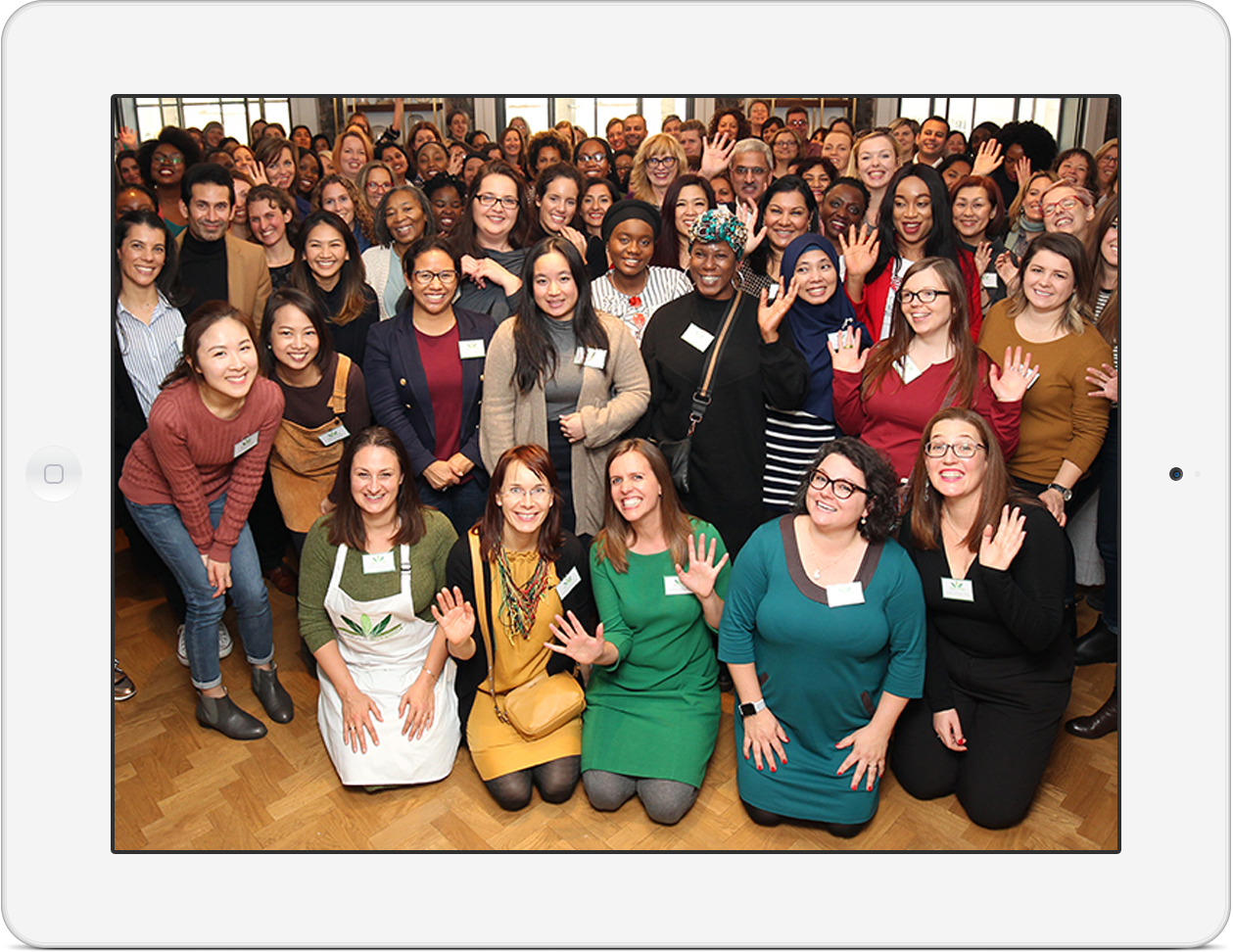 Bonus 4 – Earn Formula Botanica Badges
Formula Botanica issues special Moodle Badges to students who pass their courses successfully (Moodle is the name of our award-winning and accredited eLearning Platform). These badges can be used on your resume, social media pages and LinkedIn profile to demonstrate that you are a skilled beauty entrepreneur. We have also hidden a few surprise badges in the course materials for students who pass certain Modules with a distinction grade!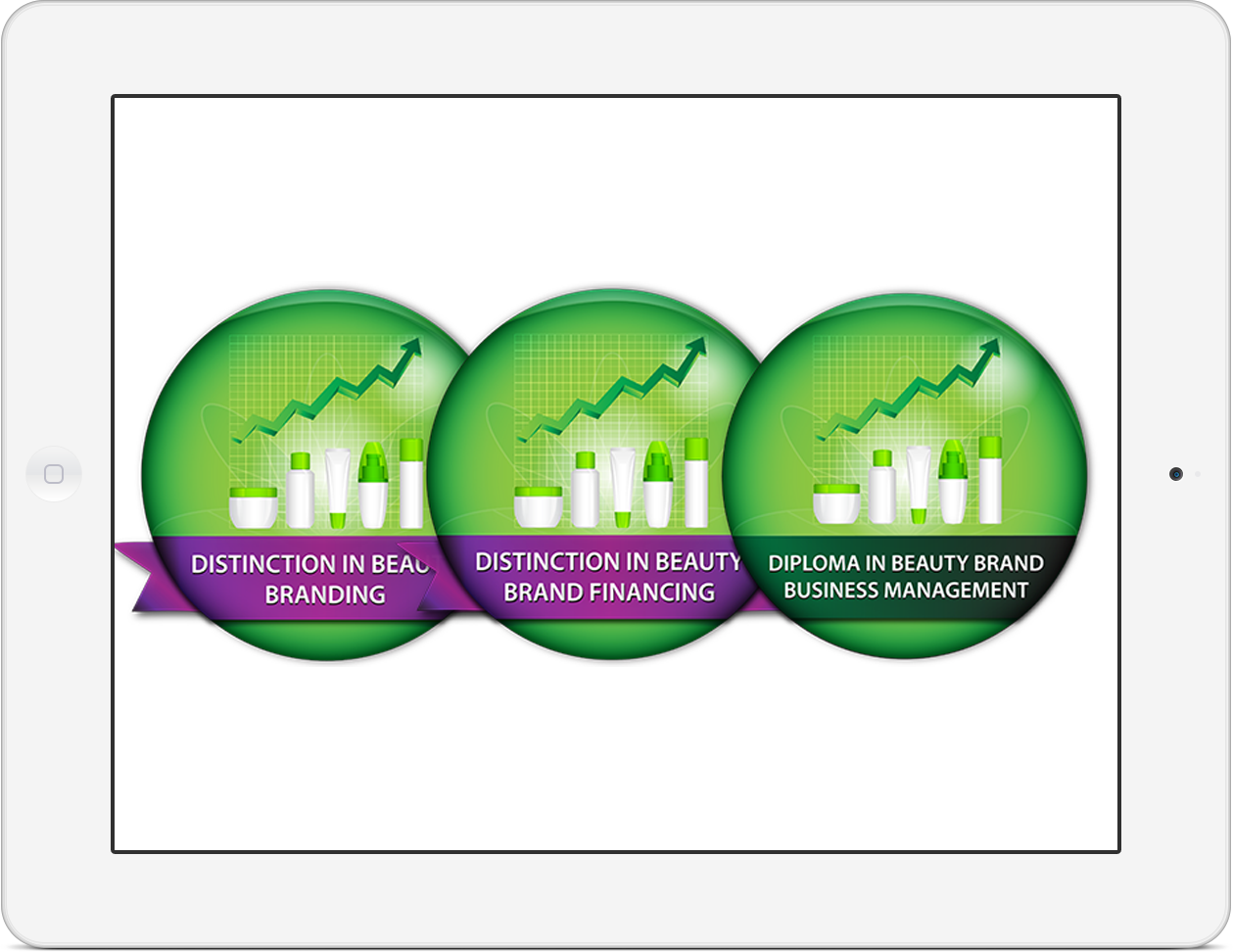 Become an Indie Beauty Entrepreneur and change your life.
Prerequisites
None. Suitable for beginners.
Start Date
Term times. Self-paced training, with up to 2 years to complete your Diploma.
Assessment
Detailed self-study workbooks. Each Module ends with a short test.
Mastermind
Mastermind with your peers and our Business Tutors in a private Facebook group.
Accreditation
Formula Botanica is accredited by the Open & Distance Learning Quality Council.
Expert Support
Our Business Tutor Team has a background in beauty management, branding, retail, distribution, marketing & sales. Let us support you.
Formula Botanica operates a term time system, so we can get all of our students started at the same time and run online study groups.
Term times run in the following months:
Winter Term: January

Summer Term: July
Enrolment for all of our courses will be open during this period. If you want to be the first to hear when we open enrolment, make sure you pre-register for this course.
£897.00Enrol Now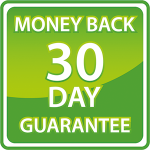 Like this course? You might also like: