Certificate in Natural Cosmetic Preservation
Our online natural preservation course will teach you how to confidently choose the right natural preservative for your cosmetic formulations.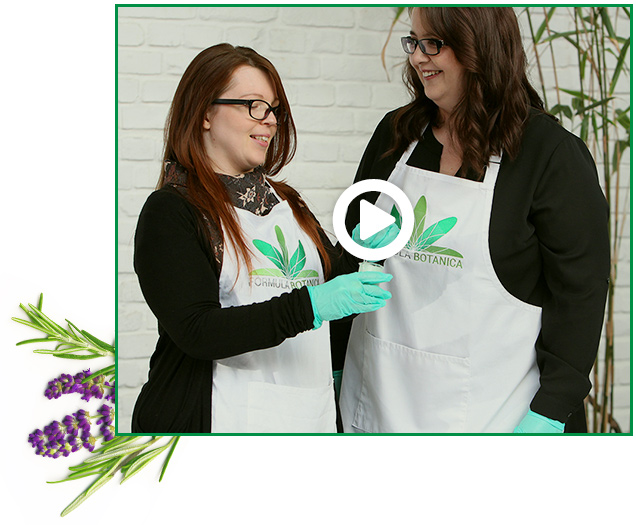 Suitable for: Formulators with experience

Pre-requisites: Checklist

Time: 20 study hours

Course Modules: 4

Coursework: Self-study + tutor graded

Duration: One year deadline

Cost: £297 (British Pounds)

Next enrolment period: Enrolment opens 11 - 16 January 2024

Learn the complex language of preservatives with our exclusive course at Formula Botanica. This online course in natural cosmetic preservation teaches you how to select the best natural preservative system for your skincare products and make sure that your products are preserved safely and correctly.

This course is suitable for people with existing skincare brands or students with formulation experience. Our Certificate in Natural Cosmetic Preservation will teach you how to make your skincare range safe while still maintaining its natural and organic status.
Avoid Microbial Growth in your Skincare Products
Study the microorganisms that are frequently found in cosmetics and learn the factors that encourage their growth, particularly those commonly found in natural cosmetics. Become fluent in Good Manufacturing Practice and understand the difference between disinfecting, sanitising and sterilising.
Protect your Products with Safe Natural Preservatives
Learn the myths and truths surrounding natural preservatives. Understand the important difference between preservatives and antioxidants. Run through a list of over 20 natural and nature identical preservatives, including those which have been ECOCERT approved.
Sell your Formulations to the Public with a Clear Conscience
Determine the shelf life of your formulations. Learn what you should demand from a microbiological challenge test and which data you should transfer to your safety assessor (specially if you are in the EU). Learn how to comply with international cosmetics legislation when it comes to preservatives.
Receive our 22 Natural Preservative Handbook
Use our detailed course handbook to choose the right preserving compound and study its origin, spectrum, limitations, specifications, solubility, pH range, application and certification. Find out the trade names of various natural cosmetic preservatives, so you know where to find your next preservative.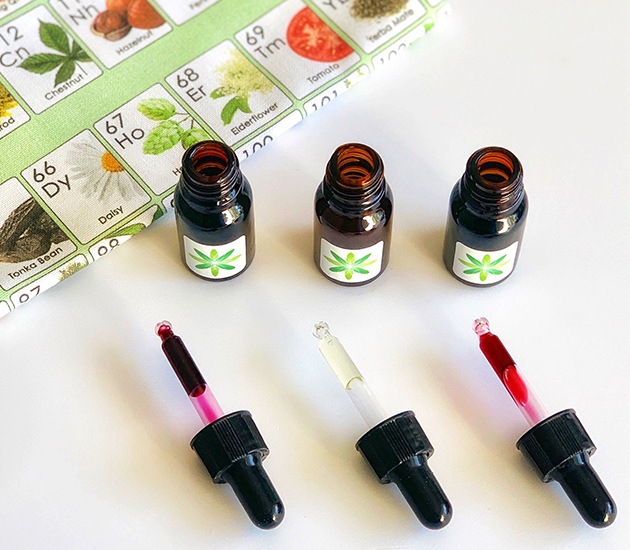 Why enrol with Formula Botanica?
This course is for you if:
You are worried that your cosmetic formulations might not be safely preserved
You want to use natural or naturally derived preservatives in your formulations
You're not sure how to select the right natural preservative for your formulation
You want to sell your formulations to the public with a clear conscience
You want to feel confident when choosing a natural preservative
You want to enrol with an accredited and gold award-winning education provider
"Preservation class is a MUST. This course covers broad range of preservation. It teaches you the importance of having to have preservatives in your natural skin care products. Safety first. Protecting your precious products and valuable consumers should be your number one priority. This course teach you all that you need to know to protect yourself and your consumers. I am very glad I took this class."
Course videos
Learn directly from the Formula Botanica team with our professional videos and course lectures.
Fun Online Games
Play games to help you learn how to reinforce the learning outcomes for your course.
25+ Study books
Download your beautifully designed course notes to refer back to and keep forever.
Tutor Support
Speak directly to a tutor in our private "Ask the Tutor" forum for students.
Sequential Learning
Unlock new modules as you work through the course sequentially to enforce learning points.
Graded Coursework
Receive expert graded feedback to help you make your formulations safe, stable and sellable.
Module 1
Good Manufacturing Practice
Good Manufacturing Practice (GMP) is one of the basic pillars of cosmetic formulating. GMP is universally accepted as a guideline to ensure the safety and consistent quality of skincare products and is mandatory in many parts of the world.
In this module we cover global GMP requirements, ISO 22716:2007 (the international standard for cosmetics GMP), how to create a GMP checklist, getting your lab prepared and understanding the difference between sterilisation, sanisation and disinfection.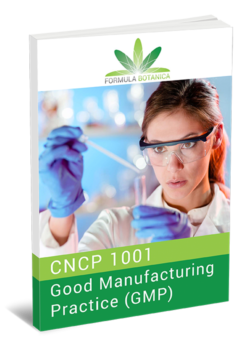 Learn what Good Manufacturing Practice (GMP) is and why it's important
Understand the GMP requirements where you live in the world
Learn why you should implement ISO22716:2007 in your artisan lab
Course bonus: GMP Checklist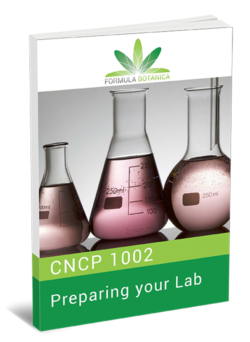 CNCP 1002
Preparing your Lab
Learn how to prepare your lab to manufacture cosmetics
Study why hand washing is so important
Learn the important difference between sanitisation, disinfection and sterilisation
Course Bonus: Comparison Table: Sanisation, Disinfection and Sterilisation
Module 2
Meet the Microorganisms
In this module you will become comfortable with the different microorganisms that can be introduced to your skincare products.
Microorganisms are everywhere, which means that unless you have a state-of-the-art lab it is impossible to formulate skincare products under sterile conditions. Learn about the difference between prokaryotes and eukaryotes. Research bacteria and fungus in more detail. Understand how water activity plays a key role in encouraging microbial growth.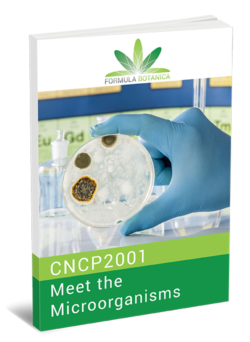 CNCP 2001
Meet the Microorganisms
Learn about the different types of microorganisms you might find in your cosmetics
Study the difference between prokaryotes and eukaryotes
Gain an understanding of bacteria and fungi
Learn the difference between Gram-positive and Gram-negative bacteria
Course bonus: GMP Checklist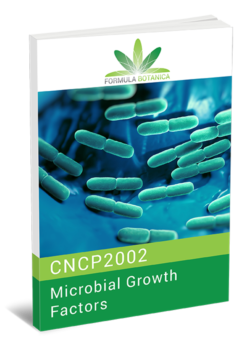 CNCP 2002
Microbial Growth Factors
Study the factors affecting microbial growth, including pH and water activity
Understand the different water activity of cosmetic ingredients
Learn the main sources of contamination for your cosmetics
Course Bonus: Abuse your Cosmetics Checklist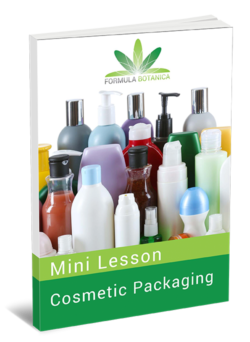 Mini Lesson
Cosmetic Packaging
Study the benefits of airless packaging
Learn what 'overheads' are and why they matter in your formulation
Understand what is required of your packaging when testing your formulation
"I've just completed the Certification in Natural Cosmetic Preservation and I can recommend it to everybody! This course gives you all the details and offer so much knowledge about Natural Cosmetic Preservation. I truly love Formula Botanica, the learning structure is great! All Tutors are so helpful and it is a great community. Highly recommended!"
Module 3
Preserving your Products
Now that you understand how to get your skincare formulation lab ready and you know which microorganisms are most likely to want to come and breed in your products, you're ready to start with the most important part of this course – cosmetic preservation.
In this module we will run you through how a preservative works, how to choose the right preservative system and we'll give you a list of 20 natural and naturally derived preservatives, along with their ECOCERT status.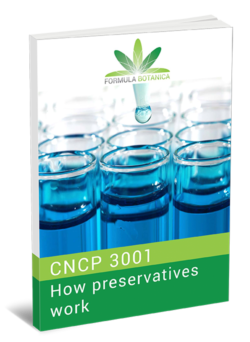 CNCP 3001
How Preservatives Work
Study the 7 different methods of preservation
Learn the way preservatives work in your formulations
Research the difference between reactive and membrane-active preservatives
Learn the main biocide groups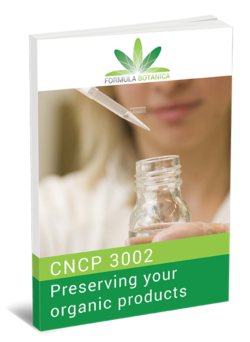 CNCP 3002
Preserving your Products
Research the 'synthetic to natural' spectrum
Learn the 8 different natural preservative groups
Understand the requirements for undertaking a stability test
Learn how to choose the ideal preservative for your products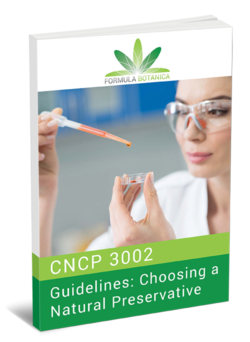 CNCP 3002
Guidelines to Choosing a Natural Preservative
Use our detailed flowcharts to choose the right preservative
Course bonus: Checklist – Analysing your Formulation
Course bonus: Guidelines – Choosing a Natural Preservative
Course bonus: Checklist – Choosing a Natural Preservative
Course bonus: Checklist – Supplier Checklist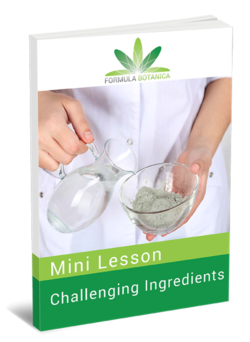 Mini Lesson
Challenging Ingredients
Study the most challenging ingredients to preserve in organic cosmetics: honey, clays, glycerin and herbs
Understand how to prepare herbal infusions and glycerites safely
Learn how to formulate with clays in organic cosmetics
Learn how to safely work with herbal infusions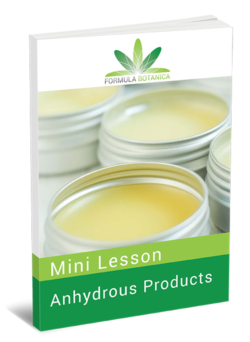 Mini Lesson
Anhydrous Formulations
Learn when an anhydrous formulation must be preserved
Receive a list of 6 preservative blends which we have found to work in anhydrous formulations
Learn how to choose a preservative for an anhydrous formulation
Study how to package anhydrous formulations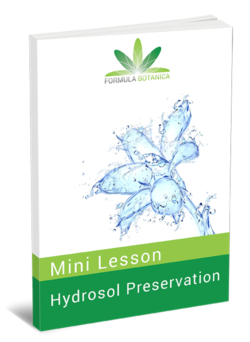 Mini Lesson
Hydrosol Preservation
Learn what to do if you make your own hydrosols
Receive a list of 3 preservative blends which we have found to work in hydrosols
Learn what to do if you buy unpreserved hydrosols
Understand the basics of testing hydrosols for contamination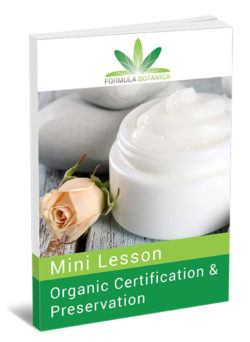 Mini Lesson
Organic Certification
Study the pros and cons of organic certification vs preservation
Learn the organic certification status of 22 preservative compounds
Find out 10 of the world's most prominent certification bodies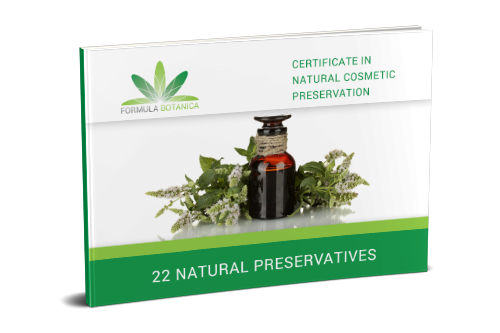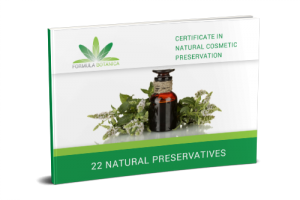 Handbook
22 Natural Preservatives
Use our detailed course handbook to choose the right preserving compound
Learn the ingredient's origin, spectrum, together with any limitations and specifications
Learn the ingredient's solubility, pH range, application and certification
Find out the trade names of various cosmetic preservatives
Module 4
Complying with the Law
International cosmetics legislation requires you to preserve your products properly to protect yourself as well as your customers. However, each country sets slightly different requirements. In this module we will review the main requirements which you need to be aware of when you formulate organic and natural skincare.
We will also look in more detail at the types of tests required for proper preservation, how they're used and what you need to do in order to prepare for them.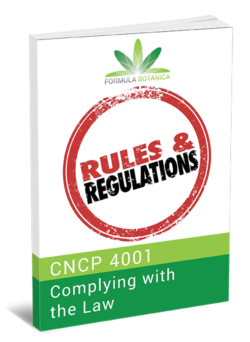 CNCP 4001
Complying with the law
Study the different legal requirements for cosmetic preservation depending on where you live in the world
Learn about the difference in global microbial challenge tests
Understand the important points to think about when using self-preserving ingredient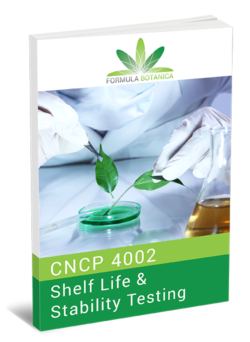 CNCP 4002
Stability Testing & Shelf Life
Learn how to predict and declare the shelf life of your product
Understand the minimum stability testing requirements
Study which ingredients in natural cosmetics require more preservation than others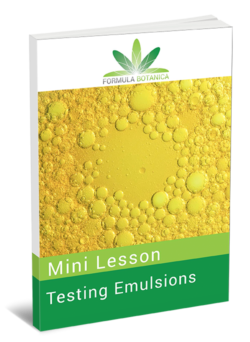 Mini Lesson
Testing Emulsions
Learn how to test the pH of your emulsion
Learn how to use dipslides in your emulsions
Understand the difference between a dipslide and sterilised swab in your emulsion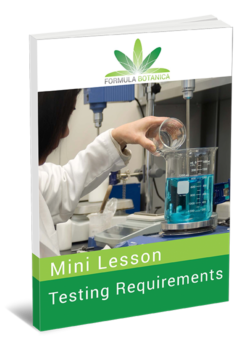 Mini Lesson
Testing Requirements
Understand your testing requirements if you change the formula
Understand your testing requirements if you change suppliers
Learn when to outsource a challenge test in your development process
Understand your testing requirements for customised cosmetics
"If you have a passion for formulating skincare then the Certificate in Natural Cosmetic Preservation is an absolute must! You will gain confidence that your finished products will be properly preserved and will be able to explore the many different methods of preservation for all types of skin care from butters,balms to lotions! Thank you Formula Botanica :)"
Course Bonuses
When you study with Formula Botanica, you become part of a close-knit international community of students and graduates all around the world. We support you all throughout your studies and beyond, and we give you access to our expert botanical skincare science and business files while you are enrolled on your courses.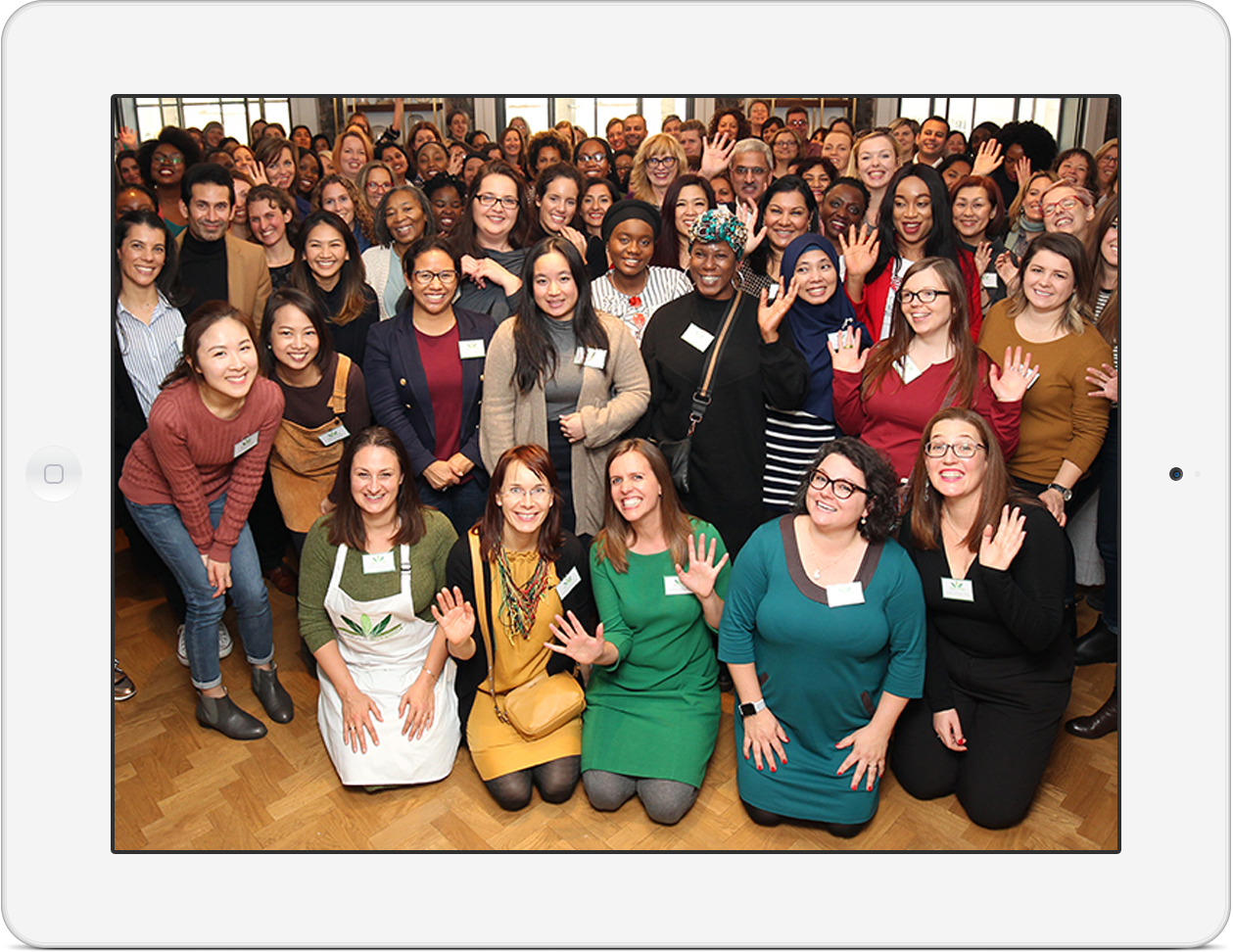 Bonus 1
Become Part of the Loveliest Formulation Community on the Internet
Once you enrol with us, you are welcomed into our international student community groups which contain many thousands of our students and graduates from all over the world. Everyone knows each other and many of our students meet up in their respective countries to share information and formulate together.
In our groups you will receive expert tutor support and peer support. Ask questions, share photos, troubleshoot formulations. Celebrate your victories and get encouragement when you need it. You are never alone.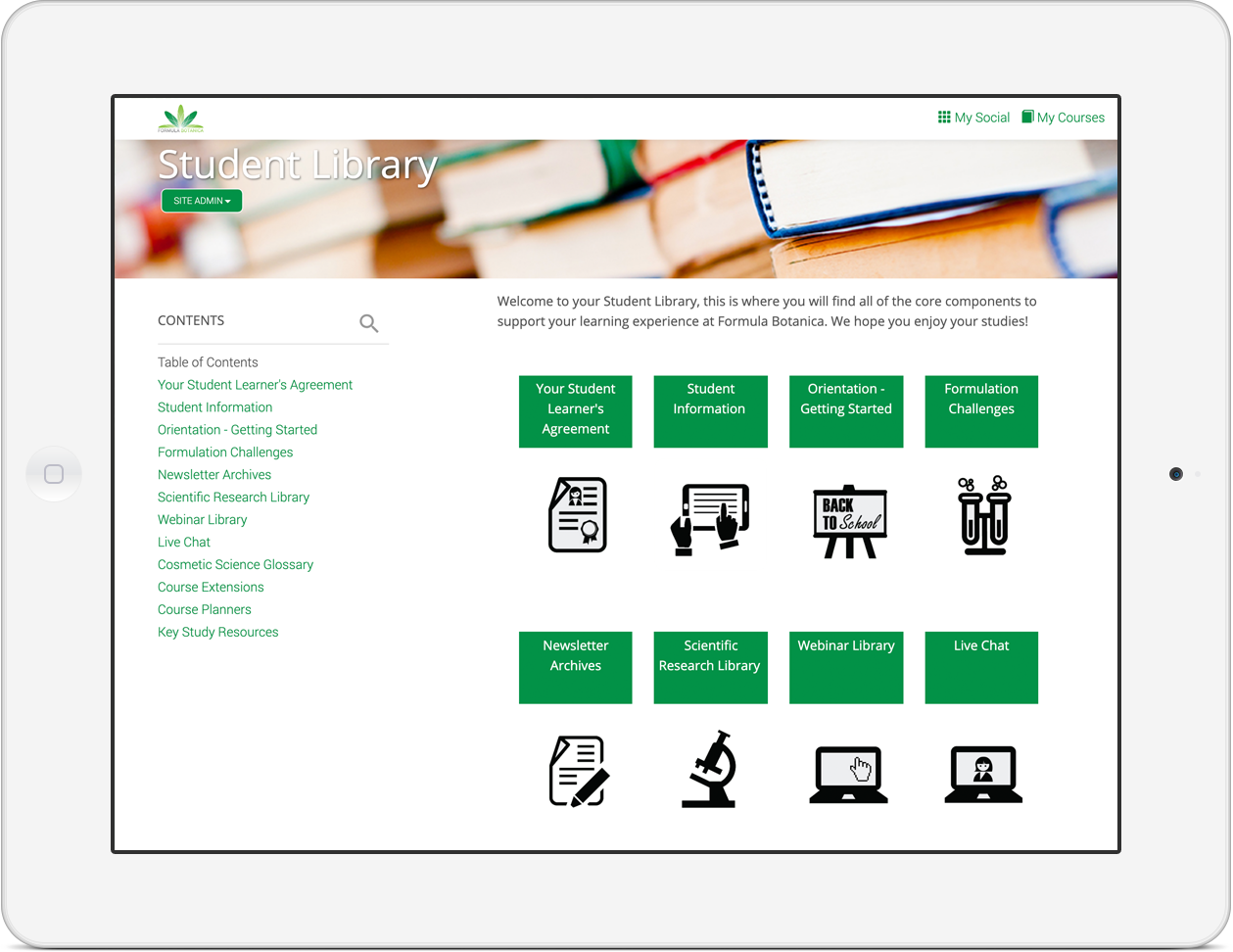 Bonus 2
Access our Student Library
When you become a student with Formula Botanica, you also gain exclusive access to our Student Resources Library for the duration of your course. Access our:
Preferred supplier guide which contains hundreds of global companies
Extensive ingredients directory with listings of over 100 natural ingredients
Formulation percentage-to-weight calculator
Scientific research collection
Useful links section to additional resources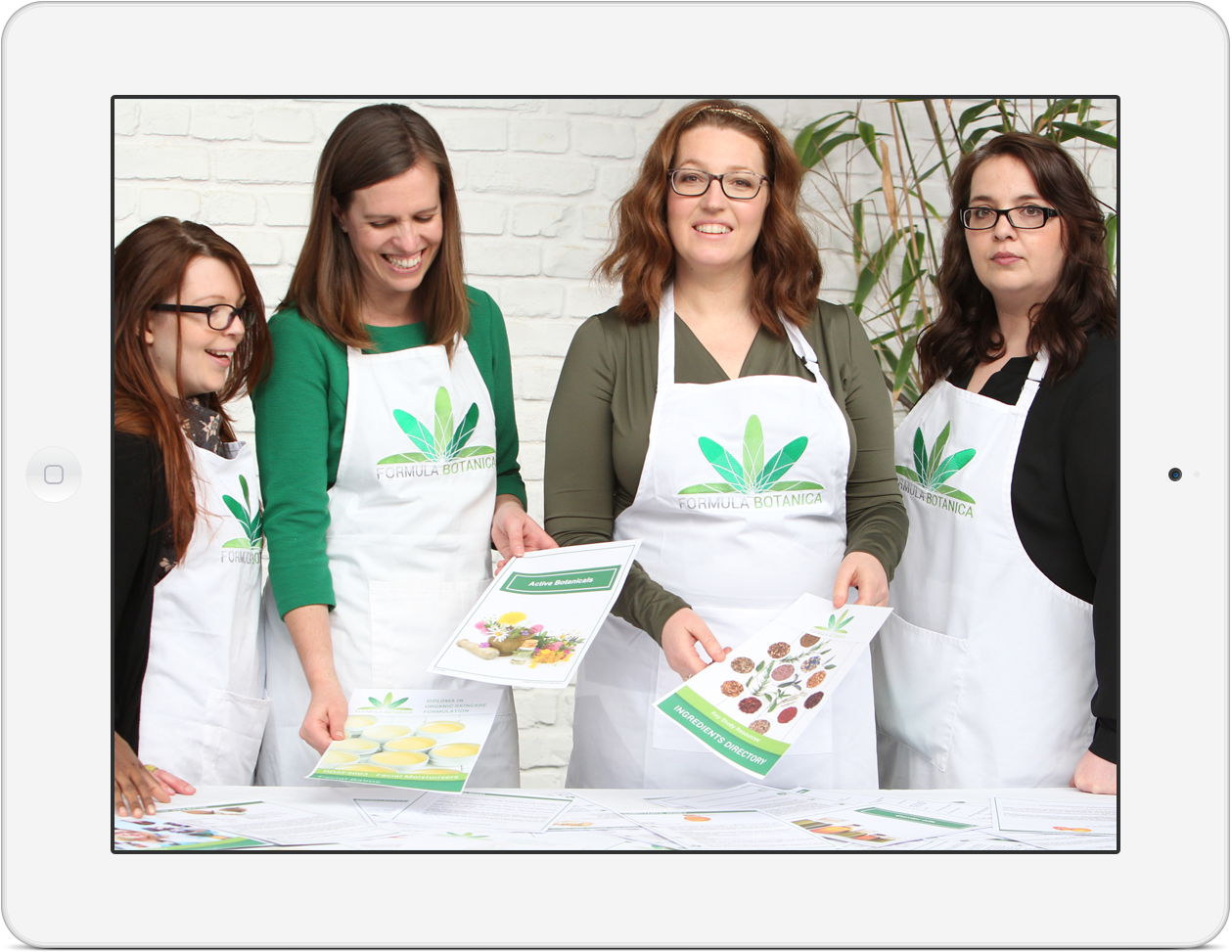 Bonus 3
Ongoing Support After Graduation
The support doesn't finish when you graduate. We want to keep in touch with you once you've finished your course and support your career in organic skincare. We offer lots of free promotion for our graduates because we want to help give your business the support it needs when you launch it or as you grow it.
Be featured widely on our website, on social media and on our mailing list. Formula Botanica has many thousands of followers and subscribers all around the world so this will help you create a splash when you launch.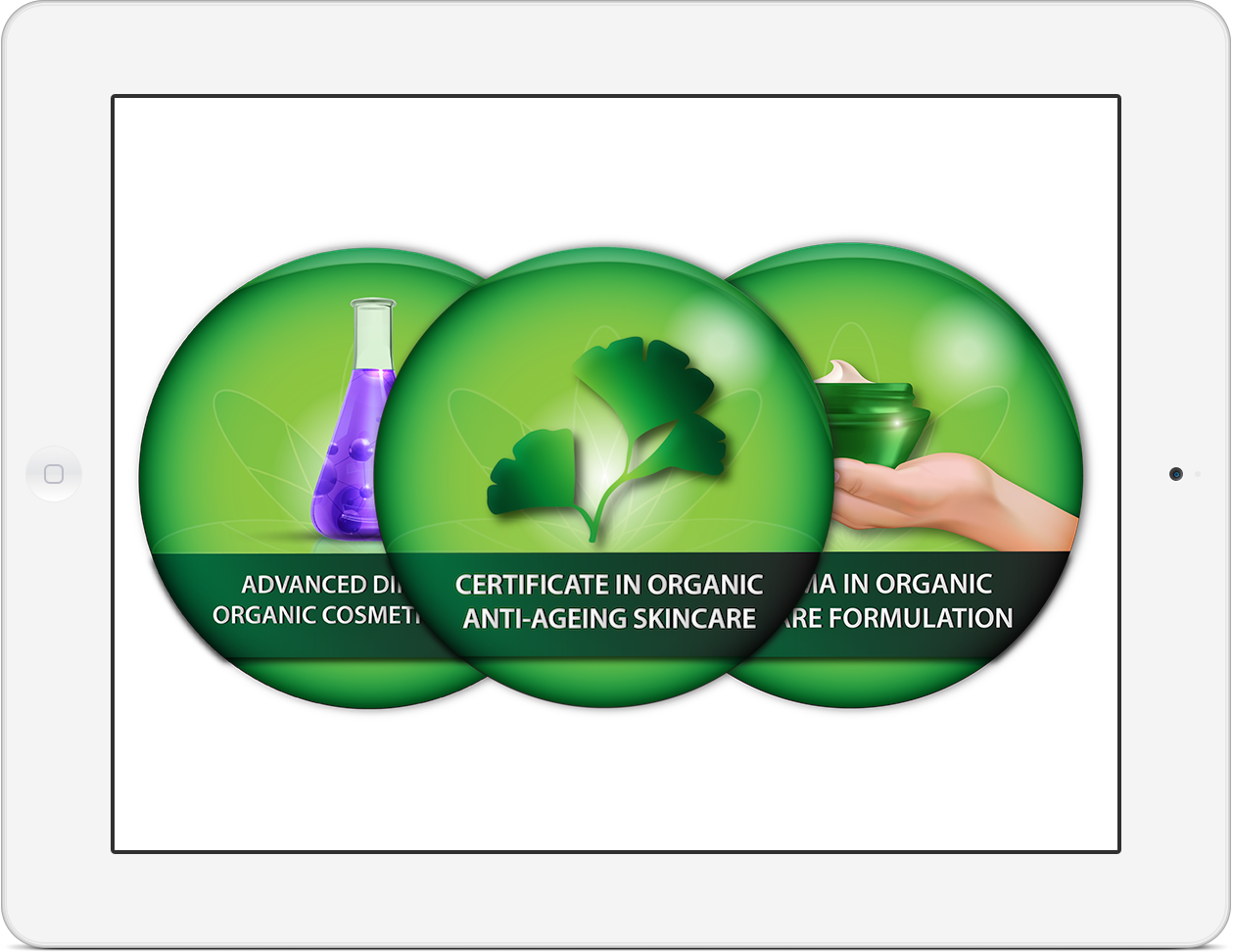 Bonus 4
Earn Formula Botanica Bonus Badges
Formula Botanica issues special Moodle Badges to students who pass their courses successfully (Moodle is the name of our award-winning and accredited eLearning Platform). These badges can be used on your resume, social media pages and LinkedIn profile to demonstrate that you are a skilled organic formulator. We have also hidden a few surprise badges in the course materials for students who pass certain Modules with a distinction grade!
Enrol for our Certificate in Natural Cosmetic Preservation to formulate your skincare range with a clear conscience while still ensuring your products are natural and safe.
Pre-enrol for our next term
Prerequisites
Suitable for students with formulation experience, ideally graduates of our foundation Diploma.
Start Date
Term Times. Self-paced training where you have up to 12 months to complete your course.
Assessment
Projects, activities and reflexive learning. Each module ends with a short test.
Online Classroom
Peer support & tutor support via a private Facebook group.
Accreditation
Formula Botanica is accredited by the Open & Distance Learning Quality Council.
Expert Support
Our Tutor Team has an educational background in cosmetic chemistry, biology, education and business management. Let us support you.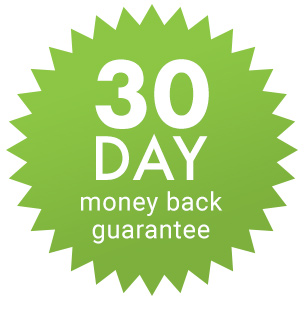 Formula Botanica operates a term time system, so we can get all of our students started at the same time and run online study groups.
Term times run in the following months:
Winter Term: January
Summer Term: July
Enrolment for all of our courses will be open during this period. If you want to be the first to hear when we open enrolment, make sure you pre-register for this course.
Pre-enrol for our next term