There has never been a better time to make your own beauty products at home for lots of reasons, ranging from wanting to be a more conscious consumer to saving costs, having fun and feeling empowered about what you choose to put on your skin.
If you have been thinking about skincare formulation, our article on 8 reasons to make your own skincare even if there's plenty to buy will convince you to give it go now.
Make your own beauty products at home and change your life
Today's giants of the beauty industry often started with the story of a lone, female entrepreneur working from a kitchen or other makeshift home lab. Women like Elizabeth Arden, Helena Rubenstein and Estée Lauder founded the now iconic, global corporations, but they were driven first by an inborn fascination with beauty products.
When you start making that first simple body butter, you may or may not have dreams of growing a hobby into a side hustle and beyond. You may wish to make your own beauty products to be more self-sufficient, to create personal gifts for friends and family, to foster a more sustainable household, sell an artisanal product at a local market or to simply relish the challenge of learning new skills.
Whichever route you take or reasons you have, you will never look at a mainstream commercial beauty brand or its products in the same way. You will always read the ingredients' labels in detail, think about what those ingredients do for your skin and wonder if you can make your own homemade beauty products rather than buy them.
Our 10 homemade beauty product ideas:
Get you started quickly and easily learning to formulate.
Are cheap to make as they don't need any expensive or hard-to-find ingredients.
Are fun to make and beautiful to use.
Help you gain confidence learning some basic skills of natural, organic formulation.
Contain just a few ingredients and can be multi-use – in line with the 'skinimalism' trend of less is more.
Help you along your path to being a more conscious beauty consumer and formulator.
What beauty products are easy to make yourself?
Our list covers some of the most satisfying, useful and fun beauty products to learn to make at home. Most are anhydrous, which means they do not contain water or water-based ingredients and therefore generally do not require a natural preservative.
The world of botanical oils, butters and waxes is diverse and fascinating and there is plenty to research in this product sector alone. Many of our students have launched their artisan brands with a single hero product made of simple oils and formulated to suit specific skin issues. In our online classroom, we once asked if our students preferred 'whipped or unwhipped' body butters and were amazed at the hundreds of replies; evidence that anhydrous formulations are very popular even if among the very first beauty products to make at home.
To build a small stock of useful, multipurpose botanical oils, see the recommendations of our Formula Botanica tutors in this article:
Only a few of the formulations we suggest below need a broad-spectrum preservative. In order to make water-based products safely, even if for home use only, you need to understand cosmetics' preservation and why and how to test and adjust pH. If you want to take natural formulation further, then preservation and pH are essential to learn about.
10 ideas for beauty products to make at home
1. Homemade body butter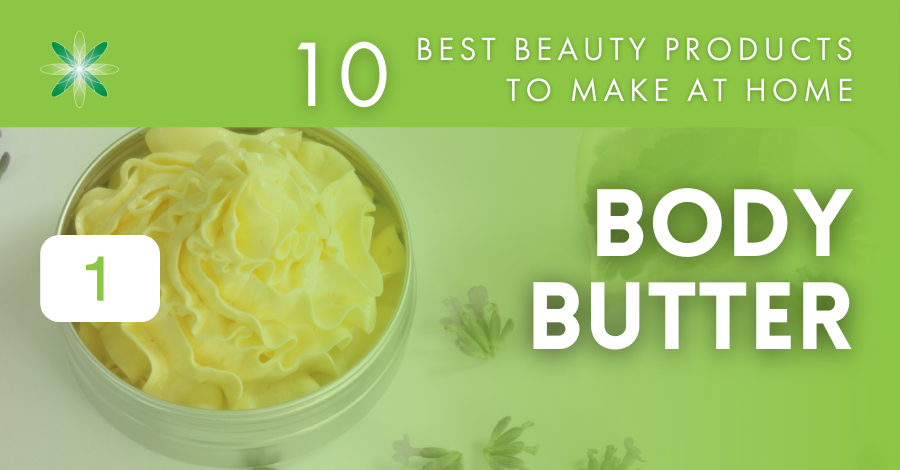 For good reason, we have voted the body butter the best, first botanical formulation to make at home. Apart from being super easy to make, it is a beauty product loved by all ages and used by almost everyone. Start with a simple, framework formulation and adapt it to suit the ingredients you can find easily.
The trick to success lies in balancing the oils, butters and waxes, if using the latter, to ensure you attain the desired viscosity and hold. Whipping a body butter takes a bit more effort as you need to repeat chill and whip the formulation, but the outcome is a gorgeously light, velvety product. A body butter needs only around 5-6 ingredients, so checks the boxes as one of the most economical skincare products to make too.
Your first botanical formulation: a simple body butter – a formulation to tailor to your own scent, oil and butter preferences.
How to make a tuberose and rose whipped body butter – a luxurious body butter that is ideal to gift.
How to make a body butter – this gives you step-by-step instructions and photos with options for a plain or whipped body butter as well as tips on melting butters to avoid graininess.
2. Face, hand and body balms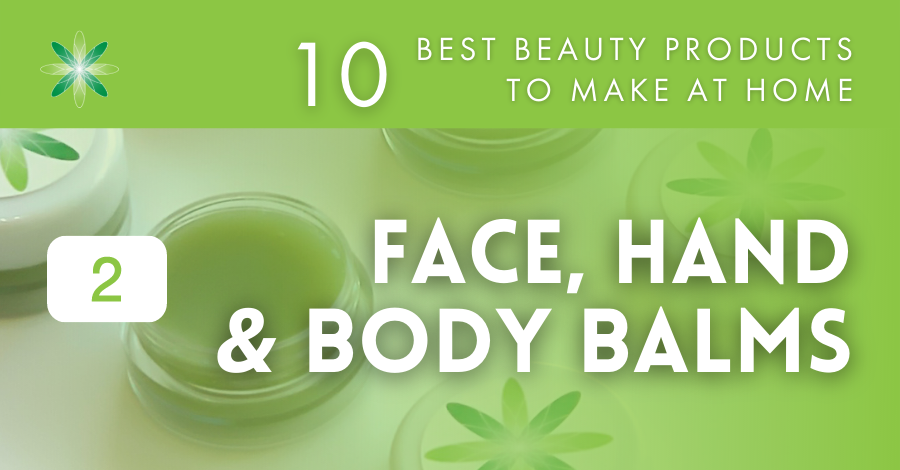 A close second to the body butter is the body balm as a superb first skincare product to make at home. There are some subtle, but important differences between a butter and a balm. Both are anhydrous and can use any combination of botanical oils, butters and waxes, but the percentages of those ingredients vary to give the butter or balm the desired consistency and feel.
A balm is a firm-set beauty product with a slightly translucent look and it melts instantly when in contact with the skin. A body butter is a softer, less oily product that has a fluffier feel, even if not whipped. Balms use harder butters like cocoa butter and waxes, while body butters are unlikely to include any waxes.
The Formula Botanica community loves balm making as they can explore infinite combinations of gorgeous, cold-pressed botanical oils. Sea buckthorn oil is a particular favourite as it imparts a deep yellow-red hue to any balm even if used in small quantities. Explore colour and the inherent benefits of botanical oils and macerates in your balm making and adjust the type and percentages of oils and butters to tailor your balm for use on the body, face or hands. We have seen graduates launch their beauty brands based on a range of simple balms. These formulations will get your started making homemade balms:
Oat and cranberry body balm
Formulate a green tea and cocoa body balm stick
Why a balm stick should be the next skincare product you make
How to make a nourishing hand balm
How to make a natural cleansing balm
3. Lip balms, serums and scrubs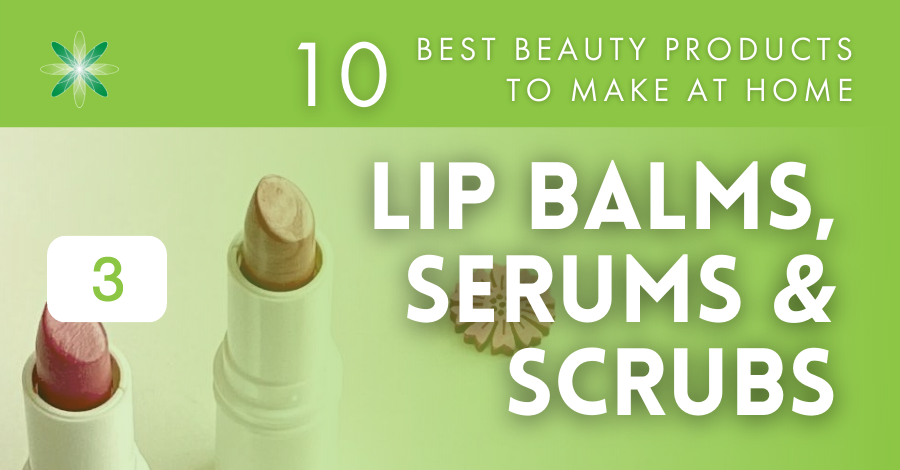 Everyone needs a lip balm in their life. Lip care beauty products make nice pocket-sized gifts for friends and family and are convenient to take out and about with you to help protect lips when on the move. A lip balm is likely to include more wax to firm the product, especially if you wish to make it into a stick. Think through how you wish to package the lip balm and that will dictate the formula.
You can have fun exploring the world of coloured lip balms, either by working with the natural colours of the oils themselves or by adding powdered botanical pigments. There are some safety considerations to note if you are including essential oils in lip products. You must research the specific dermal limits for lip use of any essential oils you may wish to use in your balm.
Lip scrubs are excellent for keeping our lips in top condition and removing any dry, stringy bits that occur when our lips have dried out or chapped. Just choose scrub ingredients with gentle exfoliating properties as the skin on our lips is wafer thin. For a lip serum, choose botanical oils that can offer a light, nourishing, moisturising film along with other properties such as antioxidants that can benefit the lips overnight when you rest.
How to formulate a nourishing lip serum
How to make a whipped lip scrub
How to make an Amazonian lip balm
How to formulate a berry-tinted lip balm stick
4. Face and body oils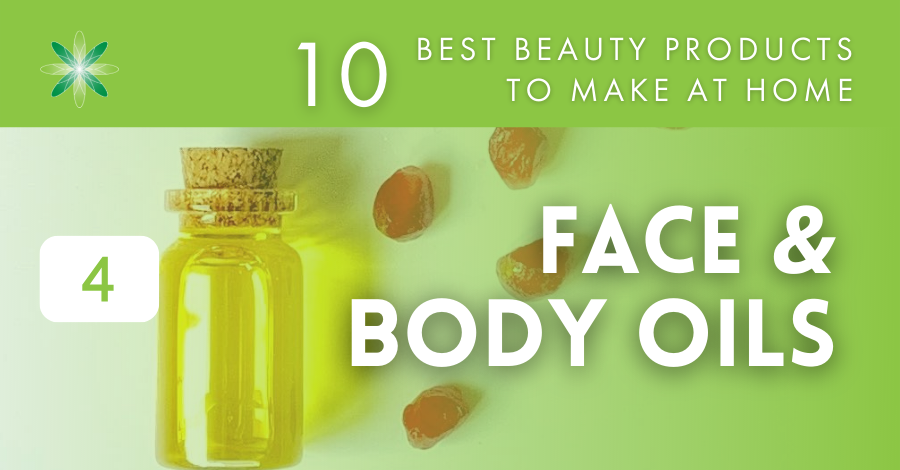 Face oils are among the best, simple homemade skincare products as they are one-pot, cold-blend formulations. They are generally formulated with botanical oils such as grapeseed, rosehip and sunflower as well as liquid waxes like jojoba, but can include some oil-soluble additives like vitamin E which is an antioxidant. Using a face oil is down to personal preference. Face oils need not be greasy or heavy on the skin. They can be formulated with fast-drying, quick-absorbing and light skin-feel oils and for use on a variety of skin types and issues. Even acne-prone skin can benefit from certain oil formulations. They can also double up as cleansers, removing oil-soluble dirt and grime.
The complexity of formulating a face oil lies in deciding which oils to combine and why. You need to think about who will be using the face oil and what their skincare needs are. A face oil for mature skin and designed to be used overnight can be richer and more viscous than one tailored to daytime use and under make up. Research the profile of your chosen oils to see what fatty acids and other components they contain like phytosterols and unsaponifiables.
Take a look at point 10 in our list of 10 myths of natural formulation to debunk in which we cover the notion of a comedogenic table of botanical oils and the idea that botanical oils are bad for acne- or oily-prone skin.
5. Powdered face cleanser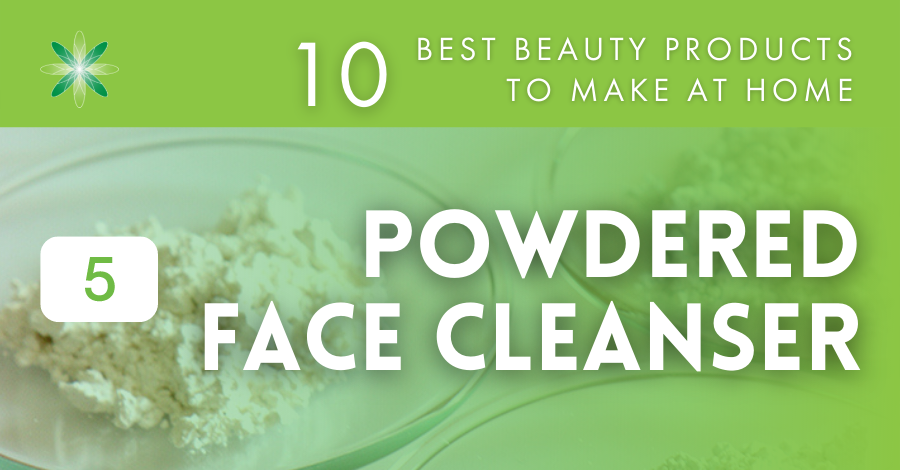 Dry, powdered formulations that the user brings to life with liquids like water or hydrosols are trending beauty products. Along with solid formulations, they can be more economical to package. As with face oils, powdered formulations are simple blends although there are some important things to consider when making them.
You need to work the powders together according to the amounts used, starting with the smallest percentages first and adding the largest last, to ensure all ingredients are evenly combined. You should wear suitable face protection to prevent inhaling powder particles and you need to learn how to incorporate small amounts of essential oils thoroughly, if adding them for scent or other benefits. Dry formulations must be packaged in moisture-proof containers as ingredients like clays, which are common in cleansers, could become contaminated by microbial growth if in contact with wet fingers, moisture or humidity.
The beauty of a face cleansing powder is that it can be tailored to suit your skin type and needs with additives like peptides and marine extracts and formulated to create powder-to-foam formulations when activated. Try these formulations for some ideas:
How to formulate a face cleansing powder
How to make a dragonfruit powder-to-foam cleanser
6. Activated face mask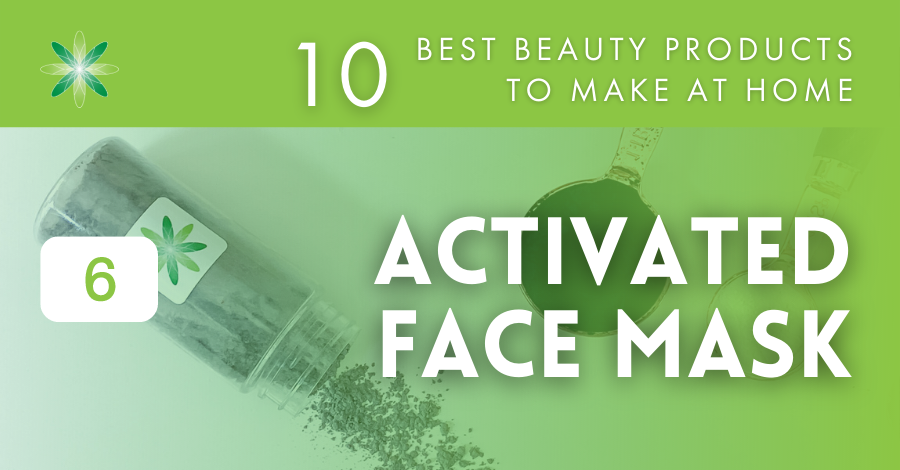 Similar to the powdered cleansers above, an activated face mask is a dry formulation with some choice ingredients designed to serve a specific skincare purpose. They are intended for use once to twice a week and to be left on for a little longer to work their magic, though not so that the mask dries out and could pull the skin. An activated face mask can be hydrated with water or hydrosols, according to preference and budget, and to a desired viscosity to be applied with fingers or a brush.
Have fun deciding which dried, powdered ingredients to include. Our formulation is for an activated charcoal mask, but dried marine ingredients would be another theme to try. Superfruit powders are fun to explore and offer colour and all manner of benefits like antioxidants or try herb powders like moringa, nettle and chamomile. There are limitless possibilities to adapting a simple, powdered face mask formula.
7. Face toner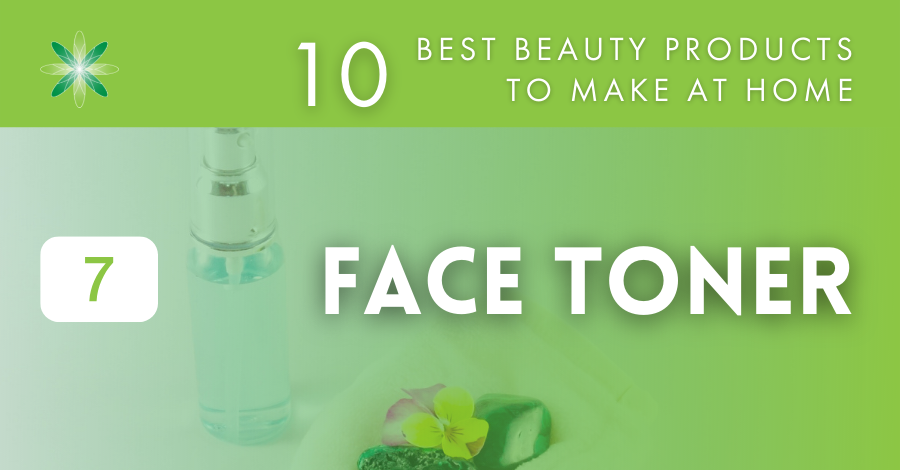 Face toners are long-standing products in most commercial cosmetic ranges and show no sign of disappearing despite the arrival of micellar waters. So why would toners still be go-to beauty products to make at home? We think their popularity now is down to their multi-functional use. The face toner can cleanse the skin of residual makeup, give the face a quick freshen up, tone the skin to improve its feel and also help balance the skin's epidermal pH. In hot weather, a splash of toner when out and about can do wonders to freshen up the face.
Toners can comprise beautifully-scented hydrosols, like the florals rose, jasmine and orange blossom as well as fresh scents of neroli, lemon balm and green tea. Hydrosols will include plant sterols and offer skin benefits over and above providing scent alone.
As water-based products, they do need preserving, but on the plus side they can include also a range of water-soluble, star ingredients such as microbiome-friendly prebiotics or moisturising agents like allantoin. Again, the fun part in making a toner is in choosing the additives and scents to suit your chosen theme.
8. Hair styling wax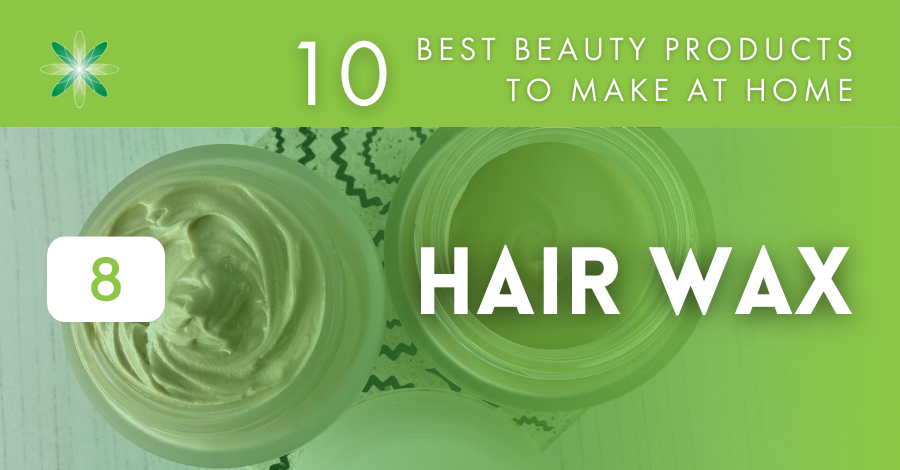 The pandemic lockdowns turned many of us into home hair stylists. So now, as the next step, why not start creating some easy DIY natural haircare products too? Everyone has at least one hair styling product in their bathroom cabinet and a styling wax is one of the most versatile, all-purpose options for quick-fix styling. Plus, as a favourite with men, a styling wax could be a useful gift too.
Formulated in a similar way to body butters, a hair styling wax includes more waxes of course to ensure it gives hold to the hair. Choose also a higher proportion of harder butters and waxes with higher melting points, such as cocoa butter, and look for those that offer emollient and other properties to nourish and protect the hair shafts. You can include also natural silicone alternatives of which there are some on the market. The beauty of making your own natural, organic haircare products is the chance to avoid synthetic fillers common in mainstream styling products. Our formula uses enriching African butters and oils as a theme.
9. Hair mist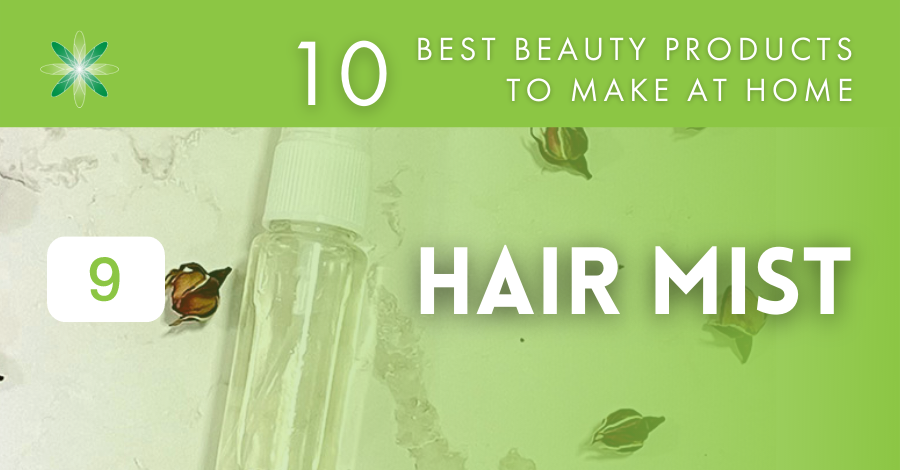 At number nine in our list of easy, beauty products to make at home is a relative newcomer cosmetic – the hair mist. You can think of the hair mist as being a toner for hair as it has similar, multi-use applications. It refreshes the hair between shampoos by adding a light fragrance and styling capabilities, and it can help protect and nourish the hair shafts. Depending on the ingredients used, it can help protect against the damaging and drying effects of UV rays and wind. A hair mist can be totally water-based and therefore can be used to carry interesting water-soluble active ingredients like humectants including various amino acids that can give shine, as well as help moisture to penetrate the hair shaft.
Explore the diverse and growing range of natural haircare products in our articles:
How to make natural haircare products: a step-by-step guide
How to formulate a strengthening hair mist
10. Gel face cleanser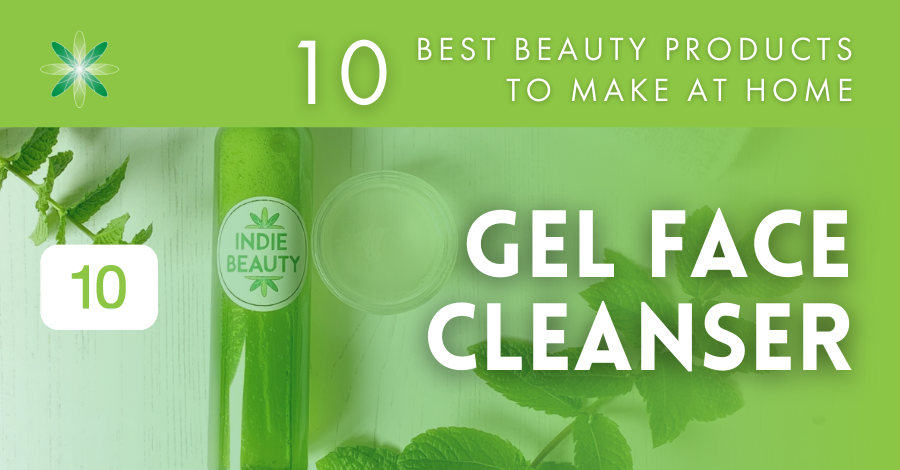 Gels and oleogels are very on trend and are some of the most exciting of the simple, DIY skincare products to make at home on account of the colours you can create and their delightful feel on the skin. Gel cleansers are very popular as they lather into a gorgeous cleansing milk once in contact with a little water and massaged in lightly. This makes their application a highly sensory and satisfactory experience.
Making a gel cleanser introduces you to working with natural gums which can be tricky, but in the formulation below we use a proprietary gum blend which makes life easier in creating the right viscosity and skin feel for the finished product.
Again, as with all the beauty product formulations we suggest here, experiment by swapping the hydrosols and high-performance ingredients to make a bespoke product for your needs. We used wild flower extracts in our gel cleanser, but marine ingredients, or the inclusion of superfruit or herbal glycerites, would be ideal too.
How to make a simple gel face cleanser
How to make an oleogel cleanser
Leave us a comment
comments