In this post, we are going to show you how to make a natural shampoo with aromatic rosemary and peppermint hydrosols. This is a simple, easy-to-follow formula but before we begin creating our shampoo, let's get familiar with the main ingredient types.
Choosing and Using Surfactants
Surfactants, or in other words Surface Active Agents, are widely used in many industries including personal care. You might understand surfactants as the ingredients responsible for making a shampoo or a shower gel foam and cleanse. This assessment is partly correct, although not always the case.
In this post, we will not be able to go into the science of surfactants in detail, but let us cover some basics so you have a grasp of how they fit into our formulation.
A surfactant molecule has a water-loving head and a water-hating tail. Surfactants can be classified as anionic, cationic, non-ionic and amphoteric depending mainly on the charge of the water-loving head.
Anionic such as soap, which has strong cleansing properties.
Cationic such as Emulsense HC (INCI: Brassicyl Isoleucinate Esylate (and) Brassica Alcohol) which is often used in conditioning products, for example hair conditioner.
Non-ionic such as Coco-glucoside which tends to be mild and gentle.
Amphoteric such as Cocamydopropyl betaine which can behave as an anionic or as a cationic surfactant depending on the pH.
Emulsifiers and solubilisers both belong to the surfactant group. I am sure you have noticed that when you want to solubilise some essential oils in your facial toner your formula may foam a little. That is because a solubiliser is effectively a surfactant.
Of course, there is so much more to know about surfactants, this barely scratches the surface. We teach surfactant science in our Advanced Diploma in Organic Cosmetic Science and in our Diploma in Organic Haircare Formulation.
In learning how to make a natural shampoo, one of the first, most important decisions will be your choice of surfactant as that will dictate the base of your product. When blending your surfactants with water or hydrosols, you will end up with a low viscosity product. This would only be a aesthetically pleasing and practical if you opt for a foamer bottle to dispense the product as these containers have a special chamber that transforms your watery base into a foam.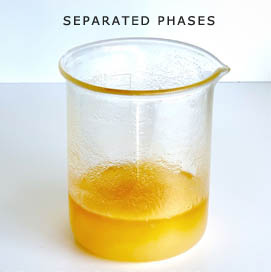 If you want to achieve a nice, thick blend that works well in a pump-action bottle, you will need to add gums to your product to increase the viscosity; in other words you will need to thicken your product.
If you have ever tried thickening your products with gums, you may have ended up at times with either a gooey blend or a separated mess instead of a lovely, transparent and thick product.
Here, we show you how you can achieve a clear blend with a good flow without using a gum.
By following our advice, you won't need to worry about separated phases.
Learn how to make an organic, natural shampoo with active ingredients to nourish, protect and moisturise your hair. #naturalhaircare #naturalshampoo #organicshampoo @formulabotanica
Click To Tweet
The base of your natural shampoo
We are using various surfactants to create our base. You can use one surfactant only, but your product will perform better if you blend surfactants. As with other ingredient groups, not all surfactants are equal.
Lauryl glucoside is a non-ionic surfactant in the form of a thick, white paste. It is compatible with other surfactants and it needs to be heated until it becomes clear.
SCI or Sodium Cocoyl Isethionate is a coconut-derived surfactant in the form of powder or flakes. This surfactant is used in shampoo or shower bars a lot. This will need to be melted.
Decyl glucoside is a non-ionic surfactant with good foaming properties.
We will also be using Lamesoft PO65 (INCI: Glyceryl Oleate (and) Coco-Glucoside) which is a lipid layer enhancer or refatting agent. This means it will help with moisturising and has softening properties.
With these surfactants, we will be using two aromatic hydrosols: peppermint and rosemary. Both of these plants are excellent in shampoos. Peppermint is cooling and refreshing while rosemary may help with circulation and potentially therefore slow down hair loss.
Active ingredients in your natural shampoo
Of course, a good shampoo is not just a blend of water and surfactants. We will be adding some other ingredients to create a product that has good cleansing properties as well as being nourishing and leaving your hair nice and soft.
1. Proteins: we use hydrolysed rice and hydrolysed wheat protein in our shampoo which are excellent at moisturising the hair or even skin. They have film-forming properties which help protect the hair cuticles and they make hair feel soft and hydrated. The hydrolysis means that the protein is broken down into smaller molecules so they can penetrate the cuticle.
(Hydrolysed Rice protein – INCI: Aqua, hydrolysed rice protein, sodium benzoate. Wheat protein – INCI: hydrolysed wheat protein, sodium benzoate.)
2. Hair Protect: we use an algae extract which excels in shampoos and conditioners at providing shine and moisture protection to the hair. It is also great in styling products where heat protection is needed.
(INCI: Aqua, glycerin, cystoseira compressa extract, zea mays starch, dehydroacetic acid, benzyl alcohol, sodium benzoate, gluconolactone, calcium gluconate.)
Now that you are familiar with the main ingredients, let's find out how to make a natural shampoo.
Our Formula: Natural Mint & Rosemary Shampoo
Ingredients
Phase A
Lauryl glucoside: 25%
SCI powder (INCI: Sodium Cocoyl Isethioniate): 5%
Decyl Glucoside: 5%
Lamesoft PO65 (INCI: Coco-Glucoside (and) Glyceryl Oleate): 3%
Phase B
Peppermint hydrosol: 29.5%
Rosemary hydrosol: 20%
Dermofeel PA3 (chelator) (INCI: Sodium Phytate, Aqua, Alcohol): 0.10%
Glycerine: 5%
Panthenol (INCI: Panthenol and Aqua): 2%
Phase C
Hydrolysed rice protein (INCI: Aqua, hydrolysed rice protein, sodium benzoate): 1.5%
Hydrolysed wheat protein (INCI: hydrolysed wheat protein, sodium benzoate): 1.5%
Hair Protect (algae extract) (INCI:Aqua, glycerin, cystoseira compressa extract, zea mays starch, dehydroacetic acid, benzyl alcohol, sodium benzoate, gluconolactone, calcium gluconate): 1%
Phase D
Preservative Eco (INCI: Benzyl Alcohol, Salicylic Acid, Glycerin, Sorbic Acid): 1%
Grapefruit essential oil 0.4%
Method of Manufacture
Phase A
1. In a disinfected glass beaker weigh the Lauryl glucoside.
2. Add the SCI powder. Please make sure you wear a mask so you don't breathe in the fine powder.
3. Add the Decyl glucoside.
4. Finally, add Lamesoft
5. Heat the surfactants gently in a water bath and stir occasionally. Stir it gently to avoid creating a lot of foam.
Phase B
1. While the surfactants are melting, weigh your Phase B ingredients in another beaker.
2. When the surfactants are melted and translucent, remove from the water bath and let them cool a bit.
3. Add the hydrosol blend (Phase B) to the surfactant blend (Phase A) and stir slowly but thoroughly.
4. You will find the blend to be quite runny but it will thicken as it cools.
Phase C
1. Add all Phase C ingredients to the shampoo base.
2. Stir it well but slowly to avoid creating a lot of foam.
3. Check the pH and adjust it to around pH 5.5 if needed.
4. The pH is too high so we will lower it with lactic acid to pH 5.5.
Phase D
The pH is now 5.5, so we can add our preservative.
1. Add the Preservative Eco.
2. Finally, add the grapefruit essential oil.
The shampoo is now ready but you will see it has a lot of foam. Keep the blend in the beaker for a while and the foam will settle down within 24 hours. It will also become clear which is very pleasing to look at. Transfer it into a pretty bottle and label.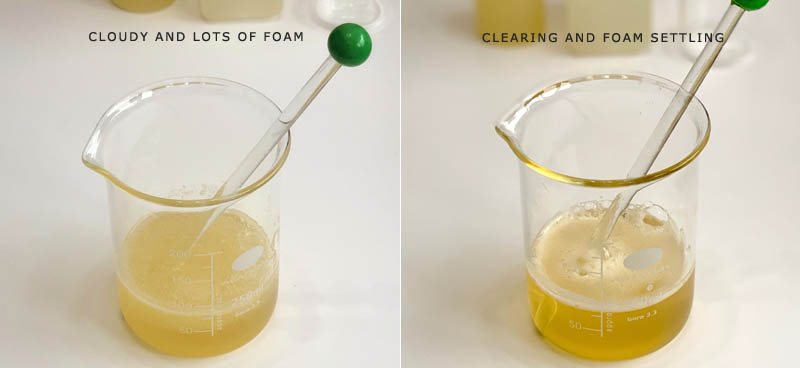 Now you've learned the theory on how to make a natural shampoo, it's your turn to try out the formula and customise it if you wish with your own choice of surfactants and hydrosols. Leave us a comment below to tell us how you got on and how it performs.
If you are interested in natural haircare formulation, you might also like to read these posts:
How to make an exfoliating pre-shampoo
How to make an organic & natural hair conditioner
Green beauty blogger verdicts on natural haircare
If you want to learn more about how to make fantastic, organic and natural haircare products, check out our Diploma in Organic Haircare Formulation.  Have you pre-registered yet?  Just sign up to stay informed about all our organic skincare and haircare formulation courses. In the meantime, try out a sample class to find out more about learning with Formula Botanica.
If you've been formulating for a while and are considering starting your own beauty brand, check out our brand new Diploma in Beauty Brand Business Management.
---
Suggested Suppliers
Lauryl glucoside: The Soap Kitchen
SCI powder Bay House Aromatics
Lamesoft PO65 (Coco-Glucoside (and) Glyceryl Oleate): The Soap Kitchen
Hair Protect (algae extract): Aroma-zone
Leave us a comment
comments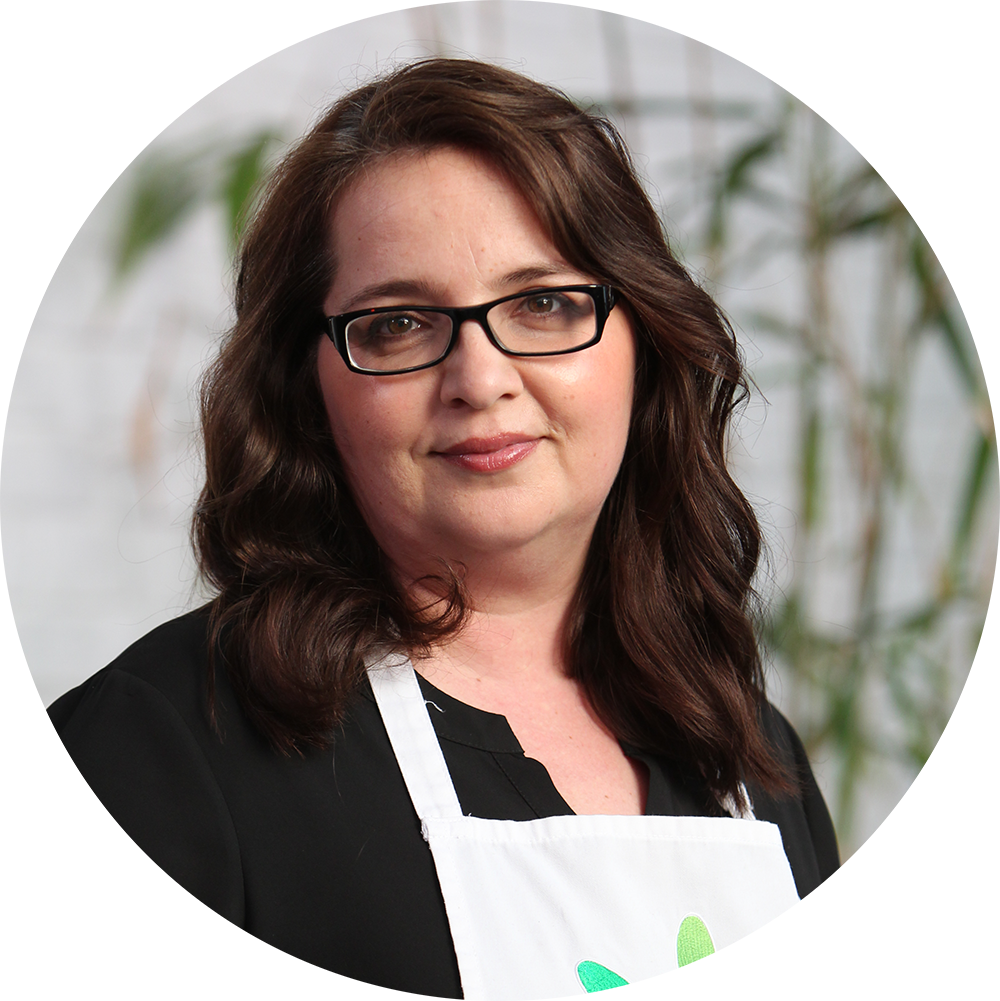 Timi is our Head of Research and Formulation and is tasked with developing new course ideas. You can find out more about the Formula Botanica team here.