As you will know from browsing any haircare product aisle in store, haircare is big business and can also be a confusing topic.
Haircare is one of the fastest growing sectors of personal care and is projected to grow at an annual rate of 6.6% between now and 2027*. Interestingly, organic haircare products are a growing, yet still quite untapped market. Home haircare products took off during the pandemic as people turned to DIY treatments and styling when salons were closed. Having got used to doing our own hair, we are now in the habit of thinking more about which haircare products we need as we rely less on salon professionals for advice.
Home haircare covers a vast range of products and applications. Our step-by-step guide to making natural haircare products talks about the key factors to consider in haircare formulation such as hair anatomy, type and porosity.
It also looks at some of the many products out there from pre-shampoo formulations and hair masks to so-called 'no-poo' hair cleansers and scalp treatments. The trend for more sustainable products has also seen a rise in solid shampoo bars and hair products made with upcycled ingredients.
Finding the right product for your hair type – coily, curly, wavy or straight – can be the journey of a lifetime and costly. Some of us find it extremely easy to manage our own hair, while others find it quite the opposite, and then there are of course haircare trends to follow, or not.
So where does our formulation for a home-use strengthening hair mist sit in this confusing market of haircare products?
Why use a hair mist?
Hair mists offer several benefits; they refresh hair between cleansing by adding a light fragrance and, depending on their ingredients, can also offer moisturising and nourishing elements to boost lacklustre hair and to help it endure heat and drying wind. They can also help you lightly style your hair making it more manageable.
They are for on-the-move use and ideal for keeping with you when out and about. A fragranced hair mist formulated as a water-based product is preferable to perfume as a hair scent as the alcohol in perfumes can dry hair out while the oils may add tackiness.
In this formulation, we are creating a simple and easy-to-use hair mist that is intended to check the boxes on several products by rolling them into one. Who doesn't like a multitasking, easy-use haircare product when time is limited and the planet's sustainability demands we use and buy less?
Make this @FormulaBotanica easy hair mist formulation to refresh, lightly style and fragrance hair between shampoos and moisturise and protect it from wind and sun. #naturalhaircare #organichaircare #haircarecourse
Click To Tweet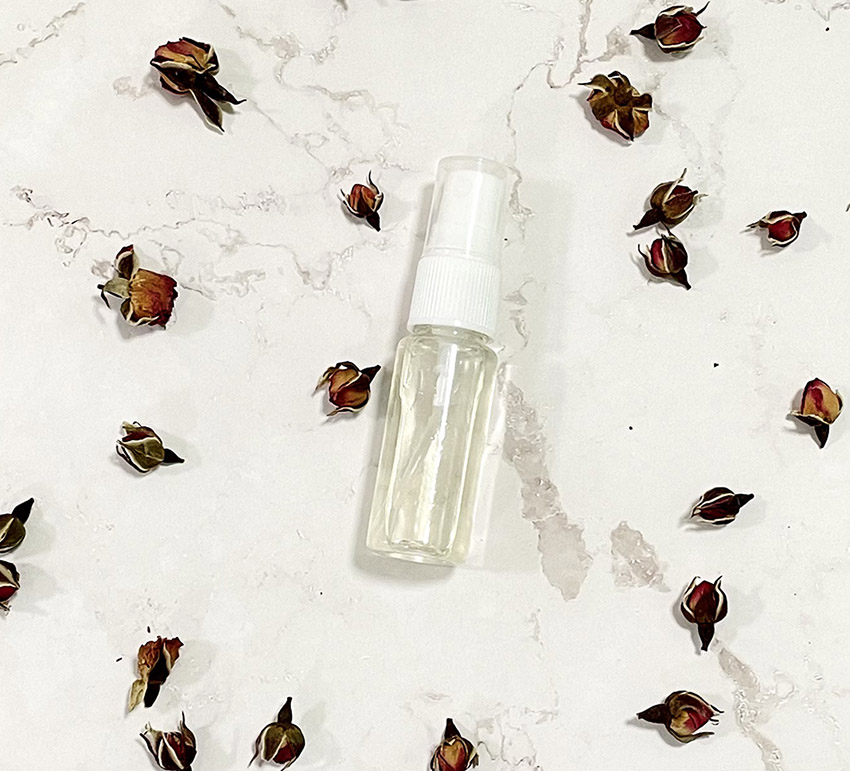 About our hair mist formulation
Our easy formulation is intended to strengthen the hair shaft by spraying the mist directly onto damp hair and allowing it to dry naturally. While the mist is ideal on damp hair, there is nothing stopping you from applying it directly to dried hair. This is especially useful when your hair is exposed to arid environments or summer heat.
Since our leave-in formulation is not tacky or greasy, it won't need to be washed out. Just spray it on and you are good to go with hair better nourished and protected for the day.
This leave-in formulation can be reapplied as required during the day.
Ideal packaging
As the product is meant to be sprayed on the hair, it will need a spray top and it can be paired with a glass bottle. A small spray bottle is convenient for travel. Dark bottles are always best, however it is perfectly fine to use a transparent bottle. You can affix a label to the bottle to minimise the hair mist's exposure to light.
Our hair mist ingredients
Rose hydrosol
Rose hydrosol forms the base of the formula. We chose it for its divine natural scent as well as its known moisturising properties. Using a floral hydrosol is one of the best ways to fragrance a water-based product as it removes the need to provide scent with an essential oil which would need to be incorporated into the formula using a solubiliser.
Silk Amino Acids PF
Silk amino acids are one of the key ingredients in our hair mist formulation. They have the ability to penetrate the hair shaft through the hair cuticle and have excellent moisture-binding properties. This increases hair manageability and gives the hair a more lustrous look. This ingredient is available in a powdered as well as a liquid form. As a precaution, we advise checking the type of preservative used in any liquid forms you may wish to buy as sometimes they include synthetic preservatives. Silk amino acids are water soluble so are very easy to incorporate in this formula.
Vanzan® NF-C – xanthan gum
This gum is used to give the hair mist formulation some body. We used a high-grade xanthan gum with the trade name Vanzan® NF-C, but you could substitute our option for other quality xanthan gums or other gums such as konjac, tara or guar. Ask your supplier for guidance as the viscosity, clarity and skin feel of gums varies, as does the recommended usage percentage. Our chosen gum, Vanzan® NF-C, creates a clear-looking gel base. The clarity of the gel will depend on the type of extracts or additives added to a formula as some may cause cloudiness. Vanzan® NF-C does not create a tacky feel and leaves a nice skin feel in many other types of formulation too.
Preservative: Dermosoft 1388 Eco
This is a 100% water-soluble preservative with broad antimicrobial activity. It is suitable for this aqueous base formula. Its optimal pH is around 5.5.
Humectant: Sodium PCA
Sodium PCA is a superb humectant for the hair that helps to support the strengthening of the hair shaft. You can find out more about how humectants work in skincare and haircare in our formulator's guide to natural humectants.
Our Formulation: Strengthening hair mist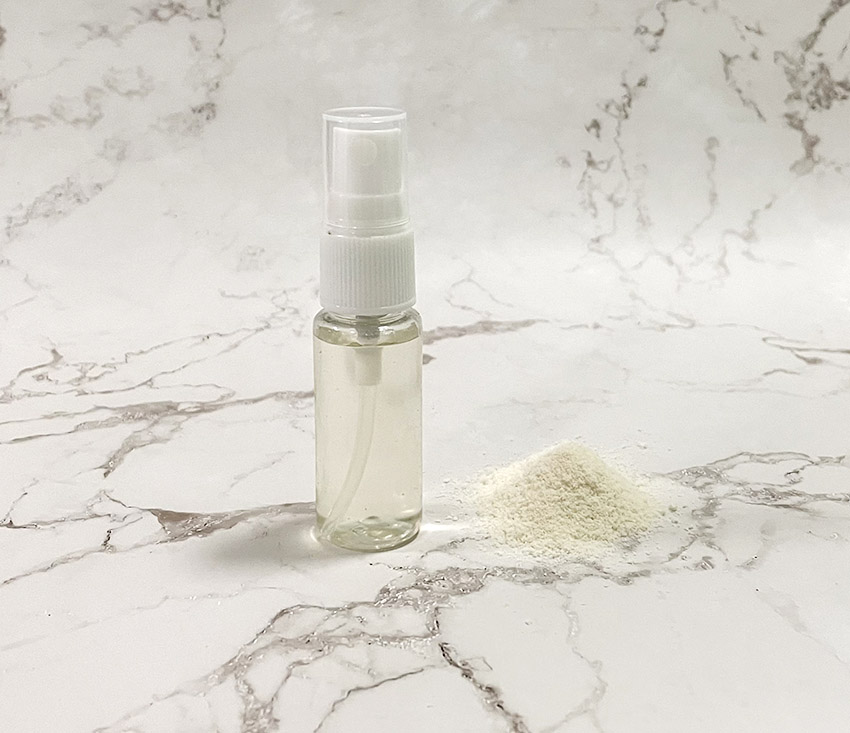 This is a relatively simple-to-achieve hair mist formulation which you can make with basic equipment. You'll need beakers, whisk, glass rod or silicone spatula and a pocket or jewellery scales.
Makes: 50gms
Time taken: 15 minutes
Level: Beginner-level formulation to personalise and adapt.
| | | | |
| --- | --- | --- | --- |
| Phase | Ingredients | INCI | Weight (g) |
| A | Rose hydrosol | Rosa Damascena Flower Water | 41.35 |
| A | Sodium PCA | Sodium Pyrrolidone Carboxylic Acid | 2.50 |
| A | Silk Amino Acids PF | Silk Amino Acids | 1.50 |
| B | Glycerine | Glycerine | 2.50 |
| B | Vanzan® NF-C | Xanthan gum | 0.15 |
| C | Dermosoft 1388 Eco | Aqua, Glycerine, Sodium Levulinate, Sodium Anisate | 2.00 |
| | | | Total: 50.00 |
Method of Manufacture
Weighing and mixing

Weigh the rose hydrosol and sodium PCA in a beaker. Mix well.

Add silk amino acids

Measure and add the silk amino acid to the mixture and mix well. If you have a magnetic stirrer, this will come in handy, otherwise a whisk or a glass rod or equivalent is fine to use.

Glycerine and gum

Measure glycerine and xanthan gum in another beaker. Mix to create a slurry.

pH measuring and phase C

Once phase A is mixed well, check the pH and adjust if necessary. The pH should be between pH 5 – 5.5. Then add the preservative from phase C. Mix well.

Add phase B and final pH check

Add phase B to phase A/C. Mix well. Check the final pH and adjust if necessary. The final pH should be between pH 5 – 5.5.

Decant and bottle

Decant the hair mist into a suitable spray-pump container in glass or PET plastic. Label with the batch number and date.
Formulation notes – substitutions and alternatives
I don't have rose hydrosol, what should I do?
Rose hydrosol provides a nice scent to the formula. It can be substituted with distilled water or any other hydrosols you prefer. Having said this, not all hydrosols have a pleasant scent so be careful when buying them. Think through what scent a consumer would like and associate with this kind of haircare product.
Can I add essential oils?
Yes, you can. Their addition requires the use of a solubiliser to enable the essential oils to blend homogeneously into the aqueous formula. See these posts for advice on using solubilisers in natural cosmetics:
Solubiliser vs emulsifier: which one do you need in your formulations?
Guide to using 4 natural solubilisers
How to use a natural solubiliser
Can I swap the preservative?
Our chosen preservative for this hair mist formulation can be substituted with any 100% water-soluble preservative. If you opt to use essential oils and a solubiliser in your formulation, then any broad-spectrum preservative can be used even if they are not 100% water soluble.
Can I leave out glycerine?
Yes, it is possible. The high-grade xanthan gum can be sprinkled in stages into phase A while stirring. Omitting the glycerine will mean it takes more time for the gum to be fully hydrated. Note that full hydration without the aid of glycerine may not be feasible with lower grade xanthan gums or other natural gums.
Suppliers and references
Silk amino acids – Lotion Crafter (USA) and Formulator Sample Shop (USA) and Formulator Sample Shop (EU)
Vanzan-NF-C (xanthan gum) – see UL Prospector for more information. Xanthan gum is a common ingredient on most cosmetic supplier sites.
Rose hydrosol – Eden Botanicals (USA). You can find rose hydrosol easily on most cosmetic supplier sites.
*Mordor Intelligence: Haircare market growth, trends, Covid-19 impact and forecast (2022-2027).
FAQs
What is a hair mist?
A hair mist is a light, usually water-based sprayable cosmetic designed to lightly fragrance the hair. It is applied on dry or towel-damp hair to fragrance, lightly style, and depending on its ingredients it can moisturise and nourish the hair as well.
What are the benefits of a hair mist?
You would use a hair mist to freshen up hair between shampoos and to give your hair a light scent. Hair mists can also nourish, moisturise and give body to hair without the need to take time to wash and then style the hair. Hair mists vary in formulation from dry sprayable oils to water-based products using hydrosols. They are not hair sprays and do not give firm hold to the hair. Choose one to suit your needs and preferred feel to the hair.
Where can I learn to formulate natural skincare and haircare?
Join us at Formula Botanica, where tens of thousands of students and followers take our free and paid online courses to learn how to formulate organic skincare and haircare for themselves or to sell and also how to set up a beauty brand and business.
FREE FOUNDATION COURSE
How to become an
Organic Skincare Formulator
By providing your details, you agree to receive additional educational & marketing emails from Formula Botanica, which further introduce our curriculum. Your data is never shared or sold. Read our
Privacy Policy
.
FREE TRAINING
How to become an
Organic Skincare Entrepreneur
Join over 100,000 other Formulators
By providing your details, you agree to receive additional educational & marketing emails from Formula Botanica, which further introduce our curriculum. Your data is never shared or sold. Read our
Privacy Policy
.
FREE TRAINING
How to become an
Organic Skincare Entrepreneur
Join over 100,000 other Formulators
By providing your details, you agree to receive additional educational & marketing emails from Formula Botanica, which further introduce our curriculum. Your data is never shared or sold. Read our
Privacy Policy
.
Leave us a comment
comments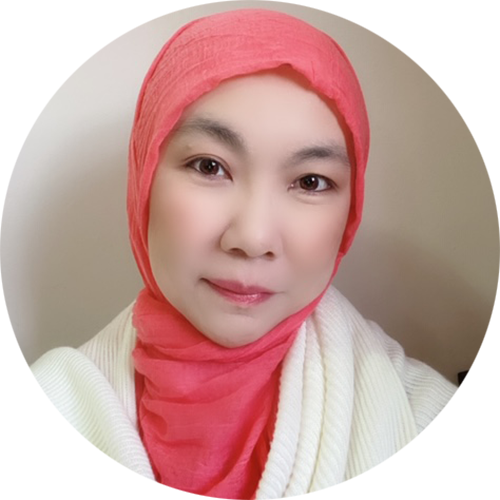 Eliza is a Formulator as well as a Grading Tutor at Formula Botanica, where she helps our students to become better organic cosmetic formulators. Read more about the Formula Botanica Team.