Skin cleansing is one of the most important daily routines. Regular removing of skin impurities, such as dirt, debris and abundant sebum is important to encourage fresh, healthy-looking skin. Cleansing unclogs pores so that our sebum, which protects our skin and hair naturally from external stressors, isn't trapped under a build-up of dirt and dead skin cells. Without a routine of cleansing, the skin becomes dull and the lack of sebum allows the micro-organisms to colonise the skin surface and penetrate into hair follicles, causing inflammation or even acne.
Advantages of daily cleansing in our facial skincare routine
Skin is healthy looking and glowing since dirt, skin debris and excess oil are gently removed.
Cleansing stimulates the circulation and the blood flow – especially if we use a circular motion or gentle massage during washing.
The efficiency of cosmetic preparations is enhanced. Without proper cleansing, the bioactives provided by advanced cosmetic preparations would sit on top of the build-up and be unable to function effectively.
The size of pores is reduced. Frequent cleansing of sebum and dead skin cells promotes healthy sebum turnover.
Powder-to-foam face cleanser formulations
Dry powder formulations have become very popular in the last years. They are simple to create, easy to use, can be packaged in minimal and more sustainable packaging, and are highly concentrated. This means a little product can go a long way. Also, they do not need to be heavily preserved even if a high amount of clays and natural plant material is present in the formulations.
Powdered facial cleanser formulations range from the very simple to high-end luxurious products containing a lot of surfactant blends, emollients and actives. Cleansing powders provide very gentle cleansing and exfoliating all in one step. They can be composed of mixtures of different clays, plant extract powders and some active ingredients which are brought to life when the powdered cleanser is mixed with water ready for use.
Their colours may vary too depending on the ingredients used; there are almost no limits to finding a shade you will love to formulate. In this blog post, we focus on green and blue shades, but select the right natural ingredients, and you can create a face cleansing powder in red, pink and yellow as well as shades in between. Swap ingredients out in our formulation to let your creativity flow.
Make this @FormulaBotanica simple face cleansing powder at home to find out why dry and solid cosmetics are so popular with the eco-conscious beauty consumer. #cleansingpowder #facecleanser #solidcosmetics
Click To Tweet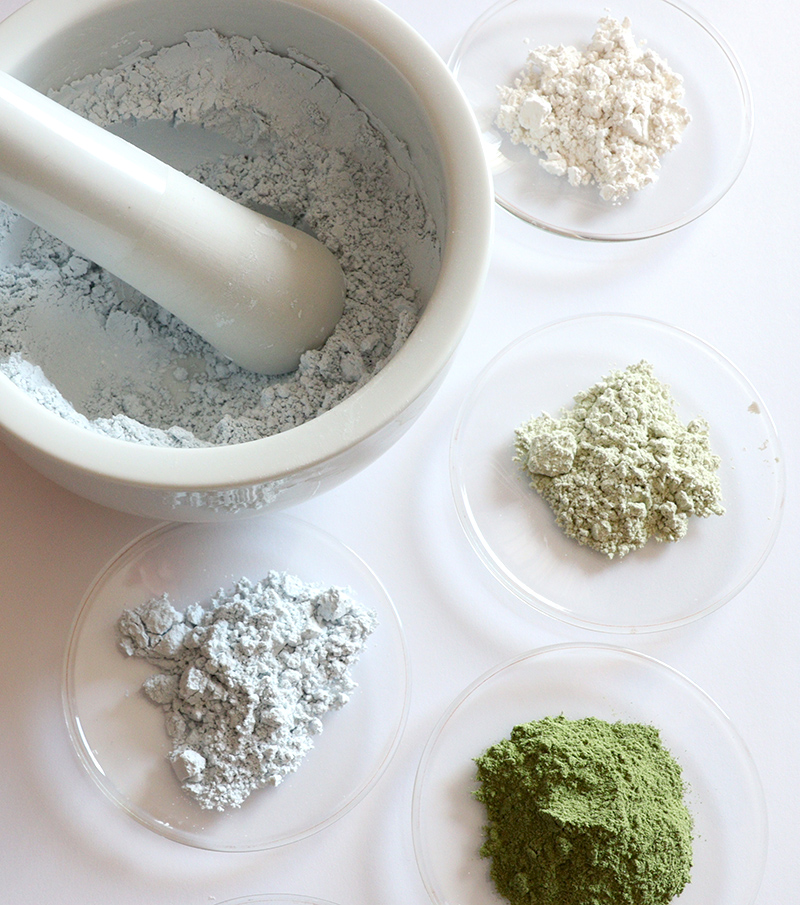 How to use a face cleansing powder
Sprinkle a small amount (about a teaspoon) of the powder cleanser onto the palm of your hand, add a small amount of water and rub to mix. A pleasant, foamy, gel-like texture will form. If desired, you can then add more water before applying the cleanser blend onto your face and rubbing and massaging it gently in with your fingertips. Then rinse it off thoroughly, patting your face dry.
Our formulation creates a gentle foam with a nice skin feel. It could be boosted with the addition of a small amount of another surfactant, such as powdered cocamidopropyl betaine.
Packaging your cleansing powder
Powder-to-foam cleansers should be kept in moisture-proof packaging, ideally in a paperboard or cardboard tube dispenser with an impervious lining such as foil. But a clean, dry and sanitised salt / pepper glass container may work well at the start when trialing the formulation.
There are a great many innovative sustainable packaging solutions coming onto the market, such as waterproof paper-based pouches and many are now available in low minimum order quantities.
As our dry powder formulation includes ingredients like clays, which can become a breeding ground for microbes if exposed to moisture, ensure your packaging is as air-tight as possible and your cleanser can be dispensed without the need to dip fingers into it.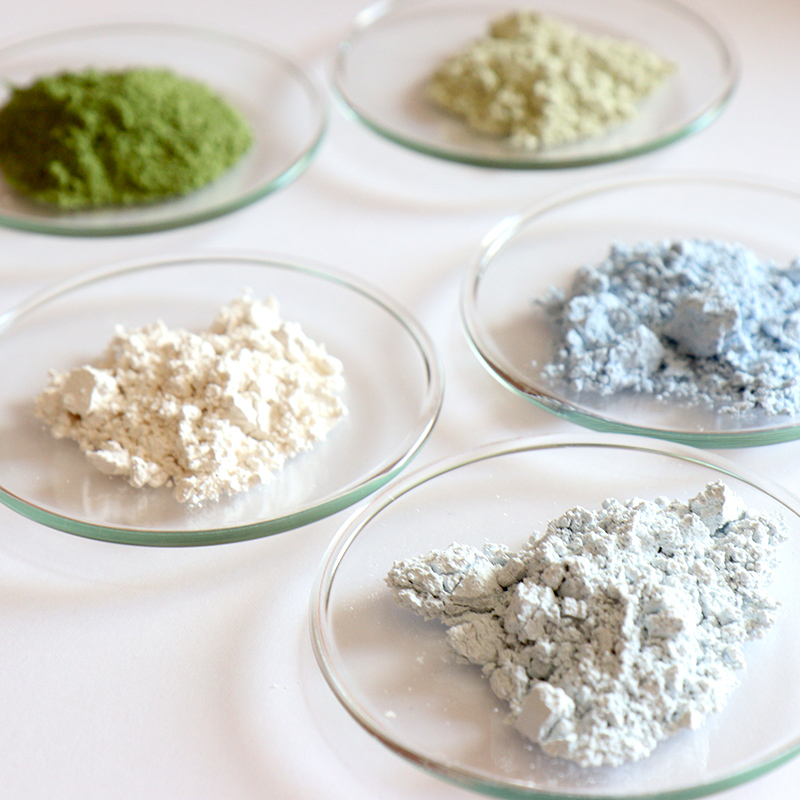 Our ingredients
Diatomaceous earth
Diatomaceous earth is composed mainly of amorphous silica derived from fossilised phytoplankton. It is widely used in powder cosmetics like facial masks, scrubs and cleansing powders. Its ability to adsorb oils, dirt, bacteria and other skin debris makes it an ideal base for cleansing powders.
Sodium cocoyl isethionate (SCI)
This is a mild anionic surfactant, highly suitable for solid and powder formulations. It has excellent cleansing abilities.
Oat and rice powders
These are water-soluble powders that provide moisturising and super-fatting properties and are also used to improve the slip of the cleanser.
Clays
Blue kaolin clay (as well as white kaolin clay, red clay, rose clay, green clay, bentonite, rhassoul clay and so on) are efficient cleansers and are frequently added to powder formulations to act as fillers. But they are also able to bind to dirt, oil, abundant sebum and bacteria to lift these when the cleanser is rinsed off. Clays have anti-inflammatory and cell-stimulating properties. Blue clay is a form of white clay (kaolin) enriched with ultramarine and lazurite.
Dried natural plant and marine powders
Here, you can experiment with variations of the many fine powdered extracts on the market. Tr,y for example, variations with matcha tea, rose petal powder or spirulina powder, depending on the colour of face cleansing powder you are interested in.
Hydrolysed wheat protein
Highly appreciated as an active ingredient in cleansing preparations, hydrolysed wheat protein is rich in acidic amino acids, particularly glutamic acid which provides moisturisation. You can find out more about the properties of this powdered peptide, along with other powders you may wish to include in your cleanser, in The Formulator's Guide to Natural Peptides.
ECO gel
ECO gel is a natural gelling and emulsifying agent. In this formulation it acts to bulk out the activated powders resulting in a pleasant skin feel when the cleanser is mixed with water. It forms a thin gel which improves the overall cleansing experience.
Allantoin
Allantoin minimises the harsh effect of surfactants on the skin, promotes regeneration and prevents the drying of the skin.
Magnolia bark extract
This has a strong antimicrobial effect and inhibits the growth of bacteria and moulds. In this formula, it protects natural plant powders from being contaminated.
Essential oils
These are added to provide a pleasant, aromatherapeutic effect in the formula.
Background to our cleansing powder formulation
Our chosen powders combine to provide efficient cleansing with a mild, non-irritating formula that also gives a pleasant skin feel. The mixture of clays and our chosen surfactant have strong cleansing properties so we therefore added some moisturising agents. The rice and oat powders, allantoin, and wheat protein help moisturise and prevent the surfactant from stripping too much oil from the skin's surface. Essential oils like tea tree and eucalyptus have an intense smell associated with cleansing and bring some additional anti-inflammatory and antibacterial properties to the product.
Our Formulation: Gentle face cleansing powder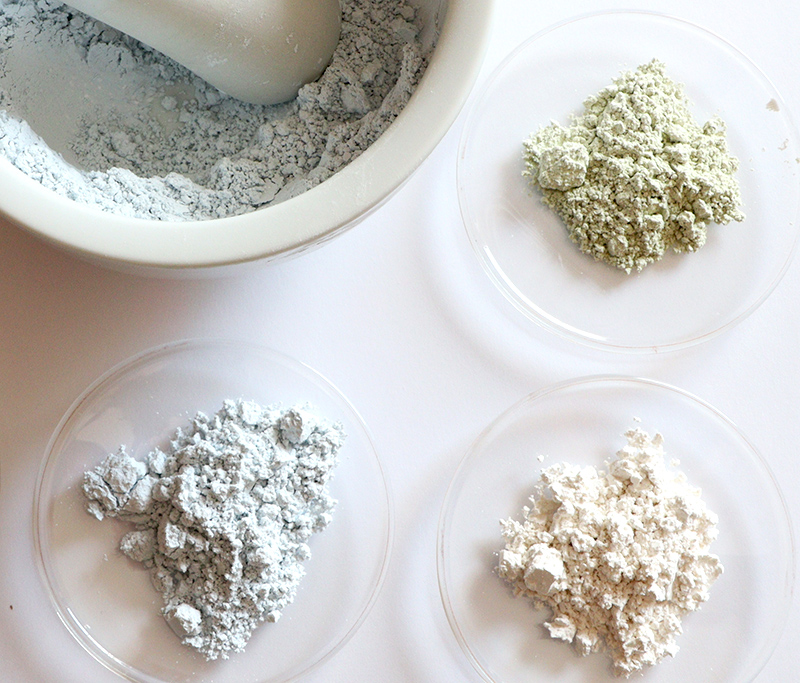 Makes: 100gms (an ideal batch size to make is 25-50gms)
Time taken: 20 minutes
Level: Beginner-level formulation to personalise and adapt.
| | | | |
| --- | --- | --- | --- |
| Phase | Ingredients | INCI | Weight (g) |
| A | Diatomaceous earth | Diatomaceous Earth | 54.00 |
| A | Sodium Cocoyl Isethionate (SCI) | Sodium Cocoyl Isethionate | 15.00 |
| A | Oat powder | Avena Sativa Kernel Powder | 5.00 |
| A | Rice powder | Oryza Sativa Kernel Powder | 5.60 |
| A | Blue clay | Kaolin (ultramarine-lazurit) | 15.00 |
| B | Hydrolysed Wheat Protein | Hydrolysed Wheat Protein | 2.00 |
| B | ECO gel | ECO gel Lysolecithin (and) Sclerotium Gum (and) Xanthan Gum (and) Pullulan | 1.50 |
| C | Allantoin | Allantoin | 0.50 |
| C | Magnolia Bark Extract | Magnolia Officinalis Bark Extract | 0.10 |
| D | Vitamin E | Tocopherol | 0.30 |
| D | Tea Tree Essential Oil | Melaleuca Alternifolia Leaf Oil | 0.50 |
| D | Eucalyptus Essential Oil | Eucalyptus Globulus Leaf Oil | 0.50 |
| | | | Total:100.00 |
Equipment: Mixing bowl, scales, pestle and mortar, watch glasses, glass rods, spatulas, suitable container, and pH strips or pH meter.
Method of Manufacture
Preparation

Prepare and weigh out each ingredient separately for each of the phases: A, B, C and D (rather than using beakers, use watch glasses as these are ideal for the small amounts of ingredients)/

Blending

Since we need to mix small amounts of powders into a final blend that includes some powdered ingredients in large proportions, we start by mixing the small amount powders first. This is called geometric mixing or geometric dilution, and is designed to ensure that powders in the formula at minimal quantities are equally distributed in the whole blend. A pestle and mortar works well in small laboratory conditions. In large scale production, professional lab equipment is necessary to ensure the homogenous blending of all ingredients.

Mixing B and C

Make a mixture of phases B and C.

Phase A

Make a homogenous mixture of phase A (but exclude the diatomaceous earth which as the largest percentage dry ingredient is added at the very end), starting with plant powders and the clay. Mix together properly.

Surfactant phase

Add the SCI; make sure you wear a face mask while working with powdered surfactants as this ingredient may be irritating. Its potential to cause irritation goes when the surfactant is properly blended with the rest of the ingredients.

Phase D

Add the essential oils and vitamin E mixture. Slowly pour a small amount into the dry blend and mix in thoroughly. Let clays, powders, and surfactant absorb this liquid portion of the formula. All liquid ingredients must be incorporated into the blend without formation of any lumps.

Diatomaceous earth

Diatomaceous earth is added at last and mixed in evenly.

Decant and label

Decant the powder blend into a suitable container and label with batch number and date.
Formulation notes
pH of powdered products when hydrated: It is important to have all facial cleansing products pH balanced. In the case of our formulation, the hydrated powder ready to use should have as close a pH as possible to that of our skin, which, at pH 4.5-5.5, is naturally slightly acidic. Of course, it is possible that a cleansing product has ingredients intentionally included that perform within other pH ranges, but this is not the case in our formulation.

Since this is a solid/powdered product, we need to make a dilution with water to measure its pH. A 10% dilution will allow us to test the pH of the final product. Since the surfactant we are using has a pH 4.5-6.5 (at 10% dilution in water), we know that we are in the suitable pH range that is ideal and safe for the skin. If you decide to use a surfactant with a higher pH, it is important to adjust the pH accordingly. We suggest always choosing a surfactant with the right pH range to start with but if need be, a small amount of citric acid could be added to reduce the pH. As part of good manufacturing practice always test the pH of a first batch of your powdered cleanser at 10% dilution.

Incorporating liquids: Since we are using a very small amount of liquids in comparison to powdered/dry ingredients, we need to ensure the essential oils and vitamin E are incorporated into the blend in a geometrical manner too. As an alternative to the method above, and to further prevent the formation of lumps or uneven liquid distribution, we can blend them together, spray them over the one third of powdered cleanser, mix well and then blend in the remaining powder gradually. Generally, grinding them in with a pestle and mortar will be sufficient to incorporate them evenly though.
Suggested suppliers
Formulator Sample Shop: USA and EU.
Alexmo-cosmetics: (EU, UK, Europe)
Manske Shop: (EU, Europe, worldwide)
Bay House Aromatics: (UK, international shipping).
Naissance UK, and international and Naissance EU.
Sensient Cosmetic Technologies – a major cosmetic ingredient manufacturer especially of natural colour pigments.
Example of a cosmetic packaging option for powders (tubes): Mountain Rose herbs (USA).
FAQs
What is a powder cleanser?
Powdered cleansers are formulated with dry, fine powdered ingredients such as clays, plant extracts like oat and rice powders along with dried foaming agents – surfactants – and may contain moisturising and bioactive additives such as allantoin and natural peptides and be scented with essential oils. As dry cleansers, they need to be activated and hydrated by the user with water or hydrosols, for example. They may not require any preservatives if they are packaged in and able to be dispensed in air-tight and moisture-free conditions.
What are the benefits of using a dry powder face cleanser?
Powder, solid and dry cosmetics are increasingly popular as they appeal to the more eco-conscious consumer. They may be packaged in more sustainable options such as paper and card tubes and are formulated waterless for the user to rehydrate and activate on demand. They can therefore be cost effective and less resource heavy to produce as well as easy to make at home. Once activated with water or a hydrosol of choice, they turn from powder to foam in order to cleanse the skin of dirt, excess sebum, bacteria and more to leave the skin feeling soft and radiant.
Can you make your own face cleanser at home?
Dry powder formulations such as facial cleansers are very easy to make at home. They simply need several easily-obtainable dry ingredients to be blended together well. The only tricky part is to ensure a homogeneous blend of powders so any dried surfactant is evenly distributed to ensure it does not cause irritation, and also in adding essential oils which can cause the powder to clump if not ground or sieved in well. Without the need for preservatives, dry, powder-to-foam cosmetics are popular choices for the home formulator to make.
Where can I learn to formulate natural skincare and haircare?
Join us at Formula Botanica, where tens of thousands of students and followers take our free and paid online courses to learn how to formulate organic skincare and haircare for themselves or to sell and also how to set up a beauty brand and business.
FREE FOUNDATION COURSE
How to become an
Organic Skincare Formulator
By providing your details, you agree to receive additional educational & marketing emails from Formula Botanica, which further introduce our curriculum. Your data is never shared or sold. Read our
Privacy Policy
.
FREE TRAINING
How to become an
Organic Skincare Entrepreneur
Join over 100,000 other Formulators
By providing your details, you agree to receive additional educational & marketing emails from Formula Botanica, which further introduce our curriculum. Your data is never shared or sold. Read our
Privacy Policy
.
FREE TRAINING
How to become an
Organic Skincare Entrepreneur
Join over 100,000 other Formulators
By providing your details, you agree to receive additional educational & marketing emails from Formula Botanica, which further introduce our curriculum. Your data is never shared or sold. Read our
Privacy Policy
.
Leave us a comment
comments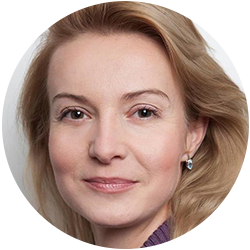 Miroslava is a grading tutor at Formula Botanica. She has a Ph.D in neuroscience, expertise in biology and chemistry, and a lifelong passion for natural cosmetic formulation.