A simple body butter is a favourite product of Formula Botanica students when they start their formulation journeys with us. Body butters are easy to formulate and can be tailored to suit different skin types, climates and preferences. They are also fabulous first formulations to make as gifts and are loved and used by virtually all age groups.
The body butter in this post is a perfect starter formulation for the beginner natural formulator. Even if you stick strictly to our suggested ingredients and method, whipping up this body butter helps you learn some essential skills for natural cosmetic formulation.
What you'll learn making a body butter
You will:
Gain skills in researching natural ingredients.
Understand the principles of working with natural butters, oils and waxes.
Be inspired to develop your creativity as a natural formulator.
Avoid the worry of using preservatives as body butters are waterless formulations.
Here's why and how:
Melting and Blending
For instance, you'll discover the different melting points of various natural butters and waxes and how best to preserve their skin benefits by starting to melt those requiring higher temperatures first, before adding the low melting point butters and heat-sensitive oils.
Setting and whipping the butter
Then, there is the trick of how to blend and set a butter. At what point do you stop stirring? Should you put your blend in the fridge to speed the cooling process or keep it at room temperature to cool before popping on the lids? And what about whipped body butters? How do you achieve that light, fluffy texture?
Research and inspiration
If you wish to use butters, waxes and oils you have already rather than our suggestions, research their skin benefits to make informed decisions about which to include and why. Perhaps you wish to create a body butter with a theme. Our body butter formulation is a sunny orange-yellow colour which complements its citrus scent.
You might wish to use only Amazonian butters or Nordic ingredients or African butters and oils, or use oils and butters sourced from plants that grow in your locality or region. We've some more inspiration and help in these posts:
10 best zero waste oils for skincare
10 best winter carrier oils
How to work with natural cosmetic waxes
6 vegan waxes for cosmetic formulation
How to make a tuberose and neroli whipped body butter
We suggest to our students that they should spend quite a lot of time researching ingredients in order to create unique products rather than recipe following. If you are new to natural formulation, our advice is always to start simple to understand the basic principles and to develop the skills you need. This fits the spirit of this body butter formulation: a simple starter formulation to inspire your personalised variations.
Make this simple @FormulaBotanica body butter at home and start your journey into natural skincare formulation. #bodybutter #naturalformulation #makeskincare
Click To Tweet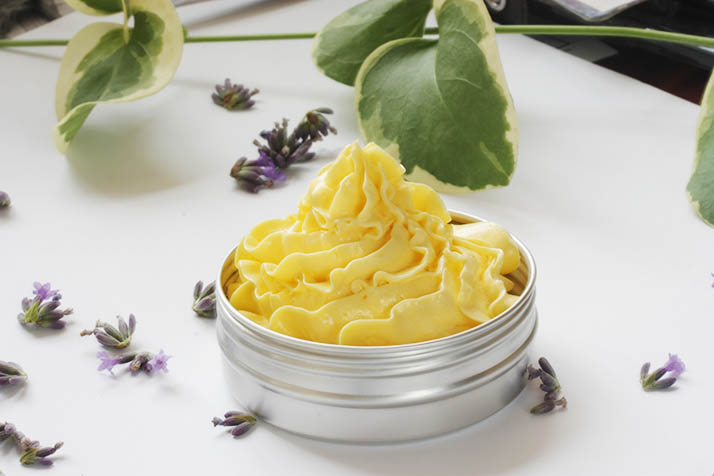 Our ingredients
This simple body butter formulation is a rich, nourishing and moisturising anhydrous formula containing precious oils and butters. The skin feel is creamy and pleasant and it offers a sufficient occlusive effect to help the skin retain its natural moisture. Exotic cupuacu, mango and cocoa butters add texture while the carrier oil sea buckthorn, even at a very low percentage, gives it a beautiful light orange tint and the benefits of fat-soluble vitamins and carotenoids.
We chose a combination of citrus essential oils that offer both a floral note (with the neroli) as well as a typical zesty scent. If you live in a hot climate, you may wish to increase the butter and even the wax content to prevent your body butter melting and becoming unstable.
Our formulation: Simple Body Butter
Formulation
Makes: 100 grams
Time taken: 30 minutes
Level: beginner formulator
| | | | |
| --- | --- | --- | --- |
| Phase | Ingredients | INCI | Weight (g) |
| A | Cupuacu butter | Theobroma grandiflorum seed butter | 15.00 |
| A | Cocoa butter | Theobroma cacao seed butter | 10.00 |
| A | Mango butter | Mangifera indica seed butter | 30.00 |
| A | Bees wax | Cera flava | 2.00 |
| B | Jojoba oil | Simmondsia chinensis seed oil | 20.00 |
| B | Plum seed oil | Prunus domestica seed oil | 10.00 |
| B | Sea buckthorn oil | Hippophae rhamnoides fruit oil | 1.00 |
| B | Coco caprylate/caprate | Coco caprylate caprate | 6.00 |
| C | Vitamin E | Tocopherol | 1.00 |
| C | Mandarin essential oil | Citrus nobilis peel oil | 0.80 |
| C | Bergamot essential oil | Citrus aurantium bergamia fruit oil | 0.10 |
| C | Neroli essential oil | Citrus aurantium amara flower oil | 0.10 |
| D | Arrowroot powder | Marantha arudinacea root powder | 4.00 |
| | | | Total: 100.00 |
Method of Manufacture
Prepare your workspace

Sterilise your utensils and working place.

Weigh

Weigh out all your ingredients, putting them in a separate beakers according to the phases A, B, C, D.

Phase A

Melt phase A ingredients (butters and wax) in a water bath or over a bain-marie until just melted.

Phase B

Slowly add phase B oils into melted butters, and mix gently. By this gradual addition of ingredients, we reduce the need to heat the more heat-sensitive botanical oil ingredients at the start.

Cooling and Phase C

Start cooling down your blend in a cold-water bath. When under 40 degrees, add phase C ingredients.

Stir to a trace

Continue stirring gently in cold/ice water bath until an opaque / milky blend is observed. This stage of mixing is sometimes called a "trace". This is the point when the oils, butters and waxes are completely mixed and there is a low risk of separation of these ingredients in the final product. The trace consistency minimises the chance of your body butter having lumps, grains, and other colour or structural inconsistencies.

Whipping

Start whipping your mixture until fluffy. See our formulation tips below on how to whip the butter. If you don't wish to create a whipped body butter, continue to point 8 below.

Phase D

Mix in phase D properly.

Bottle

Distribute into the jars and label.
Formulation tips
We offer two version of this simple body butter formulation: regular set and a whipped version. If you are new to formulation, these tips will help you whip the butter to perfection.
If you decide to whip your butter to be fluffier, lighter and more eye catching, put the whole blend into the fridge for 10-15 minutes to cool down completely. For the next stage, the blend must not be too hard nor too soft either.
Remove from the fridge and start whipping with a mini whisk or cappuccino frother for a few minutes and see if the structure is forming. If the body butter is too hard to whip, leave it to adjust to room temperature. If it is too soft, put it back into the fridge and wait a bit longer.
Keep whipping for a few minutes until your desired texture is achieved. The final texture must be soft, glossy and without lumps.
Once you are happy with the texture, stir in the arrowroot powder thoroughly. It is added to improve the skin feel and to reduce the oiliness of the final product. Then, decant the butter into containers. Ensure it is totally cool, then lid.
---
Suggested suppliers
Various oils, butters and waxes are available from most online natural cosmetic ingredient suppliers. Here are some to look out for.
EU/UK:
Alexmo Cosmetics
Handymade
Florihana
Butterwise
Formulator Sample Shop, EU
The Soap Kitchen
Sheabutter Cottage

USA:
Formulator Sample Shop, US
FAQs
What is a body butter?
A body butter is an emollient cosmetic product designed to both moisturise your skin and provide an occlusive layer to lock in your skin's own moisture. Body butters are formulated from oils, butters and waxes in differing percentages depending on how firm or soft you want the product to be. They may contain essential oils and some starch ingredients like rice, oat or arrowroot powders to reduce their greasy skin feel. They are popular cosmetic products and loved by all ages and most cosmetic brands have a body butter or similar in their range.
What is the difference between body butter and body lotion?
Body butters are anhydrous cosmetic products formulated without water. They generally comprise oils, butters, waxes, starch powders, essential oils and perhaps also some lipid-loving active ingredients. Body lotions are emulsions formulated with an oil and a water component and require an emulsifier to bind these two into a homogeneous blend. The viscosity of the lotion depends on the ratio of waxes, butters and oils to the water or water-based ingredients. As water-containing products, body lotions need to contain a suitable preservative.
Can you make your own body butter?
Body butters are easy to make at home as first cosmetic formulations. They can be made with just a few ingredients – plant butters, oils and a wax – and do not require preservatives. They are made by gently heating the ingredients with the highest melting points first – the waxes and then butters – over a water bath or bain marie before stirring the oils in slowly. Remove from the heat and continue to stir to a trace over a cold water bath until all ingredients form a smooth, viscous blend. Scrape into a suitable container and lid only when the product is room temperature.
Where can I learn to formulate natural skincare and haircare?
Join us at Formula Botanica, where tens of thousands of students and followers take our free and paid online courses to learn how to formulate organic skincare and haircare for themselves or to sell and also how to set up a beauty brand and business.
FREE FOUNDATION COURSE
How to become an
Organic Skincare Formulator
By providing your details, you agree to receive additional educational & marketing emails from Formula Botanica, which further introduce our curriculum. Your data is never shared or sold. Read our
Privacy Policy
.
FREE TRAINING
How to become an
Organic Skincare Entrepreneur
Join over 100,000 other Formulators
By providing your details, you agree to receive additional educational & marketing emails from Formula Botanica, which further introduce our curriculum. Your data is never shared or sold. Read our
Privacy Policy
.
FREE TRAINING
How to become an
Organic Skincare Entrepreneur
Join over 100,000 other Formulators
By providing your details, you agree to receive additional educational & marketing emails from Formula Botanica, which further introduce our curriculum. Your data is never shared or sold. Read our
Privacy Policy
.
Leave us a comment
comments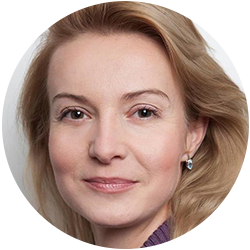 Miroslava is a grading tutor at Formula Botanica. She has a Ph.D in neuroscience, expertise in biology and chemistry, and a lifelong passion for natural cosmetic formulation.