This balm is a versatile, multi-tasking product that can be used wherever the skin is feeling particularly dry. Our choice of tropical oils and butters gives the balm wonderful properties for locking in moisture and preventing trans-epidermal water loss (TEWL). The buriti oil, with its strong orange colour, provides a lovely, radiant glow without staining the skin. If the colour is too strong for your liking, the percentage of buriti oil can be reduced and replaced with more almond oil.
Our balm can be used on any areas of the body that are feeling dehydrated and in need of some barrier protection. Among its other uses, it is excellent as a lip balm, cuticle butter and even a balm for massage.
This balm formulation creates an occlusive product that is perfect for layering on top of hydrating, water-based serums and lotions to lock in moisture. As the balm does not contain any essential oils, there is no need to worry about calculating their dermal limits.
View this post on Instagram
To add scent to your balm or not
Fragrance-free cosmetics continue to be on trend as people seek to reduce their exposure to potential allergens and are looking for minimalist skincare with fewer ingredients.
On the Formula Botanica Green Beauty Conversations podcast, beauty brand owner and conservationist Dr Sally Gouldstone advocates against the overuse of essential oils on account of the damage their mono-crop farming can have on biodiversity, among other reasons.
Essential oils are a mainstay of natural skincare where they are used for their gorgeous scents and also as skin-beneficial ingredients. Feel free to adapt our balm formulation to include them, but if you do so, you will need to reduce the carrier oil percentage as well as calculate the total allergens across all essential oils you use. Also, ensure that the essential oils are within their dermal limits for the areas you intend the balm to be applied. Check the International Fragrance Association (IFRA) Standards for recommended maximum safe dermal levels of fragrance materials and their compounds. We teach you how to research and calculate dermal limits in our Diploma in Organic Skincare Formulation.
An unscented balm is of course an easier formulation and allows you to simply explore and enjoy the sensory experience of the foundation oils and butters themselves.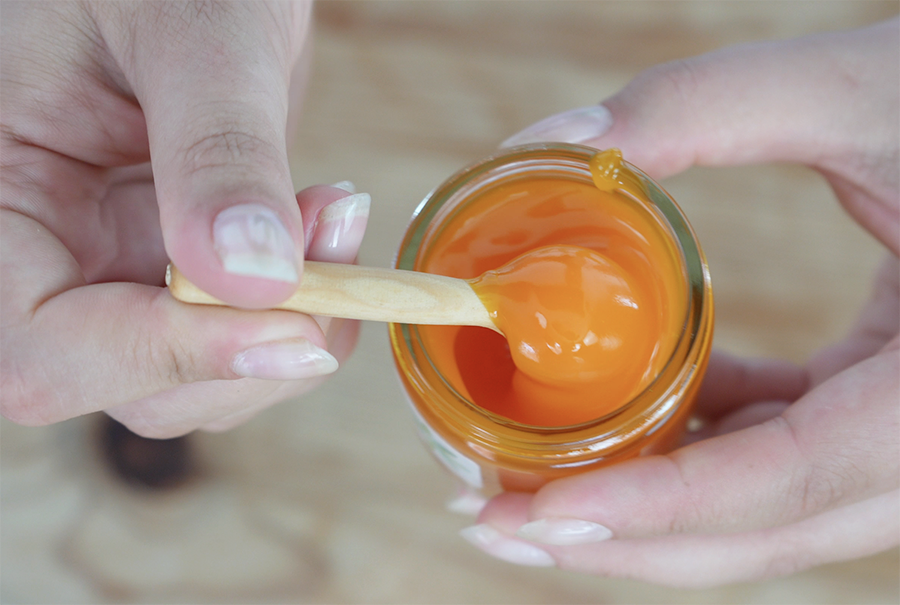 Start learning organic cosmetic formulation with this @FormulaBotanica simple unscented balm. A multipurpose balm made as a one-pot formulation. #organicformulation #naturalformulator #bodybalm Click To Tweet
Key ingredients
Buriti Oil
This vibrant red oil is known for being one of the richest natural sources of beta-carotene; an amazing antioxidant that helps protect your skin cells from various aggressors such as UV rays that can cause photo-ageing. Buriti oil is also a fantastic emollient, rich in unsaturated fatty acids. See our A-Z glossary of cosmetic formulation terms for more on essential fatty acids.
Almond Oil
This cold-pressed oil is extremely versatile and a great ingredient to have in your formulation kit. It absorbs into the skin easily and has a very mild scent. It can be substituted for other carrier oils such as apricot or grapeseed. As it supports the skin's barrier function, it is a good carrier oil for improving the skin's elasticity and reducing the appearance of marks and scars. It glides on easily making it excellent for body and massage products.
Almond oil has a linoleic acid concentration of around 20-30%. Linoleic acid is an essential fatty acid from the omega-6 family. It is a vital component of the skin's lipid barrier and a lack of linoleic acid can lead to reduced barrier function. It is also a precursor of some types of ceramides and anti-inflammatory mediators.
Illipe butter
This rich creamy butter is native to Malaysia and Indonesia. It is wild harvested and the butter is extracted from the nuts of the illipe tree. It is full of nutrients and essential fatty acids such as palmitic, stearic and oleic acids that are great for nourishing the skin and boosting the skin's barrier function. Stearic acid makes up around 40–48% of the fatty acid profile of illipe butter. This saturated fatty acid is naturally part of the skin's sebum and can increase the integrity of the skin's lipid barrier. Oleic acid is also found in sebum and makes up around 32–38% of illipe butter along with palmitic acid at 15-20%. Illipe butter is an excellent emollient that gives the skin long-lasting moisture and prevents excess drying.
Cupuaçu butter
Cupuaçu butter is quite similar in characteristics to cocoa butter. Cupuaçu butter is a semi-solid triglyceride that contains a range of phytosterols such as beta-sitosterol, stigmasterol and campesterol. Phytosterols are a class of compounds found in plants that have a similar structure to cholesterol which is one of the main components of the skin's lipid barrier. Studies have shown that they promote barrier repair, increase the fluidity of cell membranes, boost cellular metabolism and help to reduce TEWL. They are also excellent anti-inflammatory agents.
Cupuaçu butter is a good emollient that helps restore the skin's natural elasticity by preventing TEWL. It possesses unique water-absorption properties and it is a good plant-based alternative to lanolin. It improves the skin's moisture content and increases elasticity, helping to reduce the signs of premature skin ageing and to provide dry skin with long-lasting hydration.
Creating a balm texture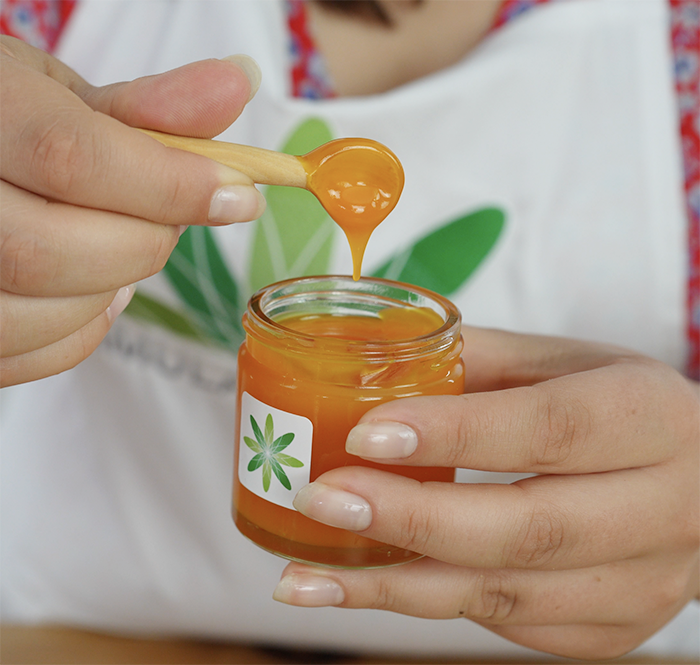 For this formulation we have used a higher percentage of rice bran wax to achieve the solid texture. Creating balms in environments with higher temperatures can be tricky, but the best way to add firmness to your product is to increase the percentage of wax. Rice bran wax has a very high melting point so it is an ideal ingredient to use to keep our balm solid.
The most challenging part of this product's manufacture is avoiding graininess in our balm. Many butters can turn grainy if cooled incorrectly so it is important to make sure the balm is cooled evenly over time to avoid individual ingredients solidifying out of the blend.
Our formulation: simple unscented balm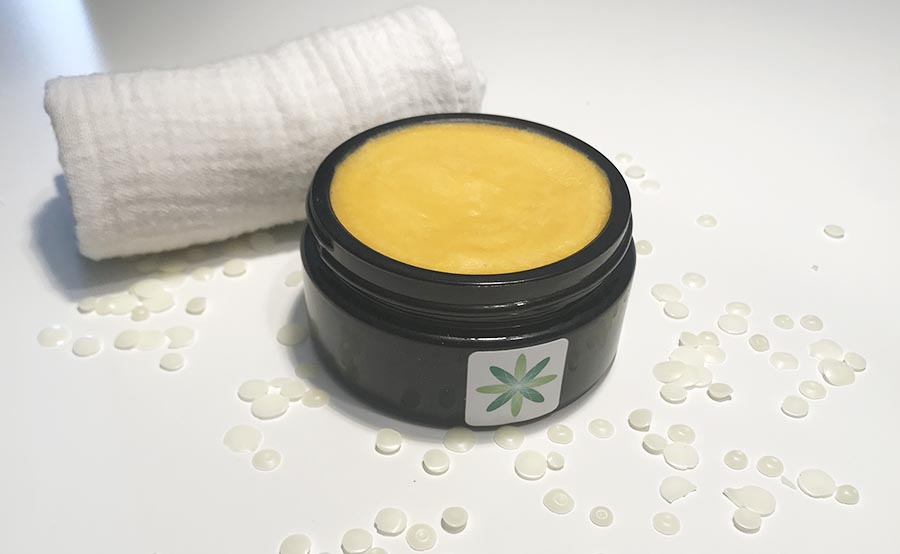 Makes: recommended trial batch size: 50g/100g.
Time taken: 20 minutes not including setting time.
Level: Beginner-level formulation to personalise and adapt.
| | | | |
| --- | --- | --- | --- |
| Phase | Ingredients | INCI | Weight (g) |
| A | Rice bran wax | Oryza sativa bran cera (wax) | 9.50 |
| A | Illipe butter | Shorea stenoptera seed butter | 30.00 |
| A | Cupuaçu butter | Theobroma grandiflorum seed butter | 30.00 |
| A | Almond oil | Prunus amygdalus dulcis oil | 20.00 |
| A | Buriti oil | Mauritia flexuosa fruit oil | 10.00 |
| B | Vitamin E | Tocopherol, Helianthus annuus | 0.50 |
| | | | Total: 100.00 |
Equipment:
Glass beakers
Hot plate
Water bath
Glass rods
Mini whisk
Pipettes
Method of Manufacture
Weigh phase A

Weigh out all of the phase A ingredients into a glass beaker or a heat-proof glass jug.

Heat phase A

Heat phase A in a water bath until all the ingredients have melted completely and are fully blended together. Once the blend has fully melted, leave the balm on the heat for one more minute to ensure that the balm has melted evenly.

Blend and cool

Remove the beaker from the heat and stir until the blend starts to cool. It will solidify at the edges first so use a spatula and a mini whisk to keep scraping down the sides of the beaker so that the blend cools evenly.

Phase B

Once the blend has cooled slightly, add the vitamin E and stir well until the texture is uniform.

Decant

Transfer to your chosen container (a wide-necked glass or aluminium container is ideal) while the blend is still mobile and then tap to remove any air bubbles.

Cool down and set

Leave the balm to solidify with no lid to avoid condensation building up on the surface.

Label

Lid and then label your jar with product name, batch and date and store away from light and direct heat.
If you enjoyed making this simple balm and would like to experiment further with balms and anhydrous skincare products and learn about other oils, butters and waxes, see our other posts:
How to formulate a berry-tinted lip balm
Formulate an oat and cranberry body balm
Formulate a green tea and cocoa stick balm
How to make a natural cleansing balm
How to make a nourishing hand balm
How to make an Amazonian lip balm
Top 10 botanical oils every formulator needs
6 vegan waxes for cosmetic formulation
5 Amazonian butters for organic formulation
Suggested suppliers
Many of the suppliers below ship internationally. We have given their home country base.
Aromazone (EU)
Aromantic (UK)
Alexmo Cosmetics (EU)
Manske (EU)
Soap Kitchen (UK)
Elemental (EU)
Lotioncrafter (USA)
Essential Wholesale (USA)
Makers Ingredients (UK)
Go Native (New Zealand)
Naturally Balmy (UK)
Soap & More (Canada)
FREE FOUNDATION COURSE
How to become an
Organic Skincare Formulator
By providing your details, you agree to receive additional educational & marketing emails from Formula Botanica, which further introduce our curriculum. Your data is never shared or sold. Read our
Privacy Policy
.
FREE TRAINING
How to become an
Organic Skincare Entrepreneur
Join over 100,000 other Formulators
By providing your details, you agree to receive additional educational & marketing emails from Formula Botanica, which further introduce our curriculum. Your data is never shared or sold. Read our
Privacy Policy
.
FREE TRAINING
How to become an
Organic Skincare Entrepreneur
Join over 100,000 other Formulators
By providing your details, you agree to receive additional educational & marketing emails from Formula Botanica, which further introduce our curriculum. Your data is never shared or sold. Read our
Privacy Policy
.
Leave us a comment
comments