Every other month Formula Botanica runs a formulation challenge for its student and graduate community – this month we launch our challenge to make a night-time facial oil for mature skin. Our students submit their photos and formulations for products that they've made, using our guidance. In the past we've covered formulation challenges such as:
This month we're teaching our students how to make a night-time facial oil and we're targeting mature skin.
What is Mature Skin?
How do we define mature skin and what are the characteristics? As we mature (I prefer this word rather than age!), our skin goes through changes. We see more fine lines developing, some lines are deeper, the surface of the skin gets drier, becomes less supple and gravity is pulling it downwards. Sound scary, but all is not lost.
Nighttime facial care is especially beneficial for mature skin. We lose a lot of water during our sleep and a good nourishing facial oil can be the key to keeping mature skin supple and more youthful.
How Fatty Acids can benefit Mature Skin
How do we do keep mature skin supple and youthful? By selecting botanical oils and oil soluble extracts that can create an occlusive layer on top of the skin (epidermis) and also penetrate deep into the layers to supply fatty acids for healthy skin barrier.
Mature skin will benefit from fatty acids such as Palmitoleic acid (Omega-7), Gamma Linolenic Acid (GLA, Omega-6 fatty acid) along with a blend of Alpha-linolenic acid (LNA, Omega 3), Linoleic acid (LA, Omega-6) and Oleic acid (Omega-9). These fatty acids offer not only inflammatory properties, protection against sun damage and oxidation; they are also beneficial in promoting regeneration of skin cells.
Mature #skin will benefit from Palmitoleic acid and Gamma Linolenic Acid. #skincare
Click To Tweet
I have made a blend of facial oil with a minimum of 10% Palmitoleic acid that is especially beneficial to mature skin (providing a protective and anti-microbial layer) since production of this fatty acid decreases with age. The addition of supercritical CO2 extracts such as Sea buckthorn provides the skin with pro-vitamin A (Beta carotenes) which offers some protection against UV exposure and also encourages cell regeneration.
Careful selection of essential oils not only lend an aromatic profile to the facial oil, but can also possibly create an effect in inhibiting the production of Elastase (an enzyme that causes reduction of elasticity in the skin) and acts as a Glutathione activator (an important antioxidant enzyme that can prevent cell damage caused by Reactive Oxygen Species, ROS).
By creating a blend of facial oils with different fatty acids, antioxidants, supercritical CO2 extracts and aromatic essential oils, we are able to balance the lipids on the skin barrier and maintain optimum skin health.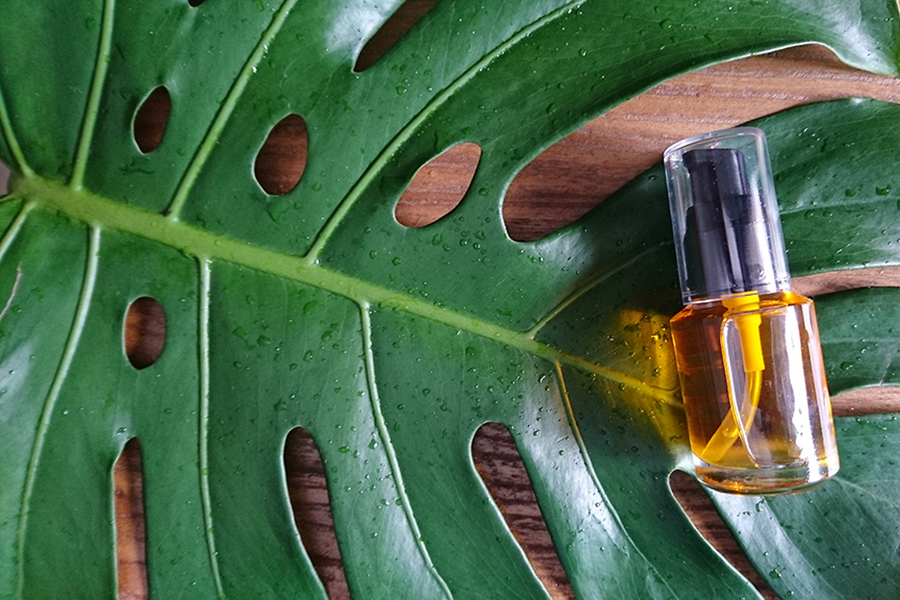 Our Sample Formulation: Nightingale Facial Oil
Carrier Oils
55% – Macadamia nut oil (high in Oleic acid, Palmitoleic acid, Palmitic acid)
31.3% – Camelina oil (high in Alpha-linolenic acid, Linoleic acid, Oleic acid)
10% – Evening primrose oil (high in Linoleic acid, Gamma-linolenic acid, Oleic acid)
Lipophilic Extracts
1% – Sea buckthorn CO2 extract
0.5% – Bisabolol
Antioxidants
1% – Vitamin E
0.2% – Rosemary CO2 extract
Essential Oils
0.6% – Grapefruit essential oil
0.4% – Palmarosa essential oil
Method
Step 1. Simply blend all ingredients together and fill into suitable container.
Now it's your turn. We are looking forward to seeing your own unique blend of facial oils.
---
If you are a Formula Botanica student or graduate, the Formulation Challenge for Nov/Dec 2016 will soon be emailed to you and posted in our online classroom. If you're not a Formula Botanica Community member, leave us a comment below and tell us your experiences in formulating a night-time facial oil for mature skin!
Today's blog post is by Teresa Foo, Tutor at Formula Botanica. Teresa is the Founder and Manager at Balm Kitchen, a gorgeous Singapore-based natural skincare brand. Teresa runs our bi-monthly formulation challenges in our classroom. Follow Balm Kitchen on Facebook or Instagram.
Leave us a comment
comments