Solid beauty bars are taking the cosmetics industry by storm. Long ignored by mainstream beauty, solid beauty is making a comeback and is predicted to be one of the top beauty trends of 2024 with even luxury brands now offering solid products in their ranges.
If you're looking to create a sustainable green beauty routine for yourself or as the ethos of your indie beauty brand, then solid products are definitely the way to go. Solid cosmetics are convenient, long-lasting, and produce less waste than traditional cosmetic products. Not only are solid cosmetics versatile and fun to use, but they're also incredibly easy to make. And the best part is that they are a great way to start learning about natural formulation.
More than a trend, solid cosmetics could be the future of beauty. In this post, we introduce you to solid beauty and its benefits, recommend our choice, top 6 solid beauty bars to make at home, and offer some bonus formulations as well.
What are solid cosmetics?
Solid cosmetics are beauty products formulated with little to no water. In recent years, they've grown increasingly popular as consumers become more aware of sustainability issues. Solid products usually come in two forms: bars and powders. Bars are more common and are used for cleansing or moisturising, while the powdered forms are generally used for cleansing and absorption (the reason we use clays in some face masks).
Solid beauty bars are on-trend, eco-friendly, economical and easy to make. Make these @FormulaBotanica 6 solid bars at home for a greener beauty routine. #solidbeautybars #ecocosmetics #greenbeauty
Click To Tweet
Are solid cosmetics waterless?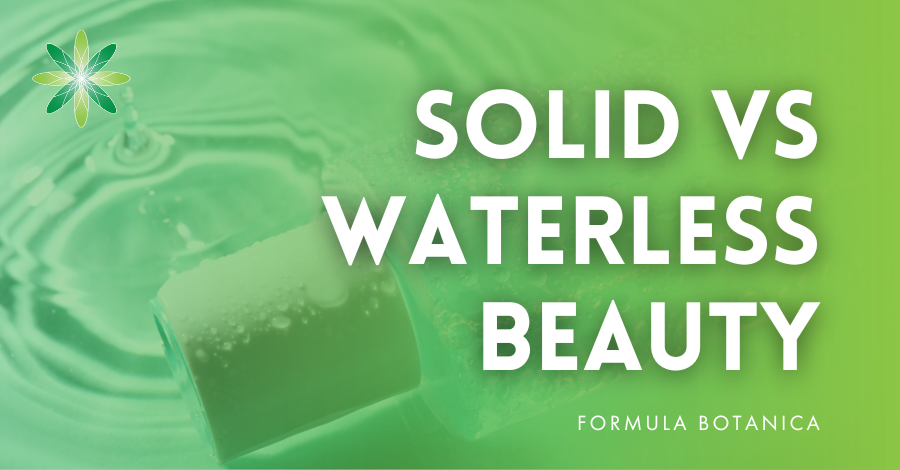 Most solid cosmetics tend to be water free, but that doesn't make them waterless. Even if they're formulated without water, they still have a water footprint. Water is needed to grow natural cosmetic ingredients, and is present in the processing, manufacturing, transportation, use and disposal of the product. Find out more about the waterless debate below:
The myth of waterless beauty
Episode 83: How waterless beauty greenwashed the beauty world
Why you should use solid cosmetics
While solid cosmetics will have water involved in their life cycle, they are an eco-conscious choice for various reasons. Solid cosmetics require minimal or no packaging, which can help reduce their waste. As they contain less water, they can be lighter, which can reduce CO2 emissions generated through their transportation. Many solid products are also far more concentrated than their liquid counterparts, which makes them more economical to use and longer lasting.
Solid cosmetics are not only a more sustainable option, but also very convenient to use. Their compact format makes them ideal to take when traveling, plus, there is no danger of accidentally spilling and wasting them when using them at home.
Solid cosmetics can also be multi-tasking, and help consumers slim down their product purchases. This aspect of solid beauty bar products ties in with another big trend right now – skinimalism, which sees us adopting a less-is-more approach to simplify our beauty routines. You can listen to these episodes of our Green Beauty Conversations podcast to find out more about both trends:
Episode 61: Skinimalism, the age of minimalist skincare
Episode 149: SBTRCT – The brand redefining solid skincare
Top 6 solid beauty bars to make at home
As you can see, there has never been a better time to formulate your own solid beauty bars than now. With new surfactants ideal for solid formulations, and with exciting botanical ingredients emerging every day, solid formulations are worth exploring as a great addition to any green beauty routine.
While the formulations for the solid beauty bars we list below generally don't need a preservative, you may need to add one depending on the formula, its packaging and its intended use. Anhydrous solid formulations may come into contact with moist hands or be exposed to damp, humid conditions in bathrooms. In this case, they will generally need a preservative system to ensure they don't become a microbial breeding ground.
1. Solid Shampoo Bars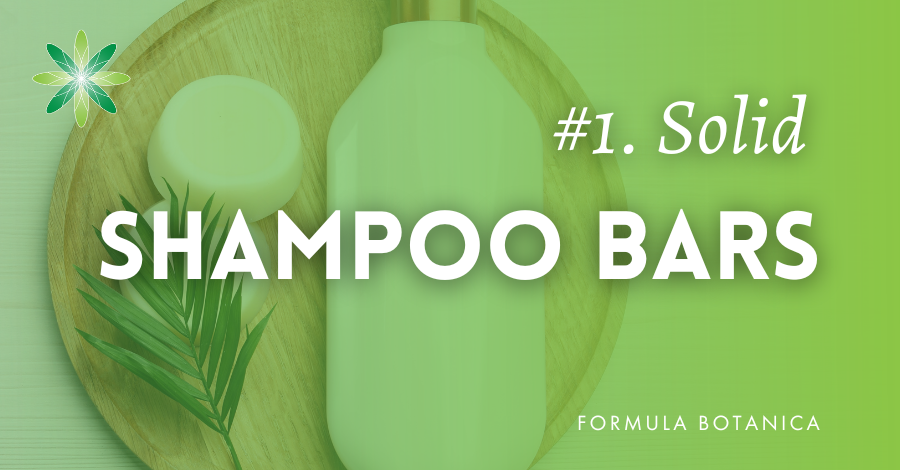 Shampoo bars are the most popular solid product type after traditional soap. One shampoo bar can replace about three bottles of liquid shampoo and requires minimum packaging. There are two types of shampoo bars: soap-based ones; and pH-balanced ones. Soap bars have a higher pH which can dry out your hair, while pH-balanced shampoo bars are gentler on your hair.
Shampoo bars are very easy to make and require only a few ingredients. You just need waxes for hardness, butters or oils for emollience, surfactants for lathering and cleansing, and, if desired, some active ingredients of choice.
Our student Rufai Funmilola Olaronke made these colourful shampoo bars with premium botanical oils and Nigerian Shea butter and included a variety of dried ingredients including chebe leaves, hibiscus, butterfly pea leaves and rosemary leaves. Drawing inspiration from her creations, you could explore oils and additives from the region where you live to infuse into your solid bars.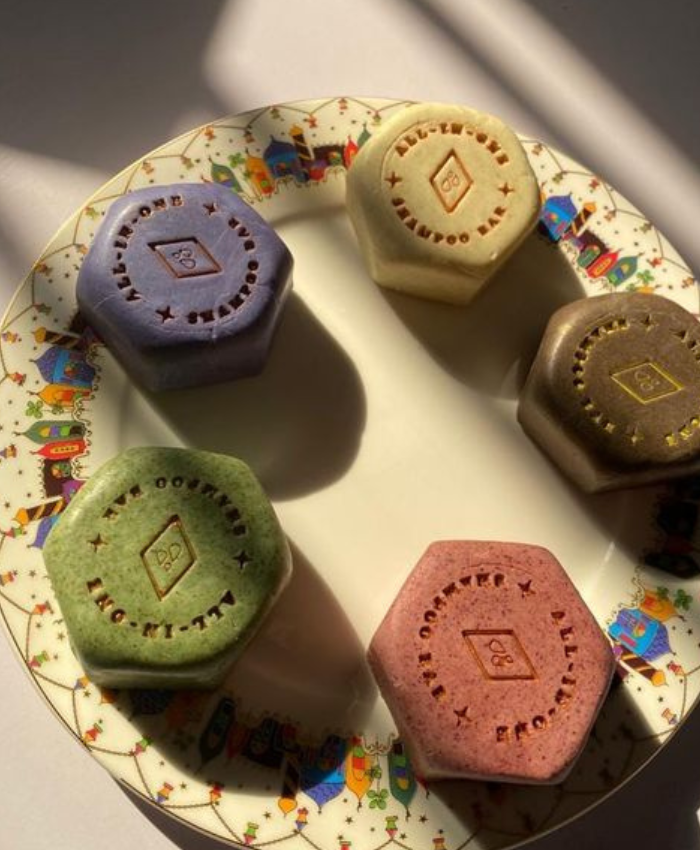 To use a shampoo bar, wet your hair and the bar, rub the bar over your hair and massage the product into your hair. Rinse out and apply a conditioner bar. Learn how to make a nourishing, emollient solid shampoo bar below:
2. Solid conditioner bars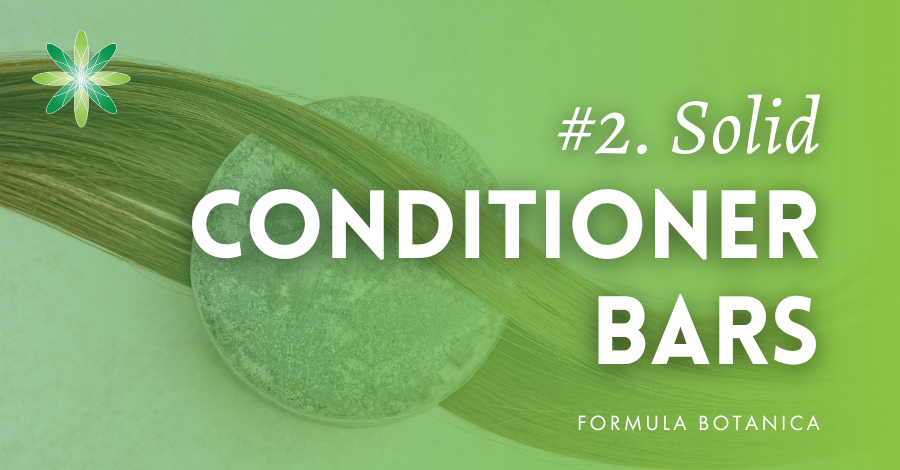 Following on, you could make a conditioner bar to complete your greener haircare routine. It mirrors the method of the shampoo bar and features similar ingredients such as oils, surfactants, and high-performance botanicals.
This stunning conditioner bar, below, by Lisa Tanti, who is studying our Diploma in Organic Haircare Formulation, takes its colour from buah merah oil which is native to her region. Lisa says her formulation has proved invaluable in keeping her daughters' long hair smooth and soft.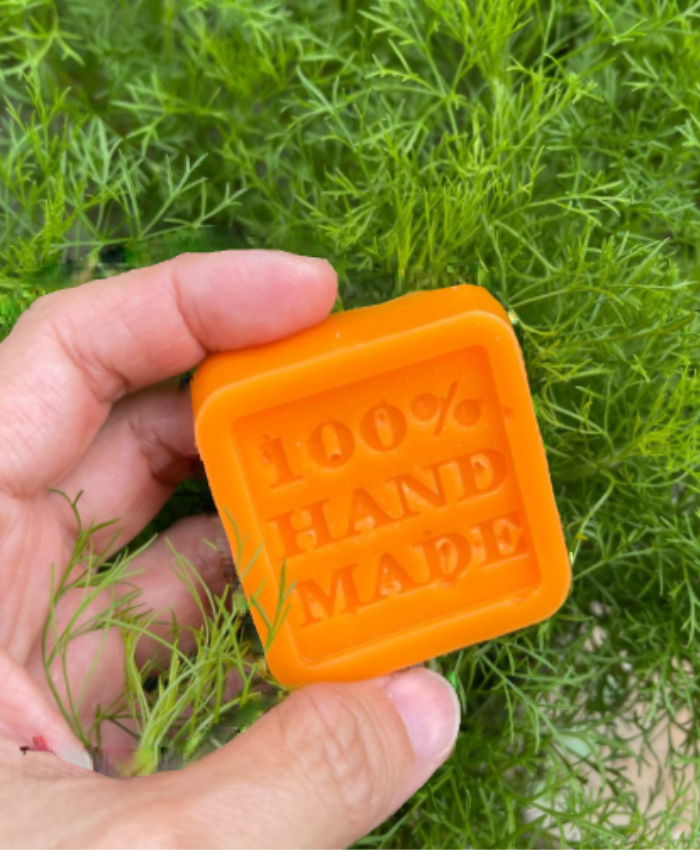 To use your conditioner bar, simply rub the bar into your hands and apply the product to wet hair. Then, glide the bar over your hair shafts and set the bar aside. Leave the conditioner in for a few minutes before rinsing with water. Your hair and scalp will feel deeply conditioned and moisturised. Learn how to make this solid conditioner bar enriched with jojoba and squalane and scented with clary sage, lavender and rosemary:
3. Solid cleansing bars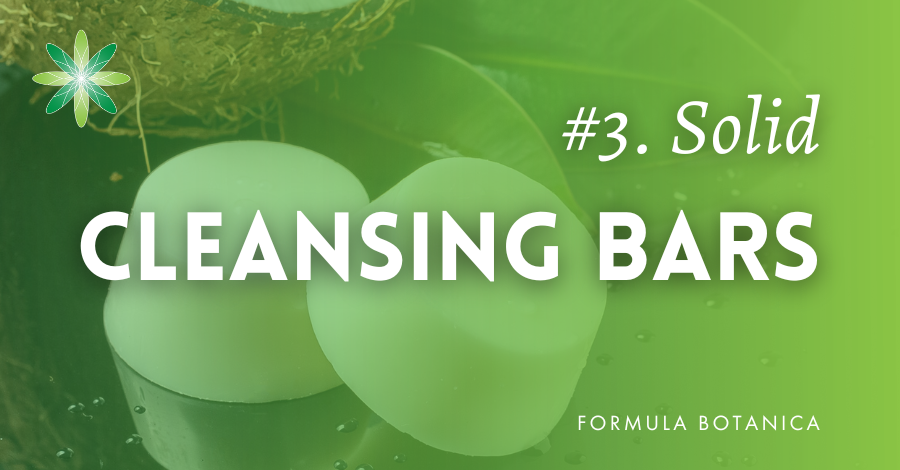 At Formula Botanica, we don't teach soap making as traditional soap has a high pH that can leave skin feeling tight and dry. However, we teach our students to formulate pH-balanced cleansing bars that don't irritate the skin as they have a similar pH to the skin (4.5-5.5).
You can formulate gentle cleansing bars for the face or body at home easily. Usually, a solid cleanser contains moisturising agents and a combination of surfactants to provide good cleansing and foaming properties. Typical surfactants for solid bars include two derived from coconut: sodium cocoyl isethionate or SCI – a mild, anionic surfactant obtained from the fatty acids in coconuts; and cocamidopropyl betaine which is a mild amphoteric surfactant derived from coconut oil.
Solid cleansers may also contain humectants to attract and bind water to your skin and waxes to thicken and give stability to the product. Try this easy formulation for a solid cleansing bar:
Formula Botanica student Cheryl Cooke made these marbled cleansing bars in an array of bright colours (below). She says she loves the way they look like pebbles washed up on the beach. Cheryl used a formula from The Lab at Formula Botanica as the basis and gave it her own makeover adding lavender and sweet orange essentials oils and a natural apple blossom perfume for fragrance, as well as mica for the colours.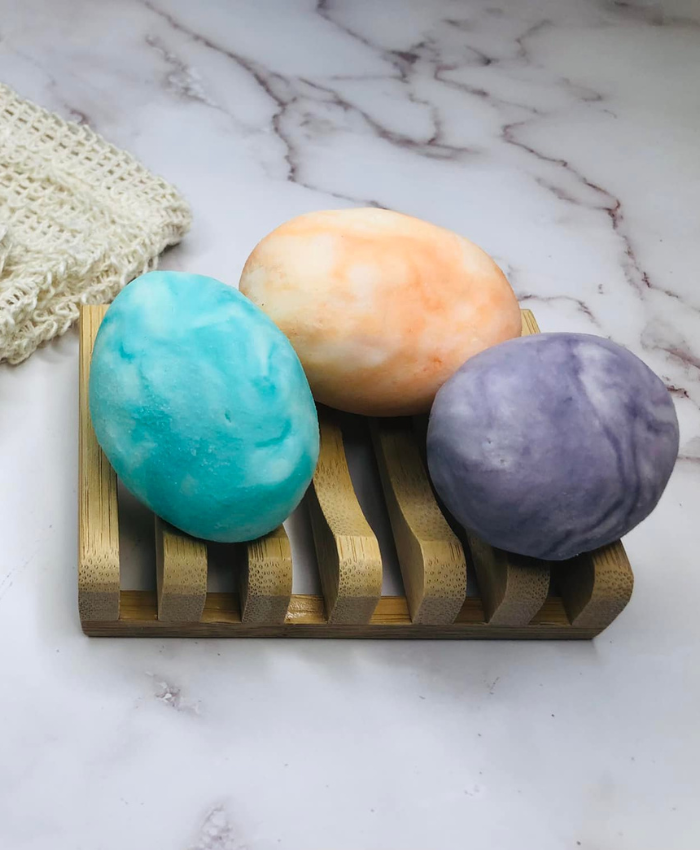 If you'd like to learn more about cleansing bars, our membership site, The Lab at Formula Botanica, offers an entire Mini-Lab training module on solid cleansers. Register to find out when it next opens for membership.
4. Solid cleansing sticks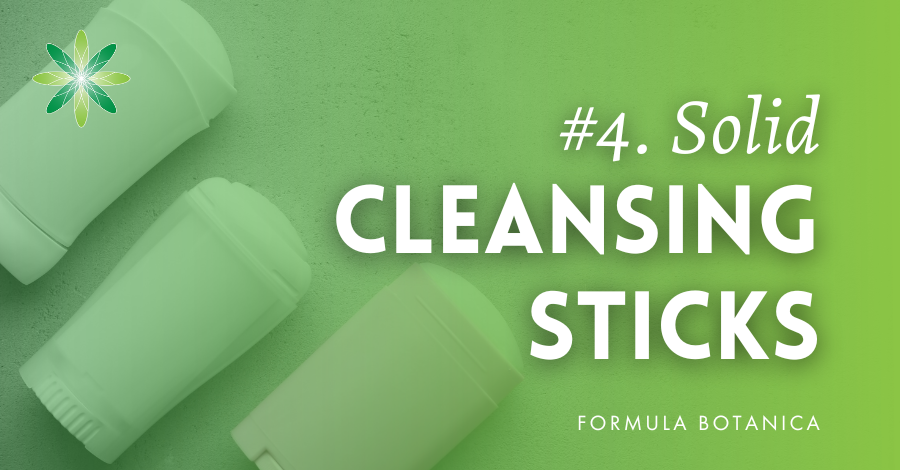 If you like double-cleansing, you might want to make solid cleansing sticks. A product concept that originated in South Korea, solid cleansing sticks are among the latest skincare products on the market. Since they're oil-based, they remove most of your makeup and dirt just like regular oil cleansers do.
To use a cleansing stick, wash your face and massage the stick onto wet skin. Use your fingers to lather the product and then rinse it off. You can then follow up with a gentle solid cleanser, such as the one we mentioned above. Learn how to make a facial cleansing stick with coconut and apricot oils:
5. Solid moisturising bars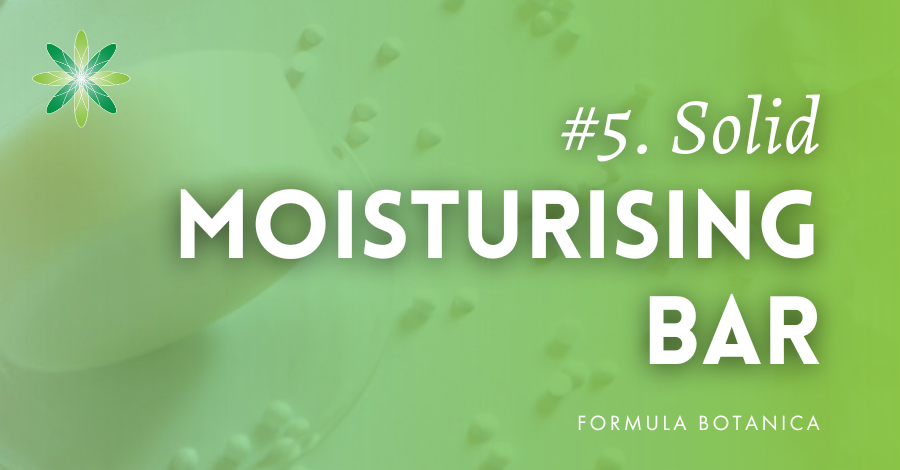 If you want to create a luxurious solid product, then solid moisturising bars are the answer. Also called a lotion bar or a facial/body melt, this product melts on contact with the skin, leaving a protective layer.
To make your own moisturising bars for face or body, you will need oils, butters, waxes, plant extracts, additives, and may wish to add essential oils also. The skin on your face is more delicate than that of the body, so if you are making a multi-tasking bar, bear this in mind. Next, pour your heated ingredients into moulds and let them cool and solidify overnight. You could also make a massage bar by using slow-penetrating oils, or make a scrub bar by adding exfoliating particles. You can explore variations once you've mastered the basic bar formulation.
6. Solid balm sticks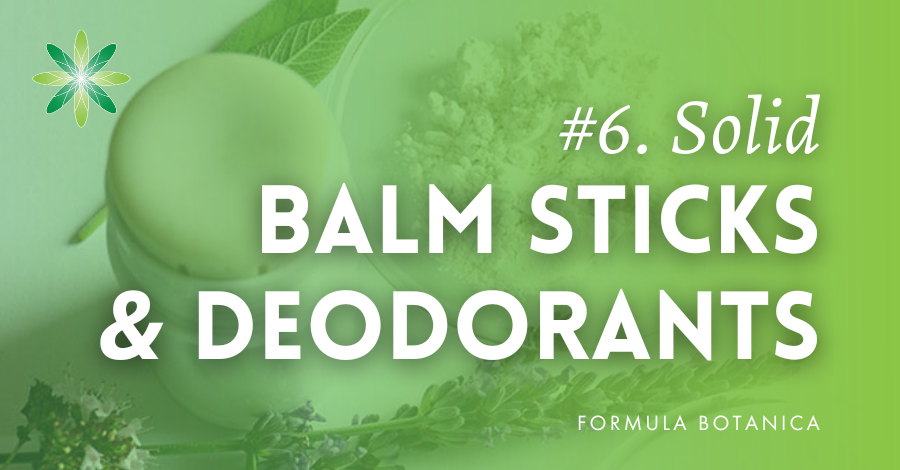 If you don't like to get messy with your beauty products, a balm stick could be the perfect formulation for you. Not only is it easy to apply, but it is also very convenient for when you're traveling.
Balm sticks are rich formulations that nourish your skin and create an occlusive layer on the skin. They can be used on the body and face, and are ideal to nourish particularly dry areas. They need to be firm enough to remain in their container, yet have a good glide without feeling greasy. Here are some of our top solid stick formulas you could try at home:
Why a balm stick should be the next product you formulate
Formulate a green tea and cocoa body balm
How to formulate a natural deodorant stick
Bonus solid beauty bars to make at home
Cleansing powders
Cleansing powders are easy formulations to make: you simply mix all the dry ingredients together. Add a little powder to a small bowl and activate it ready to apply by stirring in some water or a hydrosol of your choice. Find out how to make a gentle face cleansing powder below:
Oleogels
Oleogels are another great type of semi-solid formulation to make. They're incredibly versatile and range from viscous oily gels to gel-to-milk cleansers. They're on-trend as waterless – or nearly waterless – formulations and have a lovely skin feel. What's more, they are ideal for the beginner formulator to tackle. While straightforward to make, there are some formulation tricks to ensure that the oil and the oil-gelling agent remain as a homogenous blend and don't split. If you're interested in learning more about oleogels, The Lab at Formula Botanica covers them in depth in its dedicated Mini-Lab on oleogels.
We've also some tips on the oleogel emulsifying process in our formulation for an exfoliating oleogel facial cleanser:
Shower jellies
Shower jellies are fun, semi-solid formulations to try out that are gentle on the skin. They are so popular that we've an in-depth module on them in The Lab at Formula Botanica. You can find out more about shower jellies below and how to formulate your own in this shower jelly formulation:
Lip balms
Last but not least, we have lip balms. Everybody loves lip balms, and they're often the first fun and simple formulation people learn to make when starting out in natural formulation. Here are two quick lip balm formulations to try out and get you started on your journey into the world of solid, more sustainable beauty.
How to make an organic Amazonian lip balm
How to formulate a berry-tinted lip balm
Don't forget to tag us on social media and share your lovely solid beauty bar creations.
FREE FOUNDATION COURSE
How to become an
Organic Skincare Formulator
By providing your details, you agree to receive additional educational & marketing emails from Formula Botanica, which further introduce our curriculum. Your data is never shared or sold. Read our
Privacy Policy
.
FREE TRAINING
How to become an
Organic Skincare Entrepreneur
Join over 100,000 other Formulators
By providing your details, you agree to receive additional educational & marketing emails from Formula Botanica, which further introduce our curriculum. Your data is never shared or sold. Read our
Privacy Policy
.
FREE TRAINING
How to become an
Organic Skincare Entrepreneur
Join over 100,000 other Formulators
By providing your details, you agree to receive additional educational & marketing emails from Formula Botanica, which further introduce our curriculum. Your data is never shared or sold. Read our
Privacy Policy
.
Leave us a comment
comments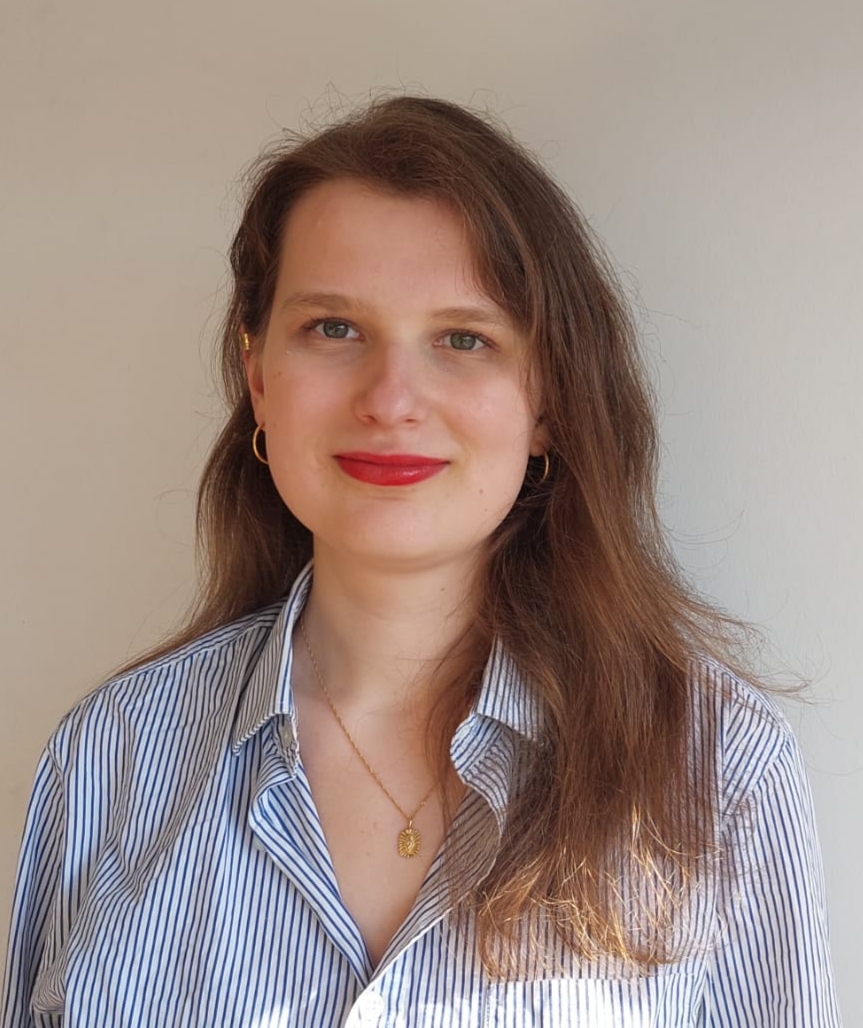 Ariane is a published journalist, blog writer, and content creator for Formula Botanica. Her areas of focus include beauty, human interest, and arts and culture. Ariane has been a member of the Formula Botanica community since 2021.