To mark International Women's Day, 8 March, we are looking back over a hundred years to celebrate the lives of four women beauty entrepreneurs who shaped the modern cosmetics' industry we know today. When we hear the names Helena Rubinstein or Elizabeth Arden, we tend to think only of global cosmetic firms and upscale department store beauty counters.
However, behind these corporate names lie the incredible life stories of women who started their beauty businesses at a time when women had neither universal suffrage nor independent financial freedom.
They were born in an era that saw advances in modern-day chemistry which brought with it the possibility of manufacturing cosmetics on a larger, cheaper scale, making them more widely available and to an increasingly global market. They may have been 'in the right place, at the right time' in some respects, but it was never a foregone conclusion they would be successful beauty entrepreneurs; most of our four started out with little money to their name. Their personal drive and sheer hard work coupled with their ability to innovate, grasp the moment and understand what women wanted saw them build empires and amass wealth into the millions.
Reading about their rise to fame and fortune, one feels humbled by their achievements against the odds, and also a sense of kindred spirit with them. We may have more opportunities, equality, education, tools and access to finance and so on than women could dream of in the early 20th century, yet we face still many of the self-same hurdles as our four pioneering beauty entrepreneurs.
If you're aiming to launch or already have your own beauty business, you will know that you require, as our historic figures did, personal resilience along with a host of business skills and tools, including strategy and planning, clever and careful branding and positioning, innovative products, savvy marketing and PR, finance and, if you intend to grow big, also staff.
We hope then that this walk into the past lives our these beauty entrepreneurs will inspire you on your own journey. We have these incredible women to thank for where we can go today following our own careers in the beauty industry.
Four Beauty Entrepreneurs who shaped the Cosmetics Industry
In the past couple of years, we've seen the meteoric rise of beauty lines aimed at inclusion for all women such as Fenty Beauty by Rihanna. It would seem that beauty empires focusing on diversity and targeting ethnicity are a recent phenomenon.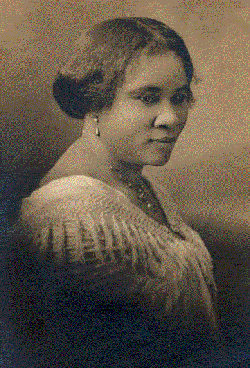 However, let's take you back a hundred years to a Mrs C. J. Walker, a truly remarkable women who built an African-American cosmetics and haircare products business. The Madam C. J. Walker Manufacturing Company – which later traded as The Walker Company until 1981 – is considered the most financially successful – quite apart from being also female-owned – African-American business of the early 20th century. That she achieved this renown and success having been born into a large family which had only just gained freedom from slavery, and was left an orphan at age seven, is phenomenal.
Born Sarah Breedlove in 1867, Mrs C. J. Walker went from dollar-a-day laundress to being feted as a millionaire on her death in 1919, although her estate was worth $600K. She apparently learned about haircare from her brothers who were barbers, and she suffered, as did a lot of African-American women at that time, from various scalp ailments as a result of using caustic lye products.
With a surname from her third husband, with whom she built the company, Mrs C. J. Walker started in the cosmetics' business selling another brand. It was in this job, she learned the ropes, listened to direct feedback from customers and started formulating her own line of cosmetics and haircare aimed at African-American women. Starting with door-to-door sales, Mrs C. J. Walker grew the business rapidly to include beauty parlours, a training school for sales agents, as well as a lab, manufacturing plant and New York offices. Her daughter entered the business and continued running it after C.J. Walker's death at age 51.
As Mrs C.J. Walker gained fame and riches, she became an activist and philanthropist donating generously to innumerable causes including those encouraging the education and business training of African-American women. She also personally addressed campaigns supporting the advancement of African-American rights.
It comes as no surprise given the incredible life of this pioneering beauty entrepreneur that Netflix is scheduling production of a TV film series Madam C.J. Walker starring Octavia Spencer in the title role. Her great, great grand-daughter meanwhile is her official biographer and historian keeping Mrs C.J. Walker's legacy alive.
Think of Elizabeth Arden, and you probably think of luxury make-up and the famous Red Door Spa on Fifth Avenue, New York, which she opened in 1910 and which still operates today. Elizabeth Arden is credited with making make-up mainstream and the accoutrement that well-groomed ladies of her time should use; previously, make-up was seen as unsuitable for 'nice girls'. Elizabeth Arden was sole owner of her firm and became at her peak, one of the wealthiest women in the world with a global brand incorporating salons and retail products.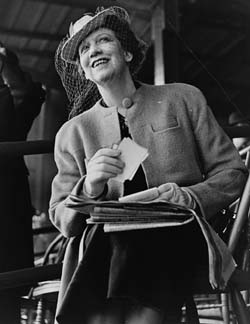 Born in 1878 in Toronto, Canada, into a large family of English-Scottish descent, Florence Nightingale Graham, as she was called then, was told by her father to get married or get a job. Elizabeth did a variety of short-term jobs in bookkeeping, secretarial and nursing work before becoming a cashier in a salon in New York. It was there, observing the practices and how the formulas were made, that she decided on her future path and opened The Red Door Salon with a business partner, named Elizabeth. That partnership didn't last but Elizabeth adopted her former partner's name for the signage and added on a new family name – and so Elizabeth Arden was born.
Today, The Red Door Spa says its mission is "…to help women look and feel their best; to walk out our doors a little taller, a little stronger, a little bolder" and is proud of its heritage as "…a brand rooted in trailblazing and swagger, started by Elizabeth Arden when the odds were against her". Even in the Great Depression, her business brought in over $4 million a year.
Elizabeth Arden was exceptionally business wise some even view her empathy with and activity in the suffragette movement as a move to promote her brand among strong bold women. She once supplied 15,000 suffragettes with red lipstick as a sign of solidarity during the suffrage march.
We can thank Elizabeth Arden for pioneering many of the cosmetic concepts we take for granted today, such as colour coordinating, the structure of make-up and the art of applying it, as well as the need to understand the science of skincare.
Be inspired by four women beauty entrepreneurs who shaped the cosmetics industry. Start your own natural beauty business with an online formulation course @formulabotanica. #beautybusiness #womenentrepreneurs
Click To Tweet
We start off in the late 19th century again for the third of our women beauty entrepreneurs of the past, traveling three continents with Helena Rubinstein, founder of the eponymous cosmetics empire and the one of the first self-made female entrepreneurs in the US.
Helena, who was born Chaja Rubinstein, started life as the daughter of a Polish-Jewish shopkeeper in Krakow, southern Poland. However, she must have had an inborn fearless spirit as she emigrated at age 24 to Australia knowing little English and with no money to her name. Who would have thought then that Rubinstein would become a millionaire with a business that started on the back of single beauty cream using sheep's lanolin from the Australian outback.
With her diminutive stature and creamy, perfect complexion, Helena drew attention to herself as a young cosmetics' saleswoman and so much so that she attracted an investor. After that, her now brand-named 'Crème Valaze' became a big hit, selling as fast as she could make it. From this point on, Helena never looked back.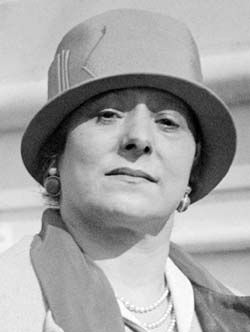 But, what really enabled her to reach such stratospheric heights and global reach in her business was her 'publicity savviness', according to cultural historian Ruth Brandon, in her book Ugly Beauty: Helena Rubinstein, L'Oréal, and the Blemished History of Looking Good. Brandon says: "[Helena] knew how to advertise using 'fear copy with a bit of blah-blah'— and introduced the concept of 'problem' skin types. She also pioneered the use of pseudo-science in marketing, donning a lab coat in many advertisements, despite the fact that her only training had been a two-month tour of European skincare facilities. She knew how to manipulate consumers' status anxiety, as well: If a product faltered initially, she would hike the price to raise the perceived value."
These kinds of sales, marketing and publicity tactics endured throughout most of the 20th century and were persuasive even if in today's Internet age, where the balance of power has shifted to the consumer, we may see them as old ploys.
Helena Rubinstein took her business from Australia to the UK and with the outbreak of World War I, onward to the USA. Her empire was synonymous with luxury, echoed in pricing, packaging and in the perfection of her brand-name salons. She moved in swish social and business circles, ever mindful of her competitor Elizabeth Arden. The millionairess who gave us the saying 'There are no ugly women, only lazy ones,' lives on through L'Oreal, today's owner of the Helena Rubinstein brand.
Last but not least among our women beauty entrepreneurs, Estée Lauder was also from a relatively humble, typical emigree' background. Her family ran a hardware store but it was her chemist uncle's business selling proprietary beauty products that fascinated her and which she went on to exploit. Lauder was the one who saw the opportunities in giving her uncle's products alluring names to make sales and she also knew that the secret to sales lay in making products affordable to the average American woman and this seems to have remained the mission of the company right up to today.
Lauder will forever be remembered as one of the grande dames of the 20th century beauty industry and perhaps as its most enduring. Born in 1906 to Hungarian-Jewish parents, Estée Lauder was the doyenne of selling and knew exactly how to create desire for a beauty consumable, especially in post-war 1950s America. It is not for nothing that she featured on Time magazine's 1998 list of the 20 most influential business geniuses of the 20th century.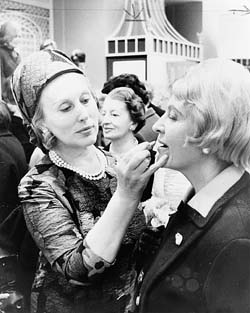 In 1953, just seven years after forming her own cosmetics' company, Lauder created the renowned 'Youth Dew' which not only made a perfume accessible to post-war middle America but also provided it in a very accessible form – a bath foam. At that time, perfumery was dominated by expensive French brands.
What Lauder did was a stroke of genius; she gave women an incredible new and powerful fragrance and also in a form that their menfolk wouldn't reproach – the humble bath foam! Perfume expert and writer Lizzie Ostrom says in her book 'Perfume, a Century of Scents' covering the 20th century's most famous fragrances, that 'Youth Dew came to saturate middle-class 'modernist' America and to define it…'.
Youth Dew sold by the bottle as women used in prolifically, as opposed to the mere dab they would give behind the ear of expensive French perfume. Apparently, in its first year, Youth Dew sold 50,000 bottles; by 1984, the figure had risen to 150 million.
Both Estée Lauder herself and her company span and define the 20th century as giants of the beauty industry. Her and the company's contribution has been to create what we might call today the 'masstige' market with luxury at an affordable price. Estée Lauder died age 97 in 2006 and her company, privately owned until 1995, is still headed by her heirs today.
Follow in these incredible women's footsteps by creating a skincare business of your own and start living the life of your dreams #formulabotanica #skincare #entrepreneur #IWD2019 #womensupportingwomen
Click To Tweet
---
If we've inspired you with the stories of these incredible 20th century beauty entrepreneurs, why not follow in their footsteps? Now is the time to take up a career in green beauty, which is predicted one of the fastest-growing sectors in the beauty industry. If you'd like to find out more about how Formula Botanica can help you on your way to starting the skincare or haircare business of your dreams, try out our free sample class to see what it's like to study with us.
All images (except header): Wikicommons.
Leave us a comment
comments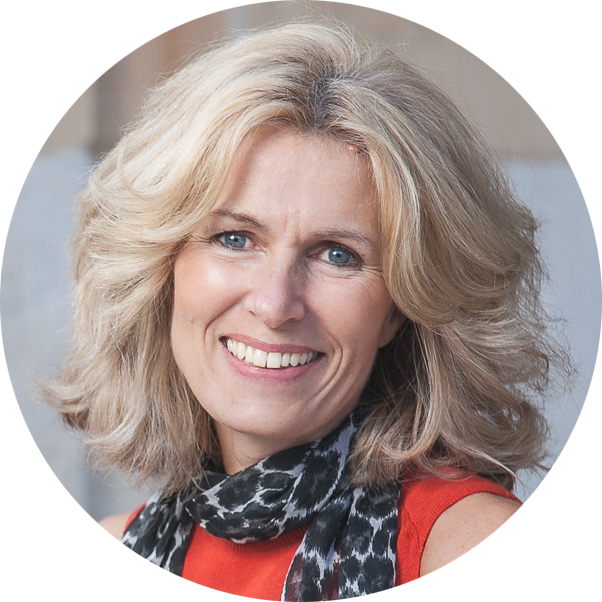 Liz is Formula Botanica's Content Coordinator and joined our team in August 2020. Liz worked as a professional blogger, journalist and site developer for many years and was also part of the Formula Botanica student community. Read more about the Formula Botanica Team.