Botanical oils are the heart of organic formulation. They are among the first ingredients beginner formulators get to know. They are the perfect entry point to natural formulation as you need only a few oils to make simple, but effective anhydrous products such as face oils, lip serums, and body butters.
Also called carrier oils, which refers to their use in aromatherapy where they 'carry' or disperse essential oils, botanical oils remain steadfast companions to the natural formulator as they go from beginner to advanced-level product formulation.
At Formula Botanica, even with our fingers on the pulse of new ingredients, we are constantly surprised by new, often unusual oils coming onto the market. We have covered some of these newcomer oils in these posts:
10 best zero waste oils for skincare and haircare
8 best oils for botanical infusions
10 best winter carrier oils for skincare and haircare
10 natural African skincare ingredients
There are so many botanical oils to choose from it can be hard to know which to buy first when you start out formulating. Which oils will you turn to time and again? Which are the most versatile for the formulator? Which are the least expensive and longer lasting?
We asked the Formula Botanica education team to tell us about their top botanical oils. Far from being distracted by the latest, exotic new oils on the market, our team of experienced formulators narrowed down their lists to a capsule of 10 botanical oils they find themselves using in so many formulations.
To browse botanical oils by ingredient, use these links:
1. Jojoba – liquid wax
2. Rosehip Oil
3. Squalane
4. Sweet almond oil
5. Argan oil
6. Castor oil
7. MCT / fractionated coconut oil
8. Apricot oil
9. Grapeseed oil
10. Rice bran oil
Take your love of oils further
Our exclusive membership site for continuing professional development (CPD), The Lab at Formula Botanica, offers its members a comprehensive ingredients' library. The Lab runs monthly specialist training courses – Mini Labs – on advanced formulation skills, natural ingredients and indie beauty business topics. Members benefit from its in-depth research into natural ingredients including botanical oils, essential oils and active plant extracts of interest to the natural formulator. Register for The Lab to be first to hear when it next opens for membership.
@FormulaBotanica education team recommends their top 10 botanical oils every natural formulator needs in stock. #botanicaloils #naturalformulation #plantoils
Click To Tweet
1. Jojoba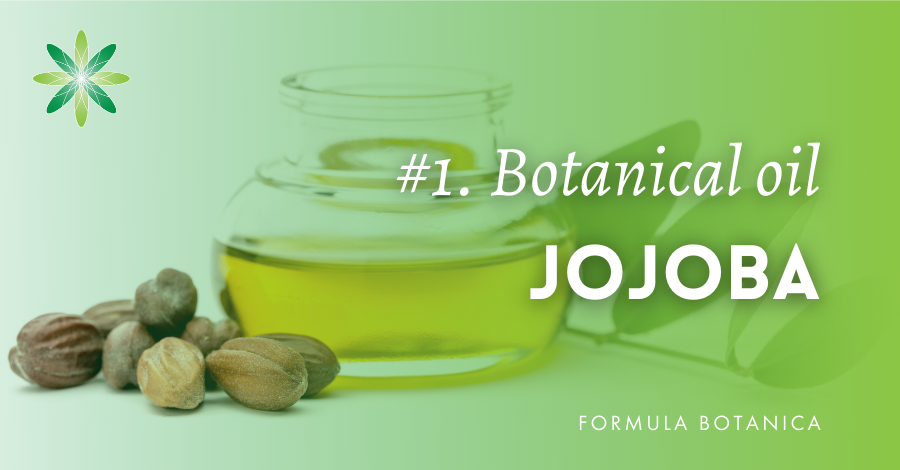 INCI: Simmondsia Chinensis Seed Oil
Origins: Jojoba is a medium-sized shrubby tree native to North and Central American deserts, in particular the Sonora desert in California (USA). It was widely used in folklore remedies and for cooking and skincare by Native Americans. Jojoba seeds from which the oil is produced are like large, brown coffee beans. Today, it is grown as well in Chile, Egypt and Argentina.
Characteristics:
Pronounced "ho-ho-ba", jojoba is actually a liquid wax (some 98 percent pure waxes), but is commonly referred to as an oil. Formed of wax esters with a unique composition of long-chain fatty acids and fatty alcohols, it contains sterols and antioxidants along with unsaponifiable materials. Liquid at room temperature, it solidifies if colder, but quickly returns to a liquid once heated.
It is a light- to mid-golden colour depending on whether it is refined or organic, and is nearly odourless having only a mild, nutty scent. It is highly stable and resistant to oxidation with an impressively long shelf life of 3-5 years, and far longer if stored well.
Uses and Benefits:
Jojoba is quite rightly number one in our list of must-have botanical oils for formulation not only on account of its stability and reasonable price, but also because it is an excellent, non-greasy emollient. It has properties mirroring the composition of sebum and this compatibility enables jojoba to help maintain the skin's acid mantle and prevent trans-epidermal water loss (TEWL) without causing greasiness or clogging pores. If left unrefined, jojoba demonstrates high antioxidant properties of great benefit in formulations aimed at mitigating the visible signs of premature ageing.
It helps smooth the skin and enhance its elasticity. In addition to being a staple oil to include in formulations aimed at dry or mature skin, jojoba is also used in anti-acne products; its mitigating effect on acne-prone skin was something the Native Americans discovered and used it for.
As a wax, jojoba is used widely in colour cosmetics like lipsticks where it blends well with other waxes and helps disperse colour pigments evenly and also imparts natural lubrication and shine.
Further reading:
Jojoba Oil: An Updated Comprehensive Review on Chemistry, Pharmaceutical Uses, and Toxicity. Gad, H.A.; Roberts, A.; Hamzi, S.H.; Gad, H.A.; Touiss, I.; Altyar, A.E.; Kensara, O.A.; Ashour, M.L. Polymers 2021, 13, 1711.
2. Rosehip Oil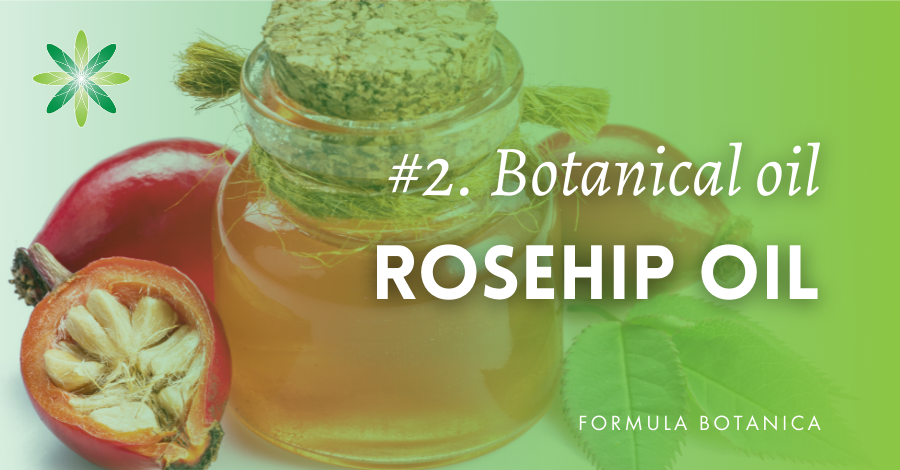 INCI: Rosa Rubiginosa Seed Oil
Origins: The Rosa rubiginosa variety grows wild in Chile and Peru in the Andes which is a principle source of cold-pressed rosehip oil and in particularly the organic oil. Rosehips have been used in home and folkloristic remedies for centuries.
Characteristics: Rosehip oil varies from a deep red-orange hue to lighter yellow depending on the amount of refinement and processing it undergoes. It has a light-to-medium strong, pleasant nutty aroma. The hips themselves are a rich source of Vitamin C and antioxidants, however we must not confuse these water-soluble constituents with the benefits of rosehip's lipid components.
Uses and Benefits:
Rosehip oil contains a high amount (70-80 percent in some rose varieties) of polyunsaturated, essential fatty acids (EFAs), namely linoleic and linolenic. It also contains lipid-soluble antioxidant carotenoids such as β-carotene and lycopene, along with tocopherols (vitamin E). Rosehip oil is often included in formulations aimed at rejuvenating the skin and tackling its signs of premature ageing, such as hyperpigmentation, fine lines and blemishes. Interestingly, rosehip oil is known as an astringent oil that displays notable antimicrobial action and absorbs fast leaving a non-greasy skin feel. This makes it a superb all-rounder in natural formulations for both mature and acne-prone skin types.
Further reading and references:
Abstract: Rose Hip (Rosa canina L.) oils. Ahmad, Naveed & Anwar, Farooq & Gilani, Anwar-ul-Hassan. (2015). 10.1016/B978-0-12-416641-7.00076-6.
Mármol, Inés et al. "Therapeutic Applications of Rose Hips from Different Rosa Species." International journal of molecular sciences vol. 18,6 1137. 25 May. 2017, doi:10.3390/ijms18061137
3. Squalane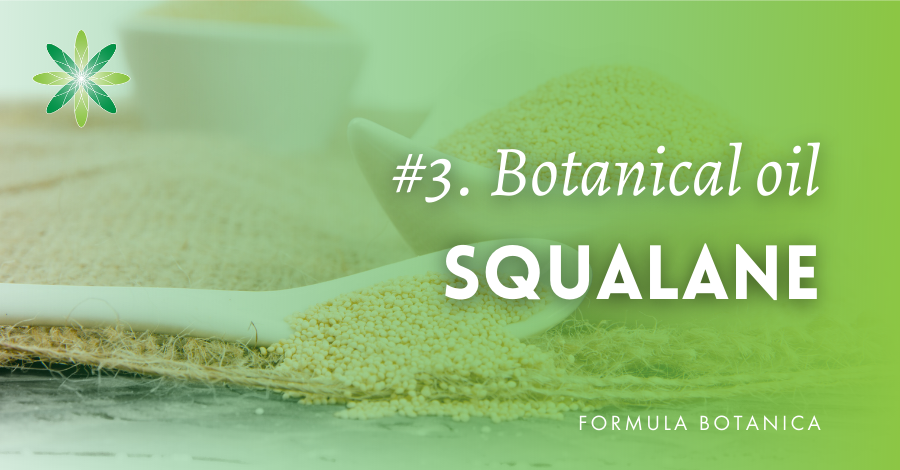 INCI: Squalane
Origins: Squalane is a hydrogenated, stable derivative of squalene, which was first discovered in the 1950s and extracted from animal sources, notably sharks' liver. Squalene itself is easily oxidised. Today, most cosmetic squalane is phytosqualane obtained from sustainable, renewable plant sources such as olive pulp waste and seeds such as amaranth, rice bran and wheatgerm. As both animal- and plant-sourced squalane share the same INCI, you need to check with your supplier that you are buying phytosqualane.
Characteristics: Squalane is colourless and odourless and displays high thermal stability and notable resistance to chemical oxidation. Squalane also has excellent compatibility with other ingredients.
Uses and Benefits:
Squalane is a superb emollient and excellent in reducing trans-epidermal water loss. It has a nice sensory skin feel, and absorbs well without leaving greasy residue. As our own sebum contains squalene, squalane has good bio-compatibility with the skin. Its lack of colour and odour make it useful for all types of skincare and you can add it to your formulations in its pure, derived form or choose squalane-rich botanical oils like rice bran, wheatgerm and amaranth, for example. As a non-irritant, it can be used up to 100 percent concentration. It is ideal to include in formulations for mature, dry, and pre-maturely ageing skin, but has a place in nearly all skincare products, from face oils, serums and boosters to emulsions.
Further reading:
The formulator's ultimate guide to squalene and squalane in which we cover in depth squalane's science and usages and offer a formulation for a natural squalene and squalane booster.
4. Sweet Almond Oil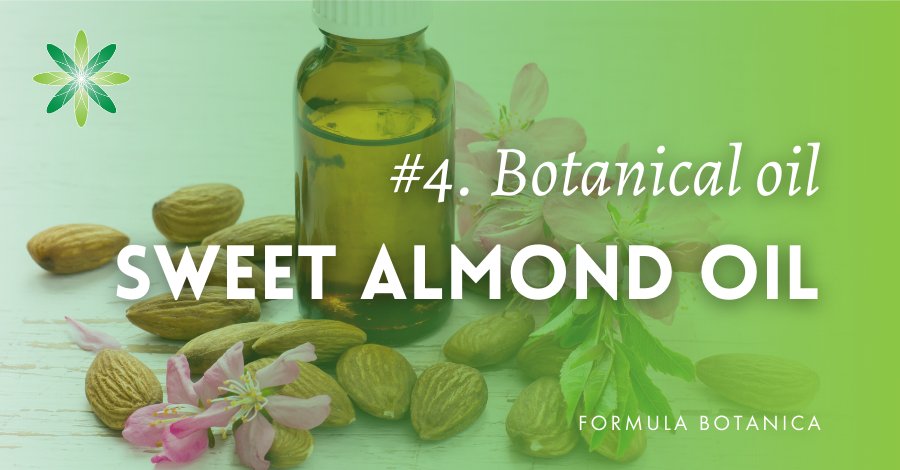 INCI: Prunus Amygdalus Dulcis Oil
Origins: A small tree native to the Middle East, the almond is now grown across the Mediterranean and similar warm climates in places like California. One of the first trees to blossom in early spring in the Mediterranean, the almond was highly prized by the Ancient Greeks and is feted today in areas of southern Italy, especially in Sicily.
Characteristics:
Sweet almond oil is well known as a mainstay carrier oil in aromatherapy. It is light yellow and moderately viscous and has a mild, nutty odour. As almonds are composed of 50 percent oil, it has a high yield and therefore represents value for money compared to a similar oil, apricot kernel. As it has a large percentage of monosaturated oleic acid, it has quite a greasy skin feel and average absorption rate which give it good slip and make it useful in massage. Its composition also ensures it is quite stable and has a good shelf life.
Uses and Benefits:
Formulators use sweet almond oil for its emollient, smoothing, soothing, rejuvenating and occlusive properties and it is found in cosmetics targeting drier and mature skin. It may be used to reduce the signs of skin scarring and to improve overall skin tone and complexion. We offer several lipid-based formulations on this site that include sweet almond for these very reasons, such as our solid cleansing bar. Almond oil is also a good base for botanical macerations.
Further reading:
The uses and properties of almond oil. Ahmad Z. Complement Ther Clin Pract. 2010 Feb;16(1):10-2. doi: 10.1016/j.ctcp.2009.06.015. Epub 2009 Jul 15. PMID: 20129403.
5. Argan Oil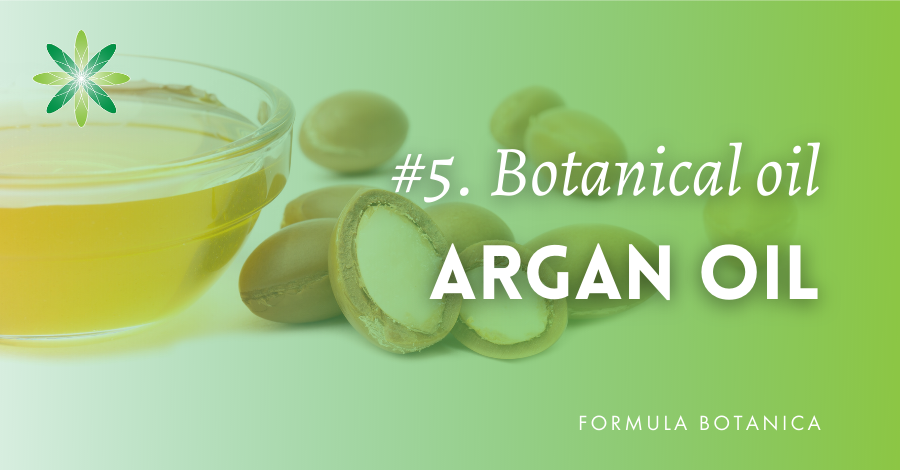 INCI: Argania Spinosa Kernel Oil
Origins: A unique native of Morocco, the fruit of the small, spiny, drought-resistent Argan tree was used by the country's indigenous Berbers. It has centuries of use in Morocco in both cooking and for cosmetics. The oil is still harvested using mainly traditional methods by women's cooperatives and the oil yield from the tree nuts is about 30 percent. It can command a high price as a result of its low yield and the time and labour required to crack and process the nuts and extract the oil, which in Morocco is known as 'liquid gold'.
Characteristics: It had a moderately nutty scent and a medium-dark, golden colour and for an emollient oil it is surprisingly fluid.
Uses and Benefits:
The oil is exceptionally light, non greasy and yet emollient with a nice skin feel and absorption rate. It has a unique combination of fatty acids (high in monounsaturated oleic acid and polyunsaturated linoleic acid) which give it excellent skin nourishing and emollient abilities. Its richness in EFAs and vitamin E, squalene, carotenes and antioxidants make argan oil popular in anti-ageing and/or dry skin formulations. Luckily, even a small percentage of this expensive oil in a formulation works its magic. It is a well tolerated oil ideal in products aimed at sensitive skin too. Argan is very popular in hair preparations and cuticle oils and for massage on account of its lubricating qualities and slip.
6. Castor Oil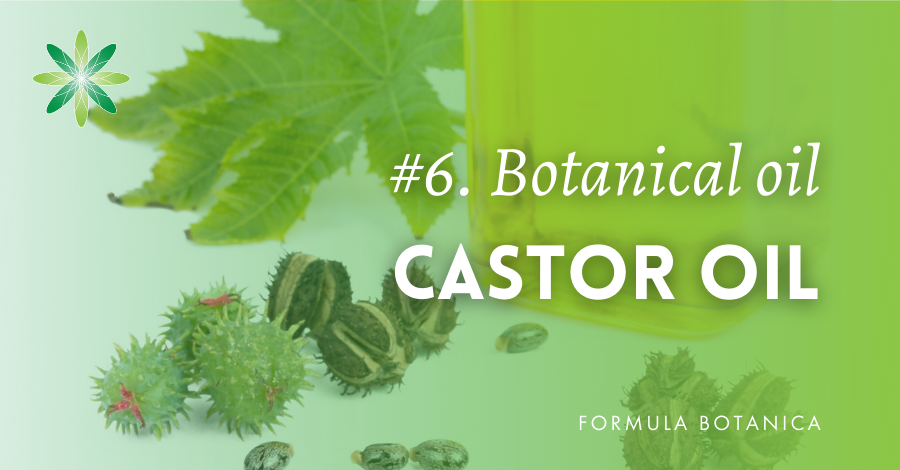 INCI: Ricinus Communis Seed Oil
Origins: The castor oil plant is one of the oldest cultivated crops. It was originally an African-native shrubby tree but is widespread across the Mediterranean and further afield in Russia, India, China and Brazil. It has been used for oil lamps, cooking and skincare from ancient times and has many industrial uses today, in addition to its use in cosmetics. You may have come across it as a popular houseplant.
Characteristics: Its beans produce a pale yellow to almost colourless oil that is highly viscous and has only a light scent. Castor oil has a unique composition of 90 percent ricinoleic acid – named after the plant itself – and is a hydroxylated fatty acid as it has hydroxyl groups attached to its carbon chain. This means it is more polar than many other oils. It also has good oxidative stability and shelf life.
Uses and Benefits:
Castor oil is surprisingly useful in a wide range of cosmetics. Its viscosity and slow absorption rate makes it excellent in massage. Its higher polarity means that it will act to disperse colour pigments making it ideal in lipsticks where it also adds shine and lubrication. Castor oil is also common in soap formulations. It is a useful inclusion in nail cuticle oil blends (acting on brittle nails), in lip balms, serums and glosses if used in very small quantities, as it has a nauseating taste. It is also known as a good make-up remover as it dissolves oil-soluble dirt well – and in bi-phase make-up removers. On account of its slow rate of absorption, it is best used in small percentages in a formulation and always in combination with other oils.
Further reading:
Patel, Vinay R et al. "Castor Oil: Properties, Uses, and Optimization of Processing Parameters in Commercial Production." Lipid insights vol. 9 1-12. 7 Sep. 2016, doi:10.4137/LPI.S40233
7. MCT / Fractionated Coconut Oil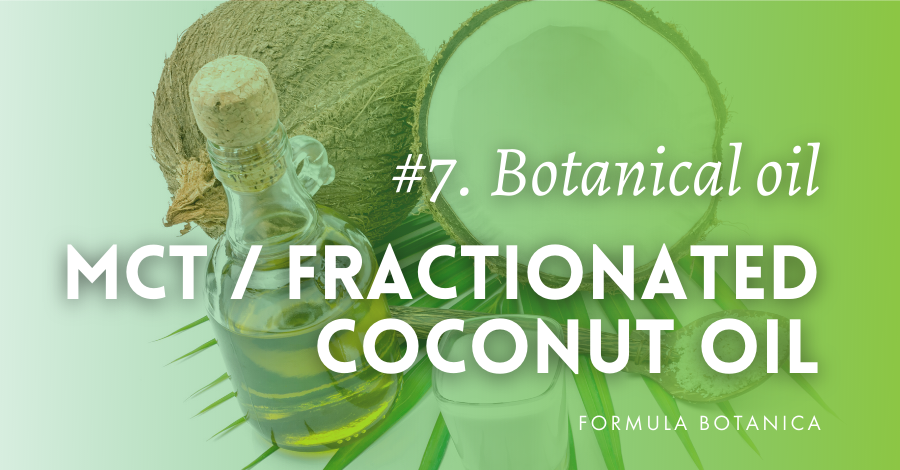 INCI: Caprylic / Capric Triglyceride
Origins: MCT, medium-chain triglyceride, is manufactured by hydrolysing coconut oil, removing the free glycerin present in the coconut oil, and separating the medium-chain fatty acids by fractional distillation. These acids are then blended in the proper ratio and re-esterified with glycerin. Also, MCT can be just fractionated (separated) from coconut or palm oil, in which these triglycerides are naturally present. The resultant oil contains purely Caprylic and Capric Triglycerides, which are present in coconut oil itself at about 54 percent. MCT oil is commonly called liquid coconut oil. As you know, coconut oil is in fact solid at standard room temperature and melts at 24 °C (76 °F). MCT can be produced from coconut, palm oil or a blend of the two source ingredients.
Characteristics: Almost colourless, usually sold deodorised, and with low viscosity, MCT is a good value base oil for cosmetics. It is a saturated oil and is highly stable to oxidation and high temperatures.
Uses and Benefits:
MCT oil is an excellent neutral base for use in just about every type of cosmetic product from creams, lotions, moisturisers, cleansers, face washes and serums to haircare formulations and is popular for massage. If you look at the ingredients of some of your cosmetics, especially emulsions and oils, you will likely find MCT listed somewhere. Cheap, almost odourless and colourless, it is a good emollient yet quick drying on the skin and leaves a silky skin feel.
8. Apricot Kernel Oil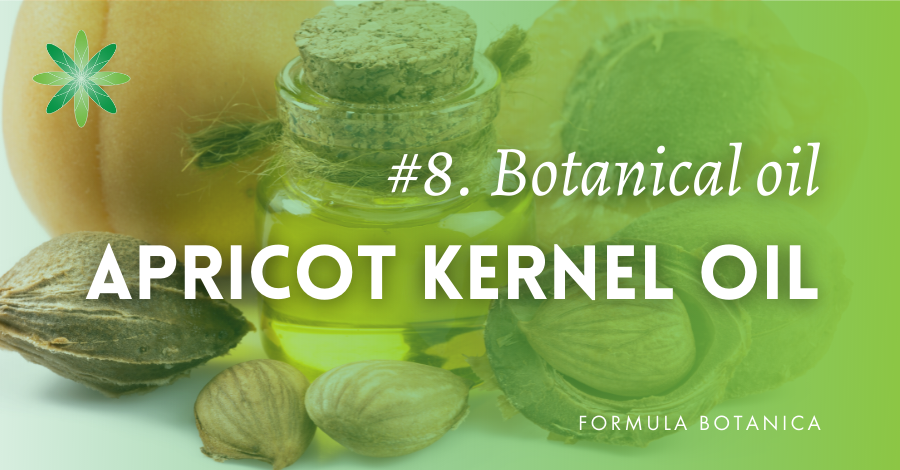 INCI: Prunus Armeniaca Kernel Oil
Origins: This small fruit tree is a native of China and as with similar fruits, made its way in ancient times to the Middle East and onward to Europe, where Turkey is the main producer followed by some areas of southern France. The oil is extracted as a by-product of the fruit industry.
Characteristics: Apricot kernel oil is similar to sweet almond oil in consistency, scent and chemical makeup but with a more discernible 'marzipan' smell to it. Light yellow and lighter on the skin than almond oil, it is however more expensive perhaps simply because less is produced.
Uses and Benefits:
Apricot kernel oil's high oleic (around 60 percent) and linoleic acid (just under 30 percent) profile make it nourishing and emollient for mature and/or dry skin. However, as it leaves little oily residue, it is equally effective in cosmetics for all skin types. It is a useful almond oil substitute for those with nut allergies.
9. Grapeseed Oil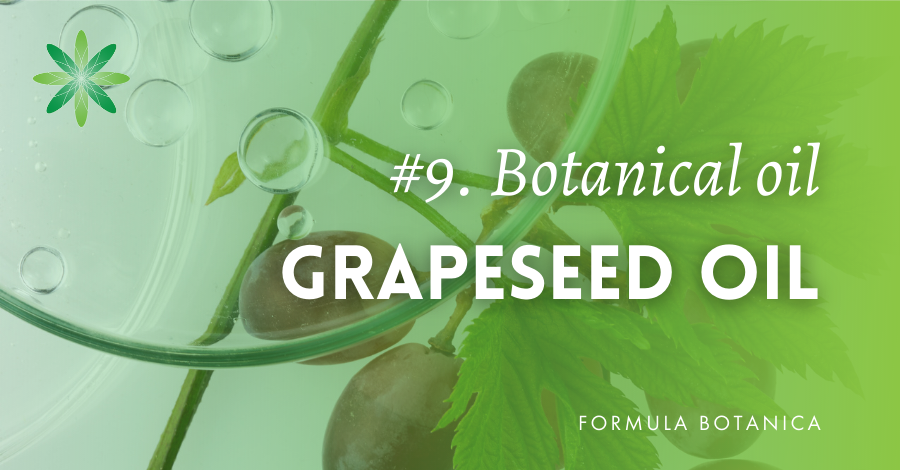 INCI: Vitis Vinifera Seed Oil
Origins: A by-product of the wine industry, and therefore a good 'zero waste' oil, grapeseed oil was first produced in France but now processed in many vine-growing and wine-making countries. However, records of grapeseed oil's use to treat skin issues date back to Arabic records in 14th century Spain.
Characteristics: Grapeseed oil comes in two forms: cold-pressed, and refined. The oil can have a strong scent in its unrefined version. Colour varies from deep green to nearly colourless depending on the level of the oil's refinement. It is a fine oil of low viscosity and fast drying with a nice, non-greasy skin feel.
Uses and Benefits:
Grapeseed oil contains a high amount of linoleic acid (46-74 percent) and a moderate percentage of oleic acid (around 14-44 percent). These fatty acids give it excellent emollient properties which along with its antioxidants make grapeseed ideal for cosmetics aimed at minimising the signs of skin ageing such as fine lines. It is rich in vitamin E, especially in its unrefined form, which also helps the oil resist oxidative stress and have a longer shelf life. Its antioxidant capabilities also help protect collagen and elastin from being degraded following oxidative stress induced by reactive oxygen species (ROS). Thanks to its exceptionally high concentration of tannins, it also has astringent qualities.
Grapeseed oil is widely used in a variety of cosmetics as a versatile base oil and as a carrier oil in massage. It is well tolerated by all skin types and is used for a variety of cosmetic reasons from mitigating acne and toning complexions to acting on signs of premature ageing, protecting from oxidative stress caused by UVB radiation, and for scalp and hair conditioning.
Further reading and references:
Sotiropoulou, Evangelia & Varelas, Vassileios & Liouni, M & Nerantzis, Elias. (2015). Grape seed oil: from a winery waste to a value-added cosmetic product – a review.
Lin, Tzu-Kai et al. "Anti-Inflammatory and Skin Barrier Repair Effects of Topical Application of Some Plant Oils." International journal of molecular sciences vol. 19,1 70. 27 Dec. 2017, doi:10.3390/ijms19010070.
10. Rice Bran Oil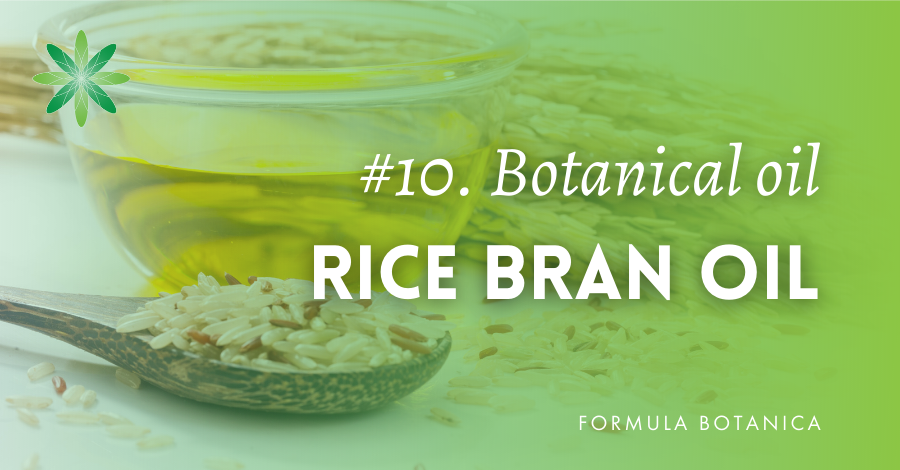 INCI: Oryza Sativa Bran Oil
Origins: It is produced mainly in Asia, in particular in India and Malaysia, with some oil produced in Europe.
Characteristics: Extracted from the germ and outer coat of the brown rice grain, the oil is a light tan-brown colour and has an earthy, sweet and musty aroma in its unrefined state.
Uses and Benefits:
Rice bran oil is a rich source of phytochemicals and contains bioactive compounds, in particular ferulic acid and gamma-oryzanol, that display antioxidant properties. The oil is also a good source of plant-derived squalene (see squalane), which is important in maintaining the skin's acid mantle. Rich, emollient yet with a non-greasy skin feel, rice bran oil is a versatile addition to the formulator's stock cupboard.
Further reading and references:
Rice Bran Oil: Emerging Trends in Extraction, Health Benefit, and Its Industrial Application.Sne hPunia, Manoj Kumar, Anil Kumar Siroha, Sukhvinder Singh Purewal.
We hope you found this round-up of our top 10 botanical oils useful. These oils will get you started formulating, helping you create your first cosmetic products, but they will also stay with you throughout your career. As you will see if you follow the research links, there is a lot still to discover about these common stock cupboard oils.
Leave us a comment
comments