Haircare products are trending, however there aren't that many natural hair-styling products on the market yet. So, it is a very exciting niche to explore if you are thinking of starting a natural haircare brand. If you want to discover what's in vogue, head over to our post on Top Natural Haircare Trends.
Hair-styling products are so popular that most of us – both men and women – have at least one type of styling product in our bathroom cabinet. One of the most popular, versatile hair-styling products is the hair wax as with a quick lick of your fingers it can instantly create a style or maintain stray or unruly hair. It is also a good product to make if you are starting to formulate natural haircare.
Before we give you our hair wax formulation, let's just mention the many different types of hair-styling products on the market that you can research. Many sport colourful names such as hair gel, putty, clay, fibre, mud, pomade, cream, paste and more. If you're interested in formulating products like these, take a look at our Diploma in Organic Haircare Formulation.
In this post, we offer an amazing natural hair wax formulation using some deeply nourishing African butters and oils. First, let's look at some of the questions you need to ask yourself before formulating any hair-styling product.
How to Choose a Hair-Styling Product
When you are browsing the shelves in your supermarket, hairdresser or barber's shop, the choice of hair-styling products is endless. It can be very challenging to know which is most suited to your hair and also what each type of product does given the confusing list of names for styling products. You need to ask the same questions if you are thinking of making your own natural haircare products either for yourself or as part of a brand range.
Before formulating, one of the first things you need to ask yourself is what kind of formulation you are going to make. Basically, there are three options:
Completely water based;
Completely anhydrous (no water phase at all); and
a hybrid formulation (oil and water combined).
Other questions you can ask yourself:
Is your target customer male or female, or are you going for a genderless product?
Is it intended for short, medium or long hair?
Do you want your product to give minimum, medium or maximum hold to the hair?
Do you want to have a glossy finish or a matte effect?
About hair wax products
Many hair-styling products are referred to as a wax (not always correctly), as it is the most well-known term. Hair wax is also one of the most popular hair styling products for daily use because it gives a good hold to the hair, and structure and definition too.
It is very versatile because it is ideal for short up to medium-long hair and can create different hair styles from a ruffled, 'messy' hair look, to soft spikes as well as a kind of fluffy, just-out-of-bed look. It isn't suited to a slicked-back or longer hair. Hair wax can be matte or glossy, depending on the choice of ingredients. The product itself is usually quite dry and hard.
Mainly, there are two types:
water based (mainstream brands usually use synthetic copolymers for this kind of product); and
oil based: mostly based on waxes, oils and butters, which presents a perfect opportunity to make a natural version.
Tips on how to use hair wax
Dab some of the product onto the palm of your hand and warm it up slightly. Then, start at the root of your hair spreading it until you have the look you want to have that day. For more hold, use it on wet hair; for less hold use it on dry hair.
Learn to make this @FormulaBotanica on-trend DIY natural hair wax for quick-fix styling at home. #hairstyling #naturalhaircare #naturalhair
Click To Tweet
About our natural hair wax formulation
In our formulation, we are going to make an all-natural and vegan hair wax in the form of an anhydrous balm. We are using some key natural, African butters and oils among our ingredients that are nourishing and also readily available to most formulators.
Depending on the climate where you live, you may need to change the hold and consistency of this hair wax formulation. You can do this by adjusting the wax-to-butter/oil ratios and perhaps swapping some ingredients for others so it suits your needs. Research your butters and waxes to choose those with the desired melting points to create a hair wax that is stable in your climate.
In our method, we give you two options that you see in our photos. You can choose to make a solid, traditional hair wax or a lighter, whipped version. With either option, you will find this hair wax formulation:
Gives hold to short up to medium-short hair;
Gives volume in a natural way for a nice thick effect;
Is easy to apply, and leaves no greasy feeling afterwards on your hands after you wash them;
Has a soft feeling that gives your hair a healthy look without being too greasy, so you won't look as if you haven't washed your hair for weeks; and while effective, it is also easy to wash off, so you don't need half a bottle of a clarifying shampoo to remove it.
Each ingredient has been chosen carefully to ensure this clay wax is multi-functional as well as being an effective styling product that imparts benefits to the hair and scalp. Let's take a look at the main ingredients to explain this further.
Myrica wax
This wax helps adjust the viscosity and hardness of the product. It is a soft wax with a melting point between 45-55°C. It acts as a fixative to hold and style the hair. It is easy to wash off without leaving bits and greasiness. It has excellent holding properties in hair styling products, adds shine and does not impart stickiness.
Rice bran wax
This is a hard wax with a melting point between 79-85°C and used to adjust the viscosity and stiffness of the product. It offers a matte effect and helps improve the product's stability at high temperatures. It is a fixative, holding the hair in place and giving hold also to your styling product. It too is easy to wash off without leaving bits and greasiness.
If you want to learn more about natural waxes in skincare and haircare, see our posts:
How to work with natural cosmetic waxes
6 vegan waxes for cosmetic formulation
Shea butter
Shea is a sustainable butter mainly produced in Ghana. It is soft and the unrefined version has an ivory colour and a typical shea scent (which can be very nutty and not to everyone's liking. Use the refined version if you don't like the natural scent).
Unrefined shea butter contains many fatty acids such as oleic acid, stearic acid, linoleic acid, alfa-linolenic acid (ALA), linolenic acid (LA), behenic acid, and palmitic acid. This unique fatty acid profile coupled with the butter's high level of non-saponifiables, makes it a highly-effective emollient. It is especially beneficial for very dry skin and hair as it improves elasticity and has repair qualities. It is excellent to use to care for ànd style dry, damaged, brittle, frizzy and split-end hair as it restores shine and beauty to the hair. Shea nourishes the hair fibres and has long been used to enhance dry and also Afro-type hair.
Extra virgin coconut oil
We chose a sustainable coconut oil that is also a product often sourced from Ghana. It is a semi-solid carrier oil; the unrefined version has a snow-white colour and a typical tropical coco scent. It is one of the very few carrier oils that can penetrate the hair strand. Coconut oil contains a high percentage of lauric acid and this has a high affinity to the proteins in the hair. It also has a very low molecular weight so it can penetrate the hair cortex itself which helps it act to prevent the loss of protein from the hair. It also makes the hair more resistant to mechanical damage like combing.
Coconut oil is perfect for dry hair or hair that needs extra moisture and is excellent for curly, frizzy, dry, lifeless, dull hair, split ends and to care for Afro hair. It nourishes and gives vitality to hair, smoothing the hair fibres making it more manageable, detangled and shiny.
Cocoa butter
Unrefined cocoa butter is sourced from East Africa and is a hard butter; the unrefined version has an ivory colour and an amazing chocolate scent. It nourishes, restores and gives vitality to dry hair. It is protective and helps prevent dehydration of your hair.
Mango butter
Again, we chose the unrefined version of mango butter which mostly originates in East Africa. It is a soft butter; the unrefined version is pale white and has a faint sweetish scent. It is nourishing and softening and strengthens the hair cuticle giving a natural, healthy shine to your hair. Mango butter is an excellent emollient repairing and softening the hair fibres which means it helps prevent split ends. For this reason it is ideal for dry, brittle, damaged, dull and lifeless hair as well as frizzy hair, and to care for long hair.
Kombo butter
Kombo butter, also known as the "Africa nutmeg", is a soft butter with a dark brown to an almost black colour comparable to that of strong coffee. It can leave stains if you use too much, and has a typical earthy, smoky scent which may take some time to get used to. It is high in myristoleic acid. Kombo butter can help prevent hair loss and is very rich in soothing and regenerative, active components that can improve the condition of the scalp and mitigate issues such as scalp sensitivity, irritation, itchiness and desquamation (dandruff).
Olive squalane
Squalane is a hydrogenated form of squalene which is derived from olive oil. For the difference between and the origins of the two, see our post The formulator's ultimate guide to squalane and squalene.
Squalane is translucent and without scent and is a component of our own sebum. It acts as a lubricant, and a refatting and moisturising agent. In haircare products it is beneficial as an exceptional and effective emollient. It imparts a silky-feel "dry touch" and flow to your product and reduces the greasiness of the balms and butters. It also repairs and protects the hair strands, smoothing and coating the hair fibres. It adds natural shine and plays a part in restoring the lipid barrier and protecting your hair from dehydration. It is excellent for dry ends as well as dry, dehydrated, coloured and/or straightened hair.
PCA glyceryl oleate
With a honey-like texture and amber colour, PCA glyceryl oleate is a combination of an ester of oleic acid and PCA (an amino-acid derivative) and helps impart anti-static properties. Thanks to its oleic acid, it will stick to your hair strands and act as an anti-static conditioning agent. This helps improve the ease of combing (wet and dry) hair, reduces static in fly-away hair and calms frizz by smoothing down the hair strands.
Lexfeel natural
This is a natural silicon alternative that is completely plant based (from castor oil). Silicones and natural silicone alternatives smooth down the hair strands by reducing frizz and filling in any gaps on the hair strand to repair damage. These types of ingredients are generally used in any styling or smoothing products as they can help to (temporarily) repair the hair strand as well as giving the hair shine and lubricity which ease combing. Also an emollient, Lexfeel gives an excellent dry feel and low greasiness to your balms and butters.
Bentonite clay
Bentonite clay is a fixative giving hold to both hair and your styling product. It is easy to wash off without leaving bits or greasiness. The clay will set hard in the hair to give volume, texture, definition and hold. It also creates a matte effect but as we wish to impart some shine in this product, we are of course using emollients as well. Clays are absorbent and can be absorbed and so automatically attach to particles of dirt and grease and can be rinsed off after washing your hair and scalp. The amount of clay usually recommended in this kind of product is between 0.5-5 percent.
Modified rice starch and oat starch
Both these ingredients act as fixatives and give hold to hair and product and can be washed out without leaving bits or greasiness. Both starches impart a silky feel and ease the flow of your anhydrous balms and butters. Oat starch is rich in soothing components so perfect for sensitive and itchy scalp issues and they both act as emollient, moisturising and repairing agents.
Baobab oil
Again, we prefer the unrefined version and our ingredient choice was also wild harvested in Ghana. Baobab, also known as the 'tree of life', helps nourish and rejuvenate scalp and hair and is an excellent barrier repair oil that is perfect for dry, brittle, split, dull and frizzy hair and to care for hair ends and Afro-type hair.
Vanilla macerate in sesame oil
Vanilla beans from Madagascar macerated in sesame oil give an uplifting scent and one that complements our formula perfectly for a hair wax aimed at nourishing dry and damaged hair.
Rosemary CO2
We use this rosemary extract as a powerful antioxidant but rosemary is a traditional addition to hair products as it is also known to keep the hair follicles healthy, to prevent hair loss, to boost hair growth and to help to prevent dandruff.
Our chosen scents
We chose a pure geranium essential oil as a delightful aroma that is uplifting and comforting. The oil also helps balance the production of sebum, which makes it a valuable oil for scalp issues. Benzoin resin has a sweet vanilla base note to complement the vanilla macerate and is a useful fixative for scents. Ylang ylang essential oil – from Madagascar which is known to produce the finest ylang ylang (extra) – has a powerful and intensely sweet floral odour with a floral woody undertone. It also works on split ends and has a balancing action on sebum production.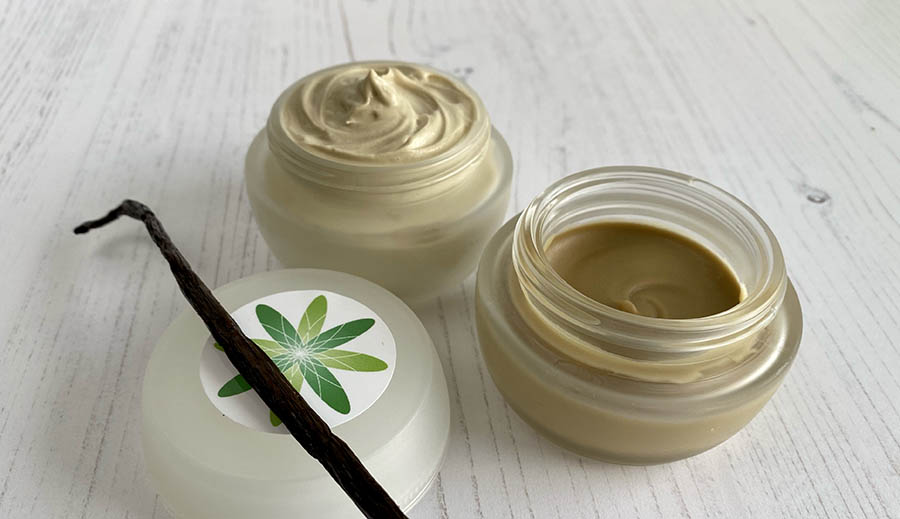 Our formulation:
DIY Natural Hair Wax
Makes: 100 grams
Time taken: 45 minutes
Level: intermediate
| | | | |
| --- | --- | --- | --- |
| Phase | Ingredients | INCI | Weight |
| A1 | Myrica wax | Myrica cerifera fruit wax | 15.00 |
| A2 | Rice bran wax | Oryza sativa cera | 1.00 |
| A3 | Unrefined extra virgin coconut oil | Cocos nucifera oil | 8.00 |
| A4 | Unrefined shea butter | Butyrospermum parkii butter | 5.00 |
| A5 | Unrefined mango butter | Mangifera indica seed butter | 5.00 |
| A6 | Unrefined cocoa butter | Theobroma cacao seed butter | 4.00 |
| A7 | Unrefined kombo butter | Pycnanthus angolensis seed butter | 3.00 |
| B1 | Olive squalane | Squalane | 5.00 |
| B2 | PCA glyceryl oleate | PCA glyceryl oleate | 1.00 |
| B3 | Vitamin E | Tocopherol | 0.50 |
| C1 | Lexfeel Natural | Heptyl undecylenate | 20.7 |
| C2 | Bentonite clay | Montmorillonite, illite | 5.00 |
| C3 | Modified rice starch | Distarch phosphate | 10.00 |
| C4 | Oat starch | Avena sativa kernel flour | 3.00 |
| D1 | Unrefined baobab oil | Adansonia digitata seed oil | 10.00 |
| D2 | Vanilla macerate | Sesamum indicum seed oil (and) Vanilla plantifolia fruit | 3.00 |
| D3 | Rosemary CO2 | Rosmarinus officinalis (rosemary) leaf extract (and) Helianthus annuus (sunflower) seed oil) | 0.10 |
| D4 | Ylang ylang essential oil | Cananga odorata flower oil | 0.40 |
| D5 | Geranium bourbon | Pelargoinium graveolens oil | 0.20 |
| D6 | Benzoin resin | Styrax toninensis | 0.10 |
| | | | Total: 100.00 |
Method of Manufacture
Phase A

Add all ingredients of phase A in a beaker. If you plan to make a whipped version, this needs to be your largest beaker with a wide mouth (at least large enough so you have enough space for your electrical whipping device). Put this beaker in a water bath heated to around 85-90°C. Rice bran wax is our ingredient with the highest melting point – between 79-85°C.

Prepare phases B,C and D

Prepare phases B and C and D in separate beakers. The powders of phase C are not oil soluble, so we are going to disperse them first in the Lexfeel natural. You can "help" this procedure by blending it first with a glass spatula, and then stir it thoroughly with a hand whip until your beaker contents look homogenous and there are no more lumps and clumps to be seen.

Combine phase A and B

When phase A is completely melted, remove the beaker from the water bath. As we have rice wax in our blend, this can become a bit tricky as it can solidify prematurely and very fast. The trick is to stir non stop. Once the blend goes below 52°C, you can start to ease off a little and blend in phase B.

Blend and cool

Keep stirring during this cool-down period until you have a trace. This is to ensure a uniform cooling down of all your ingredients to avoid graininess and is the preferred, recommended method (rather than the so-called 'shock cooling' method).

Add phase C

When A/B has reached a medium trace you can add phase C. Blend this with a glass spatula first, and then again manually with a whip to disperse all the fine powders into this blend.

Add phase D

When ABC has reached a temperature below 38°C, you can add phase D. Keep stirring with your spatula until you have a heavy trace.

Product options

Now you have the choice: if you opt for a more solid hair wax, pour it into your jars now. Alternatively, you can opt to whip it with an electrical whisk for a fluffy kind of texture.

The procedure does NOT make a difference to the efficacy of the product. The main differences are: colour, visual appearance, texture, how it feels on your hands and how it spreads through your hair. It is your preference. You can easily make 2 versions from the same batch, especially during the first trials, so you can test both out to see which you prefer.

Put in jars

Pour into suitable jars, leave the lid off for now and put the jars into the fridge overnight.

Lids and labels
Remove your jars from the fridge and let them adjust to room temperature before closing the lids. Label your jars. Now you can start enjoying your own homemade hair wax.
---
Recommended suppliers
Aroma-zone
SheaButter Cottage
Butterwise
Aliacura
Alexmo-cosmetics
Soap Kitchen
De Saint Hilaire
---
FAQs
What are the benefits of using hair wax?
Hair wax is one of the easiest hair styling products to use as within a flick of the fingers, you can give structure, support, shine and styling to short to medium-length hair. If using an anhydrous, natural oil and wax-based hair wax, you can also give your hair the benefits of some leave-in conditioner at the same time as styling.
Are natural hair products better?
Mainstream hair products tend to use silicones and synthetic surfactants, gelling and holding agents which can be harsh on both scalp and hair shafts. Natural hair products in contrast will source organic, natural often also unrefined butters and oils which contain a plethora of hair-beneficial nutrients to help nourish and maintain hair. Argan oil, marula oil and shea and coconut butters are just some common, natural, hair-product ingredients to look out for.
How to use natural hair-styling products?
Hair-styling products are one of the biggest sellers and trends especially since the Covid-19 pandemic which has seen our faces covered by masks and our attention move to hair styling and eye make-up. Hair-styling products are either leave-in on wet hair or for use on dry hair and range from gels, clays and waxes to muds, pomades, mousses, sprays, powders and more. There is a huge and confusing range of options to choose from depending on your hair type, scalp health needs, the look you desire and your hair length and cut.
Which hair-styling product is best?
Hair styling products are aimed at specific hair types, lengths, cuts and the look you're after so it is impossible to give a general recommendation as everyone's needs will vary. The best advice though is to look for natural hair styling products as these will rely on natural butters, oils and waxes which will still contain the vitamins, esters and other plant-based nutrients ideal for nourishing and styling hair. In addition, look out also for products that give deep conditioning such as weekly use hair masks or quick-fix styling products such as natural hair waxes.
How do you make your own hair styling products?
Hair styling products generally do one or all of the following: style, nourish and/or protect hair. When thinking of a DIY hair styling product, you need to work out its aim and also who the intended customer or user is. If you have basic cosmetic-formulating experience, it is best to make an anhydrous product such as a hair wax or butter that does not require emulsifying nor a preservative. Ask yourself if the product is to be genderless or for male or female hair styling, what kind of hairstyle and length of hair it is intended for, and what hold or style you wish to impart with it. Also, think about the desired effect – whether you want a shiny or matte look. Once you have defined the product brief, then research the natural oils, butters and waxes that can impart the effect and hold you are seeking.
Where can I learn to formulate natural skincare and haircare?
Join us at Formula Botanica, where tens of thousands of students and followers take our free and paid online courses to learn how to formulate organic skincare and haircare for themselves or to sell and also how to set up a beauty brand and business.
Leave us a comment
comments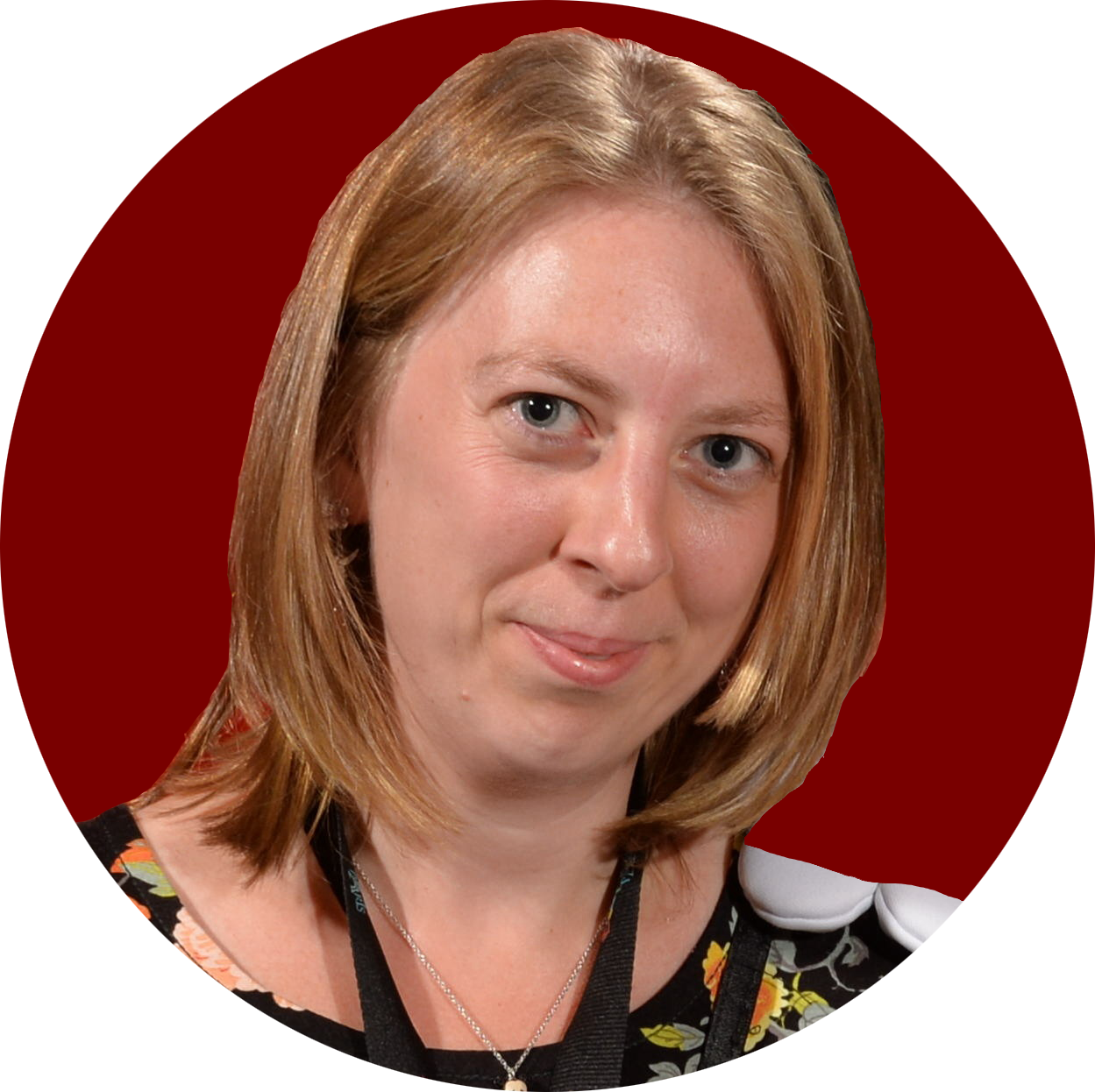 Jilly Schechter is a Tutor at Formula Botanica, where she helps our students to become better organic cosmetic formulators. Jilly lives in Belgium and loves writing tutorials on how to make skincare and haircare.