Using haircare products can have an immediate effect your self-esteem. Clean, gorgeous, healthy-looking and manageable hair helps you feel confident and ready to face the world.
Learning to make natural haircare products is an empowering journey. With the proper guidance and education backing you, it is possible to design unique, functional, safe products that are beautiful to use and enhance your line of beauty products, especially if you are setting your sights on launching or expanding your own indie beauty business.
Indie haircare products are truly an untapped market. With the growing trend for consumers to seek out and buy natural, organic, plant-based products for use in many areas of their daily life, indie brands have the perfect opportunity to step in and provide natural, sustainably-made haircare products that mainstream haircare brands and products can't easily rival.
Where to begin making natural haircare products?
If you are new to making haircare formulations, it is best to begin with the KISS principle, which stands for keeping it super simple. That said, haircare formulation does require some foundation skills. So, if you have never created an emulsion before, it may be advisable to first consider our Diploma in Organic Skincare Formulation, as this foundation course will teach you the techniques and theory to start your formulating journey.
If you have some skincare formulating skills already, then how do you go about applying your knowledge to make natural haircare products that are just as effective (if not more so) than the mainstream? Haircare formulation needs a slightly different, systematic approach and an understanding of the physiology of hair. Worry not, our step-by-step guide will get you started on what to consider when starting to make natural haircare products.
Want to make your own natural organic haircare products? The @FormulaBotanica step-by-step guide talks you through the product formulation journey. #naturalhaircare #organichaircare #haircarecourse
Click To Tweet
Step 1: Understand the difference botanical haircare makes
First though, what are the advantages of swapping to natural and botanical haircare?
Just as with skincare, the more natural your ingredients, the healthier your scalp will be. The healthier the scalp, the healthier the hair will be; growing noticeably longer and becoming stronger. Using nutrient-dense, plant-based ingredients provides a whole lot more nourishment to your scalp than is the norm with regular haircare.
Natural cleansers are often gentler, natural conditioners protect each hair strand, and natural styling agents help your hair shine and protect it from the elements and environmental stressors. Below, we list just some of the visible results of using natural haircare products:
Your scalp should be revitalised, and its healthy microbiome respected and protected.
You should have less need to wash your hair daily, or as frequently, as your scalp is gently soothed into optimal functioning. You should also find you have less greasy or less dry hair.
There is likely to be reduction in hair fall.
Your hair should have less frizz and fewer split ends as your hair is well nourished.
Step 2. Learn the anatomy of the hair and scalp
Creating a haircare product has its own challenges in that you have two main items to focus on: the skin (the scalp) and hair. Let's take a closer look at these individual needs, which are critical in determining your formulation choices.
Hair, the scalp and pH issues
One of the key issues you face in making natural haircare is the pH variance between the scalp and hair. You might ask if it matters all that much given that some haircare products are rinsed off, and also wonder how to formulate to accommodate these different pH needs.
The potential of hydrogen (pH) is a scale that is used in cosmetic chemistry to demonstrate how acidic or alkaline a solution is. The scalp requires the same pH value as skin does in order to function optimally (pH 5-5.5), while the hair responds best at a lower pH of 4.3-4.5 in order to keep the cuticle closed.
Opening the haircare cuticle with products that are too alkaline, such as a traditional soap for example, can lead to frizzy and dry hair that becomes frail over time.
This is also one of the reasons why haircare formulators typically use a cleanser with one particular pH value and a conditioner or leave-in conditioner with a different pH value. This is something to focus on as you develop each haircare product. The more you learn about pH and its importance, the better informed you will be about how to create an optimal product for your or your customer's needs.
Our diagram below gives you a quick and easy overview of the optimal pH levels to aim for in formulating natural haircare products.

The hair: type and porosity
Another aspect to grasp, and which is often not mentioned by mainstream haircare brands but which makes a huge difference to how a product performs, is the hair's porosity. Have you ever purchased a conventional shampoo only to find it works great on a friend's hair yet seems to make your own hair oily the next day? Or a styling gel that supports your curls perfectly yet feels sticky or heavy in your child's hair?
Considering the various hair types and porosity when you choose natural haircare ingredients is key to helping you develop a beautiful and functional product – and it takes know-how and practice to make various ingredients work in synergy to create the desired product performance you are seeking.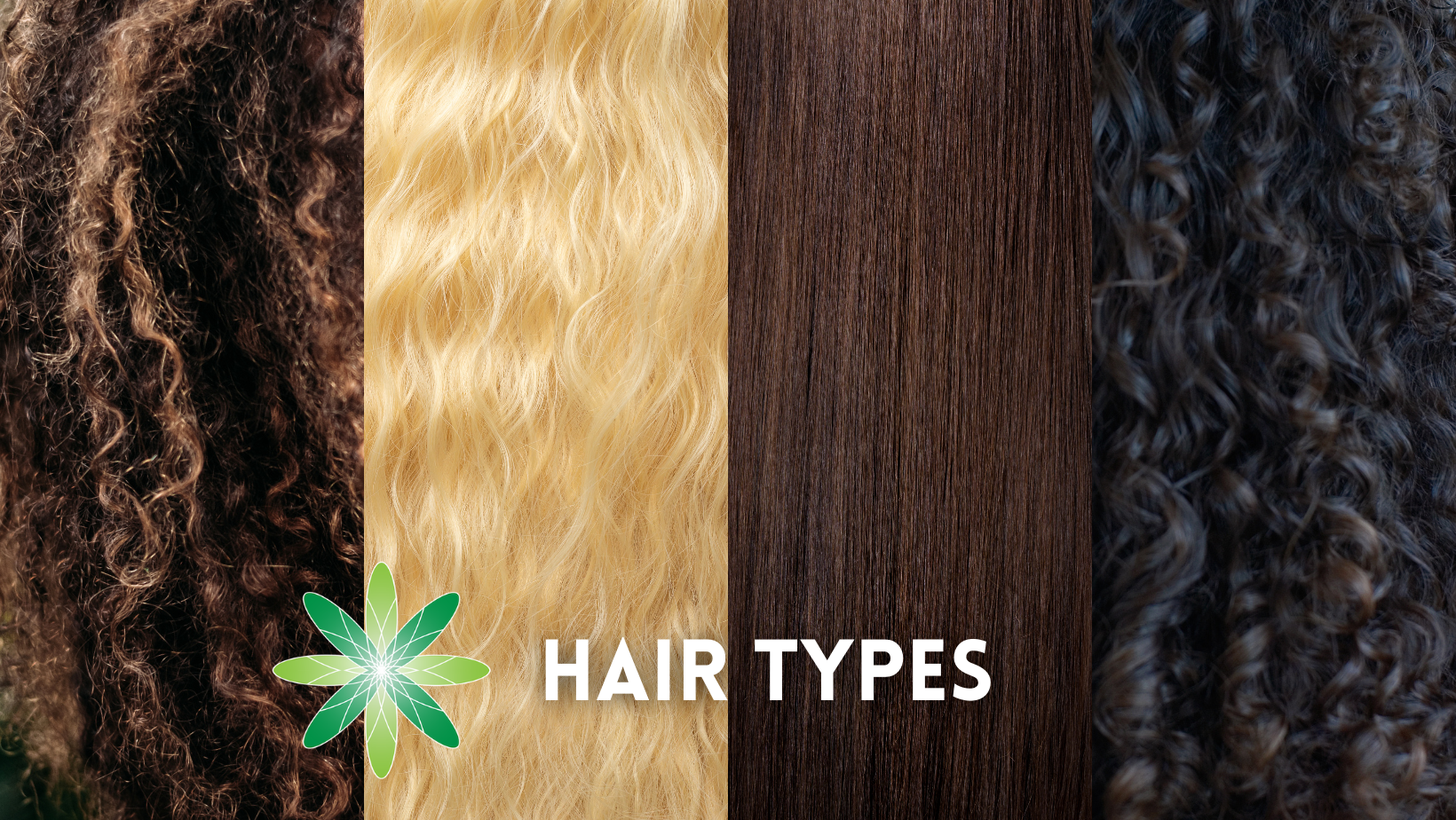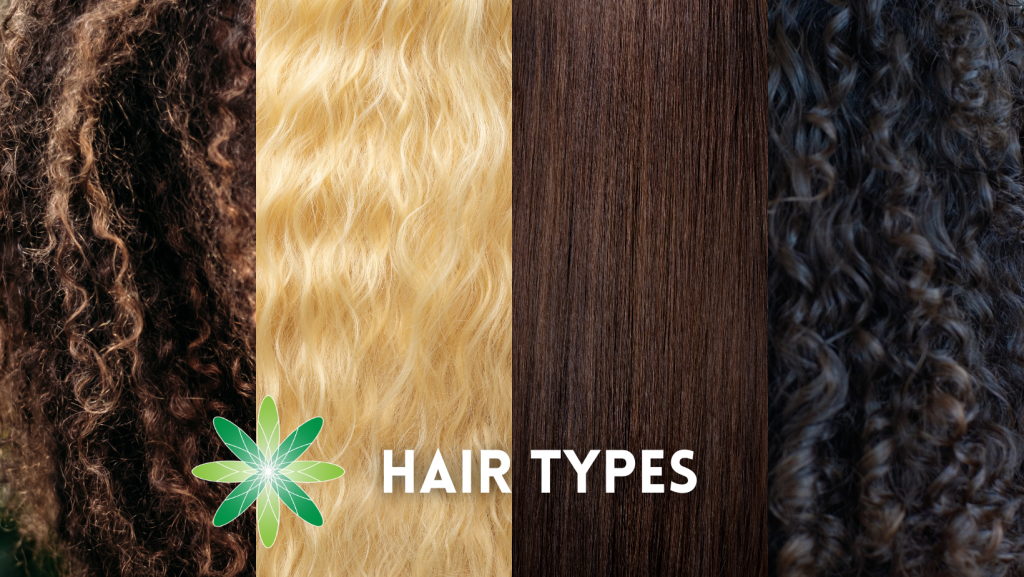 Step 3. Research your target customer
Begin by determining who your product will help and what problem it will solve. Perhaps you are aiming your products at baby and toddler hair, or at individuals with natural/textured hair or dry or fine hair, or maybe you wish to create a unique styling product that you haven't yet seen in the market. Don't be limited by what others have already created – think outside the box. The next most successful product in the market may just be the one you've been thinking about.
The other thing to consider when making a natural haircare product is who your optimal customer is. There is no one product that is perfect for all hair types, which can range from straight, wavy, curly and coily hair, nor one ideal product to satisfy all customers.
It is also important to know the hair porosity you are formulating for as this can be as individual as your customer's hair type. For example, some consumers will respond best to products that include sealing carrier oils within the ingredients, while others will enjoy more penetrating oils – or a combination of the two.
Step 4. Choose your botanical ingredients
Using botanical ingredients need not be complicated and can be as simple as replacing water in a shampoo with a hydrosol or aloe vera juice, using a herbal-infused glycerite rather than glycerin, or making your own macerated herbal oils.
Thankfully, the development of naturally-sourced ingredients has shaken up the industry in a big way. There are some excellent natural peptides, proteins, amino acids and botanical silicone replacements, and vegan alternatives that now are big players in the natural haircare world all offering some amazing functionality and properties.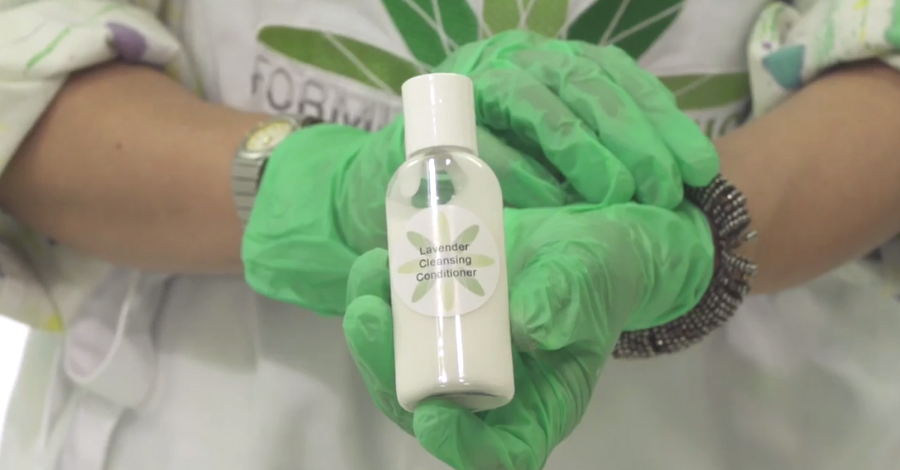 Active ingredients
There are thousands of actives and botanical-derived ingredients like proteins, peptides and ceramides you can choose to incorporate into your haircare products that will provide excellent results for both scalp and hair. If you have seen it listed in the ingredients of a mainstream product, you can bet there is a more natural alternative. Just about every cosmetic supplier carries some of these functional ingredients and actives – it is a matter of researching the haircare issue you want to resolve or your reason for wishing to create a particular product type.
This is what sets each indie formulator of haircare apart from the mainstream brands, and why our Diploma in Organic Haircare Formulation teaches you to ditch the formulaic and DIY haircare product 'recipes' you often find online, to design your own truly unique formulating approach backed with sound practical skills and theoretical expertise.
For example, you might not have considered using Inulin in your haircare product? Inulin is a natural polysaccharide probiotic that can help protect the scalp's microbiome.
Maybe you weren't aware that broccoli seed oil can act as a natural alternative to silicones in haircare? Perhaps you'd be interested to know that you can create a hair mask using kokum butter, which is a 'drier' butter, to tackle greasy hair. And that pumpkin seed oil is reputed as a miracle oil for thinning hair.
Research is king when it comes to making outstanding natural haircare products. Here are some useful links to kick start your research into botanical ingredients:
The chemists' guide to checking plant oils for heat sensitivity
10 best zero waste oils for skincare and haircare
7 tips on sourcing sustainable botanical ingredients
6 vegan waxes for organic cosmetic formulations
10 of the best haircare herbs
Step 5. Decide which haircare products to make
Start by deciding on the function of your product, such as whether you want it to cleanse, condition, style or nourish the hair and scalp. Focus on creating one single product and making it the best it can be and researching each ingredient you want to incorporate until you are sure it will perform as intended.
Next, choose the form of your product – what does it look like? Is it a balm, solid cleanser or concentrated powder, or is it oil or water based? Consider its colour and scent, and how it will be packaged for the consumer. Perhaps it doesn't have packaging at all, or maybe it will be sold as a refillable product. See our detailed guide to green packaging which gives you plenty of direction an avenues to explore: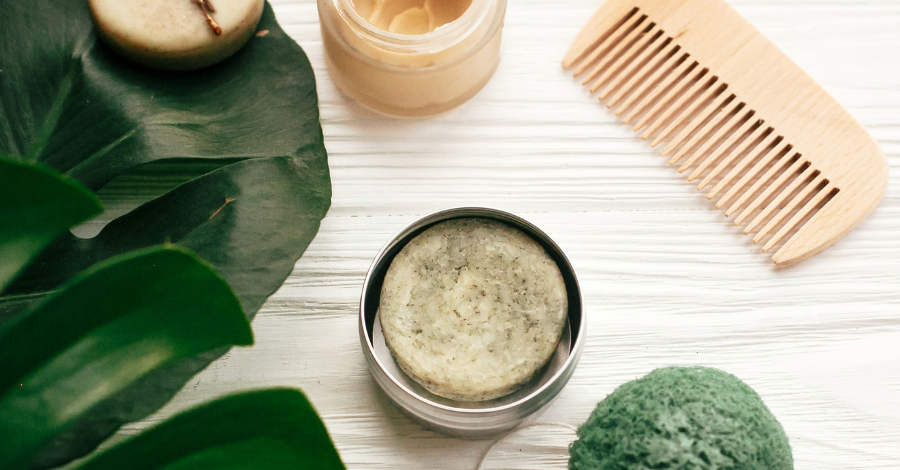 When it comes to haircare, the sky is the limit. Consider these most sought-after products that are ranking high in search engines today:
Cleansing: gentle and effective shampoos that will not strip the hair's natural oils, while protecting against the elements. Consider a foaming shampoo, or maybe a concentrated shampoo to which your customer adds their own water.
Conditioning: for soft, manageable hair that won't split, frizz, fly away or get greasy the next day.
100% natural or 'no-poo' cleansers: think of oil-to-milk cleansers that don't foam yet cleanse naturally, and gentle oleogels for the hair, that are perfect for sensitive skin and babies.
Shampoo bars and conditioners: there are so many new ingredients on the market for these trending solid, waterless products; so many plant-based colours and unique shapes are possible with these more sustainable options.
Food for the scalp: you can design nourishing scalp treatments, whether oil- or gel-based serums, to soothe the scalp and support its microbiome. How about using some beautiful marine algae-based extracts and overnight leave-in treatments, or a hair tea for itchy scalps?
Styling products: create leave-in conditioners that provide curl hold, or a spritz for that beachy look, or try making a gentle mousse or a scented hair tonic.
Natural colorants: explore the world of natural colourants which has been firmly the domain of mainstream haircare brands. This may be a tricky area to tackle, but one in which you can gain recognition if you get it right with performance products.
Upcycled ingredients: this is very on-trend and in line with sustainable beauty and consumption. Think about using by-product waste from other industries such as food and drink. See our podcast with Upcircle Beauty, an indie brand doing just this.
Sustainability: be mindful about where your botanical ingredients are sourced and think through the end use of your packaging choices. Become more aware of each step you take in order to create beautiful haircare products. This will help you rise above the mainstream and be well respected in the natural haircare community. All our choices matter from cradle-to-grave or even the cradle-to-cradle in the life cycle of our beauty products.
For more inspiration, take a look at our post on haircare trends which we update regularly:
If you've enjoyed this post, you may like to take a look at some of the natural haircare formulations we offer on our blog:
Natural styling products: make a natural hair wax
How to make a babassu deep conditioning hair mask
How to make an organic natural hair conditioner
Formulate a natural shampoo with mint and rosemary
How to make a solid shampoo bar
Learn more about botanical haircare formulation
Creating a spectacular and natural haircare product is just the beginning. Once you have seen others test and love your product, why not bring it to market? As you can see from our examples of haircare products and formulating philosphies above, the possibilities are endless. Start by designing one single product that succeeds and who knows, you may just be the next success story in the long line-up of Formula Botanica graduates.
Want to learn how to become an organic haircare formulator? Pre-register to explore the world of natural haircare on our Diploma in Organic Haircare Formulation. On this course, you learn about some of the most innovative ingredients in the global beauty industry and go on to create high-performance, organic haircare formulations.
pH of hair and scalp graphic: credit – Suzanne Soto-Davies
Leave us a comment
comments