You may think that the days of the toner are over in our skincare routines. In recent years, toners have been sidelined and even described as old fashioned. In our drive to use fewer skincare products and adopt minimalist skincare regimes, do we really need a toner at all? Surely, a good cleanser and moisturiser, plus perhaps a serum to target specific skin issues, should be sufficient.
That said, we believe that there is still a valuable place for toners so we'll start off this formulation post outlining why.
Why use a toner?
Toners are wonderful multi-tasking products so do fall into a more pared down skincare routine. They can remove residual make-up, freshen up your skin and tone it. They can help balance the skin's pH in case your cleanser is more alkaline – some people still like using soap even for their face – or if you've used a more acidic cleanser such as those with AHA/BHA liquid exfoliants.
Toners can also help improve the skin feel and mitigate the effects on the skin of environmental stressors and issues such as poor diet, environmental pollution, smoking and blue light not to mention the maskne, which is the name coined for acne mechanica – or small lesions, redness and soreness exacerbated by mask wearing.
Beginner formulators usually start out blending oils to make salves and anhydrous creams, which are relatively easy to make and do not require preservation. However, anhydrous products might not be suitable for all skin types nor in summer or in hotter climates when we might find them far too greasy and heavy. In these situations, toners, micellar waters, mists and light emulsions become attractive options. They all fall into the category of water-based products, but in this post, we're focusing on the simple and original style of toner which uses hydrosols.
And finally, your skincare routine should always be a relaxing moment, so toners, with their aromatic hydrosols, can add some welcome aromatherapy to your day.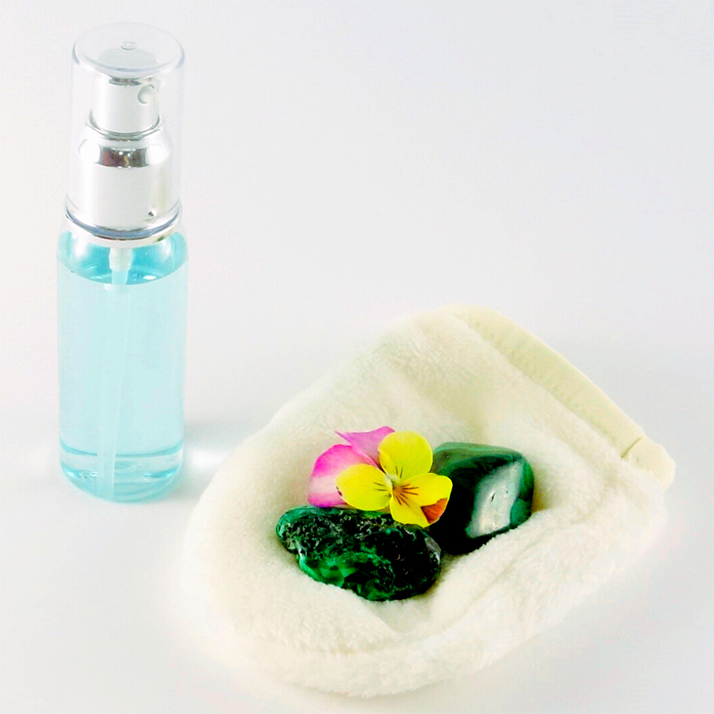 What goes into a facial toner?
Many store-bought toners rely on cheap fillers with water as the main ingredient along with alcohol. Natural formulators often want to incorporate the power of herbs and botanicals in their products. This is where we come across hydrosols or hydrolats – pure, water-based solutions which are co-products along with essential oils of the steam distillation of botanical matter.
These aromatic waters can add a wonderful fragrance to your water-based products and bring amazing benefits without irritating the skin. This is in contrast to essential oils which in leave-on skincare are subject to strict usage limits and require a solubiliser to be safely dispersed into water or water-based products.
It is always important to check your hydrosol INCI to ensure you do not buy what we call fake hydrosols. You may have come across the term 'floral waters' but this may cover aromatic waters created from roots, bark, leaves or wood, not just the flowers, or may be simply water in which essentials oils are solubilised. Pure, genuine floral hydrosols contain a multitude of aromatic molecules and actives that you can impart into your toner.
Making a DIY Toner
Toners are not difficult to make. You could simply choose any hydrosol and start using it neat on your skin, in a spray bottle as a mist, or on a cotton pad and wipe your face with it.
Make sure your hydrosol is properly preserved by the manufacturer otherwise you will need to add a suitable preservative yourself. You may find it interesting that hydrosols from different herbs come with a different pH levels, so this needs to be factored in when choosing a preservative.
You can even dilute the hydrosol with distilled water in a 1:1 ratio and you will find them potent enough to give therapeutic benefit and a sensory, aromatic experience.
Face toners are fabulous multitasking products for minimalist skincare. Try this @FormulaBotanica easy witch hazel toner to make at home. #facetoner #skinimalism #naturalskincare
Click To Tweet
Witch hazel toner ingredients
Witch hazel is our hero ingredient for this product. First, let's start with a bit of history or etymology: the name witch hazel doesn't have anything to do with witches. Coming from the English word "wyche", it relates to the plant's bendiness and flexibility of its twigs. The leaves of the plant look similar to those of the traditional hazelnut tree.
The word "Hamamelis" refers to the simultaneous occurrence of blossoms with fruit and literally means "together with fruit". And "Virginiana" refers to the native growing region of witch hazel which is North America; in particular, the state of Virginia.
Witch hazel has been used for centuries for diverse purposes. In herbal medicine, the plant was decocted and applied to reduce swelling and inflammation. Its branches were used to make bows and divining rods to locate water and mineral deposits.
Witch hazel hydrosol calms and hydrates and is suitable for all skin types, but is best for oily or combination skin due to its astringent properties. It is also antiseptic and supports micro-circulation. Witch hazel hydrosol is much gentler than any essential oils. It can calm acne-prone skin and you can also use it in your clay masks. It has the effect of giving radiance to the skin.
Ensure you buy pure hydrosol as many witch hazel waters are sold as hydro-alcoholic extracts containing a high amount of ethanol.
Other ingredients
Green tea hydrosol
Green tea is a popular antioxidant used in skincare in extract and hydrosol forms. It is rich in polyphenols and catechins and has amazing anti-inflammatory and antioxidant benefits. It works synergistically with witch hazel and together they have antimicrobial effects against both strains of Staphylococcus aureus and S.epidermidis which was investigated in this research.
BIOLIN/P (Inulin)
This is is a cosmetic prebiotic to support the good (commensal) bacteria on our skin, while foreign and harmful organisms cannot digest it. Helping the microbiome is a big trend these days and you can get inulin alone or in a blend with other polysaccharides. As an aside, prebiotics are especially suitable for sensitive skin, baby skin, feminine hygiene and diabetic skin.
Niacinamide
Niacinamide is a wonderful, multifunctional ingredient that should definitely be a staple in the natural formulator's lab. It is a true multi-tasker that is both gentle and stable and easy to work with.
It is particularly effective in the care of acne-prone skin and in reducing oil sebum production, inflammation and acne lesions. It improves the surface structure of the skin, increases skin's elasticity and reduces fine wrinkles. Moreover, it increases collagen production.
When formulating, please keep in mind that niacinamide does not like being mixed up with acidic products because it can change its chemical structure and make it less effective.
Mala'Kite™
Mala'Kite™ is an innovative active mineral extract rich in trace elements and copper. This powerful antioxidant helps detox the skin and brings protection against environmental stress factors such as pollution and is perfect in products targeting the urban skincare consumer. It gives products a beautiful turquoise colour. If you can't find this ingredient easily (see our suggested suppliers below), feel free to remove it and add 2 per cent more of hydrosol. Alternatively, trial out some other water-soluble colourants but be aware that not all natural colourants are stable and some may discolour over time, and that they may be pH dependent. See our post 38 natural colourants for some suggestions.
Dermofeel PA-3
This is a chelating agent derived from rice bran and it enhances formulation stability and acts synergistically with cosmetic antioxidants.
Biogard 221/ Geogard 221
This broad-spectrum preservative is synthetic but acceptable in natural skincare. It is Cosmos and Ecocert approved. This blend of Dehydroacetic acid and Benzyl alcohol was chosen because it allows a higher final product pH (more alkaline) than other known water-soluble preservatives such as Dermosoft 1388 ECO (INCI: Glycerine, Aqua, Sodium levulinate, Sodium anisate) or a commonly-used blend of Sodium benzoate and Potassium sorbate, both of which work with a pH up to 5.5. The amount was not at the maximum of the recommended range for this preservative because the green tea hydrosol we used was already preserved with the same blend. It comes under the name of Cosgard. Do check the INCI of any preservatives as trade names vary.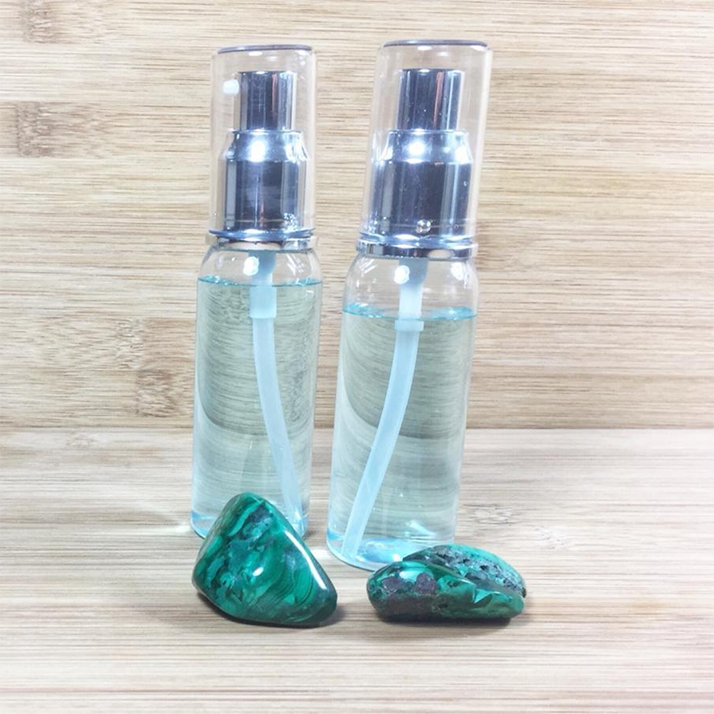 Our Formulation: Witch hazel toner
Our toner formulation is one level above a simple hydrosol and includes a few active ingredients as well. This toner has a lovely herbal scent and does not require additional aromaceuticals. You can obviously add solubilised essential oils if you wish, but the two hydrosols are sufficient here.
Makes: 100 grams
Time taken: 30 minutes
| | | | |
| --- | --- | --- | --- |
| Phase | Ingredients | INCI | Weight |
| A | Witch hazel hydrosol | Hammamelis Virginiana flower water | 40.00 |
| A | Green Tea hydrosol | Camellia sinensis leaf water, Benzyl alcohol, Dehydroacetic acid | 20.00 |
| B | Distilled Water | Aqua | 33.00 |
| B | Biolin Inulin | Inulin and Alphaglucan oligosaccharide | 1.10 |
| B | Dermofeel PA3 | Sodium Phytate, Aqua, Alcohol | 0.10 |
| B | Niacinamide | Niacinamide | 3.00 |
| C | Mala'Kite™ | Malachite extract (and) Aqua | 2.00 |
| D | Biogard 221/ Geogard 221 | Dehydroacetic acid, Benzyl alcohol | 0.80 |
| | | | Total: 100.00 |
Method of Manufacture
Phase A

Weigh and blend phase A ingredients in a beaker.

Phase B

In another beaker, weight phase B and stir with a glass rod to dissolve the powders.

Combine phase A and B

Incorporate phase B into phase A.

Phase C

Add phase C. This will change colour to a beautiful turquoise.

Check pH

Check the pH and add the preservative. Stir properly with a glass rod.

Recheck pH

Re-check the pH and adjust it to 5.8 – 6. Use lactic acid to reduce the pH or L-arginine to increase the pH.

Bottle

Pour into a suitable container – a bottle with a disc top or a mist spray – and label with batch number and date.
Formulation Tips
You can definitely leave out Mala'Kite™ as it may not be easy to source. If you really want the blue hue, you can try alternative colourants such as blue spirulina which creates a darker blue. Butterfly pea infusion, sadly, is sensitive to UV light and will fade over time. If leaving out the Mala'Kite™, adjust the percentage of hydrosols to compensate.
Make sure all your ingredients are water-soluble, otherwise you will need to add a solubiliser.
You can replace the water with yet another hydrosol to give extra benefits, or simply use more witch hazel or green tea hydrosol.
You can always add more water-soluble actives for even better performance.
Suggested Suppliers
Hydrosols:
Florihana (EU): organic hydrosols
Aromazone (EU): Witch hazel hydrosol
Alexmo Cosmetics (EU): Green Tea hydrosol
Actives, additives & Preservatives:
Aromantic (UK): Vitamin B3
Aromazone (EU): Inulin
Gobiotics: BIOLIN/P
New Directions (Aus): Vitamin B / Niacinamide
Alexmo Cosmetics (EU): Niacinamide
Handymade (EU): Niacinamide
Alexmo Cosmetics (EU): Biogard 221
Nature Store (Czech Republic): Mala'Kite™. The manufacturer of Mala'Kite™ is Gattefosse.
USA
Formulator Sample Shop has most of the ingredients but you may need to search for US suppliers of our chosen preservatives.
---
FAQs
What are toners for the skin?
Face toners are water-based skincare products with low viscosity used for a variety of reasons from cleansing residual makeup to toning and refreshing the skin to improving its overall look and feel by supposedly reduce pores and give radiance to the face. They are a useful multi-tasking cosmetic and although they not new products, they have been given a new lease of life as micellar waters, floral mists and other similar cosmetics.
How do you use a face toner?
Toners are used after cleansing both morning and evening and before applying moisturisers, serums and any makeup. They are useful in removing last traces of cleansers and old makeup and prepare the skin's surface for emulsion-based moisturisers which can help lock in any moisture from the toner.
What is in a facial toner?
Toners can be as simple as a single hydrosol which can be sprayed from a bottle. They usually contain a large percentage of water or water-based extracts such as hydrosols. As they are semi leave-on products, they may also contain specific, skin-beneficial active ingredients such as vitamins, Niacinamide which aids the skin's elasticity and reduces fine wrinkles, and minerals, along with suitable preservatives. Their aroma may come from floral hydrosols but it is common to find essential oils solubilised in toners or synthetic fragrance used. Mainstream toners are likely to contain alcohol, which may be skin drying.
Where can I learn to formulate natural skincare and haircare?
Join us at Formula Botanica, where tens of thousands of students and followers take our free and paid online courses to learn how to formulate organic skincare and haircare for themselves or to sell and also how to set up a beauty brand and business.
FREE FOUNDATION COURSE
How to become an
Organic Skincare Formulator
By providing your details, you agree to receive additional educational & marketing emails from Formula Botanica, which further introduce our curriculum. Your data is never shared or sold. Read our
Privacy Policy
.
FREE TRAINING
How to become an
Organic Skincare Entrepreneur
Join over 100,000 other Formulators
By providing your details, you agree to receive additional educational & marketing emails from Formula Botanica, which further introduce our curriculum. Your data is never shared or sold. Read our
Privacy Policy
.
FREE TRAINING
How to become an
Organic Skincare Entrepreneur
Join over 100,000 other Formulators
By providing your details, you agree to receive additional educational & marketing emails from Formula Botanica, which further introduce our curriculum. Your data is never shared or sold. Read our
Privacy Policy
.
Leave us a comment
comments