Formula Botanica welcomes thousands of new students each year onto our foundation-level Diploma in Organic Skincare Formulation which is a popular starting point for those new to natural formulation. This course gives our students a solid working knowledge of skincare science and practical experience in formulating some key types of cosmetics, including several types of anhydrous formulation.
Beginner formulators often start out making salves and anhydrous blends which are relatively easy and do not require preservation. Interestingly, these simple formulations hold their own in a cosmetics' industry driven by the very latest trending active ingredients. We have seen our graduates create successful indie beauty brands based not only on anhydrous products but also those formulated with just a few ingredients.
With a keen eye on the current trend for minimalist skincare – or skinimalism, which sees beauty consumers keen to reduce their consumption of products, and indie beauty formulators encouraged to use fewer ingredients in their creations, we introduce our formula for a skin-nourishing, yet simple to enjoy and make face oil.
Our theme for this oil is African ingredients. See the post below for more information on African oils that you could use in our suggested formula. The podcast gives a very interesting background on the green beauty scene in Africa today.
10 Top African Skincare Ingredients
Podcast 65: What Africa can teach the world about green beauty
When it comes to oils and butters, often less is more – so long as you choose your oils carefully and ensure they fit the purpose of your intended product. While anhydrous ingredients may seem simple, the sheer number on the market can be confusing. Which oils, for example, nourish the skin but are not greasy? Which natural oils are suited to acne-prone skin? What about the stability and oxidisation of oils? And will your intended consumer like the scent of unrefined oils or prefer refined oils or a product fragranced with essential oils?
As you can see, face oils may be simple to formulate but their success in performing on the skin depends on you the formulator making some clear choices on which oils to include and why. You may also, like us, opt for an overriding theme as well as target a specific customer or skin type. And why not explore some gorgeous plant oils from your country or region to emphasise the geographic provenance of your face oil?
These links will help in your research and also offer some alternatives to our suggested oils in the formulation.
10 best zero waste oils for skincare and haircare
The chemist's guide to checking plant oils for heat sensitivity
8 best oils for botanical infusions
10 best winter carrier oils for skin and hair
How to make macerated oils
Oils and balms are not ruining your skin: a rebuttal

Want to try natural skincare formulation? Make this @FormulaBotanica easy face oil formulation with gorgeous African oils. #faceoil #naturalformulation #DIYskincare
Click To Tweet
Face Oil: Ingredient Choices
Our formulation is aimed at giving a light skin feel and so is ideal for those living in hotter climates or for spring and summer skincare. We wanted to create a multi-use face oil that while drier and quick absorbing also includes nourishing plant oils that work for dry skin too. That is the beauty of plant oils; once you start to explore them in depth, you find oils for all seasons and skin needs. However, we did experiment with several combinations of African oils to find the optimum blend for our needs.
First, we tried blending different amounts of Kalahari melon oil and marula oil along with olive squalane, but the result was way too greasy and stayed on the skin for too long. For scent, we experimented with cocoa absolute but this proved too heavy and viscous and gave the face oil an undesirable dark brown colour. For scent, we opted for frangipani which is a tropical plant that grows in South Africa and gives the face oil an exotic aroma.
When working with essential oils, concretes and absolutes to impart fragrance do think also about the aesthetic look of your finished product. Although essential oils are added in very small amounts – generally, at no more than a one per cent blend in leave-on cosmetics for use on the face – they can leave residue or discolour your product. The scent we add to oils macerates over time and strengthens, so do not be tempted to add more as it may overwhelm the product and also run the risk of going over dermal limits (depending on your choice of aromatic oils). Consumers tend to have fixed ideas of what a face oil should look and smell like. This is not to say don't be creative, but just ensure your product and or brand story explains your choices.
Argan oil
Argan oil, indigenous to Morocco and often called liquid gold, is an excellent skincare oil which does not feel greasy and has amazing protective benefits as well as being suitable for problematic skin. Rich in vitamin E, polyphenols and carotenes, argan oil is a popular staple in many anti-ageing product lines for its anti-inflammatory and moisturising qualities. It can balance sebum production and promote a smooth complexion. It has long been a favourite in haircare formulations too.
Desert Date oil
Desert date oil is a nourishing, regenerating and revitalising oil for both face and hair and is rich in antioxidants. It is ideal for dry to combination skin. Light gold in colour, it has a low odour profile and non-greasy feel and penetrates the skin relatively quickly. Desert date oil is extracted from the fruit of an African tree (Balanites roxburghii) that grows in arid and semi-arid zones on the edge of the vast Sahel desert which divides the Sahara from the tropical Savannah to the south. Our selected supplier obtains the oil from women's cooperatives in Burkino Faso and supports the sustainable harvesting of the oil and planting of new trees.
Rice bran oil
Rice bran oil is deeply emollient, but as it absorbs well it still fits our concept of creating a dry-feel face oil. Rice is a crop in Africa; some types grown there today probably evolved from African wild rice strains. Most rice bran oil for cosmetic use comes from other parts of the world however; typically India. We include it to complement the two African oils as rice bran oil is rich in vitamin E, Omega 6 oils and antioxidants. Ideal for dry, mature and sensitive skin, rice bran oil is a useful all-rounder as it is equally at home in hair and nail care formulations.
Vitamin E is an antioxidant which is added to slow down the rancidity of the oils we used. Light and heat speed up plant oil degradation so we recommend decanting your formulation into dark glass bottles.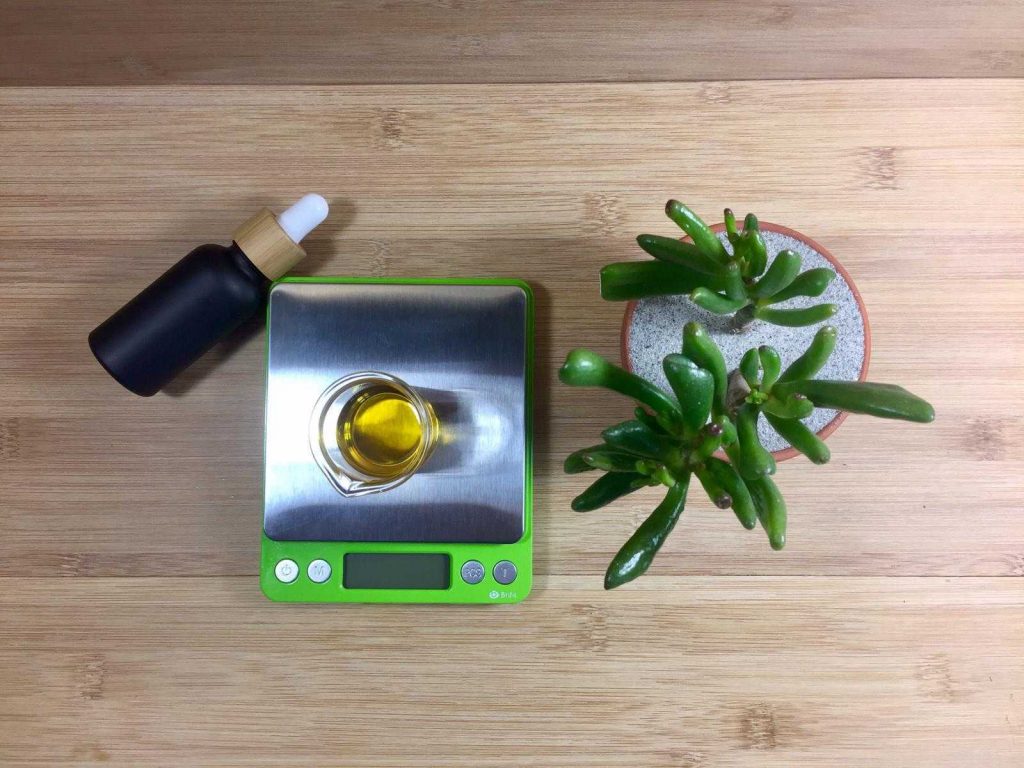 Our Formulation: Simple Face Oil
Feel free to replace any ingredients but realise that doing so may create a different skin feel. In testing our formulation blends, we made 25 gram samples (half the formula amount below). This is a good batch size to test different oil combinations and doesn't waste ingredients if you are not happy with the skin feel. If you do not like a particular blend on your face, you can always add or change ingredients or use rejected batches as body oils.
Makes: 50 grams
Time taken: 15 minutes
| | | | |
| --- | --- | --- | --- |
| Phase | Ingredients | INCI | Weight |
| A | Argan oil | Argania spinosa kernel oil | 17.50 |
| A | Desert date oil | Balanites roxburghii seed oil | 17.00 |
| A | Rice bran oil | Oryza sativa oil | 15.00 |
| B | Vitamin E | Tocopherols mixed, Helianthus annuus seed oil | 0.30 |
| B | Frangipani absolute oil | Plumeria alba oil | 0.2 |
| | | | Total: 50.00 |
Method of Manufacture
Phase A and B

Weigh all the ingredients in a single glass beaker, taring the scales between each ingredient. Stir with a glass rod until all the oils are well blended.

Bottle and label

Decant into a glass dropper bottle, preferably a dark one, and label.
Suggested suppliers
Aroma-zone (EU): desert date and frangipani absolute
Sheabutter Cottage (UK) offers a range of exotic oils from Africa.
Aromantic (UK/worldwide): has a range of oils including argan oil.
Formulator Sample Shop (USA): a range of oils to explore.
---
FAQs
Do you need a face oil?
Face oils can be used instead of an emulsion moisturiser for both day and night use. Face oils are generally formulated with anhydrous oils such as grapeseed, rosehip and sunflower as well as liquid waxes like jojoba but can include some oil-soluble additives like vitamin E. Using a face oil is down to personal preference but it's worth knowing that contrary to belief, face oils need not be greasy or heavy on the skin. They can be formulated with fast-drying, quick-absorbing and light skin-feel oils and for use on a variety of skin types and issues. Even acne-prone skin can benefit from certain oil formulations. They can also double up as cleansers, removing oil-soluble dirt and grime.
Do face oils work?
To gain the benefits of using a face oil, you need to choose one formulated for your skin type or needs. Face oils can be aimed at reducing trans-epidermal water loss (TEWL) and be heavier emollients designed to aid the skin barrier. Alternatively, they may be composed of lighter, dry skin-feel oils that absorb fast and leave little epidermal residue making them suited to daytime use or on oilier skin. Look at the oils chosen in a formulation and decide if they meet your particular skin needs. Botanical face oils and those with less refined carrier oils are ideal. They contain numerous beneficial components such as vitamins and phytosterols which are plant-derived, cholesterol-like molecules that can help restore and replenish skin.
What's the difference between a face oil and a serum?
The name serum is used for a wide variety of facial skincare cosmetics designed to deliver high-performance actives to target specific skincare needs such as dark spots and fine lines. Serums include light emulsions, gels, water-based products and pressed balms as well as purely anhydrous formulations including face oils. So, a face oil can be called a serum. However, as many common active ingredients, such as vitamin C, tend to be water soluble, a face oil will rely more on its botanical oils alone to deliver skin benefits.
Where can I learn to formulate natural skincare and haircare?
Join us at Formula Botanica, where tens of thousands of students and followers take our free and paid online courses to learn how to formulate organic skincare and haircare for themselves or to sell and also how to set up a beauty brand and business.
FREE FOUNDATION COURSE
How to become an
Organic Skincare Formulator
By providing your details, you agree to receive additional educational & marketing emails from Formula Botanica, which further introduce our curriculum. Your data is never shared or sold. Read our
Privacy Policy
.
FREE TRAINING
How to become an
Organic Skincare Entrepreneur
Join over 100,000 other Formulators
By providing your details, you agree to receive additional educational & marketing emails from Formula Botanica, which further introduce our curriculum. Your data is never shared or sold. Read our
Privacy Policy
.
FREE TRAINING
How to become an
Organic Skincare Entrepreneur
Join over 100,000 other Formulators
By providing your details, you agree to receive additional educational & marketing emails from Formula Botanica, which further introduce our curriculum. Your data is never shared or sold. Read our
Privacy Policy
.
Leave us a comment
comments