Who doesn't love face masks? They're fun, they're relaxing, and they're effective. Interestingly enough, face masks are the one beauty product used by both skincare aficionados and the casual beauty product user. And, with an estimated market revenue of $4.25 billion by 2027 (i), face masks are here to stay.
In the last few years, face masks have grown in popularity. There is literally a perfect face mask for everyone, with formulations ranging from the traditional clay masks to innovative sheet masks. Face masks not only come in many formats, but they're also highly effective. Using a facial cleansing mask, for example, we may see almost instant results in the way our skin looks and feels.
You could formulate them too as there are face mask formulas to suit your experience and expertise. This article will guide you as we cover everything you need to know about the wonderful world of face masks. Let's dive in to learning about consumer needs, the various types of face masks available to you, and some trending ingredients you could incorporate into your own formulations.
What are face masks?
Face masks are vehicles that deliver active ingredients to the skin to quickly improve its appearance. While they do not need to be part of a skincare regimen, they are very popular as they offer immediate and noticeable improvements to the skin (ii). Let's take a quick look at the face mask market.
The thriving market of face masks
Face masks represent an important part of the beauty market. Asia-Pacific (ASEAN) consumers are the biggest users and innovators of face masks, accounting for 63% of total sales worldwide (iii). Consumption of face masks is also expanding rapidly worldwide, due in part to the rise of an ageing population, urbanisation, and an increased interest in health.
In this fast-paced world, consumers are looking for beauty products that deliver results quickly and face masks are perfect for doing this. Next, we'll find out about the different types of face masks available today.
Face mask magic: catering to every complexion
The benefits of clay masks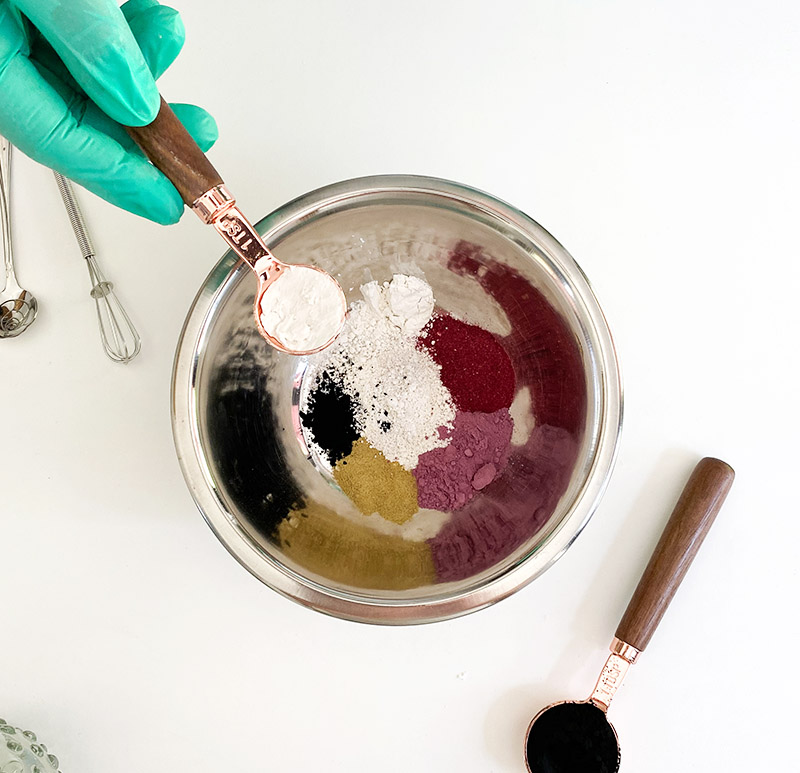 Clay masks are long-time favourites. While different clays have different actions on the skin and are aimed at different skin types, in general, clay masks strip away any excess oil and dirt from the skin, and are therefore considered best suited to oily skin.
These masks date back to ancient India, where they were used according to Ayurvedic tradition. Ancient Egyptians loved clay masks as well: Cleopatra is said to have used clay on her face to draw out impurities, and these masks were also popular in Roman and Greek bathhouses. The rise of the DIY cosmetics' trend in the 1990s saw people mixing clay with other ingredients to help cleanse their skin. Nowadays, clay masks are still staple products, and you could formulate them using a variety of clays, from rhassoul to kaolin, which is the most popular type of clay. Kaolin comes in a variety of colours, is tolerated by all skin types, provides a velvety feel, and gently cleanses the skin.
Clays can be irradiated or sterilised using other procedures, such as exposure to ozone gas. Ask your supplier for details of the manufacture of the raw clay materials you choose if this is important to your formulation ethos and type. You could also use non-radiated powders such as charcoal powder for its anti-inflammatory properties. Here's a formulation to try yourself:
Using clay masks: always apply them on clean dry skin and rinse them off with warm water. The heat and steam of the water also encourages perspiration and helps loosen dirt and oil from the skin as you remove the mask. This can make the pores appear smaller, although pores themselves do not open or close – this is beauty myth. Clay only works while it is drying, so do not leave your face mask until it is totally dry. An over-dry mask may also be difficult to wash off gently.
Clay mask formulation tips: formulations containing water and clay are very hard to preserve. This is because clays support microbial growth when wet and make preservation with natural and even synthetic preservatives more challenging. As preservatives often have their efficacy reduced when in contact with clays, they may not be sufficient to preserve your clay mask safely. We recommend you formulate dry powdered clay masks instead and give usage instructions on how to activate them at home by adding water or a hydrosol to the powder and then mixing it to form a paste. Also, when formulating with powders, wear a mask to avoid inhaling their microparticles.
The benefits of cream masks
Next, we have cream masks which are best suited to dry or sensitive skin. These can be anhydrous formulations or emulsions and are deeply hydrating as they replenish dry skin. Just look at this gorgeous cream formulation below that Formula Botanica student Amina Matrah (@Meina.care) created using brightening ingredients niacinamide and liquorice.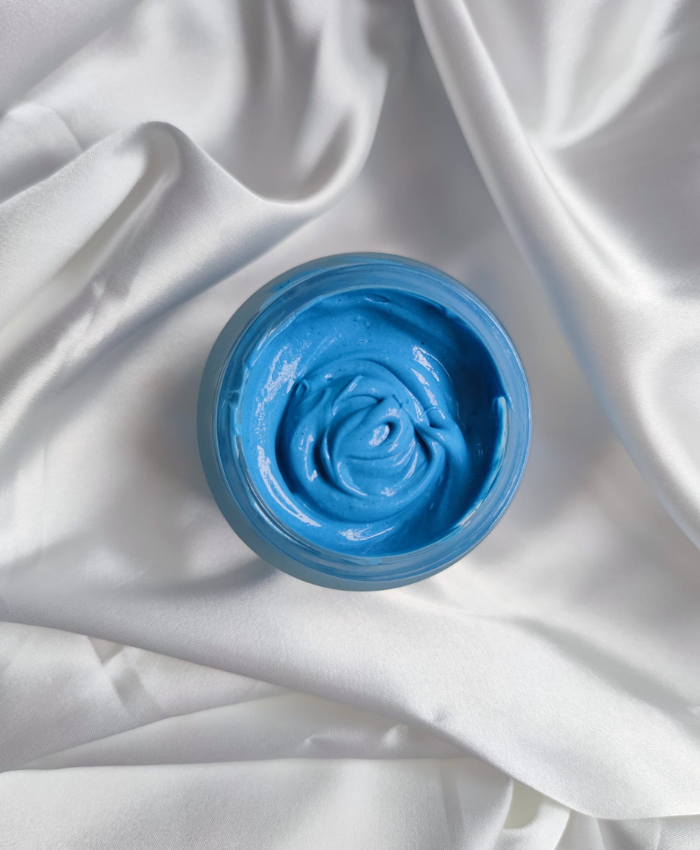 Just like Amina, you could create a beautiful cream mask formulation, using hydrosols, carrier oils, butters, macerates and glycerites. The possibilities are endless.
Think about what specific skin concern you want to tackle. If you want to make a cream mask targeting mature skin, you could use rose hydrosol, macadamia nut oil, green tea glycerite and sea buckthorn macerate, and add ylang-ylang essential oil for scent, for example.
If you want to make an anhydrous cream mask, we recommend you experiment with butters, powders and macerates. Just be careful when you're heating oils, as some oils are more sensitive to heat than others. For formulation ideas, check out this superfoods-inspired anhydrous mask:
Cream mask formulation tips:
When formulating a mask or any product that contains water or comes into contact with water, it is important to preserve your formulation adequately. See these posts for more on using preservatives and ensuring cosmetic stability:
Everything you ever wanted to know about natural preservatives
3 reasons all skincare formulations must undergo stability testing
4 signs of cosmetic product instability
The benefits of gel masks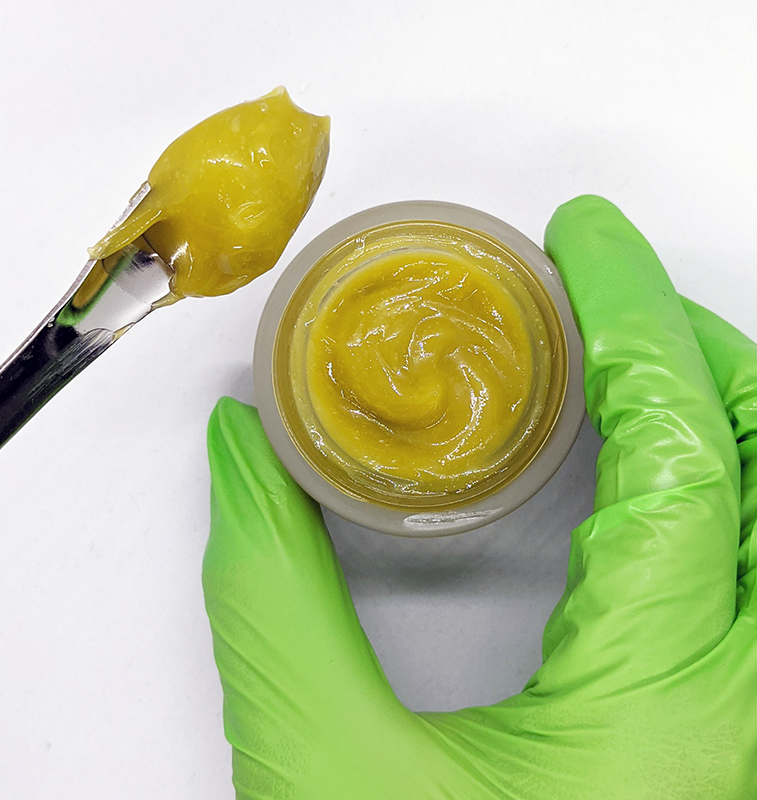 Gel masks are quite similar to cream masks, in that their prime purpose is to hydrate the skin. However, gel masks are lighter and can benefit all skin types, especially dehydrated skin. Similar to the use of some cream masks, some gel mask formulations can be worn as a thin layer overnight.
If you are formulating a water-based gel, use ingredients to soothe skin irritation such as calendula hydrosol, wheat germ oil, colloidal oat powder, or chamomile essential oil.
You could also choose to formulate an oleogel mask (an oil that turns into milk in contact with water). This type of gel mask is ideal to cleanse the skin without it feeling dry. Here are some oleogel bases you could use:
How to make an oleogel cleanser
How to make a simple gel facial cleanser
Gel mask formulation tips: if adding essential oils to a water-based formulation (other than emulsions), you need to use a solubiliser to ensure the essential oils are evenly incorporated and dispersed. This will help avoid the oils pooling on the formulation's surface and being in concentrated, direct contact with the skin which may cause skin irritation or sensitisation.
The benefits of exfoliating masks
If your skin requires deep cleansing and a radiance boost, exfoliating masks are the perfect way to remove dead skin cells by accelerating desquamation (the skin's natural shedding and renewal cycle) and improving the skin's overall texture.
These come in many formats: you can use a cream- or gel-based mask and add scrub particles to them. We recommend you use natural exfoliating ingredients such as almond meal, jojoba beads or rapadura sugar.
As you become more confident in your formulation skills, you can create peel-off masks or enzymatic masks. Formula Botanica graduate Miguel Flores formulated this gel-scrub mask using fruit enzymes, some carrier oils, strawberry seeds and a natural colourant.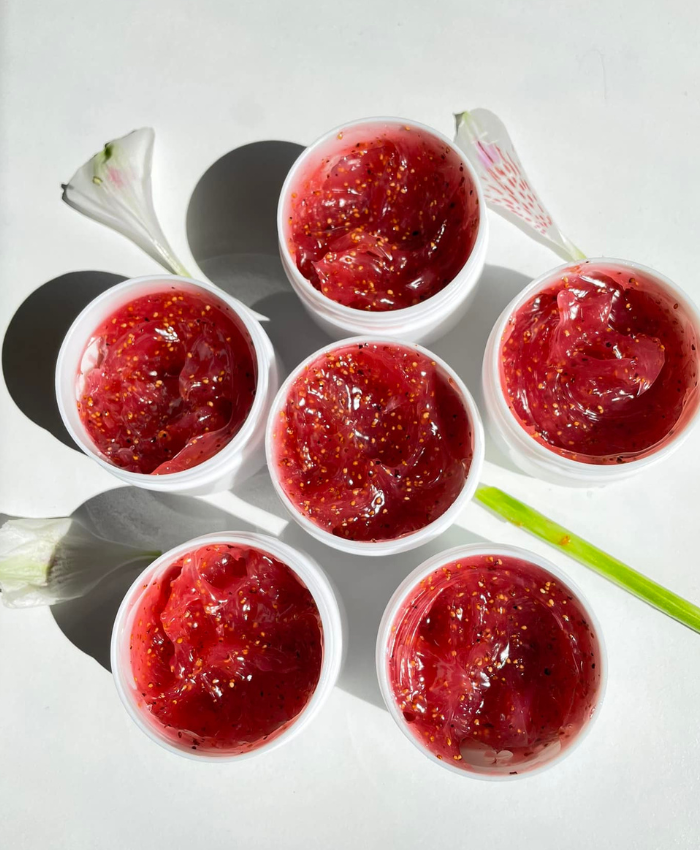 Exfoliating mask formulation tips: some exfoliating ingredients are suitable only for facial or body use. Use gentler ingredients on the face, and coarser ingredients on the body. Using coarser exfoliants on the face could cause micro-tears on the skin.
The benefits of sheet masks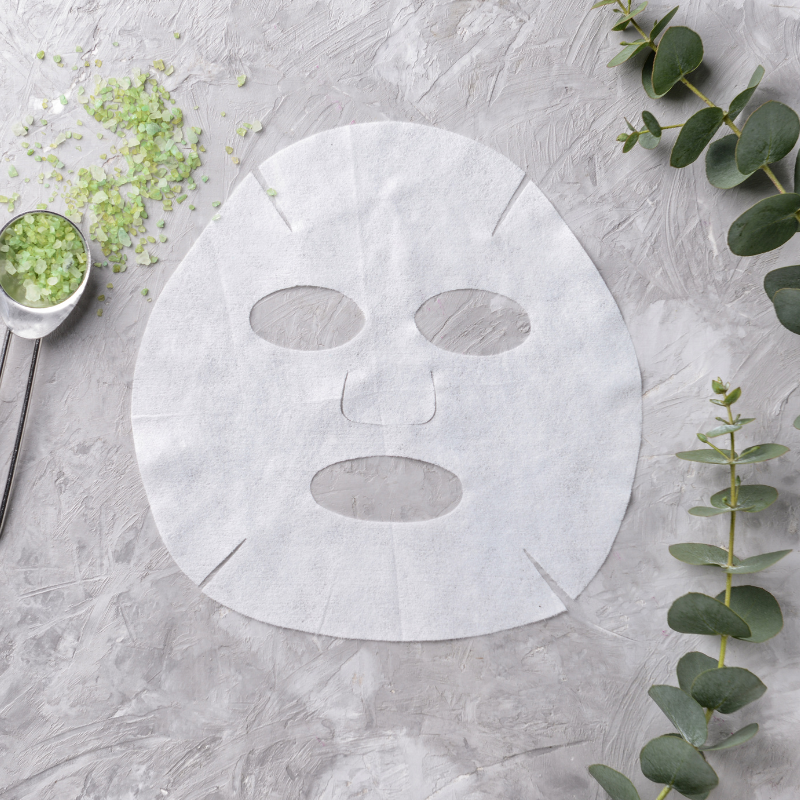 If you're an advanced formulator, you might want to look into sheet masks, which originated in the Asian cosmetics market. They are single use and contain high-performance ingredients soaked into a tissue and are aimed at hydrating and soothing the skin. Sheet masks are especially interesting as they prolong the skin's contact with the formula, allowing a longer release of any high-performance ingredients (iv)(v). Also, as the sheet serves as a physical layer that prevents water evaporation during the application, these masks can help enhance skin hydration.
There are a variety of sheet masks available that are made out of different materials: non-woven, cotton, microfibre, and bio cellulose with some offering more sustainable formulation options (iv). Some sheet masks are also biodegradable. All in all, sheet masks are a fascinating subset of face mask products to research.
Embrace face masks in your natural formulation
Face masks are your best friend. It doesn't matter if you're a beginner or an experienced formulator, there is always some knowledge you could gain from exploring them.
Face masks have been popular since ancient times and, as we've discussed, they are as popular today as ever. They are the perennial crowd-pleasers because they render near instant results, are easy to use, are aimed at every skin type and concern, and also provide some relaxing time out in our busy lives.
There's a wide array of face masks out there from leave-on and rinse-off to overnight masks. In this guide, we covered the most popular types of face masks, and you could have a go at formulating any of them. Now is the perfect time to create your face masks as the market is wide open for natural face masks tailored to customers' skincare needs and sustainability demands.
You can choose to formulate them for your family and friends or incorporate them as part of your natural indie beauty brand like our graduate OKOKO Cosmétiques. Formula Botanica courses can help elevate your formulation expertise to help you create natural masks to meet your needs.
References and further reading
(i) Face masks worldwide market – Statistica.
(ii) Nilforouschzadeh et al, 2018, Skincare and rejuvenation by cosmeceutical facial mask.
(iii) Clin et al, 2019. Journal of Clinical and Cosmetic Dermatology Beauty Mask: Market and Environment): Beauty Mask: Market and Environment.
(iv) Perugini et al, 2019. In vivo evaluation of the effectiveness of bio cellulose facial masks as active delivery systems to the skin.
(v) Siri et al, 2019. Development of natural facial masks from local materials.
FREE FOUNDATION COURSE
How to become an
Organic Skincare Formulator
By providing your details, you agree to receive additional educational & marketing emails from Formula Botanica, which further introduce our curriculum. Your data is never shared or sold. Read our
Privacy Policy
.
FREE TRAINING
How to become an
Organic Skincare Entrepreneur
Join over 100,000 other Formulators
By providing your details, you agree to receive additional educational & marketing emails from Formula Botanica, which further introduce our curriculum. Your data is never shared or sold. Read our
Privacy Policy
.
FREE TRAINING
How to become an
Organic Skincare Entrepreneur
Join over 100,000 other Formulators
By providing your details, you agree to receive additional educational & marketing emails from Formula Botanica, which further introduce our curriculum. Your data is never shared or sold. Read our
Privacy Policy
.
Leave us a comment
comments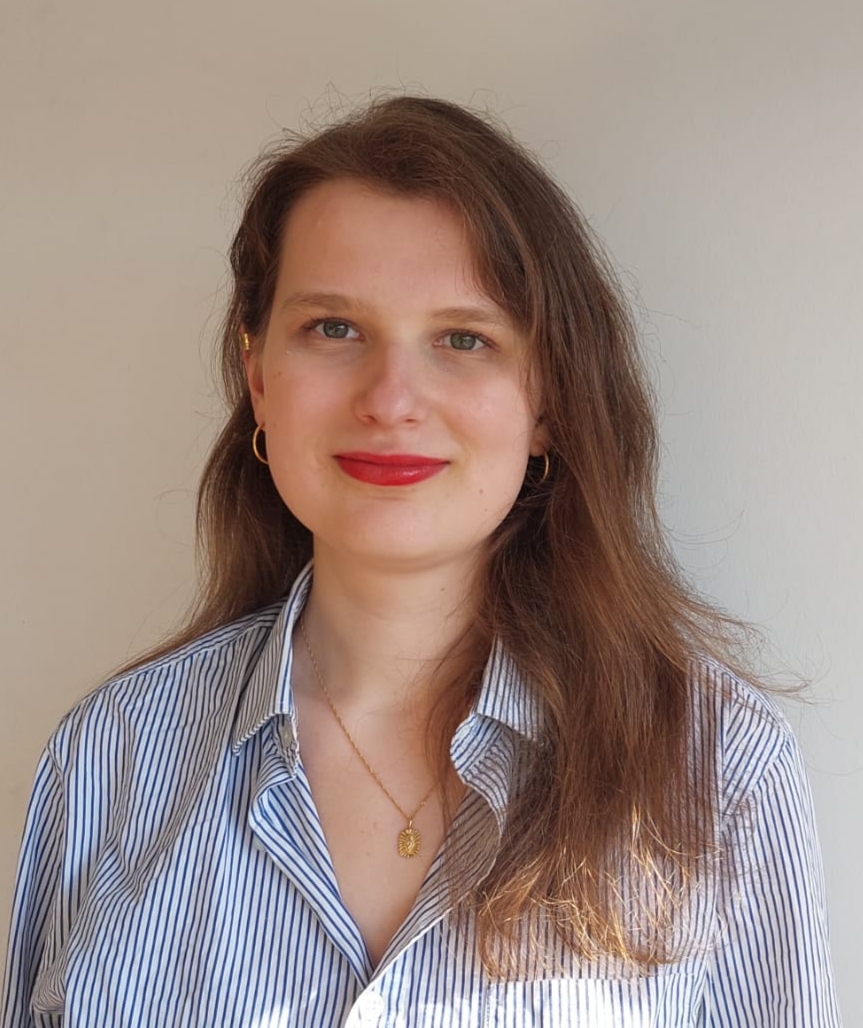 Ariane is a published journalist, blog writer, and content creator for Formula Botanica. Her areas of focus include beauty, human interest, and arts and culture. Ariane has also been a member of the Formula Botanica community since 2021 and is completing the International Skincare Entrepreneur Program.