We have several types of face cleanser formulations on this blog, but until now not a gel cleanser. We each have a personal preference about the products we choose for our twice-daily cleansing ritual, so we decided that you can never have too many options and that it was time for a popular product category – the gel cleanser.
We think you will love formulating this one not only because gels are very much on trend, but also because this cleanser has a gorgeous feel on the skin and a light, delicate wild flower fragrance in tune with early summer here in the UK, Formula Botanica's base. It is a simple formulation easy to adapt to botanical extracts you love or would like to include from your region. If you are interested in face cleansers, take a look also at our other formulations:
How to formulate a face cleansing powder – a simple, 'solid', waterless formulation.
How to make an oleogel cleanser – using Sucragel® emulsifiers to make colourful gels.
How to make an activated charcoal mask – a deep cleansing mask.
How to make a simple face oil with African oils – face oils can act as cleansers, but we advise using less expensive oils.
What is a natural gel cleanser?
A natural gel cleanser is the ideal product to use as a refreshing morning cleanser or as a second cleanse to remove makeup residue. The base of our gel is made from a blend of gentle surfactants to remove surface dirt and oil from the skin along with floral hydrosols for a delicate scent. We then add some water-based botanical extracts to include some added skin benefits. In addition, we use a viscosity modifier to give us the typical gelled consistency we want and a preservative to protect our water-based product from microbial growth.
Our chosen botanical extracts
Our blend of extracts for this gel cleanser is inspired by the bountiful wildflowers that are emerging as we head into summer here in the UK. The great thing about creating your own natural products is that you can customise them to suit your needs. You can swap our ingredients for those you have available, prefer or are native to your area and inspire you. We cover substitutions at the end of this blog post.
The extracts we have used for this product are dandelion and wild pansy. Dandelion and wild pansy extracts are known for their skin clarifying and cleansing properties which make them excellent for oily, combination skin types as well as younger/acne-prone skin, but they are also gentle enough to be used by sensitive skin types.
Formulate this easy @FormulaBotanica simple gel face cleanser with gorgeous summer flower extracts and scent. #facecleanser #gelcleanser #organicskincare
Click To Tweet
View this post on Instagram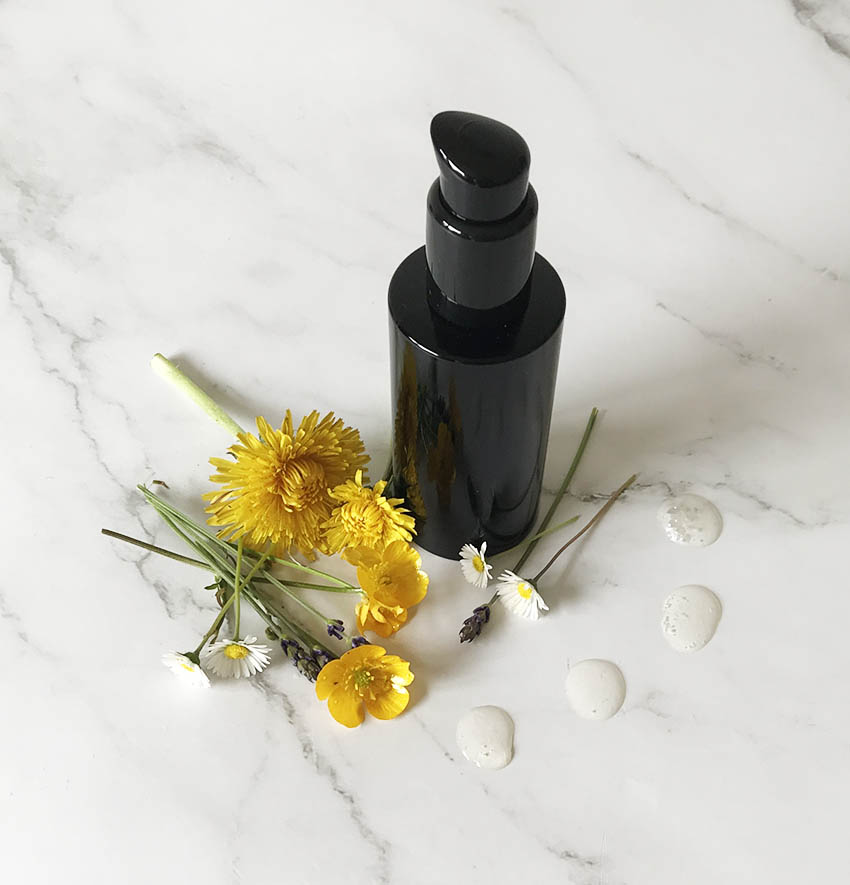 Choosing a natural gum blend
Blending gums can be somewhat of an art form and while it can be an exciting experiment to mix your own blends, sometimes when you are starting out a pre-made blend is the way to go. This is the route we have chosen for our dandelion and wild pansy gel cleanser so that we have the simplest manufacturing method. We have chosen to use a blend called Siligel™ (INCI: xanthan gum, lecithin, sclerotium gum, pullulan) because it is easy to use, creates minimal clumps and has a natural, silicone-like skin feel.
Choosing your packaging
As with any cosmetic you create, the container has a big impact on the overall product: its stability; efficiency; and the user experience. You could have the best product on the market, but if no one can get it out of the bottle, it's not going to fulfil its potential. This is why we need to use appropriate packaging for our products.
For our gel face cleanser we used a Miron violet glass pump bottle as it protects our product from light as well as adding a luxurious feel to the experience. You could also use a squeeze tube or a tottle-top to package your cleanser.
Our Formulation: Gel face cleanser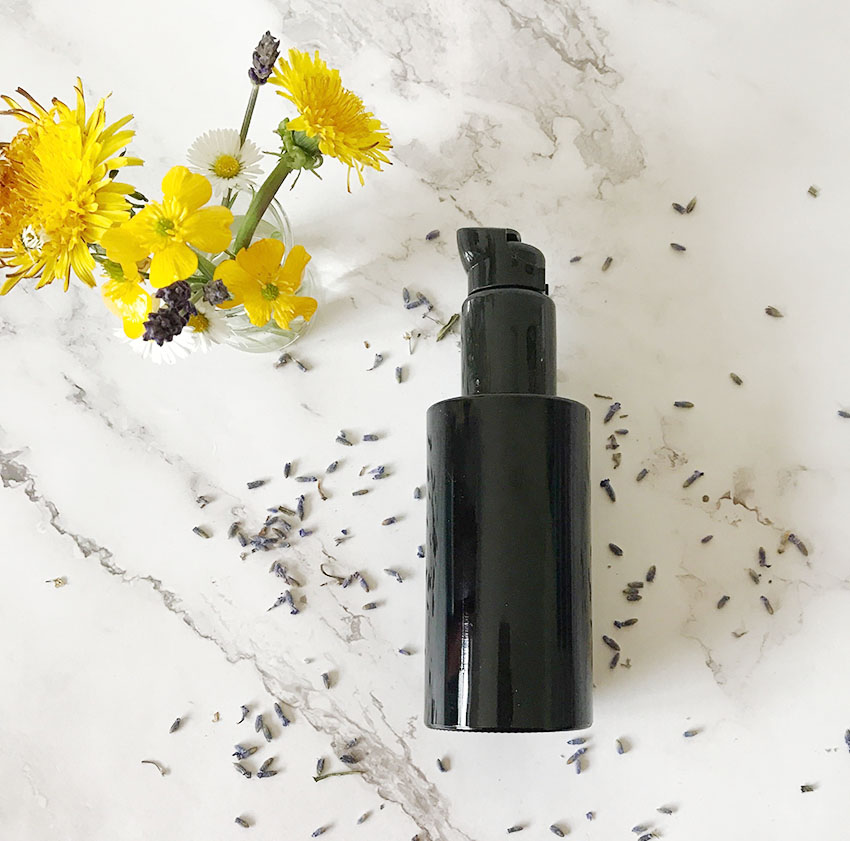 Makes: 100gms
Time taken: 20 minutes
Level: Beginner-level formulation to personalise and adapt.
| | | | |
| --- | --- | --- | --- |
| Phase | Ingredients | INCI | Weight (g) |
| A | Lavender hydrosol | Lavandula angustifolia (flower) water, potassium sorbate, sodium benzoate, citric acid | 78.00 |
| A | Wild pansy extract | glycerin, aqua, Viola tricolor extract | 3.00 |
| A | Dandelion extract | glycerin, Taraxacum officinal (Dandelion) extract, dehydroacetic acid, benzyl alcohol | 1.00 |
| B | Vegetable glycerine | vegetable glycerine | 6.00 |
| B | Siligel™ | xanthan gum, lecithin, sclerotium gum, pullulan | 1.00 |
| C | Caprylyl/Capryl glucoside | Caprylyl/Capryl glucoside | 5.00 |
| C | Cocamidopropyl betaine | Cocamidopropyl betaine | 2.50 |
| C | Decyl glucoside | Decyl glucoside | 2.50 |
| D | Sodium benzoate & potassium sorbate | Sodium benzoate (and) potassium sorbate | 1.00 |
| D | Lactic acid solution 80% | Lactic acid (and) distilled water | q.s |
| | | | Total: 100.00 |
Equipment: Glass beakers, scales, glass rods, stainless steel mini whisk, pH strips or a pH meter, pipettes.
Method of Manufacture
Prepare Phase B – Gum

Weigh out phase B into a small beaker and stir. We do this phase first so that the gum has a chance to saturate in the glycerine to make a hydrated slurry.

Surfactants

Weigh out all of the phase C surfactants and stir until well combined.

Hydrosol and extracts

Weigh out the phase A hydrosol along with the extracts and stir well.

Phases A and C

Blend together phases A and C using a mini whisk. Stir gently to avoid foaming and creating bubbles.

pH checking

Measure the pH of the product and check that it is within the correct range for the preservative you are using. Adjust if needed using a pH solution such as our suggested lactic acid at 80% dilution.

Preservative

Add the preservative to the blend and stir.

Check pH again

Check the pH again and adjust if needed. The pH of our product is 5.2 which is fine for a wash-off cleanser.

Blending phase A/C with phase B

Slowly add a small amount of the blend to the phase B beaker and stir. Transfer this dilution back to the main beaker and stir well. You can use a flat blade stirring tool such as a mini homogeniser to apply sheer to the product and speed up the thickening time.

Rest the blend and bottle

Leave your cleanser for 24hrs in a sealed container for the final consistency to be reached and for any bubbles to disappear. Transfer the product to your chosen container and label.
Formulation Tips
Adding all of the ingredients together before incorporating the gum phase into the product means that all of the water in the product hydrates evenly which reduces lumps and bubbles.
Leave the completed formula in a sealed container overnight in order for any air bubbles to disappear.
The product is cold processed and does not require heating. However, some gums may need heating so please be aware of this if you are switching the gum.
Add the water phase slowly, in small intervals to the gum phase so that it is fully hydrated.
Make sure to check the pH of the product and adjust as needed.
If you are struggling to get the gum to incorporate, you can use a mini mixer to apply sheer to the product. Please remember that this is not the same thing as a whisk and using a whisk will trap air into your product.
Substitutions:
This formulation is easily customisable. The plant extracts can be swapped for ones that are easy to acquire in your area.
Swap the water-based extracts with extracts or glycerites such as lavender, grapefruit or pomegranate.
The hydrosol can be swapped to change the scent to alternatives such as lemon or rosemary.
If you can't get a hold of Siligel™, you can also use a different gum such as xanthan gum, amigel or sclerotium gum.
Alternative surfactants include coco glucoside and lauryl glucoside.
Suggested suppliers
In our formulation, we used:
Dandelion extract – Naturally Thinking (UK)
Wild pansy extract – Alexmo Cosmetics (EU)
Lavender hydrosol – Amazon and others are easy to find on most cosmetic supplier sites.
Siligel™ – Lotioncrafter (US)
Miron Violetglass
Leave us a comment
comments