Every quarter, Formula Botanica runs a formulation challenge for its student and graduate community and this month we're challenging them to make a whipped lip scrub. Our students submit their photos and formulations for skincare products they've made using our guidance.
For the last challenge, we asked our students to make a facial oil for day use and the results were brilliant!
Our current challenge to make a whipped lip scrub gives you our suggested formula, but it is a basis from which you can go on to design a product to your own specifications. That's how we like to teach formulation on our courses at Formula Botanica; we give you the knowledge, know-how and skills leaving you the scope to indulge your own creativity in formulating.
Before we start on this latest formula, here's an idea of the range and scope of our past challenges:
How to make an oil-in-water emulsion
How to make a butter scrub
How to make a body melt
How to make an aqueous gel using a natural solubiliser
How to make a body butter
How to make a natural shower jelly
How to make a natural gel scrub
How to make a night-time facial oil for mature skin
How to make an Amazonian lip balm
How to make an after-sun body oil
How to make a natural cleansing balm
How to make a day facial oil
About this Formula for a Whipped Lip Scrub
As it's nearing the end of the year and for those of us in the northern hemisphere that means winter is setting in, we thought a whipped lip scrub would be a very useful product for the season. Our lips have very thin skin and, as we know, from time to time we may get chapped lips especially during snaps of cold weather. A very gentle scrub is ideal to remove those loose chapped little bits of skin that not only look unsightly but irritate us and which can also snag causing us pain and soreness.
However, gentle exfoliating scrubs are as vital a part of a lip-care beauty any time of year. If you use lip gloss, lipstick or other lip colour products, then keeping your lips in good shape is key to that outer layer of colour and glamour going on smoothly.
The beauty of this formula is that with some inspirational ingredients, it can be adapted to tie in with any season and can make a welcome gift for yourself as well as friends and family on any celebratory occasion.
When you are thinking about how to make lip scrub, you need to consider how to present it. We are all familiar with a lip balm in a tube, or even poured into a beautiful jar. But, the product we will be making is going to be a whipped lip scrub in a jar. We're going to be a bit more adventurous and do it slightly differently: we're making an anhydrous lip product whipped up, so it feels as light as air and has the benefit of soft particles for a very gentle yet effective exfoliation.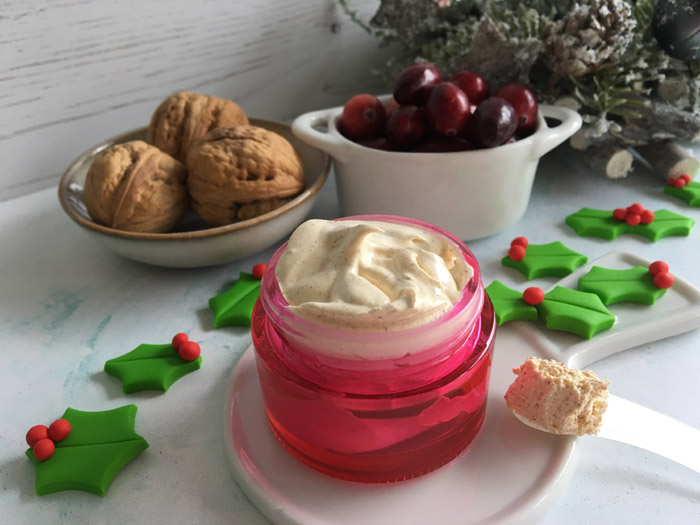 Our Sample Formulation
So, how do you make lip scrub to enjoy gifting and that will delight the recipient? It may seem a straightforward formulation, but there are some challenges in making this whipped lip scrub.
Try to achieve a fluffy, velvety texture as the end product; one that isn't too soft, nor too hard. Depending on where you live in the world, it's important to find an ideal combination within your blend of waxes, butters and oils – one that remains stable in your climate.
Your choice of scrub particles: note that our facial skin has up to 16 layers, while that of our lips has only three to five layers. So, opt for soft, gentle, tiny, non-abrasive particles.
As the lips are so thin and sensitive, we need to be extra cautious with the use of essential oils too. A maximum total of 0.5% essentials oils in our formula is required; no more, no less and without exceptions. Less (or even none) is of course a good option too.
Using macerated oils can impart some scent and flavour and be an alternative to using essential oils. They can be homemade macerated oils or purchased.
Make it festive or celebratory: this can be achieved in the choice and colours of your ingredients, the packaging and wrapping. Be creative!
Ensure your formulation adds up exactly to 100% and use all the ingredients at adequate and required percentages (don't forget those essential oil dermal limits).
This is an anhydrous challenge, so all ingredients used must be oil soluble or dispersible in order to create an overall stable end product (so no glycerin can be used, for example).
So, let's see what we can use in our whipped lip scrub to achieve soft, smooth healthy lips.
Our sample formulation: Festive-themed Whipped Lip Scrub in a Jar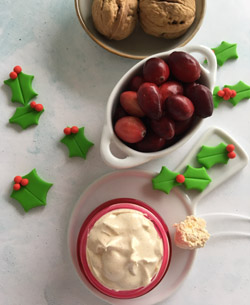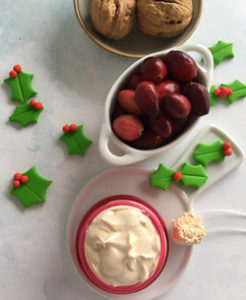 At the base we have nourishing, pampering and caring ingredients to restore hypersensitive winter lips. We have added ascorbyl palmitate for its wonderful high performance properties; and lecithin, because it is gives our product a nice feel on the skin ànd acts as penetration enhancer.
Walnut oil and cranberry oil are both so deliciously soft and velvety and are non-greasy oils. If you are opting for a Christmas-style lip scrub, they both add a festive touch as are traditional ingredients in Christmas fare.
The cranberry seeds (not powder) as exfoliators compliment this, and are tiny and very gentle. To add scent and flavour, we've opted for a slightly complicated combination of macerated oils (vanilla and cinnamon), a very low concentration of cardamom CO2 (which is often used in the food industry), and a very small percentage of ginger and lemon zest essential oils.
ll these scents and flavours combine to create a comforting winter-inspired lip scrub but feel free to experiment with ones that appeal to you or suit your gift ideas better. Now we've gone over all the challenges and variations, let's dive into how to make a homemade lip scrub.
Formulation
Ingredients
Phase A
16% myrica wax
5% shea butter
10% cocoa butter
0.5% lecithin
0.3% ascorbyl palmitate
Phase B
14% babassu oil
0.1% calendula CO2
Phase C
10% cinnamon macerated in rapeseed oil
10% vanilla macerated in jojoba oil
22.3% walnut oil
7% cranberry oil
1% allantoin
0.5% tocopherol
0.1% cardamom CO2
0.1% EO lemon zest
0.1% EO ginger
Phase D
Method of Manufacture
Prepare your 4 phases in 4 different beakers.
Calendula CO2 is quite a viscous paste and a bit of warmth helps to dissolve this. Babassu oil is a semi-solid oil and is a perfect carrier in which to melt this CO2 extract A water bath around 38°C should work like a charm. When it's completely melted and looks homogenous, remove this beaker (phase B) from the water bath and set aside.
Turn up the heat of your water bath to around 80-85°C. Ascorbyl palmitate needs this high temperature in order to be incorporated completely and correctly. The rest of the ingredients of phase A can handle this high temperature, just don't heat and hold it for too long. Heat until everything is melted and looks completely uniform and homogenous; when it does, remove from the water bath.
Start cooling down and stir while you do so.
When the mixture (phase A) goes below 40°C, add phase B. Stir gently.
Proceed with the cooling down. You can speed up this process by putting your beaker in a cold water bath or by placing it in the fridge. The most important part is to not leave it or forget it as you need to stir frequently to ensure the uniform cooling down of all your ingredients. This is crucial so you don't end up with a grainy end product.
Phase C contains allantoin, this is a powder and won't dissolve in this phase. You need to keep it suspended in the oil phase by stirring this blend. Have a good look at your beaker inspecting the corners and look at it from below. If you notice any small clumps you can easily squash these with your glass spatula.
When the mixture phase A + phase B comes to a light trace you can add phase C, stirring gently.
At a medium trace you can add phase D – your exfoliating particles.
At a heavy trace, you can start whipping the blend. It's high likely you need to do this in intervals. Put the beaker back in the fridge every so often between period of whipping. Whip until you have reached the desired texture.
To give you an idea: for a 100g batch we trialed, it took five whipping sessions of 40-50 seconds.
If you are a master in piping, you can scoop the blend in a piping bag and pipe it into your jars. Or you can easily pour it into your jars too (like I did) and it will look equally gorgeous and amazing!
Put your jars at least overnight in the fridge, without the lids.
Take them out of the fridge, and let them adjust to room temperature for a couple of hours before you put the lids on.
Label them and wrap them up nicely to hand them out to your friends and family!
Now it's your turn! Either try making our whipped lip scrub or design your own formulation. If you are curious to know how Formula Botanica teaches organic cosmetic formulation in our courses, register now for our free sample class.
If you are a Formula Botanica student or graduate, the Formulation Challenge for this quarter will be emailed to you soon and posted in our online classroom. If you're not a Formula Botanica Community member, leave us a comment below and let us know about your experiences in formulating a whipped lip scrub.
FAQs
What are the ingredients for lip scrub?
A lip scrub is essentially an anhydrous balm formulation. It will therefore be a combination of botanical waxes to give structure and solidity, butters and oils for moisturising, skin-beneficial additives and scent and to ensure the balm melts on contact with the skin, along with a minimal percentage of colour and flavourings as well as an antioxidant and very fine exfoliating particles. A lip scrub may also contain high-performance additives such as allantoin to help shed dead skin and maintain skin feel, and vitamin C esters such as Ascorbyl palmitate.
How do you preserve homemade lip scrub?
If the lip scrub formulation is anhydrous and therefore not water containing, it will not need a preservative. Antioxidants like vitamin E are however are added to help extend the shelf life of the oil, wax and butter formulation. Antioxidants are not preservatives. If the lip scrub is presented in an open-neck jar and the user is likely to dip wet fingers into the product or the scrub may come into contact with moisture, it is wise to include a preservative; there are a few lipophilic (oil-compatible) preservatives on the market. Alternatively, package the lip scrub in a tube or pump dispenser adjusting the viscosity to ensure it can be dispensed easily and that the scrub particles remain evenly dispersed.
Can you do a lip scrub every day?
Lip scrubs, like most facial exfoliators, are designed for periodic use perhaps once or at most twice a week. As gentle exfoliating scrubs, they can be a vital part of a lip-care beauty any time of year, especially in winter months, to remove dead, dried stringy bits of skin. However, the skin on our lips is extremely thin and has only 3 to 5 layers while face skin has around 16. Lips are therefore prone to damage from over rigorous exfoliation. Use lip scrubs sparingly.
Where can I learn to formulate natural skincare?
Join us at Formula Botanica, where tens of thousands of students and followers take our free and paid online courses to learn how to formulate organic skincare and haircare for themselves or to sell and also how to set up a beauty brand and business.
Leave us a comment
comments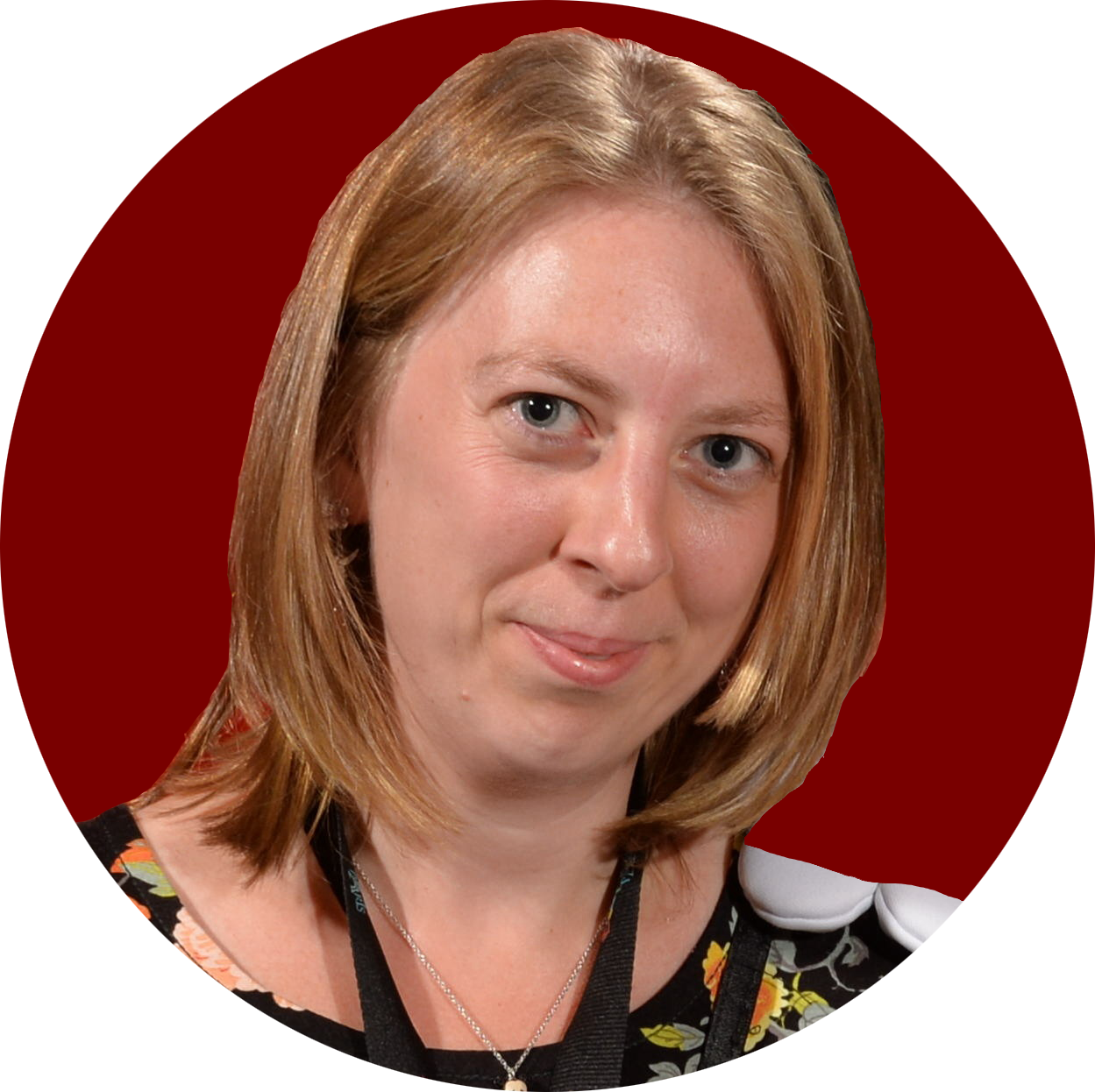 Jilly Schechter is a Tutor at Formula Botanica, where she helps our students to become better organic cosmetic formulators. Jilly lives in Belgium and loves writing tutorials on how to make skincare and haircare.