Lip oils have recently become common thanks to their popularity on social platforms such as TikTok and Instagram. They provide a rich, glossy finish that moisturises and softens the lips. Many formulas also contain a colour to bridge the gap between lip care and lip colour.
Commercial lip oils are often made with synthetic emollients such as mineral oils and silicones. But creating a lip oil from botanical oils provides the lips with the skin-loving natural properties of the oils, as well as long-lasting moisture with a glossy sheen.
On our blog, we have several simple lip formulations for you to try:
How to formulate a berry-tinted lip balm
How to formulate an indulgent lip serum
How to make a whipped lip scrub
How to make an Amazonian lip balm
Lip oil, serum and balm: how are they different?
You may be wondering what the difference is between lip oil, lip serum and lip balm. Often in the world of cosmetics, the descriptions vary for the same or similar types of products. A serum can be made as an anhydrous, water-based or emulsion-based formulation that contains high-performance actives and plant extracts. We explore various types of serum formulations in our post:
Lip balms are hot-processed formulations that require a wax and some harder butters to create a solid texture. Balms can be made into a stick form similar to a lipstick or poured into a small pot and applied with the fingers or a small spatula. Formulations vary the amounts of waxes, butters and oils in order to provide the right firmness and solidity for each product type.
Our lip oil formulation consists of just five main oils and one wax, which means it is really easy to make. It is less viscous than a balm but thicker than an oil. You can include some more actives in the formulation, such as oil-soluble hyaluronic acid, to turn this oil into a serum.
The skin of our lips is very thin and has just 3 – 5 layers which causes them to be sensitive to extremes of heat and cold as well as drying winds. Our lips can easily become chapped and can even become painfully cracked if they are too dry. Lip care is all about maintaining the optimal condition of their delicate skin by moisturising and hydrating. Our serum formulation coats the lips with a light, occlusive lipid layer to prevent water loss, which keeps the lips hydrated and moisturised. If you wish to understand more about how moisturising and hydration work together, see our article:
Lip oil: our key ingredients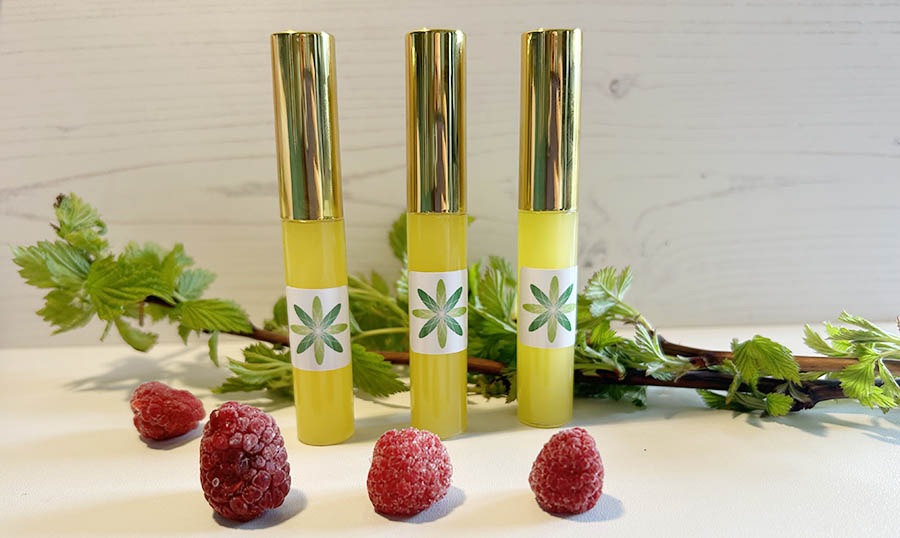 Cera bellina
Cera bellina is a unique ingredient that is often used in natural lip oil formulations to help improve their texture and stability. It is a modified form of beeswax in which the free fatty acids have been converted to polyglycerol esters. This produces a wax that has oil-gelling properties and creates textures that are more viscous and silky smooth than traditional beeswax and do not have a "dragging" feeling on the skin.
In our natural lip oil, cera bellina helps to thicken the formula and create a smooth, creamy texture that glides easily onto the lips. It also provides a protective barrier on the lips, helping to lock in moisture and prevent dryness. Unlike traditional waxes, cera bellina can help to stabilise the texture of a formula, preventing separation or graininess over time. Overall, cera bellina can be a valuable addition to natural lip oil formulations, helping to enhance their performance and provide a luxurious feel.
Raspberry oil
Raspberry oil is a cold-pressed oil extracted from the seeds of the raspberry fruit. It is a very popular ingredient for upcycled beauty formulations as the seeds are waste by-products of the food industry left from the production of juices and jams. The redundant milled seeds are also used as exfoliants in skincare products.
When it comes to lip care, raspberry seed oil has several benefits. For one, it is high in essential fatty acids, which can help to restore the natural lipid barrier of the lips and keep them hydrated by reducing transepidermal water loss (TEWL). Additionally, raspberry oil contains ellagic acid, a powerful antioxidant that can help to protect the lips from free radical damage and may protect the lips from collagen degradation. Overall, raspberry seed oil is a highly effective ingredient for keeping your lips soft, smooth, and plump.
Marula oil
Marula oil is a nutrient-rich oil that is derived from the fruit kernels of the marula tree. When it comes to lip care, marula oil has many benefits. First and foremost, it is deeply moisturising, which makes it an ideal ingredient for treating dry, cracked, or chapped lips. Additionally, marula oil is packed with antioxidants, which can help to protect the lips from environmental stressors and reduce dryness.
Marula oil also contains high levels of oleic acid, which has anti-inflammatory properties and can help to soothe and calm irritated skin. Overall, marula oil is a powerful and nourishing ingredient that can help to keep your lips healthy, hydrated, and protected. You can find out more about African-origin plant oils such as marula in our article on 10 natural African skincare ingredients.
Our formula: golden marula lip oil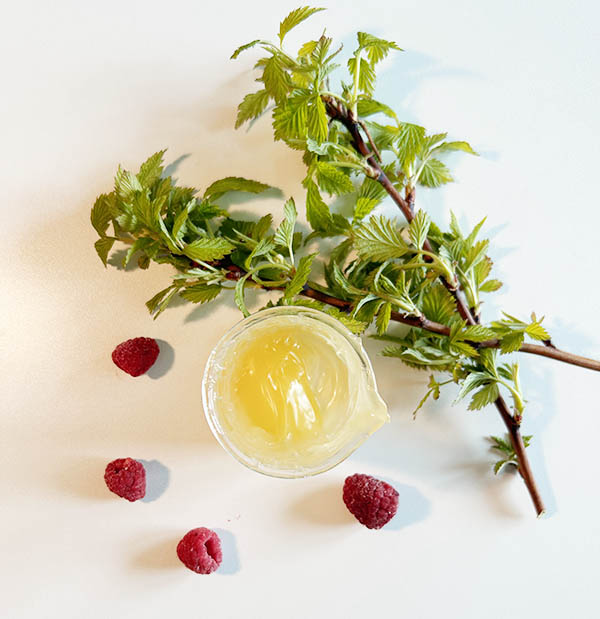 This formula creates a viscous oil, and thanks to the cera bellina, it glides on smoothly and creates a gentle, non-sticky barrier on the lips. Try applying it to damp skin or layering on a lip serum that contains hyaluronic acid for ultimate hydration.
Makes: recommended trial batch size: 50g – 5 tubes.
Formulation: a warm process.
Time taken: 15 minutes.
Level: beginner-level formulation to personalise and adapt.
| | | | |
| --- | --- | --- | --- |
| Phase | Ingredients | INCI | Weight (g) |
| A | Castor oil | Ricinus communis seed oil | 20.00 |
| A | Golden jojoba oil | Simmondsia chinensis seed oil | 16.25 |
| A | Cera bellina wax | Polyglycerol-3 beeswax | 2.50 |
| A | Marula oil | Sclerocarya birrea seed oil | 5.00 |
| B | Raspberry seed oil | Rubus idaeus seed Oil | 5.00 |
| B | Raspberry CO2 extract | Rubus idaeus seed extract, Rosmarinus officinalis leaf extract | 1.00 |
| C | Tocopherol | Tocopherol | 0.25 |
| | | | Total: 50.00 |
Equipment:
Scales
Heated water bath and cool water bath
Glass beakers, glass rods and some spatulas
Thermometer
Mini whisk
Suitable container
Method of Manufacture
Preparation

Sanitise your utensils and work area, and wear appropriate PPE according to GMP.

Weigh out phase A

Start by weighing out the castor oil, jojoba oil, marula oil and cera bellina wax into a glass beaker.

Melting

Place the beaker in a warm water bath with hot (but not simmering) water. The wax melts at a temperature of between ​​63°C – 73°C so this is the temperature you are aiming for.

Weigh out phase B

While your oils are heating, weigh out the raspberry oil and extract into a separate small beaker and stir.

Cooling and blending

Once the wax has fully melted, remove the beaker from the water bath and give the contents a good stir. You now need to cool the blend to 40°C. The texture is best achieved if the formula is cooled evenly, so we recommend using a bowl of cool (not cold) tap water to cool the blend to a trace. Keep stirring constantly to make sure it cools evenly. You are looking for the liquid to be thickened, but still mobile.

Add phase B oils

Once the blend has cooled enough, stir in the raspberry oil blend until it combines fully. There should be no lumps or separation. If your blend has become too cold, you can briefly place the beaker back into the warm water bath on a very low heat for a few moments or until it blends together fully.

Phase C

Once everything has mixed well and the product is below 40°C, add the vitamin E and stir well.

Decant and label

Pour or use a syringe to decant the blend into lip gloss tubes. Label your lip oil with a name, date and batch number.
Formulation notes
Feel free to explore other oils to personalise the lip oil.
You may also wish to add an oil-soluble active ingredient that can be used safely on the lips.
Suggested suppliers
Many of the suppliers below ship internationally. We indicate their country or regional base.
Aromazone (EU).
Aromantic (UK)
Alexmo Cosmetics (EU)
Manske (EU)
Soap Kitchen (UK)
Elemental (EU)
Lotioncrafter (USA)
Essential Wholesale (USA)
Makers Ingredients (UK)
Go Native (New Zealand)
Naturally Balmy (UK)
Soap & More (Canada)
FREE FOUNDATION COURSE
How to become an
Organic Skincare Formulator
By providing your details, you agree to receive additional educational & marketing emails from Formula Botanica, which further introduce our curriculum. Your data is never shared or sold. Read our
Privacy Policy
.
FREE TRAINING
How to become an
Organic Skincare Entrepreneur
Join over 100,000 other Formulators
By providing your details, you agree to receive additional educational & marketing emails from Formula Botanica, which further introduce our curriculum. Your data is never shared or sold. Read our
Privacy Policy
.
FREE TRAINING
How to become an
Organic Skincare Entrepreneur
Join over 100,000 other Formulators
By providing your details, you agree to receive additional educational & marketing emails from Formula Botanica, which further introduce our curriculum. Your data is never shared or sold. Read our
Privacy Policy
.
Leave us a comment
comments