Every quarter, Formula Botanica runs a formulation challenge for its student and graduate community and this month we're challenging them to make a day facial oil. Our students submit their photos and formulations for skincare products they've made using our guidance.
For that last challenge, we asked our students to make a product inspired by their Sunday morning and the results were brilliant! To give you an idea of the range and scope of the formulations we've covered in past challenges, browse the list below:
• How to make an oil-in-water emulsion
• How to make a butter scrub
• How to make a body melt
• How to make an aqueous gel using a natural solubiliser
• How to make a body butter
• How to make a natural shower jelly
• How to make a natural gel scrub
• How to make a night-time facial oil for mature skin
• How to make an Amazonian lip balm
• How to make an after-sun body oil
• How to make a natural cleansing balm
Getting Started on Your Day Facial Oil
This challenge is for a day facial oil which is an anhydrous product and therefore doesn't contain water. All ingredients are lipophilic and include oils and oil-soluble extracts. However, it's worth mentioning that facial oils and facial serums are terms often used interchangeably. Serums, however, need not be anhydrous.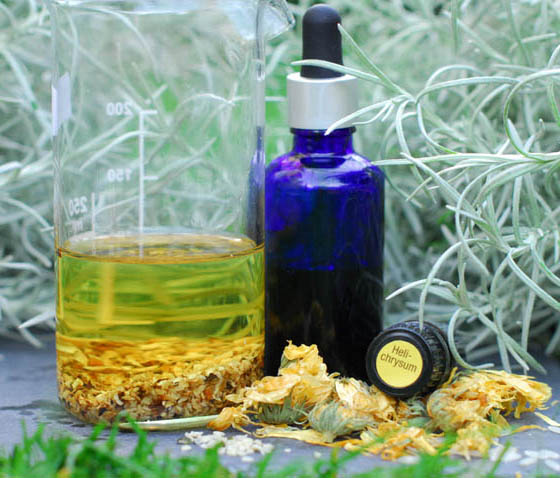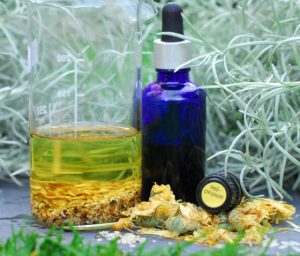 We wrote a blog post to explain the 5 types of organic facial serum as there is a lot of confusion about what exactly a serum is. Serums include oils but can be largely water-based. Each type of facial serum is formulated for different reasons and to deliver different results which is why they may resemble oils or be thinner emulsions.
Most aspiring formulators start with anhydrous skincare products as they don't require advanced formulating skills. Nonetheless, they give new formulators the opportunity to showcase their knowledge of a wide range of ingredients such as fixed oils.
We would like to invite our freshly-enrolled students to join the challenge, too! You all certainly have some stock of carrier oils already and you do not need any emulsifiers or preservatives for this product to start blending and creating.
Planning Your Day Facial Oil Formula
You are aiming to make a non-greasy oil blend that can be applied at the start of your day; one that could be used even under makeup. Enhance your base with some oil-soluble botanical extracts and make use of the wonderful scents and therapeutic properties of essential oils too. If you're interested in making your own botanical-infused oils take a look at our post on how to choose the right oil for macerations and check out our recommended top 8 oils for botanical infusions.
If you are a Formula Botanica student, remember to check our Ingredients' directory located in the Key Study Resources of your Student Library.
Steps to build your day facial oil formula:
GOAL: think about what you want this product to do.
RESEARCH ingredients – carrier oils, extracts and essential oils
BUILD your formula
MAKE your product and use it!
You can perform your own stability test at home to see how it behaves at different temperatures and also in different bottles. Remember, light, and in particular direct sunlight as well as heat will reduce the shelf life of your oils through a process of oxidisation.
Our Sample Formulation for a Day Facial Oil
Over the years, I've noticed how skincare experts put more emphasis on facial oils. Many famous cosmetic brands now offer facial oil blends that come with very expensive price tags. I now make my own products and love them.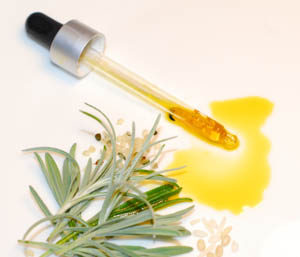 For this sample formulation, I chose oils I have used in making non-greasy emulsions as they absorb quickly. As I love botanical extracts, I included some beneficial oil-soluble extracts too. It was quite an easy and non-messy process: I did not need to heat anything, which resulted in less damage to my precious oils, and there was not much to clean-up afterwards. A win-win all round!
Right now, as I write this in mid summer, it is a bit hard to judge how quickly my day facial oil blend absorbs because it is well over 30 degrees Centigrade where I live. However, I love this blend because a few drops go a long way. Your skin needs some pampering all year round as it can get equally dry from the heat and air-conditioning as it can in cold weather. I recently invested in some precious essential oils and wanted to see how miraculously they work, so I incorporated them too.
Sample Formula Ingredients
Rosehip oil
This oil is the "foundation stone" of the formulation. It is a cold-pressed, non-greasy oil for mature skin and is ideal also for acne-prone skin, wounds, stretchmarks and scars.
Argan oil
This precious oil from Morocco is the beauty secret of local women there. It contains valuable sources of vitamin E and phytosterols. It can help protect the skin from the elements, slows down wrinkles, helps to strengthen nails, gives shine to hair and is generally very regenerative.
Jojoba oil
This oil is actually a liquid wax and is often described as "liquid gold". It is suitable for all skin types, absorbs well and is very stable, so does not go rancid quickly. It has regenerative properties.
Burdock root infused in rice oil
Rice oil is very light and contains vitamin E. I had burdock root at hand which I use for making a tea, along with dandelion root and nettle leaves. Burdock root is said to be anti-inflammatory and antioxidant, and may help with easing minor skin irritations.
Olive squalene
This non-greasy, silky ingredient has excellent affinity with the skin, protects it from dehydration and helps to restore the lipid barrier.
Hemp oil
A dry but lovely carrier oils that can work with all types of skin.
Vitamin E
Added to give an extra dose of antioxidant to help prevent rancidity of my product.
Pomegranate CO2 extract
It contains punicic acid which is well-known for its soothing properties. It is a valuable ingredient in anti-ageing skincare.
Helichrysum essential oil
A very precious essential oil, commonly known as Immortelle, it has an aroma that is rich, sweet, floral and earthy. It is excellent for soothing bruises and promoting natural healing processes.
Blue Chamomile essential oil
Also known as German Chamomile, it is one of the gentlest essential oils. It helps promote a natural glow and it has a calming effect on the skin and mind.
Formula Botanica's Latest Formulation Challenge
You're absolutely free to choose the oils, oil-soluble botanical extracts and essential oils that appeal most to you. Choose ingredients that suit your purposes and concept all the while ensuring your chosen ingredients create a lighter-style, quick absorbing and non-greasy formulation.
Keep the essential KISS (Keep-It-Silly-Simple) principle in mind and start as simple as possible. After you're happy with the consistency, stability and performance, you can build on the formulation perhaps adding more oils. Take note of each stage, describing the different versions you make.
Our Day Facial Oil Formulation
Phase A
29% Rosehip oil (cold-pressed)
25% Argan oil
16% Jojoba oil
10.5% Burdock infused in rice oil
10% Olive squalane
8% Hemp oil
Phase B
0.5% Vitamin E
0.5% Pomegranate CO2 extract
Phase C
0.3% Helichrysum essential oil
0.2% Blue Chamomile essential oil
Method to Make a Day Facial Oil
Step 1. Weigh and add all the oils into a disinfected glass beaker. Stir them well with a glass rod.
Step 2. Add the extracts and antioxidant, stirring well after each addition.
Step 3. Finally blend in your essential oils. You may need a pipette to be exact and not pour too much. Stir with a glass rod and pour into a dropper bottle. Don't forget to add a pretty label with the name and date.
Now it's your turn! Either try making our day facial oil or design your own formulation. If you are curious to know how Formula Botanica teaches organic cosmetic formulation in our courses, register now for our sample class.
If you are a Formula Botanica student or graduate, the Formulation Challenge for this quarter will be emailed to you soon and posted in our online classroom. If you're not a Formula Botanica Community member, leave us a comment below and let us know about your experiences in formulating a day facial day oil.
---
FAQs
Can you use face oil during the day?
Face oils are increasingly popular especially with waterless skincare trending. While the word oil indicates they are oil-only cosmetics this does not mean they need be only used at night. Choose a face oil with plant oils that have a dry skin feel and absorb quickly. These include rosehip, pomegranate, watermelon and jojoba – a liquid wax with a makeup similar to our skin's own lipid barrier. Face oils formulated for daytime use can also include oil-soluble extracts of great benefit such as raspberry seed which has natural UV-absorbing properties.
How do you use daytime face oil?
Apply daytime face oil to cleansed skin and allow it to absorb in for a few minutes before applying makeup to ensure you are left with a matte skin look and feel.
Where can I learn to formulate natural skincare and haircare?
Join us at Formula Botanica, where tens of thousands of students and followers take our free and paid online courses to learn how to formulate organic skincare and haircare for themselves or to sell and also how to set up a beauty brand and business.
Leave us a comment
comments