It's the time of year when the beauty media reminds us that the seasons are changing and that it's time to take on board their top skincare tips for the new season; which is spring in the UK where Formula Botanica HQ is based but may well be autumn moving into winter in your part of the world. As formulators, rather than beauty media editors, we need to view seasonally-adjusted skincare somewhat differently.
For a start, we may ask ourselves whether we need to formulate different products for the seasons, especially when we need to think of minimalist skincare routines and of reducing both production and our use of ever more skincare products. Indie formulators have an opportunity to really set themselves apart from the mainstream industry by doing more than pay lip service to reducing, reusing and recycling.
You might find these Formula Botanica Green Beauty Conversations' podcasts interesting background on these topics:
Podcast 56: Are indie beauty brands falling behind on sustainability?
Podcast 61: Skinimalism, the age of minimalist skincare.
Surely, spring itself should work wonders for our overall skin health and also our well-being? After all, simply enjoying longer, lighter days outdoors should give our skin more radiance. However, those first warm spring days may usher in a new set of skincare concerns which we need to be aware of as formulators.
If we know how the seasons affect our skin health, we have the opportunity to formulate cosmetics that can multitask or complement other products and perhaps work as well in spring skincare products as those formulated for use at other times of year.
Do we need a spring skincare routine?
Our beauty routines do need to use spring as time to transition from winter to summer just as nature around us does. Springtime varies with geography and can be a slow-moving affair in some northerly climates or a brief week or two if you are in, for example, parts of the Mediterranean or Australasia.
In our eagerness to make the most of warm spring weather, we might over expose our skin, especially facial skin, to spring sunshine. In summer, we tend to be more aware of the need to use sun protection. But in spring, we are tempted to enjoy those first hotter rays and may not be aware that a short, sharp 15 minute burst of hot spring sunshine can wreak havoc on skin; later in life, even if we don't see immediate effects such as sunburn.
Add to this the revealing of what might be dry, flaky pale skin that has hidden away under layers of winter clothes, and you begin to see the problems. We need more than the beauty of spring to get our skin in tip top condition to look and be its best as we edge towards summer.
In this post, we outline the key cosmetic product types and ingredients that are ideal for use in spring into summer skincare and suggest plenty of our easy, natural and organic formulations to try out. If you've a skincare brand or aiming to launch one, you will need to get inside the mind of your customer. So, we've added in some tips on a spring skincare routine that can guide you when devising a capsule cosmetics' range.
Remember, when formulating skincare, plan ahead thinking about the skin's seasonal needs and armed with that knowledge, try creating at least some multi-use products and if possible also some that can span the months.
7 Ways to Formulate for Spring Skincare
1. Gentle exfoliators
Winter will have taken a toll with heating and harsh winds wicking away moisture from skin which will be dry and in need of extra care. So, it is important not to aggravate the epidermis just when our faces will be exposed to warm sun so think about cream, gel-to-milk or foaming exfoliator bases that contain very fine scrub particles.
We suggest formulating products with light particles such as fine sugar that contains glycolic acid which is a natural gentle exfoliating ingredient. Enzymatic scrubs with fruit acids such as papaya, pumpkin and pineapple work well too.
To speed cell regeneration, boost collagen and give overall radiance to facial skin, try including in your formulations a trending favourite ingredient and natural alternative to retinol in the form of bakuchiol. Bakuchiol oils and extracts offer the same benefits as retinol but without the latter's harsher and skin-sensitising effects. Bakuchiol can be included into cosmetics for both morning and night use, unlike retinol which has photo-sensitising properties.
When it comes to body formulations, you can opt for larger scrub particles but think also about including moisturising elements into scrub products (to multitask). In-shower lotions are one such multi-use and time-saving product. They moisturise damp skin locking water in to add a layer of hydration. We've plenty of ideas for easy scrub and exfoliator formulations you can make at home and have fun using. Don't forget hair; there's a revitalising scrub formulation to help winter-ravaged hair too.
How to formulate a Bakuchiol beauty serum
How to make an activate charcoal mask
How to make a whipped foot scrub
How to make a natural foot mask
How to make an exfoliating pre-shampoo
How to make an exfoliating lip scrub
How to make a natural cream cleanser with PolyAquol 2W
How to make a natural in-shower lotion
2. Go-light moisturisers
As humidity rises with the heat, our skin is less dehydrated in spring than in winter. We can now replace heavier creams that have a barrier function locking in moisture with light, water-based emulsions and serums. Try including some non-sticky humectants like hyaluronic acid into light emulsions for daytime skincare.
Many formulators feel that natural plant oils leave too greasy a skin feel to be useful in cosmetics aimed at spring and summer skincare. However, if you choose the right combination, they can absorb really quickly and can have the effect of tightening pores. Rosehip oil is a useful ingredient for serums and moisturisers as it works on hyperpigmentation and fine lines and even though it is a nourishing oil, it does leave a soft, dry skin feel. Grapeseed, jojoba, olive squalane, watermelon and camellia are other oils that work well in hotter weather offering skin benefits with low greasiness.
A typical body butter is quite rich so think about whipping the formulation to include air for an altogether lighter variation. Body yoghurts, which are feather-light emulsions are ideal products for use in warmer weather as they offering ample moisturising and barrier protection yet with a light, silky skin feel.
These formulations offer plenty to explore from light water-based serums to whipped body butters.
5 Types of Natural Facial Serum Formulation
How to make a hydrating rose facial serum
How to make a soothing CBD face and body cream
How to make a natural body yoghurt
How to make a tuberose and neroli whipped body butter
Everything you wanted to know about natural emulsifiers
How to make a high-performance Vitamin E serum
How to make an organic oil-in-water emulsion with Olivem 1000
How to make a natural emulsion with Xyliance
How to make a natural emulsion with Vegetal
How to make a natural emulsion with Olivem 900
Formulator's Guide to Natural Humectants
Try the @FormulaBotanica 7 ways to formulate natural skincare for spring into summer beauty. Light, easy DIY formulations, plus tips and ingredients for radiant skin. #skincaretips #springbeauty #springskincare Click To Tweet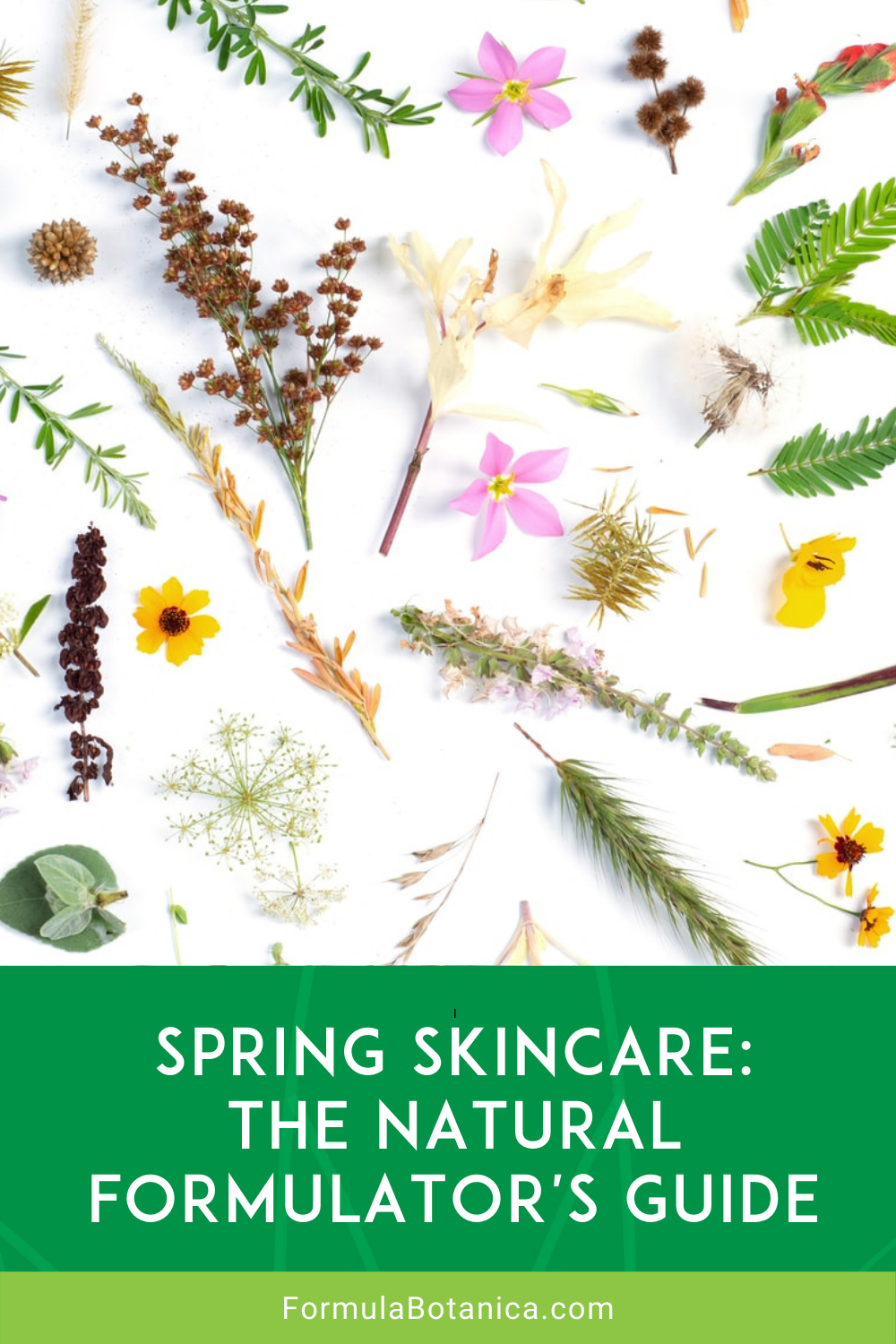 3. The SPF and suncreen issue
By spring, we start thinking of protecting our skin from the sun and it is often recommended to use a SPF moisturiser or tinted moisturiser all year round, varying its sun protection factor (SPF) according to the season and your sun exposure.
At Formula Botanica, we do NOT teach how to make sunscreens, and for good reason. They are complex formulations that require extensive research and lab testing to be proved efficacious and to determine their sun protection factor. There are many erroneous and often downright misleading and unsafe DIY recipes for sunscreen cosmetics on the internet.
We therefore advise you read up on the posts listed below to discover why sunscreens are beyond the bounds of most indie beauty formulators, unless they have big budgets for lab testing. We've also links to follow to explore some myths surrounding the properties of natural oils in protecting our skin adequately from UVA/UVB rays.
Vitamin C is a powerful antioxidant (not to be mistaken for an UV light protection ingredient) which can mitigate the effect of free radical skin damage. It does not offer any SPF sun protection. However, daytime serums and moisturisers containing vitamin C extracts are a good option to help reduce the visible signs of photoageing on the skin.
5 reasons why you should not make homemade sunscreen
Why you should not use coconut oil as a sunscreen
Coconut oil vs olive oil: which is better for skincare?
Blue light skincare: myth or reality?
The benefits of Vitamin C in skin care
4. Dealing with Dark Spots
Dark spots or hyperpigmentation patches are usually found on face and hands, which are the two areas of our skin continually exposed to light and whatever climate and weather throw at us. Generally, these hyperpigmentation spots fade naturally over winter as we are less exposed to sunlight that activates a melanin reaction. But mature skin tends to retain these dark spots and even if the patches do fade, very often it can take only a little spring sunshine to make them reappear.
What can you do to formulate to reduce dark spots? We suggest formulating a moisturiser as protection. Ideally, it should contain suitable high-performance active ingredients such as antioxidants like Vitamin C which can reduce the visible appearance of hyperpigmentation. Bakuchiol, which acts like a retinol alternative, is also useful in promoting skin cell renewal to give overall radiance and lessen the effect of hyperpigmentation.
Vitamin E is another useful antioxidant to mitigate the signs of photoageing skin and often found in hand creams. Periodic use of face masks with AHA/BHA liquid exfoliants and similar active ingredients, including our friend vitamin C, can also help in the fight against dark spots. There are plenty of new, active ingredients on the cosmetics' market which can help promote epidermal renewal thereby reducing the appearance of dark spots. We encourage you to do your research and to drill carefully into the INCI to form an opinion on their efficacy.
How to make a superfoods face mask
How to make a vitamin C anti-ageing hand cream
How to make a high-performance vitamin C serum
Benefits of vitamin C in skincare
How to make a high-performance vitamin E serum
The best forms of vitamin C in natural skincare
How to make a nourishing hand balm
5. Spring clean your cosmetics' bag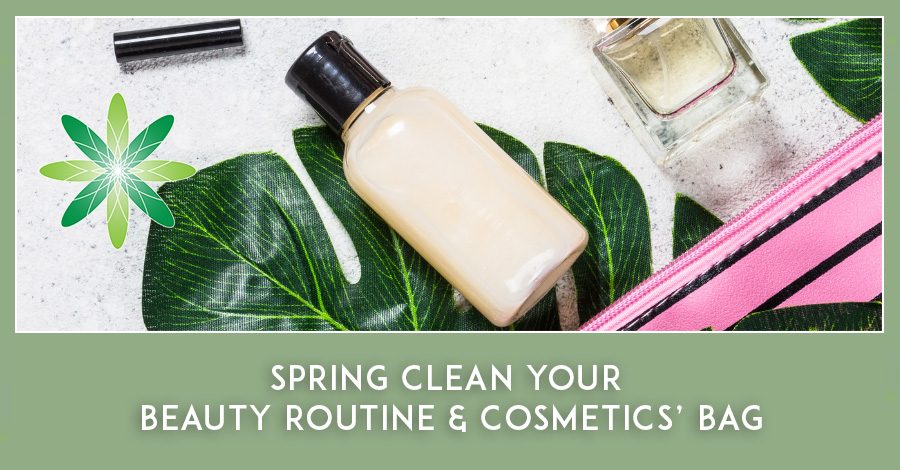 We've talked about the need to reduce and reuse, but we thought best to remind you that cosmetic do have a shelf life. There is no better time than spring to do an audit of your cosmetics' bag. Steamy, hot bathrooms over winter won't have helped maintain the state of many cosmetics. Check expiry dates of skincare, especially all water-containing creams and toners. Wash cosmetics brushes and applicators like sponges. And wash the cosmetics' pouch itself.
It's at times like this doing a cosmetics' audit that we realise just how many products weren't used at all. As you will inevitably end up throwing out cosmetics – responsibly and in the proper waste disposal facility in your locality – make a spring resolution to change your beauty consumer habits and let it filter into your role as a natural formulator.
Formulate fewer and formulate multi-tasking products. Use ingredients that have longer shelf lives; anhydrous products tend to fare better for shelf life. Start to think consciously about what you really need as a beauty consumer and then formulate only what is essential.
We have covered a good deal about sustainability and conscious beauty consumerism on our Green Beauty Conversations' podcast. Here are some links to episodes to get you on track.
Skinimalism or the age of essentials
Are indie beauty brands falling behind on sustainability?
Can a beauty brand ever be carbon neutral?
Do you know your beauty miles?
The conscious consumerism debate?
Sourcing sustainable skincare ingredients
6. Brilliant Multitaskers
Spring is the season that toners, micellar waters and all-in-one cleanser-moisturisers come into their own. It is the time of year we crave simplicity and seek health in the great outdoors. And if not in a pandemic year, we also holiday and yearn to travel light.
We love a good micellar water as it doubles up as cleanser and toner and many also have light moisturising properties from its humectant ingredients. Micellar waters are the ultimate in multifunctional cosmetics and are a delight to use. If fragranced with essential oils, rather than the hydrosols they often comprise, they need a solubiliser to ensure the fragrance oils are properly and safely dispersed.
Cleansing oils also double up in the same way, and as they are anhydrous don't even need the formulator to worry about a preservative system. And who doesn't like one product that can do the business at the end of the day?
How to make a jasmine and aloe vera micellar water
How to make a camellia cleansing oil
How to use a natural solubiliser
The Formulator's guide to natural humectants
7. Protect and soothe the skin
We mentioned earlier the benefits of including antioxidants in your skincare. Antioxidants are natural vitamins and minerals that act to reduce skin inflammation and the effects of oxidative stress which gives rise to lines, wrinkles and other signs of photoageing.
Free radicals are present in the environment in things like pollution and cigarette smoke and are triggered also by exposure to UVA/UVB rays in sunlight. Antioxidant-rich skincare can help mitigate this oxidative stress and in some cases, such as in certain forms of vitamin C, can scavenge the free radicals.
As we face more light and are outside more in spring into summer months, any extra protection our skin can get from antioxidants is a bonus. Vitamin C and E are two key ingredients for inclusion in spring skincare formulations. In addition, take a look at various CBD-based or -infused ingredients that act to soothe and reduce inflammation and are especially useful for sensitive as well as acne-prone skin types.
How to make a high performance vitamin E serum
This Top 10 Nordic ingredients list includes a lot of antioxidant-rich natural plants.
The Formulator's guide to superfruits in skincare
10 best zero waste oils – this list has many oils with antioxidants, carotenoids and phytosterols.
How to make a soothing CBD face and body cream
The formulator's guide to CBD skincare
---
Leave us a comment
comments