Over the coming months, Formula Botanica is publishing an emulsification series. So far we have covered Vegetal or Montanov 68 which is much loved emulsifier by both novice and experience formulators. In this latest blog post we introduce Olivem 900, part of the Olivem series.
You may already be familiar with Olivem 1000, an easy-to-use emulsifier that creates pleasant oil-in-water (O/W) emulsions. Olivem 900 is instead used to create water-in-oil (W/O) emulsions. Some formulators find this type of cream heavy and too rich for their liking, but this depends entirely on what type of product you are making, who you are formulating for and, of course, which ingredients you use.
What is an emulsion?
An emulsion is a blend of water and oil, which are brought together by the use of an emulsifier – creating a homogenous blend. There are many emulsifiers on the market that may be used by natural skincare formulators. They can be oil-in-water or water-in-oil emulsifiers, or they can be hot processed or cold processed (want to learn more about the science of emulsification? Check out our Advanced Diploma in Organic Cosmetic Science)
An oil-in-water (O/W) emulsion is where fine droplets of oil are dispersed through an aqueous base. These O/W emulsions tend to be more liquid, such as milk or a skin cleansing lotion. A water-in-oil (W/O) emulsion is where ultra-fine droplets of water are dispersed throughout the fatty base ingredients. These emulsions tend to be quite thick and greasy.
Water-in-oil emulsions tend to feel heavier and oilier simply because, as the name suggests, the oil phase surrounds the water. In other words, when you apply a water-in-oil emulsion to your skin, you will feel the oil first. I think these make wonderful creams for dry skin and I love using them for hand cream or body cream formulas.
Your choice of emulsifier is a personal preference but you need to consider many other factors. Please read one of our previous blogs to help you make a decision on which emulsifier is suitable for you and your product needs.
Introducing Olivem 900
In this blog we will introduce you to a great water-in-oil emulsifier called Olivem 900. Its trade names include:
Olivem 900 / Olive Protection / Protecta emulsifier
Its INCI name is:
Sorbitan Olivate
You may be familiar with this as it is a component in the Olivem 1000 emulsifier blend.
Sorbitan Olivate is a bit like a wax with a slightly yellow colour. It is derived from olives and has many functions in natural cosmetics. It isn't used solely as a water-in-oil emulsifier but can also be a component in colour cosmetics such as lipsticks. You will be happy to know that it is certainly easier to use than lecithin in emulsions although those created with Olivem 900 will produce a different skin feel.
How to use Olivem900 in your emulsions
Solubility: in oil – add to your oil-phase
Process: hot process
Dosage: 5-10%
We recommend that you start your experiments by incorporating 60% of an oil phase to your formulation and then match that with 10% Olivem 900. You will find that by varying the oils you use or by adding waxes and butters, the emulsions you create will be very different.
You need to heat both oil and water-phase to 70 degrees Celsius and then slowly blend them together by adding the water phase gently to the oil phase. You need to use a homogeniser, blender or Kai Blendia to help with stability, and we find that hand blending will not be enough. Much like with Olivem 1000 your emulsion needs 24 hours to reach their final consistency.
Our example emulsions with Olivem 900
To show you the versatility of this emulsifier, we have created 3 different samples to show you how your ingredients can turn out very differently.
Sample 1: 5% butter + 50% oil + 8% Olivem 900
We used 50% oil and 5% butter together with 8% Olivem 900 to create a soft rich cream. It leaves the skin very soft and not greasy at all, not something you'd expect from a rich creamThis sample is a relatively thin emulsion but provides a a nutritive skin-feel. It would work in a lotion pump bottle. I can imagine this as a rinse-off protective facial cleanser for very dry skin.
Sample 2: 60% oil + 10% Olivem 900
We used 60% oil together with 10% Olivem 900 in this sample, and left out the butter this time. As we increased both the oil phase and the amount of emulsifier we used in the formulation, this emulsion is much richer than sample 1. You can certainly feel a big difference because it feels heavier and richer on the skin. It can be packaged in a jar and won't work in a pump bottle. We would use this as a facial emulsion masque, for instance.
Sample 3: 1% wax + 50% oil + 5% Olivem 900
We used 50% oil together with 1% wax and 5% Olivem 900 in this sample. This sample is the thinnest emulsion of all although you can detect the occlusive feeling of the tiny amount of wax. This can also be packaged as a lotion, and we could imagine this working well as a protective day lotion.
As always, before you prepare any new formulations, you should consider what product you want to create, how this emulsifier fits in your brand ethos and experiment, experiment, experiment.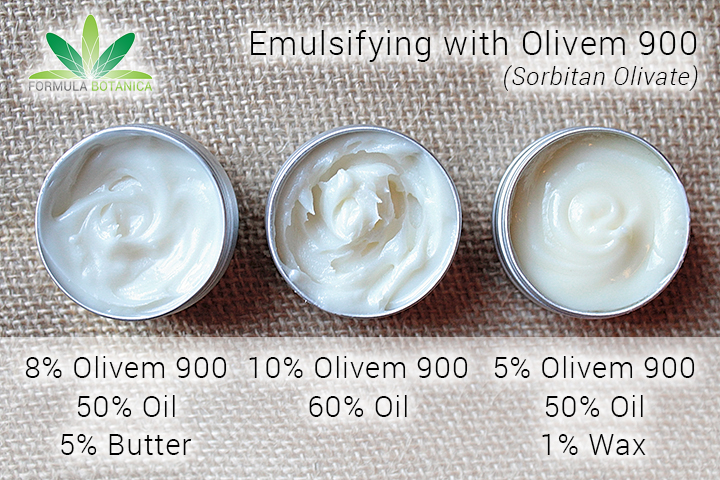 ---
Bonus Sample Formulation with Olivem 900
Blood Orange Nourishing Hand Cream
The oil phase can really stand out in this formulation because it forms the largest part of the product. We've paired the macerated calendula oil (learn how to make macerated oils here) with mango butter and light sunflower oil to make a nourishing hand cream. The finished product is scented with blood orange and other gorgeous essential oils to give it a luxurious fragrance.
Phase A:
Mango butter
20%
Sunflower oil
20%
Calendula macerate
20%
Olivem 900
10%

Phase B:

Lavender hydrosol
21.5%
Glycerin
5%
Sodium citrate
0.1%
Salt (Epsom)
0.5%

Phase C:

Vitamin E
1%
Preservative Eco
1%
Blood orange essential oil
0.5%
Lavender essential oil
0.2%
Benzoin essential oil
0.1%
Ylang ylang essential oil
0.1%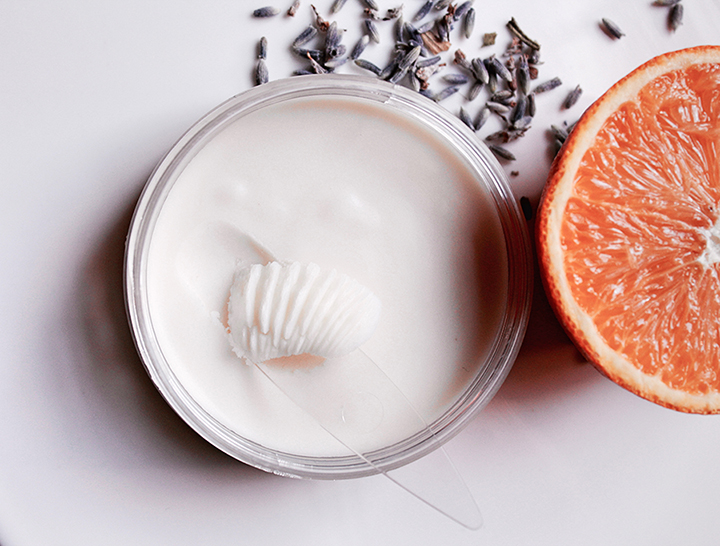 Method of Manufacture
Place Phase A and B in separate beakers. Check the pH of the water phase and adjust it to an appropriate skin level (4.5 – 5.5) if necessary.
Heat both phases gently in a water bath to 70C. Do not

heat and hold your ingredients (not sure why?

read this article

).

Slowly trickle the water phase into the oil phase stirring constantly. Use a blender or homogeniser

(such as the

Kai Blendia

)

to reduce the particle size.

When the temperature of the blend has dipped to below 40 degrees Celsius, you can add Phase C ingredients, blending well after each addition.

Pour the finished product into a pretty jar and set it aside for 24 hours.
Now it's your turn! Purchase a sample of Olivem 900 and show us the emulsions you made by hashtagging it with #FormulaBotanica on Instagram. If you are new to formulating and want to learn how to emulsify, then enrol today for our Diploma in Organic Skincare Formulation.
Have you ever used Olivem 900? What are your formulating experiences? Share with us in the comments below.
---
Leave us a comment
comments