Body yoghurts are not widely known as skincare products but they are superb for those who want to use something lighter on the skin than body butters or even body lotions.
In brief, body yoghurts are emulsions with a very low oil content and very interesting, slightly jelly-like texture. If you are new to body yoghurts, you will probably be pleasantly surprised at their cool – in both senses of the word – texture and love the experience of applying them.
First though, let's take a closer look at the differences between body yoghurts and body butters.
What is a body yoghurt?
Body yoghurts contain lighter, so-called 'dry' oils in their emulsion as they are not supposed to be rich, highly-moisturising products. They have a creamy consistency, so they are suitable to be packaged in a jar just as body butters are. However, with careful planning, they can be transferred also into airless bottles for easy dispensing.
Unlike body butters, body yoghurts may not be the best choice for those with very dry skin. They may however work as daytime moisturisers, when you'd want to use something feather-light after your morning shower.
This table gives a quick overview of the key differences between body butters and body yoghurts.
| | | |
| --- | --- | --- |
| | Body Butters | Body Yoghurt |
| What is it? | Anhydrous (lipids only), although can be a thick emulsion. | A very lightweight emulsion. |
| Oils | Can contain rich, slow-absorbing oils. | Should contain light oils with "dry" skin feel. |
| Amount of Oils | Normally contains a high percentage of lipids. | Normally contains a low percentage of lipids |
| Texture | Rich, creamy texture. | Wobbly, jelly-like texture, but it is still creamy on application. |
| Best for | Those with very dry skin. | Normal skin |
| Purpose | Highly moisturising. Can be customised by adding oil-soluble extracts, actives and so on. | Average performance as a moisturiser. Could be customised by adding both water- and oil-soluble extracts, actives and so on. |
As you can see from the chart above, there are a number of differences between these two products. Which one works for you or your customers depends on the aim of your body products and any skincare issues that you wish your products to address.
When to Use a Body Yoghurt
Thanks to their low oil content and lighter texture, body yoghurts are ideal to use if you wish to keep your skin moisturised and hydrated in hotter, more humid climates.
Humidity is common from spring to autumn in the northern hemisphere but prevalent all year round in many parts of the world. The last thing we would wish to slather on in such climates is a rich body butter, oil or heavier lotion that makes us feel uncomfortable and leaves our skin feeling sticky and sweaty as if it – and we – cannot breathe.
In these climates, the best option is to turn to lighter products which feel fabulous on the skin and at the same time keep it moisturised and in good condition.
You could opt of course for a light body lotion or a dry oil, but body yoghurts in our opinion excel as a choice skincare to apply in warmer weather and climates.
In this blog post we show you how to make a lightly-fragranced, body yoghurt as a go-to skincare product when the weather gets sticky.
Key Ingredients in our Body Yoghurt
Isoamyl Laurate
Isoamyl laurate is a superb, Ecocert-approved ingredient which is an excellent silicon alternative. We use this ingredient a lot in our Diploma in Organic Haircare Formulation but it is a great choice in skincare products as well.
It is a lightweight ester and provides an excellent, sensorial experience in skincare products because of its velvety skin feel. It has no colour nor scent so these won't affect the end product. Its trade name is Dermofeel® sensolv.
AMAZE XT
This is a natural polymer. It is a white, free-flowing powder that is an excellent thickener. We use it in this formulation for that role, but also as it creates the great gel systems we find in products such as hair, eye and face gels. In conventional cosmetics, you will often find carbomer as a thickening agent, which needs neutralising, but this this not the case with Amaze XT. It can be used in hot and cold process formulations and the gel it creates has a lovely, non-sticky skin feel. (INCI: Dehydroxanthan gum)
Bisabolol
Bisabolol is found in the chamomile plant; more specifically in German chamomile. The one we use here however is naturally sourced from the Brazilian Candeia tree. Bisabolol is an oil-soluble extract that is an excellent choice on account of its anti-inflammatory properties. It is also said to be a penetration enhancer which means it helps other molecules get through the top layers of the skin.
What's the difference between body butters and body yoghurts? Try this @formulabotanica natural body yoghurt formulation at home and learn all about butters, lotions and yoghurts. #bodybutters #bodylotions #naturalformulation
Click To Tweet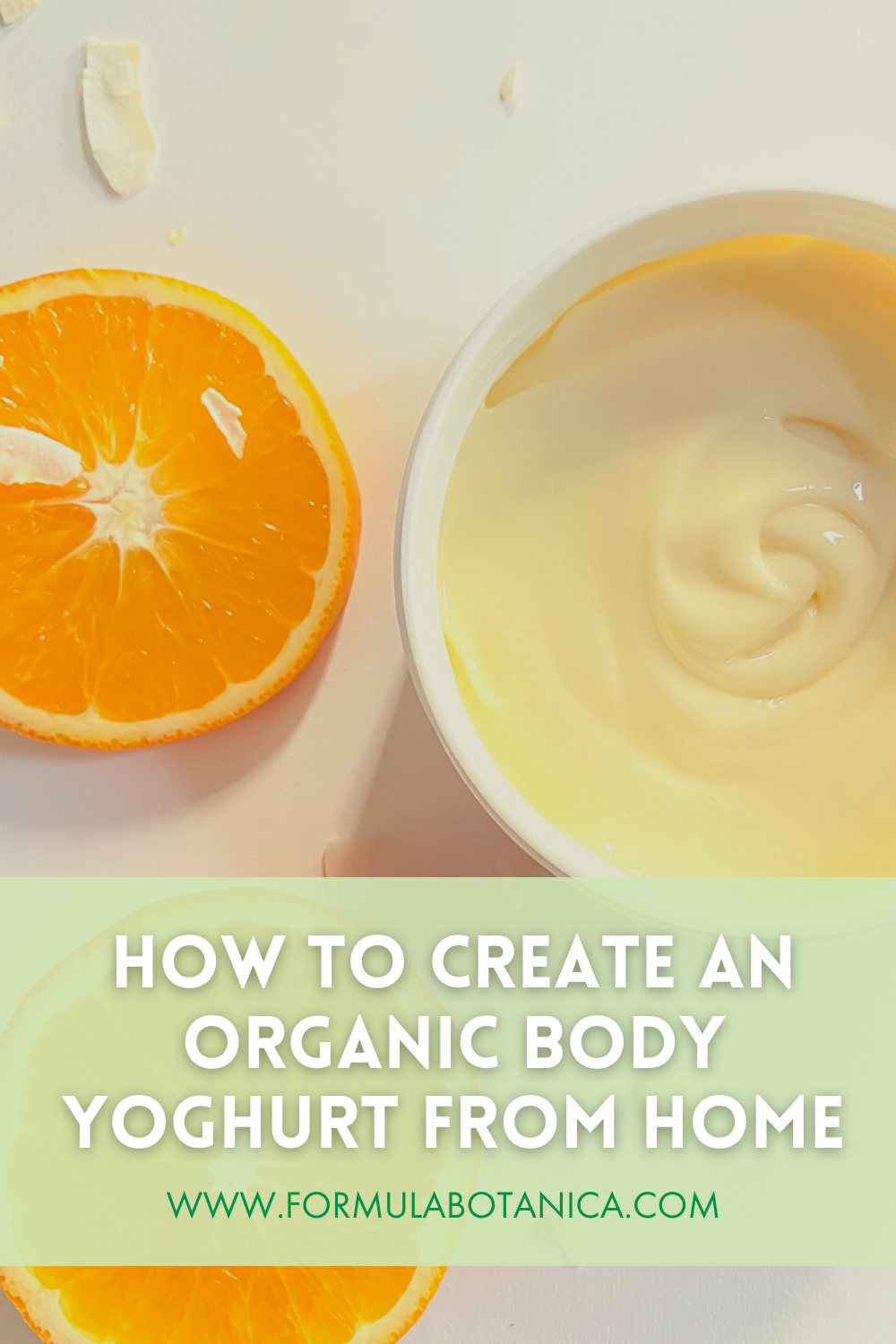 Our Formulation: Coconut & Orange Body Yoghurt
This body yoghurt is a fun cosmetic product to create that will also widen your horizons in organic skincare formulation.
This formula makes 200g of product.
Time needed: 30 minutes.
| | | |
| --- | --- | --- |
| Phase | Ingredients | Weight (grams) |
| A | Isoamyl Laurate | 12.00 |
| A | Coconut oil | 6.00 |
| B | PolyAquol 2W | 9.00 |
| B | Orange blossom hydrosol | 145.4 |
| B | Dermofeel PA-3 | 0.2 |
| C | Glycerine | 6.00 |
| C | Amaze XT | 0.2 |
| D | Orange blossom hydrosol | 10.00 |
| D | Hyaluronic acid powder (high molecular weight) | 0.2 |
| E | Panthenol | 3.0 |
| E | Bisabolol | 1.0 |
| E | Evening primrose CO2 extract | 1.0 |
| E | Tocopherol | 1.0 |
| F | Phytoscent – coconut | 1.6 |
| F | Sweet orange essential oil | 1.4 |
| G | Preservative Eco | 2.0 |
| | | Total: 200.00 |
Method of Manufacture:
Phase A

Weigh Phase A in a glass beaker. Set aside.

Phase D

Weigh Phase D in a small beaker and allow the hyaluronic acid to hydrate. Set it aside.

Phase C

Weigh Phase C in a small beaker and create a slurry with the gum and glycerine.

Phase B

Weigh the hydrosol, add the chelator and add Phase C, the gum-glycerine slurry. Now add the Polyaquol.

Heating

Heat Phase B till about 80C. Make sure the Polyaquol is molten.
At the same time, heat Phase A, the oils, to about 60-70C. Be careful, our oil phase is small and can burn easily.

Blending

Add Phase B, the oils, into Phase A and using a blender/ homogeniser, blend it for a minute.

Cooling

Start the cooling process. Under 45C, add Phase D, and blend well.

Final Ingredients

Add your Phase E ingredient and add the Phase F essential oils.
Finally, add Phase G, the preservative.

Testing pH

You will need to check the pH and adjust it if needed to pH 5-5.5.

Bottle

Transfer it into a jar. Leave it for 24 hours before evaluating.
Formulation Tips & Tricks
We chose PolyAquol-2W as it can create creamy emulsions with a low oil content. If you cannot get hold of this, check that your chosen emulsifier can do this job too.
You can add PolyAquol-2W to your oil phase, if you find that easier.
You could even do one-pot method where you have the oil and water in one phase but the viscosity may be different as a result.
Your goal is to achieve a slightly gel-cream consistency.
You will need to homogenise the mix so if you are using a stick blender, making at least 100g will make this process easier.
Always evaluate your emulsion after 24 hours and always check and adjust the pH. These will affect viscosity.
If you wanted a truly gel-cream consistency, you could opt for a polymeric emulsifier such as Ecogel but then you will probably need to alter the formula and method, both as per the supplier's recommendation.
Instead bisabolol, panthenol and evening primrose extract, you could use other extracts of your own choice. See what you can research and think about why you wish to include your chosen extracts.
You could try using other gums as thickeners but you will need to adjust the ratio to achieve the gel cream consistency.
Now it's your turn to have a go at making this fragrant, hydrating coconut and orange body yoghurt. Leave us a comment below to tell us how you got on and especially if you customised our formula with your own choice of hydrosols and fragrance ingredients.
---
Suppliers:
PolyAquol-2W
EU: Alexmo Cosmetics
Isoamyl laurate
UK: (alternative INCI: Isoamyl Laurate & Isoamyl Cocoate)
Bay House Aromatics
EU: Alexmo Cosmetics, and Manske Shop
Bisabolol
US: Making Cosmetics
UK: Aromantic
EU: Manske Shop
FAQs
What is a body yoghurt?
A body yoghurt is a light, oil-in-water cosmetic emulsion used as a skin moisturiser. It is called a yoghurt as it has a feather-light, creamy texture much as an edible, foodstuff yoghurt would appear if applied to the skin.
What is the difference between body yoghurt and body butter?
Body yoghurts are light emulsions ideal for hot climates or for people who prefer a less greasy skin feel to their moisturisers. Body butters tend to be richer, thicker, heavier emulsions more suited to a barrier and moisturising function and ideal for especially dry skin areas and for use on most skin types in colder climates and winter months.
Why use a body yoghurt in skincare?
A body yoghurt is ideal to use in summer months and in humid, hot climates to provide light hydration to the skin without the stickiness found in richer, more oil-heavy moisturisers.
Body yoghurt vs body butter: which is better?
Body yoghurts, as light and creamy emulsions with a small percentage of oils and butters to water, are ideal to apply in hot, humid weather and on normal skin. Body butters are formulated as heavier, oil and butter-rich moisturisers best suited to drier skin, more mature skin and use in colder weather when the skin needs more barrier protection to prevent trans-epidermal water loss (TEWL).
What is a body yoghurt made of?
Body yoghurts are cosmetic emulsions formulated with a very high percentage of water and water-based ingredients like hydrosols and floral waters along with a small percentage of carrier oils, silicons, gums, active botanical extracts and fragrance oils.
Where can I learn to formulate natural cosmetics?
Join us at Formula Botanica, where tens of thousands of students and followers take our free and paid online courses to learn how to formulate organic skincare and haircare for themselves or to sell.
---
If you want to learn more about how to make gorgeous natural body skincare products like lotions, balms, butters and yoghurts like this one, and other fantastic facial and skincare products, check out our Diploma in Organic Skincare Formulation. Have you pre-registered yet? Just sign up to stay informed about all our organic skincare formulation courses. In the meantime, try out a sample class to find out more about learning with Formula Botanica.
If you've been formulating for a while and are considering starting your own beauty brand, check out our Diploma in Beauty Brand Business Management.
FREE FOUNDATION COURSE
How to become an
Organic Skincare Formulator
By providing your details, you agree to receive additional educational & marketing emails from Formula Botanica, which further introduce our curriculum. Your data is never shared or sold. Read our
Privacy Policy
.
FREE TRAINING
How to become an
Organic Skincare Entrepreneur
Join over 100,000 other Formulators
By providing your details, you agree to receive additional educational & marketing emails from Formula Botanica, which further introduce our curriculum. Your data is never shared or sold. Read our
Privacy Policy
.
FREE TRAINING
How to become an
Organic Skincare Entrepreneur
Join over 100,000 other Formulators
By providing your details, you agree to receive additional educational & marketing emails from Formula Botanica, which further introduce our curriculum. Your data is never shared or sold. Read our
Privacy Policy
.
Leave us a comment
comments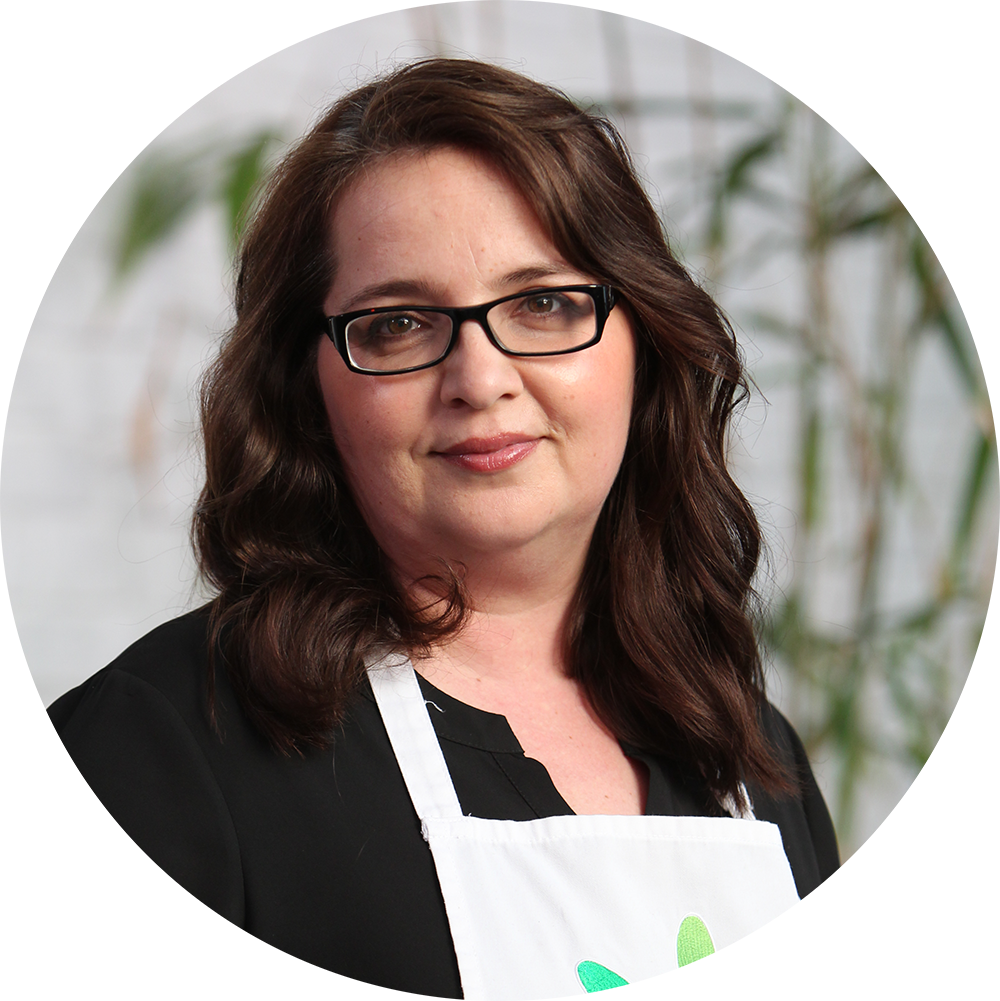 Timi was a key member of the Formula Botanica team from 2015 to 2020; first as our Education Manager and then as Head of Formulation & Research. You can find out more about the Formula Botanica team here.