Today we are going to make a wonderfully nourishing, superfoods face mask. This mask is very simple to make, but effective on the skin and can be easily adapted using different ingredients. Superfoods are very popular as an ingredient in smoothies and cooking, many people already have superfoods powders in their cupboards at home. But did you know you can also formulate with these versatile ingredients?
What is a Superfoods Face Mask?
Superfood masks are luxurious anhydrous face masks. They are based on a foundation of a cold blended or warm blended anhydrous cream and then you add fine or micronised superfood powders, along with oil-soluble cosmeceuticals, extracts and aromaceutical compounds. It is also possible to add clay to an anhydrous blend which won't present the same preservation challenges, as adding clay to a water-based formulation – although you'll still need to be careful not to introduce water or other contaminants.
The superfood powders add colour and texture. Colour is a big seller in natural skincare and in recent years we've seen a growth in the number of coloured balms, for instance. The overall effect is a thick creamy colourful masque which glides onto the skin and provides a moisturising barrier effect. You or your customer will need to wipe off the mask with a hot wash cloth.
You can also make superfoods face masks by creating a cream emulsion and dispersing superfood powders, but the formulation will have more of a luxurious glide on the skin with a thick anhydrous cream base.
How to make a Superfoods Face Mask
We have used one simple formulation with two different formulation methods, to show just how easy it is to create different colours and textures when formulating. This superfoods face mask is perfect for skin that is feeling dry, dull or lacklustre. There are three main components to this mask:
Superfoods Mask Layer 1: Superfoods
Superfoods are super-trending and still a big hype in the world of food, which is spilling over into the cosmetics sector. The idea behind the concept of superfoods skincare is that nutrition, beauty and skin health go hand in hand, and because of this reason superfoods can boost your inner self inside and outside.
There is no clear scientific definition for the term superfoods, but people generally accept that superfoods are high in nutrients and can offer health benefits. We often think of superfoods as exotic powders, but a superfood can also be a plant grown local to you – for instance, a sprout. The power of superfoods is that they contain many active components that can be useful, both in our daily nutrition, as well as in on our daily skin care routine, ranging from vitamins to minerals, omega-3 fatty acids to carotenoids, and many more.
In this mask, we decided to use baobab, a white powder, but you could also use a variety of other superfoods and experiment with different colours and textures. For example, you could use spirulina for a dark green hue or cacao for a rich chocolate scent.
Formulator's note: Always check your ingredient sources. Some of superfood powders are filled with (cheap) fillers (e.g. all kinds of sugar). Try to buy the purest form you can get.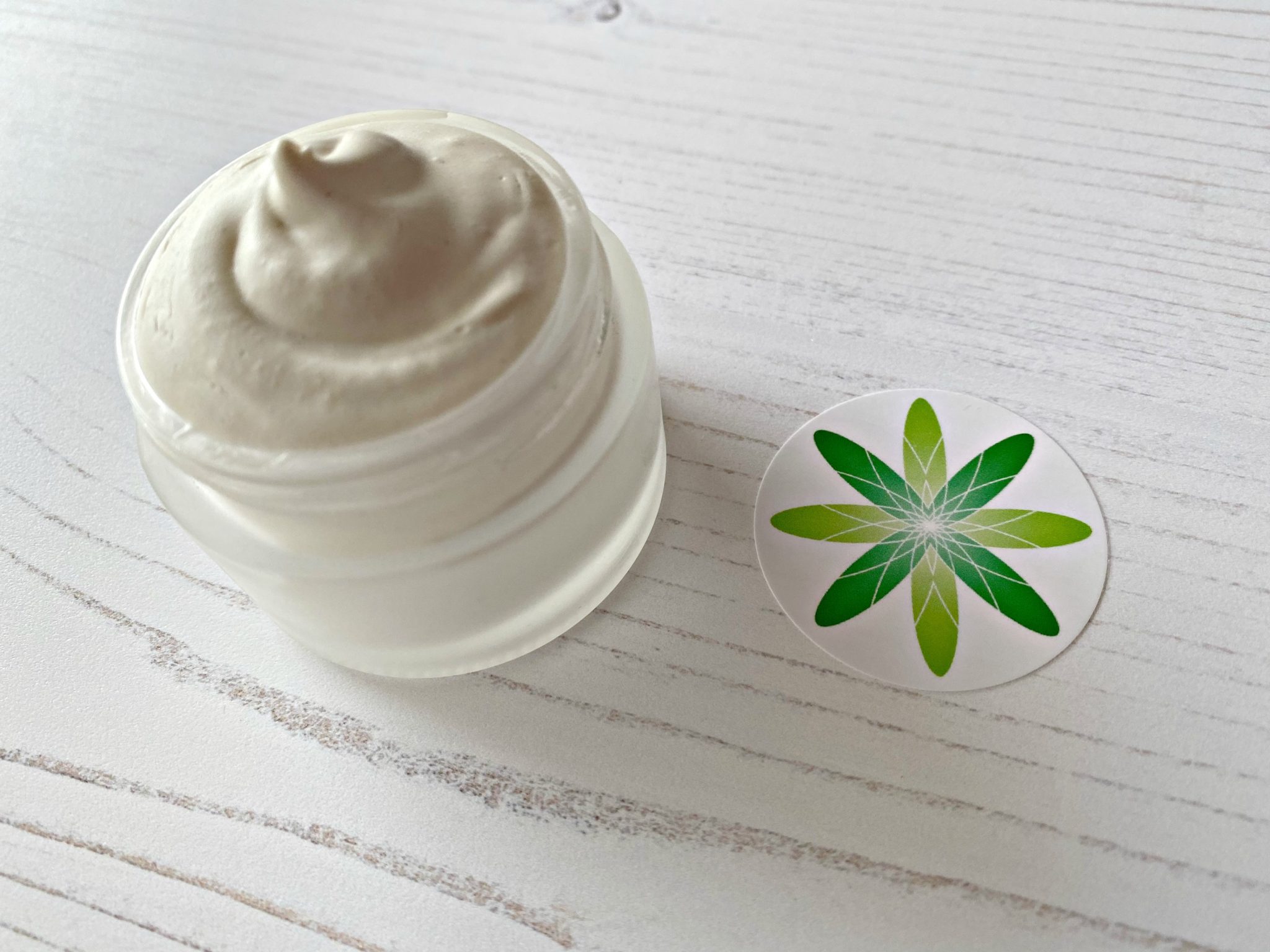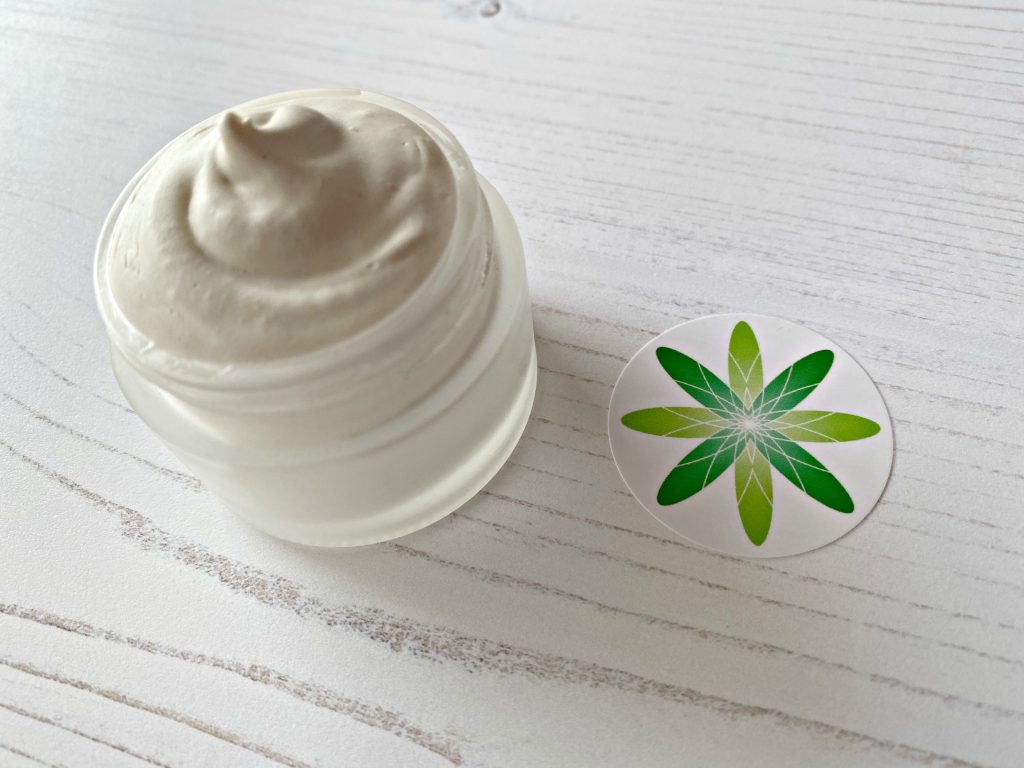 Superfoods Mask Layer 2: Clays
Clays are a group of minerals that is widely popular to use in all kinds of cleansing products and masks. They are well-known because of their absorbing and adsorbing properties. And yes, it's only 1 letter that changes, but it does make a difference:
Clays that have absorbing qualities tend to stick to the skin and absorb all kinds of secretions (sebum, grease, dirt, bacteria…) They also will absorb water in a formulation and swell. These types of clay are more suited for oily and acne-prone skin.
Clays that adsorb well mean that they bind small particles (dirt, bacteria, …) very easily but they don't swell as much when they come into contact with water. These clays are particularly suited for people with sensitive, mature and/or dry skin.
A drawback of these properties is that clays are notoriously difficult to preserve. They can absorb the preservative you have used in your lovely formulation and completely de-activate the preservation system, endangering you, your formulation and your customer! This is the reason why we don't recommend using clays in any kind of emulsions or any other water-based formulations. We cover working with clays and how to create all kinds of correctly formulated facial masks, in our Certificate in Facial Masque Therapy.
The good news is that clays are perfectly safe to use in an anhydrous base. As long as there is no water in the formulation and/or no water added to the product during use, this blend will remain a self-preserving, beautiful formulation. If you are worried about adding water to the product, here are some ideas worth considering:
Add/use a beautiful spatula to scoop the mask out of the jar
Make the mask in single use batches or use single dose packaging
Reformulate so it becomes a softer texture and works well in a tottle tube or any other squeezable tube
Superfoods Mask Layer 3: Anhydrous base
An anhydrous base is the perfect carrier to suspend all the luxurious ingredients in the superfoods face mask because:
You can work with clays without the need for a preservative
You can focus on all these amazing and beautiful oils, butters and oil soluble extracts.
The powders (superfood + clay) won't dissolve in your anhydrous base but they will be perfectly suspended throughout the entire mask (especially if you follow the right manufacturing technique, explained in the sample formula below).
If you need some inspiration, please have a browse to some of our previous posts:
Ten of the best Winter carrier oils
Five Amazonian butters
What are CO2 extracts? Mystery and methods explained
A Formulator's guide to CBD Skincare
The only thing worth considering is the particle size of the powders, namely the smaller the better. The particle size of clays is usually very small (micronised particles), but superfoods often come in different qualities and sizes. The bigger the particle, the higher the chances of a grainy feel to the balm, and that's not what this mask is all about.
Because of the large amount of powders added in this base, it will impart a non-greasy feeling while at the same time you can enjoy all the amazing properties of the oils, butters and extracts used.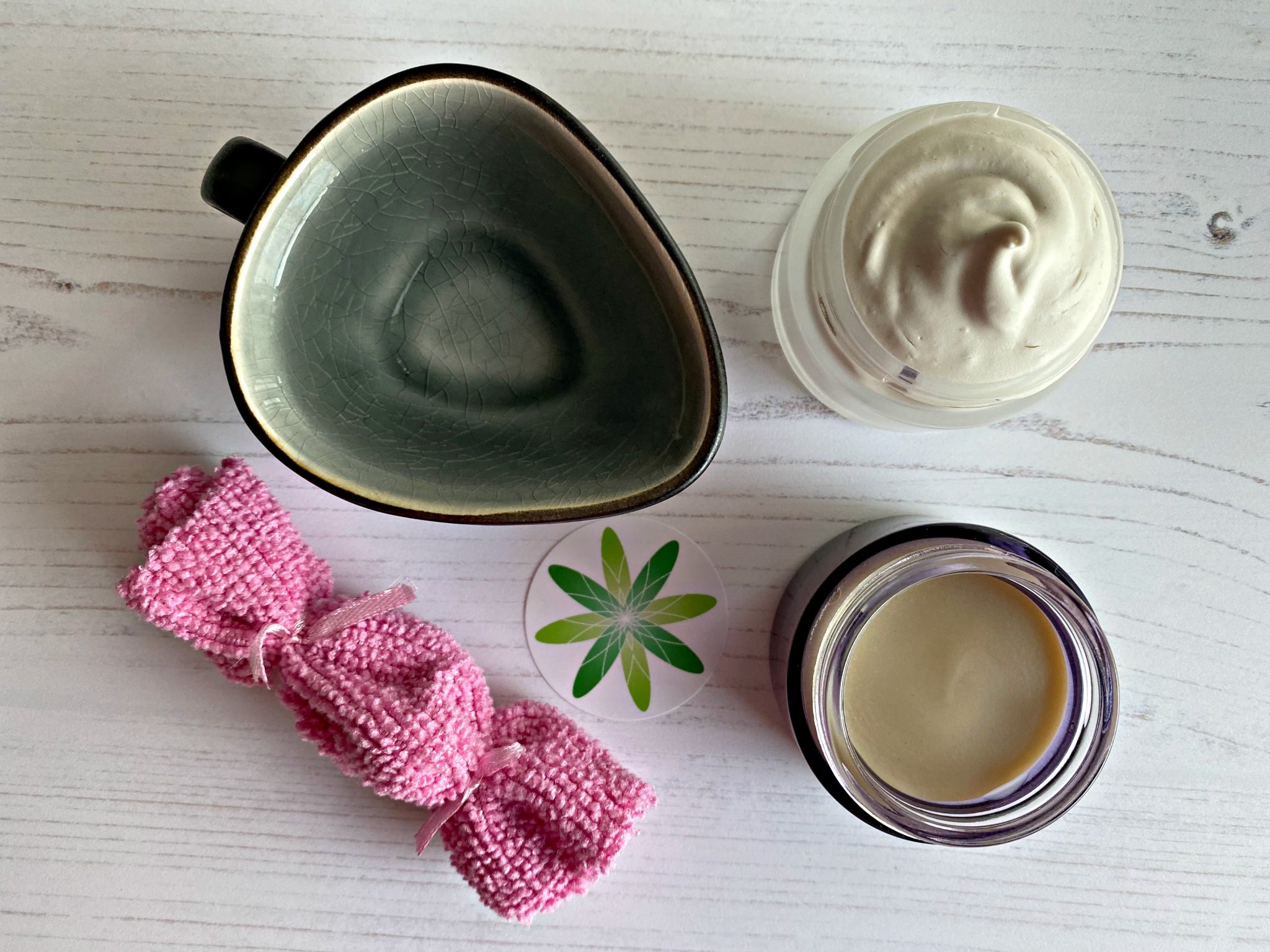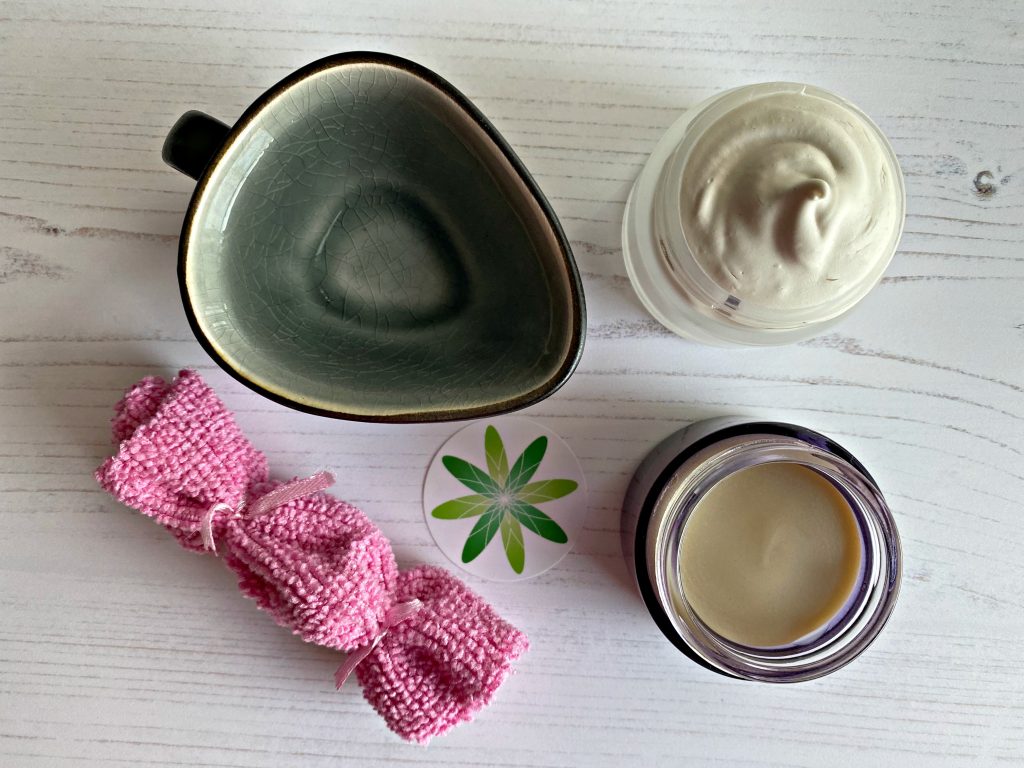 How to apply the Superfoods Face Mask
Apply a thick layer on your face and let the ingredients perform their magic. Afterwards you can rinse it off with a washcloth soaked in warm water. Adding an ingredient like liquid lecithin (as in the sample formula below), or if you have access to Polyglyceryl-4-Oleate (like we have used in this blogpost – How to make a Camellia Cleansing oil), will make rinsing a lot easier as it will emulsify when it comes into contact with water, giving you a lovely silky soft after-feeling on your skin after your mask treatment, making you glow.
Another option is to remove your mask with a cotton pad soaked in micellar water or a mist like we have made in the previous posts:
How to make a Micellar Water
How to make an Aloe Vera Repairing Mist
Learn how to make a nourishing, superfoods face mask with baobab and clay #facemask #DIYBeauty #skincare
Click To Tweet
How to make our Blissful Superfoods Face Mask
For our sample formulation we have focused on ingredients that are easy to find, so no matter where you are in the world, and whether you are a beginner formulator or a more advanced one, everyone can jump on this formulation and create this lovely treat!
We have created 2 versions of the exact same formulation: a whipped version and a non-whipped version, just to show you how easy it is to play around and get different textures and colours. The non-whipped latte version will feel balmy and soft, while the whipped snowy white version will have the effect of a fluffy cloud.
Formulation
Here's our formulation to create a blissful superfoods face mask:
| | | |
| --- | --- | --- |
| Phase | Ingredients | Weight (grams) |
| A | Mango butter | 30.00g |
| A | Shea butter | 20.00g |
| A | Lecithin | 1.00 |
| B | Coconut oil | 25.00g |
| C | Castor oil | 8.90g |
| C | Oat CO2 | 1.00g |
| C | Kaolin | 10.00g |
| C | Baobab powder | 3.00g |
| C | Tocopherol | 0.50g |
| C | Lavender Essential Oil | 0.30g |
| C | Cedarwood Essential Oil | 0.30g |
| | | Total: 100.00 |
Method:
1/ Weigh all phases in separate beakers and set them aside.
2/ If you live in a warm climate, the coconut oil will be liquid at all times and can be added directly to phase C. If you live in a cooler climate, the coconut oil will be solid and needs to be warmed up to around 25°C until it melts. Once in a liquid state you can add it to phase C.
3/ The powders won't dissolve in phases B/C but you will need to keep them suspended in this oily phase.
4/ Melt phase A in a hot water bath at around 50°C. Once everything is melted, remove from the water bath and stir while it cools down.
5/ When phase A starts to look more turbid (below 40°C) you can add phase B/C.
6/ Keep stirring this blend while it cools down, this is important to avoid graininess appearing in your beautiful mask later on. You can speed up this process by putting the beaker in the fridge, but you will have to keep stirring it once in a while. This means that you will need to go back every couple of minutes to your beaker and stir the content really well.
7/ Once the balm has reached a medium trace, you can pour it into your jars if you want to make a non-whipped version.
8/ If you want to make a whipped version, you can start whipping after this medium trace. Please do keep in mind that you'll need to whip in a couple of intervals. After each whipping interval you can put the beaker back in the fridge for a while again and let it set some more, take it out and whip again. Repeat this until you have reached the texture you are after and pour into your jars.
---
Pre-registration is now open for all of our award winning courses. Why not join thousands of other students around the world and become an expert organic formulator. Our Diploma in Organic Skincare Formulation will teach to formulate beautiful organic formulations, such as cleansers, lotions and masks! Sign up for pre-registration now.
FREE FOUNDATION COURSE
How to become an
Organic Skincare Formulator
By providing your details, you agree to receive additional educational & marketing emails from Formula Botanica, which further introduce our curriculum. Your data is never shared or sold. Read our
Privacy Policy
.
FREE TRAINING
How to become an
Organic Skincare Entrepreneur
Join over 100,000 other Formulators
By providing your details, you agree to receive additional educational & marketing emails from Formula Botanica, which further introduce our curriculum. Your data is never shared or sold. Read our
Privacy Policy
.
FREE TRAINING
How to become an
Organic Skincare Entrepreneur
Join over 100,000 other Formulators
By providing your details, you agree to receive additional educational & marketing emails from Formula Botanica, which further introduce our curriculum. Your data is never shared or sold. Read our
Privacy Policy
.
Leave us a comment
comments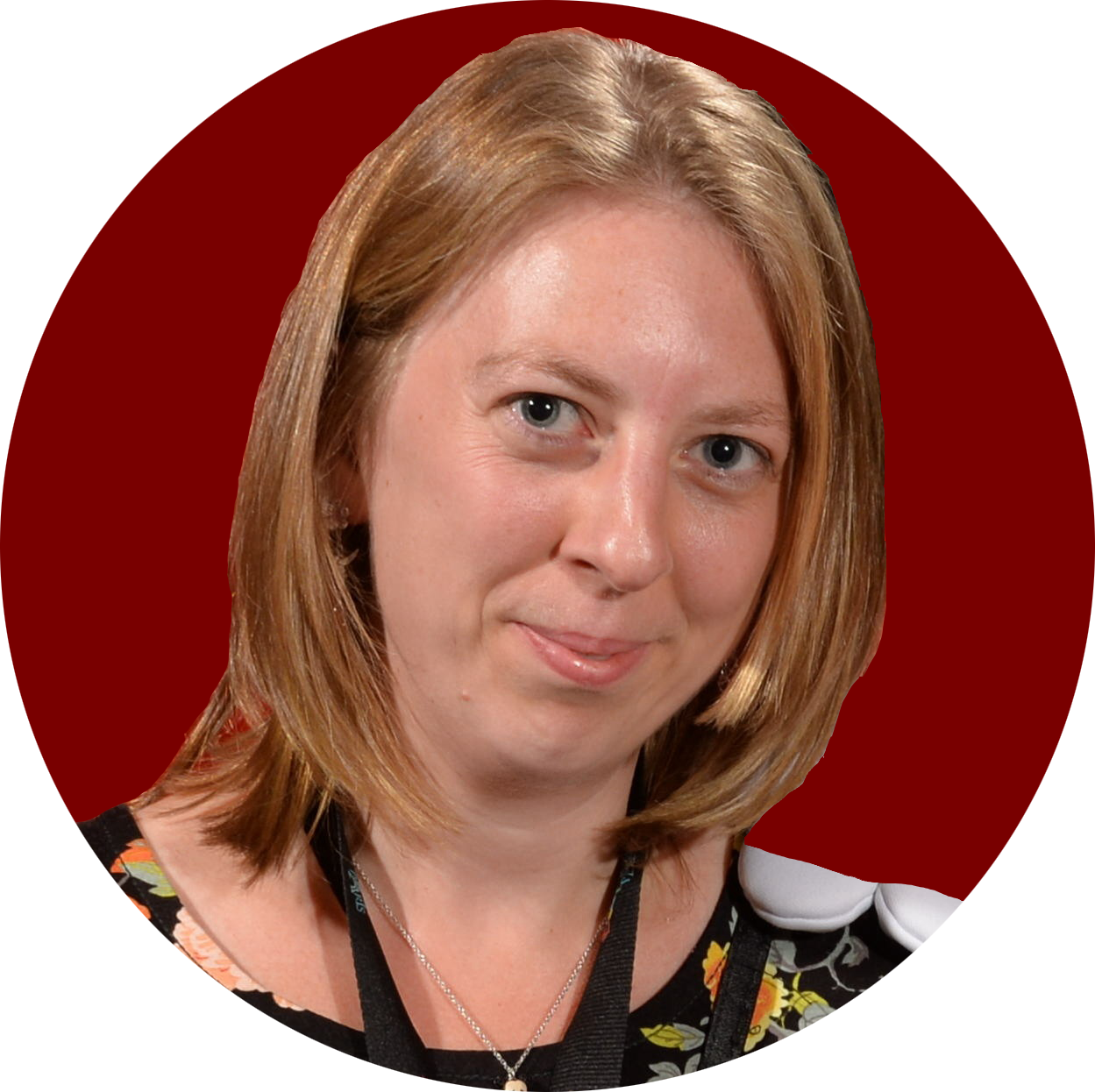 Jilly Schechter is a Tutor at Formula Botanica, where she helps our students to become better organic cosmetic formulators. Jilly lives in Belgium and loves writing tutorials on how to make skincare and haircare.