[Post updated: 14.03.23]
In this post, we are going to show you four natural solubilisers and take a look at how they work and what you, the formulator, need to pay attention to when working with them. Our list of solubilisers covers some currently available on the market that can be used in natural skincare. But first, let's recap on the group of cosmetic ingredients to which solubilisers belong and the role they play in our natural cosmetic formulations.
What are solubilisers?
Solubilisers belong to the surfactant group alongside emulsifiers. While they are classified in the same group of cosmetic ingredients, there are differences between solubilisers and emulsifiers, which we discuss in our post: Solubiliser vs emulsifier: which one do you need in your formulations?
At a fundamental level, solubilisers are completely soluble in water and are effective in dispersing small concentrations of oils in aqueous mediums, usually less than 2%, depending on the ingredient. Typically, these oil-soluble compounds have a small molecular size, as is the case with essential oils, fragrances, and some oil-soluble preservatives. It is important to note that solubilisers are usually less effective at dispersing vegetable oils. When dispersed, the minimal oil phase is distributed in small particles, resulting in a clear solution. We cover more on the science of surfactants in our post on how to make a natural mint and rosemary shampoo.
When to use solubilisers
If you intend to incorporate a small amount of oil, such as an essential oil, into a water-based product, using a solubiliser is worth considering. A classic example of this is a facial toner with added essential oils. Without a solubiliser, the oil droplets would remain on the water's surface, forming a concentrated pool.
Not only does this look aesthetically unpleasing, but it also poses a risk to the consumer. As the essential oil remains undispersed in concentrated drops, it is possible to apply excessive amounts, which could cause skin reactions.
To create a clear and visually appealing aqueous base, the essential oil should be mixed with a solubiliser before adding it to the water medium. This process results in a crystal-clear solution without the oil pool on the surface. Some solubilisers create cloudy solutions, and as long as the oil doesn't separate, it should not cause any risks. Customers can then use the product without worrying about using concentrated amounts of essential oils topically.
It's important to note that solubilisers are typically not used to incorporate carrier oils into a water base, but some solubilisers may be suitable for this purpose. Also, some preservatives have oil-soluble components that should be solubilised before being added to a water-based product to ensure proper dispersion and safety.
How to use a natural solubiliser
You will always need to follow the supplier's recommendation regarding usage amount. The amount of solubiliser needed to disperse oils will also depend on the chosen oil.
Here, we are working with blue chamomile essential oil and trialling various ratios. You will always need to follow these steps:
Blend the essential oil with the solubiliser until you get a homogenous mix.
Try to avoid creating too much foam.
Add this mix to the aqueous base and blend well. (You can also add the water to the blend.)
Our List of Natural Solubilisers
Symbio®Solv Clear Plus MB
INCI: Caprylyl/Capryl Glucoside; Aqua; Sodium Cocoyl Glutamate; Glyceryl Caprylate; Citric Acid; Polyglyceryl-6 Oleate; Sodium Surfactin.
Recommended usage: 1:3 – 1:5 (oil:solubiliser) ratio.
COSMOS compliant.
Oramix CG 110
INCI: Caprylyl/Capryl Glucoside.
Recommended usage: 0.1 – 15%.
COSMOS, Ecocert and NaTrue approved.
Tegosolv 61
INCI: Polyglyceryl-6 Caprylate (and) Polyglyceryl-3 Cocoate (and) Polyglyceryl-4 Caprate (and) Polyglyceryl-6 Ricinoleate.
Recommended usage: 0.5 – 10%.
ECOCERT approved.
Poly Suga Mulse D9
INCI: Sorbitan Oleate Decylglucoside Crosspolymer.
Recommended usage: 1 – 3% in leave-on products; 2 – 8% in rinse-off products.
ECOCERT approved.
Testing our Natural Solubilisers
Let us now see how they work in practice.
In this first picture, we added blue chamomile essential oil to water without any solubiliser. As you can see, they don't mix, and the oil floats on the water's surface.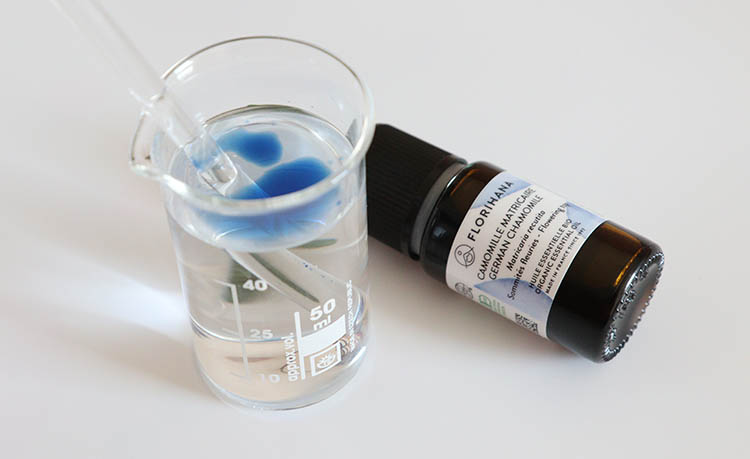 Next, we added the essential oil and a solubiliser to a watch glass. We will mix them before adding them to the water base.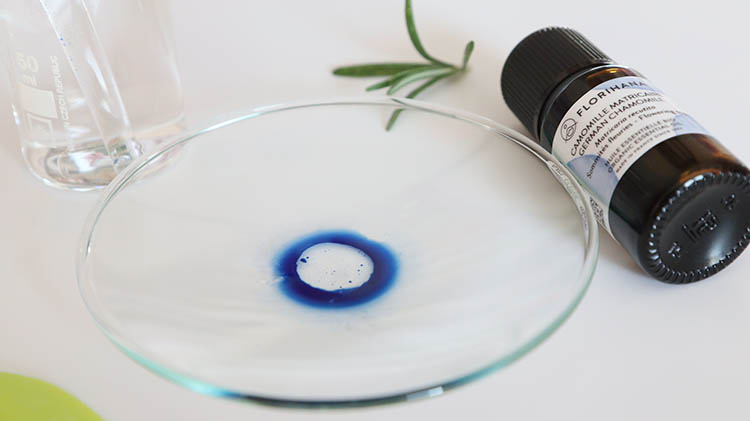 Below, you can see a comparison between the essential oil added without a solubiliser and then solubilised at different ratios. In the middle beaker, we got a cloudy solution, and by adding more solubiliser, we got a clear solution in the third one.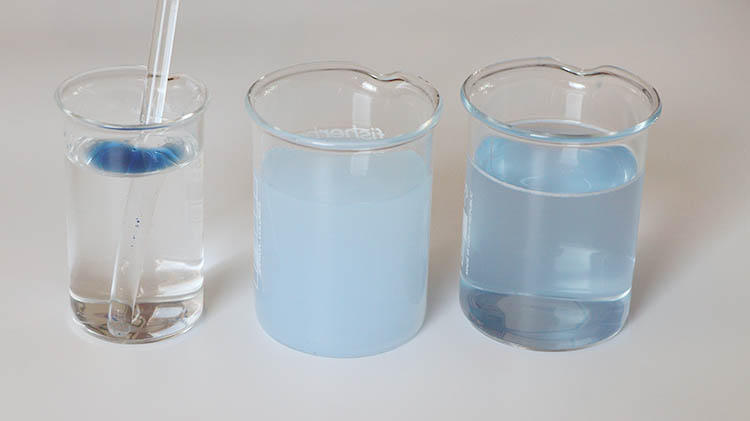 Remember, not all essential oils will need the same ratios of solubiliser, so keep experimenting and share your findings in the comments below.
Now it is your turn to test out formulas using solubilisers. Leave us a comment below to tell us how you got on with the ones we suggest or other solubilisers you come across on the market that are suited to natural formulations.
If you want to learn more about how to use functional ingredients like solubilisers, emulsifiers and surfactants proficiently, check out our Diploma in Organic Skincare Formulation. Have you pre-registered yet? Just sign up to stay informed about all our organic skincare formulation courses. In the meantime, try our sample class to find out more about learning with Formula Botanica.
Suggested Suppliers
Symbio®Solv Clear Plus MB: Formulator Sample Shop (USA), Bay House Aromatics (UK),
Oramix CG 110: Voyageur Soap and Candle (CA)
Tego Solve 61: Formulator Sample Shop (USA)
Poly Suga Mulse D9: Formulator Sample Shop (USA)
Many of our regular recommended suppliers below offer solubilisers. Most ship internationally. We have given their home country base.
Aromazone (EU). – dispersants
Aromantic (UK)
Alexmo Cosmetics (EU)
Manske (EU)
Soap Kitchen (UK)
Elemental (EU)
Lotioncrafter (USA)
Essential Wholesale (USA)
Go Native (New Zealand)
Naturally Balmy (UK)
Soap & More (Canada)
Note: this post was updated on 14.03.23 as some solubilisers mentioned previously were discontinued by their manufacturers. The original post was published on 06.08.19
Leave us a comment
comments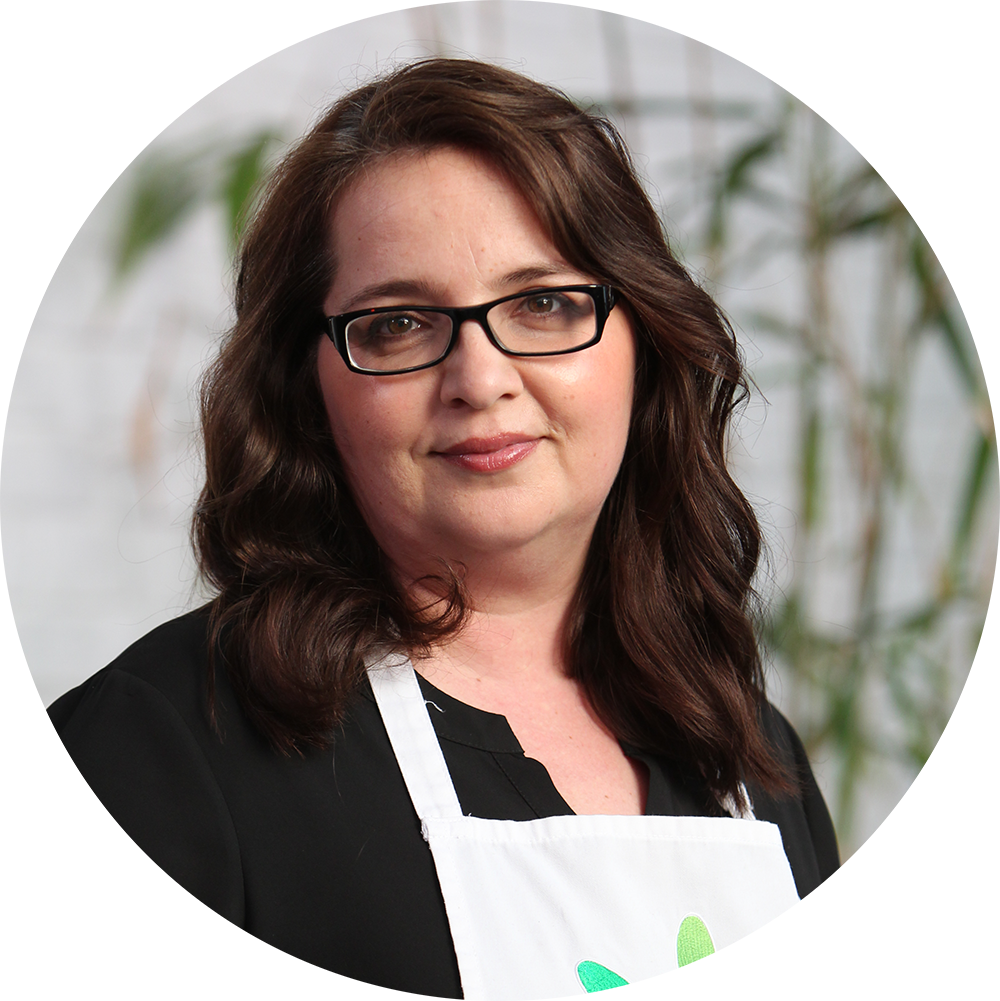 Timi was a key member of the Formula Botanica team from 2015 to 2020; first as our Education Manager and then as Head of Formulation & Research. You can find out more about the Formula Botanica team here.