In this post, we are going to show you 4 different natural solubilisers and take a look at how they work and what you, the formulator, need to pay attention to when working with them. Our list of solubilisers covers those currently available on the market and that can be used in natural skincare. First, let's recap on the group of cosmetic ingredients solubilisers belong to and the role they play in our natural cosmetic formulations.
What are solubilisers?
Solubilisers belong to the surfactant group alongside emulsifiers. While they are classified in the same group of cosmetic ingredients, there are differences between solubilisers and emulsifiers which we discuss in our post Solubiliser vs emulsifier: which one do you need in your formulations?.
In theory, both solubilisers and surfactants work in the same way as they help disperse various concentrations of oils in aqueous mediums. In general, solubilisers can work only with a 1-2% oil phase (dispersed phase) when the solubilised molecule is so small that it results in a clear solution when mixed with water or a hydrosol. We cover more on the science of surfactants in our post on how to make a natural mint and rosemary shampoo.
When to use solubilisers
You may opt to use a solubiliser if you want to add a small amount of oil, for example an essential oil, to a water base. A classic example is a facial toner with added essential oils. Without a solubiliser, the oil droplets would just float on the top of the water creating a concentrated pool.
This not only looks aesthetically unpleasing but is also dangerous. As the oil remains undispersed in concentrated drops on the water's surface, it is possible to apply too much essential oil to the skin when you use your product. You can however choose to write a warning on the label telling users to shake the bottle well before using the product.
In order to create a nice, clear water-base, we need to mix the essential oil in a solubiliser and then add this blend to the water medium. This results in a crystal-clear solution without the oil pool on the top and customers can use the product without worrying about using concentrated amounts of essential oils topically.
In general, we don't use a solubiliser to add other oils, such as carrier oils to a water base, however some solubilisers may allow this. Also, some preservatives have oil-soluble components that should be solubilised before adding the preservative to your water-based product to ensure its safe dispersion.
How to use a natural solubiliser
You will always need to follow the supplier's recommendation regarding usage amount. Additionally, the exact amount of solubiliser needed to disperse oils will also depend on the chosen oil itself.
Here, we are working with sweet orange essential oil and trialing various ratios. You will always need to follow these steps:
1. Blend the essential oil with the solubiliser until you get a homogenous mix.
2. Try to avoid creating too much foam.
3. Add this mix to the aqueous base and blend well. (You can also add the water to the blend.)
Our List of Natural Solubililsers
Update 09/06/21: Symbio®Solv Clear Plus mentioned below has since been discontinued by the manufacturer. We will be updating this post to review other solubilisers in the future as replacements.
1. Symbio®Solv Clear Plus
INCI: Caprylyl/Capryl Glucoside; Aqua; Sodium Cocoyl Glutamate; Glyceryl Caprylate; Citric Acid; Polyglyceryl-6 Oleate; Sodium Surfactin.
Recommended usage: 1:3-1:5 (oil:solubiliser) ratio.
COSMOS compliant.
2. Tegosolv 61
INCI: Polyglyceryl-6 Caprylate (and) Polyglyceryl-3 Cocoate (and) Polyglyceryl-4 Caprate (and) Polyglyceryl-6 Ricinoleate
Recommended usage: 0.5-10%.
ECOCERT approved.
3. Solubol NV
INCI: Glycerin, Cocos nucifera extract, Lecithin, Maltodextrin, Acacia gum, Tocopherol, Ascorbic acid, Rosmarinus officinalis extract.
Recommended usage: 1:4 (oil:solubiliser) ratio.
Plant origin except ascorbic acid.
Comes with supplier warning that it will create a milky solution.
4. Disper
INCI: Alcohol (ethanol), water (water), prunus amygdalus dulcis extract (sweet almond extract), lecithin, oleic acid, ascorbic acid (vitamin C), tocopherol (vitamin E).
Recommended usage: 1:4 – 1:10 (oil:solubiliser) ratio.
Plant origin, except ascorbic acid.
Not a true solubiliser, it is a dispersant where the oil droplets are suspended in the aqueous base resulting in a milky blend.
Testing our Natural Solubilisers
Let us now see how they work in practice.
PART A:
1. We are using 0.2% sweet orange essential oil.
2. We are using 1:4 oil:solubiliser ratio to start the experiment.
3. Our base is distilled water.
Results:
PART A. After blending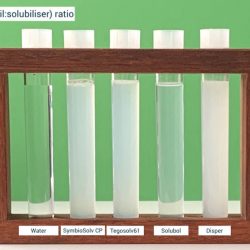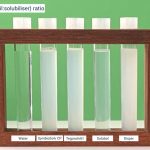 We can see that all 4 of our solutions have a milky appearance. We have one tube of clear water for comparison. This means that the ratio displayed is not correct for our sweet orange oil.
Disper is the milkiest, which we expected based on the supplier's recommendation. Solubol is the clearest while both Symbio®Solv Clear Plus and Tegosolv 61 remain turbid.
PART B:
Let us see if we can find the optimal ratio to get a clear solution with 0.2% sweet orange oil.
The 1:4 ration was our starting point. The more turbid they were, the more we had to adjust the amounts of ingredients. Tegosolve 61 took us a few tries, but here are our results:
Symbio®Solv Clear Plus: 1:7
Tegosolv61: 1:50
Solubol: 1:4. No other ratios made a difference; it remains a bit milky and the oil sits on top.
Disper: We disqualified this as we knew we would not get a clear solution with this.
Conclusion
Symbio®Solv Clear Plus: This natural solubiliser is great if you are looking for a COSMOS-certified solubiliser. The optimal ratio depends on the essential oil, but you can use a cold-process which makes formulation trials easier. The end result will create a bit of a foam and you can also detect the surfactant scent ever so slightly.
Tegosolv 61: This is an excellent solubiliser for organic products. When using this solubiliser, you should follow percentages rather than ratios. The maximum usage is 10% in a product so it is best if you work backwards when designing your formula. For example, if you allocate 5% solubiliser in your formula, see how much oil that can handle and still remain a clear blend. If we go by our experiment, you can only add 0.1% Sweet orange oil with 5% Tegosolv 61.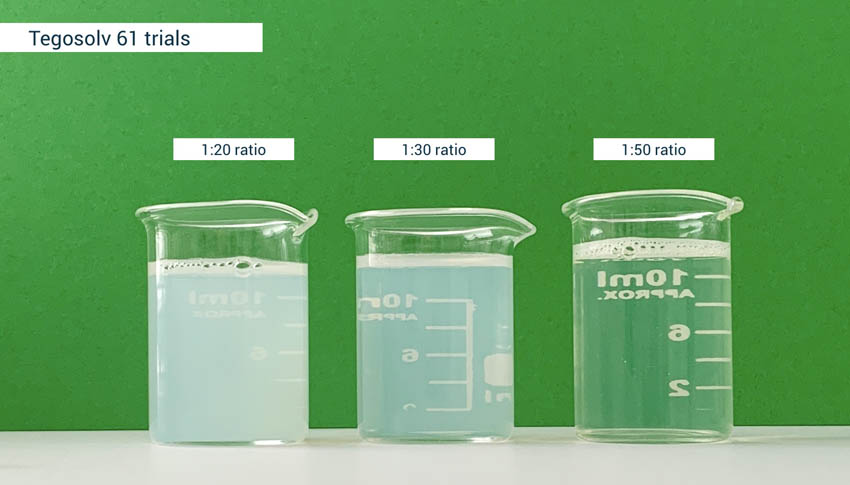 However, this solubiliser is also recommended with carrier oils not only with essential oils. We haven't trialed this so far. You can also try gently heating the oil and solubiliser and see if that helps keep the percentage lower, but it works well as a cold-process ingredient.
Solubol: Even though we purchased this as a solubiliser, this will not create truly clear solutions. We also noticed that the oil eventually sits on the top of the solution, regardless how much we stirred. This product will give you a milky, turbid blend.
Disper: We were aware of the milkiness, but we still tried it and disqualified it from our experiment. It also contains quite a high amount of alcohol which may not be suitable for all.
As you can see, our various solubilisers perform very differently. We would recommend using either Tegosolv 61 or Symbio®Solv Clear Plus for organic, water-based products as they give the best results in our opinion.
Remember, not all essential oils will need these exact ratios so keep experimenting and do share us your findings in the comments below.
Now it is your turn to test out formulas using solubilisers. Leave us a comment below to tell us how you got on with the ones we suggest or other solubilisers you come across on the market that are suited to natural formulation.
If you want to learn more about how to use functional ingredients like solubilisers, emulsifiers and surfactants proficiently, check out our Diploma in Organic Skincare Formulation. Have you pre-registered yet? Just sign up to stay informed about all our organic skincare formulation courses. In the meantime, try our sample class to find out more about learning with Formula Botanica.
Suggested Suppliers
Tego Solve 61: Formulator Sample Shop (USA).
Solubol: Aroma-Zone (FR/EU); and Manske (NL/EU)
Disper: Aroma-Zone (FR/EU).
Leave us a comment
comments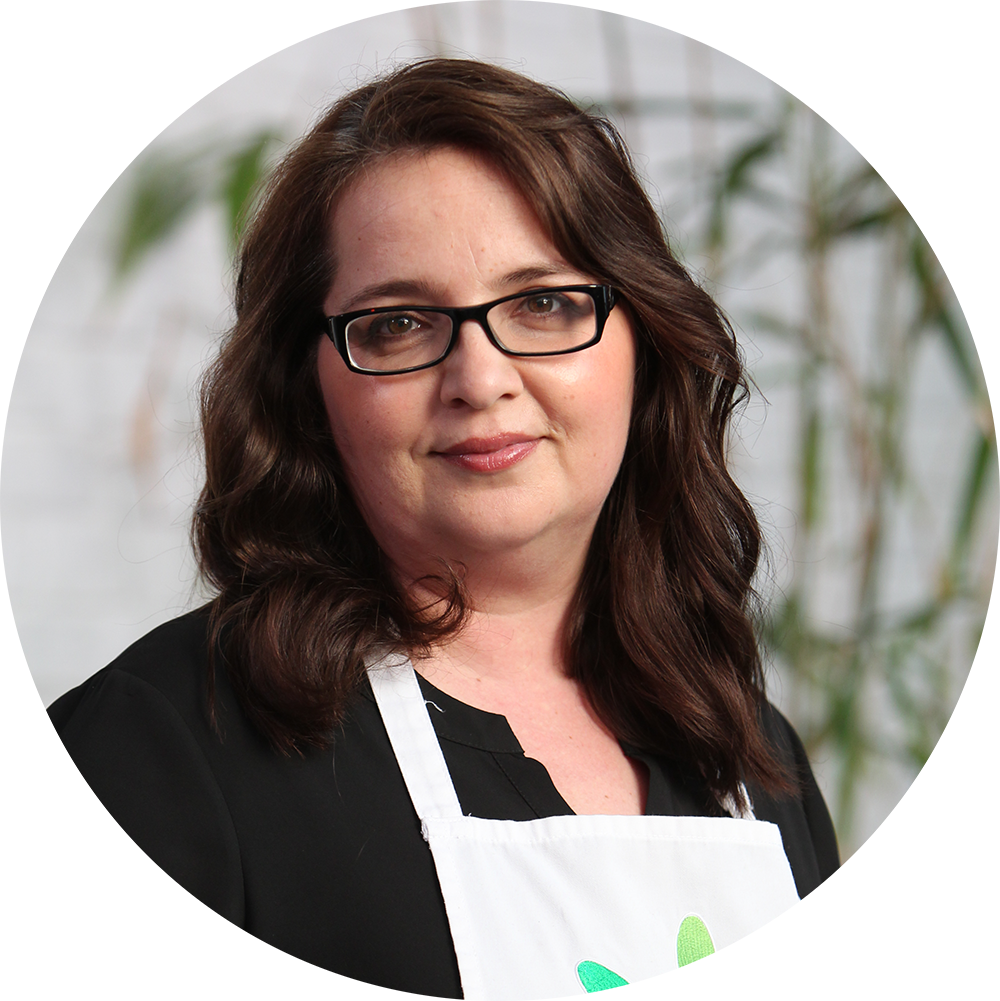 Timi was a key member of the Formula Botanica team from 2015 to 2020; first as our Education Manager and then as Head of Formulation & Research. You can find out more about the Formula Botanica team here.