Have you thought of making your own natural and organic skincare gift sets for friends and family, or even to sell? After dipping their fingers into the world of natural cosmetic formulation making simple but attractive natural beauty gifts, many of our students and graduates have gone on to start their beauty businesses.
As natural cosmetics are mainstreaming, consumers are looking for organic skincare gift sets and beauty products knowing that their recipients are more aware of the benefits of using botanicals than ever before. With the global natural and organic cosmetics market size projected to reach US$ 15,370 million by 2026 and to grow at around 7.5% (CAGR) during 2021-2026, it is not surprising to find Formula Botanica student and graduates grasping the opportunities it offers. Take a look at these 25 indie beauty businesses founded by our graduates to find inspiration about what kinds of natural, organic skincare products are in demand.
For this post, we turned therefore to our students and graduates to find out what products they feel are the best to make, give and sell as natural beauty gifts. We have rounded up the top ideas for natural and organic skincare gift sets and posted links to easy formulations to make your own, personalised beauty gifts at home.
Lastly, in the spirit of giving and to help other beauty entrepreneurs, we asked our interviewees for their tips on how to plan, cost, package and promote natural and organic skincare gifts.
What makes the best natural, organic skincare gift?
Natural body and hand care gifts generally win over facial skincare such as creams, serums and colour cosmetics. Simply put, body care lotions, soaps and scrubs are less tailored to specific skincare needs. Who doesn't appreciate a natural, aromatic bath gift set with body lotions, bath oils and balms? They are less likely to be dud presents and are suited to all age groups.
But, as one of our brand founders says: "The best cosmetics' gift is one you know the receiver will truly enjoy and use". So do think through the kind of scents and products your recipient would like. They may prefer body butters over lighter lotions or perhaps love – or loathe – floral scents.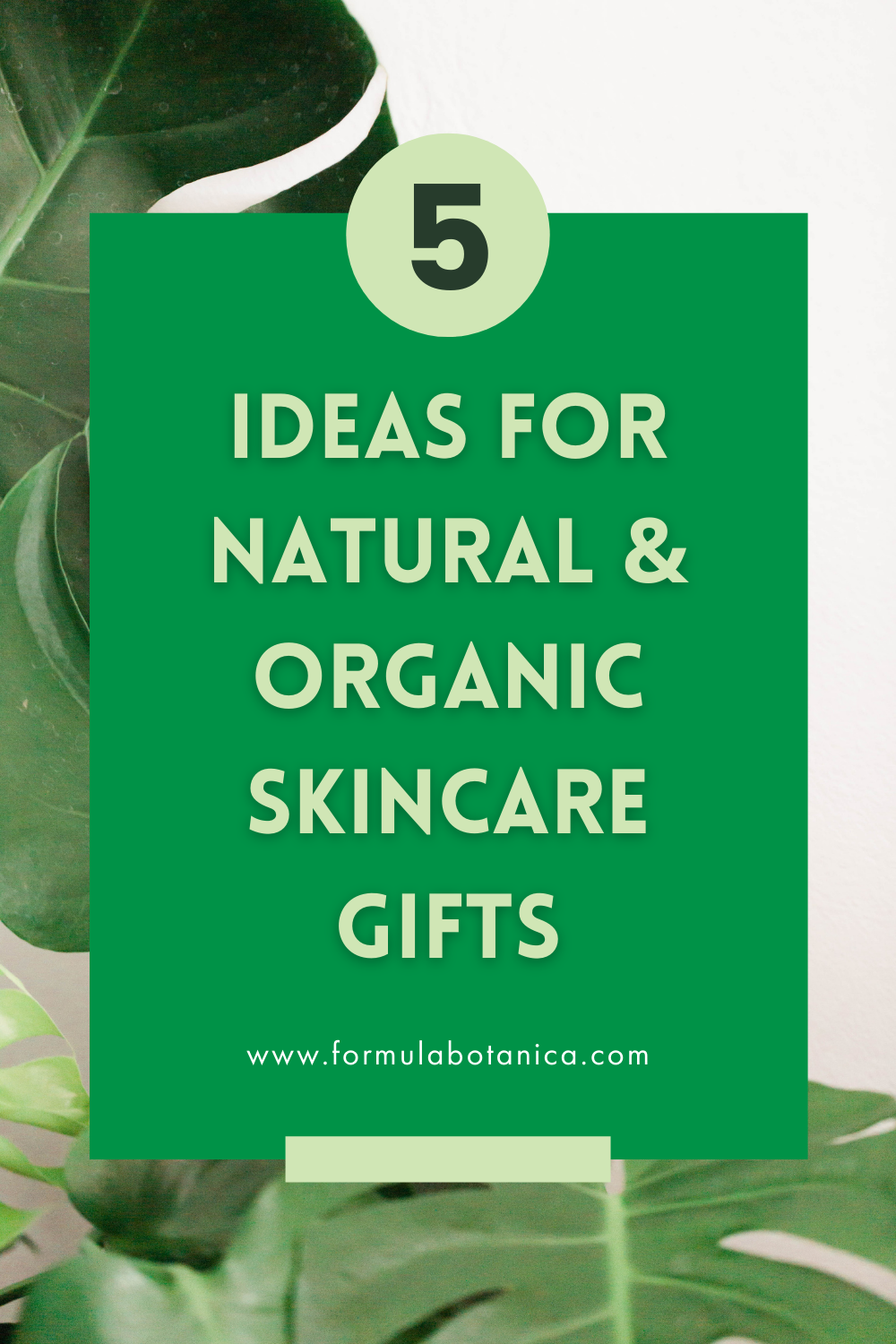 Need some gift ideas for skincare lovers? Try the @FormulaBotanica top 5 ideas for natural organic skincare gifts to easily make at home. #organicskincare #beautygifts #skincaregifts
Click To Tweet
If you are new to making natural skincare do take time to read our introductory Step-by-Step Guide to Making Natural Skincare Products which is a mine of information and tips.
Take a look at the formulations we suggest and feel free to swap out colours, scents, butters and oils to personalise your gifts. It is easy to make the foundation formulas and then tailor them with different additives and essential oils. You can even add pretty dried botanicals such as rose buds or lavender seeds to some formulations.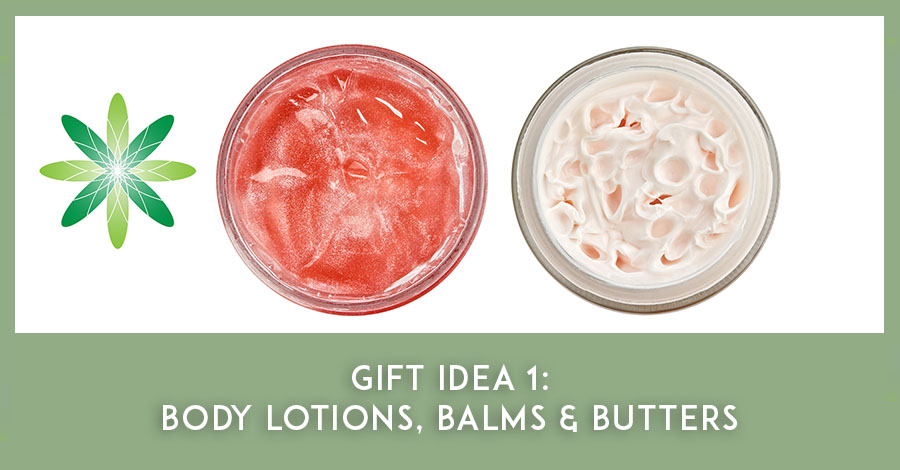 These products are perfect to bundle into a natural bath gift set and all are easy to make. If you are beginner at making body butters, take a look at our foundation post on How to Make a Body Butter. Then try out some of these ideas below. We particularly like the balm in a stick form which would prove a novel gift and easy to use as well as ideal to pop in a handbag:
How to make a Scented Natural Body Yoghurt
How to make a Green Tea & Cocoa Body Balm Stick
How to make a Tuberose & Neroli Whipped Body Butter
How to make a Body Melt or Lotion Bar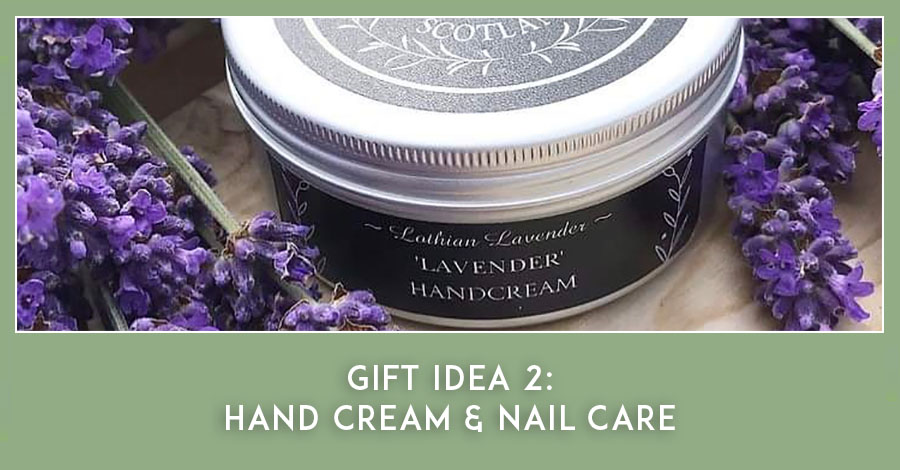 Hand cream is always appreciated as it is one of those products we always run out of and need all the time. It is easy to gift, if a little tricky to put into tubes. Alternatively, it can be decanted into decorative, lidded jars and gift wrapped as a night cream for hands rather than as a pop-in-the-bag version. Balms are ideal as they are semi solid and easy to pot up as well as nicely portable.
How to make a Vitamin C Anti-ageing Handcream
How to make a Nourishing Hand Balm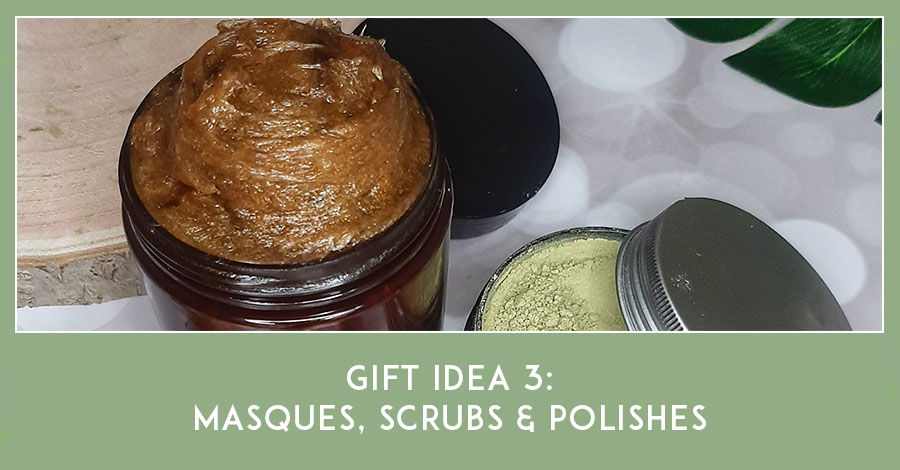 We think these facial and body cleasing products are some of the loveliest natural cosmetics to gift and as they are usually anhydrous (oils and butters only), they are also some of the easiest to create.
What we particularly like about these cleansing and moisturising products is that they can be colourful as you can have fun experimenting with different scrub particles and all sorts of fruit-derived, natural colourants. Take a look at these 38 Natural Colorants for Organic Skincare for some ideas.
How to make an Apple & Spice Whipped Foot Scrub
How to make a Black Salt Body Scrub
How to make a Butter Scrub
How to make a Green Tea & Lemon Body Polish
How to make a Natural Foot Mask
How to make a Natural Cleansing Balm
How to make an Activated Charcoal Face Masque
How to make a Superfoods Face Mask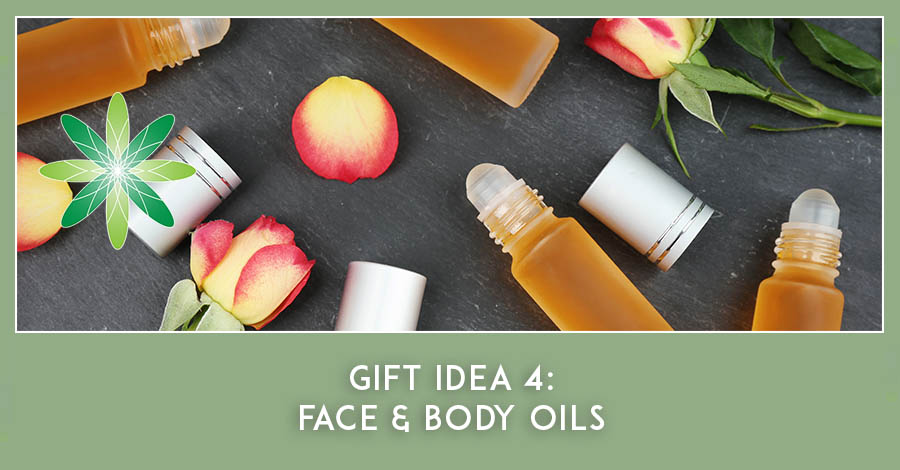 Natural face and body oils are by far the simplest of all our natural beauty gift ideas to make. There is little to formulate other than blend your chosen oils together. The creativity lies in deciding on those oils. Some botanical oils can have earthy or nutty scents while others like fractionated coconut oil or jojoba (which is a liquid wax) have almost no odour.
While they are easy to make, you might find it takes time to select the right oils for the product's outcome. Some absorb quickly and have a light, dry feel while others are heavier oils (sweet almond and avocado oil for example) and are more moisturising and occlusive on the skin.
If you are new to botanical oils, do read up first on the 10 Best Winter Carrier Oils for Skin and Hair, as well as about the 10 Best Zero Waste Oils for Skin and Haircare. Our post on Nordic Beauty Ingredients also has fantastic suggestions for nourishing oils ideal for high-performance face oils and serums.
How to make a Camellia Cleansing Oil
How to make a Nightime Face Oil for Mature Skin
How to make a Day Facial Oil
How to make a Vitamin E Face Serum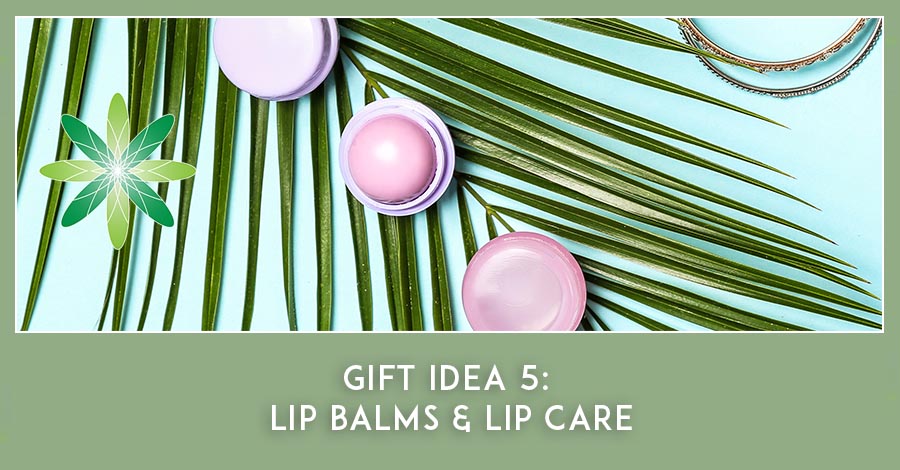 These are ideal, small item gifts that are cheap and fun to make. If you are gift giving in winter months, they are also indispensable cosmetics. Lip balms are harder than body balms and require higher percentages of natural waxes to ensure they don't melt or break easily in use. Read up on how to work with natural cosmetic waxes and see also our post on 6 vegan waxes for ideas on which to choose.
How to make a Whipped Lip Scrub
How to make an Amazonian Lip Balm
Tips on Selling Natural Beauty Gifts
In this section, some of our students and graduates share their behind-the-scenes advice on how to package, promote and sell natural cosmetic gifts.
Are gift sets good for indie beauty businesses?
Gift collections can work well in the run-up to key festive periods and be a useful way to introduce current and potential customers to new products, to promote certain products or reduce stocks of lines to be discontinued.
Some of the beauty founders we interviewed offer gift sets or special trial or travel sizes as free products at cart checkout if a customer buys over a set amount. Bundling products that would otherwise cost more individually is another use of gift collections and an incentive for consumers to buy more.
However, a few said they promote these offers knowing they will make a loss. They do so solely for marketing reasons to introduce new products and to encourage new customers to purchase.
Halle Apphia of The Black Soap Merchant said that her brand has benefited greatly from gift offers and that she gained customer loyalty as a result: "Gift offers have definitely turned some first-time clients into returning customers. Our soaps are packaged in 20kg boxes and in each box, there is always extra soap or a new product and this is so pleasing to my customers. Plan a budget for gifts; it does not have to be too expensive. It is important to choose a product that leaves a lasting positive impression." See the gift idea 3 photo for Halle's luxury gold soap paste and detox facial mask
This brings us to our next question about the costs that can mount up in creating promotional gifts.
How to package & promote organic skincare gift sets?
First, remember that gift set packaging should be able to withstand mailing and not just look pretty especially if you are selling online. The packaging must be robust enough to arrive in one piece to delight the recipient. Customers of natural, organic cosmetics are probably looking for sustainable packaging too.
Lucia Mencarelli, Founder of Casa Mencarelli
"Choose something small as I find gift sets and promotional products work better in mini sizes. Do think about the extra costs of any new packaging required. But you can create attractive packaging that need not be expensive; for example, use cotton bags that are reusable. My advice is to think practically." See our header photo for the Casa Mencarelli gift and mini trial size set.
Sue Tait of Lothian Lavender echoes Lucia's tip: "It does cost to package things in another way and this extra cost has to be factored in to your profit margin. A simple ribbon to tie things together is the cheapest way of making gift sets and if you offer a slight bargain on their total, regular retail price, that really helps". See gift idea 2 photo for Lothian Lavender's hand cream.
Most of our founders recommend being creative with packaging and presentation. A handwritten postcard or note of thanks included in the package is a personal touch customers appreciate.
Ileana Henaway, Founder of Skin Facials & Lab Formulations (SF Facials)
"My No.1 tip when it comes to promotions is to be creative. My number 2 tip is to be personal. I have learned through experience that our customers are very touched by our personalised promo gifts. So, be personal – people love that."
Yasmine ElGhamrarawy of Yatlina advises beautypreneurs to work out the lowest price that they can sell a product for and still be viable and then to offer that as a "special offer" price for people who wish to try and review your product. She adds: "Make sure packaging is easy enough to post and to display as pretty does not translate to practical in most cases".
Planning gift promotions
It is never too early to plan when and how to create and promote organic skincare gift sets. Finding just the right eye-catching, sustainable packaging can take time.
Jodie Dublin-Dangleben of Jaydees suggests indie brands map out an annual plan for promotions. In this way, they can decide well in advance which holidays or special occasions work best as dates for gift offers so their limited promotional budget isn't wasted. "Try to use sustainable packaging in a unique way that captures the eye. Personal notes are always a win win!"
Tina Frew of Secret Garden Spa finds that to plan gift sets for Christmas, she has to start promoting them as early as September. "I find that Christmas gift purchasing is finished by November. A marketing calendar is essential! Remember, profit margins can be small on gift collections or items, however it's a good way to introduce a new product or to get new people on to your range."
Danielle Corbert of Jierra Beauty starts at least three months in advance as a minimum and had factored in promotional costs even as a start-up: "Right from the start of setting up your business, you should be calculating how much room you have with packaging prices, and especially any extras for gift sets and promotional material, in order to still turn a healthy profit. If you have a social following, why not ask your audience what they want you to sell in gift sets?"
If you selling through retailers, each will have its own expectations of what you, as the brand, should contribute to assist them in promoting your products in store (or online). Ensure you get a rain check on those costs in your initial dealings and before signing contracts with retailers.
Which channels are best to promote your gift set or offer?
As students on our Diploma in Beauty Brand Business Management discover, there is no one-channel-fits-all when it comes to deciding where and how to market your natural beauty products. However, what all indie beauty brands have in common is the need for a promotional and channel marketing strategy that helps them find and engage with their target customers.
Our respondents used different media and channels and with varying success. It is impossible from our short survey of their approaches to make general statements about the merits of one channel such as Facebook or Instagram, whether free or using paid-for advertising, and how different media work for different types of product.
However, Facebook and Instagram were more frequently mentioned as channels offering the most success for promotions. One brand owner said that she felt social media created interest but not sales. But there is the saying that it takes 12 customer touchpoints to clinch a sale. Clearly you will need to dig into the analytics on your own website and social media channels to see which approach works best for your products.
You might find these posts useful if you are working on branding or marketing your beauty business:
Podcast 15: Top 10 Tips for Branding Indie Beauty Businesses
How to Write a Beauty Products' Business Plan
How to Start a Cosmetics Business at Home
Organic Skincare Gift Sets – Conclusions
We hope these insights have given you some advice on the likely best sellers as organic skincare gift sets, and also on how to go about planning for, packaging and promoting your product offers. There is no single right route for every brand. Each indie brand, if carving its own path, has a unique approach and personality – of both brand and founder – and will need to play to its strengths to stand out and succeed; all the more so during special festive times of year when consumers are bombarded with offers.
As we write this post in December 2020, the pandemic has had the effect of cancelling many farmers' and artisan markets but these events have proved a good place for new indie beauty brands to test the market and get valuable, immediate feedback on their products.
If there is one key take-out from our panel of founders it is that natural beauty is most certainly a good gift idea and one that the indie beauty brand can personalise and make special for the gift giver and recipient.
FAQs
Is skincare a good gift?
Yes, skincare, especially natural, organic skincare gift sets are widely appreciated by all age groups. Some products make better skincare gifts than others. Aromatic, natural bath and body products like body butters, lotions and balms as well as useful cosmetics like luxurious hand creams are easier to gift than face creams and serums which would need to address the specific skin needs of the gift recipient.
What to gift someone who loves makeup?
Colour cosmetics and makeup can be tricky to gift unless you really know your recipient's personal tastes and skincare type. However, cosmetics like pretty natural lip balms or lip scrubs are easier to choose and also double up as skincare not just as colour makeup. Select a range of lip balm colours for a single gift and you can't go wrong.
What are the top 5 skincare products to gift?
Gifting skincare can be difficult as there are so many gorgeous brands and also new types of cosmetics out there. If you don't know your recipient's skin type or tastes well, opt for body lotions, body butters, hand creams, nail care and lip balms. These product are less tailored to a specific skincare needs and are always welcome practical gifts.
FREE FOUNDATION COURSE
How to become an
Organic Skincare Formulator
By providing your details, you agree to receive additional educational & marketing emails from Formula Botanica, which further introduce our curriculum. Your data is never shared or sold. Read our
Privacy Policy
.
FREE TRAINING
How to become an
Organic Skincare Entrepreneur
Join over 100,000 other Formulators
By providing your details, you agree to receive additional educational & marketing emails from Formula Botanica, which further introduce our curriculum. Your data is never shared or sold. Read our
Privacy Policy
.
FREE TRAINING
How to become an
Organic Skincare Entrepreneur
Join over 100,000 other Formulators
By providing your details, you agree to receive additional educational & marketing emails from Formula Botanica, which further introduce our curriculum. Your data is never shared or sold. Read our
Privacy Policy
.
Leave us a comment
comments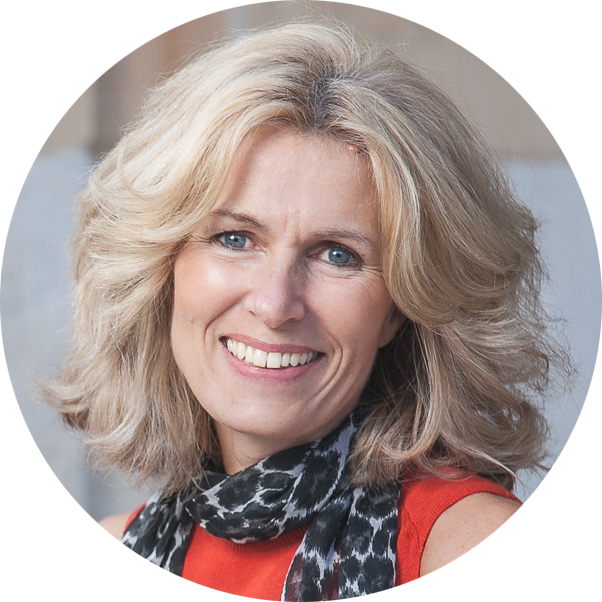 Liz is Formula Botanica's Content Coordinator and joined our team in August 2020. Liz worked as a professional blogger, journalist and site developer for many years and was also part of the Formula Botanica student community. Read more about the Formula Botanica Team.