In this post, we present a solid hair conditioner bar created with rich conditioning and moisturising properties that coat the hair shafts and moisturise the scalp. It complements our earlier formulation for a shampoo bar. The trend for solid – or so-called "waterless" – cosmetics grows year on year in response to consumer demand for greater sustainability in the manufacture of the personal care products they buy.
Solid products are relatively simple and fun, even for beginner formulators. Oil-phase ingredients are melted and mixed well to create a homogeneous blend. This is then poured into moulds and left to cool and harden overnight. Solid cosmetics are an excellent entry point into natural formulation and make useful, practical personal care products for daily use.
We have other solid, semi-solid and anhydrous formulations on our blog, including:
How to make a solid cleansing bar
How to formulate a cocoa shampoo bar
How to make a shower jelly
How to make an oleogel cleanser
Formulate a green tea and cocoa body balm stick
Why a balm stick should be the next product you formulate
Brief thoughts on solid cosmetics
Concentrated, solid products offer the advantages of less weight (which has implications for transport costs and the environmental impact of distribution), longer shelf lives, a reduced carbon footprint, and less waste. In addition, the performance of solid products, if correctly formulated, can easily be comparable to that of liquid versions.
However, describing a cosmetic as "waterless" can be seen as a misnomer as while a formulation may be anhydrous, it will inevitably leave a water footprint in its manufacture, distribution and more. We cover this in our Green Beauty Conversations podcast 83: Is waterless beauty greenwashing us?.
Consumers may still struggle to make the association between high performance and a solid product, and this is an issue we focus on in our podcast 94: How do we make solid formulations feel luxury?. Anyone thinking of making solid, efficacious formulations commercially will still need to be prepared to challenge long-held consumer perceptions.
We cover more background on waterless cosmetics in the introduction to our formulation for a solid cleansing bar.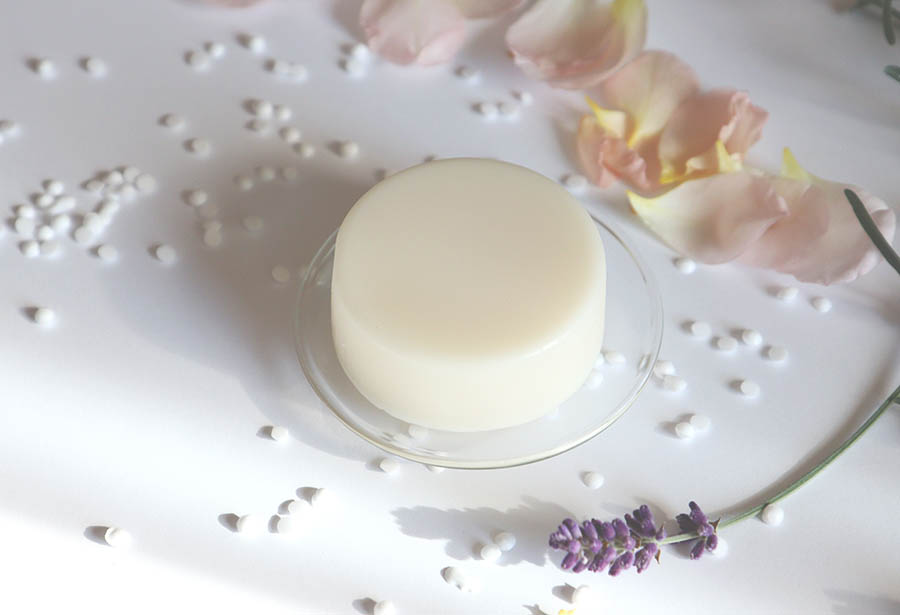 Make this @FormulaBotanica easy solid hair conditioner bar as a more sustainable haircare product. This step-by-step formula is ideal for beginners. #naturalhairconditioner #solidshampoo #sustainablehaircare Click To Tweet
Some background on hair conditioners
Hair conditioners are a specific class of cosmetic product in which we need to use an emulsifier with a cationic charge to achieve the expected results for our hair. The hair shaft has a negative charge and the positively-charged emulsifier (cationic emulsifier) binds strongly to the negatively-charged hair fibres.
This means that this type of surfactant is not as easily rinsed out by the water as would be the case with a conditioning treatment with ionic or non-ionic surfactants, such as you find in skin-cleansing products. Cationic surfactants are therefore desirable in haircare products, especially in hair-conditioning preparations that work by creating a thin, continuous, protective layer to prevent loss of moisture, and to add softness, strength and lustre to the hair.
How to use a solid hair conditioner bar
Since this is a solid product, directions for use are slightly different from those you are familiar with in standard cream-like preparations. After cleansing the hair, you should wet the bar and rub it between your hands. The bar will now have a milky-looking surface as its ingredients emulsify in contact with water. Then, glide the bar over your hair strands, leaving the conditioner in for a few minutes to work before rinsing out.
Solid hair conditioner: our ingredients
For this formulation, we chose the cationic emulsifier Aminosensyl HC since it is designed for haircare formulations. This emulsifier can be used for formulating solid or waterless conditioning products, and also for standard types of hair conditioners – both leave on and rinse out.
Jojoba oil was specifically chosen for this formula to provide excellent moisturising and conditioning properties for the hair and scalp. This stable oil (liquid wax) also has an exceptional tolerance to heat and oxidation.
Squalane is a light, non-greasy emollient that acts as a natural "green" silicone to provide slip and lustre to the hair.
Both oils have a desirable sensory profile that is ideal for haircare preparations. They are well known for their ability to not leave the hair heavy or greasy. Rosemary extract gives the solid conditioner bar some antioxidant and protective properties, along with adding other benefits to the hair and scalp.
Our formulation: Solid hair conditioner bar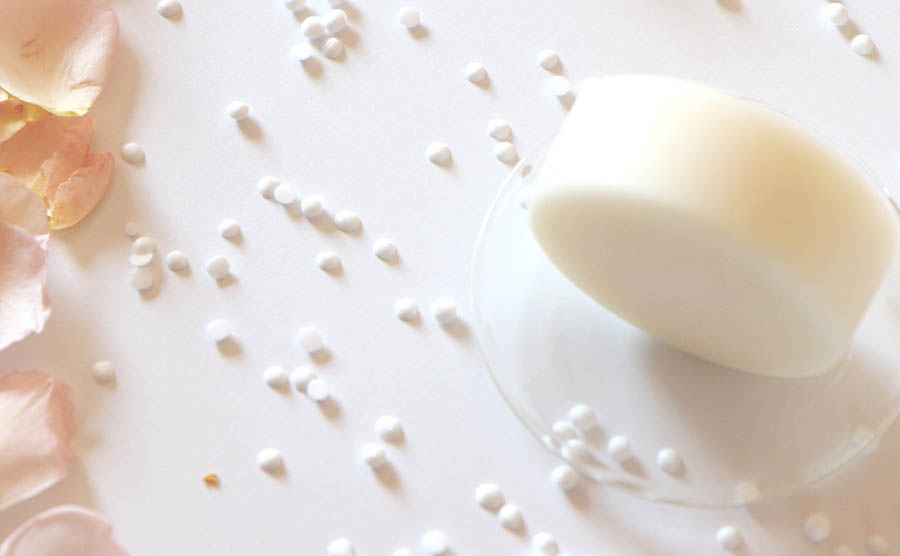 Waterless products have relatively good microbial stability. However, since we are creating a product that will be in contact with water, the addition of a compatible preservative is crucial to prevent contamination with bacteria, yeast and mould. Our formula is simple and ready to be personalised with other unique active ingredients, such as hydrolysed proteins or different types of emollients, additives, essential oils or oil-soluble plant extracts.
Makes: recommended trial batch size: 50g/100g.
Time taken: 30 minutes not including setting time.
Level: Beginner-level formulation to personalise and adapt.
| | | | |
| --- | --- | --- | --- |
| Phase | Ingredients | INCI | Weight (g) |
| A | Aminosensyl HC | Brassica Alcohol (and) Brassicyl valinate esylate | 73.00 |
| A | Cetyl alcohol | Cetyl alcohol | 13.00 |
| A | Jojoba oil | Simmondsia chinensis seed oil | 8.00 |
| A | Squalane | Squalane | 3.5 |
| B | Spectrastrat Natural G2 MB | Caprylhydroxamic acid (and) Glyceryl caprylate (and) Glycerin | 1.50 |
| C | Rosemary CO2 extract | Rosmarinus officinalis leaf extract | 0.20 |
| C | Clary sage essential oil | Salvia sclarea leaf oil | 0.40 |
| C | Lavender essential oil | Lavandula angustifolia flower oil | 0.40 |
| | | | Total: 100.00 |
Equipment:
Scales
Glass beakers
Hot plate
Water bath
Glass rods / spatulas
Mini whisk
Pipettes
Method of Manufacture: solid hair conditioner bar
Preparation

Sanitise your utensils and working place and wear appropriate PPE according to GMP.

Weigh

Weigh out all your ingredients, and put them in separate beakers according to phases A, B and C.

Melting phase

Melt phase A ingredients (oils and emulsifiers) in a heat-proof container in a water bath. This phase should heat up to 75-80°C.

Phase B

When all the ingredients of phase A are melted, add phase B, and mix well.

Heat-sensitive phase

Let the blend cool down while mixing continuously. At 60-65°C, add phase C – the heat-sensitive extract and essential oils. Please note that this is a hot-fill product, so it is impossible to wait for your blend to fall below 40 degrees in order to add the heat-sensitive ingredients. Instead, add all heat-sensitive ingredients at a higher temperature (60-65°C) and all at once to make sure they are less prone to damage from the heat.

Decant and cool

Immediately pour the blend into suitable moulds and let it harden completely.

Wrap and label

Remove your cold solid bars from the moulds, wrap them and then label them with the product name, batch and date. Store in a dry place away from light and direct heat.
Formulation notes
Aminosensyl HC is a 100% natural quat–free, superior, hair-conditioning ingredient that is easily biodegradable and safe and gentle to humans, as well as non-toxic to aquatic life. It provides deep conditioning properties to the hair and is ideal for hair care products such as conditioners, hair masks, or intense hair repair treatments.
Cetyl alcohol is a non-ionic, coconut-and palm-derived co-emulsifier and thickener.
Jojoba oil is an effective moisturiser that nourishes the skin and hair without being heavy or oily.
Squalane is a lightweight emollient with silicone-like properties.
Spectrastat G2Natural MB – our chosen preservative – is a fully-natural composition of active compounds that are effective against bacteria, yeasts and mould over a broad pH range. It is compatible with cationic ingredients.
Rosemary CO2 extract is a potent antioxidant and antimicrobial and prevents the oxidation of oils and essential oils in the formula, along with demonstrating other hair-beneficial functions.
Our chosen essential oils offer a calming and uplifting effect, and provide a refreshing scent to give the conditioner bar a pleasant aromatherapeutic fragrance.
FREE FOUNDATION COURSE
How to become an
Organic Skincare Formulator
By providing your details, you agree to receive additional educational & marketing emails from Formula Botanica, which further introduce our curriculum. Your data is never shared or sold. Read our
Privacy Policy
.
FREE TRAINING
How to become an
Organic Skincare Entrepreneur
Join over 100,000 other Formulators
By providing your details, you agree to receive additional educational & marketing emails from Formula Botanica, which further introduce our curriculum. Your data is never shared or sold. Read our
Privacy Policy
.
FREE TRAINING
How to become an
Organic Skincare Entrepreneur
Join over 100,000 other Formulators
By providing your details, you agree to receive additional educational & marketing emails from Formula Botanica, which further introduce our curriculum. Your data is never shared or sold. Read our
Privacy Policy
.
Leave us a comment
comments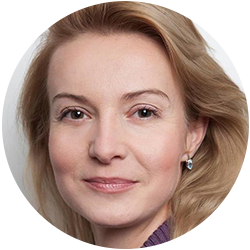 Miroslava is a grading tutor at Formula Botanica. She has a Ph.D in neuroscience, expertise in biology and chemistry, and a lifelong passion for natural cosmetic formulation.