In today's post we will be tackling the topic of natural surfactants. This is a big topic! We will explain the basic chemistry of surfactants, we will talk more about the group that is used in cleansing formulas and we will compare and contrast five key natural surfactants that we think every organic formulator should be experimenting with.
Many beginner formulators start their journey creating anhydrous products such as balms and oils but soon progress to using a whole range of different ingredients and processes. At Formula Botanica, we have a bustling student community of formulators and many of them are looking to explore different kinds of active and functional ingredients to enable them to expand the range of products they can confidently formulate.
Read more: How to Make a Natural Shampoo with Rosemary and Mint
What are Natural Surfactants?
Firstly, let us talk about natural surfactants and how they work in your formulations. Surfactants covers a large group of ingredients that are responsible for several functions, including creating a product that foams. They are cleansing agents and are routinely found in shower gels, shampoos and facial cleansers.
Surfactants, or Surface Active Agents, group actually include various types of ingredients you may not have known about or used before. In fact, emulsifiers, solubilisers, dispersers, wetting agents and detergents also all belong to this ingredient group.
In this post, we will only be looking at natural surfactants that are used in cleansing products, where their role is to cleanse and foam. Keep in mind though that your formulation does not necessarily need to foam in order for it to clean. Natural surfactants are derived from natural sources and then undergo a degree of chemical processing in order for them to be suitable for use in cosmetics.
Listen now: What does natural skincare mean? (Episode 1 of our Green Beauty Conversations podcast)
Five natural surfactants for use in organic cosmetics compared by award-winning online formulation school @FormulaBotanica #organicbeauty #formulabotanica #haircare
Click To Tweet
The Structure of Surfactants
Surfactants have a water-loving (hydrophilic) head and a water-hating (hydrophobic) tail. As you can see from the chart below, the kind of charge contained within the water loving head, will determine the kind of surfactant: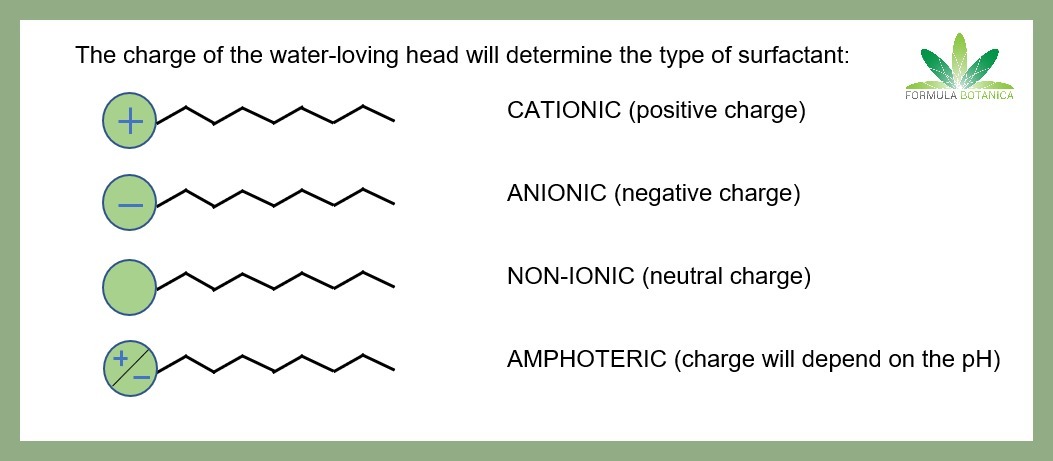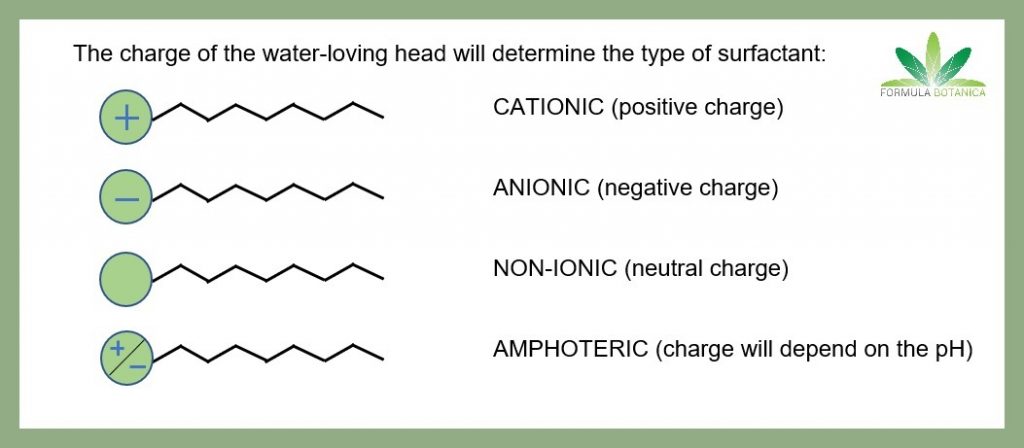 Formulating with Non-Ionic Natural Surfactants
Natural and organic skincare formulators mostly work with non-ionic surfactants when they formulate surfactant-based skincare or haircare products. Firstly, they choose non-ionic surfactants owing to their compatibility with other surfactant types. Non-ionic surfactants work well with all the other groups we mentioned in the graphic above. Secondly, non-ionic surfactants are easy to formulate with.
Experimenting with non-ionic surfactants is a good place to start if you haven't worked with surfactants before. When used in a cleansing product, these non-ionic natural surfactants are gentle and provide relatively good foaming ability. We will look at some examples of natural surfactants in the next part of the blog post, so you can see what individual characteristic they display. These non-ionic surfactants are not all the same and while in theory they are interchangeable, as a formulator you will need to be prepared for some differences in their behaviour in a formulation.
We selected five plant-derived non-ionic surfactants for comparison: Coco glucoside, Decyl glucoside, Lauryl glucoside, Sucrose cocoate, Caprylyl/Capryl glucoside.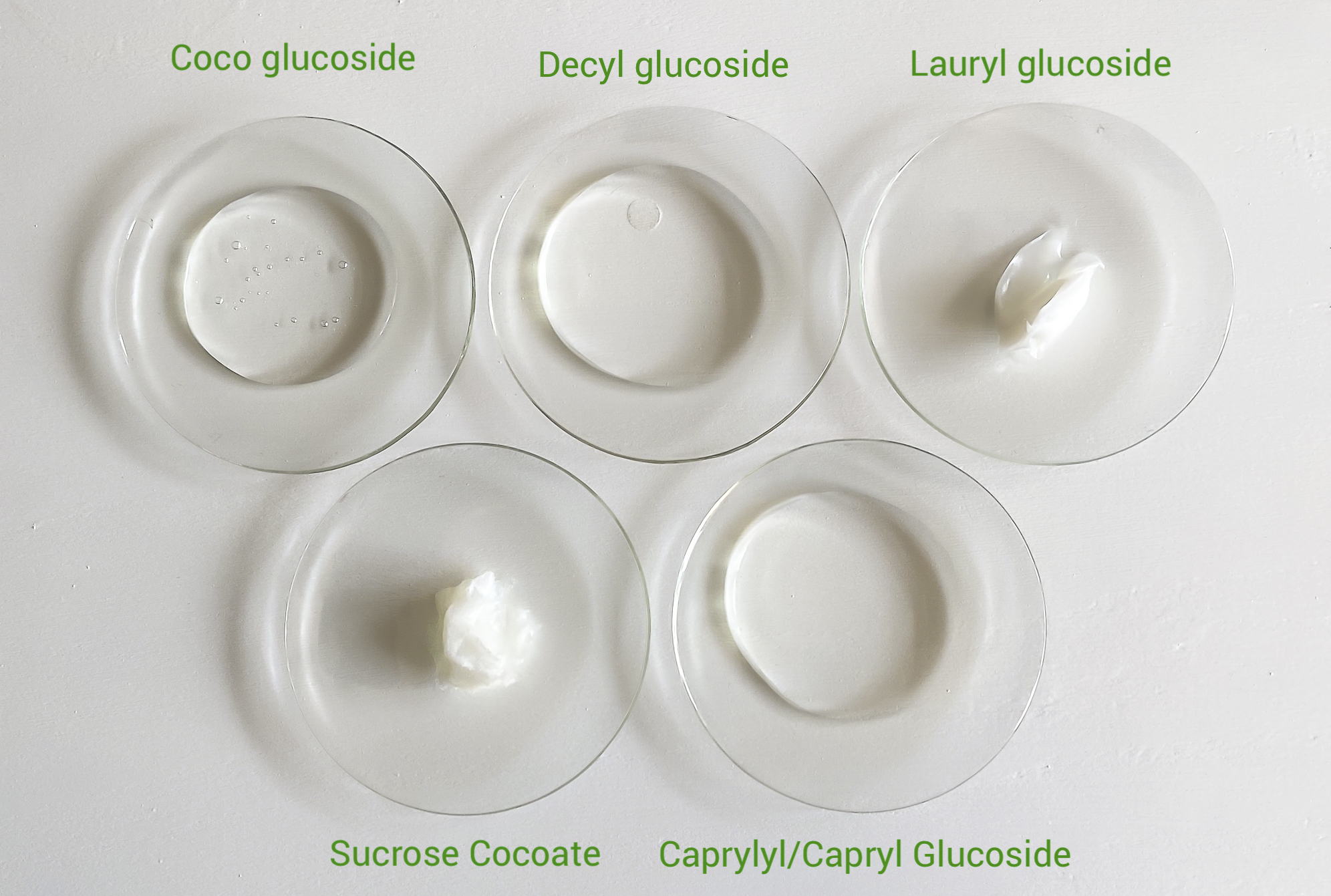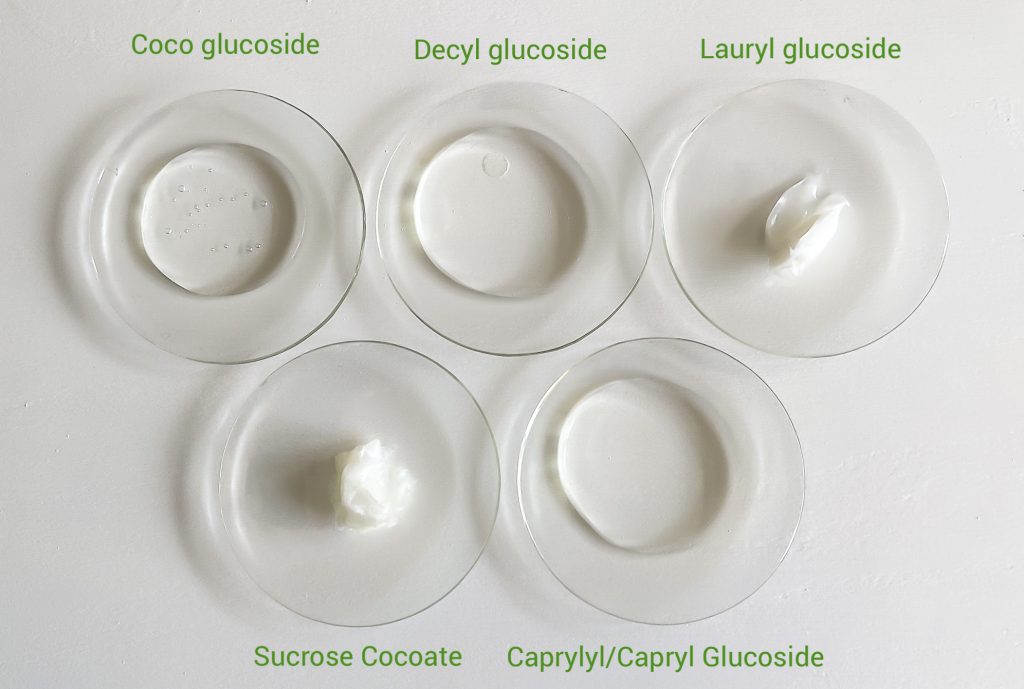 Natural Surfactant Comparison Table
| | | | | | |
| --- | --- | --- | --- | --- | --- |
| Surfactant | Trade name | Certification* | Properties | pH | Active matter |
| Coco glucoside | Sucranov™ 818 UP -BergaSoft CG 50 / MB EcoSense™ 919 | Ecocert | – very mild – has good foam stabilising quality – has good hydrating properties – biodegradable | ∼11.5 – 12.5 | ≥ 50 % |
| Decyl glucoside | BergaSoft DG 50 / MB -ORAMIX™ NS10 / Plantacare® 2000 UP -EcoSense™ 3000 | Ecocert COSMOS Natrue | – biodegradable – excellent and stable foam – works very well with Cocamidopropyl betaine | ∼11.5 – 12.5 | ≥ 50 % |
| Lauryl glucoside | BergaSoft LG 50 / MB -EcoSense™ 1200 / Plantacare® 1200 UP | Ecocert COSMOS Natrue | – very mild – moderate foaming – excellent viscosity builder – good in baby cleansing products – biodegradable | ∼11.5 – 12.5 | ≥ 50 % |
| Sucrose cocoate | TEGOSOFT® LSE 65 K Soft | N/A | – mild – increases foam density & viscosity – adds creaminess – has good re-fatting qualities – moisturising and anti-static – biodegradable | ∼6.5-7.5 | ∼65% |
| Caprylyl/Capryl glucoside | BergaSoft CCG 70 / MB -ORAMIX™ CG110 | Ecocert COSMOS Natrue | – creates fine and stable foam – mild – good solubiliser for essential oils – biodegradable | ∼11.5 – 12.5 | ≥ 50% (there are various versions) |
*Certification – Whether the natural surfactant is available as a certified ingredient will depend on your supplier, but these ingredients are generally accepted by these certification bodies.
What is Active Surfactant Matter (ASM)?
The ASM is a percentage that represents the concentration of the surfactant. When you buy a surfactant, it won't be delivered to you as a "pure" ingredient as such, but they are diluted in water. If the ASM is 60%, this means the ingredient you've just purchased contains 60% surfactant and 40% water.
Knowing the ASM of your natural surfactant is important when deciding how much of your ingredient should be used in a cosmetic formulation. For example, you would use less natural surfactant in a facial cleanser than in a body cleanser, so your formulation is not so 'harsh' on the skin.
How to Perform a Foam Test with your Natural Surfactants
We performed a very simple foam test to check how well these natural surfactants perform when it comes to foaming. You now know that a formulation doesn't have to foam in order to clean the skin or hair. However, people generally expect their cleansers and shampoos to foam when they use them, so many formulators seek to create a product that generates a rich, dense lather and improves the overall user experience. In this test, we created five solutions that each contained 10% surfactant and 90% distilled water. The solution was transferred into foamer bottles and we compared the foam they produced in the image below.
Foam test results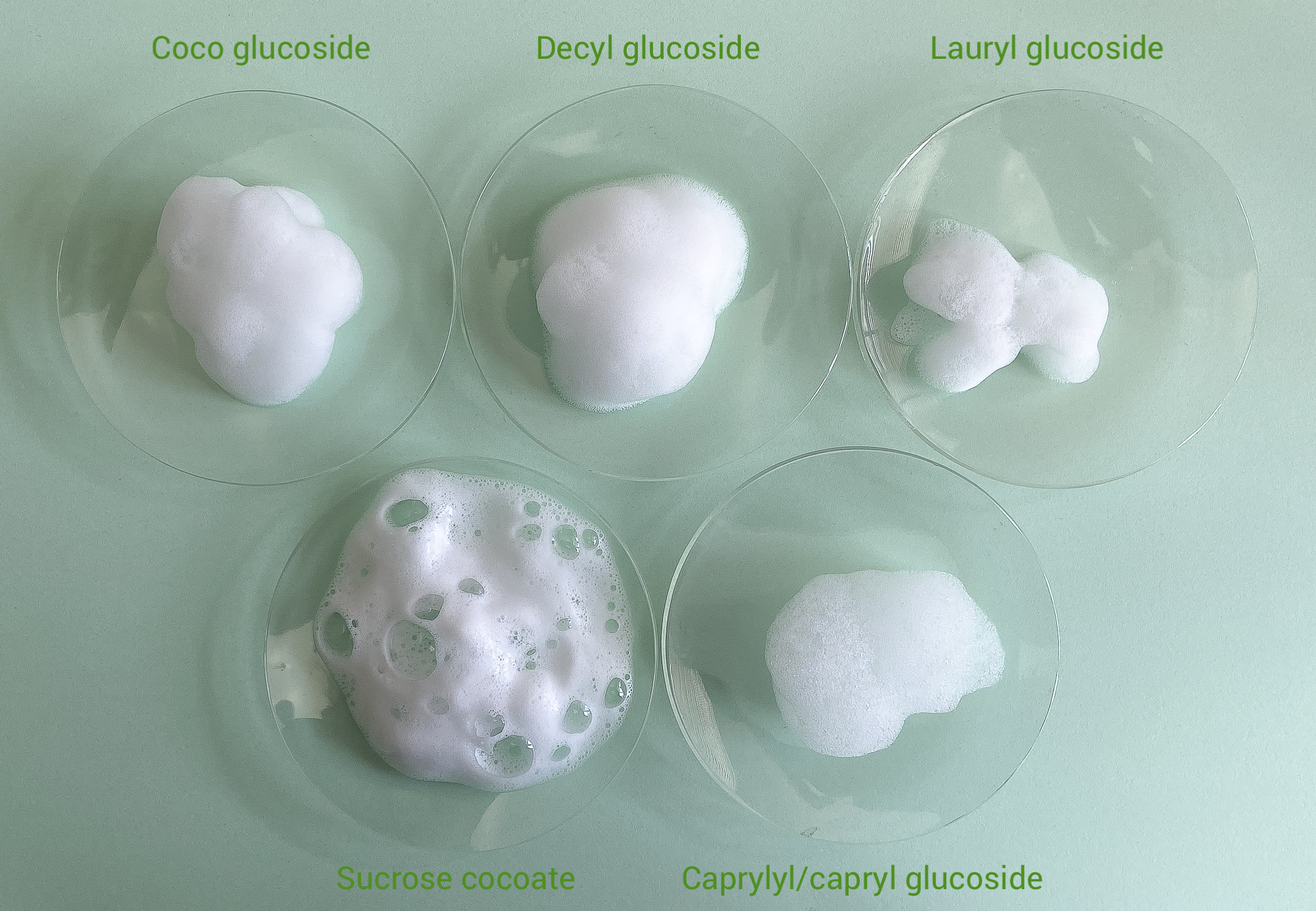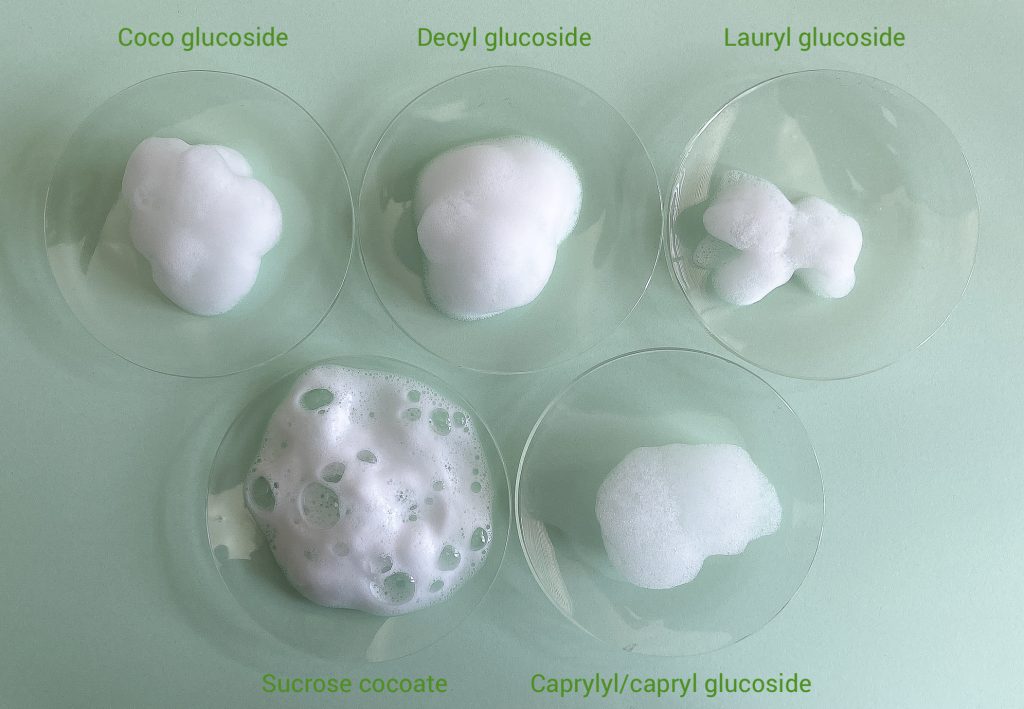 As you can see, all five natural surfactants produced some foam, some better than others. Some of our observations included:
Decyl glucoside is the best in terms of foam out of all five natural surfactants, as it creates a rich and dense foam.
Both Coco and Caprylyl/ Capryl glucosides perform fine in terms of the foam they create, but Sucrose cocoate and Lauryl glucoside are not right for these type of bottles/ products; the foam they produced collapsed really quickly.
Both Sucrose cocoate and Lauryl glucoside needed to be heated up as they are pastes. Sucrose cocoate produced a milky looking solution in water; this means it may not be the best option for transparent formulations.
Lauryl glucoside created a transparent solution, but it also thickened up a bit which therefore suggested it was not suitable for use in the foamer bottle we used. Lauryl glucoside could be a great addition to any formulation where a bit of thickening is required.
Which natural surfactant are you going to formulate with?
Non-ionic surfactants are an excellent way to start your formulation journey into foaming products. They are gentle and mild, can produce good foam and they are perfect for following the natural and organic route. Another benefit of non-ionic surfactants is that they are compatible with all other surfactants. They often best perform when blended together (within the same group) or with surfactants with different charge. In fact, we challenge you try and do some mixing and compare how well they cleanse, as well as foam.
Not all natural surfactants behave the same, even if they belong to the same group, just like not all carrier oils or emulsifiers are the same. It takes time to observe how they behave in a product, so get your lab notebook ready and write down your trials and thoughts.
Start simple, use one natural surfactant in water. Try it again and blend two or even three natural surfactants together and observe. Check the pH, check the viscosity, check how well they foam and determine how stable that foam is. This way, you will truly understand what can make or break your formulations. Which natural surfactant do you plan to trial first? Leave us a comment below!
---
Leave us a comment
comments