Solid cleansing bars formulated with little or no water and sold 'naked' with the minimum of packaging are on the rise. Beauty brands are responding to consumer demands for personal care that sustains the planet's resources rather than depleting or burdening them. Solid cosmetics are increasingly likely therefore to be on the natural formulator's radar.
Thought of in the past mostly as handmade cosmetics to gift friends, solid cleansing bars, like the one we offer a formulation for in this post, were typically considered less sensorial, less attractive and less high performance than emulsion-based – and therefore water-rich – cosmetics.
But, that need not be the case as our solid cleansing bar formulation shows.
The age of solid cosmetics
With sustainability weighing heavily on the minds of beauty consumers and with cosmetics brands wanting to do the right thing by the environment, the age of the solid beauty product has truly dawned. This is interesting given that the making of solid cosmetics, such as some early forms of soap, date back to ancient times.
It's common knowledge now that a liquid cleanser like a shampoo or soap can contain as much as 80 percent or more water. Some consumers feel that buying a product with a high water content makes no sense. It's a precious resource at the outset and, once in liquid formulations, it requires specific packaging – which is not always recyclable or biodegradable – to prevent leakage and spills and to prevent air and contaminants entering the product.
In contrast, a solid cleansing bar is ideal to travel with as it takes less space, won't spill or leak in our suitcase and can function as a multi-tasking product to wash face, body and even hair.
In addition, waterless cosmetics may not need preservatives. This has shown to have increasing appeal to consumers who are concerned about the use of parabens that can be present in many mainstream preservative systems. However, solid cleansing bars are used in wet, humid conditions in bathrooms and are therefore best formulated with a preservative; in our formulation, we use a preservative that is accepted in natural formulation.
Put concerns about the planet, packaging, parabens and purpose together, and you can see why beauty consumers are taking to solid formulations as more sustainable, practical options.
As a result of the colliding of these consumer concerns, mainstream brands are researching and formulating to impart the personal care experiences of emulsions and other water-based cosmetics into solid options. For example, L'Oreal launched in late 2020 a range of Garnier-brand solid shampoo bars in FSC-certified card packaging.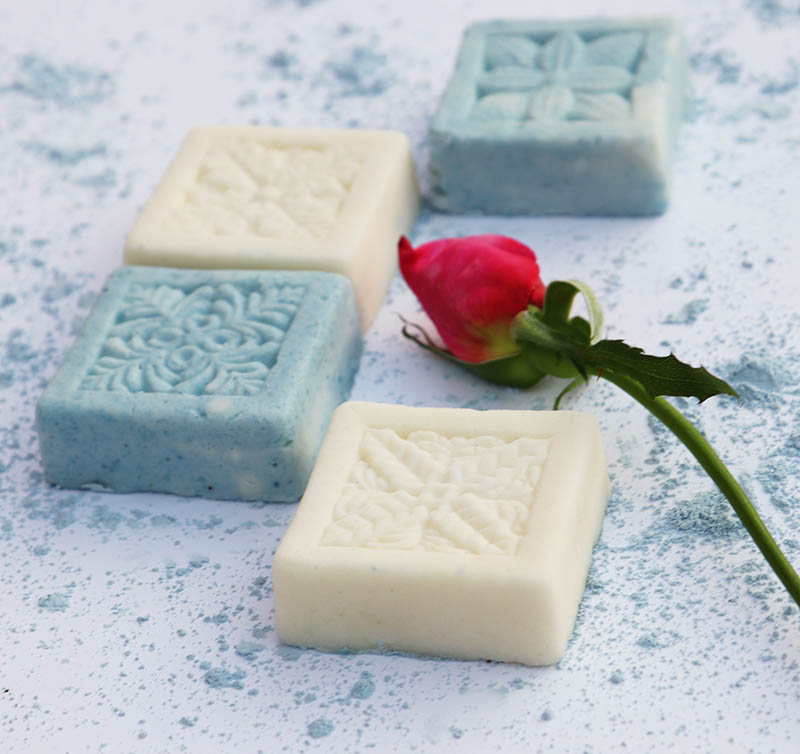 Solid cosmetics are on trend and can be sustainable, practical products. Make this easy @FormulaBotanica formulation for a solid facial cleanser. #solidcosmetics #waterlessbeauty #cleansingbar
Click To Tweet
Are solid formulations waterless?
There are, however, two sides to the waterless, solid formulation trend. Behind the scenes, if not within the product itself, water is often heavily used in the life cycle of manufacturing cosmetics. We have previously discussed the myth of waterless beauty.
In the past, waterless would refer to a more concentrated product, but today it is linked firmly with more sustainable cosmetics. A so-called waterless cosmetic would likely still have a considerable water footprint from the harvesting of its raw ingredients all the way to our use of it at home. It is important to be aware of the waterless debate especially if you are using the term in the marketing of your solid products. This is why we prefer to use the term solid rather than waterless.
In our formulation, we do use a small percentage of a hydrosol to help disperse and bind the powdered surfactants. Hydrosols can be considered more sustainable options to use in cosmetics than pure water as they are often produced during the steam distillation of essential oils anyway. Also, they contain skin-beneficial properties from the original plant matter. To find out more about the advantages of using hydrosols, listen to our podcast 'How sustainable are essential oils?' in which our guest advocates the use of hydrosols for a variety of reasons.
If you'd like to explore some other solid and semi-solid formulations, see:
How to formulate a cocoa shampoo bar
How to make a shower jelly
How to make an oleogel cleanser
Formulate a green tea and cocoa body balm stick
Why a balm stick should be the next product you formulate
Advantages of formulating solid cleansers
Solid cleansing bars are easy to produce, can have a balanced pH which is suitable for the skin, are very mild and non-irritating (if properly formulated) and can be enriched with moisturising ingredients.
The pH of solid cleansing bars can be adjusted easily. This is one of their key advantages in comparison to classic soap bars which have a pH of about 9.0 – 10.0 and are made by a saponification process in which fatty acids react with a strong base (alkali).
As we know, the skin's pH range is within pH 4.5 – 5.5. Therefore, skincare products with a pH higher than this can shift the skin's natural pH to a more alkaline level. It may take several hours to restore the skin's pH to within its natural range. The pH shift caused by use of an alkaline soap may give rise to irritation on sensitive skin, baby skin or skin with any medical conditions such as eczema, psoriasis, or inflammation.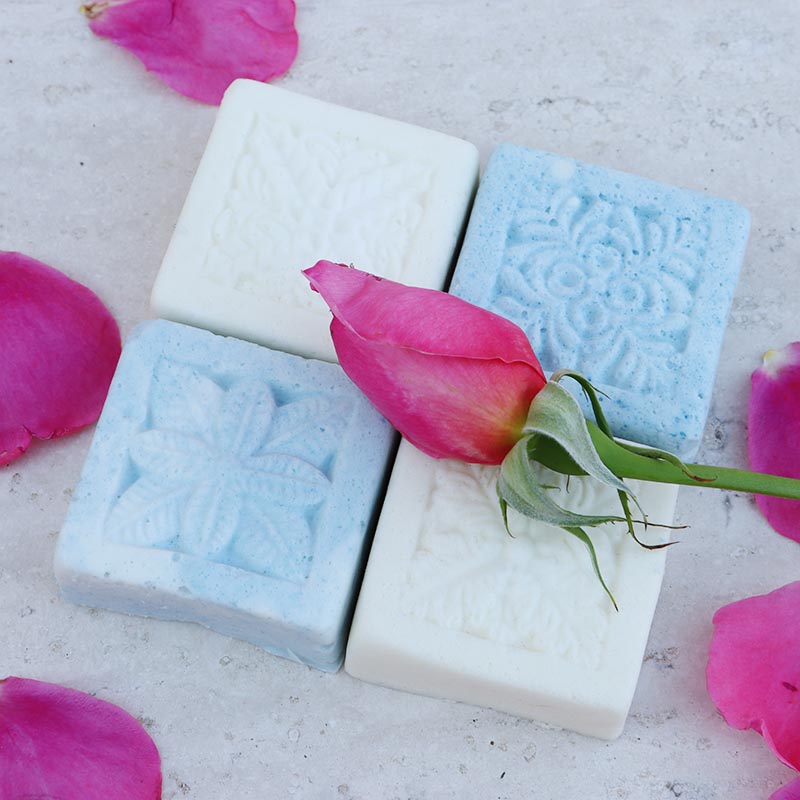 Composition of solid cleansers
Solid cleansing bars usually contain a main anionic surfactant which is responsible for imparting the bar's cleansing properties. Another non-ionic or amphoteric surfactant is often added to help improve the product's overall cleansing properties and foam stability and also reduce the potential of the primary anionic surfactant to cause irritation.
Moisturising agents help to bind the surfactants' micelles, and to improve the mildness of the product and prevent it stripping too much natural oil from the skin's surface.
For more information on the role of natural surfactants in cosmetics and how they work, see:
5 Natural surfactants for use in organic cosmetics
Oils and butters in the moisturisers provide nourishment to the skin, added waxes work as thickeners and to improve the stability of the product, and an emulsifier helps to combine oil and the low percentage of water-based components to achieve a stable product. Finally, essential oils provide scent and an aromatherapy effect while the addition of a preservative ensures the safety of the blend.
Key ingredients
Let's go over the key ingredients and their role in our solid cleansing bar formulation.
Sodium cocoyl isethionate or SCI – this is a mild, anionic surfactant obtained from the fatty acids in coconuts. It has a high purity and excellent foam density and stability.
Cocamidopropyl betaine – this is a mild amphoteric surfactant derived from coconut oil.
Plantapon SF – another mild surfactant base that is used mostly for delicate, sensitive or baby skincare products.
Propanediol (naturally derived) – a protective humectant, emollient and preservative booster that is frequently used in skin care products.
Glyceryl stearate SE – known for its emulsifying properties and high stability, this acts as a thickener and a co-emulsifier.
Natural oils and butters – these all have nourishing and moisturising properties, and in rinse-off formulas, they help to restore the natural lipid content which is washed away with the surfactants.
Essential oils – these give a sensory experience to the product both in its dry and wet states.
Cosgard (Geogard 221) – a broad spectrum activity preservative compatible with natural formulation.
Blue clay – primarily used here as a colorant but also useful for its cleansing properties.
About our formulation
Our solid cleansing bar is formulated for the face and is gentle thanks to the natural, balanced pH of the anionic surfactants used. It is enriched with natural butters and oils to minimise the chance of irritation arising from the use of concentrated surfactants.
Since this is a product with very low water activity, addition of preservatives is not strictly necessary, however we decided to add one to ensure that as a wet bar it will not develop yeasts, mould and bacteria. Generally, for solid, virtually waterless products, we can use less than the usual one percent of preservative.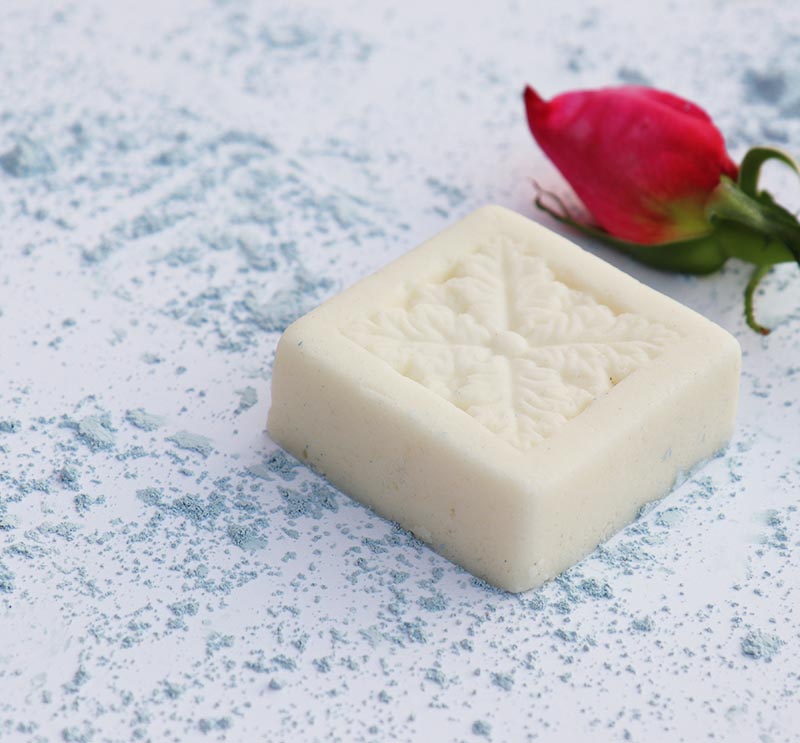 Our formulation: solid cleansing bar
Makes: 100 grams
Time taken: 30 minutes
Level: a beginner-level formulation that can be personalised and adapted.
| | | | |
| --- | --- | --- | --- |
| Phase | Ingredients | INCI | Weight (g) |
| A | SCI | Sodium cocoyl isethionate | 25.00 |
| A | Wheatgerm hydrosol | Triticum monococcum stem water | 15.00 |
| A | Propanediol (naturally sourced) | Propanediol | 2.40 |
| A | Glycerin | Glycerin | 4.00 |
| B | Cocamidopropyl betaine | Cocamidopropyl betaine | 6.00 |
| B | Plantapon SF | Sodium cocoamphoacetate (and) Glycerin (and) Lauryl glucoside (and) Sodium Cocoyl glutamate (and) Sodium lauryl glucose carboxylate | 4.00 |
| C | Bees wax | Cera flava | 15.00 |
| C | Glyceryl stearate SE | Glyceryl stearate SE | 8.00 |
| C | Shea butter | Butyrospermum parkii butter | 6.00 |
| C | Jojoba | Simmondsia chinensis seed oil | 5.00 |
| C | Mango butter | Mangifera indica seed butter | 3.00 |
| C | Sweet almond oil | Prunus amygdalus dulcis seed oil | 3.00 |
| D | Vitamin E | Tocopherol | 1.00 |
| D | Cosgard (Geogard 221) | Dehydroacetic acid and Benzyl alcohol | 0.60 |
| D | Mint essential oil | Mentha arvensis oil | 0.50 |
| D | Sweet orange essential oil | Citrus aurantium dulcis peel oil | 0.50 |
| D | blue clay | Kaolin, CI 77007 (ultramarine lazurite) | 1.00 |
| | | | Total: 100.00 |
Equipment required: Scales, glass beakers, glass rod, pH meter (pH strip), heater, magnetic stirrer, measuring spoons, your formulator's notebook.
Method of Manufacture
Preparation

Sterilise your utensils and working place, also wear appropriate lab PPE according GMP

Weighing

Weigh out all your ingredients for phase A, B, C and D into separate beakers.

Melting

Melt the phase A ingredients in a water bath (or bain marie) and do the same in a separate beaker with phase C ingredients (waxes, butters, and oils).

Combine phases A and C

When phase A ingredients are completely melted and a thick paste is formed, add melted phase C ingredients. Mix well but avoid vigorous mixing as this may create too much foam. At this stage, the blend should look like a thick paste or rather like potato mash.

Add phase B

Add the phase B surfactants.

Cool-down phase

Wait to cool down (below 40°C ) and add the heat-sensitive ingredients – vitamin E, essential oils and the preservative. Mix well.

pH

Check the pH (dissolve 1g of thick mass in 9g of distilled water). If the pH is too high, adjust with lactic or citric acid to match the product's desired specifications. A properly-balanced bar should have a pH within the range of 5.0 – 5.5.

Add clay

Add the clay; mix in properly to achieve a uniform colour.

Pour and shape

Pour into containers, such as soap moulds and let cool completely (ideally, let it sit overnight).

Dry and turn out

Turn out of the moulds and let the cleanser bars dry out before use.
Formulation Tips
You are free to substitute any hydrosols for one of your choice, keeping the same percentages.
Water-soluble active ingredients as well as glycerin can be substituted as well, however make sure your formula adds up to 100 percent.
We recommend not changing the finely-balanced ratio of solid to liquid ingredients as this may affect the stability of the final product.
You are welcome to explore different actives, oils, aromaceuticals and colours – there are limitless possibilities of scents and shades.
Recommended suppliers
EU/UK:
Manske Shop
AromaZone
Formulator Sample Shop
Aromantic
Alexmo Cosmetics
Naissance
The Soap Kitchen
Mini-lab training: solid cleansers
If you are interested in exploring solid formulations further, you might like to join our exclusive, members-only site, The Lab at Formula Botanica, which has an in-depth training module on the topic. Find out about The Lab and sign up to be first to hear when it next opens it doors to new members.
FAQs
What are solid cosmetics?
Solid cosmetics are formulated with little or no water. Almost all categories of cosmetics can be in solid form these days from face cleansers to shampoos. Solid cosmetic forms include bars, oleogels and powders. Solid cosmetics are increasingly popular with consumers as they seek more sustainable options for their personal care products.
What are the advantages of solid cosmetics?
Solid cosmetics are on-trend and are considered more sustainable personal care products because they contain little or no water, often come naked or in simple packaging, and may cost less to transport as they may weight less. Many liquid personal care products like shampoos or body moisturisers contain a high percentage of water in their formulations and some consumers resent paying for water in a product. Solid products can be more concentrated in formulation and as a result may last longer. A waterless solid product also may not need cosmetic preservatives. However, even if solid cosmetics do not contain water, they leave a water footprint in their manufacture, transport and even from the growing, harvesting and processing of the natural ingredients they contain.
Are solid cleansers better?
Solid facial cleansers are a personal choice, but consumers may feel they are better as they can mix the powdered cleanser with water to a consistency they like. A solid cleanser can contain moisturising agents along with the cleansing surfactants and can therefore be just as effective as a liquid cleanser. Also, solid cleansers can be easier travel with as they won't leak or spill. They may have fewer ingredients in their formulation, and perhaps not contain preservatives. These aspects can make a solid cleansers appealing to consumers.
Where can I learn to formulate natural skincare and haircare?
Join us at Formula Botanica, where tens of thousands of students and followers take our free and paid online courses to learn how to formulate organic skincare and haircare for themselves or to sell and also how to set up a beauty brand and business.
FREE FOUNDATION COURSE
How to become an
Organic Skincare Formulator
By providing your details, you agree to receive additional educational & marketing emails from Formula Botanica, which further introduce our curriculum. Your data is never shared or sold. Read our
Privacy Policy
.
FREE TRAINING
How to become an
Organic Skincare Entrepreneur
Join over 100,000 other Formulators
By providing your details, you agree to receive additional educational & marketing emails from Formula Botanica, which further introduce our curriculum. Your data is never shared or sold. Read our
Privacy Policy
.
FREE TRAINING
How to become an
Organic Skincare Entrepreneur
Join over 100,000 other Formulators
By providing your details, you agree to receive additional educational & marketing emails from Formula Botanica, which further introduce our curriculum. Your data is never shared or sold. Read our
Privacy Policy
.
Leave us a comment
comments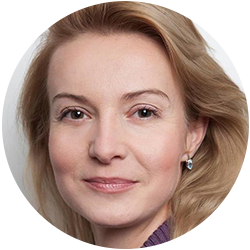 Miroslava is a grading tutor at Formula Botanica. She has a Ph.D in neuroscience, expertise in biology and chemistry, and a lifelong passion for natural cosmetic formulation.