Hair is exposed daily to environmental or external harmful effects such as pollution, UV radiation and variable climatic conditions including extremes of heat and cold, and humid and arid air. Cleansing, styling and colouring products and personal grooming habits may also negatively affect the quality of hair fibres causing their loss of strength and lustre.
Natural antioxidants, which we are familiar with as star, active ingredients in skincare formulations, have an important role to play in haircare products too. The major advantage of using antioxidants in haircare is their ability to reduce the number of free radicals which promote oxidative damage of the hair shaft.
This damage is usually accompanied by a loss of hydration, increased shaft permeability and matting which makes combing difficult and which in turn further damages the hair shafts. There is evidence that adding antioxidant compounds to haircare formulations can improve the natural hair colour, shine, and overall integrity of the hair fibres.
Benefits of using a hair mask
There are numerous benefits to treating the hair with a hair mask:
Hair is stronger and shinier – damaged hair cuticles are repaired and sealed, and the hair's natural lipid layer is restored.
Hair combing is made easier; the hair is detangled and smooth.
Hair has increased and/or restored hydrophobicity – which means frizzing is reduced.
Hair friction is reduced – which decreases the hair's electrostatic charge.
Hair is more protected from environmental factors – such as sunlight, cold, humidity and pollution.
Hair structure and behaviour are improved.
Hair is well nourished, but not greasy and heavy (or weighed down).
The scalp is nourished too.
View this post on Instagram
Our formulation for an antioxidant hair mask
Our formulation is for a nourishing, moisturising pre-shampoo treatment or hair mask full of antioxidant-rich ingredients in order to provide immediate benefit to both the hair and scalp.
For this formulation, we chose a modern emulsifier, Varisoft EQ65, that is designed especially for haircare formulations. Derived from Stearic acid and combined with Cetearyl alcohol, it bears a cationic charge. Its ingredient composition provides a sustainable, eco-friendly solution for haircare products, providing deep moisturisation and weightless conditioning of the hair.
Advantage of using cationic emulsifiers/surfactants
The hair shaft is naturally negatively charged, and so the positively-charged emulsifier (cationic emulsifier) binds strongly (as opposite poles attract) to the negatively-charged hair fibres. As a result, this type of emulsifier cum surfactant is not as easily rinsed out as is the case with conditioning treatments using ionic or non-ionic surfactants. Instead, our chosen emulsifier-surfactant creates a thin, continuous protective layer that helps prevent a loss of moisture and adds softness, strength and lustre to the hair.
If you wish to read some background on emulsifiers in general, see:
Botanical oils were specifically chosen for this formula to provide excellent moisturising and conditioning properties to the hair and scalp. Our chosen oils have a desirable sensory profile and do not leave the hair heavy or greasy. Cetiol® Ultimate is a light, non-greasy emollient that acts as a natural alternative to silicone and provides excellent slip and shine to the hair.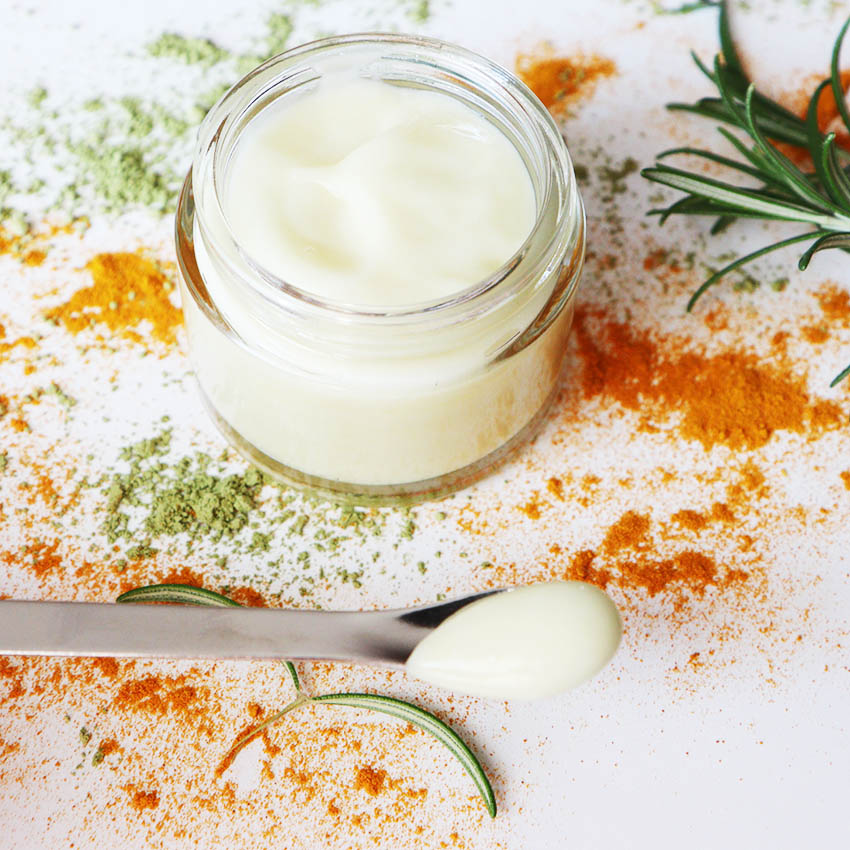 Our hair needs antioxidant protection too. Make this @formulabotanica nourishing organic hair mask for yourself at home. #haircare #hairconditioner #haircarecourse
Click To Tweet
Antioxidant hair mask ingredients
Varisoft® EQ 65
Produced by manufacturer BASF, Varisoft® EQ 65 is a naturally-derived "green", easily biodegradable, positively-charged, cationic emulsifier which provides conditioning properties to the hair, and is ideal for haircare products such as conditioners, hair masks or intensive hair repair treatments.
Cetyl alcohol
A coconut and palm-derived co-emulsifier and thickener.
Algae oil
Algae oil enhances barrier function by replenishing the skin's natural lipids. In haircare products, it provides moisturisation and conditions the hair while nourishing and conditioning the scalp as well.
Jojoba, argan and babassu oils
Jojoba and argan oil are effective in moisturising and nourishing the skin; jojoba does so without being oily, while argan oil is easily absorbed. Babassu oil is a white, semi-solid fat that is very similar to coconut oil. It penetrates easily into the hair shaft to complement the other oils which work more on the scalp and hair follicle.
Cetiol® Ultimate
This is the trade name of a product by manufacturer BASF. It is an extremely light, naturally-derived emollient, and a natural alternative to silicones and mineral oils.
Sclerotium gum
A natural thickener, sclerotium gum is compatible with our chosen emulsifier. We advise not substituting this with Xanthan gum which is anionic and would cause the emulsion to split.
Curcuma CO2 extract
Curcuma xanthorrhizar root extract is frequently used in cosmetics for its strong anti-inflammatory and antioxidative properties. It also has a strong antimicrobial effect.
Rosemary CO2 extract
This extract is a potent antioxidant and antimicrobial, and helps prevent oxidation of the oils and essential oils in the formula, along with offering other benefits to the hair.
Green tea CO2 extract
Camellia extract is rich in polyphenols which are compounds known for their antioxidant and free-radical scavenging ability.
Preservative ECO
A broad-spectrum preservative suitable for cationic formulations.
Essential oils
Both essential oils used help stimulate blood circulation in the scalp, promoting hair growth and improving the hair and scalp condition.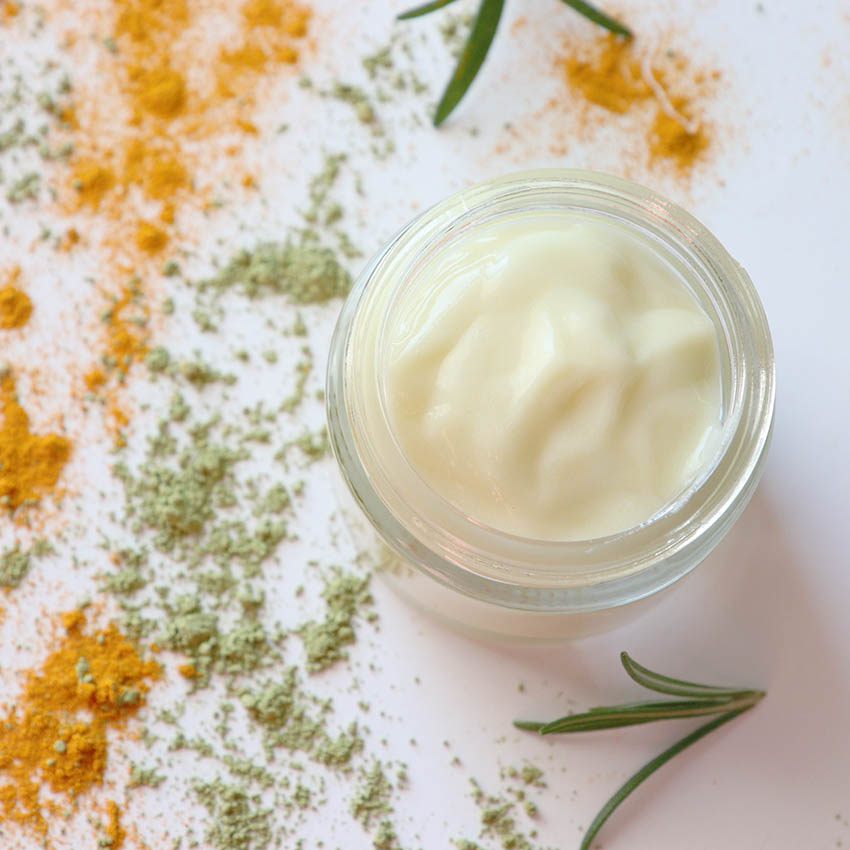 Our Formulation: Antioxidant hair mask
This antioxidant hair treatment can be applied to dry hair and left for 20 minutes to penetrate properly into the hair shaft and nourish the scalp before shampooing the hair and rinsing both products out thoroughly.
Makes: 100 grams
Time taken: 45 minutes
Level: intermediate-level formulation that can be personalised and adapted.
| | | | |
| --- | --- | --- | --- |
| Phase | Ingredients | INCI | Weight (g) |
| A | Varisoft EQ 65 | Distearoylethyl dimonium chloride (and) Cetearyl alcohol | 6.00 |
| A | Cetyl alcohol | Cetyl alcohol | 3.00 |
| A | Algae oil | Laminaria digitata extract | 2.00 |
| A | Jojoba oil | Simmondsia chinensis seed oil | 6.00 |
| A | Argan Oil | Argania spinosa kernel oil | 2.00 |
| A | Babassu | Orbignya oleifera (seed) oil | 5.00 |
| A | Cetiol® Ultimate | Undecane and Tridecane | 3.00 |
| B | Water | Acqua | 63.50 |
| B | Sodium lactate | Sodium lactate | 2.00 |
| C | Sclerotium gum | Sclerotium gum | 0.30 |
| C | Glycerin | Glycerin | 5.00 |
| D | Curcuma CO2 extract | Curcuma xanthorrhiza root extract | 0.20 |
| D | Rosemary CO2 extract | Rosemarinus officinalis leaf extract | 0.20 |
| D | Green tea CO2 extract | Camellia sinensis leaf extract | 0.20 |
| D | Preservative ECO | Benzyl alcohol & Salicylic acid & Glycerin & Sorbic acid | 1.00 |
| D | Frankincense essential oil | Boswellia carterii oil | 0.20 |
| D | Rosemary essential oil | Rosemarinus officinalis oil | 0.40 |
| D | Lactic acid (pH adjuster) | Lactic acid | q.s |
| | | | Total: 100.00 |
Equipment: Scales, glass beakers, glass rod, spatulas, water bath, homogeniser, pH meter, formulator's notebook.
Method of Manufacture
*See our formulation notes below for an alternative one-pot method.
Preparation

Disinfect your utensils and working space and wear appropriate lab PPE according to GMP.

Weighing

Weigh out all your ingredients, putting them into separate beakers according to phases A, B, C and D.

Blending

Blend thoroughly phase C ingredients – glycerin and the gum – to make a slurry and set aside.

Heating

Melt phase A ingredients (oils and emulsifiers) in a water bath. This phase should be heated up to 75-80°C.

Water phase

Adjust the water phase pH to 4-4.5 as this is the optimal pH for the emulsifier to perform best. Start heating the water phase ingredients to 75-80 °C as well.

Homogenising

Add phase A to phase B and homogenise for a few minutes. Add phase C ingredients. Homogenise further.

Cool-down phase

Let the emulsion blend cool down while mixing continuously, and at 40°C add phase D – the heat-sensitive extracts, essential oils, and a broad-spectrum preservative. The finished emulsion can be homogenised again at 30°C for a short time to increase its viscosity.

Bottling

Let the emulsion cool down completely before pouring into a suitable container. Label with product name, batch number and date.
Formulation notes
*This formula can be prepared using a one-pot method as well, in which all ingredients from phase A and the ingredients from phase B are heated to 85°C with adequate mixing to ensure that all solid particles are properly melted. Then, the whole blend is homogenised and cooled down under continuous mixing. Heat-sensitive, cool-down phase ingredients are added when the blend is below 40°C. The mixture can be homogenised a second time to increase its viscosity if desired.
Please make sure you do not use any hydrosols in this formulation as their addition of electrolytes may cause the emulsion to split.
Cetyl alcohol may be palm-derived, but also of palm-free origin depending on the producer. If you wish to have a formula completely palm/coconut free, skip the Cetyl alcohol and use Brassica alcohol which is palm free.
Suggested suppliers
Formulator Sample Shop: USA and EU.
Alexmo-cosmetics: (EU, UK, Europe)
Manske Shop: (EU, Europe, worldwide)
Bay House Aromatics: (UK, international shipping).
Naissance UK, and international and Naissance EU.
Take haircare formulation further
If you have enjoyed this formulation and would like to develop your skills and expertise specialising in haircare, you might like to pre-register for our Diploma in Organic Haircare Formulation. This diploma requires some formulation experience as it builds on our foundation course, the Diploma in Organic Skincare Formulation. The Formula Botanica haircare diploma covers in depth the ingredient categories in this formulation, such as haircare emulsifiers and natural alternatives to 'quats' and silicones, and is a specialist haircare formulation course.
See also our article: How to make natural haircare products: a step-by-step guide.
FAQs
What is a hair mask?
A hair mask or treatment is designed to tackle specific haircare issues, such as taming frizz, and also to add nourishment to hair and scalp, and giving deep moisturisation. Most hair types and conditions have hair treatments available.
Do you use a hair mask before or after shampooing?
Hair masks can be used pre-shampoo, at the post-shampoo conditioner stage or as standalone treatments to use without shampooing or to leave in for up to several hours, often overnight, to work their haircare magic. The post-shampoo conditioner treatment that is left on for up to half an hour and then rinsed out is perhaps the most commonly used. Read the usage instructions before you buy a mask or treatment to ensure it suits your needs and the time you have for haircare.
Can you make your own hair mask treatments at home?
Organic haircare formulation is perfectly possible at home as effective formulations can be made from ingredients available for the home-lab formulator to purchase from retail ingredients' suppliers. Haircare is a specialist area of cosmetic formulation ideally requiring an in-depth understanding of the science of hair and the scalp, and intermediate-level skills in formulating emulsions and similar categories of cosmetics.
Where can I learn to formulate natural skincare and haircare?
Join us at Formula Botanica, where tens of thousands of students and followers take our free and paid online courses to learn how to formulate organic skincare and haircare for themselves or to sell and also how to set up a beauty brand and business.
FREE FOUNDATION COURSE
How to become an
Organic Skincare Formulator
By providing your details, you agree to receive additional educational & marketing emails from Formula Botanica, which further introduce our curriculum. Your data is never shared or sold. Read our
Privacy Policy
.
FREE TRAINING
How to become an
Organic Skincare Entrepreneur
Join over 100,000 other Formulators
By providing your details, you agree to receive additional educational & marketing emails from Formula Botanica, which further introduce our curriculum. Your data is never shared or sold. Read our
Privacy Policy
.
FREE TRAINING
How to become an
Organic Skincare Entrepreneur
Join over 100,000 other Formulators
By providing your details, you agree to receive additional educational & marketing emails from Formula Botanica, which further introduce our curriculum. Your data is never shared or sold. Read our
Privacy Policy
.
Leave us a comment
comments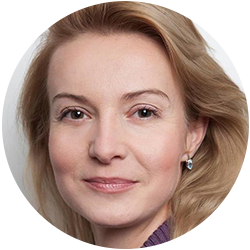 Miroslava is a grading tutor at Formula Botanica. She has a Ph.D in neuroscience, expertise in biology and chemistry, and a lifelong passion for natural cosmetic formulation.