In the latest in a series of posts on the topic of natural emulsification, we experiment with Montanov 202; A palm oil free emulsifier, suitable for use in natural cosmetics. With more and more awareness of the devastating effects that palm oil plantations are having on our rainforests, their wildlife and the environment in general, more and more people are turning to palm-oil free products. But what does this mean for us skincare formulators? Is it really as simple as just omitting palm oil from our formulations? Well, yes…and no.
While some raw ingredients are obvious in their source of origin, others not so much. Did you know, for example, that cetearyl alcohol, a common component of emulsifier blends, is derived from palm oil? The same goes for cetyl alcohol, stearic acid, cetearyl glucoside, glyceryl stearate and even vegetable-derived glycerine! It goes without saying that it's no easy feat finding a palm-free emulsifier to work with. Recently, however we have been experimenting with Montarov 202 a palm-oil derivative free, oil-in-water (O/W) emulsifier, and we are sharing our tests with you in the latest part of our series on natural emulsifiers. Up until now we have covered:
How to make a natural emulsion with Xyliance
How to make a natural emulsion with Vegetal
How to make a natural emulsion with Olivem 900
How to make an organic oil-in-water emulsion with Olivem 1000
How to make a natural cream cleanser with Polyaquol 2W
But first, let's briefly recap on what an emulsion is. An emulsion is a homogenous blend of water and oil brought together with the help of an emulsifier. Emulsifiers can be oil-in-water (where fine droplets of oil are dispersed throughout an aqueous base) or water-in-oil (where ultra-fine droplets of water are encapsulated throughout a fatty/oil base) and they can be hot processed or cold processed.
Learn more about emulsification and natural skincare formulation in these related articles:
• 17-point checklist to choose the right emulsifier
• 6 Reasons why the Heat and Hold method is a myth
• What is HLB and why you should ignore it
Introducing Montanov 202 – a versatile palm oil-free natural emulsifier
Montanov 202 is a natural, PEG-free, non-ionic, O/W emulsifier that is palm oil-free. It is a glucolipid emulsifier and is 100% vegetable-sourced from glucose that comes from either wheat, maize or manioc (also called cassava or yuca) along with fat, derived from rapeseed colza oil. Its glucolipid structure means that it has intrinsic hydrating properties, facilitating the action of any hydrating active ingredients present in the formulation. It has excellent eco credentials and is approved by COSMOS and certified by the Soil Association.
Its INCI name is: Arachidyl alcohol, Behenyl alcohol, Arachidyl glucoside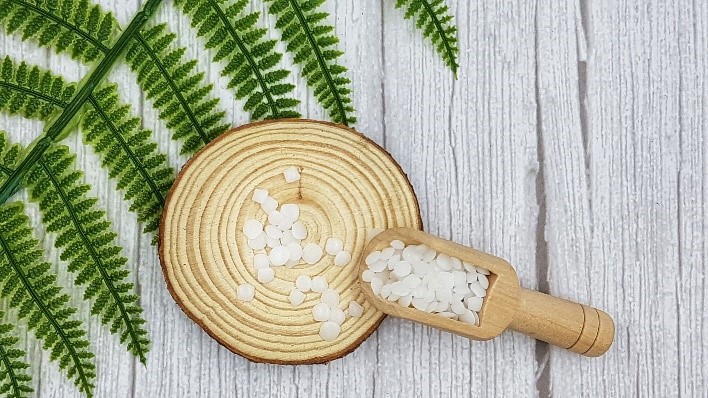 Montanov 202 creates a liquid crystal lamellar structure which, even without the addition of additional actives, gives effective, continuous and long-lasting hydration for up to 5 hours, strengthening the skin's lipid barrier and in turn, helping to slow down Transepidermal Water Loss (TEWL). This form of structure not only provides excellent stability, but also allows for slower and more controlled penetration of actives, leading to a more effective, continuous uptake of said actives by the skin over many hours – a preferred method of delivery of actives, particularly in anti-ageing skincare and serums.
Learn how to make a natural emulsion with Montanov 202 #FormulaBotanica #palmoilfree #formulation
Click To Tweet
How to use Montanov 202 in your emulsions
• Physical appearance: solid, white pellets.
• Solubility: it is soluble in oil, but also dispersible in hot water, meaning you can also add it to your water phase.
• Melting point: 74-78°C
• Process: Hot process. It is recommended to heat your phases to 85°C or more, in order to create a stable emulsion. It is also important to first stir the ingredients together well, before homogenising or mixing under high shear. Hand blending is not enough.
• Recommended dosage: 3-5% for 5-30% oils/fats/lipids.
• Cool down phase: avoid sudden cooling. It is not recommended to use a cold-water bath to speed up the cooling process. Also, do not use high shear mixing during cool down to avoid breaking the liquid crystal structure – slow cooling with gentle stirring is key to a successful product.
The creams produced with Montanov 202, are glossy and white in appearance, unless using coloured oils or other coloured ingredients. This does not mean that it leaves the skin shiny upon application; on the contrary, it leaves a matte and lovely silky finish. Even with the addition of heavy oils or butters, the end product is light and elegant that penetrates easily into the skin, leaving the skin soft and conditioned with a light, protective barrier. This, together with the fact that Montanov 202 is hypoallergenic and non-comedogenic, makes it excellent for all skin types, including oily, acne-prone skin as well as sensitive skin and baby products. As an added bonus, it can also be used to formulate fluid foundations that leave a gentle, evanescent, light feel and a natural, matte finish.
Because the resulting texture is so light even when using large amounts of fats including heavy and solid fats, you will need to add a thickening agent in the water phase, such as a gum, if you want a thicker cream. Adding a gum will also contribute to the stability of the emulsion without compromising its fine texture. You can also add some Vegetal (INCI: Cetearyl Alcohol and Cetearyl Glucoside) emulsifier to get a thicker/denser consistency. Montanov 202's versatility allows for the creation of emulsions with consistencies ranging from fluid creams (suitable for tube or pump-bottle packaging) to thick, firm creams (suitable for jar packaging), and can be used in products targeted for both the face and the body.
Our example emulsions using Montanov 202
To show you the versatility of this emulsifier, we have created five different samples. We used the same simple formula for each sample, comprising of rice bran oil, Montanov 202, distilled water, 0.5% gum, glycerine, tocopherol and a preservative, and just modified the oil phase as we wanted to concentrate on the viscosity of the emulsion.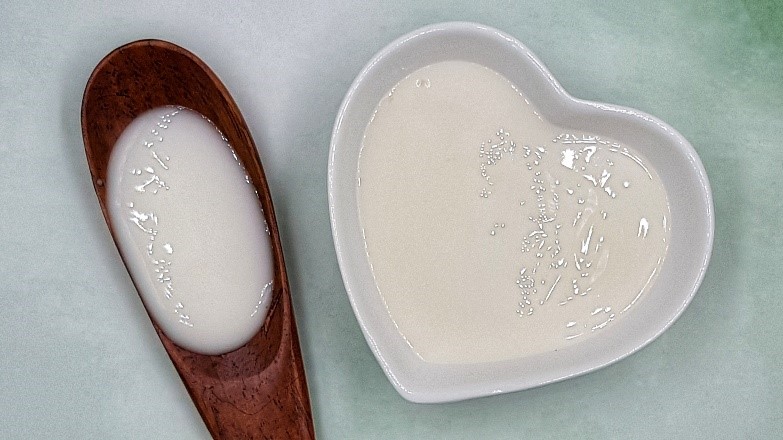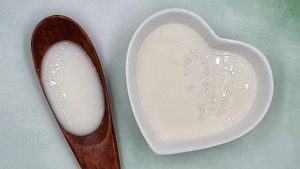 Sample 1: 5% oil and 3% Montanov 202
We used 5% oil with 3% Montanov 202 in this sample – the lowest oil phase recommended. The resulting cream is very runny and the thinnest version of all three samples. With its extra light texture and non-greasy effect, it would make lovely day moisturiser, excellent for hot weather, for under make-up and especially for oily or acne-prone skin. This could be packaged as a lotion, in an airless bottle or a bottle with a serum pump-top, a regular pump-top and even a spray-top. Yes, in case you were wondering, this viscosity is suitable for a sprayable lotion.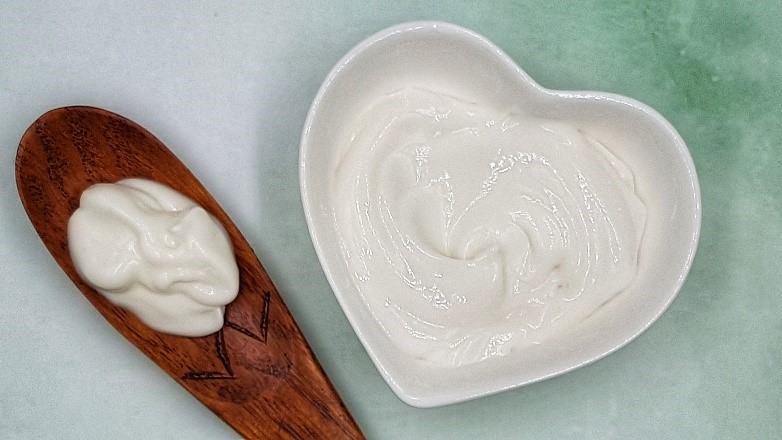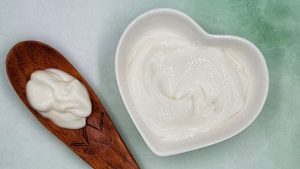 Sample 2: 17% oil and 4% Montanov 202
We then trialled 17% oil together with 4% Montanov 202 to create a thicker cream. The difference in consistency of this cream as compared with the first one is very obvious. The final product resulted in a smooth, glossy, decadent cream with great spreadability and fast absorption with a matte appearance on the skin. It leaves the skin feeling silky and a light protective film is detectable. We can imagine this cream as a gorgeous day product for both facial and body skincare. It can also be used as a night cream for younger skin or a luxurious rinse-off facial cleanser with an added surfactant. This product is thick enough to be packaged in a jar or flexible tube, yet light enough that it is also suitable for an airless bottle or a bottle with a pump-top.
Sample 3: 30% oil and 5% Montanov 202
In our third experiment, we used 30% oil together with 5% Montanov 202 – the highest oil phase recommended – to create a thick and creamy emulsion with great stability. As one would expect, because of the higher percentage of oil in the blend, the resulting product is rich, creamy and very thick. You can certainly feel a difference when applying this luxurious cream to the skin, however despite its thick consistency, it is surprisingly light and non-greasy on the skin. It does take a little bit longer to absorb though, and you can feel a light occlusive barrier on the skin after application. We can easily imagine this cream as an elegant facial night product or even as a hand cream. It would also make a luxurious body crème with excellent spreadability. It can be packaged in a jar or a flexible tube and may also work in a bottle with a pump-top.
Sample 4: 15% oil, 15% butter and 5% Montanov 202
We were curious to see what the addition of a butter would do to an emulsion created with Montanov 202, since it is claimed to create light, elegant creams, even with the additi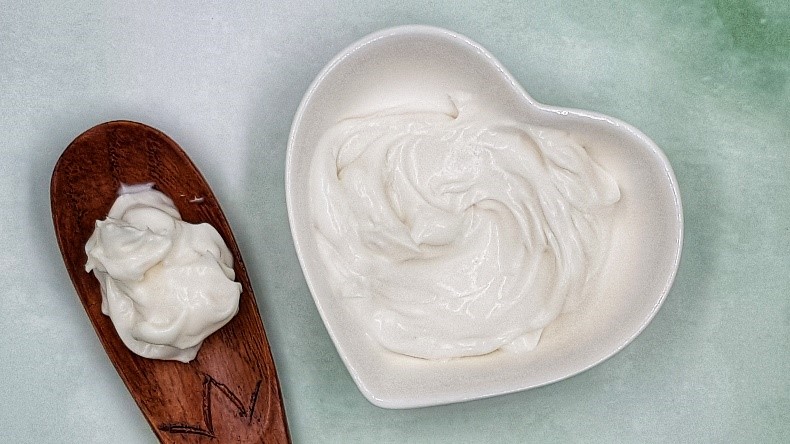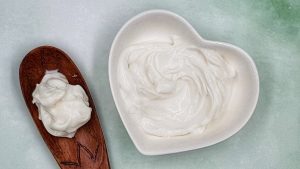 on of a high percentage of heavy oils and solid fats, so for this experiment, we added 15% mango butter to the blend and reduced the oil to 15%. As far as appearance goes, the resulting cream looks almost exactly the same as sample 3 except for the fact that it's slightly less glossy, however, the difference is quite palpable when you dip your finger into it. The consistency of this sample is much firmer than the one without butter and gives more resistance when depressed. It also holds its shape better and has a wonderful rich, cushion effect when rubbed between the fingers. Surprisingly, it has very fast absorption and leaves the skin matte but protected, with a soft, silicone feel. It would work in a jar or a tube. We can see this cream being used in a nutritious emulsion facial masque.
Sample 5: 10% oil, 15% butter, 5% wax and 5% Montanov 202
For this sample we decided add 5% berry wax to the blend while lowering the oil concentration to 10% and keeping the mango butter and emulsifier the same. On the day of manufacture, the emulsion was very glossy but after one month the difference in comparison to the other four samples is very obvious.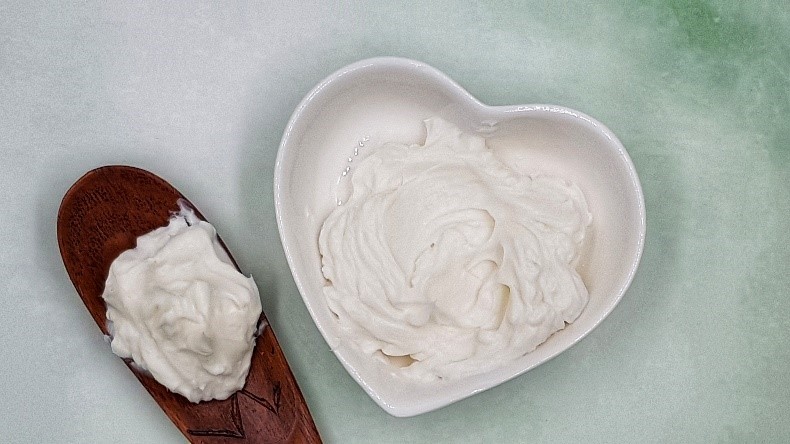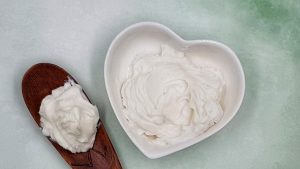 For starters, this cream is almost completely matte in appearance and very stiff – the texture reminds us of an anhydrous body butter. Upon application, the cream has quite a bit of drag and after a few seconds a light film of water can be felt, which will immediately penetrate the skin. A thick, protective, waxy barrier is left on the skin, but this contributes to the greasy skin feel which, eventually after much patience, will be absorbed and turn to a lovely soft, powdery feel. This cream is suitable for a jar and maybe a flexible tube.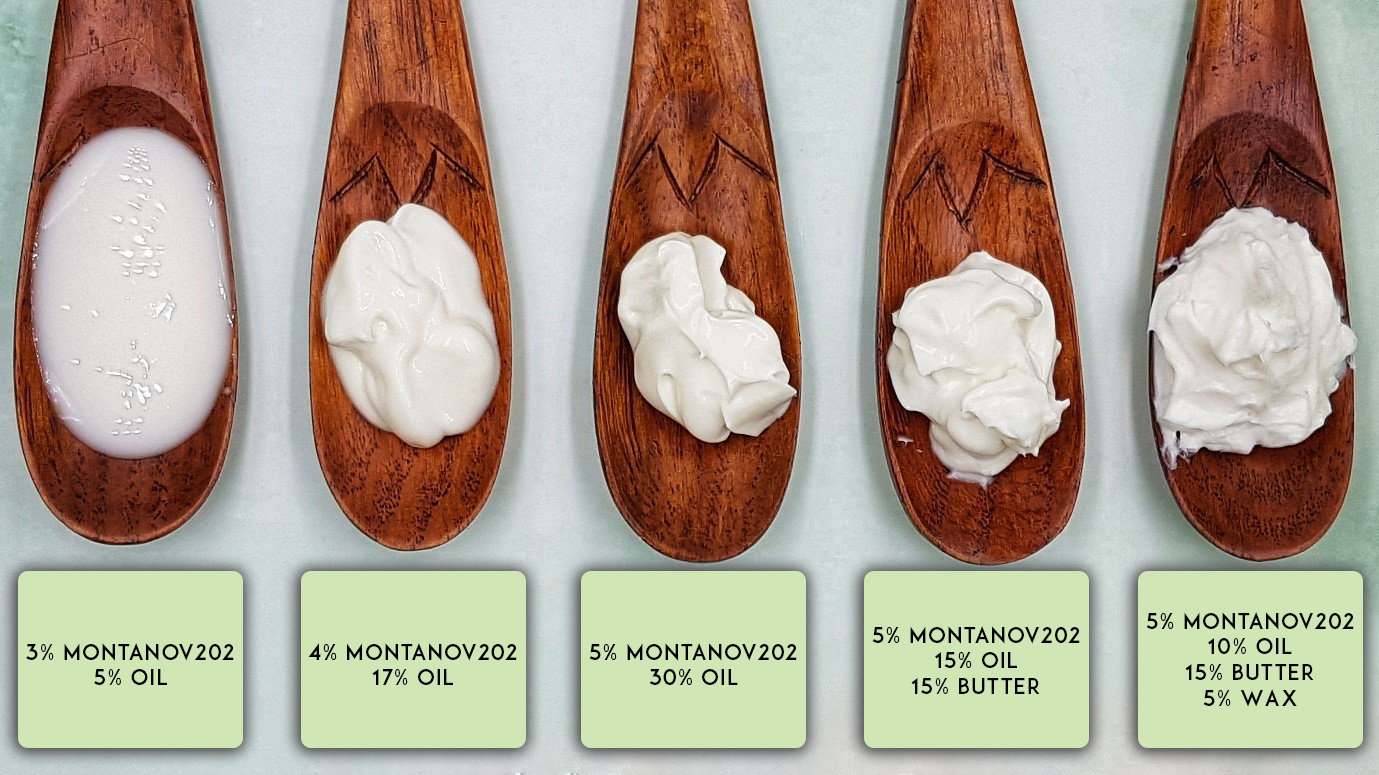 As always, before you prepare any new formulations, you should consider what product you want to create, how this emulsifier fits with your brand ethos and experiment, experiment, experiment. Would you like to learn more about natural emulsification? Check out our Advanced Diploma in Organic Cosmetic science.
Now it's your turn! Purchase a sample of Montanov 202 and show us the emulsions you made by using the hashtag #FormulaBotanica on Instagram. If you are new to formulating and want to learn how to emulsify, then enrol today for our Diploma in Organic Skincare Formulation.
Have you ever used Montanov 202? What are your formulating experiences? Share with us in the comments below.
---
Suggested Suppliers
Montanov 202:
Aromantic Natural Skincare, UK
Alexmo Cosmetics, EU
This post was written by former Formula Botanica Tutor – Tamara Cetkovic
Leave us a comment
comments