Shea butter is one of the first cosmetic ingredients you use when you learn to make natural skincare. It is a popular ingredient in many cosmetic formulations from body butters and lip balms to lotions and creams due to its moisturising and nourishing properties. Although a common natural cosmetic ingredient, shea butter does need some understanding to formulate using it with ease and success – even in the simplest, anhydrous balms.
This makes it an ideal ingredient to start with as a beginner formulator because in working with shea butter you learn about some key formulation concepts, such as melting points and blending techniques as well as tricks on how to set balms to avoid a grainy texture. For that reason, we share this article as a guide on how to formulate with shea butter.
Not all shea butter is equal. So first we take a look at the properties of the butter. Researching your ingredients thoroughly is the basis of formulating with success, whatever your experience in natural formulation.
What is shea butter?
Shea butter (INCI: Butyrospermum Parkii Butter) is a fat that is extracted from the nuts of the shea tree (Vitellaria paradoxa), which grows in the Sahel region of Africa stretching from east to west coasts. It is known also as karité butter. Top shea butter-producing countries are Nigeria, Mali, Burkina Faso, Ghana, Côte d'Ivoire, Benin and Togo. Shea butter is a rich emollient that has been in use in Africa for centuries to protect the skin.
Shea butter is produced using traditional methods. The hard work of crushing the shea nuts and extracting and processing the butter falls mainly to women, and for this reason, shea butter has been called "women's gold". If you're interested in discovering other African-origin butters and oils, see our article:
Understanding shea butter's properties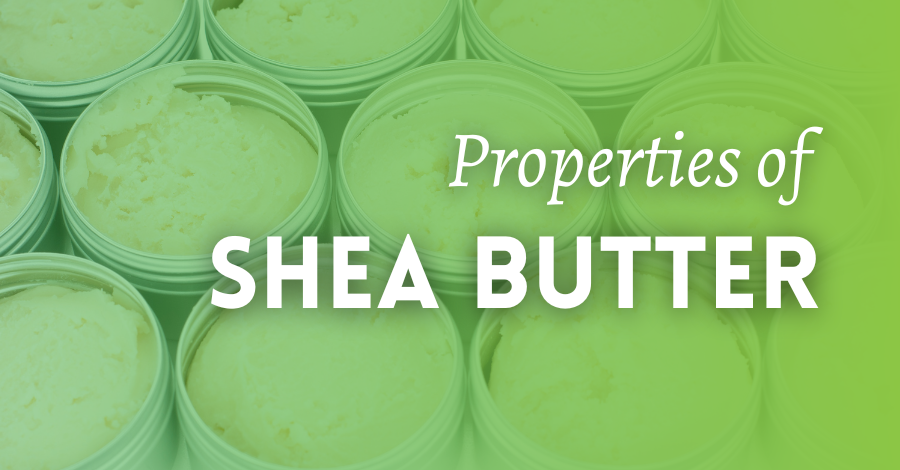 A soft solid at room temperature, shea butter ranges in colour from off-white to dark cream and has a smooth texture and a characteristic nutty scent (we cover scent and refined shea butter later).
Shea butter is rich in fatty acids and has a high percentage of unsaponifiable compounds (vitamins, phytosterols, minerals, and so on). These give it rich emollient properties that provide numerous benefits for the skin and hair, including moisturising, nourishing, and protecting properties.
Unrefined shea butter has a long shelf life of up to 24 months if stored properly, but it can still go rancid over time. To extend the shelf life of your butter, store it in a cool, dry place away from direct sunlight as you should do with all your cosmetic ingredients.
Why is shea butter useful in skincare?
Shea butter can be used on its own as a moisturiser, as is traditional in Africa. Simply melt the shea butter and pour it into a jar or tin for use as a body butter or lip balm. But, shea butter's versatility and compatibility with other oils and butters see it incorporated into limitless skincare, bodycare and haircare formulations such as creams, lotions, balms, soaps, and shampoos for the reasons below:
Moisturising: Shea butter is rich in fatty acids such as oleic, stearic, and linoleic acid, which help to nourish and moisturise the skin. These fatty acids create a barrier on the skin that prevents transepidermal water loss (TEWL) and keeps the skin hydrated.
Nourishing: Shea butter contains vitamin E which offers antioxidant properties and helps to nourish and protect the skin.
Anti-inflammatory: Shea butter has anti-inflammatory properties that can help to soothe irritated and inflamed skin.
Care of mature skin: Topical application of shea butter with its high concentration of fatty acids and antioxidants can help to reduce the visibility of fine lines and wrinkles.
Tips on choosing the right shea butter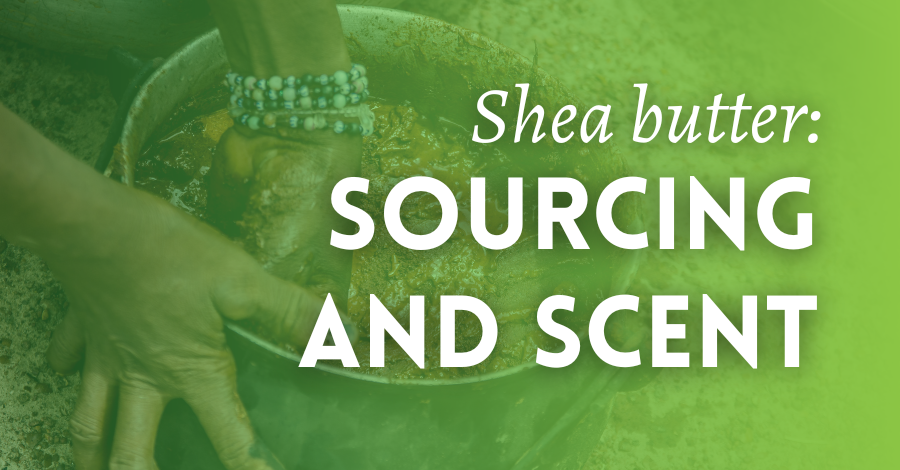 As we hinted, not all shea butters are the same, so when sourcing you will need to shop around suppliers, test and trial the different shea butters out and make notes on the following:
1. Consistency
Shea butter can vary in texture and consistency depending on the temperature and processing methods. It is a soft-to-medium solid consistency at room temperature but melts upon contact with the skin. It has a melting point between 32 – 46ºC. If you want a softer or more spreadable texture, you can blend it with other oils or butters.
2. Scent
As we mentioned earlier, shea butter typically has a natural nutty or earthy scent. However, depending on the formulation and your potential customers' expectations, you may wish to mask the scent of unrefined shea butter. Some people may find it pleasant, while others may find it slightly strong or unfamiliar.
However, high-quality, unrefined shea butter should not have a strong or unpleasant odor. If shea butter has a strong, rancid odor, it may be a sign that it has gone bad or is of low quality.
You may prefer to use fragrance such as essential oils or hydrosols to mask or enhance the natural scent of shea butter depending on your formulation (anhydrous or water-containing).
Ultimately, the scent of shea butter can vary depending on the quality, refinement and other factors, but it is generally not considered to be unpleasant or overpowering. We suggest buying some small amounts from different suppliers to see which shea butter best suits your formulations.
3. Natural vs refined
Refined shea butter, which has undergone a deodorising process and perhaps a bleaching process as well, may have a milder scent or no scent at all and will be a whiter colour. Bear in mind that refined shea butter may be stripped of the very properties we love in natural skincare (the skin-beneficial vitamins, phytosterols, and so on).
4. Sourcing
Unrefined shea butter sourced from fair trade and sustainable sources is also preferable. If in doubt, ask your supplier about the butter's origins. Try to buy from suppliers who directly support the African women harvesting and processing shea butter. The Formula Botanica podcast spoke to Akua Wood, the Ghanaian-born founder of Sheabutter Cottage, which sources unrefined botanical oils and butters directly from small-scale Ghanaian farmers. In the episode, Akua talks about the incredible properties of raw, unrefined natural haircare ingredients, including shea butter.
Tips for using shea butter in your skincare formulations
5. Start with the best-quality shea butter
Using high-quality shea butter is essential for creating effective and luxurious formulations. Look for unrefined or minimally-refined shea butter from fair trade and sustainable sources.
6. Use a double boiler or bain marie/water bath
When melting shea butter, do so slowly and gently over low heat in a double boiler or a heat-resistant container over a bain-marie or in a water bath until it melts completely. This helps prevent damaging the shea butter from oxidisation and overheating.
7. Combine with other ingredients
When using shea butter in combination with other butters and/or waxes, check the melting points of each ingredient. Start by melting those with the highest melting point first, and add softer, lower-melting point butters like shea butter later. This helps lower melting-point ingredients retain their skin-beneficial properties.
8. Experiment with ratios
The amount of shea butter you use in your formulation will depend on your desired outcome and the other ingredients you are using such as other butters, along with waxes and oils. Experiment with different ratios to find the perfect balance of moisturisation, texture and consistency (solid, semi-solid or soft).
9. Add shea butter to the oil phase
When creating emulsions, such as lotions or creams, add the shea butter to the oil phase along with other oils and butters. This will ensure that the shea butter is evenly distributed throughout the formulation. Again, melt higher melting point butters first, before adding the shea butter.
How can I stop shea butter going grainy?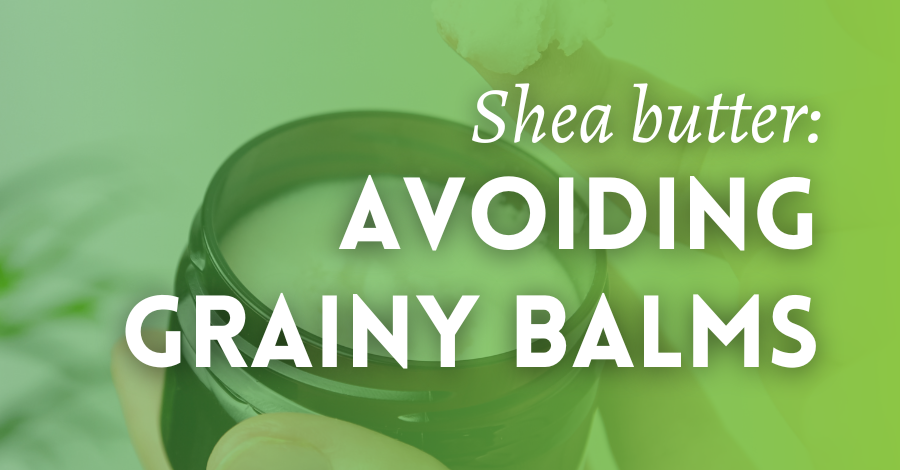 Shea butter can sometimes become grainy in cosmetic formulations due to changes in temperature or exposure to air. However, there are a few things you can do to prevent this from happening:
10. Melt the shea butter slowly
When melting shea butter, it's important to do so slowly and gently over low heat to prevent overheating and crystallisation. Use a double boiler or a heat-resistant container over a pot of boiling water and stir frequently until the shea butter melts completely.
11. Stir to trace and try different cooling / setting options
When making balms, you can stir the melting butters, oils and waxes until all are completely melted and blended. Remove from the heat, place the beaker in a cool water or ice bath and stir to a trace – which is when a glass rod or a spatula leaves an indent or trail behind it to show the balm is thickening. You need to pour the balm into containers so don't leave it until it is too thick and cool otherwise you won't manage this.
How you decide to let your shea balms cool optimally, to avoid graininess, depends on many factors like your ambient room temperate, the climate where you live, the type and quality of shea butter you are using, your chosen container and more. For small batches, and especially if making lip balms in tubes, the so-called shock-cooling method of putting the balms in the refrigerator can help set small quantities fast and avoid graininess. However, bear in mind that fridge cooling larger volumes may also cause the outer of the balm to set faster than the inner part, and this might result uneven setting and cause graininess.
The most important point in the whole process is the stirring continuously to trace using a cool water bath or ice bath as this helps ensure the blend cools evenly. Using this method but without stirring can result in the outer layer cooling first which may increase graininess and create an uneven texture. However, constant stirring cools the blend evenly and encourages a smooth texture with minimal grains for most shea butter variations.
As you can see, you will need to experiment to find out which method works best in your home-lab conditions. Also, try using shea sourced from different suppliers as that can make a difference too.
Put the lids on the balms only when the balms are completely set and cool so as to avoid condensation in the product.
12. Use an immersion blender
If you notice that your shea butter formulation is starting to become grainy when cooling, you can use an immersion blender to smooth it out. Blend the shea butter on low speed for a few minutes until it becomes smooth and creamy again. This may or may not resolve the issue, but is worth a try. You can also gently reheat the entire formulation and start again with the cooling process.
13. Add an antioxidant
While not resolving graininess, the addition of an antioxidant such as vitamin E or a rosemary antioxidant extract is good practice to help extend the shelf life and stability of your product.
14. Store your formulations properly
Keep your shea butter formulations in a cool, dry place away from direct sunlight and heat sources. This can help prevent changes in temperature that can cause shea butter to become grainy.
15. Formulating in hot climates
If you live in a hot climate, it is likely that your balms will liquify and not set properly. To avoid an anhydrous formulation with shea butter going grainy as it sets and then liquifies again, adjust the formula to include or add more waxes. These will harden the balm, keeping it stable at higher temperatures. Again, you will need to experiment with ratios to find the optimal balm or body butter consistency for your climate.
Some shea butter formulations to try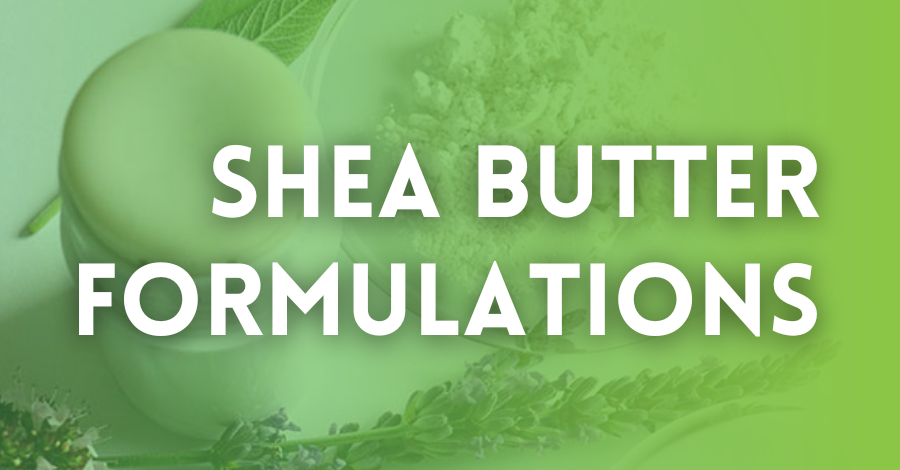 Are you ready now to give formulating with shea butter a go? Armed with the tips here, you can enjoy experimenting with this gorgeous and versatile African butter. Start with a simple balm, just melting shea butter only, and then try combining it with other butters, and some oils and waxes to trial consistencies and textures. Don't be fooled into thinking shea butter is too common an ingredient to enjoy working with. As you can see, you will need to experiment when working with shea butter as there are many variables such ingredient quality, your climate and so on. Shea finds a place in almost all types of formulations for its incredible moisturising and nourishing properties. Here are some formulations in which shea butter is the star, plays a supporting role or can replace other butters in the formulation:
Formulate a butter scrub
Formulate an oat and cranberry body balm
How to make a body butter
How to formulate a natural deodorant stick
How to make a whipped lip scrub
Your first botanical formulation: a simple body butter – swap one or more of the suggested butters for shea butter.
How to make a face cream with peptides – an example of a high-performance emulsion including shea butter.
Post updated 04.04.23 to expand Tip 11 on cooling/setting shea balms.
Leave us a comment
comments