Near the Atlas Mountains in the Souss-Massa region of Morocco, North Africa, rows of argan trees have grown since time immemorial. These ancient trees are a vibrant life force holding back the encroaching Sahara Desert with their deep root system. Their oil has long been a source of nutrition and a natural protector of skin and hair against the arid elements. These are properties it shares with many oils and butters derived from native African trees, plants and other botanicals we cover in our post:
However, cold-pressed argan oil is among the most highly prized of all this continent's natural cosmetic oils, and is, perhaps rightfully, referred to as 'liquid gold'. This is partly due to its colour, but also on account of its luxurious texture, rich fatty acid profile, and a wealth of nutrient compounds that make glowing additions to your skincare and haircare formulas. True to its nickname, this is one of the costlier oils, but it's not out of reach for home formulators. Let's crack open the secret to what makes this oil such a valuable cosmetic ingredient.
Argan oil – the background story
Argan oil (INCI: Argania spinosa kernel oil) is a welcome addition to nearly any formula – from luscious Moroccan-themed body oils and butters to hair oils and nourishing facial oils and serums.
Cosmetic-grade argan oil is typically cold pressed from the raw kernels of the fruit of the argan tree. It's common for goats to climb these shrubby low trees and graze among their branches. This actually helps the locals harvest the kernels. The modern process of producing the oil is not so different from the traditional way – kernels are still gathered, dried, hulled, milled and pressed – but it's now mechanised for efficiency and a higher yield, and the oil can be refined and deodorised. (i)
The Benefits of Formulating with Argan Oil for Skin and Hair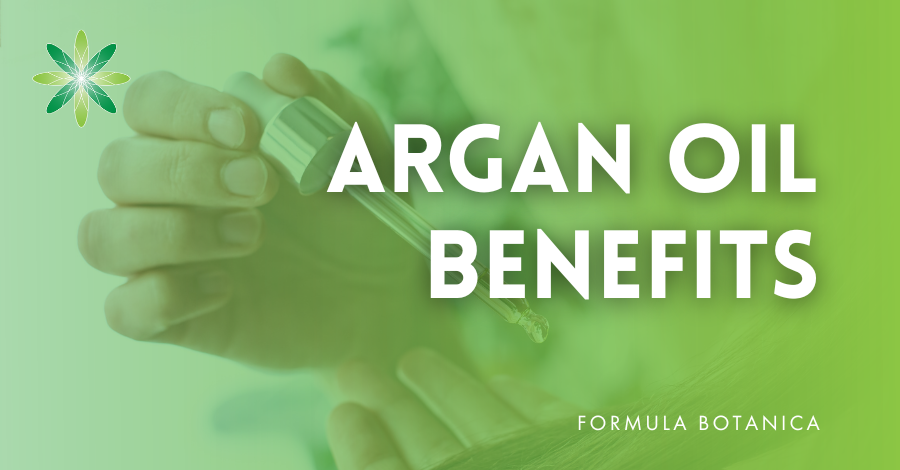 With its ability to increase moisture and elasticity in the skin and protect against trans-epidermal water loss – combined with its antioxidant compounds – argan is a wonderful oil to use in formulations targeting mature skin. (ii)
Like most plant oils, the benefits of argan oil are revealed through its fatty acids. It's a mono-unsaturated oil with oleic acid and linoleic acid – plus antioxidants such as polyphenols, vitamin E and even a small amount of coenzyme Q10 (i). Palmitic acid (a waxy, saturated fatty acid) gives the oil substance and lends a light occlusive layer that protects the skin barrier, making it suitable for sensitive skin or products intended to restore skin barrier function (ii). Further background lies in our posts:
How to formulate a simple face oil with African oils
Top 10 botanical oils every formulator needs
Even with its slightly viscous texture, argan oil remains a lovely oil for all hair types as it absorbs quickly and easily. In fact, it's become a trending haircare ingredient that is well known for its ability to help tame frizz and penetrate the hair follicle to give rise to fuller, shinier hair (i). It may even help to mitigate hair loss when regularly applied to the scalp (iii).
Our student Eliz Chausheva created this deep conditioning hair mask that includes argan oil along with plenty of other goodies to condition dry and damaged hair. Eliz included hibiscus powder and blue tansy among her ingredients to produce the gorgeous colour, proving that hair products don't need to be a boring white.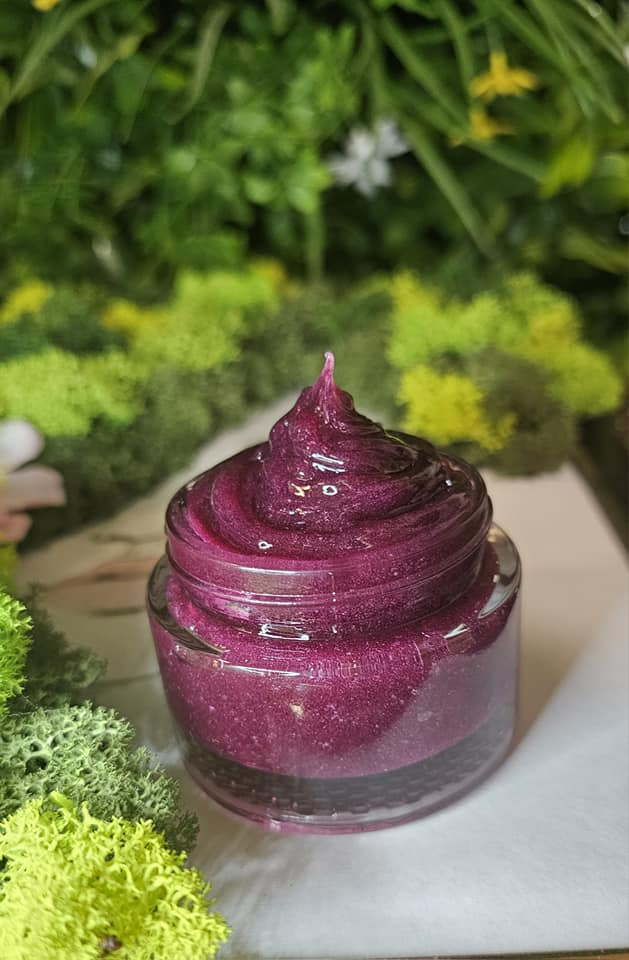 We featured argan oil in our hair and scalp oil formulation below, and it gets a deserved mentioned in our podcast on natural, sustainable haircare.
Make an easy, 5-minute rosemary scalp and hair oil
Podcast 139: Sustainable haircare –why less is best
Argan oil – understanding its different grades for formulation
Virgin or unrefined
Pure, unrefined cold-pressed argan oil is the most nutrient-dense grade available – if you can get it organic, even better. This is the type that practically comes straight from the kernel and into a bottle, aside from some filtering, and the colour can range from dark brown to amber. However, this variety comes with a pungent earthy odour that almost approaches the nutty scent of raw shea butter, but it is less chocolaty, and more animalic in scent profile. This might be worth the trade-off if this level of purity meets your idea of natural or is important for your brand ethos. But the smell is not for everyone, and it can be difficult to mask. We explore what natural means right back in episode 1 of our podcast, as it's such a fundamental part of learning natural cosmetic formulation.
Refined and deodorised
If you want the benefits of argan oil without the smell, this one is ideal. The refined, cold-pressed oil has a fatty acid profile that is similar to the virgin oil, although if you compare the certificate of analysis (COA) or the safety data sheet (SDS) of each, you might notice differences in the balance of fatty acids and nutrient compounds. There is also a refined version that is solvent-extracted, which tends to have fewer antioxidants. (iv) These oils are lighter in colour and cost more due to the refining process. If you are new to safety data sheets of cosmetic ingredients, this blog post is the place to start:
Adulterated or simply diluted?
Argan oil can be adulterated with cheaper oils and sold as "pure" argan oil, but there are several ways that good suppliers can test and verify the quality of their oil. However, sometimes argan oil is blended with less expensive oils to make it more affordable, while allowing the blend to retain the fatty acid profile of pure argan oil. In this case, it's not "adulteration" if it is indicated clearly as such on the label or in the documentation, and its composition is reflected in a lower price.
Tips for formulating with argan oil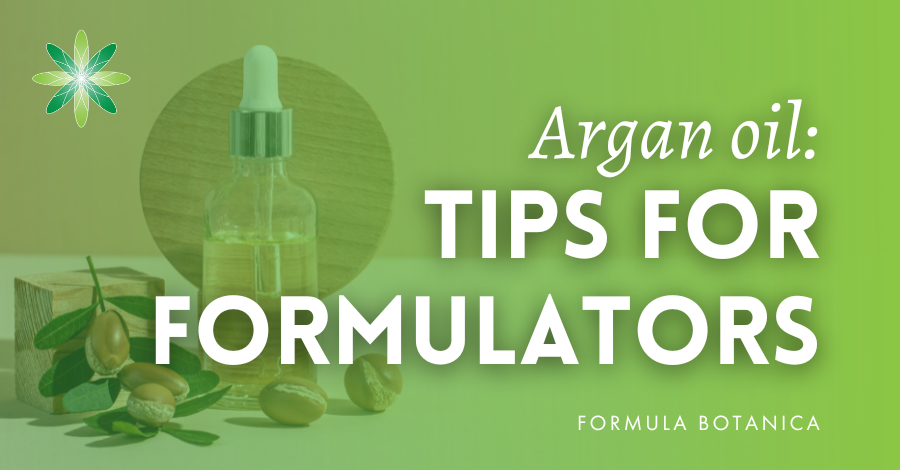 Argan oil is safe for use up to 100% – it's non-irritating and not photo-toxic. Add it directly into face or body oils, but in heated balms and emulsions, it's best to add argan oil during the cool-down phase since it is verging on heat sensitive and over heating it may harm its beneficial botanical compounds. Take a look at our article on heat sensitivity:
The chemist's guide to checking plant oils for heat sensitivity
If you opt for the virgin oil, one way to approach the odour would be to treat it as a scent 'note' instead of trying to mask it. Create a floral-forward blend of essential oils such as bergamot FCF, rose geranium or rose absolute, lavender, vetiver or patchouli. The animalic note of the argan oil may well add depth and a vintage feel to your florals. This will depend on your percentages and the smell of your particular argan oil but it's worth a try.
Formula Botanica graduate Carmina Grety Stamate tackled the odour issue in her hair mask formulation (below) by including some fabulous essential oils – rosemary, jasmine and frankincense. Rosemary is an ideal choice as it imparts numerous benefits into natural hair products which we cover in our post:
Revitalise your locks: how to make a rosemary hair and scalp oil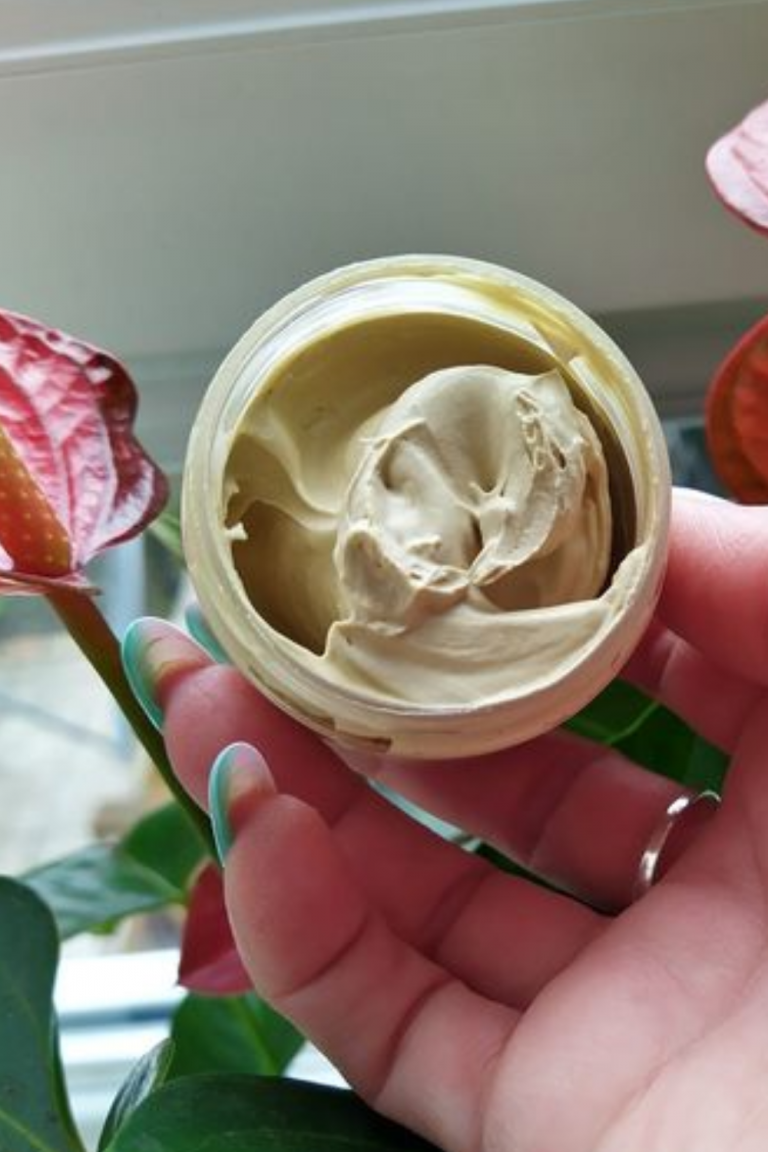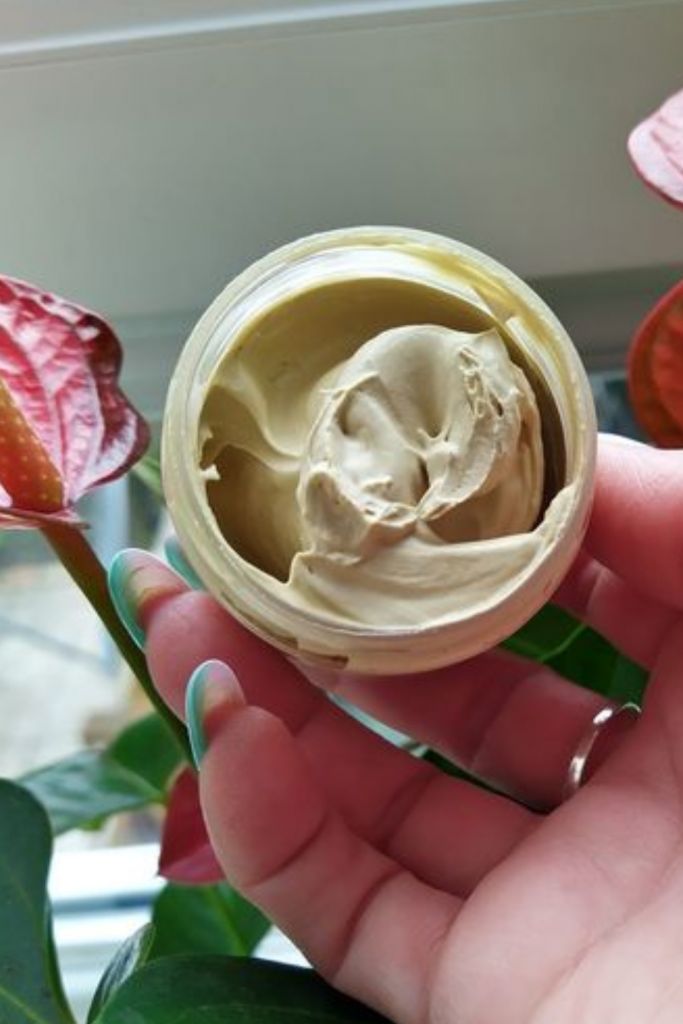 Argan oil has a stable shelf-life of about one year when stored away from heat and light. And when incorporated into products, the shelf life can be extended with an additional antioxidant such a vitamin E (Tocopherol) or rosemary extracts.
Sustainability and the Argan Oil Project
The Argan Oil Project (AOP) was established in 1985 with the goal of protecting argan trees from deforestation and ensuring the sustainable production of argan oil, as well as creating a reliable source of income for local women. The AOP helped set up organised women-only cooperatives and outfit them with education and literacy, plus modernising their harvesting and processing tools to help produce high-quality argan oil more efficiently so it could be brought to markets beyond Morocco (iv).
Many suppliers work with these cooperatives and purchasing from AOP-backed entities is a win-win: you get a quality oil, and you're supporting these local communities and the longevity of their precious argan trees.
More about argan oil and its botanical beauty
Argan is a luxury oil that can elevate your formulas. For a more in-depth look at this this oil, and the benefits of botanical oils in general, consider joining our membership site The Lab at Formula Botanica. The Lab is a treasure-trove of bite-sized specialist courses – or Mini-Labs – including The Botanical Oils Mini Lab, where we demystify the chemistry of plant oils to reveal their skin benefits, shelf life, and more.
Further reading and references
(i) Said Gharby and Zoubida Charrouf: Argan Oil: Chemical Composition, Extraction Process, and Quality Control, February 3, 2022.
(ii) Tzu-Kai Lin, Lily Zhong, and Juan Luis Santiago (2022): Anti-Inflammatory and Skin Barrier Repair Effects of Topical Application of Some Plant Oils.
(iii) Zoubida Charrouf and Dominique Guillaum (2018): The Argan Oil Project: Going from Utopia to Reality in 20 Years.
(iv) Hanae El Monfaloutia, Dom Guillaumea, Clément Denheza and Zoubida Charrouf (2010): Therapeutic Potential of Argan Oil: A Review.
FREE FOUNDATION COURSE
How to become an
Organic Skincare Formulator
By providing your details, you agree to receive additional educational & marketing emails from Formula Botanica, which further introduce our curriculum. Your data is never shared or sold. Read our
Privacy Policy
.
FREE TRAINING
How to become an
Organic Skincare Entrepreneur
Join over 100,000 other Formulators
By providing your details, you agree to receive additional educational & marketing emails from Formula Botanica, which further introduce our curriculum. Your data is never shared or sold. Read our
Privacy Policy
.
FREE TRAINING
How to become an
Organic Skincare Entrepreneur
Join over 100,000 other Formulators
By providing your details, you agree to receive additional educational & marketing emails from Formula Botanica, which further introduce our curriculum. Your data is never shared or sold. Read our
Privacy Policy
.
Leave us a comment
comments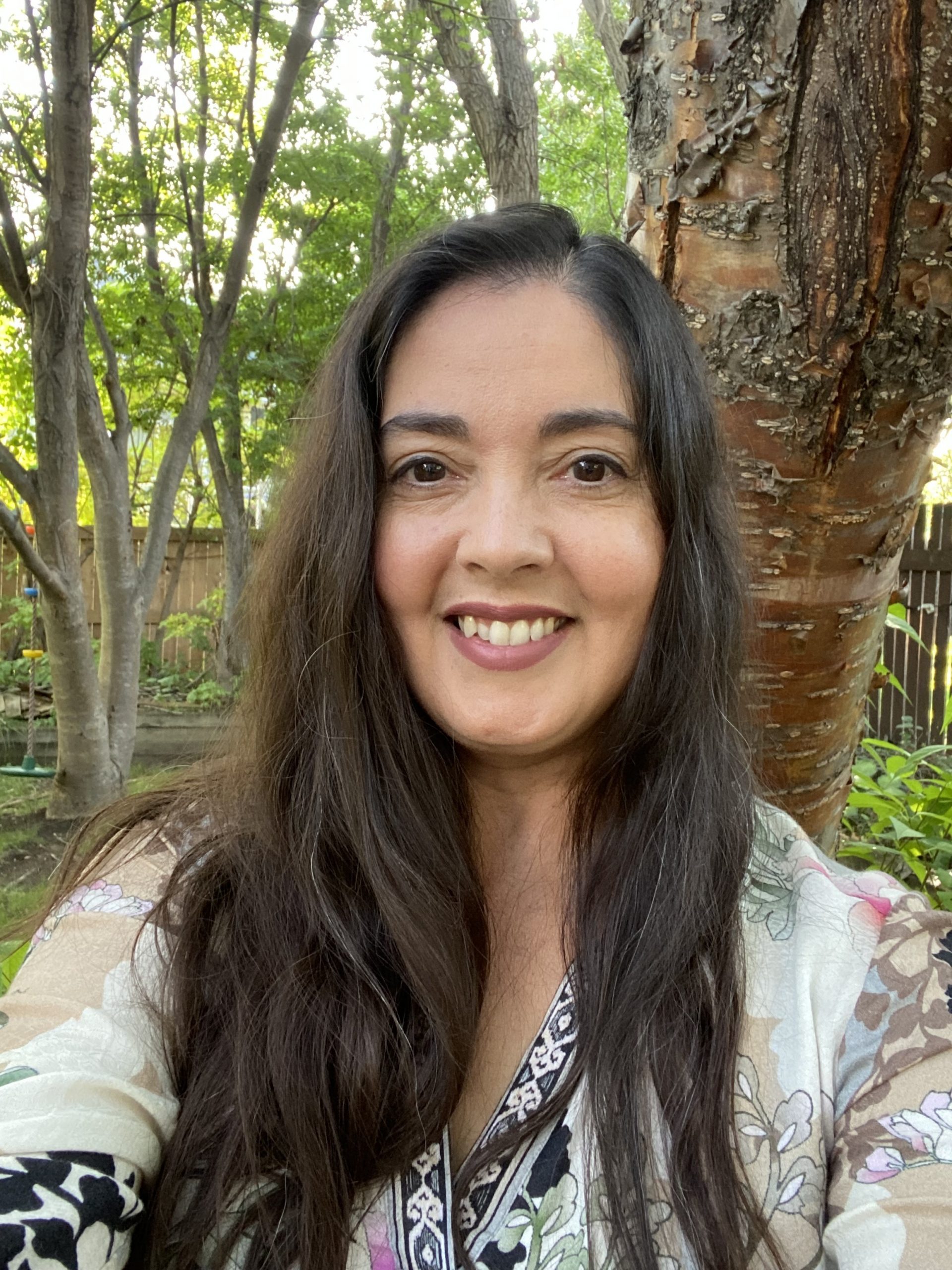 Shauna is a copywriter and content creator at Formula Botanica. Her love of beauty began with creating a make-your-own cosmetics kit for kids. A former aesthetician, Shauna is also an active formulator and perfumer, and a member of the Formula Botanica community.