In this blog post, we'll teach you how to make a sprayable body lotion using the emulsifier Sucrose Stearate and including the skin-beneficial oils of cherry and pomegranate. We recently wrote an article on the difference between hot process, cold process and hot cold process emulsification in which we discussed Sucrose Stearate as a cold process emulsifier.
Quick Introduction to Sucrose Stearate
Sucrose stearate belongs to the family of sucrose esters. This emulsifier works both in a hot or cold process and creates light emulsions with a very low viscosity. The emulsions are suitable for a spray pump and you can create a broad range of attractive hair and body products with a very light skin feel. It works best for an oil range between 15-25% (2.0-3.0% emulsifier)
How it works:
You can add the emulsifier to the oil or water phase or even work in a one-pot process when you blend all ingredients together from the very beginning.

According to our experience, it works better when we add it to the water phase and let it rest for 1-2 hours (we use about 44% of the water phase).
The emulsifier swells in water (it does not dissolve) to a gel-like texture.
Then add the oil phase to the water phase and homogenize.
Add the rest of the water phase.
Then add the gum and homogenize once more.
Continue stirring.
Add the essential oil (you can blend it from the very beginning since it is a cold process but we prefer to add the essential oil in the traditional way and at the end), adjust the pH and add the preservative.
Our Cherry & Pomegranate Sprayable Body Lotion
In this sample formulation, we'll show you how to make a Cherry & Pomegranate Sprayable Body Lotion based on Sucrose Stearate.
Ingredients:
Phase A
Sucrose stearate 2.5%

Coco glucoside, glyceryl oleate 1.0%

Freshly boiled and cooled distilled water 44.0%
Phase B
Organic cherry kernel oil 13.0%

Organic hemp seed oil 5.0%

Organic pomegranate CO2 extract 1.0%

Antibacterial plant extract 0.1%

Organic rosemary CO2 extract 0.1%

Tocopherol 0.5%
Phase C
Freshly boiled and cooled distilled water 25.2%

Panthenol 0.5%

Dermofeel PA-3 0.1%

Sodium lactate 1.0%
Phase D
Solagum AX 0.3%

Sclerotium 0.2%

Organic glycerine (we use 99.9% glycerine) 4.0%
Phase E
Organic patchouli oil 0.3%

Organic cardamom CO2 extract 0.2%

Euxyl K903 1.0%

25% NaOH solution (a few drops to adjust the pH)
Procedure:
Follow the steps below to create our Cherry & Pomegranate Sprayable Body Lotion:
Blend phase A in a beaker and set it aside for at least one hour (cover the beaker).

Blend phases B and C separately in two other beakers. We add a part of water at the beginning and the rest of the water with other hydrophilic ingredients after emulsification. This procedure creates emulsions with an improved stability. You can however blend all of the water phase from the beginning in one beaker.

After one hour, add phase B to A while stirring phase A. Homogenize for a few minutes. Add the rest of the water phase (phase C).

Blend the gums and glycerine. Here we have added sclerotium (which is an effective gum for stabilization of low viscosity emulsions) to solagum AX which is a blend of xanthan and acacia gum.

Add phase D to the emulsion and homogenize for a few seconds.

Continue stirring and add the essential oils.

We know from experience that the pH of this emulsion lies in acidic range and that the preservative we're using (Euxyl K903) reduces the pH. We first add a few drops of a NaOH solution and then add the preservative

Prepare a 10% dilution of the emulsion in distilled water and measure the pH. If the pH is lower than 5.3, add a base solution (sodium hydroxide, sodium bicarbonate or arginine) to increase the pH. If the pH is higher than 5.5 add an acidic solution (citric acid or lactic acid) to decrease the pH.

After you've created your sprayable body lotion, take a micro-kit sample to check its current microbial stability and fill in a suitable bottle with a spray pump.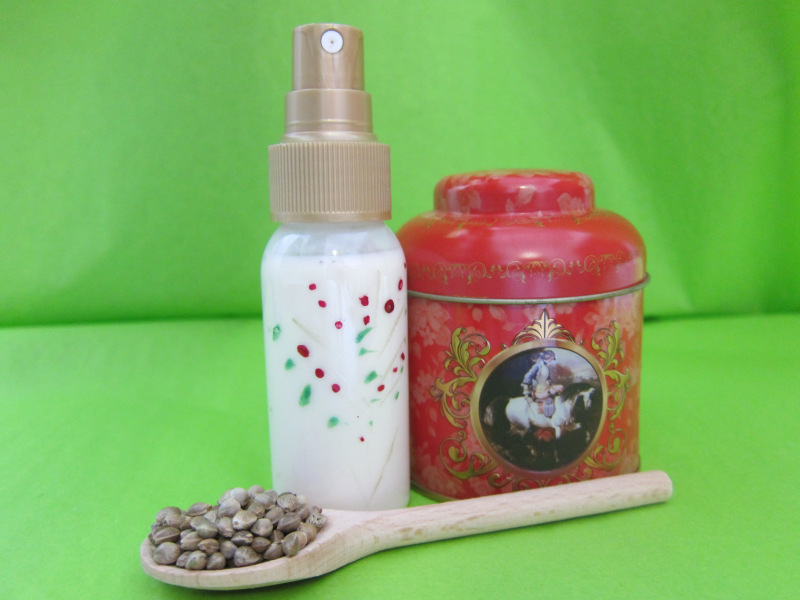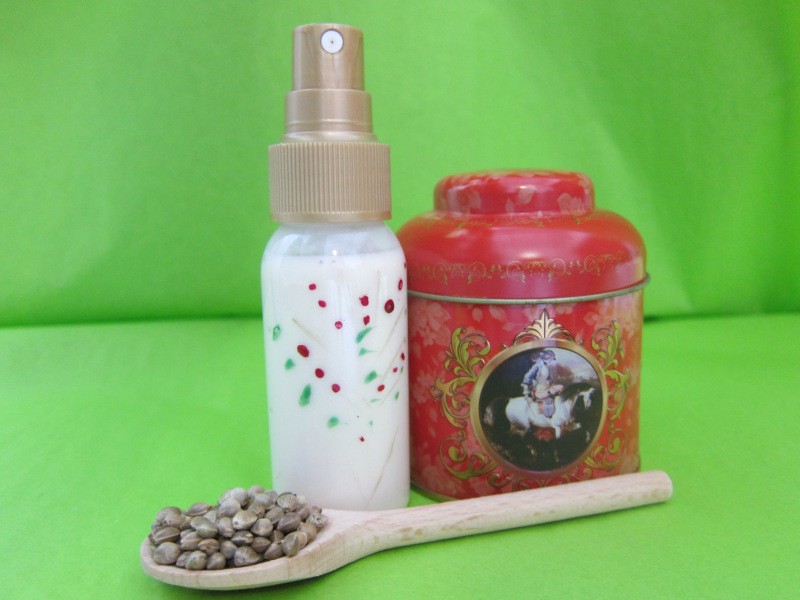 Learn how to make an organic sprayable body lotion #greenbeauty #DIYBeauty
Click To Tweet
---
Want to learn more about natural and organic emulsification? Read our other blog posts:
Want to learn how to make organic creams and lotions?
Enrol for Formula Botanica's Diploma in Organic Skincare Formulation to become a professional organic skincare entrepreneur.
---
Leave us a comment
comments