The simple body lotion is a favourite cosmetic product and one that just about every brand, whether mainstream or indie beauty, loves to include in its range. For most of us, the body lotion is part of our daily personal care routine, applied after the morning shower for both skin moisturising and hydrating and the sheer pleasure of pampering ourselves before getting ready for the day.
Light, non-greasy and quick to absorb, body lotions differ from body butters which are generally thicker and contain a higher percentage of botanical butters to oils and do not typically contain any water or water-based ingredients.
Body butters are used for deep moisturisation and act more as protective, occlusive barriers on the skin. Many people find body butters too heavy and greasy for daytime use and prefer using them to target problematic areas of dry skin. Body butters help the skin retain water by preventing transepidermal water loss (TEWL). Body lotions, in contrast, contain a high percentage of water or water-based ingredients such as hydrolats, along with some humectants, all of which act to impart or attract water to the skin.
Our formula is for a light, fast-absorbing, unscented body lotion with an attractive, light-pink hue. It is a nice easy formulation with which to practice emulsion making and to adapt. It lends itself well to the use of scented hydrolats which can replace part of the water in the formulation.
First, to guide you, we cover some of the theory behind the formulation.
Everyone needs a body lotion in their life. Make this simple unscented body lotion for instant skin hydration. #bodylotion #naturalformulation #organicskincare Click To Tweet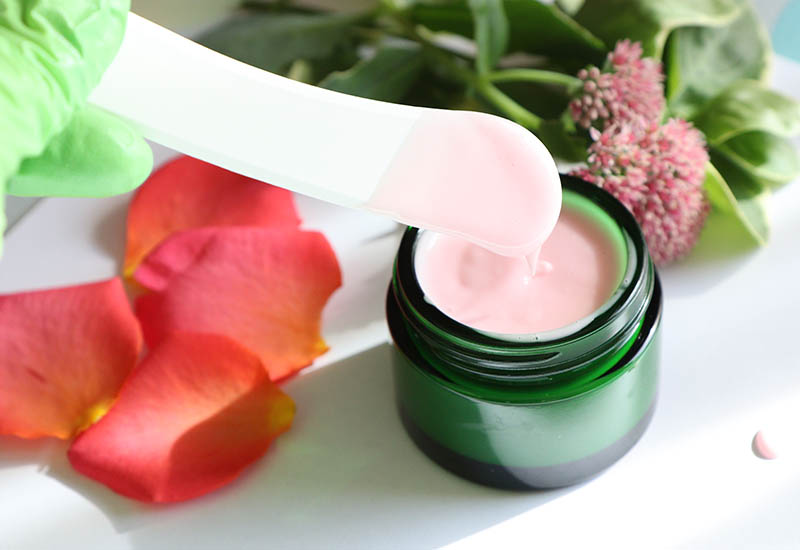 A short introduction to the physiology of the skin
Skin is our largest organ and constitutes the natural protective barrier between our body and the external environment. It is believed that the stratum corneum – the uppermost layer of the skin – forms the most crucial part of this protective barrier (chemical, physical, and even immunological).
The skin has a natural protective mechanism to keep it healthy; by this we mean well hydrated, moisturised and pH balanced. This natural mechanism can be altered by genetic predispositions we inherit, or by external factors such as our rough treatment of the skin (such as damaging the skin on our hands when doing manual jobs), certain cosmetic products, altered skin pH, altered hormonal levels, or extreme environmental conditions (cold, wind, UV light and so on).
In addition, the effectiveness of our skin's natural ability to present protective mechanisms tends to decrease as we age. Dry skin is one of the most frequent dermatological conditions related to increased age. It can result in itching, redness, scaliness and the early onset of wrinkles. These clinical symptoms are related mostly to impaired skin enzymatic processes that are also the result of the reduced ability of the stratum corneum to retain water.
We know that the water content in the stratum corneum is regulated by the composition, type and amount of inter-cellular lipids and the level of hygroscopic substances of the natural moisturising factors. Inter-cellular skin lipids such as cholesterol, fatty acids and ceramides form the main barrier against the diffusion of water through the stratum corneum, while natural moisturising factor (NMF) molecules play a key role in absorbing water. Both mechanisms work in synergy, and it has been shown that dry skin contains lower levels of NMF mostly on account of depleted water content in the stratum corneum and delayed/altered enzymatic processes.
About our hydrating body lotion
Our body lotion formulation is an emulsion with relatively low viscosity that you can apply to large areas of the skin – usually all over the body. Formulas for lotions should be lightweight, quick-absorbing and leave very little or no residue on the skin. Lotions should provide enough hydration while also strengthening the skin barrier function and locking moisture within the stratum corneum. That is why it is crucial to select the optimal lipids and active ingredients for the formula.
Adding colour to your lotion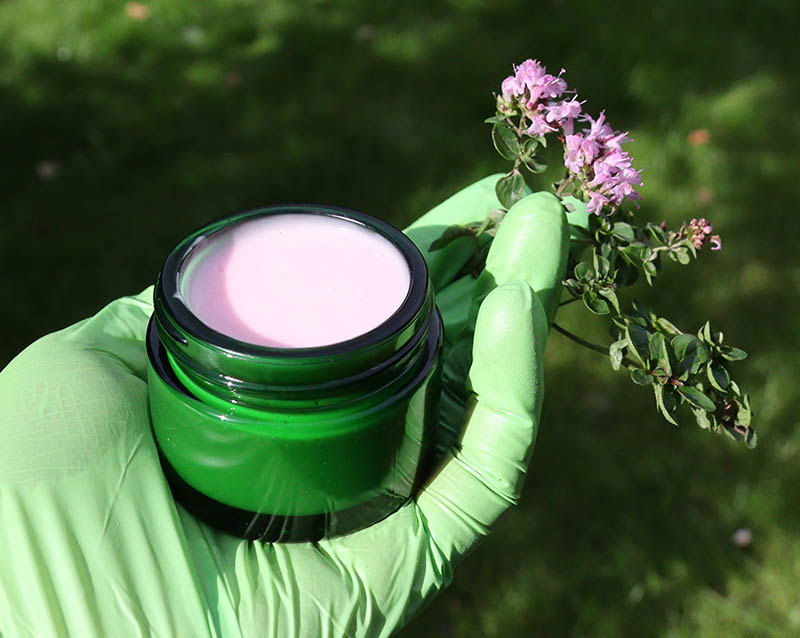 Adding colour to natural skincare products can be tricky, especially when using plant extracts. These colourants are sensitive to light and may fade within as little as two weeks of formulation if the cosmetic product is not stored in the dark.
The addition of chelating agents is not always successful in preventing the fading of natural colourants and so ensuring cosmetic stability is one of the major challenges for natural skincare formulators who want to colour their formulas.
This lotion has a light-pink tint that comes from the addition of Lithospermum root extract. This extract has a very high UV absorbance along with antibacterial and antioxidant properties. The extract was well known in ancient medicine and has been used for the treatment of burns, inflammation, wounds and ulcers. Lithospermum root extract has been extensively used in Asian countries for its high content of shikonin which is a stable colourant. Shikonin was first used in 1985 to produce a 100% natural lipstick line (biolipstick) which proved a huge success. Its use in lotions and soaps too is common practice in Asian countries.
The ideal packaging
As we expect body lotion to have a low viscosity, pourable texture, the most suitable packaging for this type of product is a pump bottle or an airless container. The texture of the product must be just right not be too liquid or too thick and must be designed to provide a pleasant feel when applied to the skin.
Key ingredients in the body lotion
We need to select ingredients that are suited to formulating a cosmetic product for dry skin, that is generally sensitive as well. This hydrating body lotion formula omits essential oils to ensure it is ideal for use on sensitive skin. It keeps the formulation process simpler too as we don't need to calculate the total amounts of any sensitisers that certain essential oils contain.
Our key ingredients are:
Fractionated coconut oil / caprylic capric triglycerides – this is a light odourless oil that is resistant to oxidation and is not sensitive to heat. It has a pleasant, non-greasy feel on the skin and is suitable for lightweight formulations.
Jojoba oil – this is a natural plant emollient with excellent thermal and oxidative stability and very nice skin feel and is fast absorbing.
Solagum AX – is a natural thickening and stabilising polymer, improving the stability of the formula by forming the gel network. See our formulator's guide to natural gums for more information on working with and choosing the ideal gums.
Montanov 68 – this is a naturally-derived emulsifier suitable for a variety of textures from liquid milks to rich, thick creams. It promotes the formation of a liquid crystal structure and gives rise to a long-lasting moisturising effect.
Sodium hyaluronate – this is a natural mucopolysaccharide with an excellent water-retention capacity. It preserves the moisture and elasticity of the skin and is especially suitable for moisturising preparations like lotions, serums and light creams.
Lithospermum extract – this root extract is a natural source of pink colour, but also provides useful antimicrobial and antioxidant properties to the formula.
Centella asiatica extract – this extract has potent antioxidant, anti-inflammatory, anti-microbial and regenerative properties. Discover more about this plant in our article: Gotu Kola (Centella asiatica), the botanical ingredient every formulator needs.
Vitamin E – an antioxidant that is added to both protect sensitive ingredients in the formulation from oxidation and to add skincare benefits. Explore vitamin E in our formulator's guide to antioxidants in cosmetics.
Euxyl K903 – this is a wide-spectrum, antimicrobial agent, or natural-skincare-compatible preservative.
Our Formulation: A simple hydrating body lotion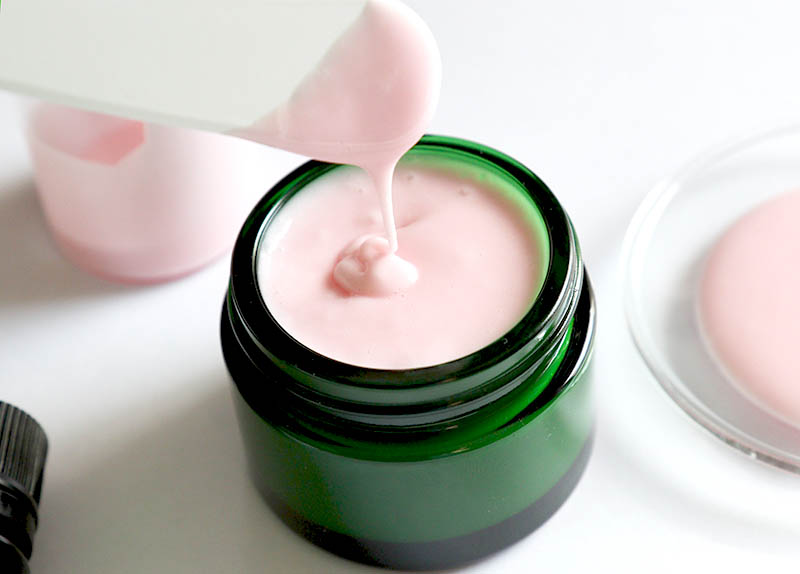 Makes: recommended trial batch size: 50g/100g.
Time taken: 20 minutes not including setting time.
Level: beginner/intermediate-level formulation to personalise and adapt.
| | | | |
| --- | --- | --- | --- |
| Phase | Ingredients | INCI | Weight (g) |
| A | Fractionated coconut oil | Caprylic capric triglycerides | 8.00 |
| A | Apricot kernel oil | Prunus armeniaca kernel oil | 4.00 |
| A | Jojoba oil | Simmondsia chinensis seed oil | 2.00 |
| A | Montanov 68 | Cetearly alcohol and Cetearyl glucoside | 2.00 |
| B | Glycerine | Glycerin | 3.00 |
| B | Solagum AX | Acacia Senegal gum and Xanthan gum | 0.80 |
| C | Water | Aqua | 73.30 |
| C | Dermofeel PA-3 (chelator) | Sodium phytate and Aqua and Alcohol | 0.10 |
| D | Sodium hyaluronate | Sodium hyaluronate | 0.30 |
| D | Centella asiatica (Gotu kola) extract | Glycerin and Aqua and Centella asiatica extract | 5.00 |
| D | Lithospermum erythrorhizon extract | Lithospermum erythrorhizon extract | 0.30 |
| D | Vitamin E | Tocopherol | 0.20 |
| D | Euxyl K903 | Benzyl alcohol and Benzoic acid and Dehydroacetic acid and Tocopherol | 1.00 |
| | | | Total: 100.00 |
Equipment:
Scales
Water bath
Hot plate
Homoegeniser
pH meter
Glass beakers, glass rods and some spatulas
Pipettes
Suitable container
Method of Manufacture
Weighing phase

Prepare and weigh out separately all ingredients for phases A, B, C and D.

Heat phase A

Melt phase A ingredients in a water bath. The temperature should be kept at about 65-70°C to fully melt all solid ingredients.

Blend phase B

Blend phase B ingredients: Prepare a glycerine / gum slurry, and set aside.

Phase C

Heat up phase C ingredients making sure it has a similar temperature to heated phase A (about 65-70°C).

Phase B+C

Add phase B ingredients into heated phase C and make sure it is mixed in properly.

Homogenise A + BC

Slowly pour heated A into B+C and homogenise.

Cool down

Cool down slowly, avoiding rapid temperature changes.

Heat-sensitive phase

Add phase D ingredients below 40°C.

Check pH

Measure the pH and adjust if necessary. The ideal pH for this formula is pH 5 – 5.5.

Decant

Decant the lotion and allow to cool further to its final viscosity. Label and date the batch.
Formulation notes
Our formulation is a basic example of milk/lotion formula and can be enriched with additional actives and functional ingredients.
The addition of electrolyte-rich ingredients such as sodium PCA, which is a useful skin-compatible moisturising ingredient, may lead to some instability. It is therefore important to research your ingredients well and to stabilise the formula with the addition of a co-emulsifier or by using an emulsifier with better electrolyte tolerance.
Ingredients suitable for dry skin are, for example, ceramide NP, sodium PCA or sodium lactate.
If using hyaluronic acid (sodium hyaluronate) in powdered form, let it swell in an aqueous solution (a small portion of water phase) or in the liquid extract to ensure it dissolves without clumping; then add it below 40°C.


Suggested suppliers

Many of the suppliers below ship internationally. We have given their home country base.
Aromazone (EU) – stocks Lithospermum extract.
Aromantic (UK)
Alexmo Cosmetics (EU)
Manske (EU)
Soap Kitchen (UK)
Elemental (EU)
Lotioncrafter (USA)
Essential Wholesale (USA)
Go Native (New Zealand)
Naturally Balmy (UK)
Soap & More (Canada)

References

Imokawa G, Akasaki S, Minematsu Y, Kawai M. Importance of intercellular lipids in water-retention properties of the stratum corneum: induction and recovery study of surfactant dry skin. Arch Dermatol Res. 1989;281(1):45-51. doi: 10.1007/BF00424272. PMID: 2730142.
Robinson M, Visscher M, Laruffa A, Wickett R. Natural moisturizing factors (NMF) in the stratum corneum (SC). I. Effects of lipid extraction and soaking. J Cosmet Sci. 2010 Jan-Feb;61(1):13-22. PMID: 20211113.
Intercellular Skin Barrier Lipid Composition and Organization in Netherton Syndrome Patients

FREE FOUNDATION COURSE

How to become an
Organic Skincare Formulator

By providing your details, you agree to receive additional educational & marketing emails from Formula Botanica, which further introduce our curriculum. Your data is never shared or sold. Read our

Privacy Policy

.

FREE TRAINING

How to become an
Organic Skincare Entrepreneur

Join over 100,000 other Formulators

By providing your details, you agree to receive additional educational & marketing emails from Formula Botanica, which further introduce our curriculum. Your data is never shared or sold. Read our

Privacy Policy

.

FREE TRAINING

How to become an
Organic Skincare Entrepreneur

Join over 100,000 other Formulators

By providing your details, you agree to receive additional educational & marketing emails from Formula Botanica, which further introduce our curriculum. Your data is never shared or sold. Read our

Privacy Policy

.
Leave us a comment
comments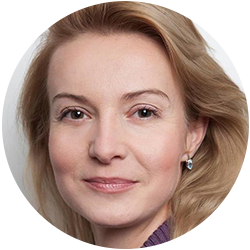 Miroslava is a grading tutor at Formula Botanica. She has a Ph.D in neuroscience, expertise in biology and chemistry, and a lifelong passion for natural cosmetic formulation.