Gotu kola, which is a key active ingredient in the face serum formulation below, is the ancient Indian name for Centella asiatica. A plant with an impressive history and list of skin benefits, Gotu kola, also known by its synonym 'Indian pennywort', grows in the tropical regions of Asia, Africa, America and Oceania.
As a medicinal botanical, it was already in use 3000 years ago and is today in high demand as a very versatile, active ingredient in performance cosmetics. In this post, we're right on trend with our formulation for a Gotu kola face serum which offers powerful benefits for dry and/or mature skin. We also list our 7 top reasons to formulate with Gotu kola.
What are Gotu kola's skin benefits?
On account of its long folkloristic history as a plant with medicinal properties, it has been investigated for use in modern-day medical dermatology. In addition, studies have also shown its significant effect in cosmetic preparations to combat issues such as the visible signs of skin ageing, cellulite and stretch marks. Here, we're focusing on Gotu kola as a topically-applied cosmetic ingredient and are not looking at its potential or researched medicinal or medical properties.
The plant compounds responsible for some of the skin-beneficial properties of Gotu kola are triterpenoid saponins, known as centelloids. The most important ones are asiaticoside, madecassoside, asiatic acid, and madecassic acid. Triterpenoids (triterpenoid saponins) are a highly diverse group of natural compounds widely found in plants. Plants often accumulate these compounds in their saponins. Biologically, plant saponins are considered defensive compounds against pathogenic microbes and herbivores. Saponins also have beneficial properties for humans too and have various pharmacological effects.
Gotu kola also contains other active components such as tannins, flavonoids, phytosterols, amino acids and sugars. Asiaticoside isolated from Gotu kola promotes collagen production and increases antioxidative activity as well as microcirculation in the capillaries near the skin's surface.
7 Reasons to formulate with gotu kola
So, to summarise, these are the key reasons natural formulators should take a good look at Gotu kola as an all-round star ingredient:
Gotu kola is an 'adaptogen' plant helping the skin adapt to and protect itself from environmental stress.
It has a soothing effect on the skin.
It helps promote collagen production.
It stimulates the production of hyaluronic acid in the skin.
It can help reduce the visible signs of ageing.
It helps increase antioxidant activity bringing more oxygen and nutrients to the skin.
By improving this microcirculation in the skin, it also helps reduce the signs of cellulite.
Our Gotu kola face serum
Our formula for a Gotu kola face serum is an emulsion product full of natural vitamins and antioxidants which may help mitigate the first signs of ageing, neutralise free radicals and improve the overall radiance of the skin.
The base of our formulation is composed of luxury, cold-pressed oils and a number of extracts as active substances. Our chosen Gotu kola extract is water based and derived from Centella asiatica leaves and contains active centelloids.
We enriched our Gotu kola face serum with the precious essential oils of frankincense and rose along with a green tea hydrolat to give a delicate, uplifting and luxurious scent. Of course, there are myriad ingredients you can use as alternatives. We designed our facial emulsion serum to be simple and effective but you can research other ingredients to suit your preferences and use your imagination to create versions from our base formulation.
This emulsion serum can be used to provide moisturising benefits to dry, mature skin which needs a hydration boost.
Gotu kola, a small plant with powerful cosmetic benefits. Try it in this @FormulaBotanica formula for a gotu kola face serum. #naturalformulation #faceserum #gotukola
Click To Tweet
Ingredient choices
In our formulation we include these key ingredients in addition to Gotu kola:
Mango butter
This is a natural, renewable emollient derived from the fruit of the Mangifera indica tree. It is rich in C-18 fatty acids and triglycerides and contains a small amount of tocopherol to prevent rancidity, add stability to emulsions and provide skin softening properties.
Olive Squalane
This plant-derived squalane is an exceptional natural emollient that can be used in a wide range of cosmetic applications.
Jojoba oil
Jojoba is a natural liquid wax without triglycerides which makes it less greasy and non-occlusive. It works as an emollient that penetrates skin. Jojoba has moisturising properties, and provides sebum production control as well as protection from external aggressors to the skin.
Argan oil
Argan oil has been used for centuries for the care of skin, hair and nails where it helps to soften, strengthen, moisturise and protect. The oil is also rich in vitamin E, linoleic acid (an omega-6 essential fatty acid) and natural tocopherols.
Cranberry seed oil
This fruit seed oil is rich in omega 3 and omega 6 essential fatty acids and vitamin E. In cosmetic products it works as an emollient, lubricant and anti-ageing and anti-inflammatory ingredient. Cranberry seed oil is therefore an excellent, all-round choice for inclusion in skincare formulations.
Propanediol
Plant-based propanediol is considered as an excellent humectant and emollient and is a preservative booster.
Skin prebiotic complex (Inulin)
Inulin is a multi-functional ingredient extracted from chicory roots and is a natural, soluble, prebiotic fibre supporting the skin microbiome. In addition, it acts as a moisturiser.
Vegeluron
This ingredient is a transparent, colourless gel of a polysaccharide extracted from a mushroom Tremella fuciformis. It offers intense moisturising and leaves a light film with a soft touch. It is a natural alternative to hyaluronic acid, and its softness makes it also a natural alternative to silicones.
Vitamin E
This is a natural antioxidant and acts also as an emollient and moisturiser.
Black cumin extract CO2
Derived from seeds of Nigella sativa and containing a high content of thymoquinone, black cumin extract CO2 has strong anti-inflammatory and antioxidant properties.
Euxyl K903
Our chosen preservative displays strong, broad-spectrum effectiveness against bacteria, yeast and mould. The blend is compliant with many natural certification requirements. This preservative is pH sensitive; its optimal efficacy is achieved in the acidic range (pH 3-6). We recommend adding it after testing and adjusting the pH of your emulsion.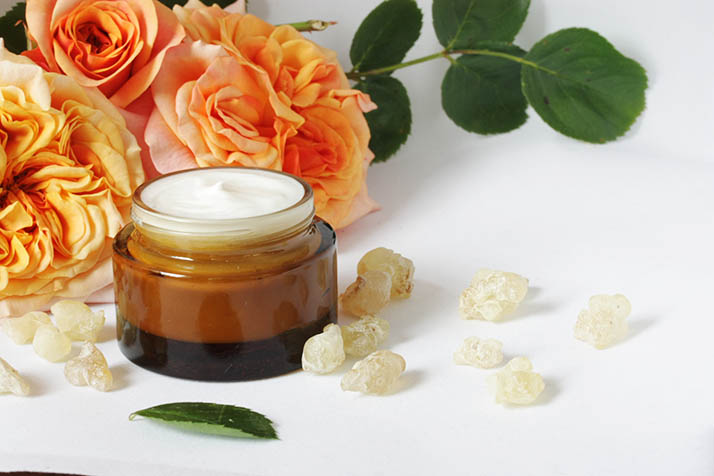 Our formulation: Gotu kola face serum
This formula for a Gotu kola serum is a light, pleasant skin-feel emulsion that absorbs quickly without leaving any oily or sticky residue. It provides hydration, seals in moisture and promotes the regeneration and rejuvenation of skin cells. The emulsion has a refreshing citrus top note scent thanks to mandarin essential oil, which is enhanced and extended with warm tones of frankincense.
Our Formula
Makes: 100 grams
Time taken: 30 minutes
Level: intermediate formulator
Phase
Ingredients
INCI
Weight (g)
A1
Green tea hydrosol
Camellia sinensis (green tea) floral water
20.00
A2
Rose hydrosol
Rosa damascena flower water
14.30
A3
Natural chelator PA3
Sodium phytate, Aqua, Alcohol
0.20
B1
Propanediol
Propanediol
3.00
B2
Solagum AX
Acacia Senegal gum (and) Xanthan gum
0.30
B3
Aqua
Aqua
25.00
C1
PolyAquol 2W
Polyglyceryl-2 Stearate (and) Glyceryl Stearate (and) Stearyl Alcohol
4.00
C2
Cetyl alcohol
Cetyl alcohol
0.50
C3
Mango butter
Mangifera indica seed butter
6.00
C4
Olive Squalane
Squalane
4.00
C5
Jojoba
Simmondsia chinensis seed oil
4.00
C6
Argan oil
Argania spinosa kernel oil
7.00
D1
Cranberry seed oil
Vaccinium macrocarpon seed oil
2.00
D2
Frankincense
Boswellia carterii oil
0.20
D3
Vitamin E
Tocopherol
0.40
D4
Black cumin extract CO2
Nigella sativa seed extract
0.10
E1
Gotu kola extract
Water and Centella asiatica extract
4.00
E2
Vegeluron
Water (aqua) (and) Propanediol (and)
Tremella fuciformis (mushroom) extract
3.00
E3
Skin prebiotic complex
Inulin
1.00
F
Euxyl K903
Benzyl alcohol (and) Benzoic acid (and) Dehydroacetic acid)
1.00
G
Lactic acid to adjust pH
Lactic acid
q.s
Total: 100.00
Method of Manufacture
Phase A

Weigh out and prepare a mixture of the hydrosols and add the chelator.

Phase B

In another beaker, weigh out and then mix the Solagum AX in the Propanediol – and then mix with the water. Let it hydrate for 10-15 min.

Phase C

Put all phase C ingredients into a water bath until all ingredients are fully melted.

Phase A & B

Mix A+B ingredients and add into the water bath as well.

Phase D

Weigh out and prepare a mixture of phase D ingredients.

Phase E

Dissolve skin prebiotic complex along with Vegeluron, add it to the Gotu kola extract.

Emulsify

When phases A + B and C reach about 75° C slowly trickle phase C into phase A+B under continuous mixing. Homogenise for 3 minutes.

Cooling and adding Phases D & E

Cool, mixing gently. When below 35 degrees, add phases D and E. Measure pH, and adjust before adding a preservative (phase F) to fit the preservative's recommended pH range. Measure pH again and adjust to pH 5-5.5 if necessary.

Bottle

Let it cool down completely and transfer into disinfected containers.
Formulation tips for our gotu kola face serum
We hope you will enjoy formulating Gotu kola serum but realise that you can be short of a few ingredients so here we list some suggested alternatives.
The hydrosols can be substituted with distilled water or with hydrosols of your choice.
Instead of Propanediol, you are welcome to use other emollients, humectants and conditioning agents such as Glycerine, Panthenol and natural Pentylene glycol or Sodium lactate as well.
The oil phase can be substituted with oils of your choice, but remember not to change oil/emulsifier and co-emulsifier ratio, since it may affect the stability, texture and skin feel of the final product.
Active ingredients such as Gotu kola extract, Inulin or Vegeluron should not be substituted, since these define the whole character of the formula.
The preservative amount should not be altered since this ingredient is crucial in maintaining safety and microbial stability of final product. However, if using a different preservative system of your choice, research it to ensure it is compatible with the pH range of the serum and note any supplier tips on using it such as recommended amounts and any incompatibility with other ingredients.
---
Suggested suppliers:
Formulator Sample Shop and its EU online store.
Alexmo-Cosmetics (Germany but ships overseas)
Manske Shop (EU)
References
Bylka W, Znajdek-Awiżeń P, Studzińska-Sroka E, Brzezińska M. Centella asiatica in cosmetology. Postepy Dermatol Alergol. 2013 Feb;30(1):46-9. doi: 10.5114/pdia.2013.33378. Epub 2013 Feb 20. PMID: 24278045; PMCID: PMC3834700.
Bylka W, Znajdek-Awiżeń P, Studzińska-Sroka E, Dańczak-Pazdrowska A, Brzezińska M. Centella asiatica in dermatology: an overview. Phytother Res. 2014 Aug;28(8):1117-24. doi: 10.1002/ptr.5110. Epub 2014 Jan 7. PMID: 24399761.
Sun B, Wu L, Wu Y, Zhang C, Qin L, Hayashi M, Kudo M, Gao M, Liu T. Therapeutic Potential of Centella asiatica and Its Triterpenes: A Review. Front Pharmacol. 2020 Sep 4;11:568032. doi: 10.3389/fphar.2020.568032. PMID: 33013406; PMCID: PMC7498642.
Science Direct article on Thymoquinone
FAQs
Is Centella asiatica the same as Gotu kola?
Gotu kola is the ancient Indian name and a common name for the plant Centella asiatica, which is also known by its synonym Indian pennywort. As its name implies, it is a native of Asia but also grows in Africa, American and Oceania.
Does Gotu kola tighten skin?
Gotu kola is a herbal extract used for a variety of cosmetic applications as it has multiple skin benefits. Gotu kola extracts can help stimulate collagen and hyaluronic acid production and the formation of new blood vessels – the fine capillaries nearest the skin's surface. All these effects give rise to visible signs of tighter skin. Gotu kola's role in microcirculation helps bring more nutrients and oxygen to the skin, which in turn can improve skin texture and radiance.
Is Gotu kola anti-ageing
Gotu kola botanical extracts can help mitigate the visible signs of ageing. Gotu kola helps stimulate collagen production and the synthesis of hyaluronic acid. Both these are vital to reducing the first signs of ageing in skin.
Where can I learn to formulate natural skincare and haircare?
Join us at Formula Botanica, where tens of thousands of students and followers take our free and paid online courses to learn how to formulate organic skincare and haircare for themselves or to sell and also how to set up a beauty brand and business.
FREE FOUNDATION COURSE
How to become an
Organic Skincare Formulator
By providing your details, you agree to receive additional educational & marketing emails from Formula Botanica, which further introduce our curriculum. Your data is never shared or sold. Read our
Privacy Policy
.
FREE TRAINING
How to become an
Organic Skincare Entrepreneur
Join over 100,000 other Formulators
By providing your details, you agree to receive additional educational & marketing emails from Formula Botanica, which further introduce our curriculum. Your data is never shared or sold. Read our
Privacy Policy
.
FREE TRAINING
How to become an
Organic Skincare Entrepreneur
Join over 100,000 other Formulators
By providing your details, you agree to receive additional educational & marketing emails from Formula Botanica, which further introduce our curriculum. Your data is never shared or sold. Read our
Privacy Policy
.
Leave us a comment
comments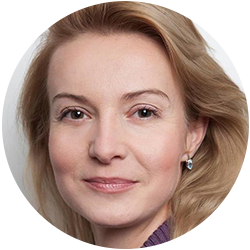 Miroslava is a grading tutor at Formula Botanica. She has a Ph.D in neuroscience, expertise in biology and chemistry, and a lifelong passion for natural cosmetic formulation.