One of the loveliest formulations you can make at home, using natural ingredients, is a natural under eye serum formulation. Many of us are working from home at the moment and this means we're spending more time staring at our screens and giving ourselves tired eyes. Our eye area can start to feel dry, hot, puffy, show dark circles and generally feel tired, which is why it is so empowering to be able to create your own homemade under eye serum.
What is an Under Eye Serum?
An under eye serum is applied to the delicate skin just beneath your eyes. The skin around this part of your eyes can often feel puffy or even show dark circles, which is why it feels so nice to apply a soothing serum to this area. Under eye serums can make all sorts of claims and whether those claims actually stand up to scrutiny depends entirely on which natural ingredients you use in your homemade formulation.
However, before we can choose our ingredients, we need to decide on what type of formulation our natural under eye serum will be. We have lots of options available to us as organic formulators: we can create a natural under eye serum based on an oil, emulsion, tonic, gel or even balm. We decided to create a natural under eye serum based on a hydrogel, which could potentially combat the effects of extended screen time by soothing and cooling our under eye area.
Read more: 5 Types of Organic Facial Serum Formulations
Research has shown that the periorbital region (the area around the eyes) is often the first area that shows the signs of skin ageing. The ageing process, which is affected by both internal and external factors, means the loss of collagen over time which results in the loss of skin elasticity, but dark circles may become more prominent.
The skin around the eye is extremely thin and delicate, so any topical product you want to use must be suitable for this sensitive area. For this reason, you will need to leave out any essential oils from your homemade serum and you will need to pay attention to preservation and pH.
Learn how to make a natural under eye serum with caffeine and pea sprout, follow @FormulaBotanica's expert online formulation tuition. #naturalskincare #greenbeauty
Click To Tweet
Our Caffeine Eye Serum Ingredients
The Formula Botanica Education Team has created a caffeine eye serum that can soothe and pamper the under eye area. Before we show you how to make this eye serum, we first want to walk you through the ingredients we'll be using so you understand their purpose in the overall natural under eye serum formulation. We expect all of the formulators in our student community to follow the same process when they design their own beauty products for skin or hair.
Natural Ingredients: Base
We chose aloe vera juice, rose hydrosol and witch hazel as the base for our caffeine under eye serum. All of these ingredients are very gentle and in liquid form, which makes them excellent for formulations that are to be applied around the eye. It is worth noting that the aloe vera juice can come in a liquid and powder form.
You will need to investigate the strength of your aloe vera juice because it can vary in strength. When formulating, you can find 1:1 or even 1:200 (usually as a powder) strength aloe vera. Aloe vera gel will not be suitable for this challenge as that is a ready-made product often with aloe juice, thickeners, and preservative. Whichever supplier you choose should be able to tell you more about the aloe vera they sell.
Witch hazel distillate / hydrosol sometimes contains alcohol, so we again recommend checking with your supplier to see whether the witch hazel they're selling you comes with or without alcohol.
Natural Ingredients: Extracts
Once we determined the base for our caffeine eye serum, we chose the plant-based extracts that will give our under eye serum its botanical boost. For this particular formulation, we chose caffeine powder and pea extract to boost the serum.
Our caffeine extract is in a powder form and is thought to help with the blood flow to the capillaries, the very tiny blood vessels, so could potentially help the eye area look brighter, fresher and less puffy. Caffeine is a plant-based alkaloid which can be found in various botanicals such as green tea, guarana and of course, tea and coffee. It is important to remember that caffeine is more water-soluble than oil-soluble, so would not work in an oil-based serum.
Finally, our hero ingredient is pea extract, which is a very interesting peptide derived from the pea plant Pisum sativum. This extract is said to contain Vitamin B3 and help improve the skin elasticity. The pea extract we purchased was an extract in glycerine and water, so please check if the supplier lists any preservatives.
Natural Ingredients: Preservatives
As this caffeine eye serum contains water and water-based ingredients, we need to make sure we preserve the formulation properly and use an appropriate preservative. Your preservative must be broad-spectrum and should be water-soluble. As this is an eye-care product, we are aiming to achieve pH 5.
Read more: 16-Point Checklist: How to Choose the Right Natural Preservative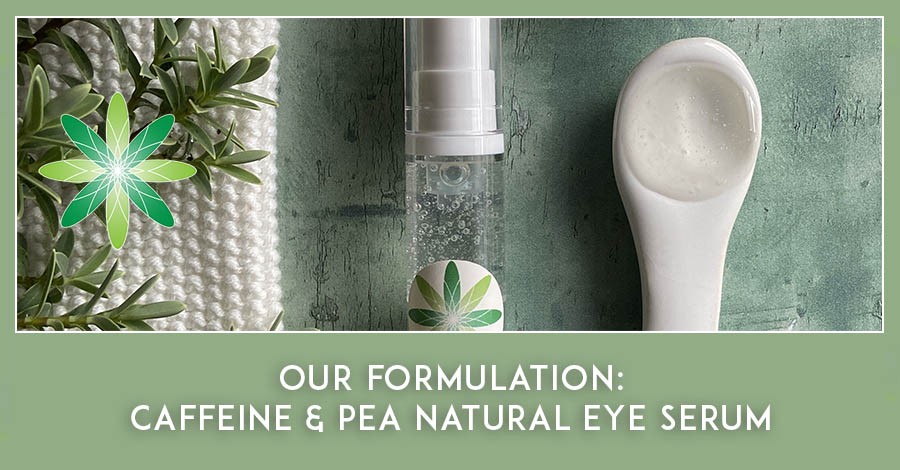 Formulation: Caffeine & Pea Natural Under Eye Serum
We've created this formulation for you to try making your own under eye serum at home. By following the steps in our formulation, you will be able to create 50 grams of your own natural under eye serum.
| | | |
| --- | --- | --- |
| Phase | Ingredients | Grams |
| A | Rose hydrosol | 25 |
| A | Aloe vera juice 1: 1 (preserved) | 14.75 |
| A | Witch hazel | 5 |
| A | Caffeine (Caffeine powder) | 0.5 |
| A | Pea extract (INCI: Aqua, Glycerine, Pisum Sativum (Pea) extract) | 1 |
| B | Glycerine | 3 |
| B | Xanthan gum (clear) | 0.25 |
| C | Euxyl K712 (preservative) (INCI: Aqua, Potassium Sorbate, Sodium Benzoate) | 0.5 |
Method of Manufacture
Blend all Phase A ingredients together in a beaker.

Ensure all of the ingredients are blended together homogenously.

Blend all Phase B ingredients together in another beaker.

We follow this step to create a slurry, so that the gum will not create clumps in our water base.

Slowly add the gum/glycerine blend (Phase B) to Phase A while stirring.

The mixture will thicken relatively fast, but just keep stirring.

Add the preservative (Phase C) and adjust the pH of your under eye serum to 5.

Depending on whether you are adjusting your pH upwards or downwards, you will need either a few drops of an acid such as lactic acid or a base such as sodium bicarbonate.

Transfer the natural under eye serum into your chosen packaging.

We used a small airless bottle, so we don't touch the serum when we're using it. You can use a roller bottle too, but please do not use a jar for this formulation.
Under Eye Serum Formulation Tips:
Try using different hydrosols to give your serum a different scent. We recommend trying neroli hydrosol or cornflower hydrosol.
Swap in different kinds of water-based extracts but remember you need a percentage of glycerin to disperse the gum. Instead of glycerine, you could for instance use a botanical glycerite.
Use different active ingredients to give the serum different benefits. Get creative with your own research and have fun!
If you aren't using a rollerball, you can increase the percentage of gum to make a thicker gel. You could use a mini airless bottle such as the one you see in our photos.
Try using different gums but be aware that you will have to experiment to find the optimal percentage.
Formulation Challenge for our Current Students
If you are a current student with Formula Botanica, we invite you to take part in our quarterly formulation challenge which is hosted in our online classroom on Facebook. We're challenging our students to make a hydrogel with a low viscosity so that it can be packaged in roller bottles, airless bottles or even in a dropper bottle.
Firstly, you need to choose what you want your formulation to focus on: maybe dark circles or reducing puffiness or even the appearance of fine lines.
Secondly, we want you to include one hero ingredient. This means you need to decide on one ingredient that does most of the hard work in your formulation when it comes to its effectiveness (not its structure). A hero ingredient does not need to be an extract or an active ingredient. It can be a base ingredient which is often the highest amount in the product such as rose hydrosol. Just remember that this hero ingredient is the focus of your formulation and every other ingredient you include needs to work with this in harmony.
If you want to take part in our latest formulation challenge (and have the opportunity to win a coveted personalised badge in your eLearning account!), make sure you read our latest monthly student newsletter or check in to the classroom from July 2020 onwards.
Suppliers
Pisum Sativum Extract
US: Making Cosmetics
Aloe vera juice (1:1)
UK: The Soap Kitchen
EU: Alexmo Cosmetics
US: Lotioncrafter
Caffeine powder:
EU: Aroma-Zone
FAQs
What is an under eye serum?
An under eye serum is a soothing blend applied to the delicate skin just beneath your eyes. The skin around this part of your eyes can often feel puffy or even show dark circles, which is why it feels so nice to apply a soothing serum to this area.
How do you use an under eye gel serum?
The serum is applied to the area either by a rollerball or by gentle tapping with your ring finger.
Can I substitute any of the ingredients in this under eye serum formulation?
Absolutely, in fact, we would encourage you to experiment with different ingredients, keeping safety and ingredient function in mind. Unfortunately, we cannot offer technical support in our blog posts and comment on individual substitutions, but students can access support in our tutor forums.
Does this eye gel serum need a preservative?
Yes, it is water-based so it will need a broad-spectrum preservative to protect the formulation from contamination by bacteria and moulds. Please read your supplier's recommendations for the dosage of your chosen preservative and adjust the hydrosol accordingly.
Can I use essential oils in my caffeine eye serum?
As this eye gel serum contains no oils, it will need a solubiliser to safely add essential oils. Furthermore, we don't recommend using essential oils so close to the eyes. Instead we suggest you experiment with some of the hundreds of aromatic hydrosols on the market.
---
Have you been inspired to try and create your own natural under eye serum using caffeine, pea extract or any other wonderful botanical ingredients? If so, you'll want to check out Formula Botanica's award-winning online formulation curriculum. Our most popular online course is our Diploma in Organic Skincare Formulation, but you will also love our Certificate in Organic Anti-Ageing Skincare. Pre-register now for our next term time.
Leave us a comment
comments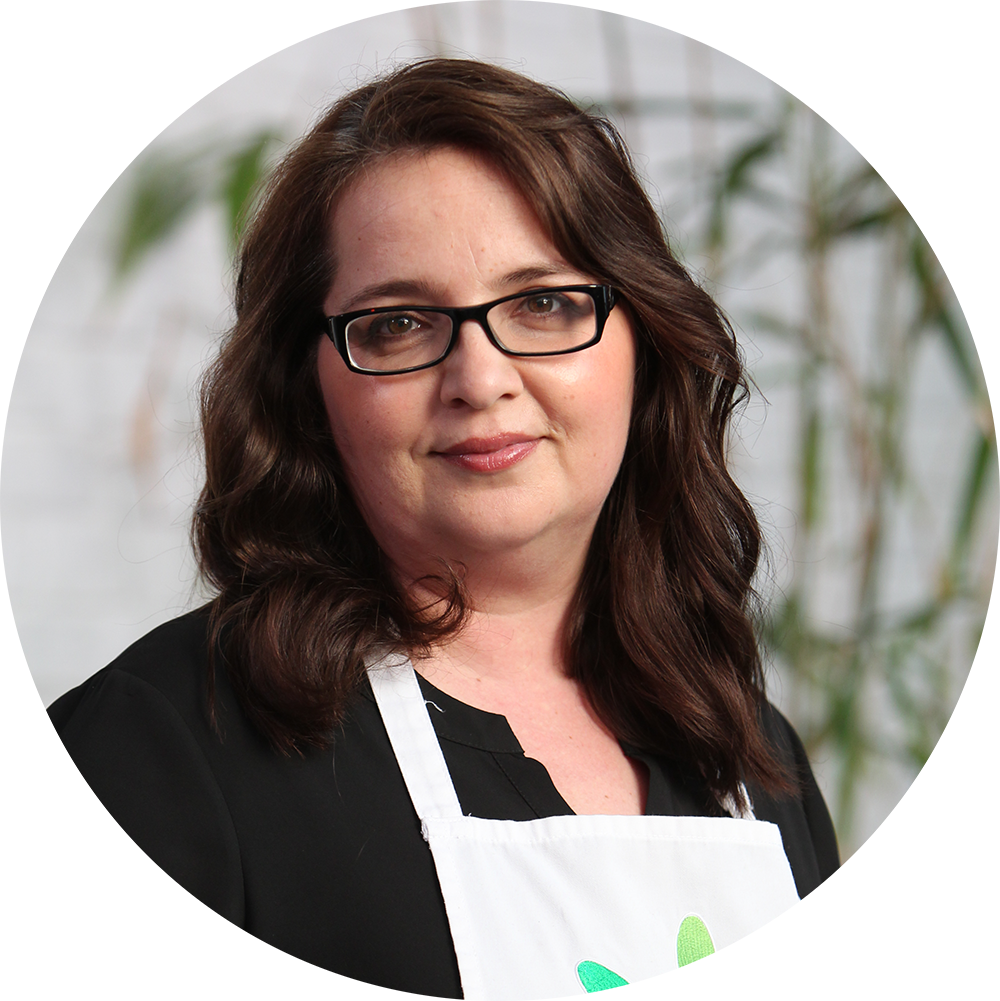 Timi was a key member of the Formula Botanica team from 2015 to 2020; first as our Education Manager and then as Head of Formulation & Research. You can find out more about the Formula Botanica team here.