This revitalising rosemary scalp oil is a fusion of some of the finest botanical oils specially selected to nurture your scalp and enhance your hair care routine. Including nourishing argan, peach kernel, avocado, hemp and horse chestnut oils, this blend is full of natural goodness to care for scalp and hair and promote luscious locks. Infused with vitamin E, this elixir also offers antioxidant protection. Our formulation is boosted with invigorating rosemary essential oil and refreshing eucalyptus essential oil that work in tandem to stimulate blood circulation, clarify the scalp, and invigorate the senses.
Rosemary for haircare benefits
Our star ingredient in this formula is rosemary. With its fragrant and evergreen leaves, this herb has been cherished for centuries not only for its culinary uses, but also for its remarkable haircare benefits. The use of rosemary-infused scalp oils has gained traction in recent years as a natural solution for promoting healthy hair and addressing various hair concerns, but this ingredient has been used in haircare since the Middle Ages.
Packed with antioxidants and essential nutrients, rosemary oil is known to stimulate hair follicles, which in turn can lead to improved hair growth. Its ability to enhance blood circulation to the scalp not only encourages hair growth, but also strengthens the hair from the roots, reducing the risk of hair thinning and breakage.
In addition, rosemary oil's antibacterial properties can promote a healthy scalp by helping to reduce issues like dandruff and itchiness. The potent benefits of rosemary oil make it a versatile and effective addition to any haircare routine. As there is a lot to discover about rosemary, we've dedicated a formulator's guide to this remarkable herb:
Why and how to use scalp oils
Maintaining vibrant and healthy hair is about more than using just shampoo and conditioner – it requires nourishment right from the roots. This is where scalp oils come into play. Enriched with essential nutrients and botanical extracts, scalp oils penetrate the scalp deeply, promoting optimal hair health from the foundations of the hair up. Incorporating a scalp oil into your routine can help balance oil production, soothe dryness, and help promote healthy hair growth.
To use scalp oil effectively, start by parting your hair into sections and applying a few drops of the oil directly onto your scalp. Gently massage the oil in circular motions, stimulating the blood flow and encouraging the absorption of nutrients. Leave the oil on for at least an hour, or longer for a deep conditioning treatment. Then, wash your hair as usual. Regular use of a scalp oil can provide a luxurious self-care ritual while revitalising your hair to leave it visibly healthier, shinier, and more manageable.
If you are interested in making other natural haircare products for healthy hair and scalp as well as styling, see our guide and haircare diploma details:
How to make haircare products: a step-by-step guide
Diploma in Organic Haircare Formulation
Rosemary scalp and hair oil: other key ingredients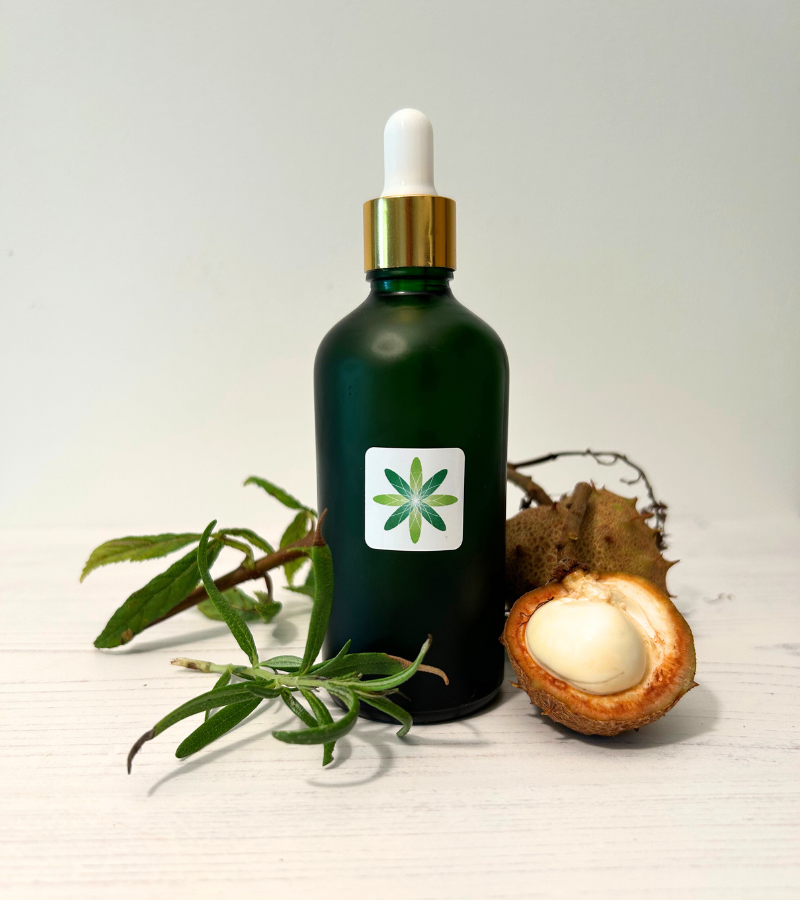 Argan oil
Often referred to as "liquid gold", argan oil is a prized ingredient that offers a plethora of benefits when infused into a scalp oil. Rich in essential fatty acids and antioxidants, argan oil deeply nourishes the scalp, promoting hair growth and strength. Its high content of antioxidants helps to repair and protect hair follicles from damage caused by environmental stressors, while its fatty acids maintain optimal hydration, preventing dryness and flakiness.
Argan oil's lightweight texture ensures that it is easily absorbed, leaving no greasy residue behind. This makes it an excellent choice for all hair types, even fine or oily hair. Beyond its moisturising properties, argan oil can also help tame frizz, enhance shine, and improve overall hair manageability.
Hemp seed oil
A powerhouse of nutrients derived from the seeds of the hemp plant, this oil offers a wide array of benefits for the scalp and hair. Packed with omega-3 and omega-6 fatty acids, as well as essential amino acids, hemp seed oil provides the nourishment needed for healthy hair growth and maintenance. These fatty acids help to strengthen hair strands, reduce breakage, and promote overall hair resilience. Hemp seed oil's natural moisturising properties can help soothe a dry and irritated scalp, effectively reducing issues such as itchiness and dandruff. Its anti-inflammatory properties also contribute to calming the scalp and supporting optimal hair growth. In addition, the presence of antioxidants in hemp seed oil helps protect hair follicles from oxidative stress, environmental pollutants, and UV damage.
Horse Chestnut oil
Derived from the seeds of the horse chestnut tree, this oil offers a range of unique benefits for our scalp oil formulation. Renowned for its circulation-boosting properties, horse chestnut oil promotes improved blood flow to the scalp. This enhanced circulation can result in better nutrient delivery to hair follicles, supporting healthy hair growth and vitality.
Horse chestnut oil contains compounds like escin that possess anti-inflammatory properties, helping to alleviate scalp irritation, redness, and itching (i). The oil's astringent qualities assist in regulating excess oil production, and in promoting a balanced scalp environment. Furthermore, horse chestnut oil's antioxidant compounds contribute to shielding hair from damage caused by free radicals and environmental stressors. By incorporating horse chestnut oil into your scalp oil regimen, you're tapping into its unique abilities to enhance scalp health, encourage hair growth, and maintain overall healthier and more resilient hair.
Eucalyptus
Eucalyptus oil, known for its invigorating aroma and therapeutic properties, offers a host of benefits for hair and scalp. The oil's natural antiseptic and antibacterial qualities make it a potent oil for maintaining a clean and healthy scalp. Eucalyptus oil's refreshing scent not only awakens the senses, but also has a soothing effect on the scalp, helping to alleviate itchiness and discomfort. Its stimulating properties can promote blood circulation when massaged onto the scalp, potentially boosting hair growth by encouraging nutrient delivery to hair follicles. Eucalyptus oil's ability to balance oil production can help control excess sebum, preventing issues like oily scalp and dandruff. Incorporating eucalyptus oil into a scalp oil blend brings a refreshing and revitalising element to your hair care routine.
Our formulation: rosemary scalp and hair oil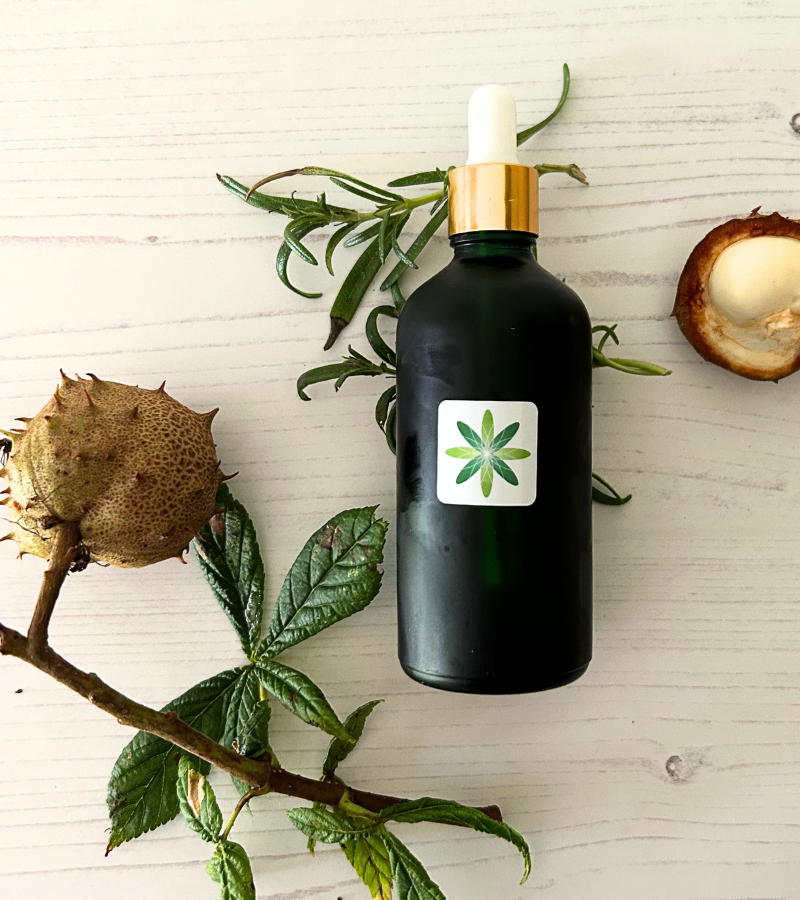 Makes: recommended trial batch size: 100g.
Formulation: a cold process.
Time taken: 15 minutes.
Level: beginner-level formulation to personalise and adapt.
| | | | |
| --- | --- | --- | --- |
| Phase | Ingredients | INCI | Weight (g) |
| A | Argan oil | Argania spinosa kernel oil | 25.00 |
| A | Peach kernel oil | Prunus persica kernel oil | 20.00 |
| A | Avocado oil | Persea gratissima oil | 10.00 |
| A | Apricot oil | Prunus armeniaca kernel oil | 10.00 |
| A | Jojoba oil | Simmondsia chinensis seed oil | 10.00 |
| A | Pumpkin seed oil | Cucurbita pepo seed oil | 10.00 |
| A | Hemp seed oil | Cannabis sativa oil | 6.50 |
| A | Horsechestnut oil | Helianthus annuus seed oil, Aesculus hippocastanum seed, Rosmarinus officinalis leaf extract | 5.00 |
| A | Natural vitamin E oil (0.15% Tocopherol) | Triticum vulgare, Tocopherol | 2.00 |
| A | Rosemary essential oil | Rosmarinus officinalis leaf oil | 1.00 |
| A | Eucalyptus essential oil | Eucalyptus globulus leaf oil | 0.50 |
| | | | Total: 100.00 |
Equipment:
Scales
Glass beakers
glass rods or mini whisk and some spatulas
Pipettes
Suitable container – pipette/dropper bottle ideal
Method of Manufacture
Preparation

Sanitise your utensils and work area, and wear appropriate PPE according to GMP.

Weighing out

Weigh each of the ingredients into a large glass beaker. Weigh them out carefully, taring (returning to zero) the scales after each addition. If you are concerned about weighing your oils accurately, weigh each oil individually into separate small beakers.

Blending

Stir the oil blend together well with a glass rod or a mini whisk until it is fully combined. If you weighed the oils separately, transfer them to a large, single beaker in order to blend them.

Bottle

Transfer to a suitable bottle with a dropper or an applicator top and label with the name, date and batch number.
Formulation notes
This formulation can be used as a great starting point to customise to suit your hair type and hair needs. If you have fine, oily hair look for light, fast-absorbing oils, but if your hair is dryer or textured you can experiment with richer, slow-absorbing oils.
This oil can also be used on the mid-length hair and the ends of hair, as well as the scalp in order to keep the hair strands nourished and to reduce split ends.
This oil is best packaged in a container that has a dropper or an applicator to make applying to the scalp easier.
Suggested suppliers
Many of the suppliers below ship internationally. We have given their home country base.
Aromazone (EU).
Aromantic (UK)
Alexmo Cosmetics (EU)
Manske (EU)
Soap Kitchen (UK)
Elemental (EU)
Lotioncrafter (USA)
Essential Wholesale (USA)
Makers Ingredients (UK)
Go Native (New Zealand)
Naturally Balmy (UK)
Soap & More (Canada)
References and further reading
E. Bellini, and S.Nin (2005, Journal of Herbs, Spices and Medicinal Plants): Horse chestnut: Cultivation for ornamental purposes and non-food crop production (see p.106, Cosmetics).
FREE FOUNDATION COURSE
How to become an
Organic Skincare Formulator
By providing your details, you agree to receive additional educational & marketing emails from Formula Botanica, which further introduce our curriculum. Your data is never shared or sold. Read our
Privacy Policy
.
FREE TRAINING
How to become an
Organic Skincare Entrepreneur
Join over 100,000 other Formulators
By providing your details, you agree to receive additional educational & marketing emails from Formula Botanica, which further introduce our curriculum. Your data is never shared or sold. Read our
Privacy Policy
.
FREE TRAINING
How to become an
Organic Skincare Entrepreneur
Join over 100,000 other Formulators
By providing your details, you agree to receive additional educational & marketing emails from Formula Botanica, which further introduce our curriculum. Your data is never shared or sold. Read our
Privacy Policy
.
Leave us a comment
comments