Hand washing has always been an essential part of staying healthy, and while an alcohol-based hand sanitiser can be a good way to clean your hands when you're on the go, nothing beats the efficacy of a gentle hand wash and water.
It is common to refer to any sort of foaming hand wash as "soap", but most liquid foaming hand cleansers aren't true soap. True soap is made from saponified fats, while most hand washes are made from surfactants.
One of the biggest advantages of surfactant-powered hand washes is their ability to be acidic, unlike soap. Our skin is acidic, with a pH around 5, and using slightly acidic cleansers can help maintain the integrity of the skin barrier—especially if you are washing your hands for a minimum of twenty seconds many times a day. So, today we are making a gentle hand wash with a skin-friendly pH.
If you are new to surfactants, take a read of the posts below where we talk about their function in cosmetics.
5 Natural Surfactants for use in Organic Cosmetics
How to Make a Natural Shower Gel using Surfactants
Gentle Hand Wash Ingredients
We have chosen a blend of three, gentle natural surfactants for this hand wash formulation. They are all liquid, so are very easy to incorporate into our formulation. Non-ionic decyl glucoside and coco glucoside provide the bulk of the bubbles; decyl glucoside in particular creates a beautiful dense lather. The third surfactant, Cocamidopropyl Betaine, which is amphoteric, helps boost the bubbles and make the finished formulation milder so it is easier on the skin.
Coco glucoside is part of a compound ingredient that also includes glyceryl oleate. Made from glycerin and oleic acid, glyceryl oleate serves as a re-fatting ingredient to keep the hand wash from leaving the skin feeling over-washed and dried.
We are using Solagum™ AX to thicken the hand wash into something that can be nicely dispensed from a pump-top bottle. Solagum™ AX is a tradename blend of acacia Senegal gum (also known as gum arabic) and xanthan gum made by SEPPIC. Acacia Senegal gum helps temper the unpleasantly slimy consistency that xanthan gum can have when used as the sole gum in a formulation. If you don't have Solagum™ AX you can try other gums, but keep in mind that not all gums create stable formulations with all surfactants and all essential oils, so be sure to test small batches before scaling up.
Hands raw from alcohol sanitizers? Make this easy #formulabotanica formulation for a natural hand wash to cleanse and care for hands. #gentlecleanser #naturalformulation #handcare
Click To Tweet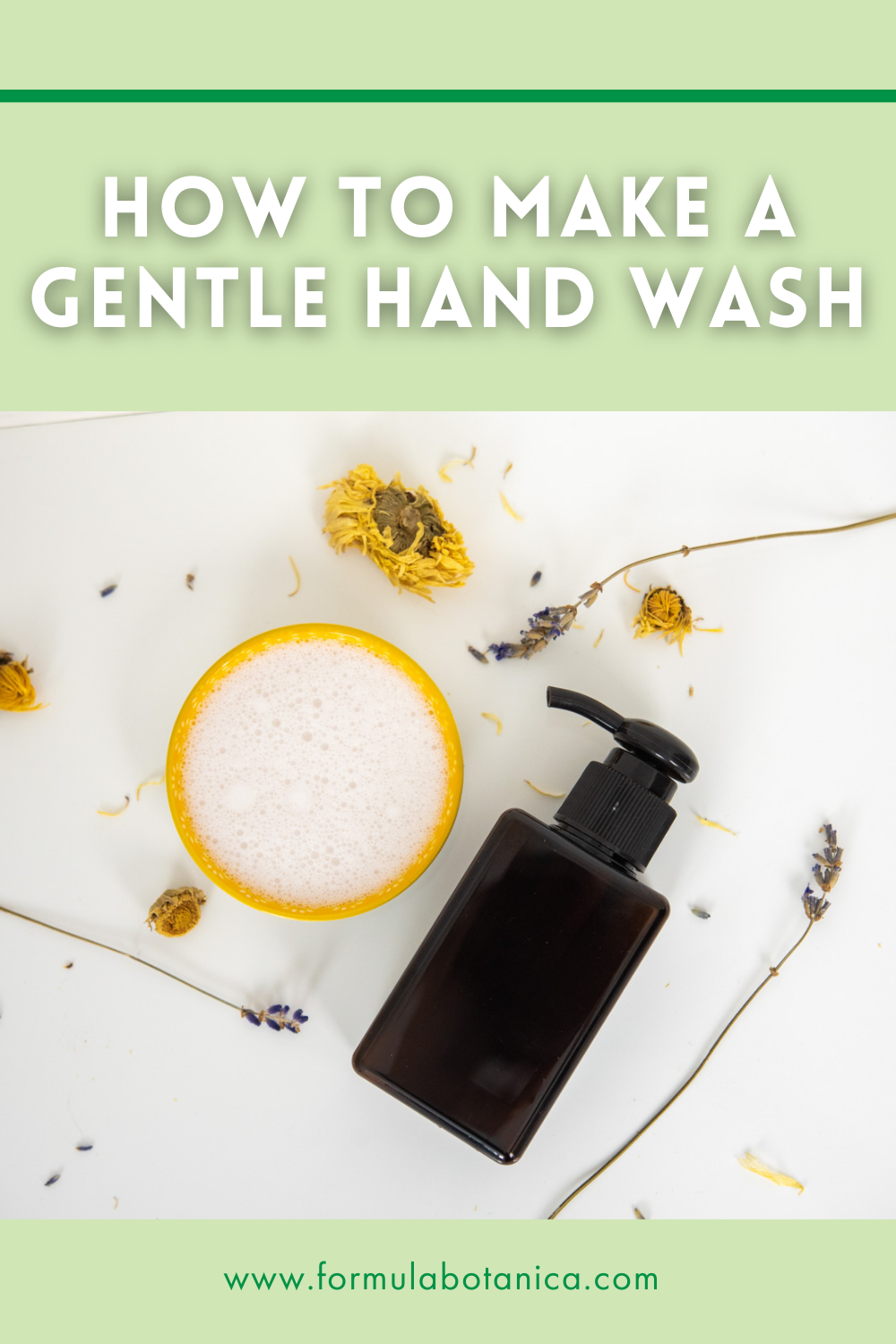 Our Formulation: Gentle Hand Wash
This formulation doesn't require any heat to make, but it does need some time to allow the Solagum™ AX to hydrate and the Geogard Ultra™ (our preservative) to fully dissolve. We recommend making it in an afternoon or evening, covering it, and leaving it to sit overnight before packaging it up and using the hand wash.
Formula for 200g
| | | |
| --- | --- | --- |
| Phase | Ingredients | Weight (grams) |
| A | Solagum™ AX | 3.00g |
| A | Vegetable glycerine | 40.00g |
| A | Geogard Ultra™ | 3.00 |
| B | Decyl glucoside | 12.00g |
| B | Coco Glucoside, Glyceryl Oleate | 10.00g |
| B | Cocamidopropyl Betaine | 20.00g |
| B | water-soluble liquid calendula extract | 2.00g |
| B | Lavender essential oil | 0.22g |
| B | Geranium essential oil | 0.14g |
| B | Ylang ylang essential oil | 0.04g |
| C | Distilled water | 109.6g |
| pH | 10% l-arginine solution for raising the pH | as required |
| | | Total: 200.00 |
INCI
Solagum™ AX: Acacia Senegal Gum & Xanthan Gum
Geogard Ultra™
: Gluconolactone (and) Sodium Benzoate
Water-soluble liquid calendula extract: Aqua (and) Glycerin (and) Calendula Officinalis Flower Extract, Sodium Benzonate, Potassium Sorbate, Citric Acid
Equipment Needed
Glass beakers
Scale (accurate to 0.01g)
Glass stirring rods
Small wire whisk
Disposable pipettes (optional)
Bottle with a pump top
pH strips or pH meter
Labels
Method of Manufacture
Method of Manufacture
Phase A

Combine phase A, whisking thoroughly to break up any clumps and ensure the powders are thoroughly dispersed.

Phase B

Combine phase B in a second beaker, stirring gently to combine.

Combine

Combine phases A and B, stirring gently.

Add Phase C

Gently add phase C to the beaker containing phases A + B. It is helpful to pour the water down the side of the beaker, or over the back of a spoon held near the surface of phases A + B. Stir gently to combine without working up too much lather.

Leave to hydrate & thicken

Cover the mixture and leave to hydrate & dissolve overnight. The handwash will thicken as the Solagum™ AX hydrates, and the Geogard Ultra™ will dissolve.

Check & adjust pH

Check and adjust the pH as needed; the target pH for this formulation is 4.5-5.

Bottle

Package the hand wash in a pump-top bottle and label it. Use as you would use any liquid hand soap.
Formulation Tips
The gel may split if you alter anything, though the essential oils, surfactants and gelling agent are the most likely candidates to cause this. If this happens, you will need to do your own research and experiments to isolate the problem. We recommend omitting the essential oils as your first step to working out the issue.
When shopping for Coco Glucoside (and) Glyceryl Oleate, look for trade names Lamesoft® PO 65 and ELOPERS™ CONSPM400.
If you don't have Coco Glucoside, Glyceryl Oleate you could try using Plantapon® TF (INCI: Decyl Glucoside (and) Polyglyceryl-10 Caprylate/Caprate (and) Coco-Glucoside (and) Glyceryl Oleate) instead of both the Decyl glucoside and Coco Glucoside, Glyceryl Oleate.
The INCI for the water-soluble liquid calendula extract does not need to match exactly; just be sure whatever you use is water-soluble and that 1% is within the recommended usage range.
Suggested Suppliers
USA/Canada: Essential Wholesale, Formulator Sample Shop, Voyageur Soap & Candle, and Windy Point Soap Supplies.
EU/UK: Formulator Sample Shop, Alexmo Cosmetics, and Naissance.
FAQs
What's the difference between a hand cleanser and hand sanitizer?
The main difference lies in whether the product is brought to market as a cosmetic or biocide product. A hand cleanser's purpose is cosmetic and that of cleansing and cleaning the skin. A hand sanitizer in the EU market and likely in other jurisdictions is defined as a biocide product. By using the word 'sanitize' it is automatically claiming to sanitize the skin with the purpose of disinfecting, neutralising, killing or making harmless microorganisms such as germs and viruses. Cosmetics like after shaves and perfume contain alcohol but are not classed as biocide products as they do not make claims to sanitize. A hand sanitizer to be effective should contain 70% or more alcohol.
Are there hand cleansers without sodium lauryl sulfate?
Sodium lauryl sulfate is a common surfactant, or surface active agent, in personal care and household cleaning products that has been in use since the 1930s. It contributes to a product's lathering and foaming properties as it breaks down and lifts grease and oil deposits. Sodium lauryl sulfate is considered by some to be too harsh for skincare products. There are a host of gentle surfactants used in natural hand cleansers. They are derived mostly from coconut or palm oil and glucose and some common ones include Decyl glucoside, Coco glucoside and Cocamidopropyl Betaine.
Do surfactant free cleansers work?
Surfactants are foaming and lathering agents that are common in personal care products. They can be petrochemical or naturally derived. They do more than foam as their primary role is to lift, remove and disperse oils and fats. Some natural surfactants do not in fact foam very much, but they still cleanse removing excess oil from the skin. Surfactants are used mainly in hand washes, and bath, body and hair cleansing products where consumers feel foaming equates to cleansing. However, non-foaming natural products using plant oils and water such as oil-based face cleansers and emulsions can lift both oil- and water-soluble dirt particles without the aid of surfactants.
Where can I learn to formulate natural skincare products?
Join us at Formula Botanica, where tens of thousands of students and followers take our free and paid online courses to learn how to formulate organic skincare and haircare for themselves or to sell.
FREE TRAINING
How to become an
Organic Skincare Formulator
FREE TRAINING
How to become an
Organic Skincare Entrepreneur
Join over 100,000 other Formulators
By providing your details, you agree to receive additional educational & marketing emails from Formula Botanica, which further introduce our curriculum. Your data is never shared or sold. Read our
Privacy Policy
.
FREE TRAINING
How to become an
Organic Skincare Entrepreneur
Join over 100,000 other Formulators
By providing your details, you agree to receive additional educational & marketing emails from Formula Botanica, which further introduce our curriculum. Your data is never shared or sold. Read our
Privacy Policy
.
Leave us a comment
comments
Marie Rayma is the creator of the popular blog and YouTube channel Humblebee & Me. Her first book, Make it Up: The Essential Guide to DIY Makeup and Skin Care, is all about creating your own cosmetics from scratch, and was released at the end of 2016 from Running Press to excellent reviews. Marie graduated Summa Cum Laude with a Bachelor of Design Honours from York University & Sheridan College in Toronto, Canada, and holds Diplomas in Organic Skin Care and Organic Hair Care Formulation from Formula Botanica. She lives in Calgary, Canada, where she spends her days making messes in her studio and taking pictures of them.