We've noticed a growing trend among our Formula Botanica graduate success stories; a good number of our students and graduates has a background as a chemist, either industrial or cosmetic. We're always eager to find out about why they chose to focus on natural ingredients in their own skincare business.
Ariane Cristine Manzotti Paz, our interviewee in this success story, didn't just make a shift to botanical skincare, she knew from a very early stage in life – not just in her career – that she wanted to be an entrepreneur as well.
Here, she tells us about how her two greatest passions – for natural skincare and entrepreneurship – came together in her fruit extract-based brand Frutose Cosmetics. While many of us use active ingredients derived from fruit, Frutose is particularly interesting in that Ariane bases her formulations on fruits found in her native Brazil and explores them in truly innovative and creative ways in her growing range of skincare and haircare.
Tell us about your background and what attracted you to natural skincare.
I'm an industrial chemist, cosmetologist and cosmetics lover, and a 28-year-old Brazilian dreamer; ever since childhood, I've wanted to be an entrepreneur. I love working in the beauty and skincare industry and have been working with cosmetics for the last eight years and I hope I stay in this field all my life.
In my professional career, I have worked in R&D, quality control, marketing and production, but what I love the most is developing new products and new concepts.
Talk us through your skincare business Frutose.
I moved to Canada with my husband in 2015 searching for a better quality of life and I decided to transform my love of science and Brazilian fruits into a cosmetic brand. Frutose Cosmetics is an all-natural, vegan-friendly, cruelty-free and handmade line for those who want to experience a completely new healthy style of skincare by adopting fruit-derived cosmetics as their main beauty routine. It is for those who want to enhance their skin by applying cosmetics formulated with an abundance of vitamins, minerals, nutrients, antioxidants, essential fatty acids and delicious fruit extracts.
Frutose uses ingredients derived from fruit sources; our products are really nutritive and smell deliciously good. All of our products are developed and manufactured in our small artisan, colourful fruit lab located in Toronto, Canada.
#Formulabotanica student and chemist Ariane Cristine Manzotti Paz creates innovative fruit extract-based naturalskincare for her brand #frutosecosmetics. #naturalcosmetics
Click To Tweet
How did the name Frutose come about?
Frutose means fructose in the Portuguese language. Fructose is the sweetest of the sugars and the main uses of fructose in cosmetics are for flavouring, as skin-conditioning agents and humectants. We found in frutose the perfect word to describe our love of the fruit universe.
Tell us about the Frutose skincare range.
We're developing a wide range of fruit-derived cosmetics from cleansers to face oils. We launched recently and intend to bring new products on stream soon.
My own skincare routine is 100% based on Frutose products and my favorites are our Apple Cleansing Foam, Apple Hydrosol, Fractionated Coconut Oil and Dragon Fruit Lip balm. These products keep my skin cleansed, fresh and moisturised throughout the year, even during the harsh Canadian winters.
How did your Formula Botanica course help you in business?
I'm enrolled in the Diploma in Organic Skincare Formulation. As an experienced cosmetic chemist, I saw an opportunity to learn more about natural cosmetics and to keep me up to date about cosmetic formulation, in a concentrated course that was do-able within a reasonable timeframe which I needed as I work full time and run Frutose part time.
I had my lab set up already and I studied intensely for the first modules. Once I had completed a module, I double checked my formulas using the knowledge I had gained on the course
What inspired you to start your own business?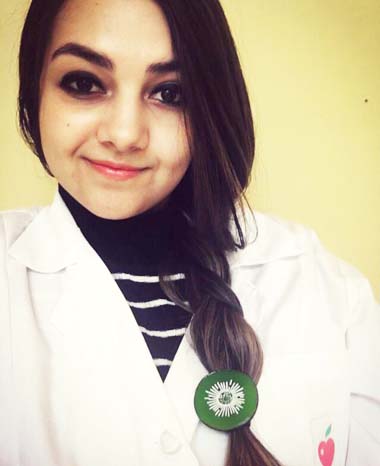 I wasn't 'inspired' to start my own business; I was born to be an entrepreneur! Since childhood I had plans to open my own business and having Frutose is part of my destiny. When I was in the first year of my cosmetics technology course, I started creating some brands playing with watermelon themes. I knew I wanted to start a cosmetics and skincare business since it's the sector I've been in all my working life. But I'm still young and I see myself investing in new brands from different markets as well.
My concern about what I apply on my own skin was also a reason for choosing the skincare business. I have worked for brands that develop safe and natural cosmetics for such a long time, that I can't deal with those synthetic chemical-stuffed products anymore. I was super picky about my cosmetics before starting Frutose and now I only use Frutose products because I know how they are developed and that they are all-natural.
What was the hardest thing about launching your business?
I manage Frutose on a part-time basis as I need to work full time in order to be able to invest in my business. Therefore, for me, the most difficult aspects are finding that initial investment and managing my time.
Other than cash flow, I'm very creative and I manage everything from formulation to the graphic designs. I'm an all-in-one entrepreneur, which saves me a lot of money.
What key advice you would give aspiring skincare entrepreneurs?
Be and live your dream! Develop your dreams the same way you develop your formulas; learn from your mistakes, and make things simple and make it happen.
Thank you Ariane for sharing your inspiration and experiences in creating your brand. If you'd like to follow Frutose Cosmetics online, head over to:
Frutose Cosmetics website
Frutose Cosmetics on Instagram
Frutose Cosmetics on Linkedin.
---
If you would like to follow in Ariane's footsteps and start a new career or sideline business with the support of a like-minded community of natural formulators, take our free, organic skincare formulation sample class and you'll be on the road to starting the organic skincare business of your dreams.
Find out more about the Diploma in Organic Skincare Formulation Ariane opted for or browse one of our many other organic skincare formulation courses.
Leave us a comment
comments