You may have heard us talk about the need to ditch boring white skincare when you're formulating. In fact, we've made it our manifesto to encourage Formula Botanica students to explore the rainbow of colours offered by pure natural ingredients. Colour in natural, organic ingredients is often an indicator of some amazing beneficial botanical properties within our formulations. Many botanical oils are refined, deodorised and bleached by the mainstream cosmetic industry and this process removes some of the most interesting chemical compounds for our skin.
When we saw one of our students create a skincare brand celebrating and radiating colour, both in terms of its packaging and its ingredients, we just had to find out more. Lucia Mencarelli, graduate of our Diploma in Organic Skincare Formulation, launched her Italian-inspired brand Casa Mencarelli in autumn 2018. It is already growing fast, gaining repeat customers and momentum among retailers.
Italian born, but living in Scotland, UK, for many years, Lucia set out not only to make a mark with colour, but also to stand out as a natural brand that is free from added fragrance. Suffering from acute allergies herself in the past, Lucia knew she had to make her own skincare in order to avoid synthetic ingredients as well as essential oils.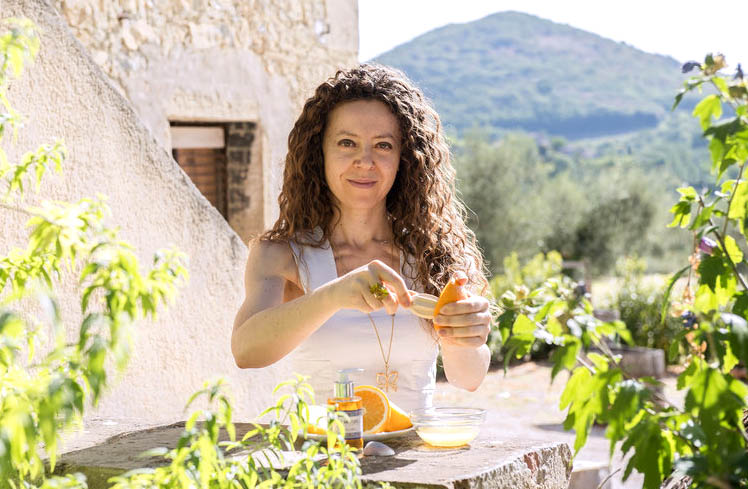 Casa Mencarelli, which means 'House of Mencarelli' is a truly family affair as Lucia draws on her Umbrian family home and the healthy Italian diet and countryside lifestyle as the muse for her products.
Lucia's brand is testament to the fact that you can keep things simple and succeed. Casa Mencarelli is formulated with carefully chosen ingredients to help customers to healthy skin. Lucia uses her blog and social media to educate her niche market about the benefits of her choices and decision to use a small palette of ingredients in Casa Mencarelli products.
In this interview, Lucia talks us through her brand inspiration, her background in nutrition and her three-year journey to launch from Formula Botanica student to solopreneur and company founder.
---
Thank you Lucia for sharing your inspiration and experiences in creating your brand. If you'd like to follow Lucia's journey at Casa Mencarelli, head over to:
Casa Mencarelli website.
Casa Mencarelli on Instagram.
Casa Mencarelli on Facebook.
Casa Mencarelli on Twitter.
Casa Mencarelli on Pinterest.
If you would like to follow in Lucia's footsteps and start a new career in green beauty with the support of a like-minded community of natural formulators, take our free, organic skincare formulation sample class and you'll be on the road to starting the organic skincare business of your dreams.
Find out more about the Diploma in Organic Skincare Formulation Lucia chose or browse one of our many other organic skincare formulation courses.
Leave us a comment
comments