Have you ever wanted to make your own talc-free baby powder? You're not alone. You can't have missed the controversy swirling around Johnson & Johnson's baby powder. The cosmetics giant has faced over 14,000 lawsuits in the USA alone so far, claiming detrimental health effects from their talc-containing formulations.
To date, the multinational has been ordered to pay out billions in damages. J&J is appealing all decisions and widespread studies have shown that there is no definitive evidence to point to talc causing health issues, but nonetheless J&J now made the decision to stop selling its talc-based baby powder in the USA.
The resulting publicity has sent the internet into a frenzied overdrive as people now want to learn how to make their own talc-free baby powder. Luckily, these types of body powders are easy to make using natural ingredients, so in our latest blog post we're going to teach you how to make the best talc-free baby powder using gentle, botanical ingredients.
What is Baby Powder?
Baby powder or body powder has been a very popular hygiene product for many generations. Based on talcum or talc, they're used to reduce general body perspiration and odour or to prevent nappy rash, prickly heat, and chafing.
These powders are a great way of reducing odours and leaving you feeling fresh. Applying them after a shower imparts a silky feeling to your skin and is a great way of layering scents. You can also use it after the gym or even in your shoes to freshen their scent.
Talc is a clay mineral mined in China, India, Brazil and many other countries. It is used in many different industries, including paper making, paint and coatings, rubber, food, electric cable, pharmaceuticals, plastics and, of course, cosmetics.
However, given the rise of law suits against J&J for their baby powder, more people have started avoiding talcum powder. The concern is not the talc itself, but the fact that it is frequently found in underground deposits alongside asbestos which have been found to occasionally contaminate the mineral deposits used in cosmetics.
Luckily however, you don't need talc to make a baby or body powder, which is why we are going to show you just how easy it is to make your own natural, talc free body powder and add a touch of vintage luxury to your daily routine.
Learn how to work with arrowroot powder, corn starch, kaolin clay, coconut powder and chamomile to make your own talc-free baby powder formulation. #NaturalSkincare #GreenBeauty
Click To Tweet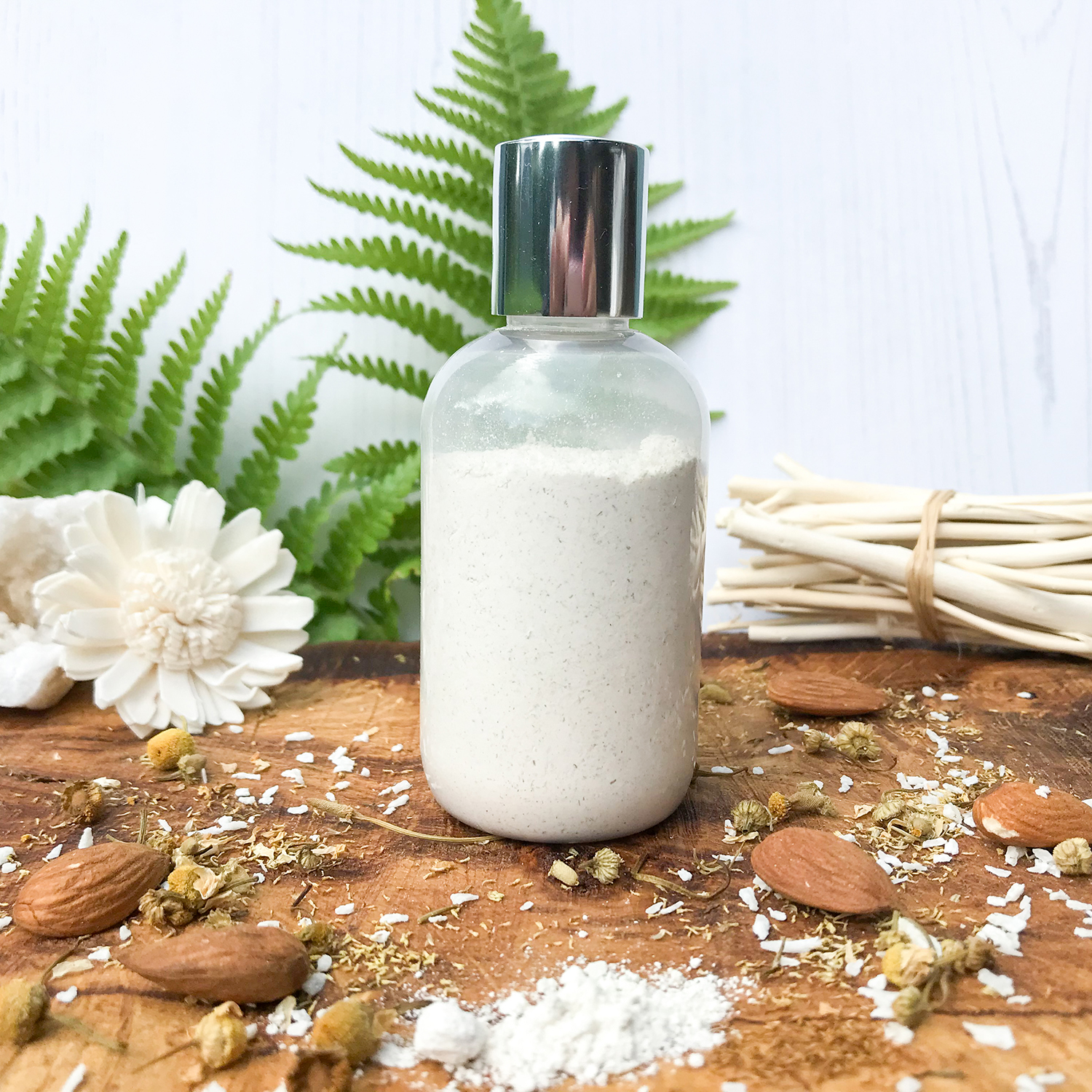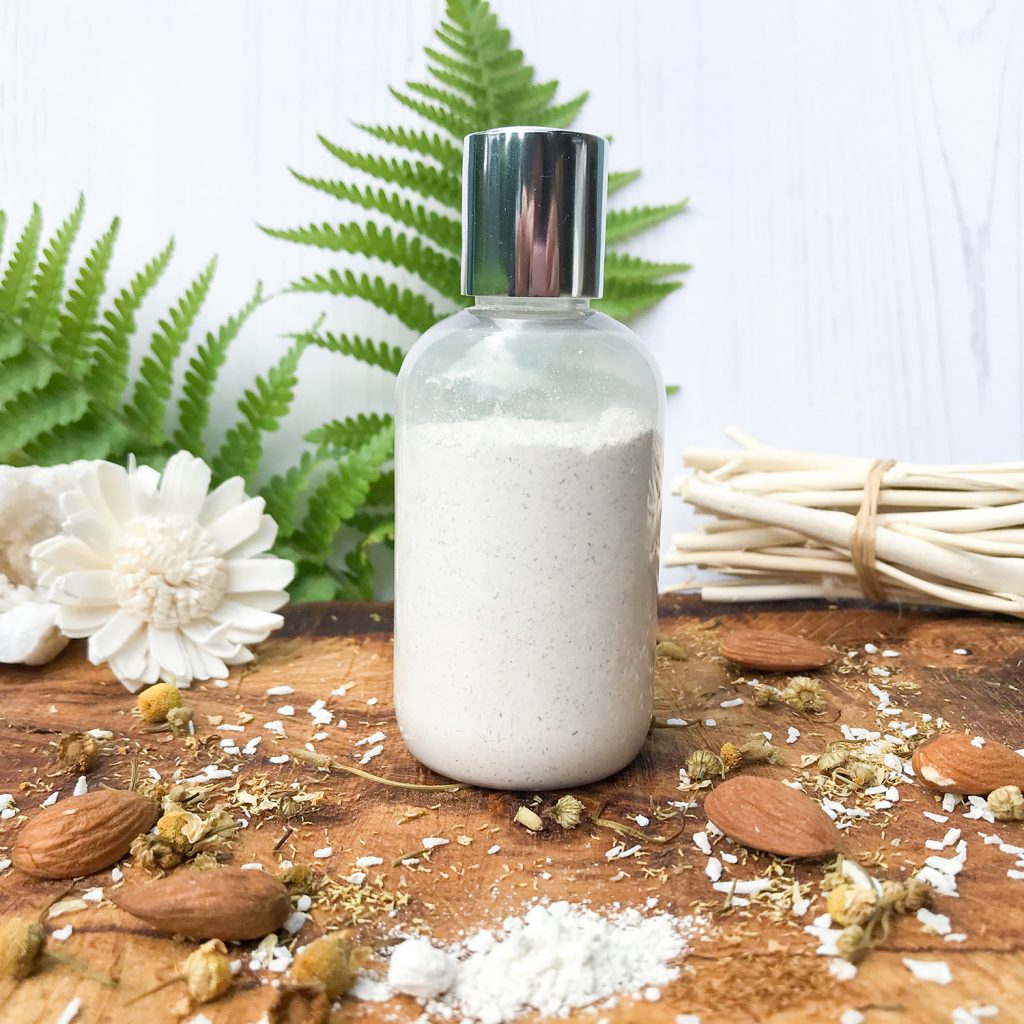 Best Talc-Free Baby Powder Ingredients
Natural body powders are very simple to make and we are going to walk you through the steps to choosing the right ingredients for your formulation:
Baby Powder Base Ingredients
When making a natural, talc-free baby powder, you need to choose light and delicate powders that will feel soft on the skin while still being effective in their ability to be astringent and reduce perspiration/moisture. We chose to work with arrowroot powder, corn starch and kaolin clay, as these ingredients are all gentle and safe to be applied all over the body.
Remember, however, that you need to work with very fine powders, as any graininess will be irritating when applied to the skin. Another ingredient we recommend adding to your base is a small amount of carrier oil.
While this addition is optional, the Formula Botanica team concluded that the inclusion of a small amount of oil really enhanced the softness of the skin when it is applied, compared to a baby powder without any oil. There are many different carrier oils you can choose from, but remember when choosing that some carrier oils are very colourful and might change the overall hue of your talc-free baby powder.
Baby Powder Active Ingredients
Once you've got the base right, you now want to choose the right botanical actives to add to your talc-free baby powder. There are many powder based extracts to choose from, including honey powder, fruit powder or even dried flower petals (as long as they are finely powdered). These active ingredients should be kept to a low percentage, because they can absorb moisture and may create clumps in your natural body powder.
For our formulation, we chose coconut powder and chamomile flowers as they are very gentle and not heavily scented. You can also add a small amount of essential oils to your body powder by mixing them with your chosen carrier oil, as well as adding some vitamin E to make sure the essential oils disperse evenly. As you can see, you have endless opportunities to customise your body powder for your needs and your favourite scents using natural ingredients.
Our Formulation: Chamomile & Coconut Baby Powder
Now it's time to create your own talc-free baby powder! We have created this formulation as inspiration for you to try making your own version at home.
By following these steps, you will be able to create 50g of your own natural baby powder. However you choose to customise your formulation, the method is the same. Your dry powders are one phase and your oil is another. Remember that you need to use a (clean) coffee or spice grinder to make sure that everything is evenly blended and you don't have any clumps of oil in your powder.
| | | |
| --- | --- | --- |
| Phase | Ingredients | Weight (grams) |
| A | Arrowroot powder | 18.50g |
| A | Corn starch | 12.50g |
| A | Kaolin clay | 10.00 |
| A | Coconut powder | 5.00g |
| A | Chamomile flowers | 2.50g |
| B | Almond oil | 1.00g |
| B | Vitamin E | 0.50g |
| | | Total: 50.00 |
Method of Manufacture
Time needed:
30 minutes.
Blend all of your powdered ingredients together first.

Combine all of the phase A ingredients into a beaker and stir.

Prepare the tiny oil phase that will be blended through the powders.

Add in the phase B ingredients together to disperse the essential oils fully into the carrier oil then stir them together with the powders.

Ensure your powder blend doesn't contain any lumps.

Transfer the powder to a clean coffee grinder and blitz until there are no clumps left and the oils are fully incorporated. You may need to stop grinding to scrape down the sides of the grinder to ensure everything is dispersed evenly with no lumps.

Package up your talc-free baby powder.

Use the spout or a funnel to transfer the product into your chosen container and label.
Formulation Tips & Tricks
Now that we've walked you through our baby powder formulation, it's time to have a go at making your own version! To get you started, we've summarised a few helpful formulation tips for you in this list:

FAQs
What is a talc-free baby powder used for?
A talc free powder is used to absorb sweat and excess moisture from the skin and leave it feeling soft and silky with a light scent.
How are natural talc-free baby powders formulated?
Natural, talc–free powders are made from a blend dry plant based powders such arrowroot, kaolin rice powder and corn starch. They are then blended with a small amount of oil in a (clean) coffee grinder. As these powders don't contain any water, they do not need a preservative, but the addition of an antioxidant helps to protect the oils from going rancid too quickly and adds to the luxurious skin feel.
Which botanical ingredients should I add to a talc-free baby powder?
You can add a variety of botanical ingredients to your powders such as powdered extracts, dried flowers, essential oils, absolutes and CO2 extracts. Be inspired by the amazing plant-based ingredients you can choose from!
What should I do if my talc-free baby powder formulation is clumpy?
Tiny clumps are normal with powders but they should disappear as soon as the powder is applied. If your powder is too clumpy then you need to reduce the amount of oil you have included in your product and blend the ingredients together better.
What should I do if my powder formulation with dried flowers is rough?
If you have used whole dried flowers and not pre-powdered ones, then you need to use a coffee grinder to pulverise the flowers to a fine powder before adding them to the formulation. A sieve can also be useful to remove any larger flakes. If the powder is too coarse then this can be uncomfortable to apply, especially on delicate babies' skin. The finer the powders, the better.
Where can I learn to make organic skincare?
Enrol with Formula Botanica on the school's award-winning online Diploma in Organic Skincare Formulation to gain a foundation education in making professional organic skincare.
Suppliers
Need some help finding some of these ingredients? Check out some of our favourite suppliers below in this list.
Kaolin clay:
Coconut powder:
Dried Chamomile:
Want to make your own professional organic skincare?
Now that you've had a go at making this awesome talc-free baby powder using gentle, botanical ingredients, make sure you sign up for our free course on becoming an organic skincare formulator. Formula Botanica is the online award-winning organic cosmetic formulation school. We have many thousands of students worldwide who study with us to become professional organic formulators and indie beauty entrepreneurs. Join us and before you know it, you'll be making botanical cleansers, toners, lotions, shampoos, conditioners, balms, masks and much more.
Leave us a comment
comments