Certificate in Chocolate Spa Products
Our online chocolate formulation certificate teaches you how to make your own skincare for the face and body using luxurious cocoa and plant-based ingredients.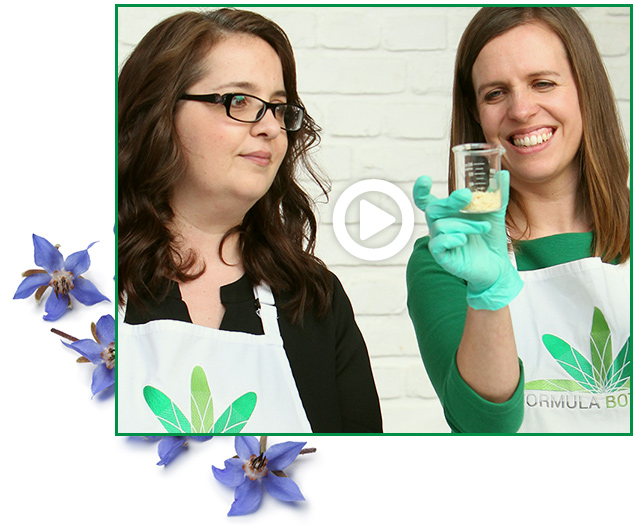 Suitable for: Beginners

Pre-requisites: None

Time: 50 study hours

Course Modules: 2

Coursework: Self-study + tutor graded

Duration: One year deadline

Cost: £175 (British Pounds)

Next enrolment period: 06 July - 13 July 2021

Pre-register for our next term

Imagine yourself in a high-end spa, being coated in chocolate. Imagine the fragrances of cocoa, rose, geranium, patchouli, gold and orange blossom mingling in the air around you. Is there anything more luxurious in the world?

Our Certificate in Chocolate Spa Products is suitable for beginners or students with basic formulation experience who want to formulate with chocolate! Our 2-module online course will teach you how to create a small range of facial and body chocolate spa products.

Learn how to formulate luxurious chocolate skincare that would be at home in any A-list celebrity spa.
Explore the Skin Benefits of Cacao
Discover the skin-beautifying and anti-ageing benefits of chocolate with all of its amazing antioxidant powers. Learn about the science of cacao's potent cosmeceutical properties and find out which types of cacao are best to use in skincare.
Chocolate Ingredients 101
Theobroma cacao, the chocolate tree, yields many different types of chocolate ingredients. Research these different cosmetic ingredients yielded by the cacao tree, as well as those ingredients which complement and blend well with it: oils, butters, essential oils, waxes, hydrosols, exfoliators and many more.
Formulate Spa-Quality Chocolate Skincare
Formulate with luxury antioxidant-rich cacao to design rich chocolatey treats for the skin. Create 100% natural chocolate skincare products including lip balms, facial polishes, facial masques, serums, creams, body oils, body butters, body packs and body scrubs.
Receive 30+ expertly designed cacao skincare formulations
Our team created Chocolate Berry Facial Serums, Choco-Mint Lip Serums, Chocolate, Rose and Almond Body Scrubs, Cocoa Body Custards, Chocolate Cream Facial Mousses and much more, so you can learn from the best. Use our expert formulations to pamper your face and body with chocolate.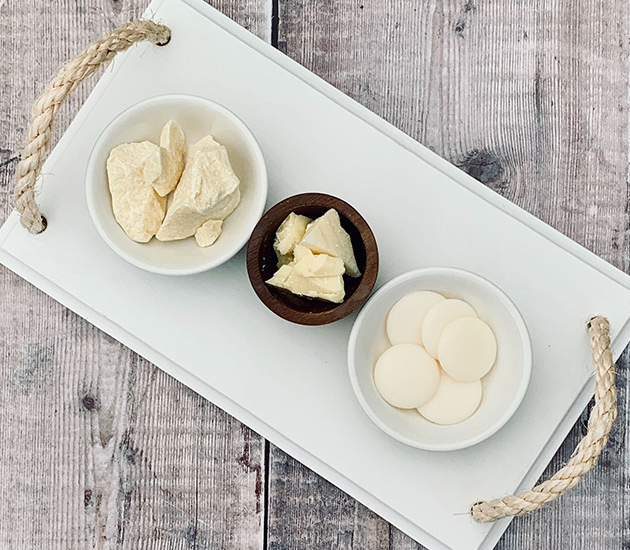 Why enrol with Formula Botanica?
This course is for you if:
You love the idea of working with chocolate in your skincare but don't know how
You want to create luxury antioxidant-rich cocoa skincare formulations
You want to study the natural cosmetic ingredients yielded by the cacao tree
You want to receive 30+ sample cocoa formulations made by our team
You want to create a capsule range of facial and body chocolate spa products
You want to enrol with an accredited and gold award-winning education provider
"Chocolate spa is an excellent course! The course and supplemental materials are clear and well written, organized in easy to digest 'chunks' that build on each other. As a (former) teacher, I appreciate the work that was put into this course! Thank you for a great learning experience!"
Expert Formulations
Learn directly from the Formula Botanica team with our facial and body formulations.
Fun Online Games
Play games to help you learn how to reinforce the learning outcomes for your course.
Study books
Download your beautifully designed course notes to refer back to and keep forever.
Tutor Support
Speak directly to a tutor in our private "Ask the Tutor" forum for students.
Sequential Learning
Unlock new modules as you work through the course sequentially to enforce learning points.
Graded Coursework
Receive expert graded feedback to help you make your formulations safe, stable and sellable.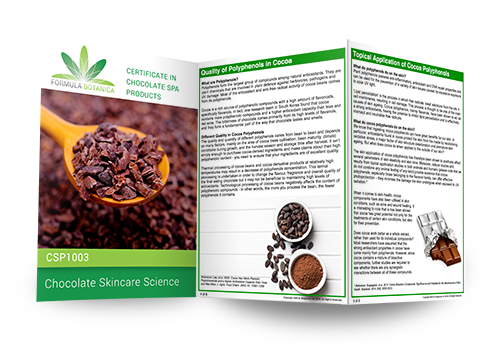 Module 1
Chocolate Skincare Science
Cocoa (Theobroma cacao) is famous for its role in the addictive and delicious food we call 'chocolate'. Since the discovery of polyphenols and their antioxidant power, people have been aware of the benefits of chocolate.
In this module we discuss why you would use chocolate in skincare, how it works when it is topically applied to the skin and which types of chocolate products you should be formulating with.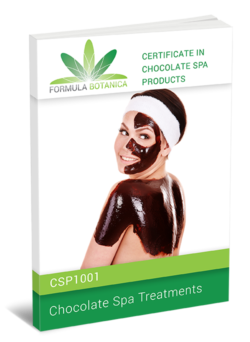 CSP 1001
Introduction to Chocolate Skincare
Understand what chocolate skincare is
Research what type of treatments may be included in chocolate skincare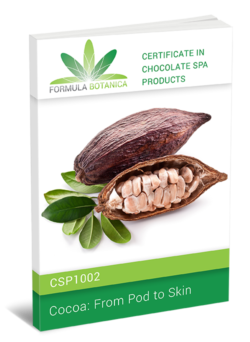 CSP 1002
Cocoa: From Pod to Skin
Review the origin of chocolate
Study the different types of ingredients from the chocolate tree and how their antioxidant potential differs.
Learn the difference between Cocoa and Cacao
Study the production of cocoa
Review the use of pesticides in the cocoa industry and understand why it is important to use organic cocoa products whenever possible in cosmetics.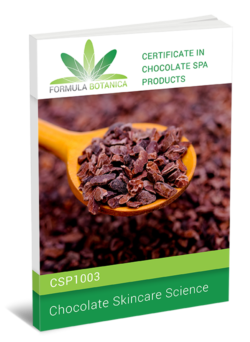 CSP 1003
Chocolate Skincare Science
Understand why chocolate is a good skincare ingredient
Learn how chocolate works when applied topically
Learn which anti-ageing compounds are commonly found in cocoa and how they work on the skin.
Study the different chemical compounds contained within chocolate, including polyphenols and methylxanthines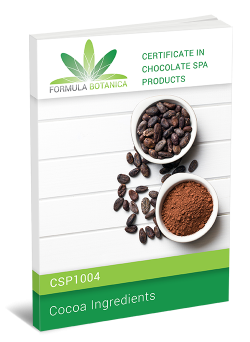 CSP 1004
Cocoa Ingredients
Learn about all the wonderful ingredients derived from the cocoa tree. Understand their properties and uses in skincare.
Study the 5 main cosmetic ingredients derived from cocoa beans
Learn the different aromatic compounds that work well with chocolate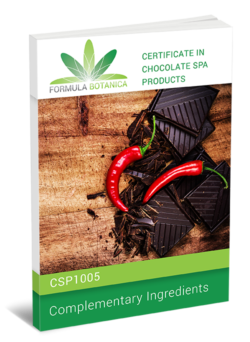 CSP 1005
Complementary Cocoa Ingredients
Study ingredients that work well with chocolate
Review an extensive list of 60+ ingredients that blend well with chocolate – butters, oils, emulsifiers, exfoliants, hydrosols, essential oils, CO2 extracts, absolutes, humectants and clays.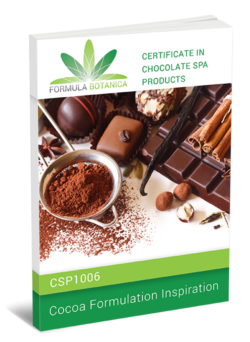 CSP 1006
Cocoa Formulation Inspiration
Review the global chocolate skincare market
Study five brands who are currently using cocoa in their products
Learn the 7 steps of formulating with cocoa
Study our 6 ideas for cocoa-derived skincare niches
"Just completed the Chocolate Spa Products course. Excellent course material, solid foundation on how to formulate with cocoa and create exciting products. Tutors are very supportive and really want students to succeed in their studies. I am very satisfied. :)"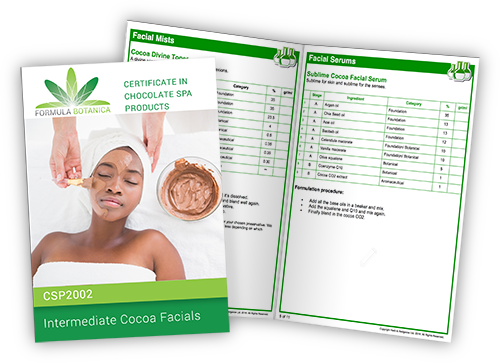 Module 2
Chocolate Skincare Formulation
You now know how chocolate works on the skin and you understand the vast array of ingredients that are available to you as an organic chocolate skincare formulator. Now it's time to put that knowledge into practice!
In this module you will first create your first exquisite range of organic chocolate facial formulations that nurture and pamper your delicate facial skin. Next we turn our attention to the rest of the body and create pampering chocolate body spa treatments, where cocoa can work its antioxidant, firming and cellulite-busting magic. In this module you will learn how to create a capsule range of chocolate body and spa products for an all-over body chocolate experience.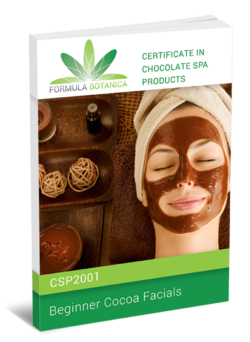 CSP 2001
Foundation Cocoa Facial Formulations
Learn how to formulate basic cocoa facial formulations that will pamper your delicate facial skin.
Receive 9 foundation chocolate facial formulations, including our Chocolate Berry Facial Serum, Cacao & Rose Soothing Facial Mist, Gentle Cappuccino Facial Polish and White Chocolate & Raspberry Facial Masque.
Course bonus: Formula Botanica Cosmetic Ingredients Directory
Course bonus: Essential Oils Dermal Limits Guide
Course bonus: Natural Preservation 101 Fact Sheet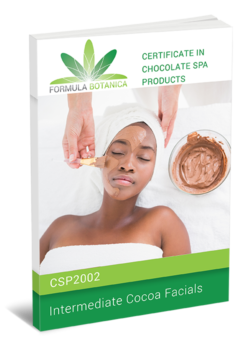 CSP 2002
Intermediate Cocoa Facial Formulations
Learn how to formulate intermediate cocoa facial formulations that will pamper your delicate facial skin.
Create a small capsule range of chocolate spa facial products, including serums, hydrating mists, masques, polishes, mousses and lip butters.
Use Formula Botanica's tried and tested formulation worksheets, percentage calculation methods and skincare design flow charts to draw inspiration from our sample formulations and create your own unique chocolate blends.
Receive 8 intermediate chocolate facial formulations, including our Chocolate Cream Facial Mousse, Dragon's Blood Creamy Facial Masque, Choco-Mint Lip Serum and Cocoa Divine Toner.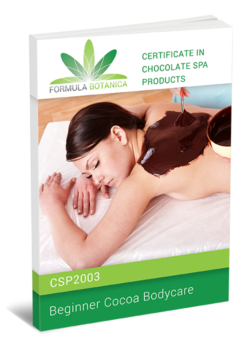 CSP 2003
Foundation Cocoa Body Formulations
Learn how to formulate foundation cocoa body formulations that will nourish your skin.
Receive 8 beginner chocolate body formulations, including our Gourmande Massage Butter, Chocolate, Rose and Almond Body Scrub, Moroccan Rose Body Masque and Satin Body Glow.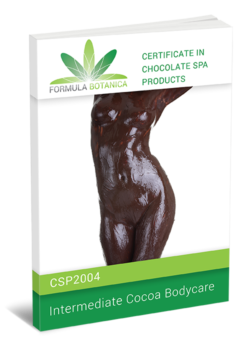 CSP 2004
Intermediate Cocoa Body Formulations
Learn how to formulate intermediate cocoa body formulations to nourish and pamper your body.
Create a small capsule range of chocolate spa body products, including body scrubs, cellulite scrubs, massage oils and body mosques.
Use Formula Botanica's tried and tested formulation worksheets, percentage calculation methods and skincare design flow charts to draw inspiration from our sample formulations and create your own unique chocolate blends.
Receive 8 intermediate chocolate body formulations, including our Cocoa Body Custard, 2-in-1 Honey Chocolate Hand Mask, Cocoa Mud Foot Masque and Black & White Scrub Bar.
"I've completed yet another course successfully with Formula Botanica. A returning customer is evidence of a top class service, and that's certainly what Lorraine and the team provide. The Chocolate Spa course was informative, perfectly put together and importantly, great fun."
Course Bonuses
When you study with Formula Botanica, you become part of a close-knit international community of students and graduates all around the world. We support you all throughout your studies and beyond, and we give you access to our expert botanical skincare science and business files while you are enrolled on your courses.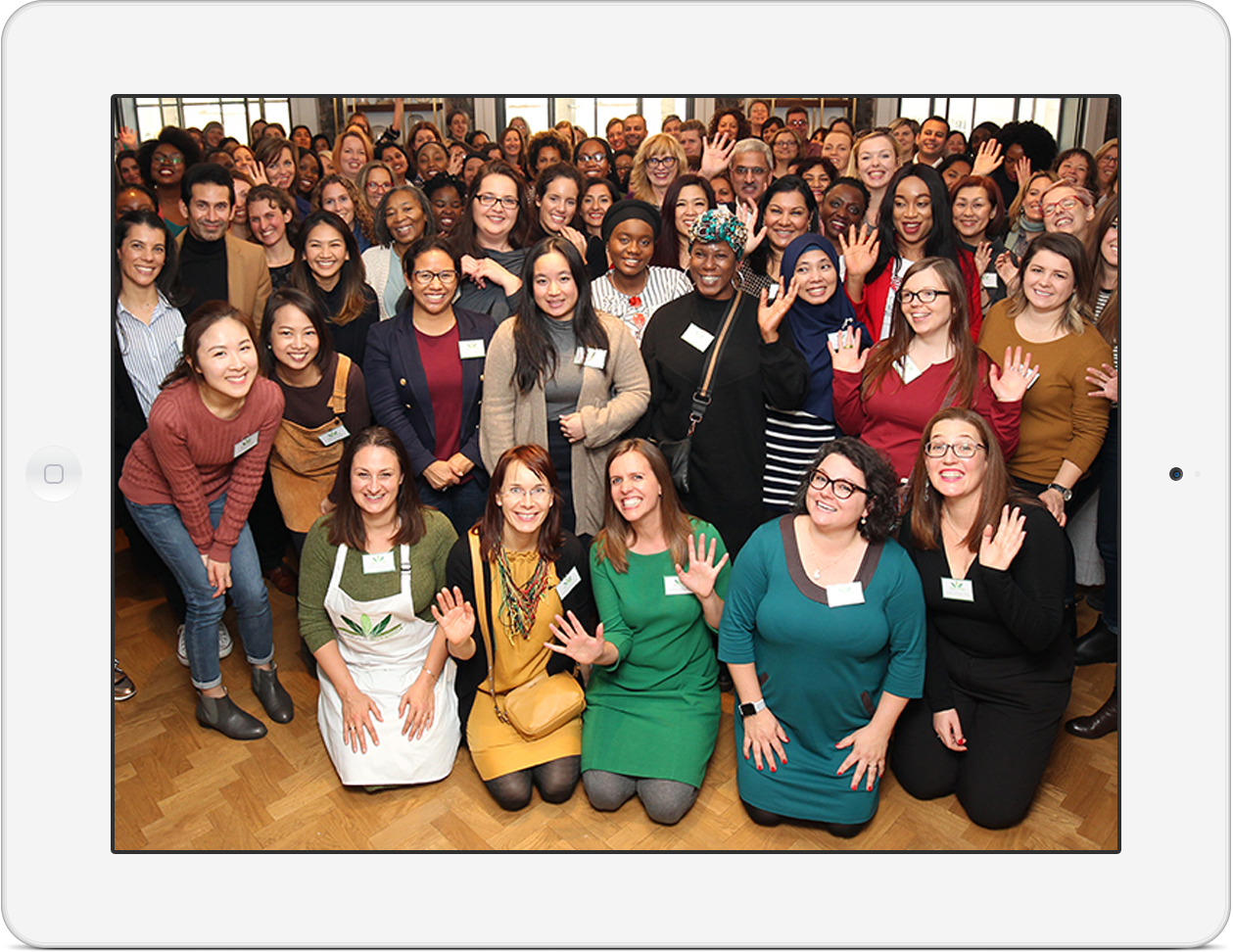 Bonus 1
Become Part of the Loveliest Formulation Community on the Internet
Once you enrol with us, you are welcomed into our international student community groups which contain many thousands of our students and graduates from all over the world. Everyone knows each other and many of our students meet up in their respective countries to share information and formulate together.
In our groups you will receive expert tutor support and peer support. Ask questions, share photos, troubleshoot formulations. Celebrate your victories and get encouragement when you need it. You are never alone.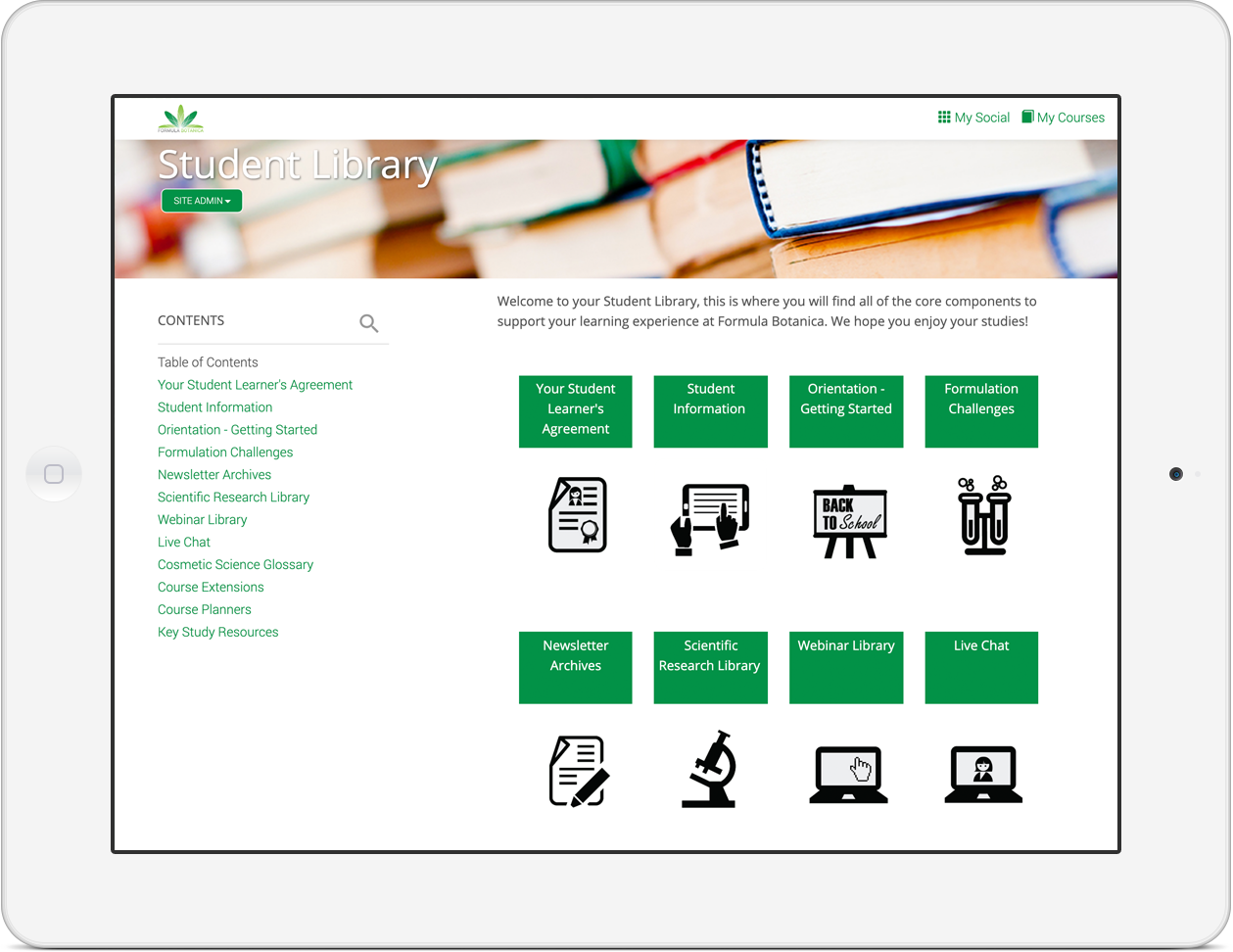 Bonus 2
Access our Student Library
When you become a student with Formula Botanica, you also gain exclusive access to our Student Resources Library for the duration of your course. Access our:
Preferred supplier guide which contains hundreds of global companies
Extensive ingredients directory with listings of over 100 natural ingredients
Formulation percentage-to-weight calculator
Scientific research collection
Useful links section to additional resources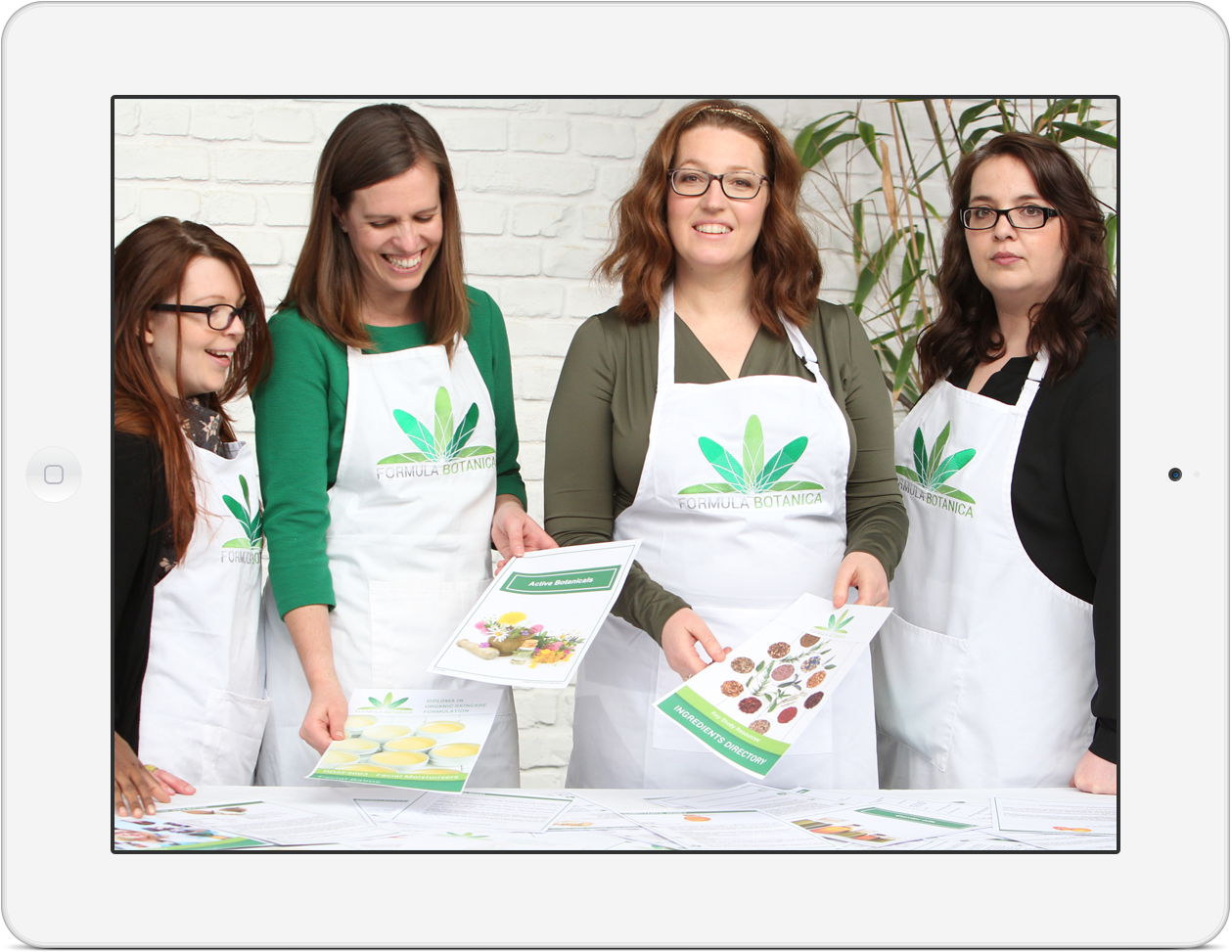 Bonus 3
Ongoing Support After Graduation
The support doesn't finish when you graduate. We want to keep in touch with you once you've finished your course and support your career in organic skincare. We offer lots of free promotion for our graduates because we want to help give your business the support it needs when you launch it or as you grow it.
Be featured widely on our website, on social media and on our mailing list. Formula Botanica has many thousands of followers and subscribers all around the world so this will help you create a splash when you launch.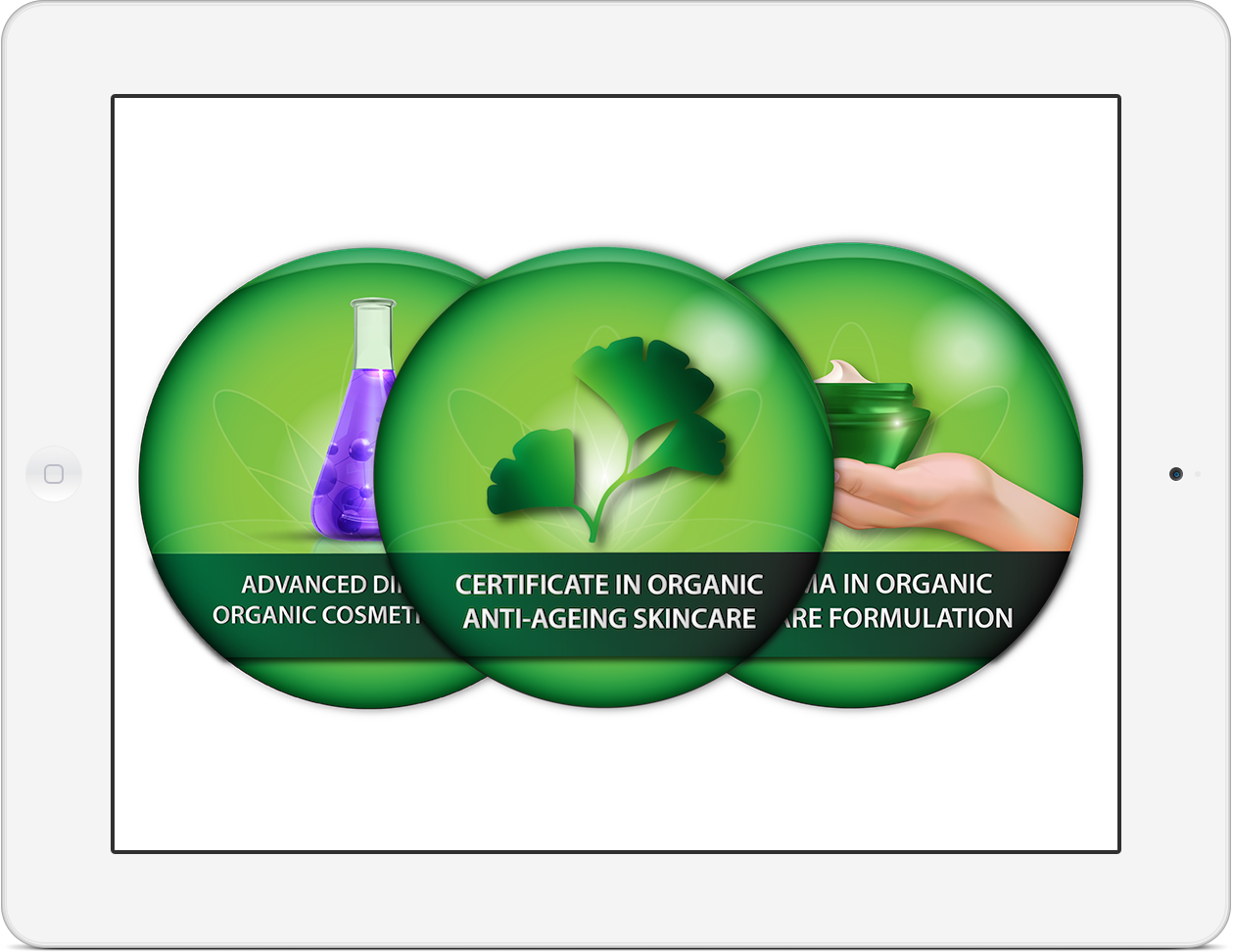 Bonus 4
Earn Formula Botanica Bonus Badges
Formula Botanica issues special Moodle Badges to students who pass their courses successfully (Moodle is the name of our award-winning and accredited eLearning Platform). These badges can be used on your resume, social media pages and LinkedIn profile to demonstrate that you are a skilled organic formulator. We have also hidden a few surprise badges in the course materials for students who pass certain Modules with a distinction grade!
Enrol for our Certificate in Chocolate Spa Products to add a luxurious touch of high performance cacao to your skincare products and create an at-home spa experience.
Pre-Register for our next term
Prerequisites
None. Suitable for beginners.
Start Date
Term Times. Self-paced training where you have up to 12 months to complete your course.
Assessment
Projects, activities and reflexive learning. Each module ends with a short test.
Online Classroom
Peer support & tutor support via a private Facebook group.
Accreditation
Formula Botanica is accredited by the Open & Distance Learning Quality Council.
Expert Support
Our Tutor Team has an educational background in cosmetic chemistry, biology, education and business management. Let us support you.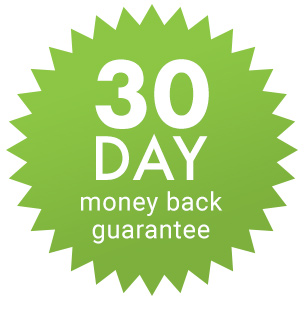 Formula Botanica operates a term time system, so we can get all of our students started at the same time and run online study groups.
Term times run in the following months:
Winter Term: January
Summer Term: July
Enrolment for all of our courses will be open during this period. If you want to be the first to hear when we open enrolment, make sure you pre-register for this course.
Pre-register for our next term