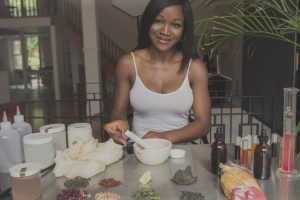 Oyéta Kokoroko is a Formula Botanica Tutor based in Montreal, Canada. She is a proud owner of a new beauty brand and teaches workshops in organic skincare formulation in Canada. She is bilingual and can also teach our workshops in French for any French speaking students wanting to learn how to make organic skincare.
Oyéta is a natural skincare formulator and health practitioner who studied holistic nutrition, herbal and aromatherapy before starting her career as an anti-aging skincare formulator and instructor. She is a creative person who loves sharing her knowledge with creative people and encourages them to conceive their own elegant natural skincare.
After years of studies in natural therapies, cosmetic formulation and enormous amounts of research, Oyéta founded OKOKO Organic Skincare, a small company offering handmade, high performance skincare and cosmetic workshops. She loves to help others to achieve bright and healthy look using fresh natural organic cosmetics that really deliver.
Oyéta teaches the following courses:
Anti-ageing facial skincare
Chocolate Spa products
High Performance Facial masque
Her other areas of specialism include:
Youth Preserving facial and body line
Handcrafted botanical extracts
Use of rare oils and exotic fragrances
Custom made cosmetics
Her mission is to help you create simple natural and effective skincare that makes a difference on your skin and encourage you to embrace a healthy lifestyle that just feels amazingly right.
She will be giving workshops in Canada starting September 2015. If you want to train with Oyéta, her contact details are:
Website: 

http://www.okokocosmetiques.com

Email: [email protected]
Location: Montreal, Ottawa, Toronto (and possibly other cities in Canada if there's enough demand)
Leave us a comment
comments